Georgia Bulldogs:

Patrick Beless
November, 6, 2013
11/06/13
7:00
AM ET
ATHENS, Ga. -- If you're a Georgia fan who had much confidence when
Marshall Morgan
took the field last season to attempt a field goal -- or heck, even an extra point -- consider yourself among the rare few.
Like many freshman kickers, Morgan's first season was rocky to say the least. Those who are any good, however, generally take a big step in Year 2, and Morgan is certainly doing that.
[+] Enlarge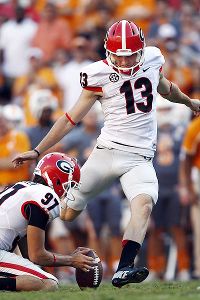 AP Photo/Wade PayneGeorgia kicker Marshall Morgan has made 13 of 15 field goals he has attempted this season, and is 22-of-22 on extra point tries.
This week he was named as one of 20 semifinalists for the Lou Groza Award -- which goes to the nation's top kicker -- and won the SEC's Special Teams Player of the Week award for the third time in the six games since he returned from a two-game suspension to open the season.
"He's had some bombs and I don't even think about it now," Georgia quarterback
Aaron Murray
said. "His 50-yarder he had the other day [a 49-yard kick against Florida], I wasn't even concerned at all. I was like, 'All right, it's going in.' I wasn't even watching. I turned around and he made it and I was like, 'Hey, attaboy' and gave him a little high five and that was it. No worries at all."
Compare that attitude to last season, when Morgan started the season in a funk on PATs and ended it by hitting just two of his last five field-goal tries, and the difference is striking. Morgan admits that he sensed his teammates' trepidation when he would take the field, which makes his success this season even more gratifying.
"[They made] just little remarks that aren't meant to hurt you, but it sticks on, you know? So now it's kind of like you look back and put it in their face," Morgan laughed.
The sophomore has had plenty of reasons to smile this season. He leads the nation in made field goals per game (2.2) and ranks 12th (first in the SEC) with an average of 10.2 points per game. He's a perfect 22-for-22 on extra points and his only two misses out of the 15 field goals he has attempted came from 52 (North Texas) and 39 (Tennessee) yards, while his long of 56 yards set a new record at Tennessee's Neyland Stadium.
"I feel like I'm starting to earn my scholarship a little bit," Morgan said. "Before I felt kind of like, I don't know, like last year, it was like average kicking. And this year, I feel like I'm actually working towards a goal and actually achieving a goal slowly but surely."
Asked about the difference in their kicker from last season to this fall, several Bulldogs mentioned his improved maturity -- an area that Morgan mentioned too.
"He was a little bit of an airhead when he first got here. He still is, but he's more mature," receiver
Michael Bennett
cracked.
Morgan is also more confident on the field after an offseason of hard work and a transitional first year in college where he – like all kickers – had to adjust to playing in front of bigger crowds and kicking off the ground instead of off a tee.
That, Bulldogs coach Mark Richt said, is the biggest factor as a sophomore kicker makes significant improvement from his first college season.
"The first time you do it, you go from kicking in a high school stadium with 500 people or maybe 5,000 people," Richt said. "You're kicking off a tee and the rush isn't the same, and then you go into these stadiums where there's 80, 90 or 100,000 people inside and there are people watching on TV. Every single game, you know that every kick you make is probably going to make a difference in winning or losing, or even every extra point.
"That's kind of hard to adjust to when you're not used to that, and it's probably a little bit of a shock to them."
It has certainly been the trend at Georgia. In 2008,
Blair Walsh
hit just 65 percent of his field goals as a freshman before posting two of the most consistent seasons in school history as a sophomore (90.9 percent) and junior (86.96). Now Morgan is in position to post one of the best percentages in school history if he keeps kicking at the same clip down the stretch.
"I dreamed of it," Morgan said when asked if he expected to enjoy this kind of success. "Of course I believed in myself, but now that it's actually happening, it's a lot better feeling."
Competition also helped him raise his game this season, Morgan said. After a mediocre first season, and then an offseason arrest for boating under the influence that forced him to miss the first two games, Morgan knew he wasn't guaranteed a job when he returned to the active roster.
Patrick Beless
went 2-for-2 on field goals and 10-for-10 on PATs, so Morgan had to produce once he came back for the North Texas game -- and he has.
"Patty did a great job. He didn't miss," Morgan said. "So just in the back of my mind I was like, 'I could lose my job, so I've really got to take it serious.' I just hunkered down and just really no jokes on the field. I just really did my kicking and that's what I still do now and it's working."
September, 21, 2013
9/21/13
7:00
AM ET
Fresh off an open date, No. 9 Georgia (1-1) hosts North Texas (2-1) today in an important tune-up game with the bulk of the SEC schedule looming, starting next week with a visit from LSU. Here are five things we'll be watching once the teams kick off at 12:21 p.m.

Murray nears century mark:
It would be a major upset if Georgia quarterback
Aaron Murray
doesn't surpass 100 career touchdown passes. After tossing four TDs in the Bulldogs' 41-30 win against South Carolina, Murray has 99 in his career. Florida's Danny Wuerffel (114) is the only quarterback in SEC history with 100 touchdown passes. North Texas ranks 94
th
nationally in pass defense, allowing Idaho, Ohio and Ball State to pass for an average of 267.3 yards per game.
Giveaway, takeaway:
Georgia must start generating more turnovers, which has traditionally been a staple of a Todd Grantham defense. The Bulldogs have forced just two turnovers -- both fumbles -- and one of those came on special teams. Conversely, North Texas has been remarkably successful at forcing turnovers. The Mean Green is tied for first in the nation with 11 takeaways, having recovered seven of nine opponent fumbles and intercepted four passes.
Does defense get it together?:
Grantham's defense struggled in the first two games, although it allowed just six points in the second half against South Carolina thanks to a goal-line stand and a forced fumble by
Amarlo Herrera
. Nonetheless, it might be a long season for the defense if its young contributors don't build off that second half against the Gamecocks. Georgia is second-to-last in the SEC in scoring and total defense at 34 points per game and 460.5 ypg allowed. The Bulldogs have just two sacks, which is tied for the second-fewest in the league.
Bring on the backups:
Last time we checked, Georgia was nearly a five-touchdown favorite against the Mean Green. That means we should see Murray and other offensive stars like the SEC's leading rusher
Todd Gurley
(143 ypg) play sparingly once the Bulldogs take control -- so long as they actually do take control. After opening the season with demanding matchups against South Carolina and Clemson, Georgia's coaches should enjoy the opportunity to take their first long look at the freshmen and other backups in a game situation.
Welcome back:
Today marks the return of Georgia's sophomore place-kicker
Marshall Morgan
, who was suspended for the first two games over an offseason arrest. He should reclaim the kickoff, PAT and field goal duties from
Patrick Beless
, who was 10-for-10 on PATs and 2-for-2 on attempted field goals. Morgan was 63-for-67 on PATs and 8-for-14 on field goals last year.
September, 8, 2013
9/08/13
7:10
PM ET
ATHENS, Ga. -- Georgia coach Mark Richt expects left tackle
Kenarious Gates
and tailback
Keith Marshall
-- both of whom left Saturday's game against South Carolina with injuries -- to be available in time for the Bulldogs' next game, Sept. 21 against North Texas.
Gates appeared to injure his right ankle, opening the door for
Mark Beard
to take over at left tackle in the second half of the Bulldogs' 41-30 victory. Marshall jogged on the sideline and rode a stationary bike behind the Georgia bench after apparently injuring his left knee, but did not touch the ball again after a 10-yard run late in the third quarter.
"Anybody who was injured, including those two, any kind of X-rays or whatever that we looked at, everybody's fine. They all came out negative," Richt said on his Sunday evening teleconference. "We're expecting everybody to be able to play in our next ballgame."
Richt also expects receiver
Jonathon Rumph
to be available for the first time following a hamstring injury that kept him out of the first two games.
"We hope he's 100 percent," Richt said. "He was close. He practiced some, he just couldn't cut it loose. He couldn't go full speed and we didn't want him to push it, and so now I can't imagine him not being able to go full speed by the time we play this next game."
Georgia will also get a player back from suspension, as place-kicker
Marshall Morgan
's two-game punishment for an offseason arrest is now complete. Although
Patrick Beless
is a perfect 10-for-10 on PATs and 2-for-2 on field goals -- not counting a field-goal try against Clemson where a high snap prevented him from attempting a kick -- Richt said Morgan will resume his kicking duties against North Texas.
"Marshall has made a mistake, Marshall has been disciplined for that and I'm not going to continue to punish him," Richt said. "And so right now, I'm expecting Marshall to come in and take over the kicking duties, but it's good to know that Patrick is capable in big games and can come in in a pinch if we need to."
Georgia's coach is not sure when to expect junior college transfers
Shaquille Fluker
and
Kennar Johnson
to jump into the mix in the Bulldogs' depth-deprived secondary. Neither player has gotten into a game yet, largely because of injury setbacks during preseason practice.
"Right this minute, I don't see them jumping in the game anytime soon," Richt said. "But as the season goes on and their careers go on, we're happy with their talent base, their ability. They just kind of got behind the 8-ball with reps because of some injuries and some missing of practice time."
September, 1, 2013
9/01/13
2:55
AM ET
CLEMSON, S.C. -- Although it's easy to point to a botched field goal try as the difference in No. 5 Georgia's 38-35 loss to No. 8 Clemson on Saturday, the Bulldogs know there was more to it than that.
"I thought we did some good things and we did some things to get you beat," said Georgia coach Mark Richt, whose team has no time to lick its wounds with a game against No. 6 South Carolina on tap next Saturday. "We'll find out how good we are next week."
There were penalties from the Bulldogs on Saturday. One of the nation's most-penalized teams over the last several years, Georgia had nine for 84 lost yards against Clemson -- including two costly infractions in the fourth quarter that short-circuited the Bulldogs' comeback attempt.
There were two turnovers by quarterback
Aaron Murray
-- a fumble and an interception -- in the second quarter that took the wind out of the Georgia offense's sails after accounting for 218 yards and two touchdowns in the first quarter alone.
And there was a simple lack of execution at some crucial junctures that altered a game the Bulldogs certainly could have won.
"We did a lot of good things tonight, but there were a lot of things that we didn't do so well -- some first-game mistakes and they ended up costing us there in the game," said Georgia offensive coordinator Mike Bobo, whose team accumulated 545 yards of total offense, but surrendered four sacks and two turnovers. "But I just told the guys we ran out of time there at the end and it hurts, but we've got to look at the tape, we've got to correct and we've got to get better."
The sequence that led to the botched field goal was particularly costly. Georgia earned first-and-goal at the Clemson 5 after a 35-yard completion to
Chris Conley
late in the third quarter. The Bulldogs then ran three straight running plays -- a 2-yard run by
Keith Marshall
, a 1-yard run by
Todd Gurley
and a third-down dive for no gain by
Quayvon Hicks
-- before settling for a 20-yard field goal try by
Patrick Beless
that would have tied the score at 31-all.
One problem: On his first field goal snap of the season, new snapper
Nathan Theus
shot the ball high to holder
Adam Erickson
, who was unable to corral the snap and was forced to fall on it for a 6-yard loss.
That was an enormous letdown after Georgia had battled its way back into the game and failed to gain the equalizer.
"Momentum is a big thing and that was huge momentum for us, a big boost for our guys," Clemson coach Dabo Swinney said. "That turned out to be one of the deciding plays of the game, obviously."
As were the plays that immediately preceded it, since they could have given Georgia its first lead since Hicks' 1-yard touchdown run early in the second quarter.
"We had to get points in the red zone coming in and we wanted touchdowns and we weren't able to do it right there," Bobo said. "We ran the ball down there and I wanted to keep running it and I've got to look at the tape. We just didn't execute what we had called and unfortunately we didn't get the three points. That happens. We still had a chance to win after that, so we had our opportunities and just penalties killed us there on the next couple of drives."
Even after the field goal mistake, Georgia's defense forced a Clemson three-and-out, with a punt giving Georgia possession at its 43 early in the fourth quarter. The Bulldgos were quickly flagged for a devastating 15-yard penalty for chop blocking, however, and ended up punting.
Clemson scored on the next drive to go up 38-28 midway through the quarter, making a holding penalty that nullified a 14-yard Gurley run on the Dawgs' ensuing drive even more costly, as another Georgia punt there nearly put the game out of reach.
The Bulldogs drove for a quick touchdown late in the fourth quarter, but when they failed to recover an onside kick and had already used all of their timeouts, Clemson was able to run out the clock and walk away victorious.
"We killed ourselves with penalties tonight," Murray said. "It's tough to convert third-and-long. Penalties are a big reason why we lost tonight."
With the loss, Georgia finds itself in a fairly familiar position, which might have been why there seemed to be little panic within the Bulldog contingent during postgame interviews.
The Bulldogs dropped their first two games of 2011, including their SEC opener against South Carolina, and finished the regular season with a 10-game winning streak. They took a 35-7 pounding last season at South Carolina and once again won out.
Both times they earned a spot in the SEC championship game by claiming the Eastern Division title. And next Saturday will still play a major role in whether they can return to Atlanta for a third straight season, regardless of what happened against Clemson.
"I don't see anybody in there ready to jump off a bridge or anything," Richt said. "I think they all know that happens in football if you play a really good football team and you get beat. And if you do, then you move on and you continue to play well and you get better and you make corrections. We're still learning a lot about this team."
August, 31, 2013
8/31/13
8:45
PM ET
CLEMSON, Ga. -- With potentially a new snapper, holder and kicker, No. 5 Georgia's kicking game could be an adventure in Saturday's opener at No. 8 Clemson.
Although Georgia coach Mark Richt refused throughout the preseason to announce whether kicker
Marshall Morgan
would face a suspension following a June arrest for boating under the influence, the sophomore did not handle the opening kickoff.
That honor went to
Collin Barber
, who kicked the ball into the end zone and Clemson's
Sammy Watkins
returned it to the Tigers' 24-yard line.
Morgan was one of five kicking specialists who made the trip to South Carolina, however, and did participate in pregame warmups to a limited degree. Walk-ons
Adam Erickson
and
Patrick Beless
handled the bulk of the field-goal tries during warmups. Walk-on kicker
Thomas Pritchard
and punter Barber are also on the Bulldogs' travel roster.
The Bulldogs are breaking in a new long snapper,
Nathan Theus
, following four-year starter Ty Frix's graduation. And if Erickson handles field goal and PAT duties, their holder will also be new against Clemson since Erickson was last season's holder.
Walk-on defensive back
Lucas Redd
held for Erickson during pregame warmups.
April, 27, 2013
4/27/13
7:00
AM ET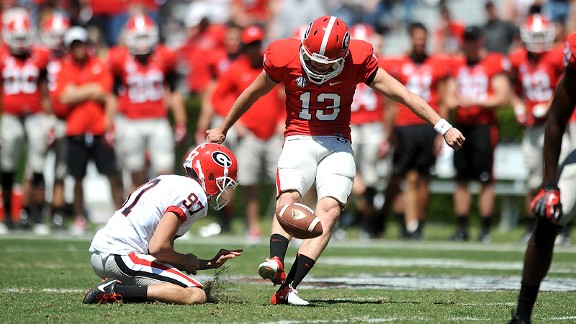 Radi Nabulsi/ESPNGeorgia coach Mark Richt seems to have more faith in kicker Marshall Morgan (13) for the 2013 season after putting him through the paces this spring.
ATHENS, Ga. -- Kicking in the SEC as a true freshman is rarely a smooth ride -- and
Marshall Morgan
can attest.
Performing as a place-kicker in a packed SEC stadium versus the far smaller audiences at the average high school football stadium simply requires an adjustment period, and some players never make an adequate transition.
April, 14, 2012
4/14/12
6:28
PM ET
By
DawgNation Staff
| ESPN.com
Red Team 32, Black Team 31
44,117
-- Attendance at Sanford Stadium.
2:10
-- How long the game took, in hours and minutes.
Offense
4
-- Number of yards by which senior RB
Richard Samuel
beat out sophomore RB
Isaiah Crowell
for most net yards rushing. Samuel, 43 yards on eight carries. Crowell, 39 on 10 carries.
Peach State: Top Tier Recruiting Ground?
SEC SCOREBOARD
Thursday, 9/3
Saturday, 9/5