Georgia Bulldogs:

Marcus Randall
November, 18, 2013
11/18/13
1:50
PM ET
They will be talking about Nick Marshall's miraculous 73-yard touchdown pass to
Ricardo Louis
on the Plains for a long time.
As Hail Marys go, that one has to be right there at the top. But where does that play rank among some of the more thrilling and/or memorable ones in SEC history?
[+] Enlarge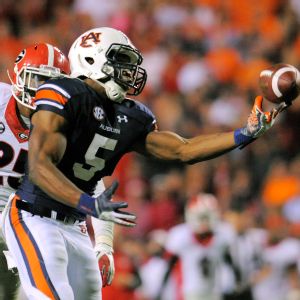 Shanna LockwoodRicardo Louis' catch will live in SEC lore.
Here's a look at a few more that will live eternally, and we've listed them chronologically.
Obviously, there are countless others. Let us know what we've missed.
Oct. 31, 1959: Billy Cannon's tackle-breaking 89-yard punt return on Halloween night stands as one of the most famous plays in college football history. It was the only touchdown scored that game, lifting No. 1 LSU to a 7-3 win over No. 3 Ole Miss in Baton Rouge.
Dec. 2, 1967: Alabama quarterback Ken Stabler's 47-yard touchdown to beat Auburn 7-3 is known simply as "The Run in the Mud." The game was played in a driving rainstorm, and Stabler saved the Tide that day with his scamper around right end in what was a quagmire of a field.
Dec. 7, 1972: Known as the "Punt, Bama, Punt" game, Auburn's Bill Newton blocked two Alabama punts in the fourth quarter, both returned for touchdowns by David Langner to lead the Tigers to a 17-16 win over the previously unbeaten and heavily favored Crimson Tide. Langner's game-winning score came in the final minute and a half.
Jan. 1, 1979: Who can forget Barry Krauss' fourth-down, midair stop of Penn State's Mike Guman just inches short of the goal line in the Sugar Bowl? It's one of the most memorable defensive plays in Alabama's storied history and preserved a 14-7 win over the Nittany Lions, leading to the first of two straight national titles for the Tide.
Sept. 6, 1980: It was the day Herschel Walker was introduced to the college football world. He ran over Bill Bates at the goal line on the first of two touchdown runs in his freshman debut, rallying Georgia to a 16-15 win over Tennessee in Knoxville and setting the stage for the Bulldogs' national championship run.
Nov. 1, 1980: Mississippi State snapped Alabama's 28-game winning streak with a 6-3 win over the Tide in Jackson, Miss. With the Tide threatening in the final seconds on first-and-goal from the 4, the Bulldogs got a huge defensive play to secure one of the more memorable upsets in SEC history. Tyrone Keys darted through and forced Alabama quarterback Don Jacobs to fumble on an option play, and Billy Jackson was there to recover for Mississippi State. Afterward, Bear Bryant came into the Mississippi State locker room to congratulate the Bulldogs.
Nov. 8, 1980: This one also has its own name, "Run, Lindsay, Run." Lindsay Scott's 93-yard touchdown catch and run on third-and-8 from Georgia's own 7 allowed the Bulldogs to pull out a 26-21 win over Florida in the final seconds in Jacksonville and keep alive their national championship season.
Oct. 8, 1988: There aren't many touchdowns that lead to earthquakes, but Tommy Hodson's game-winning 11-yard touchdown pass to Eddie Fuller on fourth down in LSU's 7-6 victory over Auburn registered vibrations on a seismograph in the LSU geology department.
Dec. 5, 1992: Antonio Langham returned an interception 27 yards for a touchdown with 3:15 to play in the inaugural SEC championship game, leading Alabama to a 28-21 win over Florida and setting the stage for the Tide's national championship victory over Miami in the Sugar Bowl.
Nov. 14, 1998: Clint Stoerner's stumble and fumble after it appeared all Arkansas had to do was run out the clock in the final 1:43 gave Tennessee new life, and the Vols zipped in for the game-winning touchdown to stay unbeaten and keep alive their 1998 national championship season in miraculous fashion.
Nov. 9, 2002: Yep, another one with a nickname, "The Bluegrass Miracle." Marcus Randall threw a desperation 75-yard touchdown pass that was batted around and caught by Devery Henderson as time expired, lifting LSU to a 33-30 win over Kentucky in Lexington.
Nov. 16, 2002: David Greene threw a 19-yard touchdown pass to a leaping Michael Johnson on fourth-and-15 with 1:25 to play, giving Georgia a 24-21 win over Auburn on the Plains and paving the way for the Bulldogs' first SEC championship in 22 years.
September, 27, 2013
9/27/13
7:00
AM ET
ATHENS, Ga. – As an SEC West school, LSU is hardly a fixture on Georgia's annual football schedule. But when the Tigers and Bulldogs do get together, the results are almost always memorable.
Just think back over the past decade. Two meetings in the SEC championship game – one won by each school. The phantom celebration penalty against Georgia receiver A.J. Green in 2009, helping pave the way for LSU's comeback victory. Georgia putting huge point totals on LSU's defending BCS champion teams in 2004 and 2008.
There's a lot to remember – and just like in Saturday's meeting between No. 6 LSU (4-0, 1-0 SEC) and No. 9 Georgia (2-1, 1-0) – there are often major SEC and BCS implications in play.
"[I told the younger players] any game can go down to the last second, but what kind of fight that they're going to have to be ready for," said Georgia fifth-year senior receiver
Rantavious Wooten
, one of the few Bulldogs who were on the team when LSU last visited Athens in 2009. "They've got aspirations just like we do. They want a championship and we want a championship and this game right here, this is the game for it. So I just let them know what to expect and how it's going to be and just to get ready for it."
Georgia coach Mark Richt is 3-4 against LSU since arriving at UGA in 2001 and Tigers coach Les Miles is 2-2 against the Bulldogs. Let's take a look at the last five times their programs squared off:
[+] Enlarge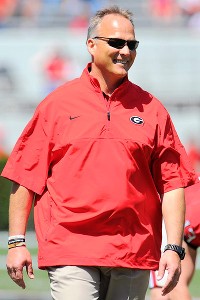 Dale Zanine/USA TODAY Sports Mark Richt and the Bulldogs hope to give LSU its first loss of the season on Saturday.
2011 SEC Championship Game (Atlanta): No. 1 LSU 42, No. 16 Georgia 10
In one of the most bizarre games of Richt's tenure, Georgia's defense thoroughly dominated the first half. LSU didn't muster a single first down and was in danger of falling down by a big margin, but Georgia receivers dropped a pair of potential first-half touchdown passes and LSU punt returner Tyrann "Honey Badger" Mathieu took a kick back for a touchdown to make it 10-7 Georgia at halftime. The second half was a completely different story, as the Bulldogs committed a couple of turnovers, LSU's pounding rushing attack began to have its intended effect and Todd Grantham's defense seemed helpless as the Tigers rushed for 202 yards and three touchdowns after intermission, turning the game into a rout.
Oct. 3, 2009 (Athens): No. 4 LSU 20, No. 18 Georgia 13
This one will forever be remembered among Georgia fans for a referee's questionable decision to penalize Georgia superstar Green for excessive celebration following his leaping, go-ahead touchdown catch with 1:09 to play, giving Georgia its first lead at 13-12. The penalty forced the Bulldogs to kick off from their own 15 and LSU return specialist Trindon Holliday made them pay by returning the kickoff to the Georgia 43, with a 5-yard penalty against the Bulldogs on the kickoff moving LSU even closer to the UGA end zone. Two plays later, Charles Scott rushed for his second touchdown of the fourth quarter, a 33-yard run with 46 seconds to play allowing LSU to improve to 5-0.
Oct. 25, 2008 (Baton Rouge): No. 7 Georgia 52, No. 13 LSU 38
As wild as the ending of the 2009 game was, this one was crazy from the very beginning. Georgia linebacker Darryl Gamble returned an interception for a 40-yard touchdown on the first play from scrimmage and added a 53-yard pick six in the game's closing minutes as the Bulldogs hung half-a-hundred on LSU's porous defense. The Tigers surrendered 50-plus twice that season – the first time in school history that had happened – leading Miles to dump co-defensive coordinators Doug Mallory and Bradley Dale Peveto after the season in favor of former Tennessee coordinator John Chavis, who has been in Baton Rouge ever since.
2005 SEC Championship Game (Atlanta): No. 13 Georgia 34, No. 3 LSU 14
Although fellow receiver Sean Bailey caught a pair of first-quarter touchdowns from D.J. Shockley that got Georgia off on the right foot, Bulldogs senior Bryan McClendon – now the team's running backs coach – might have delivered the play of the game when he blocked a punt midway through the second quarter deep in LSU territory. That helped Georgia score to take a commanding 21-7 halftime lead which LSU never threatened. The Bulldogs' defense also did its job that day, limiting an LSU rushing attack that dominated in their 2003 meeting in Atlanta to just 74 rushing yards.
Oct. 2, 2004 (Athens): No. 3 Georgia 45, No. 13 LSU 16
Nick Saban's final game against Georgia while at LSU ended with a humiliating loss, as the Tigers surrendered the most points allowed by an LSU defense since Florida hung 56 on them in 1996. Georgia quarterback David Greene threw only 19 passes, but set a school record by completing five of them for touchdowns. The Bulldogs had lost twice to Saban's Tigers in 2003 – 17-10 in Baton Rouge and 34-13 in the SEC Championship Game – but they quickly exacted a degree of revenge by jumping out to a 24-0 lead before LSU could answer. The Bulldogs also generated three turnovers and sacked LSU quarterbacks Marcus Randall and JaMarcus Russell five times.
Both teams have been ranked in the top-20 in all seven of their meetings in the Richt era, and this will be the second time they've both been in the top-10. While not every meeting between the two has produced a close contest, they've all been memorable – and almost always impacted their respective championship chases.
"They've been great games. ... Just about every one of them, both teams are ranked teams and at least in the Top 25," Richt said. "It is a cross-conference rival, so it doesn't hold quite the weight of an Eastern Division [game] when it comes to who plays in Atlanta. We could lose the game and still control our destiny, and they could lose the game and still control their destiny, so it's not do-or-die as far as league play, but it's very important for any national title hopes."
Peach State: Top Tier Recruiting Ground?
SEC SCOREBOARD
Thursday, 9/3
Saturday, 9/5