Georgia Bulldogs:

Lindsay Scott
November, 18, 2013
11/18/13
1:50
PM ET
They will be talking about Nick Marshall's miraculous 73-yard touchdown pass to
Ricardo Louis
on the Plains for a long time.
As Hail Marys go, that one has to be right there at the top. But where does that play rank among some of the more thrilling and/or memorable ones in SEC history?
[+] Enlarge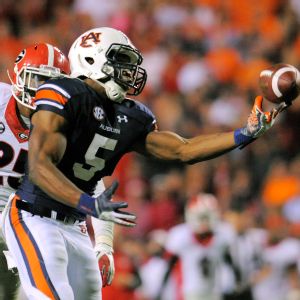 Shanna LockwoodRicardo Louis' catch will live in SEC lore.
Here's a look at a few more that will live eternally, and we've listed them chronologically.
Obviously, there are countless others. Let us know what we've missed.
Oct. 31, 1959: Billy Cannon's tackle-breaking 89-yard punt return on Halloween night stands as one of the most famous plays in college football history. It was the only touchdown scored that game, lifting No. 1 LSU to a 7-3 win over No. 3 Ole Miss in Baton Rouge.
Dec. 2, 1967: Alabama quarterback Ken Stabler's 47-yard touchdown to beat Auburn 7-3 is known simply as "The Run in the Mud." The game was played in a driving rainstorm, and Stabler saved the Tide that day with his scamper around right end in what was a quagmire of a field.
Dec. 7, 1972: Known as the "Punt, Bama, Punt" game, Auburn's Bill Newton blocked two Alabama punts in the fourth quarter, both returned for touchdowns by David Langner to lead the Tigers to a 17-16 win over the previously unbeaten and heavily favored Crimson Tide. Langner's game-winning score came in the final minute and a half.
Jan. 1, 1979: Who can forget Barry Krauss' fourth-down, midair stop of Penn State's Mike Guman just inches short of the goal line in the Sugar Bowl? It's one of the most memorable defensive plays in Alabama's storied history and preserved a 14-7 win over the Nittany Lions, leading to the first of two straight national titles for the Tide.
Sept. 6, 1980: It was the day Herschel Walker was introduced to the college football world. He ran over Bill Bates at the goal line on the first of two touchdown runs in his freshman debut, rallying Georgia to a 16-15 win over Tennessee in Knoxville and setting the stage for the Bulldogs' national championship run.
Nov. 1, 1980: Mississippi State snapped Alabama's 28-game winning streak with a 6-3 win over the Tide in Jackson, Miss. With the Tide threatening in the final seconds on first-and-goal from the 4, the Bulldogs got a huge defensive play to secure one of the more memorable upsets in SEC history. Tyrone Keys darted through and forced Alabama quarterback Don Jacobs to fumble on an option play, and Billy Jackson was there to recover for Mississippi State. Afterward, Bear Bryant came into the Mississippi State locker room to congratulate the Bulldogs.
Nov. 8, 1980: This one also has its own name, "Run, Lindsay, Run." Lindsay Scott's 93-yard touchdown catch and run on third-and-8 from Georgia's own 7 allowed the Bulldogs to pull out a 26-21 win over Florida in the final seconds in Jacksonville and keep alive their national championship season.
Oct. 8, 1988: There aren't many touchdowns that lead to earthquakes, but Tommy Hodson's game-winning 11-yard touchdown pass to Eddie Fuller on fourth down in LSU's 7-6 victory over Auburn registered vibrations on a seismograph in the LSU geology department.
Dec. 5, 1992: Antonio Langham returned an interception 27 yards for a touchdown with 3:15 to play in the inaugural SEC championship game, leading Alabama to a 28-21 win over Florida and setting the stage for the Tide's national championship victory over Miami in the Sugar Bowl.
Nov. 14, 1998: Clint Stoerner's stumble and fumble after it appeared all Arkansas had to do was run out the clock in the final 1:43 gave Tennessee new life, and the Vols zipped in for the game-winning touchdown to stay unbeaten and keep alive their 1998 national championship season in miraculous fashion.
Nov. 9, 2002: Yep, another one with a nickname, "The Bluegrass Miracle." Marcus Randall threw a desperation 75-yard touchdown pass that was batted around and caught by Devery Henderson as time expired, lifting LSU to a 33-30 win over Kentucky in Lexington.
Nov. 16, 2002: David Greene threw a 19-yard touchdown pass to a leaping Michael Johnson on fourth-and-15 with 1:25 to play, giving Georgia a 24-21 win over Auburn on the Plains and paving the way for the Bulldogs' first SEC championship in 22 years.
October, 28, 2013
10/28/13
7:00
AM ET
ATHENS, Ga. –
Aaron Murray
exorcised memories of the most painful loss of his freshman season when his Georgia team beat Florida in 2011. Last season, the defense dominated and Murray overcame a horrendous first half by connecting with
Malcolm Mitchell
on a win-clinching touchdown pass to beat the Gators for a second straight year.
Now Murray is in position to join a select group of Georgia quarterbacks who defeated Florida three times in their careers -- a win that would be even sweeter since Murray is a Florida native who developed into a record-setting prospect at Tampa's Plant High School.
[+] Enlarge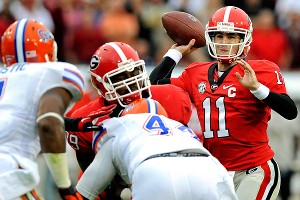 AP Photo/Stephen MortonFlorida native Aaron Murray would love to beat the Gators for a third time in his illustrious career.
"The Floridas, the Auburns, the Carolinas, Georgia Techs, these are the games you look forward to all year, especially Florida," said Murray, who added that the competition was "extremely close" when he finally picked a scholarship offer from Georgia over Urban Meyer's offer from Florida. "It's that neutral site which makes it unique. It's always a great game, great venue.
"Being from Florida, it always adds a little bit more -- always a lot of trash talking between me and friends from back home, which makes it a little bit more fun."
College Football Hall of Famer Johnny Rauch led the Bulldogs to wins over Florida in all four seasons of his career (1945-48), while Buck Belue piloted Georgia to three wins between 1979 and 1981 -- including the legendary 1980 win, when he connected with Lindsay Scott on the game-winning 93-yard touchdown pass in the game's closing seconds.
According to Georgia's sports communications office, no other Bulldogs starting quarterback has more than two wins against the Gators dating to the 1940s, but Murray could join Rauch and Belue on Saturday.
He actually nearly has three wins against the Gators already. He led a furious second-half rally to force overtime as a freshman in 2010, but he tossed a costly interception that helped Florida escape with a 34-31 victory.
His stat line was not particularly impressive in Georgia's 24-20 win in 2011 (15-for-34 for 169 yards, two touchdowns and one interception), but he connected with
Michael Bennett
and Tavarres King on fourth-down touchdown passes to help claim the victory.
Then last year, Murray bounced back from one of the worst halves of his career -- he tossed three interceptions -- by going 8-for-16 for 116 yards and hitting Mitchell with the winning 45-yard touchdown pass with just over seven minutes to play.
Pushing the Bulldogs' winning streak in the series would be huge, Murray said, not just because Georgia hasn't beaten the Gators three straight times since 1987-89, but because Georgia needs a win of any sort.
"It would be awesome to win three in a row versus those guys. Yeah, it would be big," Murray said. "It's just we need a win right now. We need to feel good about ourselves, need a win, get back on track and keep moving."
Georgia (4-3, 3-2 SEC) and Florida (4-3, 3-2) both got a lift on Saturday night when South Carolina rallied to an overtime win against Missouri, handing the Tigers their first loss of the season. That helped the two-loss Bulldogs, Gators and Gamecocks all remain in the thick of the Eastern Division race, when a Mizzou win would have all but secured a division title for the Tigers.
"I think there's plenty of motivation going into this game, there's no doubt about that," Georgia coach Mark Richt said on his Sunday teleconference. "Anytime Georgia and Florida play in Jacksonville, it's a big event, it's a big deal, for sure. But knowing that we're still trying to win the East and we're needing help and all that kind of thing, [Missouri's loss] certainly provided some motivation for me, so I would imagine it'll provide motivation for the players, as well."
The story of the season for both teams has been the long list of injuries that sunk their championship hopes, with eight season-ending injuries to Gators and a series of short- and long-term ailments to key offensive players taking the punch out of the Bulldogs' high-scoring offense.
But Richt said the chance to stay alive in the division race is more than enough reason for Saturday's game to be something besides a pity party.
"We're not feeling sorry for ourselves. I doubt Florida's feeling sorry for themselves," Richt said. "I think both teams know if we win, we stay in the race for the East. So that's nothing to be feeling pitiful about."
Peach State: Top Tier Recruiting Ground?
SEC SCOREBOARD
Thursday, 9/3
Saturday, 9/5