Georgia Bulldogs:

Les Miles
November, 19, 2012
11/19/12
9:00
AM ET
After everything that happened over the weekend, our power rankings didn't really change heading into the final week of the regular season:
1. Alabama (10-1; last week: 1):
The Tide didn't have much competition lining up opposition over the weekend, but Alabama took care of business in dominating fashion. Then the team watched as Kansas State
and
Oregon lost, propelling the Tide back into the BCS title game hunt. Beat Auburn and Georgia, and Alabama is headed back to the national championship. Well played, Nick Saban.
2. Georgia (10-1; LW: 2):
Georgia Southern and its triple-option offense really wasn't much of a threat to the Bulldogs, who are right in the thick of the national championship picture. Georgia is playing its best football of the year and it couldn't have come at a better time. A win over Georgia Tech this weekend, and the Bulldogs will be playing for a national championship berth when they face Alabama in the SEC championship game. Remember when all those Georgia "fans" were calling for Mark Richt's job? Yeah, you can sit down now.
3. Florida (10-1; LW: 3):
The Gators don't win pretty, but somehow they are 10-1. Two FCS foes really challenged the Gators, but what's even crazier is that with a win over Florida State this weekend, Florida will be headed to a BCS bowl game and if Notre Dame loses, the Gators could be headed to the national championship. The Gators are where they are thanks to a fabulous defense and tremendous special teams. But if Florida wants to have a chance against the Noles, the offense has to be much, much better and it will really help if quarterback
Jeff Driskel
can come back healthy this week.
4. Texas A&M (9-2; LW: 4):
Even without a bye week, the Aggies haven't lost any steam. The offense rolled over Sam Houston State on Saturday and now A&M takes on a banged-up Missouri team that is coming off of a very tough home loss to Syracuse.
Johnny Manziel
is now at the top of the Heisman charts and the Aggies really are playing for a chance to go to a BCS bowl game. This is the hottest team in the country.
5. LSU (9-2; LW: 5):
If you haven't seen Les Miles' meltdown from the weekend,
I highly recommend that you do
. His team really doesn't look like it has any flops on it right now. The Tigers had a very close game with Ole Miss over the weekend, but that game always seems to be competitive. The offense has picked up in the past few weeks and while the defense stumbled some against the Rebels, it's still one of the best around. Like the teams in front of it in the power rankings, LSU is a win away from being in consideration for a BCS bowl game. If the Sugar Bowl is available, it'll be tough to keep the Tigers out of New Orleans.
6. South Carolina (9-2; LW: 6):
Quietly, the Gamecocks have reached nine wins. South Carolina had early troubles with Wofford, which threw the ball only three times Saturday. But Steve Spurrier and his Gamecocks have struggled against Wofford in the past. South Carolina was without star
Jadeveon Clowney
(sprained foot), but he should be back for the Clemson game this week. Don't be surprised if the Gamecocks were looking ahead a little bit to the Tigers. South Carolina is looking for its fourth straight win against archrival Clemson.
7. Vanderbilt (7-4; LW: 7):
With a 41-18 drubbing of Tennessee, the Commodores have now won five straight games and have seven wins for the first time since 2007. One more win and Vandy will have eight for the first time since 1982. James Franklin has proved to be the real deal for the Commodores. This team is getting it done in all phases of the game and completely dismantled Tennessee in the second half Saturday. Wake Forest is in need of a win to become bowl eligible, but the Commodores roll in with a load of momentum.
8. Mississippi State (8-3; LW: 8):
The Bulldogs regained some of the swagger they lost with three straight blowout losses in SEC play. Now, Arkansas has fallen on some real hard times in Fayetteville, but this was a win that Mississippi State absolutely had to have and it's a performance the Bulldogs needed as well. Mississippi State played arguably its most complete game of the season and quarterback
Tyler Russell
was about as efficient as ever. When this offense is clicking it's very hard to stop and it heads into the Egg Bowl with its confidence back.
9. Ole Miss (5-6; LW: 9):
What an effort by the Rebels down in Baton Rouge. Ole Miss took LSU right down to the wire and became the first team to put up 30-plus points on LSU's defense. Ole Miss' 463 offensive yards are the most the Tigers have given up all season. But when the Rebels needed their defense to stand tall at the end of the game, it just couldn't stop LSU from finding the end zone and putting the game away. This makes three straight very tough losses for the Rebels, who still need one more win to become bowl eligible for the first time since 2009. And they get a much more confident Mississippi State team Saturday at home.
10. Missouri (5-6; LW: 10):
How the Tigers couldn't figure out a way to keep the ball away from Syracuse wide receiver
Alec Lemon
on the Orange's game-winning drive is beyond me. He abused Missouri's defense all night and then somehow was wide-open for Syracuse's game-winning touchdown with 20 seconds left. Mizzou blew an early 14-3 lead and might have blown its bowl chances with the Aggies next on the schedule. The Tigers had to have that win over Syracuse and will now need to contain Johnny Football in order to make it to the postseason. Quarterback
James Franklin
was banged up again over the weekend, so the Tigers will yet again be monitoring his health this week.
11. Arkansas (4-7; LW: 11):
The Hogs' long nightmare of a season is almost over. With the loss to Mississippi State, Arkansas lost its bowl hopes and will play its final game of the 2012 season at home against LSU. We saw some fight from the Hogs down the stretch after a horrible September, but this team was playing catch-up all season. Now, the program can turn its attention to finding a new head coach and starting fresh. No one in Fayetteville is happy about how the season will end, but they have to be relieved to get to the next chapter.
12. Tennessee (4-7; LW: 12):
It was only a matter of time before Tennessee athletic director Dave Hart dismissed Derek Dooley, and there was no escaping it after the Vols were embarrassed by Vanderbilt. This was Dooley's most talented team, but it was probably his most disappointing season. The Vols are 0-7 in league play and own the SEC's worst defense. The writing might have been on the wall when all of those assistants left before spring practice. Like Arkansas, Tennessee's fan base has to be ready to get to the next stage of this program's life.
13. Auburn (3-8; LW: 13):
Well, the Tigers left the Plains winners. It wasn't against a very challenging opponent, but at least the seniors could smile on senior day after such an ugly season that probably won't bring the Tigers a conference win. Now, Auburn will have to deal with all of the talk surrounding Gene Chizik and his future with the program. This is the fourth time Auburn has gone 0-7 in league play and it's overshadowing Chizik's national championship season in 2010. Auburn has one last chance of getting a conference win. Unfortunately, it will have to come against Alabama.
14. Kentucky (2-9; LW: 14):
Like Auburn, the Wildcats left their home stadium with a win. Joker Phillips has one last game as Kentucky's head coach, but he'll finish his time in Lexington with a win on senior day, and you know that had to mean a lot to him. Kentucky has resembled an infirmary this fall with all the injuries, but the youngsters who came on in relief duty just weren't getting better week in and week out. The Wildcats, who are at the bottom of the SEC in major offensive and defensive categories, will end the season at Tennessee.
August, 2, 2012
8/02/12
1:48
PM ET
The impact that Texas A&M's membership in the SEC has had on recruiting is noticeable. The Aggies currently have a whopping 27 commitments in their 2013 recruiting class even though fall practice hasn't even started for Texas high schools. Many of the Aggies' commitments have said that the SEC membership is among the top reasons they chose Texas A&M.
Coach Kevin Sumlin has acknowledged that impact, noting that Texas A&M has "probably gotten a few more visits" and his coaches have had a few more "return phone calls" from recruits who might not otherwise have considered the Aggies if they weren't in what's widely considered to be the nation's premier football conference.
In its home state, it can be a selling point, since Texas A&M is the only school within the state that can allow a Texas high school football product to stay close to his home and still play in the SEC. And Sumlin has acknowledged that while the Aggies can and will recruit nationally, Texas will continue to be their primary emphasis.
To continue reading this article you must be an Insider
July, 10, 2012
7/10/12
10:23
AM ET
Everybody can recite who's the all-time winningest coach in the SEC.
Bear Bryant won 232 career games at Alabama and became one of the most iconic figures in college football along the way.
To this day, Bryant's name is mentioned with reverence around the Capstone.
But even if you take his 232 career wins out of the equation, the Crimson Tide would still have 582 wins.
[+] Enlarge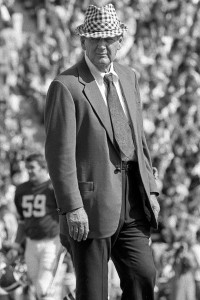 Bernard Troncale/US PresswireBear Bryant won 232 career games at Alabama.
So while the guy with the Houndstooth hat carved out a legendary career at Alabama, the Crimson Tide's success on the football field hasn't been defined solely by the Bryant years.
Frank Thomas won 115 games. Gene Stallings won 62 games. Wallace Wade won 61 games. Nick Saban -- in just five seasons -- has already won 55 games.
All five men, including Bryant, have also won national championships at Alabama.
In surveying the winningest coaches at all 14 SEC schools, some of what you find, especially when you take away each school's all-time wins leader, is telling.
For instance, Bryant is actually the winningest coach at two different SEC schools. He was 60-23-5 at Kentucky from 1946-53, and led the Wildcats to eight consecutive winning seasons.
May, 30, 2012
5/30/12
1:03
PM ET
DESTIN, Fla. – Alabama coach Nick Saban hasn't held back from talking about his disdain for placing only conference champions in a four-team playoff. He's very much for a four-team playoff, but he won't go for one that alienates teams by only picking the top four conference champions.

The whole reason any of this playoff talk even started is because people outside of the game are passionate about seeing one in college football. To take away the chance for the four BEST teams to play makes no sense to Saban.


May, 30, 2012
5/30/12
1:03
PM ET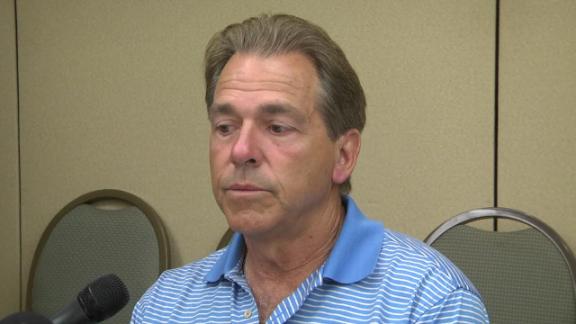 DESTIN, Fla. -- The idea of having a four-team playoff drifted into the 2012 SEC spring meetings and was met with a resounding "yes."
You would have been hard-pressed to find anyone toting an ounce of SEC pride who didn't like the idea of having the four best teams in the country playing for a chance to go to the national championship at season's end.
"I think the event is spectacular," LSU coach Les Miles said of a Final Four-like ending to the college football season. "Any play that is tournament-style and ends with a championship is preferred."
And one reason it's
really
preferred around these parts is that it'll give the SEC an even better shot at competing -- and winning -- more national championships. The conference dripping with power, confidence and championships stacked on championships wants more of those three things and believes it'll get them with this playoff model.
"If you take four teams that have won a conference championship, it will be a guarantee that only one of us could go," Georgia coach Mark Richt said. "If you had it the other way, we'd have a shot of two going. You can say it any way you want, but that's kind of what everyone's talking about. We also could be shut out in that scenario as well."
Hence why Big Ten commissioner Jim Delany had been so outspoken about having a four-team playoff constructed purely of conference champions. He knew it would somewhat level the playing field with the mighty SEC. More chances for the SEC means fewer for the Big Ten -- and Delany wanted to ensure Alabama-LSU never happened again.
[+] Enlarge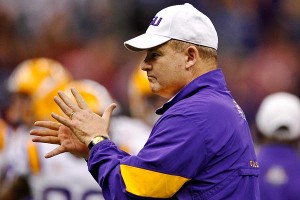 Derick E. Hingle/US PresswireLSU coach Les Miles is among those who doesn't want a playoff restricted to conference champions.
Unfortunately for Delany, you wouldn't always get No. 1 versus the true No. 4. A No. 5 or 6 could easily slide in there with a conference championship under its belt, hardly making this a battle of the top four.
But at the heart of this fight, the SEC is concerned with continuing its dominance. And coaches know that. Even if their school hasn't sniffed the BCS national championship game during its existence, they're still going to side with what benefits the league as a whole and generates a more powerful brand that it's attached to.
While Alabama coach Nick Saban called those clamoring for the conference champion mode "
self-absorbed
," the SEC is guilty of being a little self-absorbed as well.
"I'm not a fan of a four-team playoff if it only includes conference champions," Ole Miss coach Hugh Freeze said. "That's a negative for our conference. Our conference has proven it's possible that we should have two teams in it. So, I'm not in favor of anything that rules us not having more than one team in [the playoff]."
Under Delany's original idea, Alabama wouldn't be coming off its second national title in three years. But it also means LSU might have its second under Miles. Yet Miles, who would have benefited from not facing Alabama in the last BCS national championship, is against the conference championship idea.
"I want to be the team that wins the conference, plays the best teams that they can play, sees the best team in the championship game and wins it for the championship," Miles said. "Simply put: We wanted to play the best team in the country when we got there. And doggone it, we did."
SEC coaches know that a four-team playoff (or really any playoff at all) gives this conference an even better shot at maintaining the league's supremacy at a steady rate. The SEC has won six consecutive titles and could very well win its seventh this season. But if a playoff does come -- and it could come as soon as 2014 -- the SEC wants to make sure it's covered and has the opportunity get into that playoff each and every year.
The SEC won't win national titles forever. The streak is bound to end sooner or later, but the day a playoff comes where multiple SEC teams have a chance to get in, real fear will manifest itself throughout the rest of the college football world.
"I think it needs to be the four best teams in the country," Florida coach Will Muschamp said. "I don't think it needs to be the conference champions because in our league, we might have four of the best teams in the country."
May, 30, 2012
5/30/12
1:02
PM ET
DESTIN, Fla. -- When SEC commissioner Mike Slive and the rest of the SEC elites leave the 2012 SEC spring meetings later this week, the hope is that there will be a concrete scheduling format for the 2013 football season and possibly beyond.
The addition of Missouri and Texas A&M means teams will have to play six divisional games instead of five, making things a little complicated.
Right now, it looks as though the most likely format, which could be set as early as Friday, will be a 6-1-1 model. That gives teams six divisional games, one permanent crossover game and rotating crossover. The rotating crossover no longer would be a traditional two-year home-and-home series. It simply would be a one-year rotation. It's the same model that will be used for the 2012 season.

LSU coach Les Miles said he'd like the structure of future SEC schedules to be "definable," and wouldn't mind if the league re-examined how it chose permanent crossovers.
"Legitimately tell me about how you're picking crossover games," Miles said at the spring meetings Tuesday. "Is it the best team in the East, the best team in the West, top three and top three? OK, if you guys want to do that, let's do that. It might change the matches, but if you want to say, 'Well, we really are going to seed the best teams versus the lesser teams,' well, OK, let's do that, but define the structure and let's stay with it.
"In my mind, here's what happened: They added two teams this go-round, and very conceivably they could add another two. So let's build a structure that's desirable and helps build toward a champion."
Slive said talks would become more detailed as the week continued, and while he wouldn't go into detail about formats or permanent opponents, he did say he sensed that most of the schools wanted to keep their permanent crossover games.
Those games likely would be Alabama-Tennessee, Arkansas-Missouri, Auburn-Georgia, Florida-LSU, Kentucky-Mississippi State, Ole Miss-Vanderbilt and Texas A&M-South Carolina. However, there has been talk of the Florida-LSU series possibly not being renewed.
Missouri coach Gary Pinkel said he expects Arkansas to become Mizzou's permanent crossover, which should help create a rivalry between the two schools.
"That's what I'm told is probably going to happen," Pinkel said. "To me, just tell me who our rival is, and then they'll be our rival. Obviously, we're adjacent to [Arkansas]. Obviously, we've been associated with [Texas A&M] for years. That's above me. Nobody has asked me for my opinion."
Mississippi State coach Dan Mullen and Ole Miss' Hugh Freeze said they'd prefer to keep their schools' current permanent Eastern Division opponents -- Kentucky and Vanderbilt, respectively.
"Having that, it gives you a little bit of a rivalry," Mullen said about playing Kentucky each year. "I do think in the last three years being there … you see that rivalry spill over. I know in basketball it is that way for everybody, but because we play them every year in football, because there's that familiarity it spills into basketball, it spills into baseball.
"That works for us, and geographically it works for us as far as East teams go."
Added Freeze: "I'd like to continue with Vandy. That's been a healthy rivalry game. In recent pasts it's been very equal, and it's a good game for fans to watch. We've got a lot of people in Nashville, and we recruit that area, and it's just good for us and good for them."
CBSSports.com reported
Tuesday that the SEC will create a model for the next 12 years, but Slive told reporters Tuesday that wasn't necessarily the case.
"That's a long time," Slive said. "I'm not sure that's what we'll do."
What seems sure is that the league won't go to a nine-game conference schedule. It essentially forces the conference champion to play 10 SEC games, and adding just one more to the regular season has drawn little interest from coaches.
"None at all," Freeze said. "Not from me."
May, 18, 2012
5/18/12
11:20
AM ET
We're putting spring behind us and looking toward the fall with our post-spring power rankings:
1. LSU: The Tigers had one of the best springs around. Things were quiet off the field, and the offense rallied behind quarterback Zach Mettenberger. Coach Les Miles was very impressed with Mettenberger's play and maturity, and expects LSU's offense to be more balanced with him under center. LSU can still use four or five running backs as well. Defensively, the Tigers are stacked once again, especially up front with two potential first-rounders in ends Sam Montgomery and Barkevious Mingo. Questions surround the inexperienced linebackers, but Kevin Minter had a tremendous spring in the middle. On paper, LSU is equipped with the talent to make another title run, and gets Alabama at home this year.
November, 28, 2011
11/28/11
1:32
PM ET
Like any captivating thriller you see on the big screen, the wild, rough and tough SEC Western Division was won on the last weekend of the regular season.
With a 41-17 win over Arkansas in Baton Rouge, La., LSU completed its perfect regular season and clinched a berth in the SEC title game against East champ Georgia.
This game, like the past five SEC championship games, has national title implications. If No. 1 LSU (12-0, 8-0) beats the 14th-ranked Bulldogs (10-2, 7-1), the Tigers are headed to the Allstate BCS National Championship Game in New Orleans.
With the heavy lead that LSU has over No. 3 Oklahoma State in the BCS standings, even if the Tigers lose to Georgia in Atlanta, it doesn't appear that they will drop any lower than second in the standings, meaning LSU would still face Alabama in the national championship.
Saturday's game has the makings of a pretty interesting matchup. Georgia enters as one of the hottest teams in the SEC if not the country. Since beginning the season 0-2, the Bulldogs reeled off 10 straight wins to end the season.
Coach Mark Richt was feeling all sorts of pressure but somehow kept his cool and kept his team together. The Bulldogs bring in quarterback
Aaron Murray
, who has passed for 19 touchdowns to four interceptions in the past six games, and a hefty defense.
The Bulldogs quietly watched as LSU and Alabama got all the defensive attention, but Georgia owns the nation's fifth-best defense (271 yards allowed per game) and is giving up just 18 points a game.
Georgia will no doubt feed off its winning streak and all of that LSU talk. The Bulldogs understand they won't be favored, so the pressure is off.
As for LSU, the Tigers are having one of the best seasons in recent SEC memory. Even will all the off-field distractions, LSU has the top team in the country and continues to improve week to week. Despite the youth this team has on both sides of the ball, the Tigers have come out focused every week and have dominated just about every opponent they've faced.
Coach Les Miles said that even with the idea that LSU doesn't necessarily need to win Saturday to make it to the BCS title game, his team will be focused and won't look past Georgia.
There is nothing that has happened this season that should have us feeling any differently about these Tigers.
November, 27, 2011
11/27/11
11:32
PM ET
Here's a look at what we learned in the SEC during the final week of the regular season:
1. Alabama, LSU stand supreme:
The regular season has come and gone, and Alabama and LSU are exactly what we thought they were. They're the two best college football teams in the country, and it's really not even close. Hey, it's still college football, and upsets are possible. Who knows? Maybe we'll see one Saturday in Atlanta in the SEC championship game when Georgia takes its shot at LSU. But over the course of this season, when you weigh everything, Alabama and LSU stand alone. And really, it should be LSU and Alabama, in that order. The Tigers are No. 1 for a reason. As coach Les Miles said Friday after LSU's 41-17 win against Arkansas, they've taken on all comers, beating seven nationally ranked teams along the way, including three top-3 teams. In a lot of different ways, they're chasing history. There's been a lot of chatter around the country about not wanting to see a rematch in the Allstate BCS National Championship Game, and generally, I would agree. Rematches are never ideal. But when it comes to these two teams, and when you consider that nobody else around the country has exactly knocked the door down to secure one of those top two spots in the final BCS standings, a rematch makes perfect sense. The SEC haters won't like it, because it ensures a sixth straight national title for the league. But if it's truly about pairing the two best teams in the country in the national title game, then the Big Easy had better get ready. Alabama and LSU are on their way.
2. Richardson is Heisman worthy:
Alabama coach Nick Saban was straight to the point Saturday, which he usually is. "To me,
Trent Richardson
is the best football player in the country," Saban said following Richardson's career-best 203-yard rushing performance against Auburn. Everybody has different criteria in voting for the Heisman Trophy. But if you're looking for the player who's consistently been the most dominant player in the country and has consistently done it on the biggest stages, then Richardson will walk away next month from New York City as the second Heisman Trophy winner in Alabama history. He's been a difference-maker for the Crimson Tide all season long, and while everybody likes to knock the offenses in the SEC, he's done his work against some of the best defenses in the land. Richardson has piled up his 1,583 rushing yards and 23 touchdowns against eight top-50 defenses nationally. Entering the final weekend of the regular season, no other Heisman Trophy contender had faced more than four top-50 defenses.
3. Arkansas falls short:
The Hogs have come miles under Bobby Petrino in four seasons and are clearly in that upper echelon of SEC teams. It's equally clear that they're not in the same league as Alabama and LSU. Then again, who is? Arkansas has made some strides defensively, but still has to make a lot more to play at the same level as Alabama and LSU. The Hogs were no match for the Tigers' bruising running game Friday and simply couldn't get off the field in the second half. And before everybody blames it all on Willy Robinson and the defense, it does the Hogs no good to roll up 450 and 500 yards on everybody else and then shoot blanks offensively against Alabama and LSU. The Hogs finished with 254 yards against LSU and only 226 against Alabama. They managed just three offensive touchdowns against Alabama and LSU, and they also broke down in special teams against both of the West powerhouses. What's so frustrating about that for the Hogs is that they were very good all season in the kicking game. But they gave up two punt returns for touchdowns -- one to Alabama and one to LSU. Arkansas is a top-10 to top-15 program right now, no doubt. But to take that next step, the Hogs are going to have to figure out a way to play their A-game in the biggest games.
4. Georgia is coming:
Not only are the Bulldogs riding a 10-game winning streak and playing their best football heading into Saturday's SEC championship game matchup with LSU, but this is a program that should be able to ride that momentum into next season. Most of the key pieces on offense and defense will be back, and the Bulldogs will likely start next season as the team to beat in the Eastern Division and could be a top-10 team nationally in the preseason. Outside linebacker Jarvis Jones says he's coming back. Top inside linebacker Alec Ogletree will be back, not to mention quarterback
Aaron Murray
, who's thrown 32 touchdown passes this season. Running back
Isaiah Crowell
and receiver
Malcolm Mitchell
are just freshmen, and the Bulldogs continue to recruit at a very high level. For a program that was supposedly reeling back in September, the future looks bright.
5. More bowls than eligible teams:
The SEC won't be able to fill all of its bowl obligations this season. Kentucky, Ole Miss and Tennessee all finished with losing records and will be staying home in the postseason. So at this point, it looks like the BBVA Compass Bowl won't have an SEC representative. It hasn't been a memorable season for the bottom half of the league. In fact, six teams finished the regular season with non-winning records. In addition to the three teams with losing records, Florida, Mississippi State and Vanderbilt are all 6-6. It's the Gators' worst regular-season record since 1987. First-year coach Will Muschamp didn't pull any punches following the 21-7 loss to Florida State. He called the program "soft" and said the Gators were not physically or mentally tough enough. Tennessee, once an Eastern Division heavyweight along with Florida, finished with its second straight losing season, the first time that's happened on Rocky Top since 1910 and 1911.
October, 13, 2011
10/13/11
12:43
PM ET
We're at the halfway point in the college football season, so teams will be a little more on edge from here on out.
Conference races are really heating up and things will only get more and more exciting.
We start the second half in the SEC with the countdown to the Nov. 5 slug fest between Alabama and LSU, but we also start with some quarterback controversy lurking within the league.
Exciting stuff.
Here is some more exciting stuff to keep an eye on this weekend:
1. Musical quarterbacks:
Outside of Alabama, Arkansas, Georgia and LSU, there are quarterback issues in this league. Florida and Tennessee are playing without their starters (
John Brantley
and
Tyler Bray
, respectively) due to injuries, while Mississippi State and Vanderbilt have opened up their quarterback competitions. South Carolina benched
Stephen Garcia
for
Connor Shaw
, then officially said goodbye to Garcia earlier this week. Shaw showed off last week against Kentucky, but the depth behind him is beyond worrisome. Auburn will play both
Barrett Trotter
and
Kiehl Frazier
against Florida, but the more athletic Frazier has been getting more and more snaps with each game and coach Gene Chizik is having to answer more questions about Trotter's status as the starter. And Ole Miss is hoping that
Randall Mackey
is
the guy
from here on out. But wasn't
Barry Brunetti
the guy
before
Zack Stoudt
was?
2. Mr. 100:
I guess
Trent Richardson
really was ready to take over as Alabama's workhorse in the backfield. The junior running back has had his hat thrown into the Heisman ring and it doesn't look like it will be coming out anytime soon. That makes sense, considering the tear he's currently on. Richardson has rushed for 100-plus yards in five straight games and he's looking to get to six straight this weekend. Well, Alabama faces an Ole Miss defense that is giving up 193 rushing yards per game, so things appear to be in Richardson's favor this weekend.
[+] Enlarge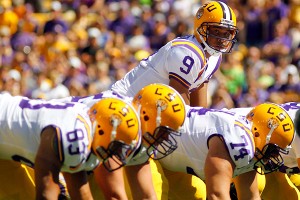 Derick E. Hingle/US PresswireThough he remains the backup, Jordan Jefferson should see his role increase in LSU's offense.
3. More Jefferson:
While LSU coach Les Miles continues to say that there is absolutely no quarterback controversy in Baton Rouge,
Jordan Jefferson
will continue to get more snaps behind
Jarrett Lee
. As he should. Jefferson brings another element to the offense that Lee doesn't -- his feet. Jefferson's touches went up from four in his first game back to eight in his second and his numbers should increase this weekend against Tennessee. But make no mistake about it, Lee is the starter until something unforeseen happens. Both players want to be the starter, but Lee has earned it and he deserves to keep it. The Tigers are just as successful with the Jefferson element on the field and having both play isn't hurting the team, so Jefferson's role should continue to expand going forward.
4. Swing game on the Plains:
Auburn and Florida will play a season-defining game this weekend. A win for either team could be the difference between a winning record and a .500 record. Auburn's youth has shown at times, but so has its heart, which has carried it to three close-call wins this season. The Tigers still have LSU and Georgia on the road before the Iron Bowl comes back to Auburn, so getting a win this weekend will definitely go a long way. As for Florida, the Gators will be equipped with two true freshmen --
Jacoby Brissett
and
Jeff Driskel
-- getting the snaps at quarterback until senior Brantley comes back. That could be for the Georgia game, but Saturday, it's up to the kids. A Florida win would keep the Gators in the East hunt and give them momentum going into the bye. A loss could send this team really scrambling.
5. Shaw's second go-round:
Connor Shaw will make his second start in a row for South Carolina this weekend and he'll do so on the road against a tough Mississippi State secondary. This won't be easy by any means, and this will be the first chance we get to see the sophomore perform on the road this year. He was calm and composed against Kentucky, but he'll be against a team desperate for a conference win and a fan base looking for some sort of hope this season. Can Shaw duplicate last week's outing? Can he at least be consistent for the Gamecocks for two weeks in a row? The team thinks so, but Davis Wade Stadium isn't the easiest place to maneuver if you're a young quarterback.
6. Simms begins the gauntlet:
Matt Simms
was in this position last year when he had to start against Tennessee's toughest opponents before Bray took over for him. With Bray out for an extended period of time, Simms' number has been called yet again and his first opponent is the No. 1 team in the country in LSU. It's an LSU team carrying the league's second-rated defense and a host of defensive playmakers. It won't be easy for Simms, but he says he's ready. However, this is just the first step for the senior. He'll still face Alabama (on the road), South Carolina and Arkansas (on the road) in the next four weeks. That's tough for any quarterback. Starting off with an impressive debut will help the psyche of this team. He doesn't have to be perfect, but does have to be effective enough to inject some confidence into this team for the road ahead.
7. Like brother ... like brother?
Vanderbilt quarterback
Jordan Rodgers
could make his first start for the Commodores this weekend against Georgia and if he's anything like his Super Bowl-winning older brother, Aaron, Vanderbilt's fan base should be stoked. Now, this wouldn't exactly be the best game for him to really kick off his Vandy career in, with Georgia giving up less than 180 passing yards a game, but if he does get the start, there will no doubt be a little more excitement in the air in Nashville.
Larry Smith
hasn't gotten the job done for the Commodores, so it might be time for a move. Vanderbilt needs to shake things up on offense and starting Rodgers could be a way to do that.
8. Mississippi State's lost offense:
The Bulldogs have a mound of offensive problems. They haven't seen the dynamic duo of quarterback
Chris Relf
and
Vick Ballard
do much of anything since Week 2 and the offense line is a mess. The execution has been lacking and this team is scrambling to figure things out when it has the ball. After
Tyler Russell
rescued an offense that went scoreless against UAB in the first half, he's in a battle with Relf for the starting spot. Would starting Russell provide a spark for this reeling offense? And would it matter against a revamped South Carolina defense? The Gamecocks love to bring a lot of pressure and could make either quarterback's day miserable Saturday.
9. Florida's rushing defense:
If you're Auburn running back
Michael Dyer
, you have to be pretty happy with your odds of clearing the century mark against the Gators Saturday. Florida has given up a total of 464 rushing yards in the last two games and both Alabama's Trent Richardson (181) and LSU's
Spencer Ware
(109) went into triple digits in the rushing department. Dyer has rushed for more than 100 yards four times this season. We might have given Florida's front seven way more credit than it deserved to start the year, as the last two weeks have been far from nice for this unit. With Dyer's blend of power and speed, Florida's defense has yet another tough runner to keep in check this week.
10. More of the Honey Badger:
The legend of LSU cornerback Tyrann Mathieu grows larger and more fantastic with each week. Those
Honey Badger T-Shirts
floating around LSU's campus are easily the best in the sport right now and he really does take what he wants. This weekend, he faces yet another backup quarterback making his starting debut for the season. Yes, Simms is experienced, but the Honey Badger doesn't care (or don't care). He will no doubt make Simms' day that much more frustrating because of his ability to somehow pop up wherever the ball is on the field. Just remember, he takes what he wants.