Georgia Bulldogs:

L'Damian Washington
October, 13, 2013
Oct 13
9:00
AM ET
It was just another day in the SEC on Saturday. It got started with Missouri's upset win at Georgia and finished with Texas A&M's game-winning field goal to hold off Ole Miss. Now it's time to hand out the helmet stickers for Week 7's top performers.

L'Damian Washington, WR, Missouri:
If it hadn't been for the injury, Missouri's
James Franklin
might have been the one on this list, but it was Washington who stepped up when his quarterback went out. With the lead cut to two and the Tigers in need of a big play, coach Gary Pinkel called on a trick play. Backup quarterback
Maty Mauk
threw a lateral to wide receiver
Bud Sasser
who then heaved it toward the end zone. Who was waiting on the other end? Washington. The 6-foot-4 receiver outfought the defender and hauled in the 40-yard touchdown pass. He finished with seven catches for 115 yards and two touchdowns on the day.
Connor Shaw, QB, South Carolina:
The Gamecocks had struggled in recent weeks, not putting teams away, but that wasn't the case Saturday against Arkansas. They thrashed the Razorbacks to the tune of 52-7, and Shaw played his best game of the season. The South Carolina quarterback finished 19-of-28 for 219 yards and three touchdowns through the air and tallied his fourth score on a 10-yard run in the third quarter. Shaw has been lights out since returning from a recent shoulder injury. He now has 10 touchdown passes on the season, but more importantly, he has yet to throw an interception after throwing seven a year ago.
The LSU defense:
It has been only two weeks since LSU gave up 44 points in a loss to Georgia, but coach Les Miles never gave up on his defense. That confidence paid off Saturday. The Tigers defeated Florida, 17-6, in a good, old-fashioned slugfest, rare for the SEC this season. LSU didn't force a single turnover, but the Tigers held the Gators to just 240 yards of total offense. Tyler Murphy had looked impressive since taking over as Florida's quarterback, but he could get nothing going in Death Valley. The Tigers finished with four sacks and eight tackles for loss. Linebacker
Lamin Barrow
led the team with 13 tackles.
T.J. Yeldon and Kenyan Drake, RB, Alabama:
It wasn't much of a start for Yeldon or Drake. Both running backs fumbled early, and the Crimson Tide failed to score in the first quarter against Kentucky as a result of the miscues. However, instead of dwelling on the fumbles, they both redeemed themselves in a big way Saturday night. Yeldon led the way with 124 yards on 16 carries, while Drake gained 106 on 14 carries. They each scored two touchdowns. As a team, Alabama rushed for 299 yards against the Wildcats. Freshman running back
Altee Tenpenny
got into the mix late with a 7-yard touchdown run, the first of his career.
Johnny Manziel, QB, Texas A&M:
It wasn't pretty at times. It was downright ugly with the two second-half turnovers, but in the end, Johnny did what he always does. He made just enough plays to win the football game. The Aggies gave up a go-ahead touchdown in the fourth quarter, but Manziel led them back and answered with a 6-yard touchdown run. After Ole Miss went three-and-out, Manziel orchestrated a flawless two-minute drill that resulted in the game-winning field goal. The Texas A&M quarterback finished 31-of-39 for 346 yards through the air and rushed for 124 yards and two touchdowns.
October, 12, 2013
Oct 12
6:40
PM ET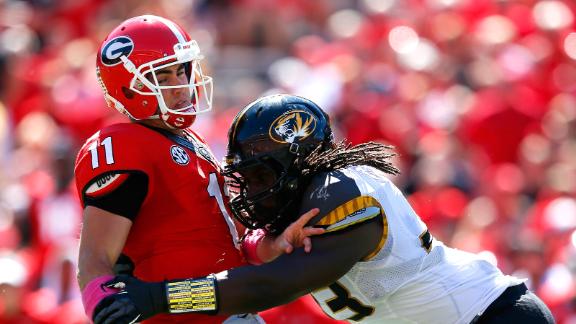 ATHENS, Ga. --
Aaron Murray
finally ran out of the late-game magic that served No. 7 Georgia so well up until Saturday's 41-26 loss to No. 25 Missouri, as the Bulldogs quarterback's interceptions on his final two drives prevented Georgia from overcoming a big early deficit.
"Four turnovers. They had none, we had four, and you can't win ballgames when you turn the ball over four times," said Murray, who was 25-for-45 for 290 yards and three touchdowns but also tossed two picks and had a fumble returned for a touchdown that put Mizzou up 28-10 in the second quarter. "I don't care who you're playing. It's just a recipe for disaster."
Murray completed late touchdown passes that paved the way for Georgia (4-2, 3-1 SEC) to beat South Carolina, LSU and Tennessee in what has been the nation's most difficult schedule to this point. But two crucial turnovers in the first half -- Murray's lost fumble for a touchdown and freshman
Brendan Douglas
' fumble at the Missouri 6 -- allowed the Tigers to build the 18-point halftime lead over a Georgia team that was without many of its top offensive weapons.
Perhaps things might have been different if
Todd Gurley
and
Keith Marshall
were in Georgia's backfield or if
Malcolm Mitchell
,
Michael Bennett
or
Justin Scott-Wesley
was in at receiver. But the Bulldogs still outgained Missouri's explosive offense 454 yards to 375 even without those players and had trimmed the Tigers' lead to 28-26 after a furious third-quarter rally.
If healthy, Gurley -- who Georgia coach Mark Richt said has "a realistic shot" of playing next Saturday against Vanderbilt -- would have been the likely ball carrier on the play in which Douglas fumbled. But the other three turnovers were the responsibility of veteran regulars. The interceptions were both bad reads by Murray. His sack came after senior tight end
Arthur Lynch
allowed
Shane Ray
to beat his block and knock the ball away from Murray with a blindside hit before
Michael Sam
picked up the loose ball and ran in for the score.
[+] Enlarge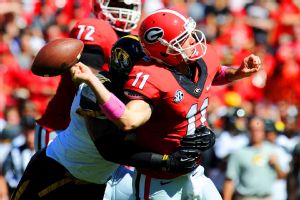 Dale Zanine/USA TODAY SportsGeorgia quarterback Aaron Murray is sacked and fumbles after being hit by Missouri defensive lineman Shane Ray during the second quarter.
"It's completely my fault," Lynch said. "You can't expect Aaron to hold that ball. It's a blindside [hit]. That's my fault 100 percent, and I feel bad I let my team down in that sense. But even then, we've got to be able to overcome mistakes, and I thought we did for the most part. Just at the end of the game, we ran out of a little bit of magic, and that's the unfortunate situation."
The difference in the outcome was that Georgia's defense couldn't carry over its momentum into the fourth quarter -- even after Missouri quarterback
James Franklin
left the game with a shoulder injury -- and the Bulldogs committed two more turnovers in the final period, ending any hope of another dramatic Georgia victory.
"I'm not going to sit here and start talking about if we'd had this or that," Richt said. "That's football. Everybody has injuries. We had injuries; other teams do too. Their quarterback went out when the game was a two-point game. They found a way to win."
And the Tigers did it with backup quarterback
Maty Mauk
coming on to lead a pair of late touchdown drives that secured the victory. Up 28-26 early in the fourth quarter, Missouri (6-0, 2-0) was facing a third-and-6 at its 45-yard line when Franklin left the game.
Georgia's defense had an opportunity to halt the Tigers' drive but allowed Mauk to slip away with a 6-yard scramble for a huge first down at midfield. Two plays later, Tigers receiver
Bud Sasser
hit
L'Damian Washington
-- who made a leaping catch over freshman cornerback
Shaq Wiggins
-- with a 40-yard touchdown off a double pass.
"You had a chance on third down to get [Mauk] and they run him and we don't finish him off on the tackle and the guy gets it, and the next play is an explosive play," Georgia defensive coordinator Todd Grantham said.
That series ruined what had been an enormous turnaround by Grantham's defense in the second half. The Bulldogs surrendered touchdowns on three straight Tigers possessions before halftime, and it looked like Missouri might win a blowout when it led 28-10 at halftime. But Georgia allowed just 35 yards in the third quarter and forced Missouri to punt all three times it had the ball in the period.
Murray and the offense used those opportunities to trim the lead to 28-26 after he hit
Chris Conley
with a 10-yard touchdown pass early in the fourth quarter. Even when Conley dropped the two-point pass that would have tied the score, the Bulldogs had seemingly gained the upper hand before allowing Missouri to convert the two big third downs that kept alive the ensuing touchdown drive that ended with Washington's touchdown grab.
"One negative play here or there that's an explosive play can eliminate a lot of good plays," Grantham said.
With their résumé already full of last-minute heroics, the Bulldogs believed they were still in it even when Mizzou pushed its lead back to eight. They were still down eight when the defense forced a punt, giving the ball to Murray and the offense with 4:25 left.
Only Murray didn't deliver this time.
Randy Ponder
intercepted a first-down pass and returned it to the Georgia 33, setting up another short touchdown drive that put the Tigers up 41-26.
"We're thinking we're in position to win the game, we're going to drive the field, score, score the two, overtime, who knows," Richt said. "Yeah, we're absolutely thinking, 'Here we go again. We've got a chance to do it.' And to their credit, they made a play."
They threw open the SEC East race in the process.
October, 9, 2013
Oct 9
11:30
AM ET
Missouri wide receiver
L'Damian Washington
is summoning his inner Ricky Bobby when it comes to the Tigers up-tempo offense.
He wants to go fast, fast, fast when it comes to running plays.
"I think we can go a whole lot faster," Washington said.
The "Talladega Nights" star was obsessed with speed and so is Washington when it comes to running new offensive coordinator Josh Henson's offense, which has tired and frustrated defenses all season.
[+] Enlarge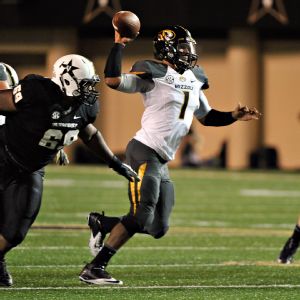 Getty ImagesA healthy James Franklin has put up 1,685 total yards and scored 15 touchdowns this season.
According to ESPN Stats & Information, because of Missouri's offensive pace, the Tigers have run 77 plays per game in 2013, most in the SEC and nearly five more plays per game than they ran in 2012 (72.2). As a result, Missouri ranks second in the SEC and eighth nationally in points per game this season (46.6).
"It's definitely something that's working to our advantage right now," said Washington, who has 340 receiving yards and a team-high five touchdowns. "If we can continue to pick it up or make it faster this week, it's definitely going to be a big advantage for us.
"It's a rewarding feeling that we know we can go faster and wear the defense out."
A great example of Mizzou's offensive speed came on the Tigers' first drive against Vanderbilt last week. It took just 1:17 for Mizzou to drive 75 yards and score on five plays. Only three of their nine scoring drives in their 51-28 win took longer than three minutes.
Saturday, the Tigers take their high-flying offense, which ranks second in the SEC and seventh nationally (543.8 yards per game), into Athens to face a Georgia defense that is surrendering more than 400 yards and 32 points per game.
On paper, the Tigers have the advantage. Fresh off a blowout in Nashville, Mizzou owns the SEC's top rushing attack (258.8), which features four players with 275 or more rushing yards and two touchdowns or more. Quarterback
James Franklin
is fifth in the SEC with 1,407 passing yards and has 13 touchdowns, and the offense is converting 53.8 percent of its third downs, which ranks third in the SEC and ninth nationally.
"We're putting up points, we're executing, and that's something that's really exciting for us and it makes it more fun," Franklin said. "We've really worked hard and to see it paying off is really good for us and the team as a whole."
To Washington, Franklin's health and his play are what have this up-tempo offense moving so well, and Franklin says he feels less constricted in this offense. There's no over-thinking, there's only instinct. As a result, he's averaging 281.4 yards per game and has just three interceptions.
"I just kind of a react," Franklin said, "like this is there, that's not there, this is there, OK, I'm gonna take it."
For Georgia, Saturday serves as another major test for a defense that is really struggling in SEC games. The Bulldogs might be 3-0 in conference play, but against SEC offenses, their defense is giving up 435.7 yards and 34 points per game. It's also allowing 6.3 yards per play. On third down, SEC teams are converting 51 percent of the time against the Dawgs.
Georgia's defensive task becomes that much tougher with the offense missing some key players due to injury. Against Mizzou, Georgia's defense will be asked to shoulder its largest load of the season.
"We've got to finish the drill like Coach [Mark] Richt said," linebacker
Ramik Wilson
said. "Finish it. We can't let up on teams. We've got to keep going after them and I think we'll be successful. All 11 dudes have got to do their job and execute the play call and we'll be just fine."
Fine might not be good enough against Mizzou's red-hot offense. The Tigers' success isn't shocking to players, but it has surprised outsiders, especially a year after Franklin dealt with injury issues and the Tigers' offense struggled in its first year in the SEC, averaging 25.7 points per game. However, a big offensive performance between the hedges should send more eyes Mizzou's way.
"It doesn't surprise me because I always thought we had one of the best offenses in the country," Washington said.
"If we go down to Georgia and get a win, it's definitely going to wake some people up."
October, 7, 2013
Oct 7
7:00
AM ET
ATHENS, Ga. -- One of the teams in Saturday's Georgia-Missouri game is a top-10 team and, until Saturday, felt like the overwhelming favorite to win the SEC East.
Then No. 7 Georgia (4-1, 3-0 SEC) barely survived a Tennessee upset bid, winning 34-31 in overtime while losing several key players to injury, while No. 25 Missouri (5-0, 1-0) smashed Vanderbilt 51-28 on its home field. And suddenly the Bulldogs' chances of winning the SEC East -- and their odds of winning Saturday's game at Sanford Stadium -- don't feel like such safe bets anymore.
"I'm not surprised to see Missouri jump in the top 25. They're an undefeated team and played extremely well against a good Vanderbilt team," said Georgia coach Mark Richt, whose team dropped a spot in this week's Associated Press Top 25, while Mizzou entered the poll for the first time since September 2011. "… As far as where we are right now, it doesn't really matter all that much right this minute. What's important, really, is to try to score some points and slow Missouri down a little bit."
[+] Enlarge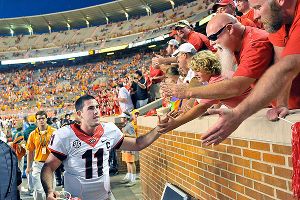 Jim Brown/USA TODAY SportsAaron Murray had reason to celebrate after Georgia's overtime win at Tennessee.
Missouri rolled through the first month of the season, blasting four overmatched nonconference opponents like Murray State and Indiana with its prolific spread offense.
Skeptics had reason to question the validity of that production because of the lower level of competition, but cracking the 50-point barrier in Nashville quieted much of that criticism. Sure, the Commodores aren't at the level of Alabama or Florida on defense, but they had not allowed 50 points to an opponent since 2010.
After demolishing Vandy on Saturday, Missouri passed Georgia for second in the league in total offense (543.8 ypg) and is second in scoring (46.6 ppg). The Tigers will face a Georgia defense that surrendered 277 yards after halftime to Tennessee's underwhelming offense.
Richt disputed the notion, however, that Georgia's fortunes rest on whether its offense is productive on a given Saturday since the defense has consistently struggled.
"I think we're all just one team, we're Georgia, and we know that regardless of the situation or the score, we're expecting our defense to get stops and our offense to score points and whatever it takes to win is all we're worried about right now," he said.
After at least two Bulldogs -- tailback
Keith Marshall
, filling in for All-SEC star
Todd Gurley
, and receiver
Justin Scott-Wesley
-- suffered season-ending knee injuries against Tennessee. Receiver
Michael Bennett
also went down with a knee injury that will sideline him for at least the near future.
Quarterback
Aaron Murray
's late-game heroics saved the Bulldogs from a stunning upset, but they must regroup quickly in order to hang with Missouri's explosive offense where quarterback
James Franklin
has three of the conference's most productive receivers –
Dorial Green-Beckham
,
Marcus Lucas
and
L'Damian Washington
-- and the SEC's top rushing attack (258.8 ypg) at his disposal.
"No doubt, they're very good," Richt said. "We think they're playing at a lot higher level on offense this year than a year ago. I think now their quarterback's healthy and he's just performing so well and you've got big, physical, great-looking receivers, but they're running the ball well. It's not just the passing game, that's for sure. A lot of yards -- they're averaging over 550 yards or so -- a lot of points per game. They're really doing some great things."
July, 11, 2012
7/11/12
3:03
PM ET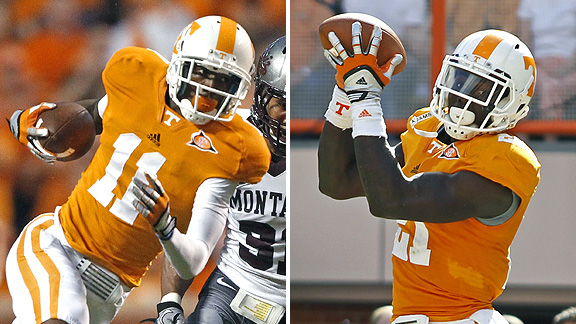 AP Photo/Wade PayneJustin Hunter (11) and Da'Rick Rogers (21) are considered to be the best receiving duo in the SEC.
Our SEC position rankings continue with a look at schools' wide receiver and tight end groups.
Past rankings:
On to the league's wide receiver/tight end groups:
1. Tennessee:
The Vols are equipped with two of the top wideouts in the league with
Da'Rick Rogers
, who was second in the SEC in receiving last year, and
Justin Hunter
, who might be the SEC's top deep threat. It sounds like Hunter will be 100 percent this fall after his ACL injury last year. Junior college transfer Cordarrelle Patterson is big, fast and possesses the big-play gene. The speedy
Zach Rogers
is back and is so is talented tight end
Mychal Rivera
.
ESPN Juco Top 50 Released