Georgia Bulldogs:

Larry Munson
September, 6, 2013
9/06/13
5:00
PM ET
ATHENS, Ga. -- Mark Richt still makes his way through the crowd at least once a season, even after 12 years as Georgia's head coach.
His players board buses together on home game days and ride the short distance down Lumpkin Street from Georgia's football building to the Tate Student Center, where thousands of fans and the Redcoat Marching Band are waiting to usher them into Sanford Stadium with a spirited "Dawg Walk."

Richt typically leaves the Dawg Walk experience to his players, although he views that trip through the crowd each year as one way to acknowledge the loyal fans who cheer on the Bulldogs each fall Saturday, hoping to ring the Chapel Bell -- a century-old tradition reserved for postgame celebrations -- well into the night.
His teams have given Bulldogs fans plenty of opportunity to ring the bell, as last season he became one of only five coaches in the history of major college football to have won at least 115 games in his first 12 seasons. And he fully acknowledges the fans' role in that success, as his comments indicate from earlier this week when he implored Georgia fans to support his players at Saturday's 2:35 p.m. Dawg Walk and then to cheer loudly to undermine South Carolina's efforts in a key SEC East showdown.
"Our crowd is crucial in this ballgame and any of our home games," Richt said. "You just never know what the one play is that might make the difference."
Georgia fans boast a proud tradition of making things difficult for visitors who make their way between Sanford Stadium's historic hedges. It was probably never more rowdy than in the days where fans could convene at the railroad tracks that ran alongside the stadium, where they would greet the team as it arrived and watched the game from that vantage point before the university enclosed that side of the stadium after the 1980 national championship season.
The "Railroad Track Crowd" is no more, but their hard-partying ways endure decades later, as any list of the nation's top party schools that does not include Georgia is simply invalid.
There are dozens of Georgia's game day traditions that remain -- the presence of Uga the bulldog mascot on the sideline, the band's lone trumpeter playing the opening notes of the 'Battle Hymn of the Bulldog Nation" from the upper deck of the stadium before the game, followed by a recording of legendary radio announcer Larry Munson's narration of a highlights package that celebrates the program's past and present -- but it's the passion inside the stadium and at the postgame party that stand among Georgia's top football traditions.
Legendary Georgia assistant Erk Russell memorialized that spirit in a letter he sent to the team before the 1980 season, which started with a comeback win at Tennessee, and it expressed a sentiment that still exists among loyal Bulldogs 33 years later.
"Another Saturday tradition which has meant so much to me over the years can be stated very simply," Russell wrote. "There ain't nothing like being a Bulldog on Saturday night -- after winning a football game. I mean like whipping Tennessee's a** to start with, then 10 more and then another one.
"This is the game plan. We have no alternate plan."
If Russell were still with us, he'd no doubt agree that one could substitute South Carolina's name for Tennessee's and his message would still apply. Because if the Bulldogs take down Steve Spurrier and the Gamecocks on Saturday evening, the partying at the tailgates and downtown bars in Athens will be epic sights to behold.
June, 24, 2013
6/24/13
12:45
PM ET
We asked you in our SportsNation poll which of the 2013 season openers involving SEC teams was the most attractive, and the Georgia-Clemson tilt was a runaway winner.


With more than 11,000 votes cast, the Aug. 31 matchup between the Bulldogs and Tigers in Death Valley (the ACC version) received 51 percent of the vote.
The Georgia-Clemson game would be my pick, too. For one, this will be the first meeting between the old rivals since 2003, and there have been some memorable games in the series, which dates back to 1897.
I can still hear the late Larry Munson bellowing, "Oh my God! Oh my God!" after Kevin Butler kicked a 60-yard field goal in the waning seconds to lift Georgia to a 26-23 win in 1984.
The Bulldogs have won the past five in the series. But in the 12 meetings prior to that, Clemson held a 6-5-1 advantage.
It's a great rivalry. The two campuses are separated by about 75 miles, and it's a game that means a great deal to both fan bases.
The season opener that came in second in our poll was LSU vs. TCU in Arlington, Texas. That game received 15 percent of the vote, and a close third was Alabama vs. Virginia Tech in the Chick-fil-A Kickoff Game, which received 14 percent of the vote.
September, 30, 2012
9/30/12
7:00
AM ET
ATHENS, Ga. -- Georgia fans no doubt came away from Saturday's 51-44 win against Tennessee breathing a sigh of relief -- and perhaps questioning what they thought they knew about the fifth-ranked Bulldogs.
Georgia (5-0, 3-0 SEC) scored 40-plus points for the fifth straight game, but huge errors allowed what was shaping up as a blowout win to turn into a nail-biter. And the Bulldogs know they're fortunate to have survived those errors against an offensive team as explosive as Tennessee (3-2, 0-2). They might not be so lucky next time if such errors occur again.
[+] Enlarge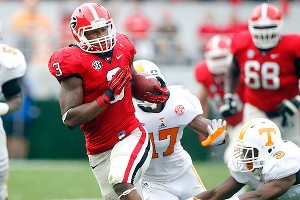 AP Photo/John BazemoreTodd Gurley (above) and Keith Marshall were off to the races early and often against Tennessee.
Let's review some of the highlights and low-lights of the game from a Georgia perspective:
March, 31, 2012
3/31/12
10:53
AM ET
ATHENS, Ga. -- Georgia announced Friday evening that junior defensive lineman Derrick Lott will transfer in search of increased playing time elsewhere.
"Derrick and I met and he believes he will have opportunities for more playing time elsewhere," Georgia coach Mark Richt said in a university statement. "We support him and will assist in any way possible during this process."
Lott played in five games and recorded 10 total tackles in his UGA career, including 1.5 tackles for loss.
To continue reading this article you must be an Insider
November, 21, 2011
11/21/11
11:29
PM ET
Punter
Drew Butler
's ties to Larry Munson run deeper than those of most Georgia players.
Not only was Butler's father Kevin a participant in one of the beloved Munson's most famous calls as Georgia's radio play-by-play announcer, Drew is one of the second-generation Bulldogs to have been a member of the team during Munson's 42 years behind the mike.
Munson died Sunday night at age 89 of complications from pneumonia.
To continue reading this article you must be an Insider
November, 21, 2011
11/21/11
9:11
AM ET
His gravely voice was perhaps the most recognizable in the SEC. His style was like none other.
In my book, Larry Munson was as much an institution in this league as Bear Bryant, Steve Spurrier, Herschel Walker and Archie Manning.
[+] Enlarge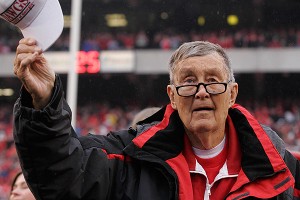 Brett Davis/US Presswire Legendary Georgia broadcaster Larry Munson died Sunday night in Athens. He was 89.
The only difference was that Munson didn't play the game or coach it. He described the game on the radio for more than 40 years with the kind of raw emotion that Georgia fans came to revere.
There will never be another like Munson, not even close. Nobody else could pull it off no matter how hard he tried.
The legendary Georgia broadcaster died Sunday night in Athens. He was 89.
I still remember the first time I heard Munson on the radio. It was sometime in the mid 1970s, and he sounded like the guy sitting at the bar with his friends agonizing his way through a game.
He wasn't talking to you. He was talking with you.
The joy in his voice when the Bulldogs scored was dripping with emotion. So was the pain when they fumbled the ball away.
Munson's passion was what made him so special. You hung on his every word, and even if you weren't a Georgia fan, you came to appreciate the way he truly made you feel that you were there with him at the game.
Keep in mind that there were very few college football games on television in the 1970s or the early 1980s.
It was a treat to be able to turn on the radio in those days and hear Munson paint the picture as only he could.
The Bulldogs were "We," and when a Georgia player picked off a pass or scooped up a fumble, it was "Our guy has the ball and is running down the field."
He has too many memorable calls to recount them all here.
I still laugh out loud any time I think about his "Run Lindsay!" call on Lindsay Scott's 93-yard touchdown catch and run to beat Florida in 1980. An ecstatic Munson exclaimed, "I broke my chair. I came right through my chair, a metal steel chair …"
Of course, there were so many memorable Walker calls.
"He's running over people! Oh you Herschel Walker!"
Mark Richt's first signature win, a last-minute 26-21 victory at Tennessee in 2001 featured the famed, "We just stepped on their face with a hobnail boot and broke their nose. We crushed their face."
In those days, I was covering Tennessee for The Tennessean newspaper in Nashville and can still hear Munson groaning, "There's that song again," any time the Tennessee band would crank up "Rocky Top."
I've told my favorite Munson story many times, but it's fitting to tell it again.
Not long before his retirement in 2008, Munson -- wearing one of his customary warm-up suits at that time -- came bopping into a crowded men's room at halftime of a Georgia game at Sanford Stadium.
Looking at the long line to the only stall in the place, he huffed a few times and then proceeded to work his way to the front of the line and knocked on the door.
"Are you getting close in there?" Munson repeated a couple of times.
He might as well have been calling a key goal-line stand for the Dawgs.
It was absolutely priceless, and to this day, I've wondered what the guy in the stall thought when he heard that voice – of all voices -- knocking on his door.
I've missed Munson dearly since he retired. It's just not the same going to a Georgia game without Munson calling the action.
I'll miss him even more now that he's gone.
He had a profound impact on my life and my career. He was one of two legendary SEC broadcasters that inspired me at a young age, the other being longtime Tennessee play-by-play man John Ward.
As a kid growing up in the Carolinas, both were larger than life. I knew early on that covering the SEC in some capacity was what I wanted to do.
From the time I was 12, it was my goal.
I will forever be indebted to both men for giving me something to shoot for and helping me get to where I am today.
And to Munson, hunker down, my friend.
You've touched more lives than you'll ever know.
November, 21, 2011
11/21/11
12:22
AM ET
ATHENS, Ga. -- Plenty of Georgia fans and media will put together a list of the best Larry Munson calls of all time after his death Sunday at age 89.
Here is a list of his top 10 favorite calls, according to his 2009 autobiography, "From Herschel to a Hobnail Boot: The Life and Times of Larry Munson," which was co-written with Tony Barnhart. Click on the link to hear audio of the call from LarryMunson.com:
10.
Georgia beat Tennessee in Knoxville
: Nov. 3, 1973, Georgia 35, Tennessee 31:
Barnhart observes that Munson's enthusiastic call in the final moments of Georgia's 1973 win against Tennessee is the moment when Bulldogs fans finally embrace Minnesota-born Munson as their own. Georgia scores the winning touchdown in the final minutes as the ball bounces back to quarterback Andy Johnson after a botched handoff, and he runs for the game-winning 8-yard touchdown. "My God! Georgia beat Tennessee in Knoxville! Georgia has defeated Tennessee 35-31 in Neyland Stadium!" Munson says.
9.
Arnold got it
: Dec. 2, 1978, Georgia 29, Georgia Tech 28:
Georgia rallies from a 20-0 deficit to go ahead 21-20 when Scott Woerner returns a punt for a 72-yard touchdown. "Now there is no sense in going away, because you know it's not going to end like this," Munson tells the listeners. Tech's Drew Hill then reclaims the lead by returning the ensuing kickoff for a touchdown, and the Jackets make a two-point conversion to go up 28-21. Georgia responds when Buck Belue hits Anthony Arnold for a 42-yard touchdown pass on fourth down, then pitches to Arnold on a two-point run to clinch the victory. "Belue pitched the ball. Arnold got it! Anthony Arnold got two points!" Munson says.
8.
Oh God, a touchdown
: Nov. 16, 2002, Georgia 24, Auburn 21:
Georgia had not won the SEC title since 1982, but was in position to do so when it visited Auburn in 2002, Mark Richt's second season at UGA. Auburn led 21-17 in the closing minutes before David Greene hit Michael Johnson with a 19-yard touchdown pass on fourth down with 1:25 to play. "Touchdown! Oh God, a touchdown!" Munson screams as Johnson pulls down the touchdown pass over two Tigers defenders.
7.
Worse than bonkers
: Sept. 22, 1984, Georgia 26, Clemson 23:
Georgia trails No. 2 Clemson 20-6 early before rallying to take a 23-20 lead. It's 23-all when Georgia's final drive stalls at the Clemson 44-yard line. Coach Vince Dooley sends on place-kicker Kevin Butler to attempt a 60-yard field goal in the closing seconds -- a distance that Munson initially describes as "a hundred-thousand miles." As Butler's winning kick clears the crossbar, Munson says, "Oh my God! Oh my God! The stadium is worse than bonkers! Eleven seconds! I can't believe what he did! This is ungodly!"
6.
Yeah, yeah, yeah, yeah
: Oct. 28, 1978, Georgia 17, Kentucky 16:
Rex Robinson kicks the winning 29-yard field goal with 8 seconds remaining, capping a comeback from a 16-0 deficit. Munson never says the kick is good. His description -- "He kicks it up, it looks good. Watch it! Watch it! Yeah, yeah, yeah, yeah!" -- got the job done for most of the folks listening. "He kicked the whatchamacallit out of it," Munson says later.
5.
Looking at the sugar falling out of the sky
: Nov. 13, 1982, Georgia 19, Auburn 14:
Munson begs Georgia's defense to stave off Auburn's last-ditch comeback effort. "I know I'm asking a lot, you guys, but hunker it down one more time!" Munson pleads. After Auburn quarterback Randy Campbell throws incomplete on a final fourth-down pass, Georgia is able to run out the clock to claim an SEC championship and a spot in the Sugar Bowl. "Look at the sugar falling out of the sky," Munson says as the final seconds tick off the clock.
4.
My God a freshman
: Sept. 6, 1980, Georgia 16, Tennessee 15:
Georgia rallies to beat Tennessee in the first game of the 1980 national championship season behind freshman running back Herschel Walker. On Herschel's first touchdown run, he plows over Tennessee safety Bill Bates near the goal line, and Munson commemorates the moment with this: "He's running all over people! Oh, you, Herschel Walker. My God Almighty, he ran right through two men. They had him dead-away inside the 9. Herschel Walker went 16 yards. He drove right over orange shirts, just driving and running with those big thighs. My God, a freshman!"
3.
Appleby to Washington
: Nov. 8, 1975, Georgia 10, Florida 7:
Richard Appleby hits speedster Gene Washington, who would attempt to qualify in track for the 1976 Olympics, with a reverse pass for the game-winning 80-yard touchdown. "Washington caught it, thinking of Montreal and the Olympics, and ran out of his shoes right down the middle 80 yards! Gator Bowl rocking, stunned, the girders are bending now. Look at the score!" Munson says.
2.
Run Lindsay Run
: Nov. 8, 1980, Georgia 26, Florida 21:
Munson implores Lindsay Scott to go the distance with a 93-yard touchdown catch in the final seconds as the Bulldogs earn a comeback win on the way to a national title. "Run, Lindsay!" Munson says, later adding, "Lindsay Scott! Lindsay Scott, Lindsay Scott!" as he crosses the goal line. As he reflects on the touchdown, Munson tells listeners, "I broke my chair. I came right through a chair. A metal steel chair with about a 5-inch cushion. I broke it. The booth came apart. The stadium, well, the stadium fell down. Now they do have to renovate this thing. They'll have to rebuild it now."
1.
The Hobnail Boot
: Oct. 6, 2001, Georgia 26, Tennessee 24:
Munson says, "We just stepped on their face with a hobnail boot and broke their nose. We just crushed their face," after Verron Haynes' game-winning touchdown catch in the final seconds at Neyland Stadium gives Richt a rare UGA victory against Tennessee and his first signature victory as the Bulldogs' head coach.
Easiest Path To The 2015 College Football Playoff
SEC SCOREBOARD
Thursday, 9/3
Saturday, 9/5