Georgia Bulldogs:

John L. Smith
January, 8, 2013
1/08/13
9:00
AM ET
We've reached the end to another college football season, and yet again Alabama is on top. Nick Saban is the king of college football, and his Crimson Tide are looking down at the rest of the sport.
So how does the rest of the SEC stack up? Well, we have our final power rankings of the year right here:
1. Alabama (13-1, 7-1 SEC):
Total domination in the championship game and three titles in four years? A load of NFL talent on both sides of the ball? Alabama had it all (again), and even with a team that didn't exactly have the same sort of defensive talent as it did a year ago, the Crimson Tide still made it to the BCS title game and came away
with a commanding 42-14 victory
over Notre Dame in a game that was over when the Tide arrived on South Beach. With the talent Alabama has coming back, the Tide could once again be in the national championship picture.
2. Texas A&M (11-2, 6-2 SEC):
Thanks to Johnny Football, the Aggies ended the season as one of the nation's hottest teams. There are some out there who think A&M might be the best team in the country, despite its two losses.
Johnny Manziel
was the nation's best player and even without Kliff Kingsbury helping him on the sideline against Oklahoma, he ran all over the Sooners for a bowl-record 516 total yards in a total rout. Imagine if both of those Aggies tackles return in 2013.
3. Georgia (12-2, 7-1 SEC):
The Bulldogs capped off the 2012 season with
a 45-31 win over
Nebraska in the Capital One Bowl. It wasn't exactly the bowl the Bulldogs wanted to be in, after coming up just yards short of making it to the BCS title game in Alabama's place, but you have to admire how this team came out and won like it did. Back-to-back SEC title game appearances is nothing for this team to be ashamed of.
4. South Carolina (11-2, 6-2 SEC):
The Gamecocks had a legitimate shot at our No. 3 spot, but at the end of the day, Georgia's appearance in Atlanta, coupled with its 14-point bowl win, kept South Carolina behind the Bulldogs. Still, what a year for the Gamecocks. Behind the coaching of Steve Spurrier, South Carolina won 11 games in consecutive seasons for the first time in school history. The Gamecocks also beat back-to-back ranked opponents to close out the season.
5. Florida (11-2, 7-1 SEC):
After entering the postseason with arguably the country's best résumé, the Gators
fell flat on their faces
against Louisville in the Allstate Sugar Bowl. Their 10-point loss didn't show just how bad the game was for Florida. The Gators might not have wanted to be there and Florida clearly didn't show up for its first BCS bowl since 2009. But you can't discount what Florida did during the regular season. It didn't have a pretty offense, but it defeated four top-10 teams, including ACC champ Florida State in Tallahassee in a year in which the Gators weren't expected to win nine games.
6. LSU (10-3, 6-2 SEC):
The Tigers had a very up-and-down year, and it ended on a very down note with
that last-second loss
to Clemson in the Chick-fil-A Bowl. LSU was totally off its offensive game in the second half, turning to the pass more than the run. With that offense struggling in the fourth quarter, LSU's defense was left huffing and puffing as
Tajh Boyd
& Co. gutted it for three straight scoring drives. But LSU did win double-digit games for the third straight year, and it took Alabama down to the wire and beat Johnny Football.
7. Vanderbilt (9-4, 5-3 SEC):
The Commodores ended the season in historic fashion, with a seven-game winning streak (the longest since 1948), and won five conference games for the first time since 1935 and nine total games for the first time since 1915. That ninth win came in dominating fashion
with a 38-24 win
over NC State in the Franklin American Mortgage Music City Bowl. The Commodores turned into the team that
no one
wanted to play at the end of the season, and they carry a ton of momentum into 2013.
8. Ole Miss (7-6, 3-5 SEC):
The Rebels had quite the first year under new coach Hugh Freeze. For a program that won just six games in the two previous seasons, Ole Miss grabbed seven, including
its first bowl win
since 2009, this year. The depth was lacking all year, but the heart wasn't, as the Rebels were much more competitive and won three SEC games after entering the season on a 14-game conference losing streak. Freeze did a tremendous job of changing the culture in Oxford, but the players did a great job of responding to adversity all season.
9. Mississippi State (8-5, 4-4 SEC):
A year that started with such promise after a 7-0 start imploded and led to a lot of criticism about the talent on both sides of the ball. The second half of the season proved the first seven games were a farce. A lot of the defensive deficiencies were masked until the month of November, as the Bulldogs went 1-5 to end the year, including a blowout loss to Ole Miss in the Egg Bowl and
a 34-20 loss to
Northwestern in the TaxSlayer.com Gator Bowl.
10. Missouri (5-7, 2-6 SEC):
The Tigers would love to forget their first season in the SEC.
This
was supposed to be the Big 12 team that succeeded in its first year out of its comfort zone.
This
team returned too much not to win a few games in the SEC East. But injuries, most notably to quarterback
James Franklin
and that offensive line, and an offense that was constantly going in reverse made for a rough start in Missouri's new home. Offensive coordinator David Yost resigned at the end of the year, and this team has to find some sort of rhythm/chemistry on offense in 2013.
11. Tennessee (5-7, 1-7 SEC):
The Derek Dooley era ended with quite a whimper. For the second straight season, Tennessee missed out on the postseason because of a loss to one of its rivals. Last year, Kentucky ended the Vols' bowl hopes. This time around, Vandy's blowout win on Nov. 17 bounced Tennessee from a postseason appearance. For as much fun as the offense was to watch, the defense was awful for the majority of the season, finishing dead last in the SEC in total defense. New coach Butch Jones has some solid talent to work with, but a ton of questions surround this program.
12. Arkansas (4-8, 2-6 SEC):
Many thought the Razorbacks' dreams of a championship season probably ended when Bobby Petrino took that infamous motorcycle ride in April. Boy, were they right. John L. Smith tried to bring some energy to the program, but he and his players fell flat in a 4-8 season that saw the Hogs give up 30 or more points in seven games. The offense lacked its usual explosion and the Hogs began the year 1-4, with a shocking loss to Louisiana-Monroe in Little Rock, Ark.
13. Auburn (3-9, 0-8 SEC):
On paper, the Tigers had a host of young talent, but on the field, they were outmanned just about every single weekend. Auburn roamed around the bottom of most offensive and defensive categories in the SEC all season long. Coach Gene Chizik was fired only two years removed from winning a national title after going winless in conference play and being outscored 129-21 in his final three SEC games, including a 38-0 loss to Georgia and a 49-0 loss to Alabama in the season finale.
14. Kentucky (2-10, 0-8 SEC):
Outside of blowing out a Kent State team that was a win away from making a BCS bowl, nothing went right for the Wildcats this year. Injuries ravaged this team, as it had to turn to two true freshman quarterbacks and never found a consistent playmaker to help out on offense. The offense hovered around the bottom of the SEC all year and the defense surrendered 31 points per game, and coach Joker Phillips was fired before the season even ended.
December, 5, 2012
12/05/12
9:00
AM ET
Here we are again talking about another potential national championship for the SEC.
Weren't we having this same conversation last year, the year before that and the year before that?
In fact, does anybody really remember the last time we weren't having this conversation?

The BCS Championship Game festivities will again include an SEC team this season, and once again, it's Alabama carrying the banner for the league.
If you think everybody else in college football is tired of seeing the SEC win all the time, try taking the temperature of fans in Baton Rouge, La., or Athens, Ga., or Auburn, Ala., over how tired they are of seeing Alabama win all the time.
The Crimson Tide will be chasing history Jan. 7 in the Discover BCS National Championship game against Notre Dame when they go after their third national title in the past four years. The last team to win three outright national titles in a four-year span was Notre Dame in 1946, 1947 and 1949.
An Alabama victory in Miami would mark the seventh consecutive national championship for the SEC, which might have been as balanced and strong across the board this season as any of the seasons during its national championship run.
The final BCS standings looked more like the SEC standings. Six of the top 10 teams were from the SEC, and all six won at least 10 games.
And talk about beating up on each other.
Texas A&M, in its first season in the SEC, waltzed into Bryant-Denny Stadium and upset Alabama 29-24 with two weeks remaining in the regular season.
Georgia lost by four touchdowns to South Carolina back in October, but rebounded to make its second consecutive appearance in the SEC championship game. It wasn't until the final play that Alabama's 32-28 win over Georgia was decided last weekend in Atlanta.
Florida is headed back to a BCS bowl for the first time since 2009 thanks to a transformation in Will Muschamp's second season that saw the Gators go from being soft at times in 2011 to one of the most physical teams in the league this season. Florida will meet Louisville in the Allstate Sugar Bowl after collecting four victories over teams that finished in the top 12 of the final BCS standings.
Steve Spurrier has South Carolina poised to win 11 games for the second straight season. It wasn't until a year ago that the Gamecocks had ever won 11 games in a season.
The Aggies, who lost close games to Florida and LSU during the first part of the season, showed no signs of stage fright during their first season in the SEC.
So much for Kevin Sumlin's up-tempo, spread offense not being able to cut it in the SEC. The Aggies led the conference in just about every offensive category and scored 29 or more points in six of their eight league games.
It wasn't just the old guard that made waves this season.
[+] Enlarge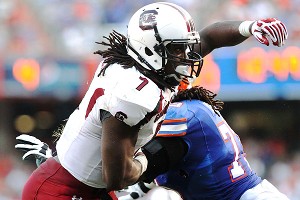 Kim Klement/USA TODAYAs a sophomore, South Carolina defensive end Jadeveon Clowney led the SEC with 13.5 sacks.
Vanderbilt won eight games for the first time in 30 years, and second-year coach James Franklin has the Commodores in a bowl game for the second consecutive season for the first time in school history.
Ole Miss began the season shouldering a 14-game SEC losing streak, but first-year coach Hugh Freeze guided the Rebels to a bowl game, and probably more importantly, pinned a 41-24 whipping on rival Mississippi State in the regular-season finale.
The SEC has historically chewed up and spit out coaches, and this season was no exception.
Arkansas' John L. Smith, Auburn's Gene Chizik, Kentucky's Joker Phillips and Tennessee's Derek Dooley were all sent packing. In Chizik's case, his ouster came just two years removed from winning a national championship, but the Tigers crashed this season with their first 0-8 SEC finish in school history.
It was also another gut-wrenching season for South Carolina star running back
Marcus Lattimore
, who suffered a gruesome-looking knee injury in the Tennessee game and was lost for the season. He was already coming off a torn ACL in his other knee the season before.
On a more positive note, Texas A&M quarterback
Johnny Manziel
will be in New York this weekend and has a great chance to become the first freshman in history to win the Heisman Trophy.
Johnny Football may well become Johnny Heisman.
Offensive MVP: Manziel.
While Manziel is admittedly a big video-game buff, his numbers this season weren't from a video game. They just looked that way. He broke Cam Newton's SEC record for total offense in a season and cranked out 4,600 yards while accounting for 43 touchdowns. He also saved his best game for the biggest stage by rolling up 345 yards in total offense against No. 1 Alabama in the Aggies' 29-24 win.
Defensive MVP: South Carolina defensive end Jadeveon Clowney.
This was an extremely tough call, and in any other year, Georgia's
Jarvis Jones
and Texas A&M's
Damontre Moore
would be runaway winners. But Clowney was the most explosive game-changer in the league this season defensively. He leads the SEC with 13 sacks and is second with 21.5 tackles for loss. Easily one of the best pass-rushers in college football, Clowney became a much more complete player this season as a sophomore.
Newcomer of the Year: Manziel.
He was a redshirt freshman by classification, but played liked a seasoned veteran. One of the most impressive things about Manziel is that he learned from earlier losses against Florida and LSU, when he didn't play as well, then proceeded to carve everybody apart down the stretch. He's the first freshman in FBS history to pass for 3,000 yards and rush for 1,000 yards in the same season. The award for the top true freshman goes to Georgia running back
Todd Gurley
, who leads the SEC with 1,260 rushing yards.
Biggest surprise: Ole Miss.
Florida certainly deserves mention here. Not many people had the Gators winning 11 games and going to a BCS bowl back in August, which is a tribute to Muschamp and his staff. But nobody had the Rebels getting to a bowl game in Freeze's first season. They'd lost 14 straight SEC games when he arrived. Not only that, but they were way down in scholarship numbers and forced to play a ton of first-year players. They scrapped their way to six wins, and it could have easily been eight or nine wins if they could have held on to a few fourth-quarter leads.
Biggest disappointment: Arkansas.
The Hogs went from No. 8 in the country and talking about a national championship in the preseason to sitting at home for the postseason. It was a disaster from the outset, and the team simply didn't respond to Smith, who stepped in during the spring as interim coach after Bobby Petrino was fired. The Hogs finished 4-8 (2-6 in the SEC). They lost to Louisiana-Monroe in Little Rock the second week of the season, and it was all downhill from there.
Best game: Alabama 32, Georgia 28, Dec. 1, SEC championship game.
The previous few SEC championship games had been blowouts, but this one went down to the final play when the clock ran out on the Bulldogs after
Aaron Murray
's tipped pass was caught by
Chris Conley
at the Alabama 5. Georgia, which led 21-10 midway through the third quarter, drove from its own 15 with 68 seconds to play and no timeouts. But when Conley gathered in the deflected pass and was tackled inbounds, the Bulldogs had no way to stop the clock. Alabama rushed for an SEC championship game-record 350 yards, as the Crimson Tide's offensive line took matters into its own hands in the second half.
September, 6, 2012
9/06/12
10:15
AM ET
With several key conference tilts on tap, we take a look at what to watch in the SEC in Week 2:
1. Hello Missouri, Hello Texas A&M:
Even though Missouri has already played a game as an SEC member, Missouri and Texas A&M "officially" become league members Saturday when the Tigers take on Georgia and the Aggies face Florida. It's fitting that the two newcomers would play traditional powers in their first league games, and it's also fitting that both would open SEC play at home. The eyes of the league will turn to College Station, Texas, at 3:30 p.m. ET and then to Columbia, Mo., at 7:45 p.m. ET. It is indeed a new day in the SEC.
2. Missouri's inexperience up front:
Blocking Georgia's defensive front with a veteran offensive line is no easy task, but the Tigers will try to do it a bit short-handed. Senior right guard
Jack Meiners
is questionable for the game with a knee injury. His size and strength inside would be invaluable against the Bulldogs. Former walk-on
Max Copeland
is scheduled to start in Meiners' place. And at left guard, true freshman
Evan Boehm
is the starter. Senior
Travis Ruth
was slated to be the starter at left guard, but tore his left triceps tendon in August and underwent surgery.
3. More touches for Gurley:
In his debut last week, Georgia freshman running back
Todd Gurley
carried the ball eight times for 100 yards and had touchdown runs of 55 and 10 yards. He also had a 100-yard kickoff return for a touchdown. Coach Mark Richt said he would "definitely" like to see Gurley touch the ball more Saturday against Missouri than he did last week. But the Bulldogs aren't going to forget about fellow freshman
Keith Marshall
and sophomore
Ken Malcome
. Richt said Gurley probably would have carried it a few more times last week but that he got a little light-headed after his 100-yard kickoff return.
4. Driskel takes the reins:
It's
Jeff Driskel
's job, and Florida coach Will Muschamp has told him that there's no need to be looking over his shoulder Saturday. It was important that the Gators settle on a starting quarterback prior to going to Texas A&M, and that's exactly what Muschamp did coming out of Florida's ho-hum 27-14 season-opening victory over Bowling Green. Driskel is a better runner than
Jacoby Brissett
and has a better chance of extending the play when things break down. More than anything, though, it's going to be imperative that the Gators play well around Driskel. The running game looks to be in good hands with
Mike Gillislee
, but the Gators are going to need more big plays like the one
Frankie Hammond
turned in against Bowling Green. He took a quick out, shook a tackle and turned it into a 50-yard touchdown. It's been a while since the Florida receivers have made those kind of plays consistently.
[+] Enlarge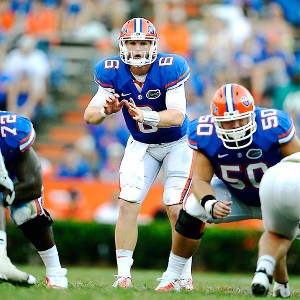 AP Photo/Phil SandlinJeff Driskel earned the nod as Florida's starting quarterback heading into the SEC opener at Texas A&M; can his receivers step up?
5. More first-timers:
In Week 1, Tennessee's
Cordarrelle Patterson
, Georgia's Gurley, Alabama's
T.J. Yeldon
and Ole Miss'
Bo Wallace
stole the show among the newcomers in the league. There are sure to be a few more that break out this week. Keep an eye on Missouri freshman receiver
Dorial Green-Beckham
. The Tigers will look to get him more involved in the offense. And at Texas A&M, redshirt freshman quarterback
Johnny Manziel
makes his debut along with true freshman cornerback
De'Vante Harris
, who earned his way into the starting lineup soon after preseason camp began. Two other true freshmen worth watching at Texas A&M are both known for their big-play skills -- receiver
Thomas Johnson
and running back
Trey Williams
.
6. Ascending to No. 1:
Alabama coach Nick Saban scolded the media this week for not giving Western Kentucky proper respect. That said, we'll change the subject a little bit from the impending blowout this Saturday at Bryant-Denny Stadium. The Crimson Tide moved to No. 1 in both polls after routing then-No. 8 Michigan 41-14 in the season opener. Since the preseason Associated Press poll began in 1950, only two teams have ascended to No. 1 in the poll after Week 1 and stayed there the rest of the season. Nebraska did it in 1971 after Notre Dame was the preseason No. 1 selection, and USC did it in 1972 after Nebraska was tabbed preseason No. 1.
7. Connor Shaw's status:
There's still no final word on whether South Carolina quarterback
Connor Shaw
will play Saturday against East Carolina, but he gave a thumbs-up to reporters as he left the practice field Wednesday. Coach Steve Spurrier said it could be a game-time decision. Spurrier said the key was Shaw being able to throw effectively Wednesday and Thursday in practice without considerable pain. Shaw's teammates said he looked like his old self Wednesday in practice. Shaw is dealing with a bruised right (throwing) shoulder after taking a knee to the shoulder area last Thursday against Vanderbilt. Wednesday was the first time he'd done anything in practice since the season-opening victory over the Commodores. Sophomore
Dylan Thompson
is Shaw's backup.
8. Breaking through in the SEC opener:
Dropping the SEC opener hasn't just been a problem for Mississippi State since Dan Mullen has been on the job. The Bulldogs haven't won their SEC opener since 1999, when they beat South Carolina 17-0. They started 8-0 that season. Under Mullen, they've lost their past three SEC openers to Auburn, including the past two by a combined 10 points. The Bulldogs get a chance to end that drought Saturday when Auburn visits Scott Field. It's also a chance for Mullen to break through in the West. His only three wins over Western Division foes since taking the job in 2009 have been over Ole Miss. He's 0-12 against everybody else in the West.
9. LSU's running back carousel:
As problems go in this league, it's a great one to have. LSU may have too many good running backs ... if that's possible.
Kenny Hilliard
and
Alfred Blue
each rushed for more than 100 yards in LSU's opener. Hilliard had 141, and Blue, who started the game, had 123. A year ago, it was
Michael Ford
and
Spencer Ware
carrying most of the load for the Tigers in the running game, although Hilliard's role grew later in the season. Ford led the team with 756 yards in 2011, and Ware had 707 yards. Ford had eight carries for 50 yards in the opener. His eligibility had been in question until he won an appeal the week before the game. Ware didn't play in the opener after he was slowed by a thigh injury. Can you play four running backs and keep them all happy? Something says the Tigers are going to find out. Either way, it's a sweet luxury to have.
10. Hamilton does Little Rock:
Arkansas senior receiver
Cobi Hamilton
left the Hogs' opener last week in the first quarter after catching two passes for 13 yards. Arkansas didn't specify his injury other than to say it was above his shoulders. Coach John L. Smith said Hamilton should be fine for this week, which goes without saying. The game is in Little Rock, and Hamilton has been at his best in War Memorial Stadium. He's played in six games there for the Hogs and has 22 catches for 644 yards and seven touchdowns. Three of his five 100-yard receiving games have come in Little Rock. In other words, if you have Hamilton on your fantasy team, you might want to be sure he's in your lineup this week.
July, 20, 2012
7/20/12
6:04
PM ET
HOOVER, Ala. -- Now that another year of SEC media days are through, it's time to take a look back at the best moments from this year's three days in the Wynfrey Hotel:
Best interview:
Yes, Missouri wide receiver
T.J. Moe
had a pretty good time with the media in Hoover and Arkansas coach John L. Smith seemed to win over the main ballroom during his press conference, but the best interview of the week had to go to Alabama offensive lineman
Barrett Jones
. The veteran strolled right into our interview room munching on pecan pie bites without a care in the world. But the real magic came during his video interview where he playfully crushed his best friend and former teammate William Vlachos and gave fellow SEC blogger Chris Low a shout out during his hit. Jones came prepared and knew how to have fun.
July, 19, 2012
7/19/12
8:32
AM ET
HOOVER, Ala. -- Day 2 of SEC media days sent some media members in to a frenzy, as 24 combined representatives from six teams paraded through The Wynfrey Hotel in Hoover, Ala.
Arkansas tried to steal the show Wednesday, as
Knile Davis
anointed himself as the conference's best running back for the second straight year and interim coach John L. Smith sent a barrage of one-liners through the main ballroom.
But get ready for the crowd Friday. That's when Alabama comes to town, meaning a cluster of Crimson Tide faithful will be packing into the Wynfrey and drowning out every bit of noise with a never-ending series of "Roll Tide."
May, 18, 2012
5/18/12
11:20
AM ET
We're putting spring behind us and looking toward the fall with our post-spring power rankings:
1. LSU: The Tigers had one of the best springs around. Things were quiet off the field, and the offense rallied behind quarterback Zach Mettenberger. Coach Les Miles was very impressed with Mettenberger's play and maturity, and expects LSU's offense to be more balanced with him under center. LSU can still use four or five running backs as well. Defensively, the Tigers are stacked once again, especially up front with two potential first-rounders in ends Sam Montgomery and Barkevious Mingo. Questions surround the inexperienced linebackers, but Kevin Minter had a tremendous spring in the middle. On paper, LSU is equipped with the talent to make another title run, and gets Alabama at home this year.
Peach State: Top Tier Recruiting Ground?
SEC SCOREBOARD
Thursday, 9/3
Saturday, 9/5