Georgia Bulldogs:

Gary Danielson
October, 31, 2012
10/31/12
8:33
AM ET
ATHENS, Ga. -- As he and broadcast partner Verne Lundquist opened their broadcast for last Saturday's Florida-Georgia game, CBS color analyst Gary Danielson echoed what members of both fan bases -- as well as college football observers around the country -- had been thinking.
[+] Enlarge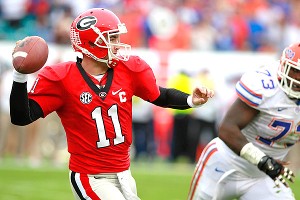 AP Photo/John RaouxAaron Murray hopes that last weekend's win over Florida can stop people from questioning Georgia's aptitude in "big" games.
"It sounds like both are doing very well, but if you ask the fan base, Florida seems like the clutch team. They come through, they seem like overachievers," said Danielson, going on to say that Georgia -- particularly its defense -- was "the most underachieving group of players in the conference this year."
That's where a series of big-game failures in recent seasons had placed the Bulldogs in the national consciousness, with Georgia coach Mark Richt bearing the brunt of analysts' criticism and fans' wrath. And the questions were perfectly reasonable, as Richt's teams had won just once in their last 10 games against top-10 opponents as they prepared to take the field against then-No. 2 Florida with first place in the SEC East on the line.
So when the Bulldogs handed the Gators a 17-9 defeat -- which stands as the highest-ranked team to fall to a Richt-coached Georgia club since he became coach in 2001 -- it didn't necessarily remove the questions about Georgia's big-game failures, but it certainly stopped the bleeding.
"Hopefully now no one will talk about, 'Georgia can't win the big games' because that was a huge game -- the No. 2 team in the nation, a chance to put ourselves back in the lead in the East," said quarterback
Aaron Murray
, whose sixth-ranked Georgia team (7-1, 5-1 SEC) hosts Ole Miss (5-3, 2-2) on Saturday. "It was a big one, so hopefully that's a dead discussion. That would be great."
Murray likely realizes that one win won't stop the questions entirely, even a win as big as the one the Bulldogs notched last Saturday in Jacksonville. The 1-9 streak against top-10 teams leading up to the Florida game started in 2008 and carried on through a supremely disappointing 35-7 loss to South Carolina earlier this month.
October, 1, 2012
10/01/12
2:42
PM ET
ATHENS, Ga. -- If ever the old line "survive and advance" applied, it would have been after Georgia's mistake-filled 51-44 victory over Tennessee. But the Bulldogs did survive -- and that keeps them undefeated entering Saturday's SEC East showdown at South Carolina.
Let's review some of what I learned from watching a recording of CBS' broadcast of UGA-UT in this week's "Upon Further Review."
[+] Enlarge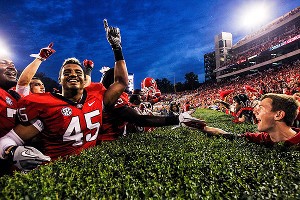 Daniel Shirey/US PresswireGeorgia linebacker Christian Robinson (45) celebrates after the Bulldogs' win over Tennessee on Saturday.
" I'm convinced that the biggest play in the game that didn't involve a score or a turnover was when
Malcolm Mitchell
failed to field a Tennessee punt in the second quarter and it wound up rolling to the Georgia 1-yard line.
Georgia is up 27-10 at this point. Everything is working right. The offense is absolutely crushing Tennessee and the defense hasn't given up a touchdown yet -- the Volunteers' lone TD at this point is
Byron Moore's
35-yard interception return for a touchdown -- but the train starts to veer off the tracks on this possession that could easily have started out near the Georgia 20 instead of up against the goal line.
The punt initially landed at the Georgia 17, and Mitchell was at the 11 at the time and clearly was indecisive about whether to try to field it. He thought about grabbing it at the 10 and again at the 5 (which would have been a really poor decision by that point), but opted to stay away.
Prophetically, CBS' Gary Danielson said immediately afterward, "It might not pop up in this football game -- might not, but it could. But to beat the best, you've got to field those."
Georgia's offense went three-and-out -- and I should note here that on third-and-3, if Mitchell had done a better job blocking his man,
Justin Coleman
, on a
Keith Marshall
run to the right, perhaps Marshall could have picked up a first down instead of Coleman tackling him for a 1-yard gain and forcing a punt. Bad sequence there for Mitchell, who was later replaced by
Rhett McGowan
on punt returns.
" Georgia's offensive balance has, in my opinion, been what makes the Bulldogs so difficult to defend. It's tough for an opponent to give
Aaron Murray
and the passing game the attention it deserves when it has to focus on Marshall and
Todd Gurley's
ability to make big things happen in the running game. The freshmen and the offensive line deserve a ton of credit again, as there were several runs in which they reached the secondary untouched -- seriously, I don't think a single Tennessee player laid a hand on Marshall on either his 75- or 72-yard touchdown runs -- and that is obviously a bad sign for defenses, given their ability to make people miss in the open field.
Speaking of which, individual blocking credits on Marshall's two long TD runs: 75 yards in the first quarter (
Merritt Hall
,
Kenarious Gates
,
David Andrews
), 72 yards in the third quarter (
Jay Rome
and
Mark Beard
cleared a huge hole and Andrews picked off linebacker
A.J. Johnson
to get Marshall loose).
That said, it will be interesting to see how well Georgia moves the ball when it's obvious to everyone that they want to move it on the ground. The Bulldogs were completely ineffective in such a situation in the fourth quarter against Tennessee. They had three different opportunities to mount drives that would run some clock after Tennessee's final touchdown made it a one-score game with 8:56 to play. Georgia's final three drives: four plays, 12 yards, 1:25 time of possession; three plays, 4 yards, 1:49; three plays, minus-2 yards, 1:07. They're fortunate that the defense bowed its neck and UT quarterback
Tyler Bray
made some big errors, because that was really bad.
At the end of three quarters, Georgia had 538 yards of total offense. In the fourth quarter alone, the Bulldogs picked up one first down and ran 13 plays for 22 yards (20 passing, eight carries for 2 yards). I will say that Murray made a great third-down pass over a leaping
Curt Maggitt
-- I mean a picture-perfect throw against a blitz that would have gone for a huge gain, if not a touchdown -- but it went straight through
Rantavious Wooten's
hands at the 50 and Georgia was forced to punt. A completion there probably ices the game.
" Conversely, It was interesting to see how easily Tennessee moved the ball on the ground late in the game. At one point between the Volunteers' last touchdown drive and the one that followed, they ran the ball on eight straight plays for 41 yards and three first downs and a touchdown. Every play went for positive yardage.
I'm sure Georgia was trying to respect the passing game in that situation -- and it didn't help that defensive end
Abry Jones
was clearly not healthy yet -- but Todd Grantham's guys are obviously not taking away the run first like they did a year ago. There was a 218-yard difference between Tennessee's output on the ground in this game (197 rushing yards, right at 5 yards per carry) vs. its performance against Georgia last year (minus-21).
With South Carolina's running game and an improving Marcus Lattimore ahead, that's a huge red flag for Georgia's defense.
" It would be unfair to describe Bray's performance as awful, but it definitely left a lot to be desired. He passed for 281 yards and two touchdowns and made some crazy-good throws -- including a deep ball where a wide-open
Cordarrelle Patterson
had beaten
Branden Smith
and probably would have scored a touchdown, but he dropped the ball.
But Bray also made some horrendous mistakes, and not just by turning the ball over on each of the Vols' last three possessions. Those were all bad plays, though. Both passes that
Sanders Commings
intercepted were poor throws -- one to the inside instead of outside to the sideline where Commings couldn't have picked it; one was behind
Zach Rogers
, who tipped it up into the air and allowed Commings to make the interception; and he let
Jordan Jenkins
slap the ball from his hands after the pocket collapsed, causing a fumble that
John Jenkins
recovered.
Plus he missed open receivers on a couple of crucial throws that could have altered the course of the game. Early in the third quarter when Georgia was reclaiming control, Bray twice threw inaccurately on third-down passes that could have extended drives. On Tennessee's first drive of the second half, he threw behind a wide-open
Justin Hunter
, who had beaten Smith, and the ball fell incomplete.
On the next drive, he nearly threw an interception to
Alec Ogletree
on back-to-back plays and whistled a pass to Hunter that barely missed him. Commings had fallen down in coverage and Hunter was open.
Marc Deas
blocked the ensuing punt and Georgia capitalized by driving for another touchdown and going up by two scores. Huge momentum change there.
" Speaking of that play, credit Deas for recognizing a tendency by Tennessee wingback Moore on the play and taking advantage of it. He told me after the game that Moore had been overstepping on his drop as he blocked and that left a crease for Deas to attack the punter. Sure enough, Deas started out on the far left on this punt, Moore dropped too deep and Deas cut inside him toward punter
Matt Darr
. Moore got a piece of Deas' left shoulder, but he was still able to get his right arm free to block the kick. Very well done.
" Commings had a nice game. I think that SEC Co-Defensive Player of the Week award he won today was well-deserved.
Damian Swann
had Georgia's third interception and it was also highly impressive. Ogletree deflected a pass across the middle, tipping it high in the air, and Swann absolutely skied over Smith and Patterson and caught the ball with one hand at midfield. Tremendous athleticism there.
" Danielson saw Murray's first touchdown pass to
Michael Bennett
coming even before Tennessee did. Bennett was lined up in the slot and Tennessee safety Moore had given him about an 8-yard cushion, prompting Danielson to draw a circle on Bennett on the screen just before the snap. Sure enough, he was able to cut in front of the UT safety and Murray whistled a TD pass to him for an easy score that helped Georgia go up 37-30. Good recognition there by Murray -- and by Danielson.
" The final score and the way things played out makes this an obvious statement, but this was a really sloppy game by Georgia. It seemed like I was consistently writing down about so-and-so blowing a blocking assignment or covering the wrong receiver or dropping a pass or not making an interception that was there for the taking. They can't afford to make this many errors at South Carolina or it won't work out so well.
A few examples:
Bacarri Rambo tried to jump a pass route and went for an interception in first quarter. He doesn't get to the ball in time and Tennessee's Rogers makes a catch at the Georgia 35. He probably would have scored a touchdown there, except that he fell down. Rambo did come back with a big third-down stop to end that drive and force a field goal, however.
On Rajion Neal's go-ahead touchdown catch in the second quarter, three Georgia players covered Patterson as he ran toward the end zone and nobody covered Neal. Danielson said it looked like a blown assignment by linebacker Amarlo Herrera -- and it looked that way to me, too, although I can't be sure -- although Herrera and safety Shawn Williams seemed to have a disagreement after the play about who was supposed to be where.
Peach State: Top Tier Recruiting Ground?
SEC SCOREBOARD
Thursday, 9/3
Saturday, 9/5