Georgia Bulldogs:

Dominique Easley
October, 31, 2013
Oct 31
11:00
AM ET
It's that special time of year when it's OK to let your inner ghoul come out. It's when that thing that goes bump in the night is standing right behind you, smiling that sinister smile only nightmares can conjure.
Horror movies cover our TV screens, while candy wrappers litter our streets.
It's Nick Saban's birthday! ... Oh, and it's also Halloween.
Regardless of which one you celebrate, cut off the lights, wrap yourself in a blanket and try not to get scared as we look at the most bone-chilling people in the SEC:
[+] Enlarge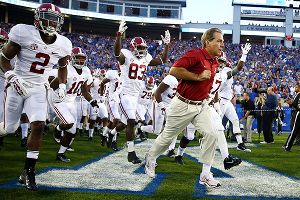 Andy Lyons/Getty ImagesThe scariest sight in the SEC is Nick Saban leading the Alabama Crimson Tide onto the field.
Jason Voorhees:
Alabama just won't go away. Even after losing at least one game in November the past two years, the Crimson Tide have won consecutive BCS national championships. Since 2010, Saban is 33-2 and is riding a 12-game winning streak. A trip to College Station to face Texas A&M didn't get in his way, and at this rate, nothing might keep him from steamrolling into his third straight BCS title game.
Michael Myers:
One of the most feared horror movie villains, Myers terrorized the citizens of Haddonfield, Ill., with his frighteningly slow stalk and superhuman strength. Meet Missouri defensive end
Michael Sam
, who torments quarterbacks with more speed and the reputation of being one of the country's scariest players. He has registered a nation-leading 16 tackles for loss and is tied for first with 10 sacks. He has totaled three sacks in a game three times this year.
Freddy Krueger:
This season, sleeping on Auburn has proved costly. The Tigers started the season unranked and under new management with Gus Malzahn, but are 7-1 and ranked No. 11 in the BCS standings. The biggest Krueger-esque attack occurred in College Station, when the Tigers upset then-No. 7 Texas A&M 45-41. Two weeks before, Auburn upset No. 24 Ole Miss at home. Could Auburn do the same against Alabama later this month?
The Great Pumpkin:
Like Linus
waiting in that pumpkin patch
on Halloween for the Great Pumpkin to arrive, we've waited for
Jadeveon Clowney
to return to his old form. Each week, we've been disappointed as Clowney, who entered the season with 21 sacks and 35.5 tackles for loss in his career, has just two sacks and 6.5 tackles for loss. Teams have schemed him differently and he has dealt with injuries, but he's just not the same player who had garnered so much attention. At least he has the awesome
Predator look
going!
The Walking Dead:
If anyone looks like a stumbling herd of undead walkers, it's Florida and Georgia. These programs have been ravaged by injuries. Florida has dealt with eight season-ending injuries, including to starters
Jeff Driskel
and
Dominique Easley
. Nicks and dings have piled up for Florida, too, as just 13 healthy defensive players dressed for the Mizzou game two weeks ago. Georgia watched as running back
Keith Marshall
and receivers
Malcolm Mitchell
and
Justin Scott-Wesley
went down with season-ending ACL injuries. Nagging injuries have sprinkled around, and heading into Saturday's game with Florida, receiver
Chris Conley
(ankle) is doubtful and safety
Tray Matthews
(hamstring) is questionable.
House of horrors:
Opponents might wander into South Carolina's Williams-Brice Stadium for a fun football game, but few leave with a win. The Gamecocks have an SEC-leading 14-game winning streak at home.
Trick:
Under Kevin Sumlin, all of Texas A&M's losses (four) have come at home. This year, the Aggies fell to Alabama and Auburn at Kyle Field by a combined 11 points. Not exactly the most intimidating home-field advantage.
The Joker:
Arkham Asylum's most heinous inmate and Batman's arch nemesis, the Joker has the ability to manipulate his foes and wreak utter chaos. Kind of like how
Johnny Manziel
plays. We thought he wouldn't be focused enough this season, so he has churned out 3,091 yards of offense and 28 touchdowns. Defenders think he's going one way, only for him to go the other. Manziel might have dressed up as
Scooby Doo
last year, but he's as evil as the Joker on the field.
Thriller:
The best game of the year has to be Georgia's 44-41 win over LSU. We saw three lead changes, four ties, 943 yards of offense and 85 points.
Aaron Murray
's touchdown pass to Scott-Wesley with 1:47 remaining proved to be the difference after LSU quarterback
Zach Mettenberger
threw four straight incomplete passes on LSU's final drive.
Scary:
Texas A&M's defense has been the SEC's most terrifying defense to watch. The Aggies rank 111th nationally in total defense, allowing 473.8 yards per game. They're 13th in the SEC in scoring defense (32.6), last in rushing (210.1), 12th in passing (263.6) and are giving up 6.4 yards per play. A&M has allowed fewer than 400 yards just twice this year.
Best costume:
Will Muschamp
.
October, 30, 2013
Oct 30
9:25
AM ET
ATHENS, Ga. -- The moment Missouri kicker
Andrew Baggett
's 24-yard overtime field goal attempt dinged off the right upright at Faurot Field on Saturday night, three fan bases exploded.
[+] Enlarge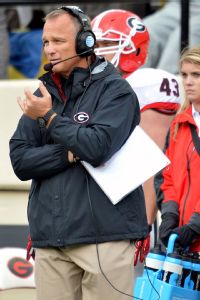 Don McPeak/USA TODAY SportsMark Richt and his Bulldogs look to stay in the SEC East race with a win over rival Florida.
Clearly, one was South Carolina, which had just pulled off the 27-24, come-from-behind win, but at the exact same moment, Florida and Georgia fans, players and coaches celebrated at once, as they climbed right back into the SEC Eastern Division race.
"I felt like we had just won a game," said Georgia wide receiver
Rhett McGowan
, sporting the same boyish smile he likely had late Saturday night.
While both programs, which face each other in their annual Outdoor Party in Jacksonville, Fla., Saturday, are unranked with identical 4-3 (3-2 SEC) records, they scored major victories without playing a down. Mizzou's loss resurrected the Dawgs and Gators, even though they're both a game back of the Tigers, who own head-to-head tiebreakers over both.
Still, if both teams win out and see a couple more Mizzou losses, the winner of Saturday's game could sneak into Atlanta for the SEC Championship Game.
"It gave us a little hope," Florida defensive back
Cody Riggs
said. "I went crazy. I was jumping around the house. I actually called [safety]
Jaylen [Watkins]
, I was like 'We're back in it! We're back!' We've still got a chance."
The chances are slim, but they are there. It doesn't help either that both will literally limp into EverBank Field, as injuries have ravaged the two this season.
Florida is dealing with eight season-ending injuries (four starters), including quarterback
Jeff Driskel
and defensive tackle
Dominique Easley
, while Georgia has watched nearly every capable skill player go down. Running back
Keith Marshall
and receivers
Malcolm Mitchell
and
Justin-Scott Wesley
are all out for the year with ACL injuries, while receiver
Chris Conley
(ankle) is doubtful for Saturday.
"I don't think there's any other team besides the [New England] Patriots that's more beat up than us and Florida," Georgia tight end
Arthur Lynch
said.
Even coach Mark Richt had to chuckle at the sight of his depth chart Tuesday. Standing in front of a throng of media members, Richt released a sarcastic snicker when he looked at the available receivers on this week's depth chart.
"
Kenny Towns
will be available to play," Richt said.
"Also,
[Michael] Erdman
-- Erdman is ready."
Not exactly Mitchell or Conley.
The good news is that receiver
Michael Bennett
(knee) and running back
Todd Gurley
(ankle) should be available on Saturday, but safeties
Tray Matthews
and
Josh Harvey-Clemons
are still in limbo.
Then there's Florida.
Linebacker
Ronald Powell
(ankle) is questionable, while linebacker
Darrin Kitchens
(shoulder) and tight end
Colin Thompson
(foot) are doubtful. Florida will get defensive tackle
Damien Jacobs
(head) back, and quarterback
Tyler Murphy
(shoulder) should be fine.
Outside of injuries, on-field play has hampered those two as well. Florida's offense has stalled in each of its three losses, while Georgia's young, inexperienced defense has had plenty of growing pains.
Because of that, both will face each other on a two-game losing streak for the first time since 1926 and unranked for the second time since 1979.
For the Gators, the past two games have been an offensive nightmare. After averaging 393.4 yards per game and 5.6 yards per play during the first five games, Florida has averaged 195.5 yards per game and 3.1 yards per play while converting just 28.1 percent of its third downs since.
Georgia's defense ranks 58th nationally (390.1 yards per game) and is giving up 5.5 yards per play. It has registered just seven turnovers this season, tied for last in the SEC. To put that into perspective, former Georgia linebacker Jarvis Jones forced three fumbles and recovered two in his two games against Florida.
This game has lost some of its luster nationally, and neither will be playing for a national championship this season, but that doesn't mean it isn't important. A war of attrition will replace the party in Jacksonville, but that won't stop each side from seething at the sight of the other's color combination.
"If you can't get excited about playing Florida in that venue, you shouldn't be a Bulldog. Period," Richt said. "We all understand that. I think everybody is going to get their blood pumping for that.
"Both of us are just fighting like mad to stay in the race. With another loss, I don't know if mathematically or not it knocks us out, but it'd be pretty tough."
Added Murphy: "It's kind of like a one-game playoff. If you lose, your season is kind of done or down in the dumps. Both teams are going to come out hungry and ready to go."
Lynch called the Florida-Georgia rivalry the midseason "gauntlet of college football." This has major East implications and it's a bitter rivalry. They both celebrated Saturday's victory, but when they see each other, true disdain will emerge, which should be motivation enough.
"It's not a one-way street, they legitimately hate us too," Lynch said. "It's nothing like I've ever seen before.
"I'll raise my kids to hate Florida just as anyone else. Even if they go play football at Brown, they'll still root for Georgia over Florida. That's just how it is."
October, 25, 2013
Oct 25
7:00
AM ET
ATHENS, Ga. -- For most of his time at Georgia, this was the time of year where Mark Richt started having to answer "the question." Fortunately for Richt, a two-game winning streak against rival Florida has made for a refreshing change in that department – but that nuisance has only been replaced by a different set of bothersome questions.
"It's nice not to have to hear that question," Richt told reporters after Thursday's practice. "Year after year, 'When are you going to beat Florida?' that gets pretty old. So that isn't the big topic of conversation this year. Everybody wants to talk about, what did we talk about injuries for the first 80 percent of this meeting so far? That's what everybody's talking about, but it's been the dominating story."
Richt is one of the most consistent winners among active FBS coaches, but his subpar record against Florida was one of the black marks on an otherwise sterling resume in his first decade as the Bulldogs' coach. Georgia beat the Gators just twice in its first 10 tries under Richt before winning in both 2011 and 2012 -- giving the Bulldogs their first back-to-back wins against the Gators since 1988-89.
[+] Enlarge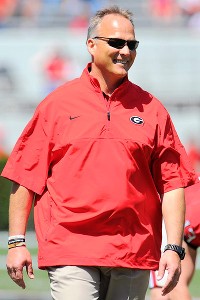 Dale Zanine/USA TODAY SportsMark Richt doesn't want injuries to become the story of the year at Georgia.
But he's right. The topic du jour leading into next week's Georgia-Florida game in Jacksonville is not so much the Bulldogs' chance to run its winning streak to three games as it is the debilitating injuries that have struck both programs, forcing both out of the top 25 following losses over the weekend.
The Gators announced this week that linebacker
Jeremi Powell
is out for the rest of the season, making him the eighth Florida player to suffer a season-ending injury -- a list that also includes starters
Jeff Driskel
,
Dominique Easley
,
Chaz Green
and
Matt Jones
.
Georgia has played the last two games -- both losses -- without most of its most dangerous offensive weapons, which is why Richt spent the first several minutes of Thursday's post-practice press gathering discussing injuries, how they have impacted his team and whether some of the injured players might return for the Florida game.
UGA director of sports medicine Ron Courson delivered the team's lengthy injury report to the sports medicine office while Richt was speaking to reporters . The list included 24 players and 12 who have started at least once this season.
Richt addressed some of those concerns -- most notably All-SEC tailback
Todd Gurley
's return to practice this week following a three-game absence with an ankle injury -- after Thursday's final practice of the open week:
On Gurley:
"He practiced. He made it till the end. He ran sprints with everybody at the end. He did scout work, which is really all we asked him to do. But he did fundamental work -- the run polish and that kind of thing. He did good. I'm encouraged."
On receiver Michael Bennett (knee):
"He wasn't trying to break a land-speed record or anything, but he was sprinting and striding out pretty good and he looked fine. The drill I saw him do was kind of a sprint-jog-sprint-jog kind of thing down the field and he looked good. I would think he'll be practicing Monday."
On center David Andrews (foot):
"I think we expect him to play, but he did not go today. Dallas [Lee] was playing center with the first group. … We're hoping it's such a temporary thing you don't think much about it, but we had Kolton [Houston] playing the left guard spot where Dallas was. Kolton's a good player, so I think we'd be OK, but we're better with [Andrews] at center."
On safety Josh Harvey-Clemons (foot) and receiver Chris Conley (ankle),
who both left last Saturday's Vanderbilt loss with injuries: "Neither one of them practiced. I would guess Josh Harvey is closer than Chris and I don't know if Josh will practice Monday or not."
On freshman linebacker Reggie Carter (knee):
"Reggie was not out there. Reggie hurt his knee Tuesday in practice. Don't know how severe yet."
Bennett and safety
Tray Matthews
(hamstring) worked on the side with trainers, away from the team, during the portion of practice that was open to the media.
Gurley and fellow tailbacks
J.J. Green
(right shoulder contusion, left shoulder sprain) and
Brendan Douglas
(right knee sprain, left wrist sprain) worked in team drills while wearing green non-contact jerseys. Receivers
Rhett McGowan
(ankle),
Michael Erdman
(shoulder) and
Tramel Terry
(shoulder) also practiced in green, joining the lengthy list of players dealing with some physical ailment.
"We don't want to make it the story of the year," Richt said. "We want to win ballgames. We want to prepare to win with who we have available. We want guys to get well as fast as they can get well. We want some guys that know they're going to miss the season, we want them to be ready as fast as they can so they can have a great year next year. But obviously that's been the thing that most people have talked about because it's been a little unusual in that regard."
October, 24, 2013
Oct 24
8:00
AM ET
The injury bug has been sucking the life out of teams in the SEC this season. The SEC East has been hit especially hard this season, and here are the three teams in the league that have been affected the most:

1. Florida:
Not exactly what the Gators want to be ranked first in, but Florida runs away with this one. The 4-3 Gators lost starting right tackle
Chaz Green
(shoulder) and wide receiver
Andre Debose
(knee) for the season during fall camp and have seen six more season-ending injuries since, including quarterback
Jeff Driskel
, running back
Matt Jones
and defensive tackle
Dominique Easley
. They dressed only 13 healthy defenders in the loss to Missouri. Quarterback
Tyler Murphy
is still dealing with a lingering shoulder injury.

2. Georgia:
The 4-3 Bulldogs lost top receiver
Malcolm Mitchell
for the year to a freak ACL injury in the season opener and then lost running back
Keith Marshall
and Justin-Scott Wesley to ACL injuries against Tennessee. Starting running back
Todd Gurley
(ankle) has been out since the LSU game (Sept. 28) and receiver
Michael Bennett
hasn't played since the Tennessee game (Oct. 5) due to a knee injury. Receiver
Chris Conley
(ankle) and safeties
Josh Harvey-Clemons
(foot) and
Tray Matthews
are questionable for next week's Florida game.

3. Arkansas:
The Razorbacks, who have lost five straight, felt the injury bug before the season when top receiver
Demetrius Wilson
was lost for the year with a preseason ACL injury while linebacker
Otha Peters
has played in only five games after breaking his arm during fall camp. Coach Bret Bielema estimated that 10-12 players went down with injuries during fall camp. Quarterback
Brandon Allen
suffered a shoulder injury early this season and starting defensive tackle
Robert Thomas
is out for the season with a broken leg.
October, 7, 2013
Oct 7
1:00
PM ET
Welcome to Missouri's world, SEC East. It isn't so pretty, is it?
A year ago, the Tigers were wrapped in bandages and chugging Robitussin every week of their debut season in the SEC. Now, it seems like the top teams in the SEC East are doing the same thing as we head into the sixth week of the 2013 season.
Florida, Georgia and South Carolina are dealing with injuries, and it looks like Missouri is actually the healthiest team and is starting to make some noise in the conference after its 51-28 thrashing of Vanderbilt in Nashville over the weekend.
[+] Enlarge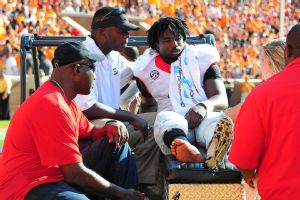 Scott Cunningham/Getty ImagesGeorgia sophomore running back Keith Marshall is out for the season with a torn ACL.
It literally looks like the last man standing will win the SEC East this year, as injuries continue to pile up.
Just look at the
Georgia Bulldogs
. Heavy favorites to win the division after their 44-41 win against LSU two Saturdays ago, the Bulldogs are now in the realm of the unknown after losing three key offensive players to knee injuries in a thrilling overtime win over Tennessee. Running back
Keith Marshall
and wide receiver
Justin Scott-Wesley
are out for the rest of the season with ACL injuries, while receiver
Michael Bennett
will have to undergo surgery to find out the extent of his knee injury and will miss Saturday's game against Missouri.
Receiver
Malcolm Mitchell
was already lost for the season with an ACL injury, and running back
Todd Gurley
is sidelined with an ankle injury. Punter
Collin Barber
left Saturday's game early with a concussion, and Georgia was without receiver
Jonathon Rumph
(hamstring) and safeties
Tray Matthews
(hamstring) and
Connor Norman
(concussion) for the entire game.
So, Mark Richt, have you ever seen that many injuries in a game before?
"Not like that," he said following Saturday's game. "It's just such a shame."
It really is for the Bulldogs, and now Georgia's lead in the East doesn't look so insurmountable.
Florida came away from the weekend with quite the performance in its 30-10 win over Arkansas. What was so impressive, other than another dominating defensive performance? Well, the passing game stepped up when the Hogs buried Florida's running game.
Yes, you read that correctly. Florida's
passing game
stepped up and quarterback
Tyler Murphy
, who just so happens to be in for the injured
Jeff Driskel
(broken leg), threw for 240 yards and three touchdowns.
Arkansas certainly doesn't have the most intimidating defense, but Florida has to be feeling pretty good about last Saturday. Can the Gators sustain that? This team is down Driskel and its best overall player in defensive tackle
Dominique Easley
(ACL). Another big injury could cost the Gators a shot at Atlanta. Murphy has to stay upright if this team is even going to have a chance.
South Carolina watched quarterback
Connor Shaw
go down with a shoulder sprain against Central Florida only to bounce back and play well against Kentucky Saturday. Do injuries even affect this kid anymore? Still, his aggressive style makes him very susceptible to injuries.
It's become clear that injuries are affecting
Jadeveon Clowney
, who has played well below average this season. He's dealt with illness, a toe injury and now ribs. His coaches didn't even know he wasn't playing against Kentucky until right before the game.
"[If Clowney] wants to play, we will welcome him to come play for the team if he wants," Spurrier said after the game. "But if he doesn't want to play, he doesn't have to play. Simple as that."
The problem is that having him on the field -- even if he isn't playing close to 100 percent -- creates an issue for offenses. They've directed plays away from him and now they don't have to. Against the Wildcats, South Carolina's defense surrendered a 21-point lead. This defense has struggled, and it absolutely cannot afford anymore injuries at this point.
Then there's healthy, confident Mizzou. This was the team that couldn't get out of the infirmary last year. Now it's second in the SEC in total offense (543.8 yards per game), scoring (46.6) and sacks (15).
Mizzou has a chance to take a mighty step forward this weekend with a trip to Athens. The Dawgs beat up on the Tigers last year, but it's Georgia that enters Saturday's game battered and bruised. Mizzou should already be considered a threat in the East, but if the Tigers can keep bandages off their stripes, it'll be an exciting four-team race to Atlanta in the East.
October, 3, 2013
Oct 3
12:10
PM ET
We're closing in on Week 6 in the SEC. Find out the latest rumblings in Thursday's sampling of news and notes from across the league.
September, 30, 2013
Sep 30
9:00
AM ET
Well, the top team in our Power Rankings certainly made sure everyone knew exactly why it was No. 1:

1. Alabama (4-0, 2-0 SEC; last week: 1):
The Crimson Tide defense was tired of hearing how good it wasn't. It didn't like hearing that Ole Miss was going to score on it. So it shut the Rebels out and held them to just 205 yards of offense and 11 first downs. The Alabama offense rolled up 434 yards of offense as well, quieting a lot of doubters in the process.
2. Georgia (3-1, 2-0 SEC; LW: 4):
Well, it's pretty clear that the SEC Eastern Division is now Georgia's to lose. After a thrilling 44-41 win over LSU, the Bulldogs showed that no matter how bad their defense plays, the offense will be there to rescue it. The only real defensive test remaining for this unit is Florida. But can Florida's offense keep up with the Dawgs if they score?
3. Texas A&M (4-1, 1-1 SEC; LW: 3):
Like Georgia, the Aggies are equipped with an offense that can bail out its struggling defense. The Razorbacks gave A&M quite the scare in Fayetteville over the weekend, but
Johnny Manziel
and Co. didn't have much trouble piling on points against a struggling Arkansas defense. Still, that rushing defense has to improve with SEC play heating up.
4. LSU (4-1, 1-1 SEC; LW: 2):
The Tigers' defense showed its youthful age against Georgia on Saturday, especially in the secondary. Georgia churned out nearly 500 yards and averaged 7 yards per play. It didn't help that the front seven didn't generate enough pressure on Georgia quarterback
Aaron Murray
, who threw four touchdowns. But we learned that LSU quarterback
Zach Mettenberger
is the real deal. He delivered some NFL throws and might have outplayed Murray between the hedges.
5. South Carolina (3-1, 1-1 SEC; LW: 5):
I don't know what it is with this South Carolina team. It overcame the loss of starting quarterback
Connor Shaw
by scoring 28 straight points on UCF Saturday, but then turned around and let the Knights end the game on a 15-0 run. The good news for the Gamecocks is they might have one of the most underrated players in the SEC in running back
Mike Davis
, who leads the SEC in rushing yards per game (127).
6. Florida (3-1, 2-0 SEC; LW: 7):
This is officially
Tyler Murphy
's team, and he's been solid since replacing
Jeff Driskel
at quarterback. No one really expects much from the passing game going forward, so the running game has to carry this team (again). It did just that with its 246 yards in the win over Kentucky. That defense might be missing
Dominique Easley
, but it was fantastic against the Wildcats.
7. Ole Miss (3-1, 1-1 SEC; LW: 6):
Quarterback
Bo Wallace
took some heat for saying the Rebels' offense would score some points on Alabama. Well, he ended up scoring for the Crimson Tide with his safety in the fourth quarter. The high-flying offense we saw in the first three games didn't make it to Tuscaloosa, and now the Rebels are gearing up for a crucial conference game at Auburn this weekend.
8. Missouri (4-0, 0-0 SEC; LW: 8):
We still don't know a ton about this team, but the Tigers scored at will against their nonconference foes, averaging 45.5 points and 549 yards through the first four games. But SEC play starts now with a trip to Vanderbilt this weekend. We'll find out very soon if there was any substance to the Tigers' fast start to the season.
9. Auburn (3-1, 1-1 SEC; LW: 9):
The Tigers had the week off after their loss to LSU. That gave this team time to rest and try to get the passing game in better shape for the Rebels. What Gus Malzahn and his running backs had to be excited about was seeing Ole Miss' defense give up 254 rushing yards and rushing touchdowns of 68 and 50 yards to the Tide.
10. Vanderbilt (3-2, 0-2 SEC; LW: 10):
The offense is only getting better, and wide receiver
Jordan Matthews
is getting closer and closer to breaking SEC records for career receiving yards and career receptions. With eight catches for 115 yards and touchdown in Vandy's 52-24 win over UAB, Matthews has had 100-plus yards or a touchdown in four of Vandy's five games.
11. Arkansas (3-2, 0-1 SEC; LW: 11):
After a rough loss at Rutgers, the Hogs made things interesting in their 45-33 loss to the Aggies. This running game bounced back against A&M with 201 yards, while
Brandon Allen
's return at quarterback led to 282 passing yards. Still, this team has to clean things up on defense. The Aggies averaged 7 yards per play.
12. Mississippi State (2-2, 0-1 SEC; LW 12):
The Bulldogs were off after their 62-7 win over Troy. It was an impressive win for a team looking for more of an offensive spark at the beginning of the season. The way quarterback
Dak Prescott
is playing, this offense has to feel confident going into this weekend's matchup with LSU. But do the Bulldogs have the horses to keep up with an LSU team that has to be frustrated after its loss to Georgia?
13. Tennessee (3-2, 0-1 SEC; LW: 13):
Somehow, the Volunteers tried to give it all away late against South Alabama on Saturday. Tennessee was outscored 17-7 in the second half of its 31-24 win and even blocked its own field goal. A win is a win, especially for a program with a new head coach, but the Vols now have to regroup and face a Georgia team capable of scoring 50 in Knoxville this weekend.
14. Kentucky (1-3, 0-1 SEC; LW: 14):
The Wildcats' only real positive from Saturday's 24-7 loss to Florida was that their touchdown came on a fake field goal. Other than that, the Gators dominated Mark Stoops' team. When your kicker is your leading rusher in a game (25 yards), you know you have major problems in the playmaking department.
September, 27, 2013
Sep 27
12:45
PM ET
Happy Friday to you all. Saturday is almost here and that means another weekend of entertaining SEC football. Here is some reading to get you ready for game day:
September, 26, 2013
Sep 26
12:15
PM ET
We're a little closer to game day in the SEC. With several notable conference matchups on tap, here's look at some of the storylines, news and notes from around the league:
June, 26, 2013
Jun 26
7:00
AM ET
It's Rankings Week at DawgNation. Each day this week, we'll rank some aspect of Georgia's football program and the teams and players the Bulldogs will face in the 2013 season.
Today we're ranking the top-10 defensive players the Bulldogs will face this season. On Thursday, we'll turn to Georgia's top-10 impact freshmen.
To continue reading this article you must be an Insider
May, 9, 2013
May 9
10:15
AM ET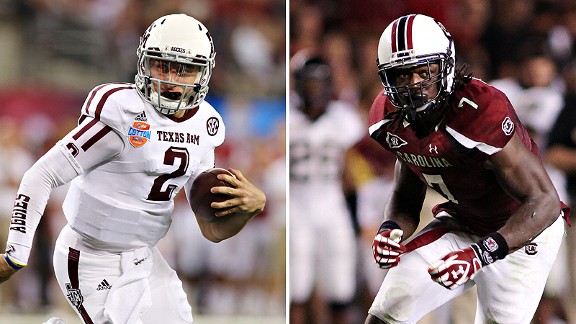 USA Today SportsTexas A&M's Johnny Manziel and S. Carolina's Jadeveon Clowney are top 2014 NFL draft prospects.
The SEC had a record 63 players selected in last month's NFL draft, including 12 in the first round.
I'm not sure it's realistic to expect that kind of haul next year, but it's never too early to start looking ahead to the 2014 draft class.
So, similar to a year ago, I've come up with our list of the SEC's top 20 draft prospects for 2014.
This isn't a mock draft. Likewise, it's not a ranking of who I think will be the best players in the SEC next season. Rather, it's a projection of who will be the most coveted NFL prospects from the SEC when the 2014 draft rolls around in April. In coming up with this list, I've talked to several draft analysts as well as NFL personnel, SEC coaches and others who are clued in to the whole draft process.
Some players will obviously play their way onto this list next season, while others will play their way off it. Injuries undoubtedly will be a factor, and then occasionally, guys will come from nowhere to be first-round picks.
Among the prospects I nailed this time a year ago were Alabama cornerback
Dee Milliner
, Alabama offensive guard
Chance Warmack
, LSU defensive end
Barkevious Mingo
and LSU safety
Eric Reid
.
Among those I missed the boat on were Texas A&M offensive tackle
Luke Joeckel
, Missouri defensive tackle
Sheldon Richardson
, Florida defensive tackle
Sharrif Floyd
and Alabama offensive tackle
D.J. Fluker
.
I had Arkansas quarterback
Tyler Wilson
No. 1 overall and South Carolina running back
Marcus Lattimore
in my top five. So it never goes exactly the way anybody predicts, especially 11 months before the draft.
Here goes with our 2014 list. Again, we're not suggesting all 20 will go in the first round or even the first two rounds. It's simply the order we think they will come off the board in next April's draft and includes only draft-eligible players:
1. Jadeveon Clowney, DE, South Carolina, Jr.:
The ultimate game-changer on defense, Clowney would have been a first-rounder had he been draft-eligible after his freshman season. Clowney then excelled in 2012, elevating his status as the 2014 No. 1 favorite.
2: Cyrus Kouandjio, OT, Alabama, Jr.:
A potential top-five pick in next year's draft, the 6-foot-6, 310-pound Kouandjio is everything you're looking for in a left tackle.
3. Jake Matthews, OT, Texas A&M, Sr.:
We know Matthews has the bloodlines, but he also has the game. He's shifting over from right tackle to left tackle for his senior season.
4. Antonio Richardson, OT, Tennessee, Jr.:
The man they call Tiny has the size and athleticism to be a franchise left tackle. Clowney said Richardson was one of the best tackles he faced a year ago.
5. Anthony Johnson, DT, LSU, Jr.:
There's a reason they call him Freak. They just seem to breed great defensive linemen at LSU, and Johnson is next in line.
6. Loucheiz Purifoy, CB, Florida, Jr.:
He's a pure cover cornerback with good size and an explosive athlete to boot. The Gators also will play him at receiver next season.
7. Johnny Manziel, QB, Texas A&M, RSo.:
Yes, Manziel is shorter than the NFL typically likes its quarterbacks, but do measurables really matter when you make as many plays as Johnny Football does?
8. Dominique Easley, DT, Florida, Sr.:
Easley is fully recovered from the torn ACL he suffered at the end of the 2011 season. He's sliding inside to tackle next season and will be a force for the Gators.
9. Adrian Hubbard, OLB, Alabama, RJr.:
We saw his ability to get to the quarterback in flashes last season. Look for Hubbard to take that next step in 2013 and become a premier finisher.
10. C.J. Mosley, LB, Alabama, Sr.:
As the saying goes, he's a football player. Mosley is a sure tackler. He's excellent in coverage and is always money whenever Alabama needs a big play.
11. Ha Ha Clinton-Dix, S, Alabama, Jr.:
In the past four drafts, Alabama has produced four first-round selections in the secondary. Clinton-Dix could be the top safety off the board next year.
12. Mike Evans, WR, Texas A&M, RSo.:
In his first season in the SEC, the 6-5, 225-pound Evans was sensational with 82 catches and 1,105 yards. He'll be even better his second time through.
13. AJ McCarron, QB, Alabama, Sr.:
Sure, he's been surrounded by great talent, but McCarron also has an NFL arm, delivers in the clutch and takes care of the football.
14. Jordan Matthews, WR, Vanderbilt, Sr.:
The 6-3, 205-pound Matthews is so smooth that he makes it look easy. And talk about productive. He averaged 109.6 receiving yards in eight SEC games.
15. Donte Moncrief, WR, Ole Miss, Jr.:
One of the more underrated players in the SEC, the 6-3, 215-pound Moncrief has a knack for finding the end zone with 14 touchdowns in his first two seasons.
16. Daniel McCullers, DT, Tennessee, Sr.:
This mountain of a man (6-8, 360 pounds) is still developing, but he should make an imposing nose tackle for a team that uses a 3-4 defensive scheme.
17. Marcus Roberson, CB, Florida, Jr.:
The "other" Florida cornerback also has big-time skills and was second in the SEC in passes defended last season with 14.
18: Chaz Sutton, DE, South Carolina, RJr.:
Clowney will get most of the attention next season, but don't be surprised if Sutton blows up and has a monster senior season.
19: Gabe Jackson, OG, Mississippi State, Sr.:
Jackson thought about coming out early this year. He returns as one of the top offensive guards in college football.
20: Aaron Murray, QB, Georgia, Sr.:
The opinions are mixed on Murray, who's bearing down on several SEC records. His numbers speak for themselves, and so does the way he approaches the game.
July, 13, 2012
7/13/12
5:57
PM ET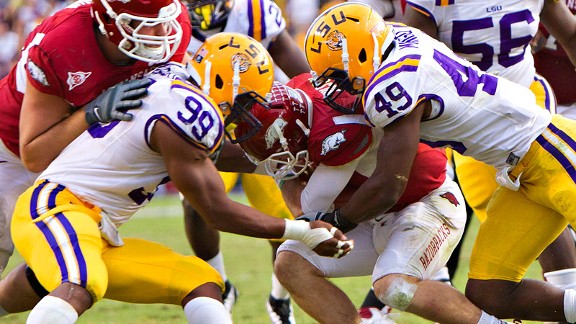 Wesley Hitt/Getty ImagesLSU's Barkevious Mingo and Sam Montgomery will head up the strongest D-line in the SEC in 2012.
We've already gone through the different position groups on offense in SEC.
Now, it's on to the side of the ball this league is known for -- defense.
More specifically, we examine the top defensive lines, and there are at least five or six in the SEC that would rank among the best in the country.
In fact, defensive line play is one of the things that has separated the SEC from everybody else over the years.
Here's how we would rank the defensive lines going into the 2012 season:
1. LSU:
All you really need to know about the Tigers' defensive line is that they have three players -- ends
Sam Montgomery
and
Barkevious Mingo
and tackle
Bennie Logan
-- who may go in the first round of the 2013 NFL draft. Look for sophomore tackle
Anthony Johnson
to also become an every-down force this season, and sophomore
Ego Ferguson
could also make his move. LSU is swimming in talent and depth up front.
2. South Carolina:
In his second tour through the SEC, sophomore end
Jadeveon Clowney
is poised to wreak some serious havoc. His partner on the other side, senior
Devin Taylor
, is also All-SEC material. Sophomore tackle
Kelcy Quarles
should take a big step, and senior tackle
Byron Jerideau
was one of the team's most improved players this spring.
3. Georgia:
The Bulldogs' strength up front starts right there in the middle with 350-pound senior nose guard
Jonathan Jenkins
. Now that he's been through an entire SEC season, he'll be even more of a force in 2012.
Cornelius Washington
adds a real pass-rushing threat at end in the 3-4 scheme after moving from outside linebacker, and senior end
Abry Jones
had a great spring.
May, 18, 2012
5/18/12
11:20
AM ET
We're putting spring behind us and looking toward the fall with our post-spring power rankings:
1. LSU: The Tigers had one of the best springs around. Things were quiet off the field, and the offense rallied behind quarterback Zach Mettenberger. Coach Les Miles was very impressed with Mettenberger's play and maturity, and expects LSU's offense to be more balanced with him under center. LSU can still use four or five running backs as well. Defensively, the Tigers are stacked once again, especially up front with two potential first-rounders in ends Sam Montgomery and Barkevious Mingo. Questions surround the inexperienced linebackers, but Kevin Minter had a tremendous spring in the middle. On paper, LSU is equipped with the talent to make another title run, and gets Alabama at home this year.
February, 24, 2012
2/24/12
12:04
PM ET
Speed and athleticism are always immediately mentioned when talking about SEC defenses, but there's a mental side that's often overlooked.
For Alabama linebacker
Nico Johnson
, it's the first thing he notices when he sees youngsters competing in practices. Their speed is always impressive, but the way younger players are dissecting and learning defenses these days has Johnson shocked. It also has defensive coordinators around the league giddy with the thought of not having to simplify things for youngsters.
ESPN Juco Top 50 Released