Georgia Bulldogs:

Dawgs-Tigers-083113
September, 1, 2013
9/01/13
3:35
AM ET
CLEMSON, S.C. -- About two hours before kickoff on Saturday evening, hordes of Clemson fans lined Centennial Boulevard, shoulder-to-shoulder in the blazing heat, to watch the players and coaches make their celebratory "Tiger Walk" from the busses into Memorial Stadium.
"I can't wait to see him," whispered Tyler Englehart, an awestruck freshman, to nobody in particular.
[+] Enlarge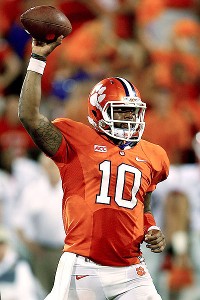 Streeter Lecka/Getty ImagesTajh Boyd stood tall against Georgia, accounting for all five of Clemson's touchdowns.
Clemson quarterback
Tajh Boyd
, wearing a dark suit and a purple bowtie, was one of the last players to stroll down the line, and the crowd seemed to grow louder with every step he took. Boyd called the atmosphere "surreal," but it paled in comparison to the show he put on in the historic 38-35 win over No. 5 Georgia. Boyd was on, even when his receivers were off. He ran with the strength of a fullback and took hit after hit. He was responsible for all five of his team's touchdowns -- three passing and two rushing.
"Tajh is our Superman," running back
Roderick McDowell
said.
"Tajh is the best football player on this team, in this conference, in the nation," added defensive end
Corey Crawford
.
Perhaps the most awestruck fans of Boyd are the ones who practice with him every day.
Clemson's win over Georgia legitimized the Tigers as a national title contender, and further boosted Boyd's résumé as a Heisman hopeful. He finished with 312 yards of total offense, a school record for a season opener, and now has 22 wins as a starter -- tied for fourth most in school history. For just the third time in his career, Boyd finished with multiple rushing touchdowns. He also helped deliver one of the biggest wins in school history on the biggest stage.
"His leadership and how he brought us together at the end of the game, we thrived off him," wide receiver
Sammy Watkins
said. "With him getting first downs, and him getting the ball out of his hands on the edge, and us blocking, he made us good tonight."
That's exactly why Boyd came back, instead of leaving early for the NFL.
He came back to run down The Hill before what was the largest, most raucous home crowd he had ever seen.
He came back to experience the "surreal" moment of walking through a horde of fans in the team's pregame "Tiger Walk."
He came back to compete for a national title.
"He's a baller," offensive coordinator Chad Morris said. "There's no question about what Tajh Boyd means to this program, to this university and to college football. To go against the opponents he's gone against the last two games and two control the games in a manner in which he did, it says a lot about him."
Neither team's defense played particularly well early in the game, and Clemson was outgained in total yardage, but Boyd made more clutch plays and was able to stay on his feet while Georgia's
Aaron Murray
was sacked four times. This game was billed as featuring two of the best quarterbacks in the country. It did, but Murray had a fumble and an interception, both in the second quarter. His critics will likely continue to point to his 3-11 record against teams that have finished in the Associated Press Top 25.
Meanwhile, Boyd has now led Clemson to back-to-back wins against SEC teams.
"He played like a veteran quarterback is supposed to play," Morris said. "We had a couple of drops tonight, and they very well could have led to some more scores. He never rattled, he never shoot, and his ability to run the football tonight made us successful."
Boyd's 4-yard touchdown run in the first quarter gave Clemson the early 7-0 lead, and his 77-yard pass later in the quarter to Watkins put the Tigers up 14-7. Boyd always seemed to find an answer in what was a thrilling, electric, back-and-forth game that lived up to every bit of the hype. In the third quarter, he found
Zac Brooks
for a 31-yard touchdown pass, and threw the game winner to
Stanton Seckinger
in the fourth quarter.
"I think it turned a lot of heads in the college football world," Boyd said of the win. "It was a very monumental win for the university and program and conference in general. All that good stuff is great, but we have to keep working to keep and keep our eyes on the prize. This is only the opener. We have 11 games left. We have to continue to keep working."
Clemson fans had to wait to see Boyd in the Tiger Walk, but he didn't waste any time making his statement against Georgia.
September, 1, 2013
9/01/13
2:55
AM ET
CLEMSON, S.C. -- Although it's easy to point to a botched field goal try as the difference in No. 5 Georgia's 38-35 loss to No. 8 Clemson on Saturday, the Bulldogs know there was more to it than that.
"I thought we did some good things and we did some things to get you beat," said Georgia coach Mark Richt, whose team has no time to lick its wounds with a game against No. 6 South Carolina on tap next Saturday. "We'll find out how good we are next week."
There were penalties from the Bulldogs on Saturday. One of the nation's most-penalized teams over the last several years, Georgia had nine for 84 lost yards against Clemson -- including two costly infractions in the fourth quarter that short-circuited the Bulldogs' comeback attempt.
There were two turnovers by quarterback
Aaron Murray
-- a fumble and an interception -- in the second quarter that took the wind out of the Georgia offense's sails after accounting for 218 yards and two touchdowns in the first quarter alone.
And there was a simple lack of execution at some crucial junctures that altered a game the Bulldogs certainly could have won.
"We did a lot of good things tonight, but there were a lot of things that we didn't do so well -- some first-game mistakes and they ended up costing us there in the game," said Georgia offensive coordinator Mike Bobo, whose team accumulated 545 yards of total offense, but surrendered four sacks and two turnovers. "But I just told the guys we ran out of time there at the end and it hurts, but we've got to look at the tape, we've got to correct and we've got to get better."
The sequence that led to the botched field goal was particularly costly. Georgia earned first-and-goal at the Clemson 5 after a 35-yard completion to
Chris Conley
late in the third quarter. The Bulldogs then ran three straight running plays -- a 2-yard run by
Keith Marshall
, a 1-yard run by
Todd Gurley
and a third-down dive for no gain by
Quayvon Hicks
-- before settling for a 20-yard field goal try by
Patrick Beless
that would have tied the score at 31-all.
One problem: On his first field goal snap of the season, new snapper
Nathan Theus
shot the ball high to holder
Adam Erickson
, who was unable to corral the snap and was forced to fall on it for a 6-yard loss.
That was an enormous letdown after Georgia had battled its way back into the game and failed to gain the equalizer.
"Momentum is a big thing and that was huge momentum for us, a big boost for our guys," Clemson coach Dabo Swinney said. "That turned out to be one of the deciding plays of the game, obviously."
As were the plays that immediately preceded it, since they could have given Georgia its first lead since Hicks' 1-yard touchdown run early in the second quarter.
"We had to get points in the red zone coming in and we wanted touchdowns and we weren't able to do it right there," Bobo said. "We ran the ball down there and I wanted to keep running it and I've got to look at the tape. We just didn't execute what we had called and unfortunately we didn't get the three points. That happens. We still had a chance to win after that, so we had our opportunities and just penalties killed us there on the next couple of drives."
Even after the field goal mistake, Georgia's defense forced a Clemson three-and-out, with a punt giving Georgia possession at its 43 early in the fourth quarter. The Bulldgos were quickly flagged for a devastating 15-yard penalty for chop blocking, however, and ended up punting.
Clemson scored on the next drive to go up 38-28 midway through the quarter, making a holding penalty that nullified a 14-yard Gurley run on the Dawgs' ensuing drive even more costly, as another Georgia punt there nearly put the game out of reach.
The Bulldogs drove for a quick touchdown late in the fourth quarter, but when they failed to recover an onside kick and had already used all of their timeouts, Clemson was able to run out the clock and walk away victorious.
"We killed ourselves with penalties tonight," Murray said. "It's tough to convert third-and-long. Penalties are a big reason why we lost tonight."
With the loss, Georgia finds itself in a fairly familiar position, which might have been why there seemed to be little panic within the Bulldog contingent during postgame interviews.
The Bulldogs dropped their first two games of 2011, including their SEC opener against South Carolina, and finished the regular season with a 10-game winning streak. They took a 35-7 pounding last season at South Carolina and once again won out.
Both times they earned a spot in the SEC championship game by claiming the Eastern Division title. And next Saturday will still play a major role in whether they can return to Atlanta for a third straight season, regardless of what happened against Clemson.
"I don't see anybody in there ready to jump off a bridge or anything," Richt said. "I think they all know that happens in football if you play a really good football team and you get beat. And if you do, then you move on and you continue to play well and you get better and you make corrections. We're still learning a lot about this team."
September, 1, 2013
9/01/13
12:05
AM ET
CLEMSON, S.C. -- No. 8 Clemson made a statement in its
season-opening 38-35 win
against No. 5 Georgia, beating a historic rival in a game with clear BCS championship implications. Let's take a closer look at how the Tigers got it done:


It was over when:
Facing third-and-goal from Georgia's 9-yard line,
Stanton Seckinger
caught a touchdown pass to put Clemson up 38-28 with 7:40 to play. The Tigers drove 87 yards in 12 plays -- none bigger than a highlight-reel 36-yard run by
Roderick McDowell
to Georgia's 6 -- on the game-clinching drive.
Game ball goes to:
Clemson's defensive front.
Although Georgia gained 545 yards, Clemson's front made huge plays after the Bulldogs built early momentum. In particular,
Stephone Anthony
forced an
Aaron Murray
fumble at Georgia's 20, leading to a touchdown, and
Corey Crawford
halted Georgia's next drive with an interception at Clemson's 17.
Stat of the game: 1,012.
Clemson-Georgia was billed as a meeting of explosive offenses and they didn't disappoint. They combined for 73 points and 1,012 yards (467 by Clemson and 545 by Georgia).
Best call:
Georgia was in jeopardy of letting Clemson run away with the game in the third quarter when the Bulldogs faked a punt on fourth-and-1 from their own 34.
Collin Barber
's 5-yard run kept the drive alive and
Todd Gurley
later tied it at 28 with a tackle-breaking 12-yard touchdown run.
What it means for Clemson:
Clemson keeps its BCS championship hopes alive with a résumé-building win against one of the nation's top programs of 2012.
What it means for Georgia:
The Bulldogs don't have long to regroup. Georgia will host South Carolina -- which hammed the Bulldogs 35-7 last year -- next Saturday.
Easiest Path To The 2015 College Football Playoff
SEC SCOREBOARD
Thursday, 9/3
Saturday, 9/5