Georgia Bulldogs:

David Pollack
July, 11, 2013
Jul 11
9:00
AM ET
It has often been said that recruiting is the lifeline of college football, and the BCS era heavily supported that statement. The schools that take home the national championships are typically brimming with former ESPN 300 prospects and highly regarded recruits. But sometimes elite playmakers emerge on the college landscape that were not among the five- or four-star talents that get the majority of publicity coming out of high school. DawgNation takes a look at three all-time greats that were considered unheralded recruits upon their arrival.
It would be easy to include walk-ons in the discussion, and Georgia has had its share, including placekicker Billy Bennett, defensive back
Tra Battle
, and fullback
Verron Haynes
. But in this instance only scholarship signees are being considered.
Tim Jennings
is often mentioned as a low-ranked prospect that went on to star at Georgia and now in the NFL and he almost made this list, but his questionable status as an all-time great for the Bulldogs made his inclusion very difficult.
[+] Enlarge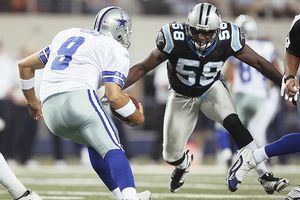 AP Photo/Donna McWilliamThomas Davis was an unknown, athletic defensive back before becoming an all-SEC player at UGA and a first round draft pick.
David Pollack (2001-2004)
Pollack was recruited as an athlete coming out of high school, and although Auburn and Clemson were in the mix, the AAAAA All-State selection chose to sign with the Bulldogs, even though he reportedly said he "couldn't play for a team that lost to the fighting chickens." In a 2001 class that included highly regarded defensive line signees Marquis Elmore and Darrius Swain, Pollack would end up as one of the best to ever play for the Bulldogs.
Pollack started out as a fullback and was likely to redshirt since the team already had established players in place. But injuries and attrition caused Richt to switch Pollack to defensive tackle, and after moving from there to defensive end, Pollack made his mark. Three years, three All-American and All-SEC selections and a school record 36 sacks later, Pollack left Athens as one of the most-decorated players in UGA history.
Thomas Davis (2001-2004)
The same year that Pollack arrived on campus, a little-known defensive back named Thomas Davis was signed as well. Not many colleges went to see Davis at Randolph-Clay High School, which had less than 500 students at the time. In fact, the only offer he received was from Georgia after then-defensive coordinator Brian Van Gorder was blown away by Davis' athleticism and size while watching him play basketball. Davis went on to rack up 272 tackles, 18 for a loss, 10.5 sacks, three interceptions, six forced fumbles and nine fumble recoveries and was named a consensus All-American after his junior season.
Terry Hoage (1980-1983)
Legendary head coach Vince Dooley has repeatedly called the two-time consensus All-American and two-time Academic All- American the best pure defensive player he ever coached or saw. But while the Bulldogs were signing the top recruit in the country in future Heisman Trophy winner
Herschel Walker
, they did not have the same expectations for Hoage, a defensive back that was injured his senior year of high school in Texas. Dooley would later state in his autobiography, "Dooley -- My 40 years at Georgia," that his staff had a spot open and simply wanted a good student that showed potential as an underachiever.
"But I certainly had no idea what we had in Terry Hoage," Dooley wrote. "As it turned out that year (1980) we got the most sought-after recruit in the country in Herschel Walker. At the same time you could say that Terry Hoage was the least sought-after recruit in Division I-A. Both became consensus All-Americans and both were inducted into the College Football Hall of Fame."
March, 4, 2013
Mar 4
7:00
AM ET
Editor's note: Each day this week, we'll ask a question that Georgia's football team faces this spring as it moves toward the 2013 season. Today's question: Who will supply the pass rush now that two-time All-American Jarvis Jones has entered the NFL draft?
ATHENS, Ga. -- Replacing the nation's leading sack artist and most effective pass rusher in the Georgia program's history is not going to be easy. It might be impossible.
To continue reading this article you must be an Insider
January, 30, 2013
Jan 30
7:00
AM ET
Editor's note: As we approach national signing day and consider the future of Georgia's football program, we'll also look backward into the Bulldogs' recruiting history. Over the next few weeks, we'll talk with several former Georgia standouts about their experiences as recruits. Today we feature wide receiver Fred Gibson, who became a star in Mark Richt's early tenure as coach:
ATHENS, Ga. -- The late surprise in Georgia's star-studded 2001 recruiting class, Fred Gibson came close to not joining a group that included
David Pollack
,
D.J. Shockley
,
Thomas Davis
,
Robert Geathers
and
Odell Thurman
.
In fact, only a flip of a coin prevented the former Ware County Gator from becoming a Florida Gator. But the coin fell Georgia's way and Gibson went on to become one of the most prolific receivers in UGA history.
To continue reading this article you must be an Insider
December, 31, 2012
12/31/12
7:00
AM ET
No. 7 Georgia and No. 16 Nebraska meet on New Year's Day in Orlando, Fla., in one of the highest-profile non-BCS games of this bowl season. The key to Tuesday's game might be discerning which of them actually takes that reality seriously.


It's not the BCS championship game, where Georgia could easily be playing, or the Rose Bowl, which Nebraska expected before laying an egg in a 70-31 loss to Wisconsin in the Big Ten championship game. But the winning program on Tuesday could very well wind up where it has not been in quite some time.
Georgia was once a top-10 team essentially every season under coach Mark Richt, but it has not finished the season in the Associated Press top 10 since 2007. Likewise, Nebraska finished the season ranked in the AP top 10 eight times in nine seasons between 1993 and 2001, but it has not finished the season there in the last decade.
Let's take a look at how they might make it there with a victory to inaugurate the new year:
No. 7 Georgia vs. No. 16 Nebraska
Tuesday, 1 p.m.
Florida Citrus Bowl Stadium, Orlando, Fla.
ABC
Records:
Georgia 11-2, Nebraska 10-3
Last game:
Georgia lost 32-28 to Alabama in the SEC championship game on Dec. 1. Nebraska lost 70-31 to Wisconsin in the Big Ten championship game on the same day.
What's the Story?
Georgia and Nebraska are both trying to snap two-game bowl losing skids and end their seasons with a milestone victory of sorts. Nebraska hasn't won at least 11 games in a season since 2001 and Georgia has only won 12 games twice in school history.
December, 17, 2012
12/17/12
7:00
AM ET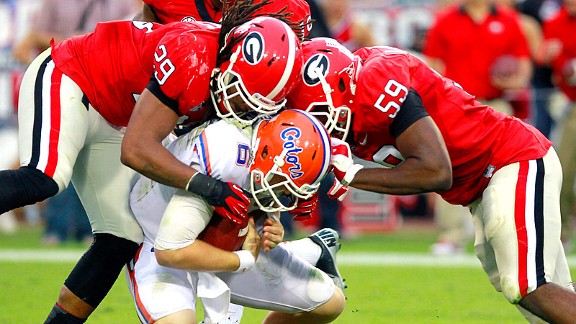 AP Photo/John RaouxGeorgia linebackers Jarvis Jones (29) and Jordan Jenkins (59) combined on this sack and might be in for a battle in the UGA record books as well.
ATHENS, Ga. -- With one game left in the season,
Jarvis Jones
is 1.5 sacks away from matching Georgia's single-season sack record.
But if it's up to one of his teammates, Jones won't hold the record long even if he does break David Pollack's record of 14 in the Bulldogs' Jan. 1 matchup against Nebraska in the Capital One Bowl.
To continue reading this article you must be an Insider
November, 12, 2012
11/12/12
7:00
AM ET
ATHENS, Ga. -- Rare is the instance where a 38-0 victory is deceptive, but that is accurate where Georgia's win at Auburn on Saturday is concerned.
Auburn (2-8, 0-7 SEC) provided almost no resistance as No. 5 Georgia (9-1, 7-1) rolled to a win that clinched the SEC East title -- with the Bulldogs' usual suspects leading the way.
That allowed for only minor movement within this week's Georgia Power Rankings, although this week's big mover, senior safety
Bacarri Rambo
, jumped all the way to No. 5 after ranking second on the team in tackles and intercepting a pass against the Tigers.
To continue reading this article you must be an Insider
August, 21, 2012
8/21/12
5:13
PM ET
By
ESPN.com staff
| ESPN.com
ESPN college football analyst and former Georgia Bulldog David Pollack dishes on his expectations for USC, the strength of the SEC, the futures of Texas and Notre Dame and more.
Listen here.
• Pollack gives his overrated and underrated team in the AP poll's top five, and his under-the-radar Heisman candidate.
Watch here.
• On "Mike & Mike in the Morning," Pollack dishes on the additions to the Big 12, the strength of the SEC, Heisman Trophy candidates, the future of college football's postseason and more.
Listen here.
July, 21, 2012
7/21/12
8:08
AM ET
Forty-two days remain until Georgia kicks off its season opener against Buffalo on Sept. 1. In the days counting down to the opener, DawgNation will profile, with our "Around the Hedges in 80 Days" series, a Bulldogs player we expect to make an impact. We will review each player's career thus far and project his long-term potential as we progress through our alphabetical list, from center David Andrews to receiver Rantavious Wooten.
42. Jarvis Jones
Junior, Outside linebacker
6-foot-3, 241 pounds
To continue reading this article you must be an Insider
April, 11, 2012
4/11/12
1:34
PM ET
October, 26, 2011
10/26/11
4:32
PM ET
Lost in all the talk about Georgia's failings against Florida is the notion that the Gators have been really, really hard to beat throughout the last few decades.
This year, however, might be Georgia's best opportunity in years to reassert itself in Jacksonville. Florida is slumping, having lost three games in a row, and Georgia enters the game on a five-game winning streak.
The Bulldogs are listed as 2.5- or 3-point favorites in most of the booking places I looked at online, but I was wondering how many times in Mark Richt's tenure -- which includes a 2-8 record against Florida -- Georgia actually entered the game as the betting favorite or the higher-ranked team.
So here are some facts:
This is the first time Georgia is the favorite since 2005. It's also the first time since that season that Georgia is ranked ahead of Florida and the fifth time overall in Richt's 11 seasons. The others were 2002, 2003 and 2004.
The only seasons where Georgia has been favored were 2002, 2003, 2004 and this year. The Bulldogs won only in 2004 thus far.
Last year was the first time since 1979 both teams were unranked when they reached Jacksonville.
Here's a quick recap of the series history under Richt. The Florida series is no doubt the most troubling black mark on Richt's otherwise sterling record at Georgia, but don't forget how good Florida has been for much of that time. Richt no doubt has to bring more balance to the rivalry if he is to remain at Georgia -- and this weekend's game is probably his best opportunity.
2011
Rankings:
Georgia: No. 22; Florida: Unranked
Favorite:
Georgia -2.5
Final score:
?
2010
Rankings:
Florida: Unranked; Georgia: Unranked
Favorite:
Florida -1
Final score:
Florida 34, Georgia 31
Recap:
Both teams enter the game unranked for the first time since 1979 and Florida snaps a three-game losing streak by winning the first overtime game in series history. Backup kicker Chas Henry, filling in for the injured Caleb Sturgis, drills a game-winning 37-yard field goal after Georgia's Aaron Murray throws an interception on the Bulldogs' overtime possession. Murray leads the Bulldogs back from a 21-7 halftime deficit, but his third interception eventually results in defeat.
2009
Rankings:
Florida: No. 1; Georgia: Unranked
Favorite:
Florida -16.5
Final score:
Florida 41, Georgia 17
Recap:
Georgia trots out special black helmets and black pants, but Florida wins in another blowout. Florida quarterback Tim Tebow accounts for four touchdowns in his final appearance against Georgia. He breaks Bulldogs great Herschel Walker's SEC career record for rushing touchdowns with his 50th in the second quarter of the rout.
2008
Rankings:
Florida: No. 5; Georgia: No. 8
Favorite:
Florida -7.5
Final score:
Florida 49, Georgia 10
Recap:
Georgia starts the season as the nation's No. 1 team, but Florida eventually wins its second national title in three years and destroys Georgia after the bitter 2007 loss has festered for a year. Florida coach Urban Meyer says he would not forget the Bulldogs' touchdown dance and rubbed in this blowout win -- Florida's second-biggest margin of victory in series history -- by using both of his remaining timeouts as the final seconds ticked off the clock.
2007
Rankings:
Florida: No. 9; Georgia: No. 20
Favorite:
Florida -7
Final score:
Georgia 42, Florida 30
Recap:
Georgia participates in a team-wide touchdown dance in the end zone after Knowshon Moreno's first-quarter score and the Bulldogs sack eventual Heisman Trophy winner Tim Tebow six times as they begin a seven-game winning streak that ends with a No. 2 final national ranking.
2006
Rankings:
Florida: No. 9; Georgia: Unranked
Favorite:
Florida -13.5
Final score:
Florida 21, Georgia 14
Recap:
Eventual national champion Florida builds a 14-0 halftime lead that grows to 21-0 when Ray McDonald returns a Kregg Lumpkin fumble for an 8-yard touchdown on Georgia's first possession of the second half. The Bulldogs rally behind a feisty defense and freshman quarterback Matthew Stafford, but can't get a stop in the fourth quarter to get one more shot at the end zone.
2005
Rankings:
Georgia: No. 4; Florida: No. 16
Favorite:
Florida -3.5
Final score:
Florida 14, Georgia 10
Recap:
Previously unbeaten Georgia is without injured starting quarterback D.J. Shockley and the offense sputters with backup Joe Tereshinski III. First-year Florida coach Urban Meyer reworks his ineffective spread offense before the Georgia game and the Gators score touchdowns on the first two drives of the game -- enough to barely hold off the eventual SEC East champion Bulldogs.
2004
Rankings:
Georgia: No. 10; Florida: Unranked
Favorite:
Georgia -6.5
Final score:
Georgia 31, Florida 24
Recap:
Georgia snaps six-game losing streak against the Gators and Bulldogs greats David Greene and David Pollack get their only career win against Florida, which had announced the Monday before the game that coach Ron Zook would not return the next year.
2003
Rankings:
Georgia: No. 4; Florida: No. 23
Favorite:
Georgia -1.5
Final score:
Florida 16, Georgia 13
Recap:
Florida's Matt Leach drills a 33-yard field goal with 33 seconds remaining to lift the Gators to their 13th win in 14 tries against the Bulldogs. Sluggish Georgia rallies from a 13-3 deficit in the fourth quarter, but it's not enough. Florida coach Ron Zook improves to 2-0 against the Bulldogs, although Georgia entered both games as a top-five team.
2002
Rankings:
Georgia: No. 4; Florida: Unranked
Favorite:
Georgia -1.5
Final score:
Florida 20, Georgia 13
Recap:
Florida limps into Jacksonville with a 5-3 record against unbeaten Georgia and still manages to hand the Bulldogs their only loss of the season. Georgia eventually wins the SEC championship, but the Florida loss almost certainly costs the Bulldogs a chance to play for the national title. The Bulldogs go 0-for-13 on third down and commit three turnovers -- the most costly being a D.J. Shockley interception that Guss Scott returns 47 yards for a touchdown. Wide-open Terrence Edwards drops a David Greene pass at the Florida 30 late in the game as the Bulldogs stumble to defeat.
2001
Rankings:
Florida: No. 6, Georgia: No. 19
Favorite:
Florida -19.5
Final score:
Florida 24, Georgia 10
Recap:
Steve Spurrier wins his final game against Georgia as Florida's coach, with the Gators overcoming four turnovers and 12 penalties and eventually pulling away for a win. First-year Georgia coach Mark Richt's club has its chances, but fails to convert three fourth downs in the second half -- including Verron Haynes' dropped pass on fourth-and-2 at the Florida 6-yard line. Rex Grossman passes for 407 yards in leading the Gators to victory.
To continue reading this article you must be an Insider
ESPN Juco Top 50 Released