Georgia Bulldogs:

Danny Ford
August, 28, 2013
8/28/13
7:00
AM ET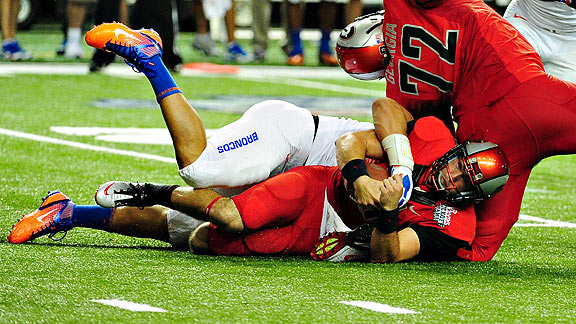 Scott Cunningham/Getty ImagesSince opening 2011 with a 34-21 loss to Boise State, Aaron Murray and Georgia have gone 22-5.
ATHENS, Ga. -- If there was a common thread between Georgia's season-opening wins in Mark Richt's first eight seasons as the Bulldogs' coach, he fails to pinpoint it today.
"If there is a secret, we had forgotten it," Richt chuckled recently.
"I'll have to remember to look at my notes and see if I forgot something. I don't know. If we were 13-0 in opening games, I might be able to make a comment on that, but I can't say we're great in openers, considering probably the last couple years we haven't [played well]."
It's not as if Richt has a substandard history in openers. The Bulldogs are 10-2 in the first game during his tenure, but recent history has not been so kind. After the 8-0 start -- which included wins against Saturday's opening opponent, Clemson (in 2002 and 2003), plus Boise State and Oklahoma State -- between 2001-08, the Bulldogs have posted a 2-2 record in the last four openers.
[+] Enlarge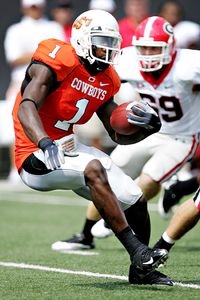 Paul Jasienski/US PresswireDez Bryant and Oklahoma State knocked off Georgia 24-10 in the 2009 season opener.
They dropped both games against BCS-conference opposition -- in 2009 at Oklahoma State and in 2011 against Boise State in Atlanta -- so the fifth-ranked Bulldogs' visit to No. 8 Clemson provides an opportunity to halt that trend.
Not that it will be easy. Because of the uncertainty that naturally accompanies a nine-month layoff, openers against large-conference opponents rarely develop into a cakewalk.
"I always call it an adventure into the unknown," said former Bulldogs coach Vince Dooley, who went 18-5-2 in openers at Georgia. "You really don't know. First ballgames are so unpredictable."
And his longtime rival at Clemson, Danny Ford, agreed.
"You don't ever know, because it's your first football game," Ford said. "If it was the fourth game or third game and you had a chance to evaluate them on film -- even though you've got film of last year, it's not the same football team. You really don't ever know until the first football game how your team's going to play, much less how your opponent's going to play."
Various Georgia players have blamed the 2009 Oklahoma State or 2011 Boise State losses on overexcitement or distraction in reflecting back on those seasons. The simple truth, however, is that Georgia faced good teams those days.
Oklahoma State jumped to fifth in the polls after beating Georgia in 2009 and hovered around the top 20 all season before a late slide caused the Cowboys to finish the season 9-4 and unranked. That Georgia team never found a consistent stride and finished 8-5 and also unranked.
With a veteran-heavy lineup that included fourth-year starter Kellen Moore at quarterback, Boise State lost just once in 2011 and finished eighth in the final Associated Press top 25 and sixth in the coaches' poll. The Georgia team that dropped that opener was coming off a 6-7 season -- the only losing campaign in Richt's career -- and lost again the following week to South Carolina before launching a 10-game winning streak to claim the first of back-to-back SEC East titles.
"I think that game ended up with a lack of execution," Georgia cornerback
Damian Swann
said. "It was kind of guys still learning the system, guys not knowing where to be on certain plays and with the experienced quarterback like that, you can't have those mistakes.
"You can't have those plays where guys are out of position and guys not being where they're supposed to be, because three plays is 21 points, and now you're down. So it's one of those things where you've got to know what's going on right out the gates."
Put more simply, Richt said, "I just think they lined up and whipped us, really, whether we were hyped or not hyped. They just lined up and beat us. They were better than us that day in just about every phase."
The 10-game winning streak that followed the early failure in 2011 is an important sign of what has changed at Georgia, fifth-year senior offensive guard
Chris Burnette
said. The residual disappointment that followed the 2010 season forced players to look themselves in the mirror and make their offseasons more productive.
"We don't go 6-7 at Georgia often," Burnette said. "It kind of forced us to go like, 'Man, something's wrong here. We need to change something.' I think that was a big key for us."
If that sounds like offseason happy talk, perhaps there is some of that element in play. But the Bulldogs can easily point to their recent record as evidence of a change. They are 22-4 since that 0-2 start in 2011 and nearly played for the BCS championship last season.
Further, quarterback
Aaron Murray
regularly makes a point to mention this summer's participation in voluntary workouts was the highest it has been since he arrived in 2009. He and the other veterans believe the daunting schedule that awaits them this season -- "I think guys realize that we've got to be in midseason form come this Saturday," Murray said -- was one of the motivating factors in that improved offseason attendance.
In fact, that preparation and their experience in previous opening disappointments, might even benefit the Bulldogs come Saturday.
"We didn't handle the environment well [against Boise State], but it was a growing experience and a lot of those guys that were on that team now are able to pull from that and know what it takes," Georgia offensive coordinator Mike Bobo said. "I think it's going to be beneficial for us going into that game. It's definitely been beneficial in the preparation."
August, 26, 2013
8/26/13
1:00
PM ET
ATHENS, Ga. -- Scour the locker rooms at Georgia and Clemson and it might be difficult to find a player who knows much about their historic rivalry.
"You know me, I don't know much about Georgia's history from before I got here," Georgia quarterback
Aaron Murray
chuckled in one such response about the longtime rivalry between schools separated by only about 70 miles.
Murray is far from alone in that regard. The 22-year-old Floridian was 13 the last time Georgia and Clemson met, in 2003, and was not even alive when the annual 1980s meetings between the Bulldogs and Tigers often carried national-title implications.
Fans of a certain age might harken back to those days on Saturday, however, when the rivalry resumes -- ending the longest gap between games since the series started in 1897 -- and No. 5 Georgia visits No. 8 Clemson in Death Valley.
[+] Enlarge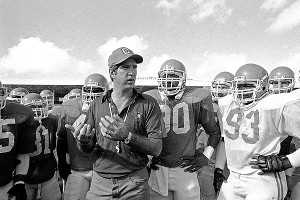 AP Photo/Kathy WillensCoach Danny Ford and Clemson beat Georgia 13-3 in 1981 and went on to win the national championship.
"Georgia was really good every year, so it meant that doggone it, somebody was going to get a lot of publicity and a lot of press, whoever won that football game," said former Tigers coach Danny Ford, who will be enshrined in Clemson's Ring of Honor on Saturday. "You could still be a good football team if you lost that game, but it just put a cramp in everything and it was so early in the year -- the first or second game or third game every year -- and you kind of knew what kind of football team [you had].
"It was kind of like a Wednesday where the kids in school call it Hump Day, you know? You're in the middle of the week, get your classes over with and you're about halfway to the weekend. That was the same kind of a hump game, where if you get off and win that football game, you've got a great chance to have a good year."
Back then, your season could be more than good if you slipped away with a win. Thanks to a 67-yard punt return touchdown by Scott Woerner and a 98-yard Woerner interception return that set up another score, Georgia edged Clemson 20-16 in 1980 despite failing to register a single first down in the opening half.
"At the end, they're back down there and Jeff Hipp makes an interception on about the 1-yard line right at the end of the game," recalled former Georgia coach Vince Dooley, who posted a 15-6-1 record against Clemson in his 25 seasons as the Bulldogs' coach. "But statistic-wise, they just knocked us all over the place."
The 10
th
-ranked Bulldogs went on to win the national title that season after barely surviving the Tigers' upset bid. And Clemson returned the favor the following year, generating nine turnovers to beat Herschel Walker and No. 4 Georgia 13-3 en route to a national title of its own.
Clemson's 1981 win marked the only time that Georgia lost in the regular season during Walker's three seasons on campus.
"They're the only team that he played more than once in his college career and didn't score a touchdown against," said UGA grad Kyle King, whose new book detailing the Georgia-Clemson series history, "Fighting Like Cats and Dogs," was published, oddly enough, by the Clemson University Digital Press. "So they really were the ones who -- to the extent anyone had Herschel's number -- they're the ones who had his number."
[+] Enlarge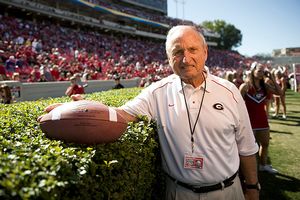 Dale Zanine/US Presswire for ESPN.comIn 25 years as coach at Georgia , Vince Dooley posted a 15-6-1 record against Clemson.
Just how close were the two teams in their respective pursuits of the national title? Georgia scored exactly 316 points during the 1980 regular season before beating Notre Dame in the Sugar Bowl to claim its first national title since 1942. The following year, Clemson matched that scoring total to the number, notching the very same 316 points in the regular season before beating Nebraska in the Orange Bowl to claim the school's first national championship.
The series continued to produce memorable outcomes on an annual basis throughout the 1980s. Take 1982, for example, when No. 7 Georgia hosted No. 11 Clemson in the first night game in decades at Sanford Stadium. Much like Saturday's game at Clemson, the 1982 game aired before a prime-time national TV audience on ABC -- that year on Labor Day evening.
Bulldogs defenders picked off four passes by Clemson quarterback and Athens native Homer Jordan en route to a 13-7 win and another undefeated regular season. Once again, the Georgia-Clemson winner played in the game that would determine the national champion, although the Bulldogs lost this time, 27-23 to Penn State in the Sugar Bowl.
Nonetheless, those first three games set the standard for one of the nastiest rivalries of the 1980s -- one where defense, big special-teams plays and general hard-nosed aggression became trademarks.
"I remember it was always a tough game for Georgia. It was a tough game, period," said Georgia running backs coach Bryan McClendon, who appeared in the series' last two games, in 2002 and 2003, and whose father Willie preceded him as a Georgia player and coach. "It was always one of the biggest games out there in the country and it's a lot like this year, to be honest with you. You never knew who was going to come out on top. Both teams always had high expectations going into each year, let alone that game. It was always a hard-fought war out there on the field."
There was the 1984 game where Georgia beat No. 2 Clemson 26-23 on a 60-yard Kevin Butler field goal -- a play that produced what King called Bulldogs announcer Larry Munson's most memorable call from a home game, when he estimated that Butler would "try to kick one 100,000 miles" and then proclaimed that "the stadium is worse than bonkers" once the kick cleared the uprights.
Clemson enjoyed its own kicking-game heroics in 1986 and 1987, when David Treadwell booted game-winning field goals at the end of the Tigers' respective 31-28 and 21-20 victories.
"We were so evenly matched, and so many came down to a field goal or a touchdown, and we were so evenly matched that all of them kind of run together in my thoughts," Ford recalled. "They'd win one and we'd win one."
That proved true throughout Ford's 11-year tenure at Clemson. A rivalry that Georgia once dominated -- the Bulldogs are 41-17-4 all-time against the Tigers and went 11-1-1 against Frank Howard, the winningest coach in Clemson history -- was extremely even in the 1980s.
Ford went 4-4-1 against Georgia while at Clemson. The scoring differential during that period? Georgia 153, Clemson 152.
"It was more about respectability for us because Georgia had the upper hand for so long back when Coach Howard [was here]," Ford said. "I tell the story all the time that Coach Howard would have to play Georgia and Georgia Tech, who was in the SEC back then, Alabama and Auburn and lose four games to have enough money to make his budget and then win the ACC conference. But back then he had to do that and he couldn't hardly ever get them to come play at our place. It was just a thing of respectability I think, more so for us in the '80s."
Respectability is no longer a problem for either of the programs who will renew their longtime rivalry on Saturday in Death Valley. Georgia's Mark Richt led his team within an eyelash of playing for the BCS title last year, and the Bulldogs enter Saturday's game with their highest preseason ranking since opening the 2008 campaign in the No. 1 spot. Clemson's Dabo Swinney has led the Tigers to a 21-6 record over the last two seasons and, blessed with a Heisman Trophy contender in quarterback
Tajh Boyd
, should boast one of the nation's most explosive offenses.
The programs no longer resemble the Ford- and Dooley-era squads that relied on defense and the kicking game to win low-scoring games, but considering the standing the Georgia-Clemson game once held in the national championship race, it seems fitting that Saturday's reunion occupies a marquee spot in college football's opening weekend.
"I grew up with this game being played pretty much every year, and it was at a time that Georgia beat Florida every year, and Georgia beat Georgia Tech every year, so Clemson and Auburn were really the two games that you went into the year thinking, 'Boy, I hope we can get out of that one with a W,' " King said. "I didn't want to lose that, and that was really what ultimately inspired me to go back and write this book.
"We're going into a season where it looks like you have two top-10 teams, two frontrunners in their conferences, two top-drawer quarterbacks going up against one another," he added. "I think it's important to remind fans that this isn't a new thing. We butted heads with these guys in big games before, and hopefully we'll get the chance to keep doing it in the future."
Sallee discusses potential in SEC East
SEC SCOREBOARD
Thursday, 9/3
Saturday, 9/5