Georgia Bulldogs:

Dabo Swinney
March, 6, 2014
3/06/14
12:00
PM ET
February, 17, 2014
2/17/14
12:00
PM ET
We'll get a small dose of football starting this weekend in the form of the NFL draft combine – a huge group of SEC players will be in attendance – but otherwise we're waiting for spring practices to begin over the next couple of weeks.
Here's some of what is going on around the league while we wait.
January, 29, 2014
1/29/14
11:00
AM ET
It's never too early to start looking ahead to next season. With that in mind, here's an early stab at the top 10 games to watch next season involving SEC teams, which includes both conference and nonconference games:


Aug. 28, Texas A&M at South Carolina:
Life after
Johnny Manziel
begins for the Aggies in the first-ever meeting between these two teams and the first SEC game of the 2014 season, a Thursday night contest that will be televised on the SEC Network.


Aug. 30, LSU vs. Wisconsin, in Houston:
It's not until 2016 that these two teams get it on in historic Lambeau Field, but they'll open next season in Reliant Stadium in what should be a classic Big Ten vs. SEC showdown.


Sept. 13, Georgia at South Carolina:
The winner takes a big step forward in the East race, and the Dawgs have lost each of their last two trips to Williams-Brice Stadium. Plus,
Todd Gurley
vs.
Mike Davis
always makes for entertaining theater.


Sept. 20, Florida at Alabama:
The Gators make a rare appearance in Tuscaloosa, only their fourth trip to Bryant-Denny Stadium since the 1992 expansion and division split. It's the SEC opener for the Crimson Tide, who are unbeaten in league openers under Nick Saban.


Oct. 4, Alabama at Ole Miss:
The Rebels had to play at Alabama each of the last two seasons but finally get the Tide in Oxford next season. This could be the year that Ole Miss puts it all together and makes a run in the West, but doing that will mean snapping a 10-game skid against the Tide.


Nov. 8, Alabama at LSU:
It got away from the Tigers a little bit this season against Alabama in the second half, but when's the last time this game hasn't meant something? Over the last five or six years, it's hard to find a better and/or more meaningful rivalry in college football than Alabama vs. LSU.


Nov. 15, Auburn at Georgia:
Living up to the thriller these two teams played this season on the Plains will be difficult, but we could get a glimpse of the 2014 SEC championship game next November in Sanford Stadium.


Nov. 29, Mississippi State at Ole Miss:
Talk about a rivalry that's been revitalized. The Bulldogs won in overtime this season, their fourth victory over the Rebels in the last five years. But the "school up north" will be looking for a little payback next season, particularly quarterback
Bo Wallace
.


Nov. 29, Auburn at Alabama:
Just when you think you've seen it all in the Iron Bowl,
Chris Davis
delivers a play for the ages with his kick-six. We might never see another ending quite like that one, but it's not too farfetched to think that next season's game could again decide the West race.


Nov. 29, South Carolina at Clemson:
When the Head Ball Coach knows he can get under somebody's skin, he just twists the needle that much harder. South Carolina has won five in a row now over Clemson, and it probably feels like 20 in a row to Dabo Swinney and the Tigers.
September, 1, 2013
9/01/13
2:55
AM ET
CLEMSON, S.C. -- Although it's easy to point to a botched field goal try as the difference in No. 5 Georgia's 38-35 loss to No. 8 Clemson on Saturday, the Bulldogs know there was more to it than that.
"I thought we did some good things and we did some things to get you beat," said Georgia coach Mark Richt, whose team has no time to lick its wounds with a game against No. 6 South Carolina on tap next Saturday. "We'll find out how good we are next week."
There were penalties from the Bulldogs on Saturday. One of the nation's most-penalized teams over the last several years, Georgia had nine for 84 lost yards against Clemson -- including two costly infractions in the fourth quarter that short-circuited the Bulldogs' comeback attempt.
There were two turnovers by quarterback
Aaron Murray
-- a fumble and an interception -- in the second quarter that took the wind out of the Georgia offense's sails after accounting for 218 yards and two touchdowns in the first quarter alone.
And there was a simple lack of execution at some crucial junctures that altered a game the Bulldogs certainly could have won.
"We did a lot of good things tonight, but there were a lot of things that we didn't do so well -- some first-game mistakes and they ended up costing us there in the game," said Georgia offensive coordinator Mike Bobo, whose team accumulated 545 yards of total offense, but surrendered four sacks and two turnovers. "But I just told the guys we ran out of time there at the end and it hurts, but we've got to look at the tape, we've got to correct and we've got to get better."
The sequence that led to the botched field goal was particularly costly. Georgia earned first-and-goal at the Clemson 5 after a 35-yard completion to
Chris Conley
late in the third quarter. The Bulldogs then ran three straight running plays -- a 2-yard run by
Keith Marshall
, a 1-yard run by
Todd Gurley
and a third-down dive for no gain by
Quayvon Hicks
-- before settling for a 20-yard field goal try by
Patrick Beless
that would have tied the score at 31-all.
One problem: On his first field goal snap of the season, new snapper
Nathan Theus
shot the ball high to holder
Adam Erickson
, who was unable to corral the snap and was forced to fall on it for a 6-yard loss.
That was an enormous letdown after Georgia had battled its way back into the game and failed to gain the equalizer.
"Momentum is a big thing and that was huge momentum for us, a big boost for our guys," Clemson coach Dabo Swinney said. "That turned out to be one of the deciding plays of the game, obviously."
As were the plays that immediately preceded it, since they could have given Georgia its first lead since Hicks' 1-yard touchdown run early in the second quarter.
"We had to get points in the red zone coming in and we wanted touchdowns and we weren't able to do it right there," Bobo said. "We ran the ball down there and I wanted to keep running it and I've got to look at the tape. We just didn't execute what we had called and unfortunately we didn't get the three points. That happens. We still had a chance to win after that, so we had our opportunities and just penalties killed us there on the next couple of drives."
Even after the field goal mistake, Georgia's defense forced a Clemson three-and-out, with a punt giving Georgia possession at its 43 early in the fourth quarter. The Bulldgos were quickly flagged for a devastating 15-yard penalty for chop blocking, however, and ended up punting.
Clemson scored on the next drive to go up 38-28 midway through the quarter, making a holding penalty that nullified a 14-yard Gurley run on the Dawgs' ensuing drive even more costly, as another Georgia punt there nearly put the game out of reach.
The Bulldogs drove for a quick touchdown late in the fourth quarter, but when they failed to recover an onside kick and had already used all of their timeouts, Clemson was able to run out the clock and walk away victorious.
"We killed ourselves with penalties tonight," Murray said. "It's tough to convert third-and-long. Penalties are a big reason why we lost tonight."
With the loss, Georgia finds itself in a fairly familiar position, which might have been why there seemed to be little panic within the Bulldog contingent during postgame interviews.
The Bulldogs dropped their first two games of 2011, including their SEC opener against South Carolina, and finished the regular season with a 10-game winning streak. They took a 35-7 pounding last season at South Carolina and once again won out.
Both times they earned a spot in the SEC championship game by claiming the Eastern Division title. And next Saturday will still play a major role in whether they can return to Atlanta for a third straight season, regardless of what happened against Clemson.
"I don't see anybody in there ready to jump off a bridge or anything," Richt said. "I think they all know that happens in football if you play a really good football team and you get beat. And if you do, then you move on and you continue to play well and you get better and you make corrections. We're still learning a lot about this team."
August, 26, 2013
8/26/13
1:00
PM ET
ATHENS, Ga. -- Scour the locker rooms at Georgia and Clemson and it might be difficult to find a player who knows much about their historic rivalry.
"You know me, I don't know much about Georgia's history from before I got here," Georgia quarterback
Aaron Murray
chuckled in one such response about the longtime rivalry between schools separated by only about 70 miles.
Murray is far from alone in that regard. The 22-year-old Floridian was 13 the last time Georgia and Clemson met, in 2003, and was not even alive when the annual 1980s meetings between the Bulldogs and Tigers often carried national-title implications.
Fans of a certain age might harken back to those days on Saturday, however, when the rivalry resumes -- ending the longest gap between games since the series started in 1897 -- and No. 5 Georgia visits No. 8 Clemson in Death Valley.
[+] Enlarge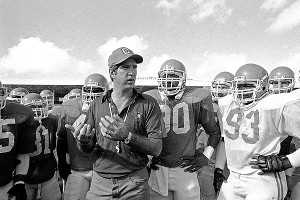 AP Photo/Kathy WillensCoach Danny Ford and Clemson beat Georgia 13-3 in 1981 and went on to win the national championship.
"Georgia was really good every year, so it meant that doggone it, somebody was going to get a lot of publicity and a lot of press, whoever won that football game," said former Tigers coach Danny Ford, who will be enshrined in Clemson's Ring of Honor on Saturday. "You could still be a good football team if you lost that game, but it just put a cramp in everything and it was so early in the year -- the first or second game or third game every year -- and you kind of knew what kind of football team [you had].
"It was kind of like a Wednesday where the kids in school call it Hump Day, you know? You're in the middle of the week, get your classes over with and you're about halfway to the weekend. That was the same kind of a hump game, where if you get off and win that football game, you've got a great chance to have a good year."
Back then, your season could be more than good if you slipped away with a win. Thanks to a 67-yard punt return touchdown by Scott Woerner and a 98-yard Woerner interception return that set up another score, Georgia edged Clemson 20-16 in 1980 despite failing to register a single first down in the opening half.
"At the end, they're back down there and Jeff Hipp makes an interception on about the 1-yard line right at the end of the game," recalled former Georgia coach Vince Dooley, who posted a 15-6-1 record against Clemson in his 25 seasons as the Bulldogs' coach. "But statistic-wise, they just knocked us all over the place."
The 10
th
-ranked Bulldogs went on to win the national title that season after barely surviving the Tigers' upset bid. And Clemson returned the favor the following year, generating nine turnovers to beat Herschel Walker and No. 4 Georgia 13-3 en route to a national title of its own.
Clemson's 1981 win marked the only time that Georgia lost in the regular season during Walker's three seasons on campus.
"They're the only team that he played more than once in his college career and didn't score a touchdown against," said UGA grad Kyle King, whose new book detailing the Georgia-Clemson series history, "Fighting Like Cats and Dogs," was published, oddly enough, by the Clemson University Digital Press. "So they really were the ones who -- to the extent anyone had Herschel's number -- they're the ones who had his number."
[+] Enlarge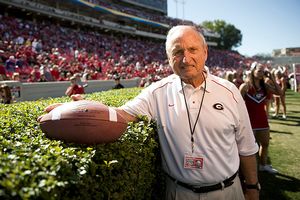 Dale Zanine/US Presswire for ESPN.comIn 25 years as coach at Georgia , Vince Dooley posted a 15-6-1 record against Clemson.
Just how close were the two teams in their respective pursuits of the national title? Georgia scored exactly 316 points during the 1980 regular season before beating Notre Dame in the Sugar Bowl to claim its first national title since 1942. The following year, Clemson matched that scoring total to the number, notching the very same 316 points in the regular season before beating Nebraska in the Orange Bowl to claim the school's first national championship.
The series continued to produce memorable outcomes on an annual basis throughout the 1980s. Take 1982, for example, when No. 7 Georgia hosted No. 11 Clemson in the first night game in decades at Sanford Stadium. Much like Saturday's game at Clemson, the 1982 game aired before a prime-time national TV audience on ABC -- that year on Labor Day evening.
Bulldogs defenders picked off four passes by Clemson quarterback and Athens native Homer Jordan en route to a 13-7 win and another undefeated regular season. Once again, the Georgia-Clemson winner played in the game that would determine the national champion, although the Bulldogs lost this time, 27-23 to Penn State in the Sugar Bowl.
Nonetheless, those first three games set the standard for one of the nastiest rivalries of the 1980s -- one where defense, big special-teams plays and general hard-nosed aggression became trademarks.
"I remember it was always a tough game for Georgia. It was a tough game, period," said Georgia running backs coach Bryan McClendon, who appeared in the series' last two games, in 2002 and 2003, and whose father Willie preceded him as a Georgia player and coach. "It was always one of the biggest games out there in the country and it's a lot like this year, to be honest with you. You never knew who was going to come out on top. Both teams always had high expectations going into each year, let alone that game. It was always a hard-fought war out there on the field."
There was the 1984 game where Georgia beat No. 2 Clemson 26-23 on a 60-yard Kevin Butler field goal -- a play that produced what King called Bulldogs announcer Larry Munson's most memorable call from a home game, when he estimated that Butler would "try to kick one 100,000 miles" and then proclaimed that "the stadium is worse than bonkers" once the kick cleared the uprights.
Clemson enjoyed its own kicking-game heroics in 1986 and 1987, when David Treadwell booted game-winning field goals at the end of the Tigers' respective 31-28 and 21-20 victories.
"We were so evenly matched, and so many came down to a field goal or a touchdown, and we were so evenly matched that all of them kind of run together in my thoughts," Ford recalled. "They'd win one and we'd win one."
That proved true throughout Ford's 11-year tenure at Clemson. A rivalry that Georgia once dominated -- the Bulldogs are 41-17-4 all-time against the Tigers and went 11-1-1 against Frank Howard, the winningest coach in Clemson history -- was extremely even in the 1980s.
Ford went 4-4-1 against Georgia while at Clemson. The scoring differential during that period? Georgia 153, Clemson 152.
"It was more about respectability for us because Georgia had the upper hand for so long back when Coach Howard [was here]," Ford said. "I tell the story all the time that Coach Howard would have to play Georgia and Georgia Tech, who was in the SEC back then, Alabama and Auburn and lose four games to have enough money to make his budget and then win the ACC conference. But back then he had to do that and he couldn't hardly ever get them to come play at our place. It was just a thing of respectability I think, more so for us in the '80s."
Respectability is no longer a problem for either of the programs who will renew their longtime rivalry on Saturday in Death Valley. Georgia's Mark Richt led his team within an eyelash of playing for the BCS title last year, and the Bulldogs enter Saturday's game with their highest preseason ranking since opening the 2008 campaign in the No. 1 spot. Clemson's Dabo Swinney has led the Tigers to a 21-6 record over the last two seasons and, blessed with a Heisman Trophy contender in quarterback
Tajh Boyd
, should boast one of the nation's most explosive offenses.
The programs no longer resemble the Ford- and Dooley-era squads that relied on defense and the kicking game to win low-scoring games, but considering the standing the Georgia-Clemson game once held in the national championship race, it seems fitting that Saturday's reunion occupies a marquee spot in college football's opening weekend.
"I grew up with this game being played pretty much every year, and it was at a time that Georgia beat Florida every year, and Georgia beat Georgia Tech every year, so Clemson and Auburn were really the two games that you went into the year thinking, 'Boy, I hope we can get out of that one with a W,' " King said. "I didn't want to lose that, and that was really what ultimately inspired me to go back and write this book.
"We're going into a season where it looks like you have two top-10 teams, two frontrunners in their conferences, two top-drawer quarterbacks going up against one another," he added. "I think it's important to remind fans that this isn't a new thing. We butted heads with these guys in big games before, and hopefully we'll get the chance to keep doing it in the future."
Peach State: Top Tier Recruiting Ground?
SEC SCOREBOARD
Thursday, 9/3
Saturday, 9/5