Georgia Bulldogs:

Chris Sanders
February, 20, 2014
2/20/14
9:00
AM ET
Continuing our run-up to Georgia's spring practice, this week we'll review the Bulldogs' five best recruiting classes of the last decade.
Today, we'll look at No. 2: The 2011 class initially dubbed as "The Dream Team," which immediately helped the Bulldogs rebound from the only losing season in Mark Richt's tenure, a 6-7 mark in 2010, and could further cement a winning legacy in the next two seasons.
The stars:
Tailback
Isaiah Crowell
was initially the crown jewel in this class, and he won SEC Freshman of the Year honors in 2011 before getting dismissed from the team the following summer after an arrest. Several players in this class have flashed star potential including receivers
Malcolm Mitchell
,
Chris Conley
and
Justin Scott-Wesley
, linebackers
Ramik Wilson
(who led the SEC in tackles in 2013) and
Amarlo Herrera
(who was third) and defensive lineman John Jenkins, who earned All-SEC honors and became an NFL draft pick by the New Orleans Saints.
[+] Enlarge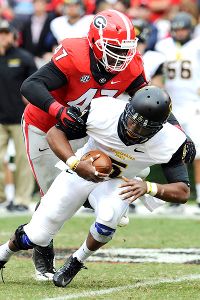 Dale Zanine/USA TODAY SportsRay Drew started to play up to his potential last season.
The contributors:
One of the class headliners, defensive end
Ray Drew
, finally started making an impact last fall and has one more season to live up to his five-star billing as a recruit. Tight end
Jay Rome
will be a redshirt junior this fall and should become the starter now that
Arthur Lynch
has moved on to the NFL. Cornerback
Damian Swann
and center
David Andrews
have also developed into valuable starters, while
Sterling Bailey
,
Corey Moore
and
Watts Dantzler
seem like the next most-likely players from the 2011 class to break through.
The letdowns:
This class' legacy could have been ridiculous, but it will always be remembered for the numerous departures within its first year. Crowell's exit drew the most attention, but an arrest-related dismissal cost Georgia possible starting defensive backs
Nick Marshall
and Chris Sanders. Marshall, of course, developed into a star quarterback at Auburn last fall after spending the 2012 season at a Kansas junior college. In all, six players from this class -- most recently, quarterback
Christian LeMay
-- have transferred or been kicked off the team.
The results:
Let's see what happens this fall. Mitchell, Herrera, Jenkins and Crowell were all important players as the 2011 Bulldogs won 10 straight games and claimed the program's first SEC East title since 2005. That group (minus Crowell) and several other Dream Teamers helped Georgia take another step forward in 2012. And it wouldn't be a surprise to see a number of them earn All-SEC honors this fall if Georgia bounces back from a disappointing 2013. Despite the numerous early exits, the Dream Team's legacy is already positive on the whole, but the group can still further solidify its spot in UGA history if it wins big in 2014.
February, 13, 2014
2/13/14
9:00
AM ET
Georgia doesn't open spring practice until March 18, so we'll use the next few weeks to look ahead to those all-important workouts and preview what to watch once the Bulldogs get started.
Today we continue a series where we examine five position groups with room to improve. After touching on the
inside linebackers
,
offensive line
and
outside linebackers
, today we focus on the safeties, who were hit hard by injuries and struggled throughout the 2013 season.
[+] Enlarge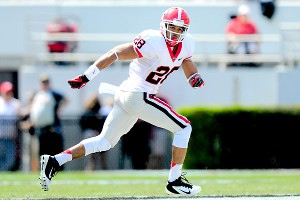 Dale Zanine/USA TODAY SportsIf he stays healthy, former ESPN 300 prospect Tray Matthews could have a big 2014 season for the Bulldogs.
2. Safety
Battling for No. 1:
Even before last season started, Georgia contended with a number of injuries at safety that might have set back the group for the entire fall. The most noticeable issue was that freshman
Tray Matthews
-- who made a big impact during spring practice -- simply couldn't stay healthy. He started six games but missed another five games due to an assortment of health issues. Meanwhile,
Josh Harvey-Clemons
was suspended for the first and last games of the season and is facing a three-game punishment to open this fall. His suspension and the departure of senior
Connor Norman
leaves the regulars from last season's beleaguered safety group,
Corey Moore
and
Quincy Mauger
, as the other most likely contributors at safety when the season opens.
Strength in numbers:
An interesting development during bowl practice was that redshirting freshman
Tramel Terry
shifted to safety. Georgia's coaches said at the time that they thought the converted wide receiver would stick at the new position, so he might be a player to watch in the competition this spring. As one of the most coveted athletes in the Bulldogs' 2013 signing class, Terry could help a group that was responsible for too many busted assignments last fall. Otherwise, the four previously listed players should handle most of the snaps at the back end of the defense and simply must do a more effective job. The play we all remember was Auburn's last-minute touchdown bomb where both Matthews and Harvey-Clemons failed to make what should have been a simple knockdown. Unfortunately for the young safeties, that breakdown explains what was happening at that position throughout the fall.
New on the scene:
Georgia didn't sign anyone specifically listed as a safety in its 2014 class although at 6-foot-2, defensive back
Shaquille Jones
has the frame to play the position if necessary. Likewise,
Dominick Sanders
-- whom Georgia listed as a receiver/defensive back/athlete on signing day -- could play safety if needed. The younger brother of former Bulldog Chris Sanders is capable of playing multiple positions in college, although safety or cornerback seem like the most likely possible destinations.
December, 31, 2013
12/31/13
7:00
AM ET
Mark Richt painted a realistic picture last week when asked what it might take for Georgia's secondary to improve beyond its dismal showing of 2013.
It's a matter of inexperienced players -- basically the only kind of defensive back on the Bulldogs' roster -- developing confidence, he said.
"We've got to make a play first, then we've got to have a series that goes well, then a couple series, then a half, a game where you start making plays, you start getting better, you start gaining confidence," Richt said. "But really we did not see that. I didn't see that throughout the year. There's some work, obviously, that's got to be done."
Obviously.
[+] Enlarge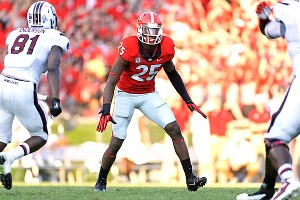 AP Photo/John BazemoreIt might have been a rough season for Josh Harvey-Clemons and the young Georgia secondary, but 2013's trial under fire should help the Bulldogs next season and beyond.
The stats by now are no secret. Georgia's secondary, which lost four of its top five players from 2012, was the weakest link in a shaky defense this fall. The Bulldogs ranked 10th in the SEC (68th nationally) in pass defense, allowing 232.8 yards per game. They were No. 84 in pass efficiency defense, allowing a 133.99 passer rating. And only two conference teams surrendered more yards per pass attempt than Georgia's 7.6 (Arkansas at 7.9 and Kentucky at 8.2).
It was a rough season any way you view it, although the Bulldogs hope it was only a temporary problem caused by a secondary that ranked second in the SEC in pass defense last season (Georgia's 175.6 ypg allowed in 2012 were just two yards behind conference leader Alabama) breaking in an entirely new group of defensive backs.
"I think every DB we have has played in a game or two," said cornerback
Damian Swann
, who along with safety
Corey Moore
will be the only two seniors in the bunch next fall. "And I think with those guys getting some experience, it's going to be great. Now they know what to expect, now they know how tough it is to play in this conference. I'm really looking forward to seeing these guys get after it."
Swann's statement is not entirely true. The Bulldogs will also have cornerback
Reggie Wilkerson
-- who missed the season after tearing his ACL during summer workouts -- and safeties
Tramel Terry
and
Kennar Johnson
, who both redshirted this season. They also have commitments from ESPN's No. 1 junior college cornerback, Shattle Fenteng (Loganville, Ga./Hutchinson Community College) along with incoming freshmen Malkom Parrish (ESPN's No. 73 overall prospect for 2014 and No. 9 athlete) and Kendall Gant (ESPN's No. 32 safety).
Add those players to the numerous freshmen and sophomores who played big roles this season -- cornerbacks
Shaq Wiggins
,
Brendan Langley
,
Sheldon Dawson
and
Devin Bowman
and safeties
Josh Harvey-Clemons
,
Tray Matthews
and
Quincy Mauger
-- and the Bulldogs are well on the way to rebuilding a depth chart that took a huge hit. The losses started coming after the 2011 season, when cornerbacks
Nick Marshall
and
Jordan Love
and safeties Quintavious Harrow and Chris Sanders all departed either by dismissal or transfer, followed by the exodus of
Shawn Williams
, Bacarri Rambo, Sanders Commings and Branden Smith for pro football after 2012.
"Some young guys got thrown into the fire," defensive coordinator Todd Grantham said. "I think it's like I told them, I said, 'When you get thrown into the fire, you can either get hard or you can wilt.' And I think they've gotten harder. I think I've seen a couple guys really improve, probably more than they would've if they hadn't been in that situation. So you've got to play the cards you're dealt and find ways to win games."
The question now is how they improve to the point where they are not the liability they were this fall, clearing a path for Georgia to win more than the eight games it has won thus far in 2013.
Moore believes progress will be a natural development out of this fall, when Swann was the only regular who entered the season with a start on defense.
"We were pretty young this year and [had a] lack of experience," Moore said. "Immaturity played a big factor this year and lack of experience and just communication and getting to know each other better on the field. I think that played in big this year. I think next year, we're not going to have those problems."
That's the plan, anyway, and what Georgia's players and coaching staff will spend this offseason making sure will be the case when the Bulldogs open the 2014 season against Clemson.
It was far from a banner season for Grantham's defense and, while that was not entirely unexpected, the coaches know the secondary must show marked improvement over the next year, starting with the Jan. 1 TaxSlayer.com Gator Bowl date with Nebraska.
"Did we have a chance to be pretty good? Yeah. When that's going to happen? I don't know," defensive backs coach Scott Lakatos said. "A hundred different things, how they turn out, is going to affect that. That's what we had do work through, and we're still working through that, as we get ready for this game."
November, 14, 2013
11/14/13
7:00
AM ET
ATHENS, Ga. – The members of Georgia's 2011 "Dream Team" recruiting class still maintain a close bond, even if circumstances have taken some members of the class to other places.
That bond between players will face an unusual test on Saturday when former Dream Teamer
Nick Marshall
– now Auburn's starting quarterback after Bulldogs coach Mark Richt dismissed him, Sanford Seay and Chris Sanders following the 2011 season after getting caught stealing from teammates – will stand on the opposite sideline from his former classmates.
[+] Enlarge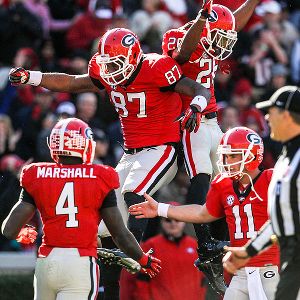 Daniel Shirey/USA TODAY SportsJay Rome (87) and Malcolm Mitchell (26), who were member of Georgia's Class of 2011 Dream Team, have had plenty to celebrate through the years.
"Weird I wouldn't say is the right word for it. It's going to be different going against one of the guys that you did come in with and actually roomed with when we first got here," said defensive end
Ray Drew
, who roomed with Marshall, Seay,
Jay Rome
,
Malcolm Mitchell
and
Sterling Bailey
at Georgia's Reed Hall when the class first arrived on campus.
Georgia was coming off a disappointing 6-7 season when the Dream Team signed with the Bulldogs, and the group was never shy in expressing its intention of helping the program get back on track. They had the nation's top tailback and No. 4 overall prospect in
Isaiah Crowell
, another five-star talent in Drew, the No. 1 tight end in Rome and a large group including Mitchell, John Jenkins,
Amarlo Herrera
,
Chris Conley
and
Damian Swann
who would contribute soon after becoming Bulldogs.
There was a level of self-assurance within the group that was somewhat unusual for a group of freshmen.
"Coming in I do believe the guys did have some confidence about themselves – that this was going to be the class that did some big things," Drew recalled. "And there's still that possibility. We still can. That swagger you're talking about, I can see that being there. It was. You can't deny it."
Truth be told, they've already been part of some big things. Crowell was named the SEC's Freshman of the Year in his lone season on campus – he was dismissed in the summer of 2012 after a weapons possession arrest and is now starring at Alabama State – and the Bulldogs won their first SEC East championship since 2005.
They played in a second straight SEC championship game at the end of last season and fell only a few yards short of playing for a BCS title – with multiple Dream Team members playing key roles on a team that would finish fifth nationally.
"I think we've actually got a good resume being here," said Swann, now in his second season as a starting cornerback. "We beat Auburn twice, we beat Florida three times, we've been to the SEC championship two times since I've been here. We're 1-1 in a bowl game. I think with the resume that my class has put together, I think it's actually one to look at, and I think we're continuing to improve it and make it better."
That they are. Linebacker
Ramik Wilson
leads the SEC with 92 tackles, with Herrera's 79 stops ranking fourth. Drew is sixth in the league with six sack. Wideouts Mitchell, Conley and
Justin Scott-Wesley
have all flashed star potential, although injuries have struck all three players this season. Center
David Andrews
, also a second-year starter, is one of the leaders of the Bulldogs' offensive line.
And junior college transfer Jenkins is already in the NFL – the New Orleans Saints picked him in the third round of this year's draft – after solidifying the middle of the Bulldogs' defensive line in 2011 and 2012.
"We've done some pretty good things," said defensive end Bailey, who has started eight times this season in his first significant dose of playing time. "You had some players from the Dream Team come in and make an impact and then you had some players behind some great players who are playing in the NFL right now and got experience and now being in the third year, we're putting all that experience to work."
The Georgia journey ended early for several members of the class. Marshall, Seay and Sanders were all dismissed together and Crowell followed them out the door a few months later. Safety Quintavious Harrow left shortly after his former Carver-Columbus teammate and close friend Crowell.
In all, seven members of the 26-man signing class are either gone or never enrolled at Georgia at all (linebacker
Kent Turene
). But the remaining Dream Teamers still maintain a close bond, Drew said.
"There's a tightness between us," he said. "I think even though we're tight as a team, I think there's just one more stitch or two between us that pulls us close. Whenever you see one person, you're always going to see someone else from the same class right there with them just tagging along."
The bulk of the class should remain intact for at least one more season, with several more Dream Teamers who redshirted still carrying two seasons of eligibility after 2013. That time, they said, is what will determine whether they meet the high expectations that accompanied their arrival.
"We're still in the process," Wilson said. "A lot of us are just now starting to play, so it's in the process of something becoming great.
"We all had high expectations of playing early and turning this program around. As soon as we stepped on this campus, we went to the SEC championship from that 6-7 year. So all we had was nothing but success here, 10-win seasons, since I've been here. So we're just trying to keep that going."
June, 29, 2012
6/29/12
9:55
PM ET
Back to square one for the Bulldogs. Last year, University of Georgia head coach Mark Richt needed to make a splash in recruiting. Coming off a six-win season in 2010 -- by far the worst of his tenure in Athens -- Richt needed an impact player at running back in the class. The Bulldogs were 73rd in the country in rushing, 10th in the SEC, but Richt was able to put the finishing touches on a top-five class -- one he dubbed the "Dream Team" -- by signing five-star running back and the top prospect in Georgia,
Isaiah Crowell
.
Friday,
following an arrest on felony weapons charges
, Crowell was dismissed from the team by Richt, ending Crowell's career at Georgia after only one season and putting more pressure on his teammates to replace the SEC Freshman of the Year. The latest departure further depletes the overall talent on Georgia's team, making the 2013 class even more important for the future of the program.
Big class coming in
Richt told DawgNation earlier this month
that Georgia could sign up to 34 players in the 2013 class, reiterating a February story that stated the Bulldogs could sign more than 30, one of its biggest classes ever. While the ability to sign that many is dependent upon how much room Georgia has within the 85 scholarship limit come December, as it stands, it looks like that might not be much of an issue.
[+] Enlarge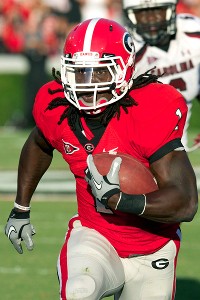 Dale Zanine/US PresswireIsaiah Crowell rushed for 850 yards and five touchdowns as a freshman.
Twelve seniors are on scholarship, 13 if long-snapper
Ty Frix
has his scholarship renewed. Several juniors could also leave early for the NFL, including quarterback
Aaron Murray
, offensive lineman
Kenarious Gates
, defensive lineman
Kwame Geathers
and linebackers
Jarvis Jones
and
Alec Ogletree
. That could leave Georgia with as few as 52 players on scholarship come February, meaning any additional attrition over the next eight months could provide the room to easily bring in 34 signees in 2013.
Roster casualties adding up
Attrition among the last three signing classes has put Georgia at a disadvantage in terms of roster depth, as Crowell's departure leaves Georgia with only 70 players that arrived on campus as scholarship athletes. The Bulldogs signed 19 in 2012, 26 in 2011 and 19 in 2010, but only 50 of the 64 are on the team.
2012 linebacker signee
Leonard Floyd
(Eastman, Ga./Dodge County) still has a chance to qualify if he is able to pass a course this summer. Another signee, Under Armour All-American defensive lineman
John Atkins
(Thomson, Ga./Thomson), was deemed a non-qualifier earlier this week after failing to make the necessary score on his ACT. He is unlikely to enroll this fall.
Crowell's departure is the sixth for the heralded 2011 class.
Nick Marshall
,
Sanford Seay
and
Chris Sanders
were dismissed in February after allegations of theft from teammates arose. Linebacker
Kent Turene
was unable to qualify via the NCAA Clearinghouse and enrolled at Marshall as a partial qualifier. Defensive lineman
Chris Mayes
did not qualify either and enrolled at Mississippi Gulf Coast Community College, but hopes to return in January.
Linebacker
Demetre Baker
, offensive lineman Brent Benedict, defensive lineman
Jalen Fields
, juco safety Jakar Hamilton, wide receiver
Lonnie Outlaw
and cornerback
Derek Owens
are no longer on the team from the 2010 class.
In 2002, Alabama, accused of double-digit major and minor violations surrounding the recruitment of prospect Albert Means, self-imposed a 15 scholarship reduction over three years. Georgia has now lost 14 signees during the last three years.
Early returns in recruiting
With only 16 of the 19 signees counting toward the 2012 class, Georgia is able to bring in up to nine early enrollees and count them backward. Luckily recruiting has been going very well for the Bulldogs so far in the 2013 cycle. With 19 commitments to date, the class of 2013 -- rated No. 5 in the country right now -- has double-digit prospects saying they plan to enroll in January. Quarterback
Brice Ramsey
(Kingsland, Ga./Camden Co.), offensive lineman
Aulden Bynum
(Valdosta, Ga./Valwood), offensive lineman
Josh Cardiello
(Buford, Ga./Buford), defensive lineman Chris Mayes (Griffin, Ga./East Mississippi Community College), linebacker
Ryne Rankin
(Orlando, Fla./East River), cornerback
Steven Nelson
(Warner Robins, Ga./College of the Sequoias), athlete
Tramel Terry
(Goose Creek S.C./Goose Creek) and athlete
J.J. Green
(Kingsland, Ga./Camden Co.) have all said they plan to enroll early at Georgia. Cornerback
Reggie Wilkerson
(Citra, Fla./North Marion), safety
Tray Matthews
(Newnan, Ga./Newnan) linebacker Reggie Carter (Snellville, Ga./South Gwinnett) and linebacker
Naim Mustafaa
(Alpharetta, Ga./Alpharetta) have said they are trying to enroll early in Athens as well. Cornerback
Shaq Wiggins
(Tyrone, Ga./Sandy Creek) says he will find out in August if he will be able to enroll early.
Bad timing for Henry decommitment
June, 28, 2012
6/28/12
11:24
AM ET
FLOWERY BRANCH, Ga. -- Tucker (Ga.) High School coach Bryan Lamar let out a long, slow whistle when asked about one of the rising stars on his team, cornerback
Dominick Sanders
. The new head coach at one of the powerhouse schools in the Peach State imparted a lot of information in that whistle. It is clear he was quite happy watching Sanders dominate the 7-on-7 tournament that pitted his Tigers against some of the top teams in the area on Wednesday.
"He has great ball skills and a great set of hands," Lamar said. "He has good feet and is a good athlete. But along with his athleticism he has great body control and hands. He is going to have big year for us on both sides of the ball. He is physical; he will tackle you. He is strong in the weight room and powerful in all of his lifts. I am expecting big things from him."
There is a reason why such a description of a player named Sanders from Tucker will sound familiar to Georgia fans. Sanders' older brother Chris joined the Bulldogs in 2011 as a cornerback, playing one season before being dismissed from the team for violating team rules. Chris Sanders is at Georgia Military College and
he hopes to rejoin the Bulldogs in the future
.
To continue reading this article you must be an Insider
June, 24, 2012
6/24/12
11:19
AM ET
While it remains to be seen whether or not Chris Sanders will be able to return to the University of Georgia, another talented junior college safety was in Athens recently -- and got big news before he left.
Shaquille Fluker
(Scooba, Miss./East Mississippi Community College) says he arrived on campus at Georgia on June 15 to see how the program was run, how the campus looked and how the offseason workouts were run. As the 6-foot-2, 200-pound safety prepared to head back, defensive backs coach Scott Lakatos had something he needed to tell him.
"When I was about to leave, Coach Lakatos said Mark Richt needed to talk to me," Fluker said. "Coach Richt told me I had an offer to play at Georgia. I did not expect them to offer me so soon. I thought they would wait until seeing me during next season, so that was pretty great."
To continue reading this article you must be an Insider
February, 8, 2012
2/08/12
10:20
AM ET
One of the top players in the nation lives in the state of Georgia, yet he doesn't have an offer from the in-state Bulldogs. For talented athlete
Juwaan Williams
(Tucker, Ga./Tucker), that might change as he recently visited Athens for junior day.
"It went well," Williams said. "The facilities and campus are beautiful. I had the opportunity to ask questions to some of the players there and it was a good atmosphere all the way around."
A bright young man, Williams understands the promises and hyperbole of the recruiting trail and he knows the players are a great source of information.
To continue reading this article you must be an Insider
February, 3, 2012
2/03/12
10:30
AM ET
ATHENS, Ga. -- Cornerback Nick Marshall, cornerback Chris Sanders and receiver
Sanford Seay
have been dismissed from Georgia's football team for violating team rules.
"It's a privilege to play college football and to be a part of this team and University," Georgia coach Mark Richt said in a university release. "Along with that privilege comes certain responsibilities. Mistakes were made, and part of our job is helping them learn from mistakes. Going forward, we are committed to assisting them find opportunities where they can continue their education."
Multiple sources said Seay and Marshall were connected to an incident involving the theft of money, but Georgia did not officially confirm that as the reason for their dismissal.
"Me and Nick's mother were informed this morning by Georgia that Nick was no longer on the team," Wilcox County coach Mark Ledford said Friday morning. "Any other details would need to be released by the university."
The trio came to Georgia a year ago as members of the heralded "Dream Team" of recruits, with Marshall contributing as a true freshman last fall, Sanders playing the first three games before suffering a season-ending injury, and Seay redshirting.
The multitalented Marshall played quarterback in high school, but contributed at cornerback and on special teams for the Bulldogs in the 2011 season.
After appearing in 13 games in a reserve role and making five tackles last season, Marshall was expected to compete for more playing time at cornerback this season. Sanders also likely would have figured more heavily into the Bulldogs' plans in the secondary.
Seay would have joined a big group of contenders at receiver, as everyone will return from last season except departed senior Israel Troupe.
Justin Scott-Wesley
is coming off a redshirt season and
Blake Tibbs
will enter the mix after signing with the Bulldogs on Wednesday.
Marshall was also a star guard in high school basketball and publicly stated his intention to walk on with Georgia's basketball team during the football offseason, although he did not do so.
Peach State: Top Tier Recruiting Ground?
SEC SCOREBOARD
Thursday, 9/3
Saturday, 9/5