Georgia Bulldogs:

Chaz Sutton
September, 2, 2013
9/02/13
7:00
AM ET
ATHENS, Ga. -- While it might seem odd to criticize an offensive line that helped Georgia generate 545 yards -- on the road in one of the louder stadiums the Bulldogs will visit this season, no less -- it is clear that offensive line coach Will Friend has not settled on a lineup that he loves after Saturday's 38-35 loss to Clemson.
With
Jadeveon Clowney
and South Carolina's fearsome defensive front on deck Saturday, that is not a particularly encouraging sign for the Bulldogs. But Georgia's linemen realize they can't allow themselves to think that way.
[+] Enlarge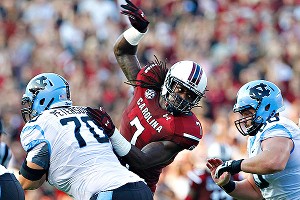 Gerry Melendez/Getty ImagesJadeveon Clowney was unimpressive against North Carolina, but he has starred against Georgia.
"If you take that aspect of it, then you're just going to psyche yourself out," said offensive tackle
Kolton Houston
, who started his first college game at right tackle on Saturday. "You've got to give him credit. I mean Clowney's definitely one of the best players there is, but at the end of the day, you've just got to treat it like any other guy."
Such a philosophy might not be particularly useful for Georgia's coaching staff, which knows it must frequently commit more than one blocker to Clowney -- a player widely viewed as one of the top pro prospects in college football.
Clowney got off to an unimpressive start in last Thursday's win against North Carolina, but he has made his impression felt in two games against Georgia to date.
As a freshman in 2011, he twice sacked Bulldogs quarterback
Aaron Murray
and forced Murray into a fumble that teammate Melvin Ingram recovered for the win-clinching touchdown late in a 45-42 South Carolina victory. Last season, Clowney had two tackles for a loss and a sack as the Gamecocks harassed Murray into the lowest single-game QBR (8.4, when his season average was 78.2, 13
th
-best in the nation) of his college career.
"Whatever happened last year is last year," said Georgia's
Kenarious Gates
, who struggled mightily against Clowney a season ago. "The thing about me is I learned to move on and focus on what's ahead of me."
What's ahead is a chance for redemption, not just for Gates, but for an entire offensive line that turned in an embarrassing effort in last season's 35-7 loss to the Gamecocks. But it's unclear who will line up on the edge to defend against Clowney,
Chaz Sutton
and South Carolina's other pass rushers.
Friend experimented with several lineups in Saturday's opener, to mixed results at best. While Georgia generated more first downs, rushing yards and passing yards, averaged more yards per play and led in time of possession, the line also committed a handful of costly penalties and surrendered four sacks -- more than in any game last year except one, when they allowed five to Ole Miss.
Three of those sacks came in the second quarter, when Clemson's defense put the clamps on a Georgia offense that moved the ball at will early in the game. Tigers defensive end
Vic Beasley
zipped around flailing left tackle Gates on one third-down rush to nearly decapitate Murray with a vicious blind-side blow that forced a punt.
On Georgia's next possession,
Stephone Anthony
got around right tackle Houston and knocked the ball away from Murray at the Bulldogs' 20-yard line, forcing a fumble that Clemson's
Spencer Shuey
recovered at the 16 to set up a short touchdown drive.
And on the final possession of the first half,
Tavaris Barnes
blew past Houston -- now playing left tackle -- to take down Murray near midfield and short-circuit Georgia's attempt to drive for the go-ahead points just before halftime.
Clemson added one more sack on Georgia's first possession of the second half and the Bulldogs otherwise kept Murray upright. Some key damage had already been done, however, and Georgia's offense never regained its early momentum.
"We definitely had our ups and downs, but at the end of the day it's a loss and Aaron got his jersey dirty," Houston said.
Gates lost weight in the offseason, partially out of a desire to be quicker on his feet so he could more easily contend with speed rushers like Beasley and Clowney.
"I felt like that would make me a better player -- lighter on my feet and quicker and it's lighter on my knees, as well," Gates said last week. "I feel like doing it for me, doing it for the team, it would make me a more athletic player. I want to be that guy, and overall it's been helpful."
Clowney presents the biggest challenge of the season for Georgia's pass protectors, though, and it seems unlikely that Friend and Bulldogs offensive coordinator Mike Bobo will make one player responsible for the Gamecocks star. Count on Georgia to devote tight ends and running backs to Clowney's side, as well, to assist the tackles against the player who totaled 23.5 tackles for a loss and 13 sacks a season ago.
And as Bulldogs coach Mark Richt pointed out, the Bulldogs will also enjoy the benefit of playing at home, unlike in Saturday's loss. Georgia relied on silent snap counts because of the noise present in Death Valley, but the friendly confines of Sanford Stadium will allow the Bulldogs to vary their cadences and prevent Clowney and company from jumping the snap count so easily.
"I think the times we got beat in my opinion, we just got beat off the snap," Richt said. "We'll have our cadence next week and that will help. If we were at South Carolina, it would be a little bit tougher, but I think it will help when we get off on the cadence."
August, 22, 2013
8/22/13
12:00
PM ET
Kirk Herbstreit is excited about the return of college football. Are you? Read up on the SEC this afternoon and don't miss "The Herbie Awards" tonight at 8 ET on ESPNU.
October, 8, 2012
10/08/12
1:27
PM ET
ATHENS, Ga. -- After rewatching Georgia's 35-7 loss to South Carolina online, I can't say there was much there that wasn't evident while watching it live.
The key to the game was that Georgia's offensive line couldn't handle South Carolina up front, which shut down the running game and eventually led to
Aaron Murray
unraveling at quarterback and finishing the night 11-for-31 for 109 yards and one interception.
South Carolina was excellent on its first two possessions and then took the air out of the ball, but it didn't matter much what the Gamecocks did offensively after the first 10 minutes. Georgia had no good answer for the Gamecocks' defensive front and
Jadeveon Clowney
in particular, as the star defensive end ran roughshod over Bulldogs left tackle
Kenarious Gates
all night.
October, 7, 2012
10/07/12
7:19
PM ET
COLUMBIA, S.C. --
Connor Shaw
could see it in the Georgia players' eyes on South Carolina's first touchdown drive.
A few minutes later, it was even more obvious to
Marcus Lattimore
after the Gamecocks drove it right down the Bulldogs' throats for their second touchdown in as many possessions.
"They were shell-shocked. We hit them in the mouth, and they weren't ready for it," Lattimore said.
Nope, not even close.
But in Georgia's defense, it's debatable whether anybody in college football would have been ready for what the Gamecocks unleashed Saturday night on the No. 5 Bulldogs in a
35-7 bludgeoning
at Williams-Brice Stadium that sent a clear message about the shifting balance of power in the SEC.
October, 7, 2012
10/07/12
1:19
AM ET
COLUMBIA, S.C. -- Georgia offensive line coach Will Friend was careful to point out throughout the Bulldogs' early-season offensive successes that his rebuilding group still had a lot of progress to make before he would call it a dominant unit.
South Carolina's defensive front showed why Friend tried to temper the enthusiasm about his players, as the Gamecocks completely controlled the line of scrimmage en route to a 35-7 victory.
"I didn't see us, especially in the first half, being able to generate a drive because their front was whipping us," said Georgia coach Mark Richt, whose team fell behind 21-0 in the game's first 10 minutes. "So you hope to make a play here and there to change the momentum of the game and we just couldn't get it done."
They couldn't get it done because a previously dominant running game ran into a brick wall. Freshman
Todd Gurley
, who came in as the SEC's leading rusher, broke a 15-yard run on his first carry and never got another one that long. He finished with 13 carries for 39 yards, while fellow freshman sensation
Keith Marshall
ran 12 times for 37 yards.
Ken Malcome
actually led the Bulldogs with 45 rushing yards on five carries, including their only score -- a 3-yard run when the game was already well out of reach -- on a night that was otherwise a disaster in every way for the Bulldogs' previously high-scoring offense.
The Bulldogs finished with seven points and 224 total yards -- 41 points and 312 yards below their per-game averages -- thanks in large part to do much of anything at all early in posssessions.
"They're very talented, especially in their front four, but I think we killed ourselves with too many third-and-longs," Georgia quarterback
Aaron Murray
said. "When you're in third-and-long and they know you have to throw the ball, those ends can gear up and that whole defensive line -- every defense does that.
"That's a goal of every defense is to get third-and-long and put the offense in a passing situation and let their front four do work. That's our problem. We put ourselves in that situation. We need to do better on first and second down in order to not let that happen."
And it wasn't just South Carolina's star defensive ends,
Jadeveon Clowney
and
Devin Taylor
, who made plays. Defensive end
Chaz Sutton
had one of the Gamecocks' two sacks -- Clowney had the other -- and defensive tackle
Kelcy Quarles
deflected a Murray pass that resulted in the game's only turnover, a first-quarter interception by
DeVonte Holloman
.
"The front five, it was all of us that were making mistakes and not getting the job done," Georgia right guard
Chris Burnette
said. "We definitely want to make sure that we can figure out those issues and try to fix them for the next game."
The Bulldogs knew coming in that South Carolina's deep and talented defensive front would create the greatest challenge they'd faced yet. After the Gamecocks dominated the line of scrimmage throughout, Richt acknowledged that they were as good as advertised.
"Their defense the entire night just took care of business," Richt said. "We've got to give them a lot of credit. We got the consolation touchdown at the end just so we didn't get the goose egg, but they whipped us pretty good."
Peach State: Top Tier Recruiting Ground?
SEC SCOREBOARD
Thursday, 9/3
Saturday, 9/5