Georgia Bulldogs:

Chaz Green
October, 25, 2013
10/25/13
7:00
AM ET
ATHENS, Ga. -- For most of his time at Georgia, this was the time of year where Mark Richt started having to answer "the question." Fortunately for Richt, a two-game winning streak against rival Florida has made for a refreshing change in that department – but that nuisance has only been replaced by a different set of bothersome questions.
"It's nice not to have to hear that question," Richt told reporters after Thursday's practice. "Year after year, 'When are you going to beat Florida?' that gets pretty old. So that isn't the big topic of conversation this year. Everybody wants to talk about, what did we talk about injuries for the first 80 percent of this meeting so far? That's what everybody's talking about, but it's been the dominating story."
Richt is one of the most consistent winners among active FBS coaches, but his subpar record against Florida was one of the black marks on an otherwise sterling resume in his first decade as the Bulldogs' coach. Georgia beat the Gators just twice in its first 10 tries under Richt before winning in both 2011 and 2012 -- giving the Bulldogs their first back-to-back wins against the Gators since 1988-89.
[+] Enlarge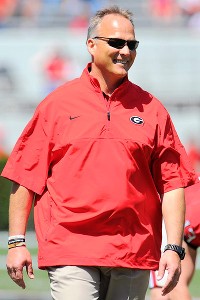 Dale Zanine/USA TODAY SportsMark Richt doesn't want injuries to become the story of the year at Georgia.
But he's right. The topic du jour leading into next week's Georgia-Florida game in Jacksonville is not so much the Bulldogs' chance to run its winning streak to three games as it is the debilitating injuries that have struck both programs, forcing both out of the top 25 following losses over the weekend.
The Gators announced this week that linebacker
Jeremi Powell
is out for the rest of the season, making him the eighth Florida player to suffer a season-ending injury -- a list that also includes starters
Jeff Driskel
,
Dominique Easley
,
Chaz Green
and
Matt Jones
.
Georgia has played the last two games -- both losses -- without most of its most dangerous offensive weapons, which is why Richt spent the first several minutes of Thursday's post-practice press gathering discussing injuries, how they have impacted his team and whether some of the injured players might return for the Florida game.
UGA director of sports medicine Ron Courson delivered the team's lengthy injury report to the sports medicine office while Richt was speaking to reporters . The list included 24 players and 12 who have started at least once this season.
Richt addressed some of those concerns -- most notably All-SEC tailback
Todd Gurley
's return to practice this week following a three-game absence with an ankle injury -- after Thursday's final practice of the open week:
On Gurley:
"He practiced. He made it till the end. He ran sprints with everybody at the end. He did scout work, which is really all we asked him to do. But he did fundamental work -- the run polish and that kind of thing. He did good. I'm encouraged."
On receiver Michael Bennett (knee):
"He wasn't trying to break a land-speed record or anything, but he was sprinting and striding out pretty good and he looked fine. The drill I saw him do was kind of a sprint-jog-sprint-jog kind of thing down the field and he looked good. I would think he'll be practicing Monday."
On center David Andrews (foot):
"I think we expect him to play, but he did not go today. Dallas [Lee] was playing center with the first group. … We're hoping it's such a temporary thing you don't think much about it, but we had Kolton [Houston] playing the left guard spot where Dallas was. Kolton's a good player, so I think we'd be OK, but we're better with [Andrews] at center."
On safety Josh Harvey-Clemons (foot) and receiver Chris Conley (ankle),
who both left last Saturday's Vanderbilt loss with injuries: "Neither one of them practiced. I would guess Josh Harvey is closer than Chris and I don't know if Josh will practice Monday or not."
On freshman linebacker Reggie Carter (knee):
"Reggie was not out there. Reggie hurt his knee Tuesday in practice. Don't know how severe yet."
Bennett and safety
Tray Matthews
(hamstring) worked on the side with trainers, away from the team, during the portion of practice that was open to the media.
Gurley and fellow tailbacks
J.J. Green
(right shoulder contusion, left shoulder sprain) and
Brendan Douglas
(right knee sprain, left wrist sprain) worked in team drills while wearing green non-contact jerseys. Receivers
Rhett McGowan
(ankle),
Michael Erdman
(shoulder) and
Tramel Terry
(shoulder) also practiced in green, joining the lengthy list of players dealing with some physical ailment.
"We don't want to make it the story of the year," Richt said. "We want to win ballgames. We want to prepare to win with who we have available. We want guys to get well as fast as they can get well. We want some guys that know they're going to miss the season, we want them to be ready as fast as they can so they can have a great year next year. But obviously that's been the thing that most people have talked about because it's been a little unusual in that regard."
October, 24, 2013
10/24/13
8:00
AM ET
The injury bug has been sucking the life out of teams in the SEC this season. The SEC East has been hit especially hard this season, and here are the three teams in the league that have been affected the most:

1. Florida:
Not exactly what the Gators want to be ranked first in, but Florida runs away with this one. The 4-3 Gators lost starting right tackle
Chaz Green
(shoulder) and wide receiver
Andre Debose
(knee) for the season during fall camp and have seen six more season-ending injuries since, including quarterback
Jeff Driskel
, running back
Matt Jones
and defensive tackle
Dominique Easley
. They dressed only 13 healthy defenders in the loss to Missouri. Quarterback
Tyler Murphy
is still dealing with a lingering shoulder injury.

2. Georgia:
The 4-3 Bulldogs lost top receiver
Malcolm Mitchell
for the year to a freak ACL injury in the season opener and then lost running back
Keith Marshall
and Justin-Scott Wesley to ACL injuries against Tennessee. Starting running back
Todd Gurley
(ankle) has been out since the LSU game (Sept. 28) and receiver
Michael Bennett
hasn't played since the Tennessee game (Oct. 5) due to a knee injury. Receiver
Chris Conley
(ankle) and safeties
Josh Harvey-Clemons
(foot) and
Tray Matthews
are questionable for next week's Florida game.

3. Arkansas:
The Razorbacks, who have lost five straight, felt the injury bug before the season when top receiver
Demetrius Wilson
was lost for the year with a preseason ACL injury while linebacker
Otha Peters
has played in only five games after breaking his arm during fall camp. Coach Bret Bielema estimated that 10-12 players went down with injuries during fall camp. Quarterback
Brandon Allen
suffered a shoulder injury early this season and starting defensive tackle
Robert Thomas
is out for the season with a broken leg.
August, 29, 2013
8/29/13
9:00
AM ET
Well, it's that time again. With the start of the college football season, which literally kicks off in a few hours, we are back to our weekly SEC predictions.
I mean, it's no big deal or anything, but I completely dominated the picks last year. The ATL Kid showed no mercy. Chris just didn't have the focus that you'd expect from a veteran. He started covering this league when I still had training wheels on my bike and chocolate stains on my shirts. (OK, those are still there.)
I spent the entire offseason gloating over how my beautiful 107-15 (.877) record looked down at Chris' 100-22 (.820) record and scoffed. But I also did some homework. I studied film. I might have had the championship belt around my waist, but today is a new day -- a new season.
Last year's picks mean nothing (except in the realm of blogger pride), so I have to start over. I'll starting lifting and running more in the mornings in order to get my mind and body right for the days ahead.
One championship was nice, but I'm looking for more rings and more bragging rights, and that all starts with a strong Week 1.
Let's get onto the picks:
THURSDAY
NORTH CAROLINA AT SOUTH CAROLINA
Chris Low:
It's the Battle of the Carolinas, or as the Head Ball Coach would say, South Carolina vs. "Dabo's Carolina." Not sure Dabo's Carolina will be able to block Mr. Clowney. Then again, can anybody? ...
South Carolina 30, North Carolina 17
Edward Aschoff:
This could be the team that gets Steve Spurrier back to the SEC championship game.
Jadeveon Clowney
and that talented defensive line will make things miserable for UNC's offense all night. ...
South Carolina 31, North Carolina 17
OLE MISS AT VANDERBILT
Chris Low
: There's no getting around the rape case and how it will impact the Commodores, especially with junior receiver
Chris Boyd
being suspended. The Rebels are for real and will finally figure out a way to beat the Commodores after losing five of the last six in this series. ...
Ole Miss 24, Vanderbilt 20
Edward Aschoff:
Both of these teams are on the rise in the SEC and have higher expectations than usual entering the season. While the Rebels have struggled recently with the Commodores, there's more pressure on Vandy, and Ole Miss will claim its redemption. ...
Ole Miss 27, Vanderbilt 24
SATURDAY
WESTERN KENTUCKY VS KENTUCKY (in Nashville, Tenn.)
Chris Low:
OK, no jokes about Bobby Petrino riding his motorcycle to the game. He gets his first of two straight chances to take down SEC teams, but the Wildcats will stand their ground in Mark Stoops' debut. ...
Kentucky 28, Western Kentucky 21
Edward Aschoff:
Mark Stoops doesn't get a cupcake for his first game as Kentucky's new coach. I think it actually benefits him because he'll have a better idea of what he really has. And what he'll have is an opening-day winner. ...
Kentucky 24, Western Kentucky 20
LOUISIANA-LAFAYETTE AT ARKANSAS
Chris Low:
Louisiana-Monroe sent the Hogs reeling last season. Now, it's Louisiana (the Ragin' Cajuns) who'd like to get a little slice of Pig Sooie. Arkansas is too strong up front defensively to stumble in this one. ...
Arkansas 27, Louisiana 17
Edward Aschoff:
Bret Bielema and his Hogs are dealing with a lot of injuries, but he'll still have more talent on the field Saturday. We won't know a ton about this team, but starting off 1-0 ain't bad. ...
Arkansas 27, Louisiana-Lafayette 17
AUSTIN PEAY AT TENNESSEE
Chris Low:
There won't be many breathers for Butch Jones in his first season at Tennessee, but the only drama in this one will be whether or not the Pride of the Southland Band has enough stamina to still be playing "Rocky Top" in the fourth quarter. ...
Tennessee 45, Austin Peay 7
Edward Aschoff:
Another new coach makes his debut with a team shrouded in mystery. Jones has a lot of inexperience to work with on offense and it'll be interesting to see how that up-tempo offense looks. ...
Tennessee 31, Austin Peay 14
MURRAY STATE AT MISSOURI
Chris Low:
It sounds like
Henry Josey
is healthy again, and all those SEC fans who didn't get a chance to see him last season while he was sidelined are in for a treat. It won't be a lot of fun for Murray State trying to tackle him. ...
Missouri 38, Murray State 14
Edward Aschoff:
The Tigers are healthier and carrying a big chip on their shoulders this season. A more complete Missouri team should take the field this weekend. ...
Missouri 41, Murray State 13
WASHINGTON STATE at AUBURN
Chris Low:
We know that Mike Leach thinks the bottom half of the Pac-12 is better than the bottom half of the SEC. Here's his chance to prove it, although the Tigers should be greatly improved this season. ...
Auburn 34, Washington State 21
Edward Aschoff:
The Tigers have no choice but to get better with Gus Malzahn back on the Plains and Ellis Johnson taking over the defense. You should see lots of points in Malzahn's debut as the head coach. ...
Auburn 38, Washington State 20
TOLEDO AT FLORIDA
Chris Low:
The latest blow to the Gators was offensive tackle
Chaz Green
going down for the season, joining already injured running back
Matt Jones
and guard
Jon Halapio
. But when you don't give up any touchdowns, it's hard to lose. ...
Florida 24, Toledo 6
Edward Aschoff:
The Gators enter with a banged-up offense that already had a lot of questions. Toledo is far from a pushover, but Florida has the muscle to get by a tricky opening opponent. ...
Florida 27, Toledo 10
RICE AT TEXAS A&M
Chris Low:
By order of Texas A&M athletic director Eric Hyman, I will not make any comments concerning a certain Aggies' quarterback. What I will say is that the Aggies will roll despite No. 2 being on the bench for a half. ...
Texas A&M 48, Rice 10
Edward Aschoff:
Johnny Football might be sitting out a half, but it wouldn't matter if he were sitting out the entire game. It's finally time for A&M to get back on the playing field. ...
Texas A&M 48, Rice 17
MISSISSIPPI STATE VS OKLAHOMA STATE (Houston, Texas)
Chris Low:
The Bulldogs want to bring more pressure on defense this season. They're going to need to in this one, but they will have a hard time scoring with the Cowboys. ...
Oklahoma State 37, Mississippi State 24
Edward Aschoff:
A lot of questions remain for the Bulldogs, and it won't be easy for this defense to slow down Oklahoma State's high-powered passing game. ...
Oklahoma State 34, Mississippi State 21
LSU VS TCU (in Arlington, Texas)
Chris Low:
Les Miles isn't saying whether
Jeremy Hill
will play in the opener. He's "withholding" that information. Something else that will be withheld is TCU touchdowns. This LSU defense might be young, but it's not lacking talent. ...
LSU 28, TCU 16
Edward Aschoff:
The Tigers might be the must undervalued team in the SEC. Miles always has his teams prepared for these out-of-conference games, and you'll see a more explosive offense that's fast and athletic and will overpower the Horned Frogs. ...
LSU 31, TCU 17
ALABAMA VS VIRGINIA TECH (in Atlanta)
Chris Low:
This is not your father's Virginia Tech team. The Hokies simply don't have enough firepower to keep it close against the two-time defending national champions. ...
Alabama 35, Virginia Tech 10
Edward Aschoff:
Alabama likes these big openers. The process is strong with Crimson Tide players and Virginia Tech is hurting. Alabama comes in more talented, and the Hokies just don't have the horses to keep up in Atlanta. ...
Alabama 38, Virginia Tech 13
GEORGIA AT CLEMSON
Chris Low:
It's the most compelling opener of the season and should also be the most entertaining. If you like points, sit back and enjoy. The Dawgs will hold up a little better in the secondary and sneak out with a win. ...
Georgia 35, Clemson 31
Edward Aschoff:
This is the main event. Both teams have high-octane offenses and both have defenses littered with questions. Georgia has a lot of talent on defense, but it's young. This game is going to come down to which defense makes a play late -- and home-field advantage. ...
Clemson 34, Georgia 31
November, 1, 2012
11/01/12
7:00
AM ET
ATHENS, Ga. -- Forget the talk about Georgia's
Jordan Jenkins
becoming the next
Jarvis Jones
.
Even if the freshman outside linebacker never matches the eye-popping statistics that Jones has produced in a season-and-a-half as a Bulldog, Jenkins has already emerged as a key defensive weapon himself. He certainly proved that in last Saturday's 17-9 upset of then-No. 2 Florida, when he and Jones formed quite the dynamic duo -- typically as bookends on opposite edges of the line of scrimmage.
Jones produced one of the most memorable individual performances in recent memory against the Gators, but both players wreaked havoc against Florida while playing at the same time -- an opportunity that Jenkins hopes will arise again.
"We definitely were on the field a lot more in this game. I don't know if it's going to stay like that or not," said Jenkins, whose sixth-ranked Bulldogs (7-1, 5-1 SEC) host Ole Miss (5-3, 2-2) on Saturday. "Hopefully it does because I was doing some pretty good things."
Scene and Heard: Top 10 Predictions
SEC SCOREBOARD
Thursday, 8/28
Saturday, 8/30
Sunday, 8/31