Georgia Bulldogs:

Cam Newton
May, 9, 2014
5/09/14
5:30
AM ET
The Early Offer is RecruitingNation's regular feature, giving you a dose of recruiting in the mornings. Today's offerings: Many observers of football in Texas agree the SEC's impact on the recruiting trail in the Lone Star State is going to
only grow in the future
. However, not every SEC team is making a beeline to Dallas, Houston and East Texas to recruit. Plus, both USC and UCLA did their best to impress one of the nation's top corners recently.
February, 11, 2014
2/11/14
12:15
PM ET
Here's to hoping Atlanta is better prepared for Snowmageddon 2.
January, 30, 2014
1/30/14
10:30
AM ET
The SEC has
dominated the recruiting world
over the past several years. Since 2008, the SEC has had at least three schools finish in the top 10 of the ESPN recruiting class rankings each year. Last year, the conference had an impressive six schools ranked among the top 10 recruiting classes in the country. This year is much of the same, as seven SEC schools are ranked in the top 10.
Here's a closer look at the five best recruiting SEC schools in the
Ultimate ESPN 300
.
To continue reading this article you must be an Insider
January, 23, 2014
1/23/14
4:15
PM ET
The SEC's successes reach far beyond the college football landscape. Sure, the seven consecutive BCS titles -- which came to an end this year thanks to a pretty darn good Florida State team -- are well-documented, but most of the studs in this league eventually make it to the big leagues, where they continue to strut their stuff.
[+] Enlarge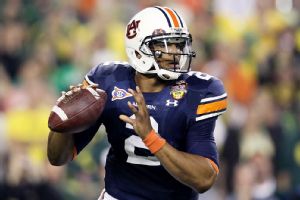 Christian Petersen/Getty ImagesFormer Auburn QB Cam Newton is one of 24 former SEC players in the Pro Bowl.
The NFL has always had an affinity for SEC players, and this year's Pro Bowl rosters blare that loud and clear, as 24 players from the SEC were selected for the all-star game in Hawaii. The SEC was represented by at least one player at every position except kicker and punter.
This year, the Pro Bowl changed its selection format. Former NFL greats Jerry Rice and Deion Sanders
drafted from a pool of Pro Bowl players
who were selected earlier in the season. Team Rice and Team Sanders went back-and-forth with their picks, and four of the first 10 players in the first Pro Bowl draft were former SEC players, including former Auburn quarterback Cam Newton (Carolina Panthers), who went No. 3 overall to Sanders.
Tennessee led the SEC with four selections. The game is Sunday night at 7:30 p.m. ET on NBC.
The 24 former SEC players selected to this year's Pro Bowl:
QB
RB
WR
TE
OL
DL
LB
CB
S
RS
September, 10, 2013
9/10/13
10:00
AM ET
ATHENS, Ga. -- As he does each Sunday, Mark Richt sat down and rewatched his Georgia team's game from the previous day -- this time a 41-30 win against then-No. 6 South Carolina.
Asked Sunday evening what he took away from that second viewing, Richt's first comments concerned his starting tailback,
Todd Gurley
.
[+] Enlarge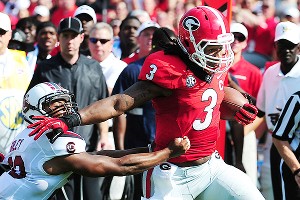 Scott Cunningham/Getty ImagesTodd Gurley is seventh in the nation with 286 rushing yards and tied for fourth with four TDs.
"Just watching Gurley run was fun," Richt said. "He's just such a powerful back. He's got such great balance, speed."
Fans -- and Heisman Trophy voters -- have had the opportunity to make similar observations over the last two weeks as Richt's Bulldogs played two top-10 opponents. And all Gurley has done is dominate in both games, despite missing a portion of the opener at Clemson with a quad injury and despite facing one of the nation's better run defenses from last season in South Carolina.
Gurley on Monday received two rounds of treatment on the thigh injury that kept him from practicing much last week, but it didn't prevent him from dominating on the ground Saturday and fulfilling one of his few stated offseason goals of contributing more in the passing game. He hauled in his first career touchdown catch in the third quarter of the Bulldogs' win.
"I really didn't sit down this offseason and say, 'I'm trying to do this, I'm trying to do that,' " Gurley said. "One of my main things was just to get more plays in the passing game and just work on playing without the ball. That was about all."
After his 30-carry, 132-yard effort, which included one rushing and one receiving touchdown, Gurley is seventh nationally with 286 rushing yards and tied for fourth with four touchdowns.
"He probably is at the top of the group of running backs who are going for the Heisman right now," said Chris Huston, whose Heisman Pundit website tracks the race closely throughout the season. "I'd say he has pushed himself to the top of that group."
Obviously it's early, but Gurley has already continued his upward trajectory from a breakout freshman season where he rushed for 1,385 yards and scored 18 touchdowns.
There was his 75-yard touchdown run against Clemson where he exploded through a hole and outran everyone to the end zone. And then there were runs Saturday like the one where he somehow stayed on his feet when South Carolina defensive lineman
Kelcy Quarles
ripped off his helmet by the facemask, and very well might have scored a helmetless touchdown if not for the rule that requires such a play to be blown dead. Or when he burst down the sideline during a second-quarter touchdown drive and easily tossed Gamecocks cornerback
Jimmy Legree
aside with a vicious stiff-arm.
"Watching film on him, he's by far in my opinion -- anyone who watched him would probably agree with me -- the best player in the country. I don't think there's anyone like Todd," Georgia quarterback
Aaron Murray
said Monday.
He might not enjoy the spotlight, but Gurley possesses the total package that a Heisman-contending running back needs in order to generate national attention. Now he needs his teammates to help him remain in the conversation.
Spread-offense quarterbacks have the odds in their favor in this day and age, although that position held the advantage even before dual-threat passers like Cam Newton, Robert Griffin III and
Johnny Manziel
claimed each of the last three Heismans. Quarterbacks have won 11 of the last 13 years, so Gurley not only needs to separate himself from other running backs with impressive yardage totals and highlight-reel runs, he needs Georgia to remain in the BCS conversation in order to remain a viable alternative to quarterbacks like Manziel, Clemson's
Tajh Boyd
, Oregon's
Marcus Mariota
and Ohio State's
Braxton Miller
.
"It's hard for a running back to win, but if he does win, he has to have as little competition from other running backs in the race as possible," Huston said. "Gurley's first task is to sort of establish himself as the running back alternative to whatever quarterbacks there are."
Then again, he must also separate himself from his own teammate to become a true Heisman frontrunner.
Murray reignited his Heisman hopes with a nearly flawless 309-yard, four-touchdown performance against South Carolina. Interestingly enough, however, Huston said the perception that two contending teammates might siphon votes away from one another isn't necessarily accurate.
As an example, he used the 2004 race where USC quarterback Matt Leinart won and running back teammate Reggie Bush finished fifth. Oklahoma's Adrian Peterson and Jason White finished second and third that year. In other words, members of the two teams that played for the BCS championship took up four of the top five spots in the voting -- and their respective abilities likely helped their teammates from a performance and publicity standpoint.
"You could argue that Jason White's support cost Peterson the Heisman, but you could also say that Bush's support cost Leinart more votes in that situation," Huston said. "Would Peterson have gotten more votes if White wasn't as good? So it's kind of a symbiotic relationship between the two. If Aaron Murray wasn't as good, Gurley probably wouldn't be as successful because teams would be able to key on him more."
November, 2, 2012
11/02/12
7:00
AM ET
Editor's note: Each week, the good folks at ESPN Stats and Information will help us take a look inside the numbers that matter prior to Georgia's games. We'll share some of their data here on the blog every Friday this fall.
NO. 6 GEORGIA VS. OLE MISS
Saturday, 3:30 p.m. ET
Sanford Stadium, Athens, Ga.
1: Running back league?:
Fresh off a 118-yard outing that Mark Richt described as one of the underrated elements of Georgia's win against Florida, freshman tailback
Todd Gurley
now sits third in the SEC in rushing at 92.5 yards per game (120 carries for 740 yards and 10 TDs).
Gurley's per-game average tumbled after a 39-yard game against South Carolina and a 47-yard game against Kentucky. But he posted his fifth 100-yard outing of the season against the Gators to move back toward the top of the SEC charts.
Texas A&M's
Johnny Manziel
leads the league with an average of 99.1 rushing yards per game (117-793, 13 TDs). If Manziel, Gurley, Mississippi State's
LaDarius Perkins
(95.2 yards per game) or Florida's
Mike Gillislee
(91.1) -- the only four players averaging at least 90 yards per game -- fail to increase their per-game average to at least triple digits, it would mark the first time since 1972 that the SEC's leading rusher didn't average at least 100 yards per game. Auburn's Terry Henley led the SEC with 93.7 yards per game that season.
To continue reading this article you must be an Insider
October, 24, 2012
10/24/12
12:00
PM ET
The Florida-Georgia rivalry doesn't just take place in Jacksonville. The two schools compete all year long on the recruiting trail around the Southeast. Kipp Adams of DawgNation and Derek Tyson of GatorNation take a look at ten of the top battles for blue-chip players, five from each school's perspective.
Georgia
DT Marcus Stroud
(Thomasville, Ga./Brooks County): The year was 1996. Florida was coming off six straight wins over the Bulldogs and to make matters worse, the Gators had a verbal commitment from elite Peach State defensive tackle prospect Marcus Stroud. Gators WR
Jacquez Green
was Stroud's host during his official visit to Florida, and he felt Stroud was definitely going to be playing for the Gators. Signing day arrived, and what happened then became one of the all-time recruiting surprises of the past two decades, with Stroud switching his commitment to Georgia. Stroud's Sports Illustrated cover energized a fanbase looking for any glimmer of hope against their rival in Gainesville. The next year, alongside starting quarterback and future offensive coordinator Mike Bobo, Stroud helped end the losing streak against Florida in 1997. The No. 13 overall selection in the 2001 NFL Draft, Stroud played in the NFL for more a decade, earning three Pro-Bowl/All-Pro selections in 2003, 2004 and 2005.
DT Jeff Owens
(Plantation, Fla/Plantation): The 6-2, 265-pound defensive lineman took official visits to Florida, FSU, Georgia, Oklahoma and Virginia Tech, and ultimately chose the Bulldogs -- although his father wanted him to stay in-state and play for the Gators. Owens went on to start 37 games at Georgia, making 102 tackles, five sacks, 13 tackles for loss, two fumbles forced, two fumbles recovered and three pass breakups.
To continue reading this article you must be an Insider
October, 14, 2012
10/14/12
12:17
PM ET
ATHENS, Ga. -- With No. 14 Georgia's regular season at the halfway mark and the Bulldogs taking this weekend off, let's take a look at the good and bad among their six remaining opponents:
THREE UP
1. Florida:
Streaking Florida has been one of the biggest surprises in the SEC this season. After last weekend's upset of defending conference champion LSU, the Gators (6-0, 5-0 SEC) catapulted to No. 4 in the Associated Press Top 25 and avoided a letdown at Vanderbilt.
To continue reading this article you must be an Insider
June, 4, 2012
6/04/12
12:06
PM ET
When I start searching my memory bank for the best individual seasons of the past 50 years in the SEC, I don't have to go back very far to come up with at least two that rank up there with any in college football history.

But like any other ranking in the SEC, coming up with the top five individual seasons is one tough chore.

Here goes:

1. Cam Newton, QB, Auburn, 2010: Granted, it was only one season. But what a season it was on the Plains for Newton and the Tigers. Newton, who came over from junior college after starting his career at Florida, guided Auburn to a 14-0 record and the school's first national championship in 53 years. He was unstoppable as a runner and equally dynamic as a passer, accounting for 51 touchdowns. The runaway winner of the 2010 Heisman Trophy, Newton was second nationally in passing efficiency (182.05) and led all SEC players in rushing with 1,473 yards. In short, it was about as close as it gets to being a perfect season.


Peach State: Top Tier Recruiting Ground?
SEC SCOREBOARD
Thursday, 9/3
Saturday, 9/5