Georgia Bulldogs:

Brandon Morris
April, 18, 2013
4/18/13
7:50
PM ET
MACON, Ga. -- Georgia basketball coach Mark Fox officially announced his team's newest 2013 signee Thursday afternoon. He met with reporters at the UGA Day tour stop in Macon on Thursday evening to discuss the newest Bulldog,
Kenny Paul Geno
, recruiting and the Bulldogs' 2013-14 schedule.
Geno, a 6-foot-6 small forward, averaged 23.1 points and 12.5 rebounds per game as a senior at Boonesville (Miss.) High School. The high riser likely will bring fans to their feet with his leaping ability, but Fox likes his long-range shooting ability even more.
March, 13, 2013
3/13/13
7:00
AM ET
ATHENS, Ga. -- Half-court buzzer-beaters, last-second jump shots, ill-timed and questionable whistles -- all of those elements have contributed to a series of last-minute losses for Georgia in the last two months.
"We keep it interesting," said Bulldogs forward
Nemanja Djurisic
, whose team's most recent loss came Saturday, when Alabama's
Trevor Releford
drained a 60-footer at the buzzer to give the Crimson Tide a 61-58 victory.
[+] Enlarge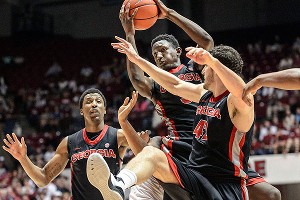 AP Photo/Vasha Hunt/Alabama Media GroupEven with Alabama's win over Georgia last weekend, the Bulldogs' average margin of loss in a 13-game stretch in SEC play is just 4.6 points.
But while Djurisic and the Bulldogs have lost more than their fair share of heartbreakers since late January, they have also proved something to themselves.
"We know we can compete with any team in the league if we play the way we can play to win," Freshman All-SEC point guard
Charles Mann
said. "So that's not really a big problem with us. It gave us a lot of confidence."
This young Georgia team got off to an atrocious start, first by dropping seven of their first nine games of the season and then by starting SEC play with a 1-4 mark. And yet as the season progressed, SEC Player of the Year
Kentavious Caldwell-Pope
led the way, freshmen like Mann, forward
Brandon Morris
and shooting guard
Kenny Gaines
began to settle in and the Bulldogs suddenly became competitive.
Entering Thursday's SEC tournament opener against LSU (18-11, 9-9 SEC), Georgia (15-16, 9-9) has won eight of its last 13 conference games -- and every game the Bulldogs lost easily could have been a victory. Their widest margin of defeat in that 13-game stretch was a 10-point loss at Ole Miss, but that came in overtime after forward
Donte Williams
missed a tip-in that would have won the game at the end of regulation. Including that loss, Georgia's average margin of defeat in those games is just 4.6 points.
October, 18, 2012
10/18/12
2:24
PM ET
ATHENS, Ga. -- Away from the court,
Kentavious Caldwell-Pope
does not seem like the type of guy who would get overly excited about anything. But the soft-spoken sophomore and Georgia basketball coach Mark Fox admit that there were times in his Freshman All-SEC season where he simply was not under control.
"I think Kentavious is really naturally a very quiet, soft-spoken young man, but when the scoreboard turns on or when we start playing, his personality changes and he cares about winning, he cares about playing hard and sometimes we have to slow him down," Fox said.
"I think looking back at last year, he had a lot of plays defensively where maybe he picked up a foul or two because he didn't know how to control his motor, he was so aggressive."
To continue reading this article you must be an Insider
October, 12, 2012
10/12/12
7:00
AM ET
October, 10, 2012
10/10/12
10:17
AM ET
ATHENS, Ga. -- Mark Fox doesn't know for sure how his reconstructed team will fare against an expanded SEC schedule, but Georgia's basketball coach thinks this will be the deepest and most athletic Bulldogs team he has fielded.
The Bulldogs lost starting guards
Gerald Robinson
and
Dustin Ware
from last season's 15-17 club, but the roster of key contributors otherwise remains intact plus three freshmen -- point guard
Charles Mann
, shooting guard
Kenny Gaines
and small forward
Brandon Morris
-- who will play key roles this season.
"We have more pieces this year," Fox said at Tuesday's season-opening press conference. "We're a deeper basketball team, we're more athletic than we were, we're a more physical group, certainly a more experienced group than we were last year. We are going to miss the experience of Gerald Robinson and Dustin Ware in the backcourt, but that's really the only key pieces we lost off last year's team.
To continue reading this article you must be an Insider
August, 27, 2012
8/27/12
4:01
PM ET
ATHENS, Ga. -- Samuel L. Jackson didn't reveal the contents of the mysterious briefcase he carried in "Pulp Fiction," but the actor shared plenty of thoughts on life with Mark Fox and his Georgia basketball team when he visited Athens last week.

Jackson
Fox said he and assistant coach Stacey Palmore hounded Jackson with questions during a round of golf, and he met with Georgia's basketball and football teams that afternoon, as well.
"He was very gracious talking about different characters he played and how much preparation goes into it and how he got into acting. You name it," Fox said. "He was very open and talked about how stars deal with fame and how some people mismanage their money and what pitfalls guys can fall into. He talked to our team about some of that, which I thought was terrific. He was as down to Earth as you can imagine and I really appreciated his approach to it. I don't know if he enjoyed it, but we sure did."
To continue reading this article you must be an Insider
July, 31, 2012
7/31/12
1:17
PM ET
ATHENS, Ga. -- Not only has
Brandon Morris
been practicing to become a college basketball player since he arrived on Georgia's campus last month, he has also taken time to sharpen his international etiquette.
[+] Enlarge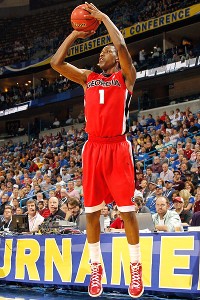 Chris Graythen/Getty ImagesGeorgia starter Kentavious Caldwell-Pope won't see a lot of playing time in Italy, as coaches will focus on getting to know the newcomers.
The freshman forward and his new teammates leave for Italy on Friday and they've already received some basic instructions on the differences between Italian and American culture.
"It's a certain way you've got to go eat in restaurants, like a way you've got to hold your fork, a way you've got to place things," Morris said.
The NCAA permits college basketball programs to make such a trip every four years and Bulldogs coach Mark Fox targeted this summer as an opportune time because of the youth on his roster. Morris is one of four UGA freshmen and five sophomores -- including returning starters
Kentavious Caldwell-Pope
, the team's top returning scorer, and
Nemanja Djurisic
-- all of whom will benefit greatly from the 10 practice days leading up to the trip and the three exhibition games they will play while in Italy.
"I think the trip really for us began with the practices," Fox said. "We started being able to really practice with this team and see what they can do so I think without question we see it as a business trip and as an educational trip. They'll certainly have some chances to do some fun things, too."
July, 30, 2012
7/30/12
9:05
PM ET
ATHENS, Ga. -- Georgia basketball coach Mark Fox and most of his players met with reporters Monday to discuss their upcoming trip to Italy and their summer practice sessions leading up to the trip.
We'll have more on the Italy trip tomorrow. For now, here are some updates on the status of the team after adding freshmen Kenny Gaines, Houston Kessler, Charles Mann and Brandon Morris to the roster.
• Fox did not address whether junior forward Donte Williams will face any game punishment related to his May arrest for marijuana possession. Williams said Monday that the case was dismissed and that he passed three drug tests, showing that he is not a drug user (more on this tomorrow, as well)
To continue reading this article you must be an Insider
May, 13, 2012
5/13/12
4:41
PM ET
MACON, Ga. -- When he arrived at the University of Georgia, Mark Fox circled the summer of 2012 as the ideal time to take his Bulldogs basketball team on an NCAA-permitted summer tour.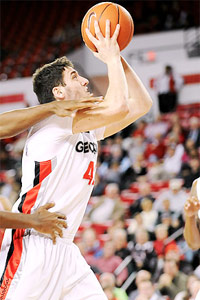 Radi Nabulsi/ESPN.comTo focus on the Bulldogs' rebuilding, rising sophomore G Nemanja Djurisic passed up an opportunity to play with his native Montenegro's national
team this summer.
Because of the leadership turnover on his roster, the Bulldogs' nine-day trip to Italy in August will be particularly valuable as a team-building exercise. Georgia's four new signees -- Kenny Gaines, Brandon Morris, Charles Mann and Houston Kessler -- will even be allowed to join the team in Italy, so the practice and game time allotted before and during the trip will give the Bulldogs a head start in preparing for life without departed guards
Gerald Robinson
and
Dustin Ware
.
"We thought this might be the time to go," Fox said Tuesday at the UGA Day gathering in Macon. "It's unfortunate that it's an Olympic year, but it's a perfect time for our team to go because we had a lot of young guys that played a lot last year. We return all those guys, and we've got a lot of new, young faces. It'll give all those guys a chance to jell, figure out who the leader is on the court and get used to each other."
Sophomore forward
Nemanja Djurisic
would have missed the trip had he decided to compete for the national team of his home country, Montenegro. Djurisic was a member of the national team several times as a junior player, but decided the timing was not right for him to join the team this summer.
"He had an opportunity to, but just felt like the time commitment was just too great," Fox said. "He was going to have to be gone for nearly two months and he just didn't feel like that was the wisest thing to do. So he'll hope to play for them again later."
The NCAA permits a basketball program to take such a trip every four years, allowing teams to practice 10 times leading up to the trip.
Peach State: Top Tier Recruiting Ground?
SEC SCOREBOARD
Thursday, 9/3
Saturday, 9/5