ESPN 300 DE Bellamy shakes things up
January, 27, 2013
1/27/13
4:28
PM ET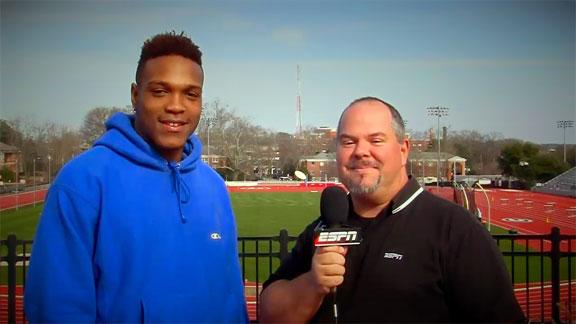 ATHENS, Ga. -- ESPN 300 defensive end
Davin Bellamy
(Chamblee, Ga./Chamblee) headed into his visit with the Georgia coaching staff still committed to Florida State despite all the programs aggressively recruiting him. Bellamy left Athens, Ga., committed to the Seminoles, but with a huge asterisk next to his status.
To continue reading this article you must be an Insider
Insider
Emmert: Memorabilia Pay Hard To Imagine
Adam Rittenberg discusses the comment made by NCAA president Mark Emmert about the concept of allowing players to receive compensation for autographs.
Emmert: Memorabilia Pay Hard To Imagine
VIDEO PLAYLIST
GEORGIA FB RECRUITING SCORECARD
GamecockWBB

GamecockWBB


Shooting on the @SECNetwork court with @karalawson20 and @CAROLYNPECK ! #Gamecocks #SECTipoff15 http://t.co/zvaeX2JhQo
less than a minute ago

VandyWBB

Vanderbilt WBB


Bekah and @iScooter22 are crushing it!! #WhoYaWith? #SECTipoff15 http://t.co/ozmnSgpQX7
less than a minute ago

ESPN_SEC

ESPN_SEC


Defensive struggles continue for Aggies http://t.co/4XEZuWgrAf
less than a minute ago

GatorZoneWBK

Gator WBasketball


Draw your mascot! #Gators #Elevate #SECTipoff15 http://t.co/xoAyvrQPnO
4 minutes ago

utspacewrangler

Eric Trainer


Really fun and unique experience today with @LadyVol_Hoops at #SECTipoff15 http://t.co/OiGlfUENGB
4 minutes ago

MizzouWBB

Mizzou Basketball


Great to spend a few minutes with @MelissaLeePxP! #Mizzou #SECTipoff15 http://t.co/ETrMRkZHlU
5 minutes ago

HailStateWBK

MSU W. Basketball


Martha and Bre got @CoachVic_MSU at the photo booth. #HailState #SECTipoff15 http://t.co/kcSjFKWExO
5 minutes ago

RazorbackWBB

RazorbackWBB


.@CoachJimmyDykes breaks it down with @debbieantonelli in Coaches Clicker at #SECTipoff15. #BeArkansas http://t.co/uONd5oYDO5
12 minutes ago

marcweiszer

Marc Weiszer


UGA picked sixth RT @SEC: Media tabs South Carolina as 2015 #SEC Women's Basketball Champion: http://t.co/z1LXwgS5CJ #SECTipoff15
12 minutes ago

sportney_lyle

Courtney Lyle


Interviews are underway here in Charlotte. Lady Vols speak in the next session in about 30 mins http://t.co/g163j0c7u7
13 minutes ago

bethmowins

Beth Mowins


@NellOnWheels @gailgoes10 @coachcarolross chatting up @VandyWBB http://t.co/nfyIRToBo2
13 minutes ago

AuburnWBB

Auburn W Basketball


Next interview for @haveyousina with Fox Sports #sectipoff15 http://t.co/gLmiYlV3gK
14 minutes ago

dawnstaley

dawnstaley


My @GamecockWBB girls are about to give @CAROLYNPECK and @karalawson20 some insight on what makes them go. #SECTipoff15
14 minutes ago

ESPN_SEC

ESPN_SEC


SEC has top three teams in Vegas rankings http://t.co/n5cSw2mX67
19 minutes ago

FootballUGA

Georgia Football


#DawgsInTheNFL Week 7 | @chrisclemons91 @reshadjones9 @Staff_9 @BlairWalsh3 http://t.co/x6Q9AuYUpd
21 minutes ago

SEC

SEC Sports


#SECTipoff15 getting underway at the Ballantyne Hotel in Charlotte: http://t.co/GxCwvH3Sku
22 minutes ago

LadyVol_Hoops

Lady Vol Basketball


.@OMG_itsizzyb doing a video shoot with @SEC #SECTipoff15 http://t.co/EcVS1T2haF
26 minutes ago

GatorZoneWBK

Gator WBasketball


Amanda Butler describes a play with with @debbieantonelli in Coaches' Clicker #SECTipoff15 http://t.co/LFx7BBOwHk
28 minutes ago

dawnstaley

dawnstaley


@TiffMitch25 & twitterless Lisa Welch making funny impressions of me in front of the camera.#shotsfired #SECTipoff15 http://t.co/d0O2KE4j6L
28 minutes ago

SEC

SEC Sports


Media tabs South Carolina as 2015 #SEC Women's Basketball Champion: http://t.co/hdY44GZG5z #SECTipoff15
28 minutes ago

dawnstaley

dawnstaley


There's not another conference in the country that has so many attractions at media day than @SEC! #SECTipoff15 http://t.co/a2k68xoIdN
31 minutes ago

RazorbackWBB

RazorbackWBB


.@CoachJimmyDykes on the air now at #SECTipoff15. #BeArkansas http://t.co/fhd8htNdZd
32 minutes ago

MizzouWBB

Mizzou Basketball


. @Mo_Eye30 chatting with @CapuanoESPN #SECTipoff15 http://t.co/4RX2sPjc6I
32 minutes ago

LadyVol_Hoops

Lady Vol Basketball


.@HollyWarlick on @SEC Coaches Roundtable with @MariaTaylor7. #SECTipoff15 http://t.co/6RbozNIxVV
32 minutes ago

GatorZoneWBK

Gator WBasketball


.@CoachButlerUF to the rescue! Making sure our #Gators are photo ready! #Elevate #SECTipoff15 http://t.co/teIMKeG4ut
32 minutes ago

AuburnWBB

Auburn W Basketball


From a few minutes ago, @AUCoachFlo and @haveyousina outside the @SECNetwork studios #SECTipoff15 http://t.co/D2ITnm4U5v
42 minutes ago

MizzouWBB

Mizzou Basketball


It's @Mo_Eye30's turn to get glam! #Mizzou #SECtipoff15 http://t.co/XHCAu4q84L
42 minutes ago

LadyVol_Hoops

Lady Vol Basketball


.@HollyWarlick describes a play with @OMG_itsizzyb with @debbieantonelli in Coaches Clicker. #SECTipoff15 http://t.co/Rm1DgCyEBa
48 minutes ago

AlabamaWBB

Alabama W Basketball


Look what we found down the hallway of helmets at #SECTipoff15! #RollTide http://t.co/gjVa8UFdOs
48 minutes ago

MizzouWBB

Mizzou Basketball


And now it's on to makeup! #SECTipoff15 http://t.co/9UuFr3NFCP
48 minutes ago

UGAAthletics

Georgia Bulldogs


Exclusive Vid Only Available on http://t.co/bZ4MQHFRBZ, Inside Georgia Football w/ Coach Richt http://t.co/8CGtH6o9nu http://t.co/TXK1uqoWzQ
53 minutes ago

briancrice

Brian Rice


.@HollyWarlick getting ready for the Coach's Clicker with @debbieantonelli #SECTipoff15 http://t.co/G4xKgc1ukx
54 minutes ago

leahkbeasley

Leah Beasley


#SECTipoff15 is underway in Charlotte. CoachVic_MSU in our maroon. Ready for @HailStateWBK this season! #HailState http://t.co/oo8CVhm0A3
54 minutes ago

marcweiszer

Marc Weiszer


Widow of former #UGA CB Oliver describes his violent behavior after concussions in NFL http://t.co/Bgqyhq7zUN
about an hour ago

GamecockWBB

GamecockWBB


Coaches Roundtable #Gamecocks #SECTipoff15 @dawnstaley http://t.co/zeq4fWzNKj
about an hour ago

GatorZoneWBK

Gator WBasketball


.@cassiepeoples and @kay_lew22 sat down with @SIRIUSXM to preview the season! #Elevate #SECTipoff15 http://t.co/zXNC1hbBqa
about an hour ago

ESPN_SEC

ESPN_SEC


Take Two: Ole Miss D or Miss. State O? http://t.co/RF7meCqFf3
about an hour ago

OleMissWBB

Ole Miss Women\'s BB


minsell on the coaches round table at #SECTipoff15 http://t.co/GHRRBkITfF
about an hour ago

HailStateWBK

MSU W. Basketball


Getting ready for Coaches Roundtable. #HailState #SECTipoff15 http://t.co/ZLMUuEldCC
about an hour ago

ChipTowersAJC

AJC UGA


Ten@10: ESPN's Herbstreit believes Gurley could still win Heisman http://t.co/zufwyV3C8m
about an hour ago

RazorbackWBB

RazorbackWBB


Great studio shot as interviews continue at #SECTipoff15. #BeArkansas http://t.co/CBesL4BJdr
about an hour ago

LadyVol_Hoops

Lady Vol Basketball


The signature of the head coach @HollyWarlick. #SECTipoff15 http://t.co/bElndnWX5f
about an hour ago

HailStateWBK

MSU W. Basketball


Hey @HailStateFB look what @CoachVic_MSU found at #SECTipoff15 ! #HailState http://t.co/woNCVa4vBs
about an hour ago

GamecockWBB

GamecockWBB


Coach @dawnstaley getting ready for her Coaches Clicker segment with @debbieantonelli #Gamecocks #SECTipoff15 http://t.co/dSTD3QYvCd
about an hour ago

SEC

SEC Sports


.@SECNetwork announces #SEC Women's Basketball Commentator Lineup: http://t.co/CFTPHKA0aC
about an hour ago

GamecockWBB

GamecockWBB


Glamming it up for HD TV close ups! #Gamecocks #SECTipoff15 http://t.co/nvnE2VhXBP
about an hour ago

VandyWBB

Vanderbilt WBB


The first of many, many interviews for @iScooter22 on Tuesday! #SECTipoff15 #AnchorDown http://t.co/u2YqIODnN3
about an hour ago

UGA_WBB

UGA WBB


First stop at #SECTipoff15 . . . make up! #LookGoodFeelGood http://t.co/NFTXjejWDh
about an hour ago

RazorbackWBB

RazorbackWBB


Great group pic of all the SEC head coaches including @CoachJimmyDykes. #SECTipoff15 #BeArkansas http://t.co/op6J7tTBua
about an hour ago

RazorbackWBB

RazorbackWBB


Calli Berna in her sit down interview #SECTipoff15 #BeArkansas http://t.co/AaRNqTvl9T
about an hour ago

briancrice

Brian Rice


.@HollyWarlick signing the coaches basketballs as part of #SECTipoff15 http://t.co/F6QSVZxPQ5
about an hour ago

VandyWBB

Vanderbilt WBB


@iScooter22 gets ready to go under the bright lights. #SECTipoff15 http://t.co/QEbLpLLYHY
about an hour ago

AlabamaWBB

Alabama W Basketball


Ashley Williams on court at #SECTipoff15 with @karalawson20 and @CAROLYNPECK. #RollTide http://t.co/sktAWU1iDq
about an hour ago

LadyVol_Hoops

Lady Vol Basketball


Autograph time for @HollyWarlick at #SECTipoff15. http://t.co/PL7VxZpnIZ
about an hour ago

LadyVol_Hoops

Lady Vol Basketball


Group photo of @HollyWarlick and the @SEC coaches at #SECTipoff15. http://t.co/4CaOtOYXi7
about an hour ago

HailStateWBK

MSU W. Basketball


.@CoachVic_MSU doing the Coach's Clicker with @debbieantonelli #HailState #SECTipoff15 http://t.co/gv3zDtfcTi
about an hour ago

RazorbackWBB

RazorbackWBB


Makeup! http://t.co/Syj8tpEeM6
about an hour ago

RazorbackWBB

RazorbackWBB


.@CoachJimmyDykes waiting for a group interview at SEC Network studios. #SECTipoff15 #BeArkansas http://t.co/mYMrZYPdbW
about an hour ago

sportsbizdiva

Tiffany Daniels


#SECTipoff15 getting started with @MariaTaylor7 & @UGACoachLanders. Two of my faves... http://t.co/1rFonBYHwD
about an hour ago

LadyVol_Hoops

Lady Vol Basketball


.@HollyWarlick, @OMG_itsizzyb & @BASH931 on the ground and ready to head to #SECTipoff15 http://t.co/zX9i4KjVRd
about an hour ago

GatorZoneWBK

Gator WBasketball


Welcome to Charlotte! The #Gators have arrived at SEC Media Day! #SECTipoff15 http://t.co/mXxm6ie3aV
about an hour ago

ajgreen_18

Aj Green


Keep the questions coming @reddit_AMA http://t.co/ifDTkRjmRC
about an hour ago

AlabamaWBB

Alabama W Basketball


Ashley Williams starting her day off at the Women in the Game panel at #SECTipoff15 http://t.co/HjrAsJgxVq
about an hour ago

RazorbackWBB

RazorbackWBB


Walking in on the red carpet. Nothing but the best at #SECTipoff15. #BeArkansas http://t.co/LEXw0MB256
about an hour ago

UKHoopCats

UK Hoops


Jen and Bria getting their make-up done in preparation for #SECTipOff15 http://t.co/1jVSmuN09i
about an hour ago

UGA_WBB

UGA WBB


Past meets present at #SECTipoff15. Krista, @sportsbizdiva, Cobi & @MariaTaylor7 #Family http://t.co/kXUy3hAnTe
about an hour ago

UGA_WBB

UGA WBB


Past meets present at #SECTipoff15. Krista, @sportsbizdiva, Cobi & @MariaTaylor7 #Family http://t.co/kXUy3hAnTe
about an hour ago

SECherbvin

Herb Vincent


@SEC Tip Off '14 is underway in Charlotte. http://t.co/HQR3y8uip6
about an hour ago

GatorZoneWBK

Gator WBasketball


.@cassiepeoples and @kay_lew22 had some fun with the SEC Media Day photo booth! #SECTipoff15 http://t.co/5UlPtPfUQv
about an hour ago

LadyVol_Hoops

Lady Vol Basketball


.@OMG_itsizzyb and @BASH931 with @SIRIUSXM #CollegeSportsNation #SECTipoff15 http://t.co/KH5Na0Ez5h
about an hour ago

aaronmurray11

Aaron Murray


Last chance for World Series Raffle. Buy a $2 ticket and have a chance to go to Game 1. Benefits Make A Wish http://t.co/e6Vyb0kxGN
about an hour ago

VandyWBB

Vanderbilt WBB


Breakfast is donezo. Time for bekah and @iScooter22 to meet the press. #SECTipoff15 http://t.co/Koi8nXezMk
about an hour ago

GamecockWBB

GamecockWBB


We're here! SEC Media Day today in Charlotte. Tiffany Mitchell, Aleighsa Welch, @dawnstaley #Gamecocks #SECTipoff15 http://t.co/K59j2PbClK
about an hour ago

briancrice

Brian Rice


The @SEC women's basketball coaches ready for their family photo. #SECTipoff15 http://t.co/DzDCgI0ady
about an hour ago

SEC

SEC Sports


#SECTipoff15 is the official hashtag of SEC Tipoff 15 - SEC Basketball Media Days.
about an hour ago

bethmowins

Beth Mowins


Red carpet rolled out for SEC Hoops season at SEC Network! http://t.co/3LcxB1f4En
about an hour ago

ESPN_SEC

ESPN_SEC


Weekend recruiting wrap: SEC http://t.co/mu24X7l9ZE
about an hour ago

ScoutGeorgia

Scout Bulldogs


#Dawgs Is Texas a threat? - Texas recently offered Georgia commit Quincy Vasser, so the Dawgs quickly got i... http://t.co/V3bFAsSdpg
about an hour ago

FootballUGA

Georgia Football


The man behind the scenes of the #UGA hype videos @franko_martino @GradyNewsource #UGAFamily #GoDawgs http://t.co/eAwQm6GTEu
about 2 hours ago

gscantweet

Greg Sankey


Court is ready for @SEC Women's Basketball Media Days from @SECNetwork HQ. Anyone up for a game later today? http://t.co/s9mWZYKO6S
about 2 hours ago

SEC

SEC Sports


Feature on South Carolina #SEC Football Legend Sheldon Brown from @GamecocksOnline: http://t.co/DZI7tPX4cJ
about 2 hours ago

OleMissPix

OleMissPix


#SECTipoff15 has officially begun here in Charlotte!! @OleMissFB http://t.co/8z2cUikUB9
about 2 hours ago

ajgreen_18

Aj Green


Hey fans, go to Reddit and ask me anything. I will be on there answering questions till 11am #4thandTD
about 2 hours ago

SEC

SEC Sports


#SECTipoff15 begins today in Charlotte. Complete information here: http://t.co/HwxJvQzxOu #SEC
about 2 hours ago

ESPN_SEC

ESPN_SEC


Planning for success: Auburn http://t.co/YKL8T7YoIr
about 2 hours ago

UGA_WBB

UGA WBB


We are on the ground in Charlotte and on the way to #SECTipoff15! @UGACoachLanders, Krista Donald and Shacobia Barbee representing #uga
about 3 hours ago

marcweiszer

Marc Weiszer


Takeaways surge. Ball security rock solid. It adds up to #UGA topping the nation in turnover margin. http://t.co/G1ciKxE3BY
about 3 hours ago

ESPN_SEC

ESPN_SEC


SEC morning links http://t.co/h2xF5a1Vax
about 3 hours ago

marcweiszer

Marc Weiszer


AM RT Checking in with #UGA hoops: Experience, new bigs and a 'position up for grabs.' Video of Fox, Mann and Maten. http://t.co/fzyJe6PQBv
about 4 hours ago

ChipTowersAJC

AJC UGA


RT @Carvell_AJC: 5 Questions with top UGA WR recruit http://t.co/2MA63cUlbw
about 11 hours ago

JohnLillyUGA

John Lilly


Everywhere I recruit I see the Georgia "G"- clothes, flags, tire covers, etc. Proud to be part of a Nation that covers the world #DawgNation
about 14 hours ago

marcweiszer

Marc Weiszer


J.J. Green could be on move back to defense this weekhttp://t.co/kcoIQlKZcG #UGA
about 14 hours ago

ChipTowersAJC

AJC UGA


Video: Melissa Joan Hart Credits Lucky Panties for Alabama Victory http://t.co/00Az00vmA7
about 14 hours ago

SEC

SEC Sports


The #SEC has announced its Volleyball Players of the Week: http://t.co/7HxES4g3t3
about 14 hours ago

marcweiszer

Marc Weiszer


Richt thinks FB Taylor Maxey (neck/shoulder) will practice maybe in non-contact jersey Tuesday and should play vs. Florida.
about 15 hours ago

marcweiszer

Marc Weiszer


Richt said on radio he thinks J.J. Green will return to defense this week. "Hopefully he will." Depends on if Marshall or Michel returns.
about 15 hours ago

FootballUGA

Georgia Football


It's about the man next to you. #TheGeorgiaWay #Brotherhood #UGAFamily http://t.co/ejk3s1EA0t
about 15 hours ago

marcweiszer

Marc Weiszer


Georgia's Swann, Chubb tabbed for SEC weekly honors http://t.co/nkhlKFIGKe #UGA
about 16 hours ago

5DeuceHerrera

Amarlo Herrera


S/O to my lil bro @D_Swann for being SEC Player of the week!!!!!
about 16 hours ago

SEC

SEC Sports


#SECHonors: @FootballUGA Damian Swann named #SEC Defensive Player of the Week: http://t.co/1DOsibPZW1
about 16 hours ago
BLOG ARCHIVE:
CATEGORIES: