UGA Bulldogs will represent at Olympics
July, 26, 2012
7/26/12
8:45
AM ET
Dozens of competing countries will not be as well-represented as the University of Georgia will be at the upcoming Olympics in London.
[+] Enlarge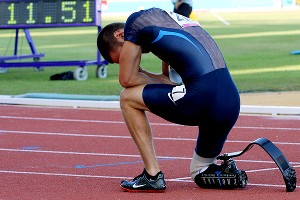 Hector Guerrero/Getty ImagesGeorgia alum Jarryd Wallace will compete for the USA in the Aug. 29-Sept. 9 Paralympic Games in London.
Not only will 26 former, current and future Bulldogs represent 12 different countries in London, but diving coach Dan Laak will serve as an assistant for the U.S. team and former five-time UGA Olympian Teresa Edwards will serve as the Chef de Mission, a liaison between Team USA and the Olympic organizers.
"We'll all be watching the Olympics with a keener eye, knowing that so many Bulldogs will be competing," Georgia athletic director Greg McGarity said in a statement. "I think it's great that we have current, past and future student-athletes participating in the Olympics, and there's no question they will share a unique bond in London. It shows how special the Georgia programs represented are, in terms of their foundation, their tradition and their success in their arenas."
Men's tennis star John Isner is perhaps the best known of Georgia's Olympic contingent, but he is not the only Bulldog who could make headlines in the coming weeks. Allison Schmitt will compete in four swimming events in London and might be UGA's top medal hopeful. Eleven other Bulldogs swimmers -- plus diver Chris Colwill -- and 10 track and field competitors make up the bulk of the competitors with UGA ties.
Some of the former Georgia athletes still reside in Athens and train at UGA facilities, thanks to the strong connection between school and competitor.
"I've been very fortunate that the University of Georgia's opened up its facilities to not only myself, but some really great Olympic athletes and they continue to do so," said shot putter Reese Hoffa, who will compete in his third Olympics in London. "They just want to see me succeed.
"I know when I made the first Olympics, they were extremely excited about that and what can I say? I've just been lucky to be able to stay here and continue to train here and we have our third AD that's been here since I've been training and each one has been 100 percent supportive of all the Olympic athletes that are training here."
Hoffa joked that he might even cheer "Go Dawgs!" from the medal stand if he places for the first time at an Olympics. If he does, Hoffa could have more than a few fellow UGA athletes there to bark along with him.
Georgia's full Olympic contingent and the countries for which they will compete:
Swimming & Diving
Incoming freshman Yousef Alaskari (Kuwait)
Former Bulldog Chris Colwill (USA)
Rising junior Andrew Gemmell (USA)
Former Bulldog Kara Lynn Joyce (USA)
Incoming freshman Matias Koski (Finland)
Incoming freshman Brittany MacLean (Canada)
Former Bulldog Sarah Poewe (Germany)
Former Bulldog Troyden Prinsloo (South Africa)
Rising senior Allison Schmitt (USA)
Former Bulldog Wendy Trott (South Africa)
Rising junior Shannon Vreeland (USA)
Former Bulldog Amanda Weir (USA)
Incoming freshman Ediz Yildirimer (Turkey)
Track & Field
Former Bulldog Jenny Dahlgren (Argentina)
Former Bulldog Debbie Ferguson-McKenzie (Bahamas)
Former Bulldog Hyleas Fountain (USA)
Former Bulldog Sultana Frizell (Canada)
Former Bulldog Andras Haklits (Croatia)
Former Bulldog Reese Hoffa (USA)
Former Bulldog Kibwe Johnson (USA)
Former Bulldog Martin Maric (Croatia)
Former Bulldog Levern Spencer (St. Lucia)
Former Bulldog Jarryd Wallace (USA Paralympic team)
Gymnastics
Incoming freshman Brittany Rogers (Canada)
Men's Tennis
Former Bulldog John Isner (USA)
Volleyball
Former Bulldog Lizzie Reid (England)
Other Olympic connections
Teresa Edwards: Chef de Mission (USA)
Dan Laak: Assistant diving coach (USA)
Connor Nolte: Digital media intern (USA)
Peach State: Top Tier Recruiting Ground?
SEC SCOREBOARD
Thursday, 9/3
Saturday, 9/5