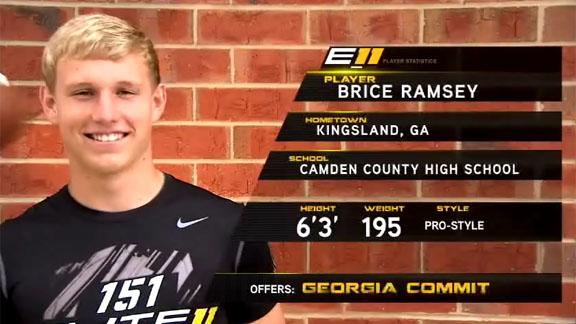 In this profile of Elite 11 quarterback Brice Ramsey, the Camden County prospect says his decision to commit to in-state Georgia was a no-brainer.
ESPN Juco Top 50 Released
Senior national recruiting analyst Tom Luginbill breaks down the impact junior college prospects ranked near the top of the ESPN Juco Top 50. Six of the top 20 players are uncommitted.
Tags:
D'haquille Williams
,
Lavon Pearson
,
Shattle Fenteng
,
Tyreek Hill
,
Dominick Jackson
,
DaVonte Lambert
,
Tee Shepard
,
Chad Mavety
,
Dalvon Stuckey
,
RecruitingNation
,
ESPN Juco Top 50
,
high school football recruiting
ESPN Juco Top 50 Released
VIDEO PLAYLIST
ESPN Juco Top 50 Released

ESPN Juco Top 50 Released

Senior national recruiting analyst Tom Luginbill breaks down the impact junior college prospects ranked near the top of the ESPN Juco Top 50. Six of the top 20 players are uncommitted.

Tags: D'haquille Williams

,

Lavon Pearson

,

Shattle Fenteng

,

Tyreek Hill

,

Dominick Jackson

,

DaVonte Lambert

,

Tee Shepard

,

Chad Mavety

,

Dalvon Stuckey

,

RecruitingNation

,

ESPN Juco Top 50

,

high school football recruiting

Georgia vs Georgia Tech Highlight

Georgia vs Georgia Tech Highlight

Auburn Builds Through Southeast

Auburn Builds Through Southeast
GEORGIA FB RECRUITING SCORECARD
ESPN_SEC

ESPN_SEC


Will Florida State end SEC's streak? http://t.co/FyVHKqaAZi
about 4 hours ago

ESPN_SEC

ESPN_SEC


Auburn reaches its date with destiny http://t.co/CJfFH59Y29
about 4 hours ago

UGAAthletics

Georgia Bulldogs


RT @UGAcheerleading: Jacksonville Round 2 for the @Gator_Bowl! #GoDawgs
about 5 hours ago

UGAAthletics

Georgia Bulldogs


.@FauxPelini So we meet again, old friend...
about 5 hours ago

ESPN_SEC

ESPN_SEC


Vizio BCS National Championship http://t.co/cqIrbteezl
about 5 hours ago

ESPN_SEC

ESPN_SEC


BBVA Compass Bowl http://t.co/kYqkDxqjOy
about 6 hours ago

ESPN_SEC

ESPN_SEC


Allstate Sugar Bowl http://t.co/TTyVLu9Wfg
about 6 hours ago

UGAAthletics

Georgia Bulldogs


Time to get to work. See you soon, @Gator_Bowl. #GoDawgs
about 6 hours ago

ESPNChing

David Ching


Bulldogs facing Huskers again in Gator http://t.co/bRFdF3BRMw
about 6 hours ago

ESPN_SEC

ESPN_SEC


Outback Bowl http://t.co/OKlDRac15G
about 6 hours ago

ESPN_SEC

ESPN_SEC


Capital One Bowl http://t.co/ZTOdRCfRNO
about 6 hours ago

ESPNChing

David Ching


RT @ESPN_BigTen: http://t.co/viQrQbhavO Gator Bowl http://t.co/g7dI1OlNEC
about 6 hours ago

ESPNChing

David Ching


Nice shirt though. RT @JSW_86 Nasty huh? http://t.co/bffLzRdpgW
about 6 hours ago

ESPN_SEC

ESPN_SEC


http://t.co/674atM5Fpk Gator Bowl http://t.co/BSP34pcwHJ
about 6 hours ago

ESPNGeorgia

ESPN Georgia


http://t.co/xZis41aNO7 Gator Bowl http://t.co/oMTJ5xxtvG
about 6 hours ago

ESPNGeorgia

ESPN Georgia


Bulldogs facing Huskers again in Gator http://t.co/R6l2BkAiXQ
about 6 hours ago

ESPN_SEC

ESPN_SEC


Chick-fil-A Bowl http://t.co/nHOjFjDaz1
about 6 hours ago

ESPN_SEC

ESPN_SEC


AutoZone Liberty Bowl http://t.co/L20WiMeit3
about 6 hours ago

ScoutGeorgia

Scout Bulldogs


Dawgs Get Nebraska (Again) in Bowl http://t.co/wprfHB6gBO #uga
about 7 hours ago

marcweiszer

Marc Weiszer


#UGA-Nebraska Gator Bowl story updated with comments from Greg McGarity, Mark Richt, Gator's Catlett. http://t.co/aZGVlIaFvw
about 7 hours ago

ESPN_SEC

ESPN_SEC


AT&T Cotton Bowl http://t.co/BvcJdY3wG1
about 7 hours ago

ESPN_SEC

ESPN_SEC


Music City Bowl http://t.co/dp1bwq2Q71
about 7 hours ago

ESPN_SEC

ESPN_SEC


Music City Bowl http://t.co/ObFqDjoMiE
about 7 hours ago

SEC

SEC Sports


Watch highlights from yesterday's #SEC Football Championship Game here: http://t.co/acCcPjDmYZ
about 7 hours ago

ESPNChing

David Ching


Also of note, the Gator Bowl website has apparently crashed and there is nothing about the game on Nebraska's website.
about 7 hours ago

SEC

SEC Sports


Updated #SEC bowl story with full #SEC schedule and full final #BCS standings: http://t.co/sdz7n0FoIV
about 8 hours ago

marcweiszer

Marc Weiszer


Nebraska's Bo Pelini was on Gator Bowl call at the start, but had dropped off by the time he was up for Q&A.
about 8 hours ago

marcweiszer

Marc Weiszer


Gator Bowl's Rick Catlett: "Two teams of this quality in two separate years is pretty much like playing in a conference rivalry."
about 8 hours ago

ESPNChing

David Ching


"Coach Pelini, are you there?" Nope, he's not.
about 8 hours ago

UGAAthletics

Georgia Bulldogs


Richt on quarterback Hutson Mason "We think he's going to be a heck of a ball player."
about 8 hours ago

ESPNChing

David Ching


I love bowl teleconferences. It's like keystone cops.
about 8 hours ago

UGAAthletics

Georgia Bulldogs


UGA Students will receive their @Gator_Bowl v Nebraska (Jan. 1 - Noon kickoff) ticket email tomorrow. Student tix will be $65 each
about 8 hours ago

UGAAthletics

Georgia Bulldogs


Coach Richt on facing Nebraska in a bowl game for 2nd straight year, "It was a great battle last year & we'll see what happens this year."
about 8 hours ago

marcweiszer

Marc Weiszer


Mark Richt selling his Nebraska background when asked about rematch. "It was a great battle last year and we'll see what happens this year."
about 8 hours ago

marcweiszer

Marc Weiszer


At least Georgia will be the home team for the Gator Bowl. So there is that.
about 8 hours ago

UGAAthletics

Georgia Bulldogs


RT @WeRunThisState: #UGA will play in their 17th consecutive bowl game and the #Dawgs rank 3rd all-time in bowl wins! #Tradition #CommitToT…
about 8 hours ago

WeRunThisState

Georgia Football


RT @Gator_Bowl: It's official, @UGAAthletics vs Nebraska @Huskers http://t.co/JYHAPF4kke
about 8 hours ago

WeRunThisState

Georgia Football


#UGA will play in their 17th consecutive bowl game and the #Dawgs rank 3rd all-time in bowl wins! #Tradition #CommitToTheG
about 8 hours ago

UGAAthletics

Georgia Bulldogs


RT @Gator_Bowl: It's official, @UGAAthletics vs Nebraska @Huskers http://t.co/JYHAPF4kke
about 8 hours ago

UGAAthletics

Georgia Bulldogs


RT @WeRunThisState: The #Dawgs will take on #Nebraska in the @Gator_Bowl on New Years Day at Noon on ESPN2! http://t.co/lOy0TOuilU
about 8 hours ago

WeRunThisState

Georgia Football


The #Dawgs will take on #Nebraska in the @Gator_Bowl on New Years Day at Noon on ESPN2! http://t.co/lOy0TOuilU
about 8 hours ago

UGAAthletics

Georgia Bulldogs


.@WeRunThisState is heading to the Gator Bowl v Nebraska Jan 1 at Noon! Get your tix $65/$125 http://t.co/iZRdH0zU4r
about 8 hours ago

marcweiszer

Marc Weiszer


Georgia confirms on its website it will play in Gator Bowl against Nebraska.
about 8 hours ago

ESPNChing

David Ching


UGA just officially announced it has accepted a bid to the Gator Bowl
about 8 hours ago

SEC

SEC Sports


Auburn earns berth in #BCS Championship Game. Full story: http://t.co/sdz7n0FoIV #SEC
about 8 hours ago

SEC

SEC Sports


RT @ESPNCFB: VIZIO #BCS National Championship:#1 Florida State 13-0 vs #2 Auburn 12-1January 6, 8:30 ET on ESPN http://t.co/YX3dINRakC
about 8 hours ago

SEC

SEC Sports


RT @SEC_Chuck: The final BCS Standings are out. Auburn will meet Florida State in Pasadena for the national title on January 6.
about 8 hours ago

SEC

SEC Sports


#SEC teams in final #BCS Top-10: 2. Auburn; 3. Alabama; 8. Missouri; 9. South Carolina.
about 8 hours ago

marcweiszer

Marc Weiszer


UGA No. 22 RT @bmarcello: Well, looks like the BCS standings were leaked early. Here's Auburn at No. 2: http://t.co/x39QBdQSp9
about 8 hours ago

SEC

SEC Sports


RT @ESPNCFB: Watch the #BCS Selection show at 8:30 PM ET followed by the Bowl Selection show at 9 PM ET on ESPN
about 8 hours ago

ESPNChing

David Ching


RT @FauxPelini: WE ALREADY DID THE GEORGIA THING LAST YEAR AND IT WAS NOT SUPER FUN
about 9 hours ago

marcweiszer

Marc Weiszer


Georgia-Nebraska get rematch in Gator Bowl http://t.co/ivQM8H2GaA #UGA
about 9 hours ago

SEC

SEC Sports


The Vizio #BCS Selection Show is scheduled for 8:30 p.m. ET on @ESPN. #SEC
about 9 hours ago

SEC

SEC Sports


Get scores and recaps from Sunday's #SEC women's basketball action here: http://t.co/vaGnRwCr2t
about 9 hours ago

marcweiszer

Marc Weiszer


Official from Jacksonville paper RT @gsmitter: It's #Georgia vs.# Nebraska in #GatorBowl. http://t.co/ki8GxgHMg4"
about 9 hours ago

marcweiszer

Marc Weiszer


RT @Nick_Mathews: Syracuse and Minnesota will play in Texas Bowl here in Houston at Reliant Stadium, @CuseSports44 reports.
about 10 hours ago

marcweiszer

Marc Weiszer


UGA-Nebraska Gator? MT @KellisRobinett: Kansas State headed to Buffalo Wild Wings Bowl, where it will play Michigan, according to source.
about 10 hours ago

ajcuga

AJC UGA


#UGA football: How do you feel about heading back to Jacksonville for a bowl game? What if opponent's Michigan? http://t.co/JQxRkI4eXb
about 10 hours ago

marcweiszer

Marc Weiszer


More on Gator matchup from Jacksonville paper. RT @gsmitter: At this point a #Georgia- #Michigan #Gatorbowl is the best bet.
about 11 hours ago

marcweiszer

Marc Weiszer


Indication is indeed Georgia to Gator Bowl in Jacksonville for Jan. 1 game. Michigan could be opponent.
about 11 hours ago

ScoutGeorgia

Scout Bulldogs


Forums: Bowl update... (Another Update) http://t.co/kwETRaoDcT #uga
about 11 hours ago

ajcuga

AJC UGA


Been staying out of twitter bowl spec b/c negotiations all over map today. My pin remains on J'ville but lots of talk about Chick. We'll see
about 12 hours ago

ESPNChing

David Ching


RT @McMurphyESPN: RT @stevewisemanNC: Source says Duke will play Texas A&M in @chickfilabowl on Dec. 31
about 12 hours ago

marcweiszer

Marc Weiszer


Would mean Gator likely for UGA RT @stevewisemanNC: Source says Duke will play Texas AM in the @chickfilabowl on Dec. 31
about 12 hours ago

ajcuga

AJC UGA


RT @kelsroaach: So my mom will stop smoking & so will my stepdad if I get a million retweets, lol ok. Ha help me guys. http://t.co/ee5E4FWO…
about 12 hours ago

UGAAthletics

Georgia Bulldogs


RT @JohnLillyUGA: There's clutch and then there is what Marlon Brown just did; unreal game winner for @MB_uno4 and the Ravens! #DawgsInTheN…
about 12 hours ago

UGAAthletics

Georgia Bulldogs


RT @dave_mc_stats: .@UGAAthletics @WeRunThisState @dawgsports as of right now @MB_uno4 is tied for 1st in NFL in TD Rec by rookies #crazyga…
about 12 hours ago

ESPNChing

David Ching


2013-14 bowl schedule. Will be updated as matchups become official. http://t.co/Mh8K2NZaMH
about 12 hours ago

WeRunThisState

Georgia Football


RT @ESPNStatsInfo: A.J. Green: 72 Rec yds; moves past Jerry Rice for 3rd-most rec yds by a player in his 1st 3 seasons (trails only Randy M…
about 12 hours ago

WeRunThisState

Georgia Football


RT @JohnLillyUGA: There's clutch and then there is what Marlon Brown just did; unreal game winner for @MB_uno4 and the Ravens! #DawgsInTheN…
about 12 hours ago

aaronmurray11

Aaron Murray


"@KoltonHouston75: I can't stop laughing at this eagles and lions game.. Way to much snow" you have no idea my friend
about 13 hours ago

marcweiszer

Marc Weiszer


No word yet on UGA bowl game, but source confirms that Duke is the ACC pick for the Chick-fil-A Bowl. Georgia or Texas A&M opponent.
about 13 hours ago

ScoutGeorgia

Scout Bulldogs


Forums: Damn Auburn! Question? http://t.co/rWM2ELtzgN #uga
about 14 hours ago

marcweiszer

Marc Weiszer


Buffalo's Jeff Quinn put UGA No. 19. Mike Gundy, Jerry Kill, Mike Leach & Les Miles at No. 20. Saban and Sumlin No. 23. Spurrier at No. 25.
about 15 hours ago

marcweiszer

Marc Weiszer


Coaches that didn't rank Georgia include Jimbo Fisher, James Franklin, Urban Meyer, George O'Leary and Dabo Swinney.
about 15 hours ago

marcweiszer

Marc Weiszer


Mark Richt's top 5 on coaches' poll ballot, per USA Today: Florida State, Auburn, Alabama, Michigan State, Ohio State. He ranked UGA No. 20.
about 15 hours ago

marcweiszer

Marc Weiszer


Waiting game continues on #UGA bowl landing spot. Gator or Chick-fil-A still options.
about 15 hours ago

SEC

SEC Sports


Seven #SEC teams ranked in latest @USATODAYsports Top-25 Coaches Poll:http://t.co/6h6k7J2FE3
about 16 hours ago

UGAAthletics

Georgia Bulldogs


RT @PanthersPR: @WeRunThisState @UGAAthletics Help send former Bulldog Thomas Davis to NFL Pro Bowl. Vote: http://t.co/oLCke9NCtG http://t.…
about 16 hours ago

UGAAthletics

Georgia Bulldogs


This week, @WeRunThisState jumps two spots to No. 23 in the @AP_Top25 and is No. 24 in @USATODAYsports Coaches Poll. #GoDawgs
about 16 hours ago

marcweiszer

Marc Weiszer


#UGA moves up two spots to No. 23 in the Associated Press rankings.
about 16 hours ago

UGAAthletics

Georgia Bulldogs


#dgd RT @aaronmurray11: Pumped I got to see my boy @BrandonBoykin2 out here doing big things. This snow is crazy! http://t.co/3mcI7qvBII
about 16 hours ago

UGAAthletics

Georgia Bulldogs


It's bowl selection day! @WeRunThisState will learn its postseason destination tonight. Update coming when available!
about 17 hours ago

aaronmurray11

Aaron Murray


Pumped I got to see my boy @BrandonBoykin2 out here doing big things. This snow is crazy! http://t.co/lFGIjUZuJZ
about 17 hours ago

marcweiszer

Marc Weiszer


Georgia is back in the USA Today coaches' poll at No. 24. Bulldogs last ranked in the poll on Oct. 19.
about 17 hours ago

SEC

SEC Sports


Latest @USATODAYsports Coaches Top-25 Poll: Four #SEC teams in top-10. Auburn is No. 2 in latest poll.
about 17 hours ago

ESPN_SEC

ESPN_SEC


SEC bowl projections: Week 15 http://t.co/k3R0QxrGtL
about 17 hours ago

ESPNGeorgia

ESPN Georgia


SEC bowl projections: Week 15 http://t.co/cTxl7KQDRE
about 17 hours ago

ESPN_SEC

ESPN_SEC


What we learned in the SEC: Week 15 http://t.co/GqFEkyEJl4
about 19 hours ago

ScoutGeorgia

Scout Bulldogs


Forums: Curious. Is anyone on here pulling FOR Auburn? http://t.co/m83BfOEB1z #uga
about 20 hours ago

ESPN_SEC

ESPN_SEC


SEC helmet stickers: Week 15 http://t.co/NwM3L7vtmy
about 20 hours ago

ESPN_SEC

ESPN_SEC


Auburn fans celebrate Spartans and Tigers http://t.co/3bHg7RYk74
1 day ago

ESPN_SEC

ESPN_SEC


Video: FSU, Auburn on collision course http://t.co/4a16SfKFqT
1 day ago

ESPN_SEC

ESPN_SEC


Video: BCS bowl projections http://t.co/6hW4KNqRP6
1 day ago

UGAAthletics

Georgia Bulldogs


Looking forward to tomorrow night and find out what's next for @WeRunThisState. Any guesses, #BulldogNation?
1 day ago

ESPN_SEC

ESPN_SEC


Auburn completes stunning turnaround http://t.co/uOiPO2bUpm
1 day ago
BLOG ARCHIVE:
CATEGORIES: