Video: 2014 DB Nick Glass interview
March, 28, 2012
3/28/12
1:16
PM ET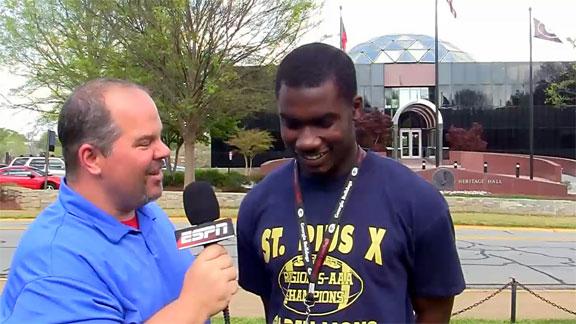 Defensive back Nick Glass (Atlanta/St. Pius X) visited Athens for the Georgia junior day and left with an offer to play for the Bulldogs. DawgNation caught up to him moments after he received his offer to get his reaction.

Reporter, DawgNation
Reporter for DawgNation
Covers Georgia Bulldogs sports and recruiting
Joined ESPN in 2011
Raekwon McMillan discusses recruitment
Before his Dec. 16 announcement, Raekwon McMillan discusses his recruitment and his high school football season.
Raekwon McMillan discusses recruitment
VIDEO PLAYLIST
Raekwon McMillan discusses recruitment

Raekwon McMillan discusses recruitment

Before his Dec. 16 announcement, Raekwon McMillan discusses his recruitment and his high school football season.

ESPN Juco Top 50 Released

ESPN Juco Top 50 Released

Senior national recruiting analyst Tom Luginbill breaks down the impact junior college prospects ranked near the top of the ESPN Juco Top 50. Six of the top 20 players are uncommitted.

Tags: D'haquille Williams

,

Lavon Pearson

,

Shattle Fenteng

,

Tyreek Hill

,

Dominick Jackson

,

DaVonte Lambert

,

Tee Shepard

,

Chad Mavety

,

Dalvon Stuckey

,

RecruitingNation

,

ESPN Juco Top 50

,

high school football recruiting

Georgia Prevails In 2OT

Georgia Prevails In 2OT

Todd Gurley rushed for 122 yards and accounted for four total touchdowns to lead Georgia to a 41-34 double-overtime win over Georgia Tech.

Tags: Georgia

,

Todd Gurley

,

Georgia Tech
GEORGIA FB RECRUITING SCORECARD
ESPN_SEC

ESPN_SEC


Auburn fans celebrate Spartans and Tigers http://t.co/3bHg7RYk74
about 3 hours ago

ESPN_SEC

ESPN_SEC


Video: FSU, Auburn on collision course http://t.co/4a16SfKFqT
about 4 hours ago

ESPN_SEC

ESPN_SEC


Video: BCS bowl projections http://t.co/6hW4KNqRP6
about 4 hours ago

ajcuga

AJC UGA


I've said all along Gator. Have not wavered.
about 4 hours ago

ajcuga

AJC UGA


Sparty resolves controversy: Michigan State over Ohio State. It's FSU vs. Auburn for last BCS national championship!
about 5 hours ago

ESPN_SEC

ESPN_SEC


Ouch! Some of the tweets by Florida players tonight over Urban Meyer and Ohio State losing are stinging.
about 5 hours ago

ESPN_SEC

ESPN_SEC


Yeah, the BCS has been filled with its share of controversy. But, boy, has it been interesting and given us some wild finishes to seasons.
about 5 hours ago

UGAAthletics

Georgia Bulldogs


Looking forward to tomorrow night and find out what's next for @WeRunThisState. Any guesses, #BulldogNation?
about 5 hours ago

ESPN_SEC

ESPN_SEC


Auburn completes stunning turnaround http://t.co/uOiPO2bUpm
about 5 hours ago

aaronmurray11

Aaron Murray


RT @DoyleD1: @aaronmurray11 Nutcracker Guest! @cblank711 @ThomasCampion9 @TylerMoser5 @GotShoopack @Rbertsch76 http://t.co/g5AQc9xjUj
about 5 hours ago

SEC

SEC Sports


#SEC #SEC #SEC
about 5 hours ago

SEC

SEC Sports


Of interest to #SEC fans - RT @MSU_Football: Spartans get 34-24 win over OSU for B1G championship.
about 5 hours ago

aaronmurray11

Aaron Murray


RT @BelleMcDonnell: Thanks for coming to see me tonight love you 💕 @KacieFOX29 oh and @aaronmurray11 💩 http://t.co/s8TqRkh8Yx
about 5 hours ago

SEC

SEC Sports


RT @SEC_Chuck: #SEC
about 5 hours ago

ESPN_SEC

ESPN_SEC


Tre Mason helps carry Auburn to SEC title http://t.co/deuj7sNvzx
about 5 hours ago

ScoutGeorgia

Scout Bulldogs


Forums: Leader Emerging for Isaac Nauta... http://t.co/47BYiRVS8A #uga
about 6 hours ago

SEC

SEC Sports


Auburn wins 2013 #SEC Football Championship. Full coverage on the SEC Digital Network: http://t.co/afAHAX8vYu #SECATL
about 8 hours ago

SEC

SEC Sports


The Auburn running game dominated in Atlanta, just as it has all season long for Gus Malzahn's Tigers. Story: http://t.co/3DXKitLJnQ
about 8 hours ago

SEC

SEC Sports


Gus Malzahn press conference beginning now. Watch live here: https://t.co/Gfra9PZW1v #SECATL @footballAU
about 8 hours ago

SEC

SEC Sports


RT @AUGoldMine: Missouri coach Gary Pinkel on if 1-loss Auburn deserves a chance at the BCS title game: "I hope it would be considered."
about 8 hours ago

SEC

SEC Sports


RT @SEC_Chuck: Pinkel: 'Auburn has to be considered. With the strength of schedule in this league, hopefully they will be.'
about 8 hours ago

SEC

SEC Sports


The postgame press conferences will air live on the SEC Digital Network here: https://t.co/Gfra9PZW1v #SECATL
about 9 hours ago

SEC

SEC Sports


Tre Mason rushed 46 times for 304 yards with four touchdowns.#SECATL
about 9 hours ago

SEC

SEC Sports


The 2013 #SEC Football Championship Most Valuable Player is Auburn's Tre Mason. #SECATL
about 9 hours ago

marcweiszer

Marc Weiszer


What a turnaround. Tre Mason with 304 rushing yards in SEC title game win. Auburn with 238 total yards of offense vs. Georgia last year.
about 9 hours ago

SEC

SEC Sports


Get your official #Auburn #SEC Championship merchandise at http://t.co/qELBOHsc3r. http://t.co/7YI9uvWWxr
about 9 hours ago

ESPN_SEC

ESPN_SEC


Instant analysis: Auburn 59, Missouri 42 http://t.co/ZhRoTQmMp4
about 9 hours ago

SEC

SEC Sports


RT @SEC_Chuck: The one-loss SEC Champion Auburn Tigers are now 5-1 vs. Top 25 teams and 3-1 vs. the Top 10.
about 9 hours ago

SEC

SEC Sports


CBS will air tonight's postgame trophy presentation live. Stay tuned. #SECATL
about 9 hours ago

SEC

SEC Sports


RT @SEC_Tammy: And the confetti falls! Congrats to @FootballAU the 2013 SEC Football Champions. #SECATL http://t.co/p7NppQhM7f
about 9 hours ago

SEC

SEC Sports


Auburn wins 2013 #SEC Football Championship. Quick recap: http://t.co/afAHAX8vYu #SECATL
about 9 hours ago

SEC

SEC Sports


RT @jonsol: Gus Malzahn is 3rd coach to win SEC title in 1st season, joining LSU's Bernie Moore (1935) & Ole Miss' John Vaught (1947).
about 9 hours ago

SEC

SEC Sports


#SECATL: Auburn now leading Missouri 59-42. 4:22 remaining in the game. Tre Mason scored on a 13-yard rushing touchdown. #SEC
about 9 hours ago

ESPNChing

David Ching


Mason has 41 for 275 and three TDs. I'd think he winds up on some Heisman ballots after this.
about 9 hours ago

SEC

SEC Sports


Tonight's attendance 75,632. The Southeastern Conference thanks you. #SECATL
about 9 hours ago

SEC

SEC Sports


#SECATL: Auburn extends its lead to 52-42 with 11:09 left in the game. 1-yard rush by Tre Mason. #SEC
about 9 hours ago

ESPN_SEC

ESPN_SEC


Mason with 41 rushing attempts, tying an Auburn record. #SECATL
about 9 hours ago

SEC

SEC Sports


RT @SEConCBS: HIGHLIGHT: James Franklin gets the TD and Mizzou makes 2pt conversion to cut in Auburn's lead - http://t.co/VjURUeKvQe @BofA…
about 10 hours ago

SEC

SEC Sports


RT @BCPowders: Congrats to our VIP winner Melissa Floyd!! Hope you're having fun at the game! #BCSEC #SECATL http://t.co/fub91vtCGH
about 10 hours ago

ESPN_SEC

ESPN_SEC


Keep in mind that this was a Missouri defense giving up fewer than 120 rushing yards per game coming in.#SECATL
about 10 hours ago

ESPNChing

David Ching


Auburn has 494 rushing yards and is averaging 8 ypc thru three quarters
about 10 hours ago

ESPN_SEC

ESPN_SEC


I know this is going out on a limb, but they won't be showing this game tape at any defensive coaching clinics any time soon.#SECATL
about 10 hours ago

SEC

SEC Sports


#SECATL: End of the third quarter, Auburn leads Missouri, 45-42. #SEC
about 10 hours ago

SEC

SEC Sports


#SECATL: Auburn 45, Missouri 42. 0:09 3rd quarter. 5-yard rushing touchdown by James Franklin and two-point conversion. #SEC
about 10 hours ago

ESPN_SEC

ESPN_SEC


On second thought, forget what I just said about Mizzou keeping up. Wow, Henry Josey.#SECATL
about 10 hours ago

SEC

SEC Sports


#SECATL: Auburn now leading Missouri 45-34. 31 seconds left in the third quarter. #SEC
about 10 hours ago

ESPN_SEC

ESPN_SEC


You get the feeling that Mizzou, which has continued to grind in this game, just isn't going to be able to keep up at this clip.#SECATL
about 10 hours ago

SEC

SEC Sports


This is officially the highest scoring game in #SEC Football Championship history. Previous 75 combined points 1996, Florida v. Alabama.
about 10 hours ago

ESPN_SEC

ESPN_SEC


Could be a costly three-and-out there by Mizzou. Giving the ball back to Auburn? Yikes.#SECATL
about 10 hours ago

ESPN_SEC

ESPN_SEC


Auburn with 397 rushing yards. Is it possible to lose a game when you rush for 400-plus yards?#SECATL
about 10 hours ago

SEC

SEC Sports


RT @AUGoldMine: Auburn has 499 yards of offense...still in the third quarter
about 10 hours ago

SEC

SEC Sports


#SECATL: Auburn goes in front of Missouri 38-34. Corey Grant scores on a 2-yard rush. 3:21 left in the third quarter. #SEC
about 10 hours ago

ESPN_SEC

ESPN_SEC


Hard to put in words the speed and athleticism out there on what was already a fast track.#SECATL
about 10 hours ago

SEC

SEC Sports


#SECATL: Missouri leads Auburn 34-31. 4:06 left in the third quarter. Missouri's Marcus Murphy scored on a 10-yard pass from J. Franklin.
about 10 hours ago

ESPN_SEC

ESPN_SEC


Tre Mason is going to be one tired young man after this one is over.#SECATL
about 10 hours ago

ESPN_SEC

ESPN_SEC


This game might be over by the time the second half of the Big Ten championship game begins, and I said "might."#SECATL
about 10 hours ago

ESPN_SEC

ESPN_SEC


What an impressive drive by Mizzou to take the lead, fueled by just a freakish catch and run by Green-Beckham, who equals NFL.#SECATL
about 10 hours ago

SEC

SEC Sports


#SECATL: Auburn's Cody Parkey with an #SEC Championship Game record 52-yard field goal. Auburn 31, Missouri 27. 8:17 3rd quarter.
about 10 hours ago

SEC

SEC Sports


RT @drpepper: Brooks B. is our #SECATL Tuition Throw winner, scoring $100K in #DrPepperTuition. Congratulations! http://t.co/cEmZqHyhM2
about 10 hours ago

ESPN_SEC

ESPN_SEC


Suddenly, this game has become a defensive struggle. OK, not really.#SECATL
about 10 hours ago

ESPN_SEC

ESPN_SEC


SEC's Mike Slive on what this game will mean: I know what it means. It's just a matter of whether everybody else agrees with me.#SECATL
about 10 hours ago

SEC

SEC Sports


RT @HannahChalker: Closer game than I thought it would be! #SECATL @csssports http://t.co/OopWrptTip
about 10 hours ago

SEC

SEC Sports


Auburn's Tre Mason has rushed for 195 yards already - the second-highest total in #SEC Championship history. Needs seven more for record.
about 11 hours ago

SEC

SEC Sports


The 55 combined points is the highest first-half point total in an #SEC Championship Game. #SECATL
about 11 hours ago

ESPN_SEC

ESPN_SEC


680 yards total offense between these two teams in the first half. Old-school SEC football at its best.#SECATL
about 11 hours ago

SEC

SEC Sports


Halftime here at the #SEC Football Championship Game. Auburn 28, Missouri 27. #SECATL http://t.co/1sPhtJmN8O
about 11 hours ago

SEC

SEC Sports


#SECATL: Missouri 55-yard pass from James Frankin to Dorial Green-Beckham. Auburn 28, Missouri 27. 0:18 left until halftime.
about 11 hours ago

ESPN_SEC

ESPN_SEC


Talk about accelerating after making the catch. Green-Beckham was gone ...#SECATL
about 11 hours ago

ESPN_SEC

ESPN_SEC


And just like that, Mizzou goes up top to DGB and pulls within one right before half. This is video game football at its finest.#SECATL
about 11 hours ago

ESPN_SEC

ESPN_SEC


With Auburn getting the ball back to start second half, it could have easily been a three-score game before anybody could blink.#SECATL
about 11 hours ago

ESPN_SEC

ESPN_SEC


Can't begin to describe how important that stand was for Mizzou, especially to push Auburn out of FG range.#SECATL
about 11 hours ago

ESPN_SEC

ESPN_SEC


First down by Mizzou overturned by replay. Franklin's knee was down. Mizzou has to punt. Huge reversal.@SECATL
about 11 hours ago

ESPN_SEC

ESPN_SEC


Freshman Carl Lawson finishes off Franklin there on the sack. Auburn has some really promising freshman defensive linemen.#SECATL
about 11 hours ago

ESPN_SEC

ESPN_SEC


Mizzou desperately needs to answer here, more than anything, to keep that Auburn offense off the field.#SECATL
about 11 hours ago

ESPN_SEC

ESPN_SEC


Tre Mason was the most underrated RB in the SEC last season. He's made a compelling argument this season as the best RB in the SEC.#SECATL
about 11 hours ago

SEC

SEC Sports


#SECATL: Three-yard touchdown run by Tre Mason of Auburn ... Auburn leads Missouri 28-20. 6:26 2nd qtr. #SEC
about 11 hours ago

ESPN_SEC

ESPN_SEC


Mizzou's defense has to feel like it's already played six quarters.#SECATL
about 11 hours ago

ESPN_SEC

ESPN_SEC


Tre Mason's going to have 300 yards at the half at this rate. Geez, he's had some huge holes to run through.#SECATL
about 11 hours ago

ESPN_SEC

ESPN_SEC


This game almost has an eight-man football feel to it. Remember when you had to play stifling defense to win an SEC title.#SECATL
about 11 hours ago

SEC

SEC Sports


#SECATL: Missouri gets a 36-yard field goal from Andrew Baggett. Auburn 21, Missouri 20. 7:19 2nd qtr. #SEC
about 12 hours ago

ESPN_SEC

ESPN_SEC


Mizzou connects on the FG and pulls within 21-20. The way this one is going, you better get some points on every possession.#SECATL
about 12 hours ago

SEC

SEC Sports


#SECATL: Tre Mason 7-yard run for Auburn. Auburn 21, Missouri 17.10:12 2nd qtr. #SEC
about 12 hours ago

ESPN_SEC

ESPN_SEC


How surreal is it that we have an absolute track meet here in Atlanta and the Big 12 title game is tied 3-3 at the half?#SECATL
about 12 hours ago

ESPN_SEC

ESPN_SEC


Auburn playing at break-neck pace, snapping the ball before Mizzou can get lined up, and retakes the lead in this ping-pong match.#SECATL
about 12 hours ago

SEC

SEC Sports


#SECATL: Missouri's E.J. Gaines with an 11-yard fumble recovery for touchdown. Missouri 17, Auburn 14. 13:11 2nd qtr. #SEC
about 12 hours ago

ESPN_SEC

ESPN_SEC


Auburn offensive line hasn't gotten enough credit all season long.#SECATL
about 12 hours ago

ESPN_SEC

ESPN_SEC


Green-Beckham with a shoulder strain, and his availability for the rest of the game is questionable.#SECATL
about 12 hours ago

ESPN_SEC

ESPN_SEC


Marshall is one electrifying player, but you can't put the ball on the ground (in one half) in the SEC championship game.#SECATL
about 12 hours ago

SEC

SEC Sports


#SECATL: Missouri's E.J. Gaines with an 11-yard fumble recovery for touchdown. Missouri 17, Auburn 10. 13:11 2nd qtr. #SEC
about 12 hours ago

SEC

SEC Sports


#SECATL: End of the first quarter - Auburn leads Missouri 14-10. #SEC
about 12 hours ago

ESPN_SEC

ESPN_SEC


Auburn's Chris Davis down with an injury. Tigers can't afford to lose him.#SECATL
about 12 hours ago

ESPN_SEC

ESPN_SEC


Love the decision by Pinkel. Near midfield and this is a game that's going to take big points to win it.#SECATL
about 12 hours ago

ESPN_SEC

ESPN_SEC


Surprising that Malzahn changed his mind and decided on the long FG, which was wide right.#SECATL
about 12 hours ago

ESPN_SEC

ESPN_SEC


Mizzou's defense looks like its on its heels right now. Auburn tends to do that to you.#SECATL
about 12 hours ago

ESPN_SEC

ESPN_SEC


Did the kick go 10 yards before the Auburn player touched it?#SECATL
about 12 hours ago

SEC

SEC Sports


RT @ESPNCFB: #AUBvsMIZZ both teams lighting up the scoreboard #SECATL
about 12 hours ago

SEC

SEC Sports


#SECATL: Auburn regains the lead with a 9-yard run by Nick Marshall. Auburn 14, Missouri 10. 4:09 1st quarter. #SEC
about 12 hours ago

SEC

SEC Sports


RT @CollegeGameDay: Don't blink. #AUBvsMIZZ #SECATL
about 12 hours ago

SEC

SEC Sports


RT @SEC_Chuck: Tough to beat either of the two TD passes we've had so far tonight. Good stuff from both QBs. #SECATL
about 12 hours ago

ESPN_SEC

ESPN_SEC


Hard to appreciate how big, athletic and what a matchup nightmare Dorial Green-Beckham is until you see him in person.#SECATL
about 12 hours ago
BLOG ARCHIVE:
CATEGORIES: