Gaillard a three-down defensive lineman
July, 20, 2013
7/20/13
5:24
PM ET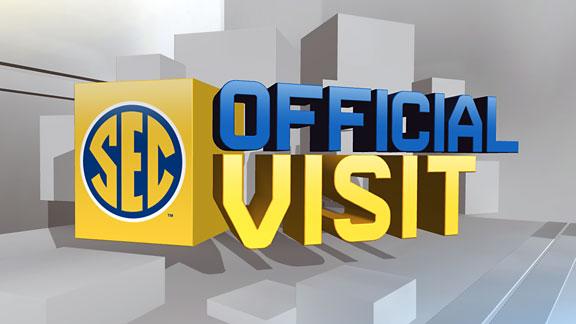 ATHENS, Ga. -- Fayetteville (N.C.) Pine Forest High School football coach Bob Sochovka accurately predicted when his five-star defensive tackle
Lamont Gaillard
was going to be a star. It was a play that could easily be overlooked on a highlight reel full of sacks and tackles for loss.
To continue reading this article you must be an Insider
Insider
Georgia Dominates Troy On The Ground
Georgia uses an impressive running attack to roll by Troy.
Georgia Dominates Troy On The Ground
VIDEO PLAYLIST
GEORGIA FB RECRUITING SCORECARD
MattMoscona

Matt Moscona


This really is the same feeling #LSU had during halftime vs Wisconsin. Horrendous first half. Little hope. Lots of talent. See if they rally
11 minutes ago

CodyWorsham

Cody Worsham


Only Les would call timeout before the punt and not take a shot downfield when he gets the ball. AND call timeout with 3 seconds left. #smh
18 minutes ago

ESPN_SEC

ESPN_SEC


Shocking first half in Baton Rouge. Bulldogs wanted to make a statement. So far they have, but it won't matter unless they finish with the W
19 minutes ago

ESPNChing

David Ching


Some boos came down there after LSU ran on first down and got stuffed. We'll go to halftime at 17-3. State will receive 2H kickoff.
20 minutes ago

ESPNChing

David Ching


Dak might have taken himself out of the Heisman discussion with that play. Tre White saved him by dropping it.
22 minutes ago

ESPN_SEC

ESPN_SEC


Dak Prescott almost undid all of the good that MSU had done in the first half with that ill-advised pitch that was almost pick-sixed.
23 minutes ago

ESPNChing

David Ching


Not Tre White's night. That shoulda-been-INT would have changed the entire game.
23 minutes ago

ESPN_SEC

ESPN_SEC


Tigers finally on the board. Now down 17-3. Solid work by QB Anthony Jennings after shaking off some pain in his non-throwing shoulder.
26 minutes ago

ESPNChing

David Ching


LSU's finally on the board. 17-3 Mississippi State with 1:20 left in 2Q after Delahoussaye FG.
27 minutes ago

ESPN_SEC

ESPN_SEC


Goes without saying that LSU needs 7 here. Bulldogs defense hasn't given up much tonight.
29 minutes ago

ESPNChing

David Ching


But as I type that, LSU gets a couple of nice completions. Maybe they'll get a bit more aggressive as we go. Probably have to.
30 minutes ago

ESPNChing

David Ching


This game reminds me of first half of 2011 SEC title game if UGA had caught two TD passes it dropped. LSU not doing much to stretch field.
31 minutes ago

SEC

SEC Sports


Sims and Cooper lead Alabama past Florida. Full recap: http://t.co/6TstUw91eI #SEC
35 minutes ago

ESPN_SEC

ESPN_SEC


Indiana 31, No. 18 Missouri 27 http://t.co/3RceGNow0b
39 minutes ago

ESPN_SEC

ESPN_SEC


Josh Robinson, ladies and gentlemen. Fifth carry gives him 111 yards.
52 minutes ago

ESPNChing

David Ching


Gonna jump over on ESPN gameday chat for a while starting...now. come join if you like.
about an hour ago

ESPN_SEC

ESPN_SEC


Back-to-back sacks as the MissSt. DL is really asserting itself. LSU QB Anthony Jennings came off clutching his left (non-throwing) shoulder
about an hour ago

ESPN_SEC

ESPN_SEC


Nice run by LSU's vaunted freshman Leonard Fournette. He's got oodles of power and very quick feet.
about an hour ago

ESPNChing

David Ching


Mizzou interior DL is bad RT @TylerDawgden Noted that Indiana gained 241 yards on the ground. Keep that in mind for October 11th.
about an hour ago

ChipTowersAJC

AJC UGA


Head injury means rare missed start for Georgia's Swann http://t.co/12YPaVwVhZ
about an hour ago

PaulMyerberg

Paul Myerberg


First time Mississippi State has led LSU by double digits at any point since 2000.
about an hour ago

ESPN_SEC

ESPN_SEC


Josh Robinson walks in for the TD. He was just as impressive on that drive. LSU crowd in stunned silence. Wow.
about an hour ago

ESPNChing

David Ching


Robinson TD run and PAT makes it 14-0 MSU with 45 seconds left in first quarter. 98-yard TD drive in five plays.
about an hour ago

ESPN_SEC

ESPN_SEC


Dak Prescott and De'Runnya Wilson seem to have a telepathic connection. State looking mighty impressive.
about an hour ago

ESPNChing

David Ching


De'Runnya Wilson has just eaten Tre White's lunch on back-to-back plays. State's making a pretty strong point so far.
about an hour ago

ESPN_SEC

ESPN_SEC


Right now the only thing I know about the SEC East is that #Vandy isn't gonna win it. I think. ... Maybe.
about an hour ago

ESPN_SEC

ESPN_SEC


Kinda surprised ol' tricky Les Miles just pounded it into the line four straight times.
about an hour ago

ESPNChing

David Ching


LSU stuffed four times from the 2. So there's the flipside to the UGA decision last Saturday.
about an hour ago

ESPN_SEC

ESPN_SEC


#MissSt with the gut-check goal-line stand here.
about an hour ago

SECNetwork

SEC Network


#SCvsVANDY is kicking off now on the SEC Network Alt Channel. Make sure you know where to find it here: http://t.co/2xHC2yQ2a0
about an hour ago

ESPN_SEC

ESPN_SEC


Well-designed play by Cam Cameron had true freshman WR Malachi Durpre wide open for a big play.
about an hour ago

ESPNChing

David Ching


Magee to Dupree on HB pass. That rhymes. LSU first-and-goal at the 9
about an hour ago

UGAAthletics

Georgia Bulldogs


It was a great day for freshmen Isaiah McKenzie and Sony Michel. And they just so happen to be high school teammates. http://t.co/iRsLG3DccQ
about an hour ago

SEC

SEC Sports


Texas A&M off to 4-0 start with win against SMU. Recap: http://t.co/30AZLbhZ5x #SEC
about an hour ago

ESPNChing

David Ching


Hoo boy. Looks like first-half Mizzou showed up for the first AND the second half this week. 31-27 IU with 22 seconds left.
about an hour ago

ChipTowersAJC

AJC UGA


Lots of firsts for young Bulldogs http://t.co/0EpZubefHT
about an hour ago

ESPN_SEC

ESPN_SEC


About as good a start as #MSU could have hoped for tonight. Definitely a statement game for the program.
about an hour ago

ESPN_SEC

ESPN_SEC


Video: Texas A&M coach Kevin Sumlin http://t.co/plhZqBJwMD
about an hour ago

ESPN_SEC

ESPN_SEC


Instant analysis: Alabama 42, Florida 21 http://t.co/lHki79kvsZ
about an hour ago

ESPN_SEC

ESPN_SEC


#Bulldogs looking for their first win at #LSU since 1991. D'Runnya Wilson with a great catch for a 7-0 lead.
about an hour ago

ESPN_SEC

ESPN_SEC


Heya, @JeffBarlisESPN here. I'll be live-tweeting #MSUvsLSU.
about an hour ago

ESPNChing

David Ching


LSU shielding the coaches signaling in calls with poster boards from msu coaches booth. http://t.co/ROONOUGJhy
about an hour ago

ESPN_SEC

ESPN_SEC


No. 6 Texas A&M 58, SMU 6 http://t.co/likaNP5HV3
about an hour ago

ChipTowersAJC

AJC UGA


What they said after UGA's 66-0 victory http://t.co/bCaxfB2eSy
about an hour ago

ESPN_SEC

ESPN_SEC


Alabama has registered 641 yards on Florida. That's the most Florida has ever allowed ##UFvsBAMA
about an hour ago

ESPN_SEC

ESPN_SEC


Alabama has completely taken Demarcus Robinson out of the game. The passes to him haven't been great but Bama's coverage on him has helped
about an hour ago

ESPNChing

David Ching


Safe prediction: it'll be loud in here tonight. https://t.co/CWSIfvLQbG
about an hour ago

ESPNChing

David Ching


And I'll admit, I completely overreacted to Florida's first game. My bad.
about 2 hours ago

ESPNChing

David Ching


Bama 611 yards, Florida 144. Gators are fortunate this isn't 60-0.
about 2 hours ago

ChipTowersAJC

AJC UGA


Georgia's next 7 games count for more than this http://t.co/T640zFzzx3
about 2 hours ago

ESPN_SEC

ESPN_SEC


Amari Cooper makes another one look really really easy. Brian Poole stood no chance #UFvsBAMA
about 2 hours ago

ESPN_SEC

ESPN_SEC


Alabama making big plays with the simple stuff. That's what good teams do. Yeldon's nice moves helped too #UFvsBAMA
about 2 hours ago

aaronmurray11

Aaron Murray


Man I missed my brother @alynch1788 great dinner with him catching up on life and talking about the glory days at UGA
about 2 hours ago

ESPN_SEC

ESPN_SEC


Landon Collins. He just knows how to find the ball. Can't throw into double coverage like that but what a play by Collins #UFvsBAMA
about 2 hours ago

ESPN_SEC

ESPN_SEC


Good to see Blake Sims back out of the locker room #UFvsBAMA
about 2 hours ago

ChipTowersAJC

AJC UGA


Richt: 'Early word' is Marshall injury 'not real serious' http://t.co/dJOinTsxrV
about 2 hours ago

ESPN_SEC

ESPN_SEC


Saw that fade from the beginning. Nothing Hargreaves could do on that one. Cooper is just an animal #UFvsBAMA
about 2 hours ago

ESPN_SEC

ESPN_SEC


Same play and Florida can't do anything about it again #UFvsBAMA
about 2 hours ago

ESPN_SEC

ESPN_SEC


Another great run by Sims when things broke down but he pays the price and Coker is in #UFvsBAMA
about 2 hours ago

ESPN_SEC

ESPN_SEC


On the flip side, you aren't having your fourth-year QB throw on a drive where you need to generate some momentum? #UFvsBAMA
about 2 hours ago

ESPN_SEC

ESPN_SEC


Landon Collins saw that the whole way #UFvsBAMA
about 2 hours ago

ESPN_SEC

ESPN_SEC


All these mistakes today because #UFvsBAMA
about 2 hours ago

ESPN_SEC

ESPN_SEC


Derrick Henry just makes everyone look silly but how is no one covering him on that? #UFvsBAMA
about 2 hours ago

ESPNChing

David Ching


Worst non-Jacksonville gameday traffic I've experienced. Took two hrs, two min to get to stadium. Will take 12 min to get home. Hoo boy.
about 2 hours ago

ChipTowersAJC

AJC UGA


QB Brice Ramsey's No. 2 status just 'for today' http://t.co/QVXVvfhi58
about 2 hours ago

UGAvolleyball

UGAvolleyball


Great tournament weekend for the #Dawgs! #DawgsOnTop #NoGritNoGlory http://t.co/Cw2QQBsZag
about 2 hours ago

ESPN_SEC

ESPN_SEC


Coverage sack there by Florida.
about 2 hours ago

ESPN_SEC

ESPN_SEC


Watch: A&M Corps of Cadets member delivers last-second block to save Miss Rev http://t.co/6XzictaCxs
about 2 hours ago

ESPN_SEC

ESPN_SEC


Jeff Driskel makes a play he had to play from a confidence standpoint. Huge touchdown and great play call from Roper #UFvsBAMA
about 3 hours ago

ESPN_SEC

ESPN_SEC


Another turnover. Fans of both of these teams will probably be checking their blood pressure come Monday #UFvsBAMA
about 3 hours ago

ESPN_SEC

ESPN_SEC


Do you go deep early if you're Bama to start the half?
about 3 hours ago

ChipTowersAJC

AJC UGA


High school teammates Michel, McKenzie deliver for Dogs http://t.co/iVlnmquENr
about 3 hours ago

SEC

SEC Sports


Georgia shuts out Troy. Complete recap: http://t.co/fAfkMwf83T #SEC
about 3 hours ago

ESPNChing

David Ching


First-half mizzou showed up again this week. Second-half mizzou will still win by 20 points.
about 3 hours ago

ESPN_SEC

ESPN_SEC


Gators lucky to go into the half only down seven. Alabama was sloppy but MUCH better in all phases in the first two quarters #UFvsBAMA
about 3 hours ago

SEC

SEC Sports


LSU and Mississippi State meet tonight in a primetime #SEC West showdown: http://t.co/BDKQF21lMl
about 3 hours ago

ESPNChing

David Ching


Sounds like Keith Marshall should be ok. https://t.co/XUbBPi72Tt
about 3 hours ago

ChipTowersAJC

AJC UGA


RT @Carvell_AJC: Nation's No. 1 prospect suffers knee injury http://t.co/MHa2asKA6X
about 3 hours ago

ESPN_SEC

ESPN_SEC


Great move there by Sims to avoid Dante Fowler, who has been the only pass rusher for Florida today #UFvsBAMA
about 3 hours ago

marcweiszer

Marc Weiszer


#UGA postgame report: Injury updates and much more from rout of Troy http://t.co/IYWEXrDh9T
about 3 hours ago

ESPN_SEC

ESPN_SEC


It's only going to get tougher for Driskel in the second half with Nick Perry coming in after halftime #UFvsBAMA
about 3 hours ago

SEC

SEC Sports


VIDEO - View highlights from Georgia's win against Troy here: http://t.co/rUQOfd5hXO #SEC
about 3 hours ago

ESPN_SEC

ESPN_SEC


Very nice TD pass there by Sims but a great catch by Fowler #UFvsBAMA
about 3 hours ago

ScoutGeorgia

Scout Bulldogs


#Dawgs HD Video: Richt Post-Game Troy - ATHENS - Georgia coach Mark Richt talks about Georgia's game with T... http://t.co/hQ72o3aaRB
about 3 hours ago

ESPN_SEC

ESPN_SEC


Whoa. Henry is used to doing that to people ...
about 3 hours ago

ESPN_SEC

ESPN_SEC


Cummings just really wanted to finish that play didn't he? Bama will take it #UFvsBAMA
about 3 hours ago

ESPN_SEC

ESPN_SEC


Gators with a nice run and then a turnover. Have we come to expect anything else from this game? #UFvsBAMA
about 3 hours ago

ESPN_SEC

ESPN_SEC


Scott gives the Gators good field position but can they do anything with it this time? #UFvsBAMA
about 4 hours ago

ESPN_SEC

ESPN_SEC


Not sure you want to be trash talking Amari Cooper there ... just a thought #UFvsBAMA
about 4 hours ago

SEC_Chuck

Chuck Dunlap


Nice game brewing in Tuscaloosa. Winner of this game 4 of last 5 meetings went on to win national title.
about 4 hours ago

ESPN_SEC

ESPN_SEC


TJ Yeldon with some Playstation moves there ... Also Hargreaves slow there. Not what the Gators want to see #UFvsBAMA
about 4 hours ago

ESPN_SEC

ESPN_SEC


Alabama dials up the pressure at the right time. You can do that when the deep ball is basically taken away #UFvsBAMA
about 4 hours ago

ESPNChing

David Ching


Protip: if you were planning to take burbank to LSU game today, take literally any other route.
about 4 hours ago

ESPN_SEC

ESPN_SEC


Another turnover. That time it truly was a comedy of errors. You just gotta fall on the ball #UFvsBAMA
about 4 hours ago

UGAAthletics

Georgia Bulldogs


#13 UGA shuts out Troy with a 66-0 victory between the hedges! #TROYvsUGA #RingTheBell http://t.co/aVDxzg5mFe
about 4 hours ago

ESPN_SEC

ESPN_SEC


Mixed bag for both teams there in the first. Turnovers and blown coverages. First team to settle down wins #UFvsBAMA
about 4 hours ago

ESPN_SEC

ESPN_SEC


Driskel is still having issues throwing the ball down field. Had a guy and over threw him #UFvsBAMA
about 4 hours ago

ESPN_SEC

ESPN_SEC


Not sure how you lose Amari Cooper on the field but UF just did so I guess it's possible #UFvsBAMA
about 4 hours ago

ESPN_SEC

ESPN_SEC


Stop me if you've read this before ... blown coverage for the Gators. Oh and it was Amari Cooper #UFvsBAMA
about 4 hours ago

ESPN_SEC

ESPN_SEC


Driskel stood tall in the pocket and delivered a great pass for the first down and Quinton Dunbar drops it. Gotta capitalize
about 4 hours ago
SEC SCOREBOARD
Saturday, 9/20
Thursday, 9/18
BLOG ARCHIVE:
CATEGORIES: