Last year's Dome disaster motivates Dawgs
November, 30, 2012
11/30/12
11:37
AM ET
For Georgia's football players, last year's 42-10 loss to LSU in the SEC championship game serves as a very painful reminder.
It's not so much the 32-point whooping the Tigers put on a shellshocked Georgia team that shakes players, it's the way the Bulldogs got to that shellshocked state.
Georgia owned most of the first half, but bit by bit things started to turn; the Bulldogs committed mistake after mistake and slowly let the Tigers back into the game. Before either team knew it, Tyrann Mathieu was sprinting to the end zone on a 62-yard punt return right before the half, erasing a 10-0 Georgia lead -- which honestly should have been 21 points -- and started a debilitating 42-0 run.
[+] Enlarge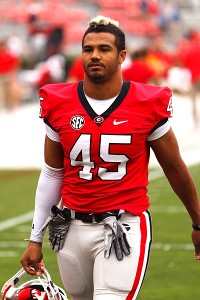 Darrell Walker/Icon SMILinebacker Christian Robinson and Georgia are trying not to dwell on last season's loss to LSU in the SEC title game.
"As a team, you never want to lose a game when you won the first half, when you dominated that way," linebacker
Christian Robinson
said. "It's like we almost reversed and gave up in the second half.
"We could have done so much better."
The sting is still there for players, and the pain they felt after slinking out of the Georgia Dome last year serves as major motivation for No. 3 Georgia (11-1, 7-1 SEC) as it prepares for second-ranked Alabama (11-1, 7-1).
"It's tough, but we try not to dwell on the past and we want to build off that experience and be like, 'Hey, we don't want to have that feeling again when we're leaving the Dome,'" offensive lineman
Chris Burnette
said. "Hopefully, we won't" on Saturday.
Some players choose not to look back at physical reminders of the damage the Tigers did. Linebacker
Jarvis Jones
said players "have a bad taste in our mouths." Wide receiver
Tavarres King
said he dwelled on the loss for a while and is actually "still bitter" about it, while Burnette is downright "embarrassed" by what transpired inside the Dome on that chilly December evening.
Robinson still looks at the image of Mathieu crossing the goal line from time to time, but talk about that day is at a minimum. Film of the game has either been tucked away in the deepest, darkest crevasse inside Sanford Stadium or burned.
For Burnette, he looks beyond the three turnovers, the dropped touchdown passes and the 212 rushing yards and 35 points the Bulldogs surrendered in the second half. He looks at the team's mindset before even stepping foot in Atlanta as the catalyst for the Dawgs' demise.
For an entire season, the Bulldogs had their minds made up that Atlanta was the goal -- ATL or bust. The bright lights and the playoff environment got to players, Burnette said. Because the goal all season had been to claim Atlanta and the SEC, Burnette said the team took that night inside the Dome as
the game
and panic set in.
"Our goal for that season was to get to the Dome, and I think we didn't have our dreams set big enough," Burnette said.
Their dreams are much bigger this year, and they have to be. The national championship wasn't in the cards for Georgia last year. This year it is.
The Dawgs hope Atlanta is just a pit stop because they have their sights set on Miami for the Discover BCS National Championship Game. A win against Alabama clinches that dream.
After last year's disaster, this team feels much more confident in its national championship approach. Being here before helps, and knowing what's at stake fuels a team that feels stronger mentally and physically this year.
"I feel like now we know what it takes to win."
What it takes is Georgia's most complete performance against one of the nation's best teams and playing as hard as humanly possible for 60 minutes. Both are painfully obvious, but the Bulldogs failed to do either last year.
That miserable reminder inspires the Dawgs, as they vow to be a different team when they cross the Dome's threshold Saturday.
"Last year was embarrassing in the second half, honestly," Burnette said. "We're definitely on a team that takes a lot to get embarrassed, so we don't want that to happen again."
Is Josh Sweat The Next Jadeveon Clowney?
SEC SCOREBOARD
Thursday, 8/28
Saturday, 8/30
Sunday, 8/31