Bulldogs hope to alter big-game reputation
October, 31, 2012
10/31/12
8:33
AM ET
ATHENS, Ga. -- As he and broadcast partner Verne Lundquist opened their broadcast for last Saturday's Florida-Georgia game, CBS color analyst Gary Danielson echoed what members of both fan bases -- as well as college football observers around the country -- had been thinking.
[+] Enlarge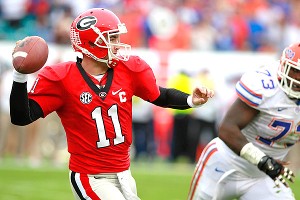 AP Photo/John RaouxAaron Murray hopes that last weekend's win over Florida can stop people from questioning Georgia's aptitude in "big" games.
"It sounds like both are doing very well, but if you ask the fan base, Florida seems like the clutch team. They come through, they seem like overachievers," said Danielson, going on to say that Georgia -- particularly its defense -- was "the most underachieving group of players in the conference this year."
That's where a series of big-game failures in recent seasons had placed the Bulldogs in the national consciousness, with Georgia coach Mark Richt bearing the brunt of analysts' criticism and fans' wrath. And the questions were perfectly reasonable, as Richt's teams had won just once in their last 10 games against top-10 opponents as they prepared to take the field against then-No. 2 Florida with first place in the SEC East on the line.
So when the Bulldogs handed the Gators a 17-9 defeat -- which stands as the highest-ranked team to fall to a Richt-coached Georgia club since he became coach in 2001 -- it didn't necessarily remove the questions about Georgia's big-game failures, but it certainly stopped the bleeding.
"Hopefully now no one will talk about, 'Georgia can't win the big games' because that was a huge game -- the No. 2 team in the nation, a chance to put ourselves back in the lead in the East," said quarterback
Aaron Murray
, whose sixth-ranked Georgia team (7-1, 5-1 SEC) hosts Ole Miss (5-3, 2-2) on Saturday. "It was a big one, so hopefully that's a dead discussion. That would be great."
Murray likely realizes that one win won't stop the questions entirely, even a win as big as the one the Bulldogs notched last Saturday in Jacksonville. The 1-9 streak against top-10 teams leading up to the Florida game started in 2008 and carried on through a supremely disappointing 35-7 loss to South Carolina earlier this month.
Included in that stretch were 39- and 24-point losses to Florida and a 32-point loss to top-ranked LSU in last season's SEC championship game. So not only do the Bulldogs need to win with improved frequency to shake the big-game questions, they also need to avoid the flat efforts that led to blowout losses.
"To be honest, I still don't think the monkey is off our back. It's still there," cornerback
Damian Swann
said. "I think we're going to have to play that way for the rest of the season in order to win. A lot of people still doubt us. A lot of people still don't think we're going to win out and a lot of people wanted to see Florida and Alabama in the SEC championship. And a lot of people still aren't going to give us respect until we win another big game. We beat the No. 2 team, but that's still not enough in their eyes."
The Bulldogs certainly proved that they are capable of winning another big game with their hard-nosed effort against the Gators, however, and at least temporarily silenced some of Richt's critics who asserted that he somehow lost the ability to consistently prepare his team to face the best teams on the schedule.
According to senior receiver
Tavarres King
, it was simply a matter of the veterans who were around for both a 6-7 season in 2010 and an SEC East title the following season instilling a belief throughout the team that losses like the one at South Carolina don't have to be the norm.
"I think the guys that have been here a while -- myself,
Christian Robinson
,
Bacarri Rambo
, guys that have been here through the fire, through the 6-7 season -- have realized that we're Georgia," King said. "We're still that team that people need to fear when we walk on the field. It doesn't have to always be bad for us. We can make it bad for somebody else.
"I think that we've realized that and we've said it and it's echoed throughout the meeting rooms and things that we're good. I think that's a difference is just having those leaders tell everybody the way it was and the way it is now."
That attitude obviously worked against Florida, as the Bulldogs produced perhaps their most inspired performance of the season. Their team-wide objective is to find a way to duplicate that intensity each week, which would help them return to the SEC championship game for another matchup with a highly ranked opponent.
Wins in high-profile games like that -- against well-regarded teams like Florida, Alabama or LSU -- will be the only way they can completely erase questions about their ability to perform when the lights are brightest.
"It's definitely disheartening to hear people talk negatively about the coaches because we're going to support our coaches no matter what in terms of what they do, what they call and how they go about it," tight end
Arthur Lynch
said.
"Fortunately for us, I think this past weekend can back me saying that and kind of be like, 'OK, well Georgia can't win the big game? Well, we just beat the No. 2 team in the country.' Now we've got to move on and we've got to respond to some success and build on that success."
MARK RICHT'S WINS AGAINST TOP-10 TEAMS
No. 2 Florida 17-9 in 2012
No. 3 LSU 34-14 in 2005 SEC championship game
No. 5 Auburn 37-15 in 2006
No. 6 Tennessee 26-24 in 2001
No. 7 Tennessee 27-14 in 2005
No. 7 Georgia Tech 30-24 in 2009
No. 9 Florida 42-30 in 2007
No. 10 Tennessee 18-13 in 2002
No. 10 Hawaii 41-10 in 2008 Sugar Bowl
MIXED HISTORY
Georgia improved to 9-13 against top-10 teams under Mark Richt when it beat then-No. 2 Florida 17-9 last Saturday. The Bulldogs had won just once in their last 10 games against such opponents, but the Florida win pushed them into first place in the SEC East with two games to play. Here is a full recap of Richt-coached Bulldogs teams' games against top-10 opponents:
2001
Georgia 26, No. 6 Tennessee 24
No. 6 Florida 24, No. 19 Georgia 10
2002
No. 6 Georgia 18, No. 10 Tennessee 13
2003
No. 3 LSU 34, No. 5 Georgia 13
2004
No. 3 Auburn 24, No. 8 Georgia 6
2005
No. 5 Georgia 27, No. 7 Tennessee 14
No. 13 Georgia 34, No. 3 LSU 14
2006
No. 9 Florida 21, Georgia 14
Georgia 37, No. 5 Auburn 15
2007
No. 20 Georgia 42, No. 9 Florida 30
No. 4 Georgia 41, No. 10 Hawaii 10
2008
No. 8 Alabama 41, No. 3 Georgia 30
No. 5 Florida 49, No. 8 Georgia 10
2009
No. 9 Oklahoma State 24, No. 13 Georgia 10
No. 4 LSU 20, No. 18 Georgia 13
No. 1 Florida 41, Georgia 17
Georgia 30, No. 7 Georgia Tech 24
2010
No. 2 Auburn 49, Georgia 31
2011
No. 5 Boise State 35, No. 19 Georgia 21
No. 1 LSU 42, No. 12 Georgia 10
2012
No. 6 South Carolina 35, No. 5 Georgia 7
No. 10 Georgia 17, No. 2 Florida 9
Peach State: Top Tier Recruiting Ground?
SEC SCOREBOARD
Thursday, 9/3
Saturday, 9/5