Film study: Georgia vs. Florida
October, 29, 2012
10/29/12
7:00
AM ET
JACKSONVILLE, Fla. -- Let's take a look at three key plays from Georgia's 17-9 upset win against then-No. 2 Florida on Saturday.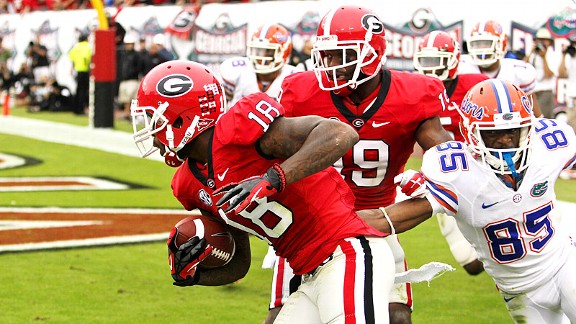 Rob Foldy/US Presswire
To continue reading this article you must be an Insider
Insider
Mint Condition: SEC Greats Getting Cards
Upper Deck's Chris Carlin breaks down why his company decided to create its Conference Greats football product, which focuses on the best players and coaches in SEC history.
Mint Condition: SEC Greats Getting Cards
VIDEO PLAYLIST
GEORGIA FB RECRUITING SCORECARD
coachmarkfox

Mark Fox


My prayers are w/Les Miles coaching after the passing of his mom. SEC fans were great to me after my dad died. I hope Les gets the same
31 minutes ago

ESPNChing

David Ching


From @ESPNStatsInfo: LSU ran 46 designed runs between the tackles for 202 yds vs. OM. Before tonight, OM allowed 56.6 ypg on such runs.
about 2 hours ago

ESPN_SEC

ESPN_SEC


Handicapping the Heisman race: Is TCU's Trevone Boykin making a case? http://t.co/FyWzxWpicj
about 2 hours ago

ESPN_SEC

ESPN_SEC


Rebels focused on regrouping after first loss http://t.co/HWIzh2LAbd
about 2 hours ago

ESPNChing

David Ching


The unforgettable images from LSU's win http://t.co/IRDFpovOEs
about 2 hours ago

Kj63Kj

KJ Malone


Great win! Thank you to the fans! http://t.co/qR8W8KQR6O
about 2 hours ago

ESPN_SEC

ESPN_SEC


The unforgettable images from LSU's win http://t.co/ghGZ02b8YP
about 3 hours ago

ESPN_SEC

ESPN_SEC


What we learned in the SEC: Week 9 http://t.co/BOcbmrrz5H
about 3 hours ago

SEC

SEC Sports


Alabama earns win against Tennessee in Knoxville. Recap: http://t.co/gwrnNFZbGh #SEC
about 4 hours ago

SEC

SEC Sports


Auburn survives at home against South Carolina. Recap/Highlights: http://t.co/xvSSXYoiu6 #SEC
about 4 hours ago

SEC

SEC Sports


LSU upsets No. 3 Ole Miss. Recap/Highlights: http://t.co/Xr0Z5KOH1O #SEC
about 4 hours ago

ESPNChing

David Ching


LSU confirmed that a fan had a heart attack and died tonight at Tiger Stadium.
about 4 hours ago

SEC

SEC Sports


Final 11/1 TV designations: Auburn @ Ole Miss, 7pm ET/6pm CT on ESPN; Arkansas @ Mississippi State, 7:15pm ET/6:15pm CT on ESPN2
about 4 hours ago

ESPN_SEC

ESPN_SEC


Instant Analysis: No. 4 Alabama 34, Tennessee 20 http://t.co/DjHAjPKiXE
about 5 hours ago

ESPN_SEC

ESPN_SEC


Instant Analysis: No. 5 Auburn 42, South Carolina 35 http://t.co/9LkqKejrvn
about 5 hours ago

ESPN_SEC

ESPN_SEC


Instant Analysis: No. 24 LSU 10, No. 3 Ole Miss 7 http://t.co/kojeyM58hB
about 5 hours ago

ESPN_SEC

ESPN_SEC


Video: Auburn coach Gus Malzahn http://t.co/gbWhhjD0It
about 5 hours ago

ESPNDari

Dari Nowkhah


Get on over to #SECScoreboard on @SECNetwork now - full post-day recap and tons more with myself, @SECBooger and @GVMcElroy
about 5 hours ago

jimdunaway

Jim Dunaway


This Saturday has been a showcase of how tough it is in the SEC.
about 5 hours ago

ESPN_SEC

ESPN_SEC


Les Miles: What a beautiful place it was to play? Oh my God, was this stadium electric?
about 5 hours ago

ESPNChing

David Ching


Field getting rushed.
about 5 hours ago

ESPNChing

David Ching


Final score LSU 10, Ole Miss 7.
about 5 hours ago

ESPNChing

David Ching


Martin INT locks this thing up. I'd be lying if I said I expected this outcome tonight. Props to LSU.
about 5 hours ago

ESPN_SEC

ESPN_SEC


That's it. LSU upsets Ole Miss.
about 5 hours ago

ESPN_SEC

ESPN_SEC


How many near-INTs has LSU had tonight?
about 5 hours ago

ESPN_SEC

ESPN_SEC


Bo dealt with the pressure nicely there. Huge fourth-down conversion.
about 5 hours ago

ESPN_SEC

ESPN_SEC


It all comes down to this ...
about 6 hours ago

ESPN_SEC

ESPN_SEC


This is all you, Bo. Whatcha got?
about 6 hours ago

AlabamaFTBL

Alabama Football


With his 9th catch of the game, Amari Cooper breaks Julio Jones' school record for most receiving yards in a game w/224 #RTR #BuiltByBama
about 6 hours ago

ESPNChing

David Ching


Dr. Bo's gonna get one more shot. 1:27 to play and LSU will punt from its 32.
about 6 hours ago

ESPNChing

David Ching


It was definitely a false start. Call was correct.
about 6 hours ago

Mark_Schlabach

Mark Schlabach


Huge play @TedMillerRK Beckwith hit on 3rd down was the key play. A crushing redirection of physical force.
about 6 hours ago

ESPNChing

David Ching


Ole Miss is still going to have to get a first down to run out clock. Ole Miss has all three timeouts.
about 6 hours ago

ESPNChing

David Ching


Davon Godchaux ejected after second unsportsmanlike conduct penalty.
about 6 hours ago

ESPN_SEC

ESPN_SEC


Wow. LSU's defense stuffs the fourth-down attempt.
about 6 hours ago

SportsCenter

SportsCenter


Now this is what you call a facemask penalty. http://t.co/Jh6xOY8uBZ
about 6 hours ago

ESPNChing

David Ching


Great throw there by Wallace. First down.
about 6 hours ago

ESPN_SEC

ESPN_SEC


Of course that was Logan Stokes' first career catch. No one in Tiger Stadium thought it was going his way.
about 6 hours ago

ESPNChing

David Ching


Raise your hand if you had LSU going on a 95-yard touchdown drive there. Sure enough...
about 6 hours ago

ESPNChing

David Ching


Colby Delahoussaye's PAT after Stokes TD makes it 10-7 LSU with 5:07 to play.
about 6 hours ago

ESPN_SEC

ESPN_SEC


Play. Action. LSU takes the lead on a well-timed run fake.
about 6 hours ago

ESPNChing

David Ching


Jennings to Stokes, who has been open in the end zone and didn't get the ball in each of the last two games. Got him this time. #loudinhere
about 6 hours ago

ChipTowersAJC

AJC UGA


If your gonna get a facemask call, might as well take the whole facemask!
about 6 hours ago

ESPNChing

David Ching


Now THAT is a facemask.
about 6 hours ago

ESPN_SEC

ESPN_SEC


You know it's going to be a facemask call when ..
about 6 hours ago

ESPNChing

David Ching


Pulled his facemask right off the helmet! I've never seen that
about 6 hours ago

ESPNChing

David Ching


Pocic is snapping to Jennings on side and Evan Washington is warming up. Figure he'll go in at RG for LSU.
about 6 hours ago

CEngland_TideTV

Christopher England


Coach Saban and Butch Jones #RollTide #bamavstenn @secnetwork @sec @AlabamaFTBL #Saban http://t.co/pDnBlirxuq
about 6 hours ago

ESPN_SEC

ESPN_SEC


Fourth-and-1 and LSU gets it by a nose. You just knew Les Miles would roll the dice.
about 6 hours ago

ESPNChing

David Ching


This is really the first series this half that LSU has gotten a push while running the ball. OM had done a much better job in 2H.
about 6 hours ago

ESPN_SEC

ESPN_SEC


Old Man Football works best in the second half. LSU's running game is rolling over what has to be a worn out Ole Miss D.
about 6 hours ago

p_crawf

Patrick Crawford


.@tom_hart & Matt Stinchcomb calling the action for @SECNetwork at #Mizzou's Faurot Field. Great photo, @ClaytonHotze http://t.co/JXMRRp93ry
about 6 hours ago

ESPNChing

David Ching


Forgotten man Kenny Hilliard running like it's the fourth quarter of the Wisconsin game.
about 6 hours ago

gscantweet

Greg Sankey


After 3 quarters...894 yards of offense between @GamecockFB and @FootballAU...Just another Saturday night in the @SEC
about 6 hours ago

ESPN_SEC

ESPN_SEC


Anthony Jennings put waaaaay to much air under that throw.
about 6 hours ago

ESPN_SEC

ESPN_SEC


Bo Wallace is getting ahead of his skis right now. He's got to settle down.
about 6 hours ago

ESPNChing

David Ching


And that's why Jennings doesn't throw over the middle.
about 6 hours ago

ESPNChing

David Ching


Saw UGA swimming coach Jack Bauerle in the pressbox here at LSU tonight.
about 6 hours ago

ESPN_SEC

ESPN_SEC


Through three quarters: Ole Miss 7, LSU 3
about 6 hours ago

ESPNChing

David Ching


End of the third quarter, still 7-3 Ole Miss. LSU will face third-and-7 from its own 20 when we return
about 6 hours ago

ESPNChing

David Ching


I'd like to think I was intelligent for calling deep ball to Dural down the right sideline there, but I think everyone knew that was coming.
about 6 hours ago

ESPN_SEC

ESPN_SEC


Senquez Golson with ANOTHER interception. Anthony Jennings just threw that one up.
about 6 hours ago

ESPN_SEC

ESPN_SEC


It feels a lot like we're seeing LSU's defense grow up before our eyes tonight.
about 6 hours ago

ESPNChing

David Ching


It would be bizarro world to have two TVs on: one with LSU-Ole Miss (7-3, plodding along) and the other with AU-SC (35-28, no D).
about 7 hours ago

ESPNChing

David Ching


Huge hold for LSU D there after that god-awful punt by Keehne.
about 7 hours ago

ESPNChing

David Ching


#shankapotomous Ole Miss will start at the LSU 34.
about 7 hours ago

ESPNChing

David Ching


Jamal Adams is still the flop king.
about 7 hours ago

ESPN_SEC

ESPN_SEC


No. 1 Bulldogs learn key lesson in victory http://t.co/70IQXJK75X
about 7 hours ago

ESPNChing

David Ching


Magee's shaking out that ankle on the sideline. I think he's OK after limping off a second ago.
about 7 hours ago

ESPN_SEC

ESPN_SEC


Hugh Freeze tells Heather Cox, "We just haven't seen a running game like this all season."
about 7 hours ago

GregO_ESPN

Greg Ostendorf


Well that was exciting. Auburn and South Carolina tied, 21-21, at the half. 544 yards and 28 1st downs between them. #SCvsAUB
about 7 hours ago

ESPN_SEC

ESPN_SEC


Headed to halftime, Ole Miss leads LSU 7-3. Les Miles: "The second half is a long time. We'll like how we'll play."
about 7 hours ago

ESPN_SEC

ESPN_SEC


Alabama strikes on offensive play No. 1 as Lane Kiffin streaks down Neyland sideline http://t.co/FIBzjKP6h1
about 7 hours ago

ChipTowersAJC

AJC UGA


Thanks kindly, Bama, for eliminating one channel in what was a 3-channel rotation.
about 7 hours ago

gscantweet

Greg Sankey


Tonight's scenery. Perfect weather for an @SEC game. Receiving yards by QB will be an official stat in this contest. http://t.co/mRi0xajK7a
about 7 hours ago

SEC

SEC Sports


Missouri defeats Vanderbilt in #SEC East matchup. Recap: http://t.co/sndoAkk5hD #SEC
about 7 hours ago

ESPN_SEC

ESPN_SEC


LSU's offense is imposing its will between the 20s. But to end an otherwise impressive drive with 3 points feels deflating.
about 7 hours ago

ESPN_SEC

ESPN_SEC


Video: Gary Pinkel on Missouri's win http://t.co/M9F7GjRcvQ
about 7 hours ago

ESPNChing

David Ching


LSU's offensive line has been dominating the line of scrimmage tonight. Huge holes all game.
about 8 hours ago

ESPN_SEC

ESPN_SEC


Video: Missouri WR Bud Sasser http://t.co/5XZJlSWEJq
about 8 hours ago

SEC

SEC Sports


No. 1 Mississippi State earns road win at Kentucky. Recap/Highlights: http://t.co/iCmi9zDlpX #SEC
about 8 hours ago

ESPN_SEC

ESPN_SEC


Another LSU mistake. Give credit to Ole Miss' defense for making plays, though.
about 8 hours ago

ESPN_SEC

ESPN_SEC


Touchdown Ole Miss. Cody Core was WIDE open there. Miscommunication by the LSU secondary.
about 8 hours ago

TravHaneyESPN

Travis Haney


That's two picks dropped by LSU. Plus, the missed FG and fumble on goal line. Charmed life for Rebs right now.
about 8 hours ago

ESPN_SEC

ESPN_SEC


Ole Miss. Dodged bullet.
about 8 hours ago

ESPNChing

David Ching


Almost forgot about this...Jumping on College GameDay chat for next 45 minutes. http://t.co/x97FCBCo4n
about 8 hours ago

ESPN_SEC

ESPN_SEC


Close call, but refs say Walton stepped out of bounds. No TD.
about 8 hours ago

ESPN_SEC

ESPN_SEC


Precision pass from Bo Wallace there. No room for error on that TD pass to Jaylen Walton.
about 8 hours ago

ESPNChing

David Ching


LSU doesn't cover the wheel route. 80-yard TD for OM to Walton. Jalen Collins just missed PBU.
about 8 hours ago

ESPN_SEC

ESPN_SEC


Exactly what you can't have. First two possession for LSU are back breakers with a missed FG and now a fumble inside the 5.
about 8 hours ago

ESPNChing

David Ching


Fournette fumble recovered in end zone by Cody Prewitt. Touchback
about 8 hours ago

ESPN_SEC

ESPN_SEC


Remember all the preseason expectations for Leonard Fournette? This is why. The young fella is playing with confidence.
about 8 hours ago

ESPN_SEC

ESPN_SEC


Leonard Fournette showing great hands there. Good ball by Anthony Jennings, too.
about 8 hours ago

ESPNChing

David Ching


That was probably the best throw down the middle that Jennings has made in his LSU career. Think about it.
about 8 hours ago

McMurphyESPN

Brett McMurphy


FBS coaches vote for CFB's best tradition in @ESPN poll. Results: http://t.co/DbuPk01FE2 http://t.co/pAe7a70n1I #1QFor128
about 8 hours ago

_DCReeves

D.C. Reeves


Lane Kiffin's daps blowing up like: http://t.co/GNaPNY2g2r
about 8 hours ago

ESPN_SEC

ESPN_SEC


An early gamble on 4th-and-2 doesn't pay off for Hugh Freeze. Don't understand not taking 3 points on the road.
about 8 hours ago

ESPNChing

David Ching


Beckwith had a little something to say to Wallace after that fourth-down incompletion. Blitz forced him to throw early.
about 8 hours ago

ESPNChing

David Ching


South Carolina made Auburn's defense look pretty bad on that opening drive. Seven plays, 75 yards. TD
about 8 hours ago

GregO_ESPN

Greg Ostendorf


Well that's not an ideal start for Auburn. South Carolina scores on its opening drive to take a 7-0 lead. #SCvsAUB
about 8 hours ago
BLOG ARCHIVE:
CATEGORIES: