Video: Cheapshots and dirty plays
September, 22, 2012
9/22/12
1:03
PM ET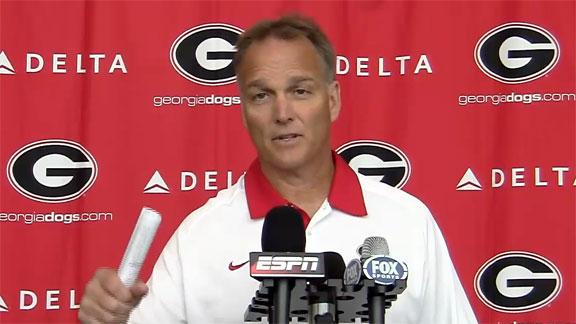 DawgNation asked Mark Richt and some of the Georgia Bulldog football players what they remember from last year's contest with Vanderbilt. Aside from "near nightmare" as Richt says, the players remember some cheapshots, dirty plays and special teams breakdowns.

Reporter, DawgNation
Reporter for DawgNation
Covers Georgia Bulldogs sports and recruiting
Joined ESPN in 2011
Raekwon McMillan discusses recruitment
Before his Dec. 16 announcement, Raekwon McMillan discusses his recruitment and his high school football season.
Raekwon McMillan discusses recruitment
VIDEO PLAYLIST
Raekwon McMillan discusses recruitment

Raekwon McMillan discusses recruitment

Before his Dec. 16 announcement, Raekwon McMillan discusses his recruitment and his high school football season.

ESPN Juco Top 50 Released

ESPN Juco Top 50 Released

Senior national recruiting analyst Tom Luginbill breaks down the impact junior college prospects ranked near the top of the ESPN Juco Top 50. Six of the top 20 players are uncommitted.

Tags: D'haquille Williams

,

Lavon Pearson

,

Shattle Fenteng

,

Tyreek Hill

,

Dominick Jackson

,

DaVonte Lambert

,

Tee Shepard

,

Chad Mavety

,

Dalvon Stuckey

,

RecruitingNation

,

ESPN Juco Top 50

,

high school football recruiting

Georgia Prevails In 2OT

Georgia Prevails In 2OT

Todd Gurley rushed for 122 yards and accounted for four total touchdowns to lead Georgia to a 41-34 double-overtime win over Georgia Tech.

Tags: Georgia

,

Todd Gurley

,

Georgia Tech
DAWGNATION RECRUITING NEWS
GEORGIA FB RECRUITING SCORECARD
SEC

SEC Sports


News, notes and quotes from today's @SECNetwork press conference: http://t.co/ukvMVB6MjJ #SEC #SECATL
2 minutes ago

UGAAthletics

Georgia Bulldogs


Reminder to our generous members of The Georgia Bulldog Club: football postseason priority request deadline is today! http://t.co/7b0qeO75Y0
5 minutes ago

SEC

SEC Sports


Press conference with Auburn's Gus Malzahn beginning shortly. Live stream: https://t.co/3nO8X7MrAK #SECATL
15 minutes ago

SEC

SEC Sports


RT @FootballAU: Both coaches and the @SEC trophy from a bird's eye view #WarEagle #SECATL http://t.co/ONIJNyheNZ
15 minutes ago

SEC

SEC Sports


Large media crowd as coaches Malzahn and Pinkel pose for a photo: http://t.co/ibwhfH6uXN
17 minutes ago

SEC

SEC Sports


RT @GrizzBirds: SEC Western Division Champions Auburn Tigers loading the buses for ATL @FootballAU #SECATL http://t.co/V0t4wCVd1F
22 minutes ago

SEC

SEC Sports


RT @MSUsportsGregg: Tomorrow's official game ball. #secatl http://t.co/ysvmzQFpCw
27 minutes ago

SEC

SEC Sports


Regions Bank is the official bank of the #SEC and they're at #SECATL. Check out their tent at #SECFanfare for trivia, SEC Greats & more.
28 minutes ago

SEC

SEC Sports


RT @SEC_Chuck: Pinkel on the stage: http://t.co/yAFZG3eZtw #SECATL
29 minutes ago

SEC

SEC Sports


RT @MikeHumesESPN: A preview of the SEC Network brand campaign: http://t.co/LGJtrKRJ8r
35 minutes ago

SEC

SEC Sports


RT @SEC_Sean: Live stream up and going for #SEC football coaches press conference. Watch here: https://t.co/V20PESBBpO #SECATL
43 minutes ago

SEC

SEC Sports


RT @SEC_Tammy: @FootballAU Coach Malzahn signing footballs. #SECATL http://t.co/CoHITVYZF2
46 minutes ago

SEC

SEC Sports


RT @LakeshoreFound: For the 4th year in a row, @LakeshoreFound is proud to have a presence at the @SEC Championship Game. #limafoxtrot #SOT"
46 minutes ago

SEC

SEC Sports


RT @TheSECU: Check out how @auburnu and @mizzou students are working together to save tigers in the wild http://t.co/3wK7JAWU5u
about an hour ago

SEC

SEC Sports


#SEC Football Coaches Press Conference begins at 1:30 p.m. ET. Live stream here: https://t.co/3nO8X7MrAK #SECATL
about an hour ago

SEC

SEC Sports


RT @SEC_Tammy: Footballs ready for coaches to sign. These are used for charity events throughout the year. #SECATL http://t.co/93LzmulElK
about an hour ago

SEC

SEC Sports


#SEC Championship Trophy here at the press conference: http://t.co/fGFgQQBhmh
about an hour ago

SEC

SEC Sports


Join @askRegions at #SECFanfare. Play trivia at their tent and take a picture with the Big Bike. #SECATL
about an hour ago

SEC

SEC Sports


RT @SEConCBS: .@FootballAU & @MizzouFootball face off in SEC Championship in Atlanta tomorrow at 4:00 PM ET w/ Verne, Gary, & @tracywolfson…
about an hour ago

SEC

SEC Sports


#SEC alerts fans of counterfeit tickets. Complete information: http://t.co/lCAdcOhQPI #SECATL
about an hour ago

ESPN_SEC

ESPN_SEC


Johnson a big part of Auburn's turnaround http://t.co/pJJajBOm8O
about an hour ago

SEC

SEC Sports


RT @CraigMattoxSEC: CBS studio show. http://t.co/rcdJnCTXeu #SECATL
about an hour ago

SEC

SEC Sports


RT @SEC_Sean: Here's a look at the cover for tomorrow's #SEC Football Championship game program. #SECATL http://t.co/hxNyx2BnO9
about an hour ago

SEC

SEC Sports


The #SEC Coaches Pre-Championship Press Conference will be live streamed at 1:30 p.m. ET here: https://t.co/3nO8X7MrAK #SECATL
about 2 hours ago

ESPN_SEC

ESPN_SEC


SEC lunchtime links http://t.co/5wfC5wy1Bz
about 2 hours ago

ESPNGeorgia

ESPN Georgia


SEC lunchtime links http://t.co/YpfHhjCRr0
about 2 hours ago

SEC

SEC Sports


.@SECNetwork has 1,000 square foot booth at #SECFanFare, including today's @finebaum show 2-6 p.m. ET.
about 2 hours ago

SEC

SEC Sports


RT @SEC_Tammy: Don't forget to go to http://t.co/FYX3n422yA to let your provider know you want @SECNetwork
about 2 hours ago

UGAAthletics

Georgia Bulldogs


Holiday gift ideas in our auction. Team issued gear, VIP experiences and more. Visit http://t.co/zXZfzLUkMs to place your bids today!
about 2 hours ago

SEC

SEC Sports


RT @SEC_Chuck: With the Thursday night DH to open the 2014 season, five SEC football games will air on The SEC Network the opening weekend.
about 2 hours ago

SEC

SEC Sports


Commissioner Slive announces next #SEC Storied film "Bo, Barkley and the Big Hurt." Airing in February.
about 2 hours ago

SEC

SEC Sports


The #SEC Storied series will expand to 10 films per year.
about 2 hours ago

SEC

SEC Sports


The @SECNetwork will broadcast a football tripleheader every Saturday per Commissioner Slive.
about 2 hours ago

SEC

SEC Sports


Aug. 28 - @SECNetwork will also air Temple at Vanderbilt. #SEC
about 2 hours ago

SEC

SEC Sports


Commissioner Slive: "We have the ability to flow games of interest between the four platforms."
about 2 hours ago

SEC

SEC Sports


August 28 - Texas A&M vs. South Carolina football on @SECNetwork.
about 2 hours ago

SEC

SEC Sports


RT @GeorgiaDome: The @SEC flag is flying in front of the @GeorgiaDome for #SECATL http://t.co/r8hAAULlbk
about 2 hours ago

SEC

SEC Sports


Tessitore on the SEC: "This is the strongest conference in college football because of what it is from top to bottom."
about 2 hours ago

SEC

SEC Sports


Tessitore on the @SECNetwork: "I knew this is where I wanted to be."
about 2 hours ago

SEC

SEC Sports


Tessitore: "In all my years of broadcasting, nothing compares to the purely unbridled passion ... of SEC Football."
about 2 hours ago

SEC

SEC Sports


RT @SEC_Chuck: Joe Tessitore will be the host of 'SEC Nation'
about 2 hours ago

SEC

SEC Sports


RT @SEC_Chuck: The SEC Network will air a two hour pregame show called SEC Nation from a SEC campus each fall Saturday
about 2 hours ago

SEC

SEC Sports


A look at Commissioner Slive, Justin Connolly and Stephanie Druley as we begin the @SECNetwork presser. http://t.co/CskNEoVNJh
about 2 hours ago

ESPN_SEC

ESPN_SEC


Friday chat is on http://t.co/82lmgeLIsi
about 3 hours ago

SEC

SEC Sports


RT @SiriusXMCollege: AUDIO: @TimBrando talks with @mizzoufootball head coach Gary Pinkel to preview @SEC title game. http://t.co/fbwD7aIugl…
about 3 hours ago

ajcuga

AJC UGA


#UGA QB Aaron Murray named first-team Academic All-America for second straight year by CoSIDA.
about 3 hours ago

SEC

SEC Sports


RT @Vol_Football: #VFL Condredge Holloway coaching at an @SEC Youth Clinic this morning at @GeorgiaDome http://t.co/j4YnwdHhzj
about 3 hours ago

SEC

SEC Sports


RT @SEC_Sean: Live link to @SECNetwork press conference stream, which begins at 11:30 a.m. ET: https://t.co/L8kM4QN0dM #SEC #SECATL
about 3 hours ago

aaronmurray11

Aaron Murray


RT @MarkRicht: Great opportunity to spend some quality time with Aaron. http://t.co/ngvely34mh
about 3 hours ago

SEC

SEC Sports


Find out when your favorite celebrities are appearing at #SECFanFare. Full schedule here http://t.co/epTnhOvjQa #SECATL
about 3 hours ago

SEC

SEC Sports


Getting to Atlanta early for #SECATL? Check out #SECFanfare today from 2-8 pm at the Georgia World Congress Center.
about 3 hours ago

MarkRicht

Mark Richt


Great opportunity to spend some quality time with Aaron. http://t.co/ngvely34mh
about 3 hours ago

WeRunThisState

Georgia Football


RT @SEC_Logo: Season Sacks: #SEC 1. Mizzou 372. Georgia 323. Arkansas 284. Auburn 25t5. LSU 24t5. S. Carolina 24t5. Vanderbilt 24
about 3 hours ago

ScoutGeorgia

Scout Bulldogs


Insider Report: Dawgs Everywhere http://t.co/ZO1bo0atL0 #uga
about 3 hours ago

ESPN_SEC

ESPN_SEC


Auburn's ground game presents challenge http://t.co/sI4qJhxRUV
about 3 hours ago

UGAAthletics

Georgia Bulldogs


RT @UGAvolleyball: It's GAMEDAY!! Our first-round match of the @NCAAVolleyball tournament starts at 5:30 against American. Follow here for …
about 3 hours ago

UGAAthletics

Georgia Bulldogs


RT @UGAHedgesBlog: Good luck to @coachlstemke and her @UGAvolleyball team tonight as the Bulldogs play their first @NCAAVolleyball match si…
about 3 hours ago

UGAAthletics

Georgia Bulldogs


RT @WeRunThisState: Huge honor for @aaronmurray11! He is the only #SEC player that is a 1st Team Academic All-American #TheGeorgiaWay
about 3 hours ago

WeRunThisState

Georgia Football


Huge honor for @aaronmurray11! He is the only #SEC player that is a 1st Team Academic All-American #TheGeorgiaWay
about 3 hours ago

SEC

SEC Sports


RT @MsPotts_ESPN: Thrilling image, I know. But still... We're almost ready! #SECNetwork http://t.co/aNW0eEhEEl
about 3 hours ago

WeRunThisState

Georgia Football


RT @UGAAthletics: Aaron Murray earns second straight Academic All-America honor: http://t.co/kcRDZYQ4BD
about 4 hours ago

UGAAthletics

Georgia Bulldogs


Aaron Murray earns second straight Academic All-America honor: http://t.co/kcRDZYQ4BD
about 4 hours ago

ESPN_SEC

ESPN_SEC


SEC Week 15: Did you know? http://t.co/yVQNETLBso
about 4 hours ago

SEC

SEC Sports


RT @CraigMattoxSEC: Route to the Mizzou locker room. http://t.co/QNHM0G23RM #SECATL
about 4 hours ago

SEC

SEC Sports


A live stream of this morning's @SECNetwork press conference will air at 11:30 a.m. ET here: https://t.co/Mar3QZxMSZ #SEC
about 4 hours ago

ESPN_SEC

ESPN_SEC


An injury-by-injury look at UF's 2013 season http://t.co/pLOF5Llemg
about 4 hours ago

SEC

SEC Sports


RT @CraigMattoxSEC: The first wave of kids coming in for the youth clinic. http://t.co/ttaxbsrrbf #SECATL
about 4 hours ago

SEC

SEC Sports


Be sure to visit the SEC Network Zone today at #SECFanfare to see Paul Finebaum (@Finebaum) broadcast his show from 2-6 p.m. ET. #SECATL
about 4 hours ago

SEC

SEC Sports


RT @CraigMattoxSEC: Auburn equipment being loaded in. http://t.co/57DxMTXgMx #SECATL
about 4 hours ago

SEC

SEC Sports


Football and Friendship - Six high school classmates have attended every #SEC Championship Game. Story: http://t.co/QIlxMqzEic
about 4 hours ago

ESPN_SEC

ESPN_SEC


For Alabama, it's what could have been http://t.co/a3DnBbjwCw
about 5 hours ago

UGAAthletics

Georgia Bulldogs


Play on the UGA court before any @ugabasketball or @uga_wbb home game. Call 706-542-9003 or visit http://t.co/WeIuSj1IPX for more info
about 6 hours ago

ESPNGeorgia

ESPN Georgia


Five Bulldogs who need a strong offseason http://t.co/3M4YJXzPea
about 7 hours ago

aaronmurray11

Aaron Murray


Hope to see all you Dawg fans next weekend! http://t.co/1CJvv1D639
about 18 hours ago

aaronmurray11

Aaron Murray


RT @mommamurray: http://t.co/iVGRJpXTYO
about 18 hours ago

WeRunThisState

Georgia Football


RT @espn: @MarkRicht The Georgia Joker is a #FanHallofFame finalist. Get all Dawgs fans to vote for the Joker -> http://t.co/dr1t2iklIX
about 19 hours ago

Staff_9

Matthew Stafford


Helping to raise money with @MitchAlbom for #S.A.Y.Detroit 866-992-GIVE (4483) #greatcause #detroit http://t.co/uTxxfx4mWh
about 20 hours ago

Staff_9

Matthew Stafford


RT @kellybhall: Helping to raise money with mitchalbom for #S.A.Y.Detroit 866-992-GIVE (4483) http://t.co/Ox4EPCxI3m
about 20 hours ago

ajgreen_18

Aj Green


Games matter more in December. There's strength in #OurColors. @TideNFL will have them ready. #sponsor http://t.co/96HXpehcjb
about 20 hours ago

UGAAthletics

Georgia Bulldogs


Lowe's #DefiningMoments- During the '60 Orange Bowl and '64 Sun Bowl, the Georgia defense did give up a single point http://t.co/aeHec4k9JH
about 21 hours ago

aaronmurray11

Aaron Murray


RT @CeeRod11: Might just have to go see Mr. @aaronmurray11 one last time http://t.co/b1sKBJZvhL
about 21 hours ago

SEC

SEC Sports


Swing by the Golden Flake booth at #SECFanfare on Friday and Saturday for free samples of "The Official Snack of the #SEC" #SECATL
about 21 hours ago

SEC

SEC Sports


RT @CraigMattoxSEC: Up close view of the CBS overhead cam. http://t.co/9RW87cSqBj #SECATL
about 21 hours ago

SEC

SEC Sports


For those coming to Atlanta, make sure to download the official #SEC Championship mobile app by searching "SEC Football Championship."
about 22 hours ago

SEC

SEC Sports


Stop by #SECFanfare Friday and Saturday to purchase the official merchandise of the #SEC Championship Game. #SECATL
about 22 hours ago

ESPN_SEC

ESPN_SEC


Gary Pinkel says he's staying at Missouri http://t.co/2n6ZNxjbW8
about 22 hours ago

SEC

SEC Sports


Stop by #SECFanfare Friday and Saturday to play the new trivia challenge and test your knowledge of #SEC Football. #SECATL
about 22 hours ago

SEC

SEC Sports


RT @SEC_Tammy: Name plates for lockers #SECATL http://t.co/nZB5EQQauB
about 22 hours ago

ESPN_SEC

ESPN_SEC


Under Armour game storylines: SEC http://t.co/x1AJ2MT0PW
about 22 hours ago

ESPNGeorgia

ESPN Georgia


Under Armour game storylines: SEC http://t.co/yUvbSoYuSe
about 23 hours ago

UGAAthletics

Georgia Bulldogs


RT @chickfilabowl: Follow @chickfilabowl to be the first to see the official #chickfilabowl team selection announcement on Sunday.
about 23 hours ago

ESPN_SEC

ESPN_SEC


Video: SEC Game of the Week http://t.co/hcobsbaClm
about 23 hours ago

marcweiszer

Marc Weiszer


Aaron Murray moves on to next phase after #UGA http://t.co/9rpnodXBxZ
about 23 hours ago

ScoutGeorgia

Scout Bulldogs


Richt, Ball offer 2016 WR http://t.co/Kh25vcZ4ji #uga
1 day ago

SEC

SEC Sports


RT @SEC_Sean: View from the press box here at #SECATL: http://t.co/IbFSlyO9xB
1 day ago

SEC

SEC Sports


RT @Allstate: Former @UGAAthletics legend @DjShockley3 tackles a service project before the @SEC Championship #SEC #GoodWorksDay http://t.c…
1 day ago

UGAAthletics

Georgia Bulldogs


Watch this video as the Georgia Gym Dogs participated in their 2nd annual team cooking competition - "Cupcake Wars". http://t.co/S4FAzZJmdq
1 day ago

SEC

SEC Sports


RT @gscantweet: Banners displayed outside @GeorgiaDome honoring #SEC football champions. 1989 is first banner in picture. #SECATL http://t.…
1 day ago

ESPN_SEC

ESPN_SEC


Video: SEC Conference Call http://t.co/OESVr1T0wH
1 day ago

UGAAthletics

Georgia Bulldogs


RT @WeRunThisState: #TBT In 2008 Knowshon appeared on the @ESPNMag cover | Now he is back in 2013 with the @Broncos! #DawgsInTheNFL http://…
1 day ago
BLOG ARCHIVE:
CATEGORIES: