Video: Aaron Murray interview
September, 16, 2012
9/16/12
12:54
PM ET
By
DawgNation staff
| ESPN.com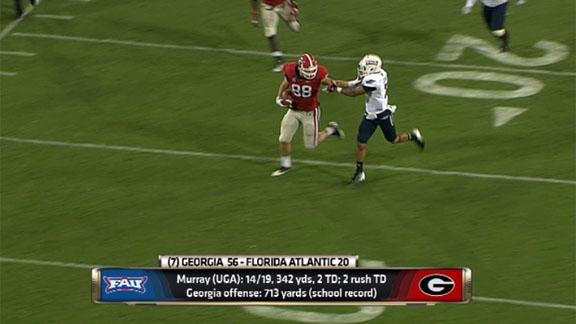 DawgNation's Radi Nabulsi speaks with Georgia quarterback Aaron Murray, who set a career-high with 342 passing yards in the Bulldogs' 56-20 victory over Florida Atlantic. He threw for two touchdowns and rushed for two more. Murray spoke about his performance and why the running backs might be annoyed with him.
Raekwon McMillan discusses recruitment
Before his Dec. 16 announcement, Raekwon McMillan discusses his recruitment and his high school football season.
Raekwon McMillan discusses recruitment
VIDEO PLAYLIST
Raekwon McMillan discusses recruitment

Raekwon McMillan discusses recruitment

Before his Dec. 16 announcement, Raekwon McMillan discusses his recruitment and his high school football season.

ESPN Juco Top 50 Released

ESPN Juco Top 50 Released

Senior national recruiting analyst Tom Luginbill breaks down the impact junior college prospects ranked near the top of the ESPN Juco Top 50. Six of the top 20 players are uncommitted.

Tags: D'haquille Williams

,

Lavon Pearson

,

Shattle Fenteng

,

Tyreek Hill

,

Dominick Jackson

,

DaVonte Lambert

,

Tee Shepard

,

Chad Mavety

,

Dalvon Stuckey

,

RecruitingNation

,

ESPN Juco Top 50

,

high school football recruiting

Georgia Prevails In 2OT

Georgia Prevails In 2OT

Todd Gurley rushed for 122 yards and accounted for four total touchdowns to lead Georgia to a 41-34 double-overtime win over Georgia Tech.

Tags: Georgia

,

Todd Gurley

,

Georgia Tech
DAWGNATION RECRUITING NEWS
GEORGIA FB RECRUITING SCORECARD
aaronmurray11

Aaron Murray


Hope to see all you Dawg fans next weekend! http://t.co/1CJvv1D639
about 6 hours ago

aaronmurray11

Aaron Murray


RT @mommamurray: http://t.co/iVGRJpXTYO
about 6 hours ago

WeRunThisState

Georgia Football


RT @espn: @MarkRicht The Georgia Joker is a #FanHallofFame finalist. Get all Dawgs fans to vote for the Joker -> http://t.co/dr1t2iklIX
about 8 hours ago

Staff_9

Matthew Stafford


Helping to raise money with @MitchAlbom for #S.A.Y.Detroit 866-992-GIVE (4483) #greatcause #detroit http://t.co/uTxxfx4mWh
about 8 hours ago

Staff_9

Matthew Stafford


RT @kellybhall: Helping to raise money with mitchalbom for #S.A.Y.Detroit 866-992-GIVE (4483) http://t.co/Ox4EPCxI3m
about 8 hours ago

ajgreen_18

Aj Green


Games matter more in December. There's strength in #OurColors. @TideNFL will have them ready. #sponsor http://t.co/96HXpehcjb
about 8 hours ago

UGAAthletics

Georgia Bulldogs


Lowe's #DefiningMoments- During the '60 Orange Bowl and '64 Sun Bowl, the Georgia defense did give up a single point http://t.co/aeHec4k9JH
about 9 hours ago

aaronmurray11

Aaron Murray


RT @CeeRod11: Might just have to go see Mr. @aaronmurray11 one last time http://t.co/b1sKBJZvhL
about 9 hours ago

SEC

SEC Sports


Swing by the Golden Flake booth at #SECFanfare on Friday and Saturday for free samples of "The Official Snack of the #SEC" #SECATL
about 10 hours ago

SEC

SEC Sports


RT @CraigMattoxSEC: Up close view of the CBS overhead cam. http://t.co/9RW87cSqBj #SECATL
about 10 hours ago

SEC

SEC Sports


For those coming to Atlanta, make sure to download the official #SEC Championship mobile app by searching "SEC Football Championship."
about 10 hours ago

SEC

SEC Sports


Stop by #SECFanfare Friday and Saturday to purchase the official merchandise of the #SEC Championship Game. #SECATL
about 10 hours ago

ESPN_SEC

ESPN_SEC


Gary Pinkel says he's staying at Missouri http://t.co/2n6ZNxjbW8
about 10 hours ago

SEC

SEC Sports


Stop by #SECFanfare Friday and Saturday to play the new trivia challenge and test your knowledge of #SEC Football. #SECATL
about 11 hours ago

SEC

SEC Sports


RT @SEC_Tammy: Name plates for lockers #SECATL http://t.co/nZB5EQQauB
about 11 hours ago

ESPN_SEC

ESPN_SEC


Under Armour game storylines: SEC http://t.co/x1AJ2MT0PW
about 11 hours ago

ESPNGeorgia

ESPN Georgia


Under Armour game storylines: SEC http://t.co/yUvbSoYuSe
about 11 hours ago

UGAAthletics

Georgia Bulldogs


RT @chickfilabowl: Follow @chickfilabowl to be the first to see the official #chickfilabowl team selection announcement on Sunday.
about 11 hours ago

ESPN_SEC

ESPN_SEC


Video: SEC Game of the Week http://t.co/hcobsbaClm
about 11 hours ago

marcweiszer

Marc Weiszer


Aaron Murray moves on to next phase after #UGA http://t.co/9rpnodXBxZ
about 12 hours ago

ScoutGeorgia

Scout Bulldogs


Richt, Ball offer 2016 WR http://t.co/Kh25vcZ4ji #uga
about 12 hours ago

SEC

SEC Sports


RT @SEC_Sean: View from the press box here at #SECATL: http://t.co/IbFSlyO9xB
about 12 hours ago

SEC

SEC Sports


RT @Allstate: Former @UGAAthletics legend @DjShockley3 tackles a service project before the @SEC Championship #SEC #GoodWorksDay http://t.c…
about 12 hours ago

UGAAthletics

Georgia Bulldogs


Watch this video as the Georgia Gym Dogs participated in their 2nd annual team cooking competition - "Cupcake Wars". http://t.co/S4FAzZJmdq
about 13 hours ago

SEC

SEC Sports


RT @gscantweet: Banners displayed outside @GeorgiaDome honoring #SEC football champions. 1989 is first banner in picture. #SECATL http://t.…
about 13 hours ago

ESPN_SEC

ESPN_SEC


Video: SEC Conference Call http://t.co/OESVr1T0wH
about 13 hours ago

UGAAthletics

Georgia Bulldogs


RT @WeRunThisState: #TBT In 2008 Knowshon appeared on the @ESPNMag cover | Now he is back in 2013 with the @Broncos! #DawgsInTheNFL http://…
about 13 hours ago

SEC

SEC Sports


Be sure to visit the #AT&T area at #SECFanfare on Friday and Saturday to get your picture made with the SEC Championship Trophy.
about 13 hours ago

WeRunThisState

Georgia Football


#TBT In 2008 Knowshon appeared on the @ESPNMag cover | Now he is back in 2013 with the @Broncos! #DawgsInTheNFL http://t.co/6840cOSJHY
about 13 hours ago

SEC

SEC Sports


RT @TheSECU: We're on the road for the rest of the week for #SECATL http://t.co/cnmZd7VzSO
about 13 hours ago

SEC

SEC Sports


RT @SEConCBS: The final push to #SECATL http://t.co/vXxIuwbwiH #storify #wareagle #ironbowl #Mizzou #Tigers #SECATL
about 13 hours ago

ajgreen_18

Aj Green


Checkout the @Bengals Facebook page for a live Q&A with me at 2:45 ET!
about 13 hours ago

ajgreen_18

Aj Green


RT @Bengals: For those of you also on Facebook, @ajgreen_18 is hosting a LIVE Q&A with fans today at 2:45 ET. Get your ?s ready and head to…
about 13 hours ago

UGAAthletics

Georgia Bulldogs


Had a great time with @CoachStrick10 & @CoachMannyDiaz at @CFA_Beechwood! If you missed us today find us next Thurs! http://t.co/xT6wqREmbl
about 13 hours ago

UGAAthletics

Georgia Bulldogs


.@CoachMannyDiaz finishing up the lunch hr on the counter! We're in the last minutes of our visit to @CFA_Beechwood! http://t.co/6zN0lKVO6U
about 14 hours ago

SEC

SEC Sports


Have you tried Texas Pete, official hot sauce of the #SEC? Stop by #SECFanfare this Friday and Saturday for free samples. #SECATL
about 14 hours ago

UGAAthletics

Georgia Bulldogs


RT @NFFNetwork: Congrats 2013 Natl. Scholar-Athlete @UGAAthletics @aaronmurray11 on earning First Team Academic All-American honors http://…
about 14 hours ago

UGAAthletics

Georgia Bulldogs


RT @UGAHedgesBlog A big GOOD LUCK to all of our student-athletes taking final exams this week and next! #CommitToTheG #DawgsInTheClassroom
about 14 hours ago

UGAAthletics

Georgia Bulldogs


.@CoachStrick10 inside now greeting fans and giving away sandwiches! 28 minute warning! Hurry out to @CFA_Beechwood! http://t.co/9fbu0aBGEy
about 14 hours ago

ESPNChing

David Ching


Georgia needs to become two-half defense http://t.co/2YJQ9AMfu1
about 14 hours ago

SEC

SEC Sports


RT @GeorgiaDome: #SECATL signs are up all around the @GeorgiaDome http://t.co/86BaYR8MLO
about 14 hours ago

ajcuga

AJC UGA


#UGA football: AD Greg McGarity not interested in talking what could have been. http://t.co/qoQAK8nsRa ($)
about 14 hours ago

UGAAthletics

Georgia Bulldogs


.@CoachMannyDiaz is out at the drive-thru line now! Come out to @CFA_Beechwood until 1pm for sandwiches & more! http://t.co/NISyCO930N
about 14 hours ago

ajcuga

AJC UGA


RT @SEC_Chuck: For those who asked, we put Mizzou in the endzone because that's what Missouri asked for. We obliged.
about 14 hours ago

SEC

SEC Sports


RT @Allstate: Check out the mural for @SEC #GoodWorksDay inspired by #CFB memories. Can you name this good hands catch? #MySEC http://t.co/…
about 14 hours ago

SEC

SEC Sports


RT @HannahChalker: #DawgReport & #UGA legends give back to the community for @SEC Good Work Day! @DjShockley3 @csssports @werunthisstate ht…
about 14 hours ago

ESPN_SEC

ESPN_SEC


Manziel kept focus on the field in '13 http://t.co/7dwFpTkw7e
about 14 hours ago

ESPN_SEC

ESPN_SEC


SEC lunchtime links http://t.co/naWbggnJCo
about 14 hours ago

UGAAthletics

Georgia Bulldogs


The weather won't stop @CoachStrick10! He's outside giving away free sandwiches! You've got an hr to get here! http://t.co/UGXhPNBnSV
about 14 hours ago

UGAAthletics

Georgia Bulldogs


.@CoachMannyDiaz said he serves a great drive-thru, he's putting on a clinic now! Come meet him & get a free sandwich http://t.co/br7UIVtRqv
about 15 hours ago

WeRunThisState

Georgia Football


Top 2 in the #SEC in Tackles | Amarlo Herrera & Ramik Wilson #DawgsOnTop http://t.co/5Bbp5AS51Z
about 15 hours ago

ESPN_SEC

ESPN_SEC


Kickoff Live (3 ET) http://t.co/4TNz5sLkVP
about 15 hours ago

UGAAthletics

Georgia Bulldogs


We're back! We're at @CFA_Beechwood from now til 1pm w @CoachStrick10 & @CoachMannyDiaz! Free sandwiches & more! http://t.co/atUBM1Azg6
about 15 hours ago

SEC

SEC Sports


RT @Allstate: To show our support for ATL during #SEC Championship wk we donated 11K to @parkpride as part of @SEC #GoodWorksDay http://t.c…
about 15 hours ago

ESPN_SEC

ESPN_SEC


Franklin with a fitting last stand for Tigers http://t.co/5ETrKCXRat
about 15 hours ago

SEC

SEC Sports


Previewing the #SEC Championship Game: http://t.co/pCQNTrZW8r #SECATL
about 15 hours ago

SEC

SEC Sports


Getting to Atlanta early for #SECATL? Check out #SECFanfare on Friday from 2-8 pm at the Georgia World Congress Center.
about 16 hours ago

SEC

SEC Sports


RT @SEC_Sean: Q&A that I did before last year's #SEC Championship Game with CBS college football producer Craig Silver: http://t.co/OMypUeV…
about 16 hours ago

SEC

SEC Sports


RT @SEC_Chuck: Locker rooms are ready - Here is Auburn: http://t.co/W6pv81IHus #SECATL
about 16 hours ago

ESPN_SEC

ESPN_SEC


What to watch in the SEC: Week 15 http://t.co/mvjeuUTrSt
about 16 hours ago

SEC

SEC Sports


RT @GeorgiaDome: The entrance to the @mizzoufootball locker room at the @GeorgiaDome has now been branded for #SECATL http://t.co/CCoYbzeqzQ
about 16 hours ago

SEC

SEC Sports


Find out when your favorite celebrities are appearing at #SECFanFare. Full schedule here: http://t.co/epTnhOvjQa
about 16 hours ago

SEC

SEC Sports


Check out the The BC® Speed Zone at SEC FanFare and enter for a chance to win two VIP tickets to attend the #SECATL Game w/ George Rogers.
about 16 hours ago

ESPN_SEC

ESPN_SEC


Franklin, Marshall emerge in Year of QBs http://t.co/vCjL7L8NJQ
about 17 hours ago

UGAAthletics

Georgia Bulldogs


RT @CoachMannyDiaz: I will be at the #Chick-Fil-A on Alps Road today from 11:30am-1pm. I work a great drive-thru window!!!
about 17 hours ago

UGAAthletics

Georgia Bulldogs


Join @CoachStrick10 and @CoachMannyDiaz at @CFA_Beechwood today from 11:30am-1pm for free chicken sandwiches & surprises!
about 17 hours ago

ESPN_SEC

ESPN_SEC


SEC championship game predictions http://t.co/YkJqPtkTDX
about 17 hours ago

ajcuga

AJC UGA


On The Rude Awakenimg right now!
about 18 hours ago

UGAAthletics

Georgia Bulldogs


Have you purchased your @UGAGymnastics season tix? $50 adult, $30 youth for all 6 home meets. Visit http://t.co/iZRdH0zU4r to purchase
about 18 hours ago

ESPN_SEC

ESPN_SEC


Georgia needs to become two-half defense http://t.co/IRUiPysMIA
about 19 hours ago

ESPNGeorgia

ESPN Georgia


Georgia needs to become two-half defense http://t.co/8aZvCVLqrR
about 19 hours ago

ESPNChing

David Ching


Here's a good use of Legos and three minutes of your time. https://t.co/WFrrsv67bM
1 day ago

SEC

SEC Sports


RT @SEConCBS: Watch @mizzoufootball clinch a spot in the #SEC title game vs. #Auburn with their win over #TAMU on SEC Express at 10 PM ET o…
1 day ago

ESPNChing

David Ching


Don't watch much Pitt FB, but why does nobody talk about Aaron Donald as a Heisman contender? This video is crazy. https://t.co/6lyV6W83PZ
1 day ago

SEC

SEC Sports


RT @TheSECU: #SECATL @mizzou is one of only 34 public U.S. universities invited to be members of the prestigious… http://t.co/bmsiAWtrhn
1 day ago

UGAAthletics

Georgia Bulldogs


RT @WeRunThisState: The Greatest of All-Time | Herschel Walker won the Heisman Trophy on this day 31 Years ago #AlwaysADawg http://t.co/7Jh…
1 day ago

SEC

SEC Sports


For a full schedule of events for #SEC FanFare this Friday and Saturday in Atlanta, click here: http://t.co/epTnhOvjQa #SECATL
1 day ago

SEC

SEC Sports


RT @GeorgiaDome: The @SEC Championship trophy has arrived @GeorgiaDome for #SECATL http://t.co/h9jtt5aJr7
1 day ago

UGAAthletics

Georgia Bulldogs


Football postseason priority request deadline for The Georgia Bulldog Club members is Friday, Dec. 6th, at 5pm. http://t.co/7b0qeO75Y0
1 day ago

SEC

SEC Sports


Johnny Manziel and AJ McCarron named finalists for Walter Camp Player of the Year Award: http://t.co/mU3cUPhlMd
1 day ago

ESPNChing

David Ching


UGA 2015 QB race already under way http://t.co/9HI1rY3TA7
1 day ago

SEC

SEC Sports


RT @GeorgiaDome: Make sure to download the official @SEC app before you head to Atlanta for #SECATL http://t.co/7dORyEXjVR
1 day ago

SEC

SEC Sports


RT @VoiceofAUTigers: Scheduled to phone in to @SportsCenter at 2:45 pm CT today! Talking @SEC Championship Game and Iron Bowl! #AUVoice
1 day ago

ESPN_SEC

ESPN_SEC


Are the Muschamp-Zook comparisons fair? http://t.co/Ut8T0npabv
1 day ago

WeRunThisState

Georgia Football


The Greatest of All-Time | Herschel Walker won the Heisman Trophy on this day 31 Years ago #AlwaysADawg http://t.co/7JhKUkdsih
1 day ago

UGAAthletics

Georgia Bulldogs


Need gift ideas for the holidays? Up to 40% off Georgia sweatshirts and jackets through Dec 18th. Visit http://t.co/Yu9IiYEglY to purchase
1 day ago

SEC

SEC Sports


RT @GeorgiaDome: Birds eye view of the @GeorgiaDome on @FootballAU's end of the field for #SECATL http://t.co/I5rHILxXQC
1 day ago

ESPN_SEC

ESPN_SEC


SEC class rankings analysis http://t.co/oTcdtAQaUz
1 day ago

SEC

SEC Sports


Be sure to visit the @SECNetwork Zone on Friday at #SECFanfare to see Paul Finebaum (@Finebaum) broadcast his show live from 2-6 p.m. ET.
1 day ago

ESPNGeorgia

ESPN Georgia


SEC class rankings analysis http://t.co/TUg0XnaH8T
1 day ago

UGAAthletics

Georgia Bulldogs


Photo album: Yesterday's Woodward Elementary School field trip to UGA, which included some words from Chris Conley http://t.co/X3URKPLynn
1 day ago

ESPNGeorgia

ESPN Georgia


What's next after missing out on Malone? http://t.co/oYcuQdoLDn
1 day ago

UGAAthletics

Georgia Bulldogs


RT @coachlstemke: Busy and exciting couple of days in preparation for NCAA's. About to pack up and head out for this great adventure!#seiz…
1 day ago

ESPN_SEC

ESPN_SEC


Alabama at loss defending spread offenses http://t.co/yr2hGLepDP
1 day ago

ESPN_SEC

ESPN_SEC


SEC lunchtime links http://t.co/jMMw61aBBh
1 day ago

ESPNGeorgia

ESPN Georgia


SEC lunchtime links http://t.co/boi2XMcFuz
1 day ago

SEC

SEC Sports


2014 #SEC Gymnastics Television Schedule Released: http://t.co/bK7cbN6PmV
1 day ago

ajcuga

AJC UGA


#UGA QB Aaron Murray for Heisman? At least one man doesn't think that's a crazy idea. @Sapakoff http://t.co/EeQlc1py7T
1 day ago

ESPN_SEC

ESPN_SEC


It was no easy run for Auburn CB Davis http://t.co/sqN8oplDyW
1 day ago
BLOG ARCHIVE:
CATEGORIES: