December, 6, 2013
Dec 6
7:00
AM ET
ATHENS, Ga. -- The offseason is important for every college player, but it is particularly valuable for those hoping to make the transition from off-the-radar prospect to essential contributor.
With that in mind, let's look at five Georgia players (or groups) who need to have strong springs and summers -- once the Bulldogs move past their upcoming bowl matchup, of course -- to become useful players next season.
[+] Enlarge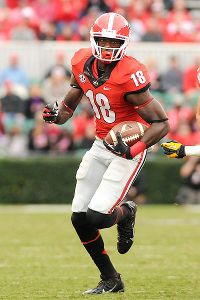 Jeffrey Vest/Icon SMIReceiver Jonathon Rumph needs to prove he deserves playing time in 2014.
Jonathon Rumph:
One of the more high-profile recruits in Georgia's 2013 signing class, the junior college transfer didn't play until midseason and didn't make his first catch until Game 9. Rumph's six catches for 112 yards thus far fall well short of the preseason expectations for a player who signed as the No. 7 overall prospect on ESPN's Junior College 100. Even after making a small impact after his debut, Rumph barely saw the field in Georgia's last two games of the regular season. He needs to prove that he belongs in the rotation next season because he clearly has not convinced receivers coach Tony Ball thus far that he deserves regular playing time.
Brandon Kublanow:
With three offensive line positions open after the season ends, we could go several directions here. But let's stick to guard, where starters
Chris Burnette
and
Dallas Lee
will both be gone after this season. Kublanow was impressive enough after arriving on campus this summer that he won some playing time as a true freshman. It would not be at all surprising to see him grab a starting job next season if he has a strong spring and summer. He's a grinder, and he's going to become a solid offensive lineman at the college level.
The ILBs:
Most likely,
Amarlo Herrera
and
Ramik Wilson
will be back for their senior seasons in 2014. But it's not a particularly good thing that they essentially played every meaningful down this fall. The Bulldogs need the freshmen who played sparingly --
Reggie Carter
,
Tim Kimbrough
,
Johnny O'Neal
and
Ryne Rankin
-- to make a bigger impact next season. Carter is the most obvious choice for more playing time, but Georgia needs to develop more of the talent on the roster in order to be prepared for Wilson and Herrera's departure after next season. To this point, he's the only non-starter at ILB who has played an important down.
A.J. Turman:
After redshirting as a freshman, Turman is in an awkward position as 2014 approaches.
Todd Gurley
and
Keith Marshall
are established stars.
Brendan Douglas
and
J.J. Green
were productive this fall while playing as true freshmen. Now verbal commits
Nick Chubb
and
Sony Michel
are on board to join the team before next season. Turman has some running skills, but he'd better do something to make himself stand out -- soon … like this winter and spring -- or he'll place himself in jeopardy of getting lost in the shuffle.
Jordan Davis:
Another 2013 redshirt, Davis has the opportunity to garner major playing time next fall.
Arthur Lynch
and
Hugh Williams
will be gone and only
Jay Rome
will remain among the Bulldogs' 2013 regulars at tight end. Davis should be able to carve out a role -- and he could do himself a favor if he does so before highly-touted verbal commit
Jeb Blazevich
can establish himself. Davis is a diligent worker and should eventually become a serviceable traditional tight end, whereas Blazevich looks more like a player whose greatest strength will be his receiving skills. The Bulldogs need both skill sets to be present among players at the position.
December, 5, 2013
Dec 5
3:13
PM ET
The seventh annual Under Armour All-America Game is less than a month away. The 2014 game, which is set for 4 p.m. ET Jan. 2 at Tropicana Field in St. Petersburg, Fla. on ESPN, features 90 of the top high school football prospects in the country. Practices begin Dec. 29.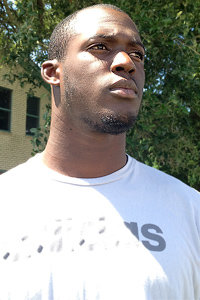 Alex Scarborough/ESPNNo. 1 Leonard Fournette is one of several five-star prospects who haven't made a commitment.
As is usually the case, the SEC will be well represented. Here are some of the storylines:
Year of dominance:
The top 15 prospects in the ESPN 300 are all scheduled to take part. That means that all 13 five-star prospects in the class will be competing, including No. 1
Leonard Fournette
(New Orleans/Saint Augustine). All told, 28 of the top 30 prospects in the ESPN 300 are on an UA All-America roster.
SE
C leads the way:
It comes without surprise that the SEC has the most committed prospects taking part, with 34. The Big Ten and ACC have 13 each, the Big 12 has three and the Pac-12 has two. Notre Dame has five commits in the game.
The SEC West alone has 25.
To continue reading this article you must be an Insider
December, 5, 2013
Dec 5
7:00
AM ET
ATHENS, Ga. --
Amarlo Herrera
isn't ready to assess Georgia's 2014 defense yet. Not when the Bulldogs still have to play a bowl game before this season is complete.
"We're not talking about that yet," the Georgia linebacker said after last Saturday's double-overtime win against Georgia Tech. "The season's not over yet. But when the season gets over, we'll start talking about those things and people will remember these [comebacks against Auburn and Georgia Tech]."
Step one in the evolution of a defense that loses only one senior starter -- defensive lineman
Garrison Smith
-- will be to put together complete games, not just decent halves. Against both Auburn and Georgia Tech, in particular, disastrous starts forced the Bulldogs to mount dramatic rallies in the game's waning possessions.
[+] Enlarge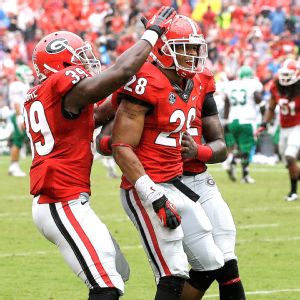 AP Photo/John BazemoreTray Matthews is one of 10 starters that should return on Georgia's defense next fall.
"We've got to stop coming off slow in the first half," inside linebacker
Ramik Wilson
said. "We've got to finish, and that's what we've been doing in the second half."
Wilson has a point. The starts were horrendous -- Auburn scored 27 points and Georgia Tech 20 before halftime -- but Georgia's defense was fairly solid in the second half of more than just those two dramatic comeback bids.
The Bulldogs were awful defensively for most of the first month of the season, with a 28-point second half by Tennessee in Game 5 perhaps ranking as the low point. But since then, Todd Grantham's defense has generally improved as the games progressed.
Since the Tennessee game, the Bulldogs allowed 10 second-half touchdowns in seven games -- half of those coming when opponent scoring started at the 50-yard line or closer because of errors by Georgia's offense or special teams. In the last month of the regular season, the Bulldogs allowed seven second-half points to both Georgia Tech and Kentucky, zero to Appalachian State and 16 to Auburn, although the final six came on a 73-yard
Ricardo Louis
touchdown catch for the game-winning score after Bulldogs safeties
Josh Harvey-Clemons
and
Tray Matthews
failed to bat down an off-target pass.
"We said it felt like it was like the Auburn game," Herrera said of the Bulldogs' rally from a 20-0 deficit against Georgia Tech. "We just had to step up and we had to make plays real quick before it got ugly."
The Tech game was already bordering on ugly before the Bulldogs salvaged it with their second-half rally. They argued afterward that the comeback was an example of their season-long persistence, even against long odds.
"Everybody knows about the tipped pass at Auburn and people wanted to know how we would bounce back off that. Well, we're 2-0 off that loss," said sophomore cornerback
Sheldon Dawson
, who was victimized in coverage on several of Tech's biggest passes. "It's not about how you fall because you're going to fall in this game of football. You're going to fall many times. It's just you've got to get back up.
"Like for myself, to me I had a poor game, but how did I respond? I just tried to keep playing and show my teammates that I'm playing to get better on the next drive."
The hope for Grantham and his staff is that the rocky moments that Dawson and many other youthful defenders experienced this season will become learning tools as they mature. The 2013 defense was simply not consistent enough, as its program-worst point (opponents averaged 29.4 ppg) and yardage (381.2 ypg) totals reflect, but there were occasional flashes of promise, as well.
He used the game-ending, fourth-down pass breakup to clinch the win against Georgia Tech as an example -- which easily could have been the third such key fourth-down stop by his defense had one of his safeties properly defended Auburn's last-gasp throw or had an official kept the flag in his pocket instead of incorrectly penalizing Wilson for targeting on a fourth-quarter pass breakup against Vanderbilt.
"That's the third fourth-down situation that we've had this year. We had one at Vandy, we had one at Auburn and we had one here," Grantham said. "We've got a lot of young players on our team that will grow from it and they'll get confidence from it and we're going to develop them and move forward and win a bunch of games."
The talent clearly exists for Grantham's projection to become reality. Harvey-Clemons, Matthews, outside linebackers
Jordan Jenkins
and
Leonard Floyd
, defensive end
Ray Drew
, Herrera and Wilson -- all of them should be back in 2014. If they and their defensive cohorts can perform with discipline that matches their physical capabilities, Georgia's defense could take a step forward next fall.
It's on Grantham and company to ensure that such progress occurs.
"Part of coaching and part of a program and part of being what we want to be, when it's going not the way you want it, you find a way to battle back," Grantham said.
December, 4, 2013
Dec 4
2:00
PM ET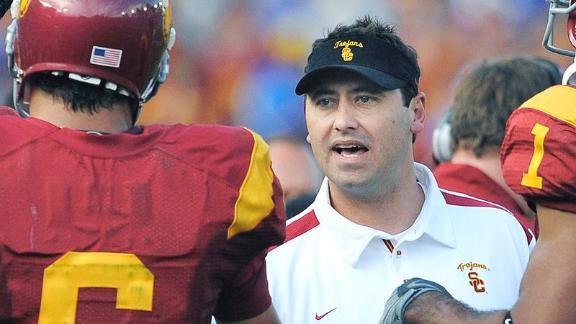 The latest update to the
RecruitingNation class rankings
features a number of moves due in large part to the release of the
ESPN Junior College 50 rankings
. Within the conference, Alabama still has a strong grasp on the top spot with all 14 schools in the top 35 classes nationally. Here's a look at the
conference's rankings

.

Trending up:
Both Texas A&M and Auburn are trending up thanks to the release of the ESPN JC 50. The Aggies jumped from No. 5 to No. 4 and into the top 3 in the conference rankings with junior college offensive linemen
Avery Gennesy
(Southhaven, Miss./East Mississippi Community College) and
Jermaine Eluemunor
(Rockaway, N.J./Lackawanna College) coming in at No. 13 and 15 in the ESPN JC 50. Auburn junior college commitment
D'haquille Williams
(Reserve, La./Mississippi Gulf Coast Community College) and
Dalvon Stuckey
(De Funiak Springs, Fla./Pearl River Community College) came in at No. 1 and 9 in the JC 50. Auburn jumped from No. 14 nationally to No. 12, and the Tigers are in striking position on several other highly-ranked prospects.
To continue reading this article you must be an Insider
December, 4, 2013
Dec 4
1:25
PM ET
When ESPN 300 wide receiver
Josh Malone
(Gallatin, Tenn./Station Camp)
verbally committed to Tennessee
on Wednesday afternoon, it didn't come as a surprise to many. After all, Malone is the top-ranked prospect in Tennessee and the Vols have placed a heavy emphasis on landing the talented pass-catcher.
Clemson, however, has been known to go out-of-state and land top receiver prospects such as
Sammy Watkins
. The Tigers might have lost out on Malone, but it's not like they were left empty-handed.
Clemson already has commitments from ESPN 300 wide receivers
Artavis Scott
(Tarpon Springs, Fla./East Lake) and
Demarre Kitt
(Tyrone, Ga./Sandy Creek), as well as
Kyrin Priester
(Snellville, Ga/Fork Union Military Academy).
The Tigers are also targeting another ESPN 300 prospect
Trevion Thompson
(Durham, N.C./Hillside) and they are considered, by many, to be the favorite for the talented pass-catcher.
In addition to Clemson, Malone was also heavily considering Georgia and Florida State before narrowing down his choices to Clemson and Tennessee late in the process.
For Georgia, the Bulldogs already have commitments from
Shakenneth Williams
(Macon, Ga./Rutland) and
Gilbert Johnson
(Homestead, Fla./Homestead) and they are limited on scholarships. Unless something changes on its recruiting board, Georgia might not take another receiver in this class.
Florida State, meanwhile, is still in heavy contention for ESPN 300 wide receiver
Travis Rudolph
(West Palm Beach, Fla./Cardinal Newman) and Florida commit
Ermon Lane
(Homestead, Fla./Homestead). If FSU continues to have success on the field and happens to win the national championship, the Seminoles will likely see new names appear on their board.
December, 4, 2013
Dec 4
12:00
PM ET
Like Georgia QB Aaron Murray before him, it's tough to see a senior like LSU's
Zach Mettenberger get hurt
before he has a chance to play his final bowl game and ride off into the sunset. Here's to good health in the NFL.
December, 4, 2013
Dec 4
7:00
AM ET
ATHENS, Ga. – They aren't making any guarantees, but Georgia's coaches have made it abundantly clear that they expect
Hutson Mason
to replace
Aaron Murray
as their starting quarterback next year.
That said, the redshirt junior plans to compete over the next 10 months like he hasn't won anything yet.
"I've been here for four years, obviously, and everybody wants to say, 'He's the next guy, he's the next guy,' but no one owes you anything," Mason said. "Just because you're here for four years doesn't mean that you're going to walk in the day when Aaron leaves and you're going to be the starting quarterback. … That's the way our coaches coach, that's the right way to go about it and I know that there's other guys in that room that are capable of making plays and they're capable of being really good quarterbacks."
[+] Enlarge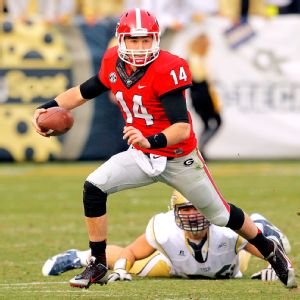 Todd Kirkland/Icon SMIHutson Mason should enter the spring with an advantage to be Georgia's starting quarterback in 2014. The more interesting battle might be for the No. 2 role.
Because of the season-ending knee injury that Murray suffered in the second quarter of the Kentucky game, Mason should have had two-and-a-half games of experience as the Bulldogs' No. 1 quarterback when they kick off the 2014 season against Clemson.
He has performed adequately as Murray's replacement – he has completed 46 of 71 passes for 648 yards, four touchdowns and two interceptions, which should only solidify his place for next fall. The more interesting aspect of the competition might be the jockeying for the position behind Mason among a group of young quarterbacks who could take over the reins in 2015.
"I don't see Hutson doing anything to self-destruct and make himself lose that job," center
David Andrews
said. "But these young guys, they'll understand. Hutson, he came out every day and he competed no matter what, even in his redshirt year [2012], when he knew he wasn't going to play. I think those young quarterbacks seeing that can understand, 'Even if I'm not going to play, this is setting it up and every day you don't try to get better, you're going to get worse.' I believe that, so I think Hutson sets a great example in that aspect."
As of now, the Bulldogs have three scholarship quarterbacks on the roster who will have eligibility remaining next fall: redshirt sophomore
Christian LeMay
, redshirt freshman
Faton Bauta
and freshman
Brice Ramsey
, who is redshirting this season. Georgia also has a commitment from
Jacob Park
(Goose Creek, S.C./Stratford), ESPN's No. 94 overall prospect in the 2014 recruiting class and No. 4 dual-threat quarterback.
Exhibiting a strong work ethic and intriguing run-pass skills, Bauta seized the backup spot behind Mason and will reportedly be tough to beat for the No. 2 role next season.
"He's really come into his own, not beating himself up every time he makes a mistake and going back out there to make another play," said receiver
Chris Conley
, who predicted that Bauta would claim the No. 2 job next fall. "He's a hard worker, so he's always going to be his toughest critic. But he's made a lot of plays this year out there. He made a lot of plays in the spring and that kind of turned people's heads to say, 'OK, I didn't know that he could play like that.' "
Ramsey is also an interesting prospect, having impressed coaches and teammates with his prototypical 6-foot-3 size and possibly the strongest arm among any of the quarterbacks on the roster.
As with most freshmen, Ramsey made use of his redshirt year to settle into a college routine and learn Georgia's offense.
"He has a gun on him," receiver
Michael Bennett
said. "He has a very good arm. He's just a freshman. You've got to mature a little bit, but he's going to be a good player, too."
That redshirt year was a particularly valuable experience for a green quarterback like Ramsey who executed a run-heavy Wing-T offense in high school – a far cry from the pro-style offense he'll run in college.
"I've grown so much," Ramsey said. "In January [when he enrolled], I couldn't have even have told you what a zone was or what all that was. It was just coming in and actually having to put forth effort and trying to learn the playbook and study and everything. Now I'm picking everything up and just excited for the future."
For now, though, the starting job in 2014 is Mason's to lose. He's the only quarterback aside from Murray to have attempted a pass this season – Bauta has run three times for 29 yards in mop-up duty and LeMay hasn't played this season at all, although he saw the field as a reserve in 2012 – and Mason will be far and away the most experienced quarterback on the roster next fall.
That will be a major departure for Mason, who up until 10 days ago has spent his entire career playing second fiddle to SEC career passing leader Murray.
"It's going to be weird just not having the guys that I'm used to being around, like Parker [Welch, a senior walk-on] and Murray," Mason said. "We've had a core group of guys that have been around for a long time in that QB room and we're going to be a whole lot younger with a lot of new faces. It's going to be different.
"It's exciting, though. It's what you come to Georgia for. I've been waiting for four years to go out there and compete for that starting position and I know every other guy in that room, that's why they're here. So that's an exciting time."
December, 4, 2013
Dec 4
5:30
AM ET
The Early Offer is RecruitingNation's regular feature, giving you a daily dose of recruiting in the mornings. Today's offerings:
Josh Malone
, one of the nation's best receivers, will announce his decision today, so will he be singing Rocky Top, calling the Dawgs or heading to Clemson? In-home visits are taking place all over the country and social media is providing us with an inside look at life on the trail; and we're less than a week away from finding out where the top player in Pennsylvania will end up.
Will Rocky Top be home sweet home?
Four-star receiver Josh Malone, the nation's No. 48 player out of Gallatin (Tenn.) Station Camp, has already signed financial aid agreements with Tennessee, Georgia, Clemson and Florida State, but he will announce his decision at noon ET Wednesday on NBC Sports Network. The
RecruitingNation Hot Board
has Malone projected to select Tennessee. The Volunteers were smart and were the first to use the signing of the financial aid paperwork as a tool in the recruiting process. Because he was technically "signed" UT coaches were able to have regular contact with him. Shortly after, the three other schools followed suit.
To continue reading this article you must be an Insider
December, 3, 2013
Dec 3
4:40
PM ET
For every recruiting class that includes junior college signees, there is a high-risk, high-reward proposition because most juco prospects are expected to provide immediate help while not having much time to do so. If you are a "two-to-play-two" prospect, your time is limited and the risk is higher. Below are three of our
top 10 prospects in the ESPN JC 50
, as well as current college stars we feel they resemble with their skill sets.
To continue reading this article you must be an Insider
December, 3, 2013
Dec 3
4:30
PM ET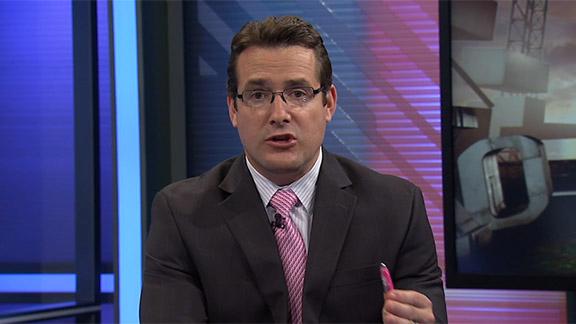 Looking over the newly released
ESPN JC 50
, there are several recruits on that list already committed to SEC schools. There are also many that still remain undecided. With signing day quickly approaching, here's a closer look at five prospects, who's destination is still unknown.
[+] Enlarge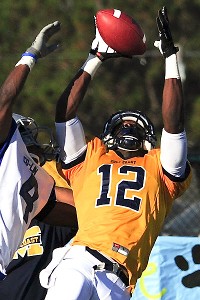 Courtesy of Mississippi Gulf Coast C.C.D'haquille Williams is an Auburn commit, but the No. 1 prospect in the ESPN JC 50 is also still strongly considering LSU.
1. WR D'haquille Williams (Laplace, La./Mississippi Gulf Coast CC):
The No. 1-ranked prospect in the ESPN JC 50 is already committed to Auburn and visited this past weekend for Auburn's miracle win over Alabama. This talented wide receiver, however, is still considering LSU and it appears to be a neck-and-neck battle. Williams' MGCCC teammate
Derrick Moncrief
is also committed to Auburn which could certainly play in the favor of the Tigers -- Auburn that is.
To continue reading this article you must be an Insider
December, 3, 2013
Dec 3
12:00
PM ET
You have to feel bad for old Ed Orgeron. The former Ole Miss head coach had a good run as interim coach at USC, but last week's loss to UCLA seemed to seal his fate. How long before he ends up back in the South as a head coach?
December, 3, 2013
Dec 3
7:00
AM ET
ATHENS, Ga. -- By now you might have read that
Hutson Mason
likes to operate Georgia's offense at a quicker tempo than predecessor
Aaron Murray
-- a possible foreshadowing of a faster pace for the Bulldogs when Mason takes over as the full-time starting quarterback next fall.
Georgia offensive coordinator Mike Bobo didn't want to wait for next season, however. His plan entering Saturday's game at Georgia Tech was for the Bulldogs to run the hurry-up offense for much of the afternoon before the Yellow Jackets jumped out to an early 20-0 lead.
"We tried to go fast really all night tonight. We just early in the game, we had some guys and we missed them and couldn't really get anything going," Bobo said, later adding, "They don't play a lot of people on defense, so I thought if we could wear them down with the screens and with the hurry-up, no-huddle, we'd be able to run the ball late. And we just got so far behind, we kind of had to stay in the pass mode and some one-back runs out of the gun."
[+] Enlarge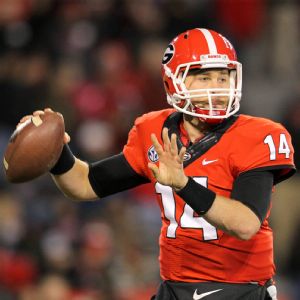 Todd Kirkland/Icon SMIHutson Mason is comfortable running a fast-paced attack, which could change Georgia's approach.
Mason shook off a poor start to lead Georgia to its first touchdown on a one-minute drive late in the second quarter. He was 5-for-5 for 71 yards on the drive, ran for a 16-yard gain and hit
Todd Gurley
with a 9-yard touchdown pass that made it 20-7 at halftime.
It's no coincidence that the Bulldogs set an up-tempo pace on the possession, much like the style Mason used to become a record-setting passer at Lassiter High School in Marietta, Ga. In fact, Mason has practiced as the Bulldogs' No. 1 quarterback in similar situational drills each week for much of the season.
"Every Thursday we've done one-minute this year, and except for one time, he did it every time with the offense, and [we] let him run it to get experience, because Aaron had had so many reps," Bobo said. "So he's been doing it in practice all year on Thursdays and has done a nice job, so I knew he would feel comfortable with that."
Bobo installed a no-huddle scheme before the 2011 season, which Georgia has used intermittently over the last two seasons. Don't expect Bobo to completely revamp Georgia's offensive thinking next season -- "we'll still control the tempo that we feel will give us the best chance to win the ballgame," he said last week -- with a workhorse tailback like Gurley in the backfield. But it would not be surprising to see more of an up-tempo style under Mason than the Bulldogs employed under the more deliberate Murray.
"I like to keep things going a little quick," Mason admitted. "Not like Oregon, you know, but I just have a tendency from playing at Lassiter, we were a no-huddle offense, so just by my nature I'm a little faster than Aaron."
If Bobo goes in that direction, it would bring its own set of new challenges for the Bulldogs. For one thing, it would require them to have the proper depth and conditioning level to be able to move quickly without sacrificing their effectiveness.
Exhibit A was the one-minute drive that Mason led as soon as he took over for the injured Murray against Kentucky. Georgia drove 43 yards for a touchdown in only 53 seconds, with Mason going 4-for-5 on the possession, but receiver
Michael Bennett
admitted he felt the effects of the up-tempo pace afterward.
"As soon as the play's over, he's yelling, screaming to get everyone on the ball, let's get another play going," Bennett recalled. "It's good, but that one-minute drive, for instance, right before the half, I was sucking [wind]. I was dying. But it's just the way he rolls."
It also would require quick thinking, not just quick physical action, receiver
Chris Conley
said.
"You can't be celebrating. You can't be thinking, 'Oh that was an awesome run.' You've got to get back to the line, you've got to get the play in, you've got to analyze the defense, you've got to go," Conley said. "Whether it's a great play or a bad play, you've got to shuck it out of your mind, and you've got to move forward. It's at a rapid pace, and you have no time to sit and praise or pity yourself."
The main objective in playing that quickly is that it weakens defenses physically and makes it more difficult to counteract what the offenses are attempting, which is why Conley said he expects to utilize more of the up-tempo pace in 2014.
With Mason at the trigger and impressive depth at the offensive skill positions, the Bulldogs should have all the ingredients to execute effectively.
"The fact that Hutson likes it and he's good at it is all the more reason why we'll probably be doing more of that," Conley said. "We brought the no-huddle into this offense a couple years ago to get teams off balance, and it's worked. It's really worked because of the personnel that we have and their ability not only to recover, but make plays down the field and continue to make plays at a rapid pace. The fact that we have the people to do it, yeah I could see that happen."
December, 2, 2013
Dec 2
12:00
PM ET
The regular season is over, and 12 of the SEC's 14 teams are trying to figure out how to get to next year's SEC championship game. Ten teams are bowl eligible, which leaves four downtrodden SEC teams trying to pick up the pieces and figure out how to simply win games.
December, 2, 2013
Dec 2
9:00
AM ET
We have a new No. 1 in our Power Rankings, and there's a chance that either of the top two teams on this list could back its way into the BCS title game:

1. Auburn (11-1, 7-1 SEC; last week: 3):
Call it luck, but don't forget to call the Tigers good. Auburn won the Iron Bowl 34-28 over No. 1 Alabama on a last-second field goal return for a touchdown by
Chris Davis
. It was another improbable win for the Cardiac Cats, but Auburn also ran for 296 yards on the SEC's best rush defense. Back-to-back thrillers have Auburn No. 3 in the BCS standings and SEC Western Division champions.
2. Missouri (11-1, 7-1 SEC; LW: 2):
These Tigers will meet those Tigers in the SEC championship game on Saturday. After beating Texas A&M 28-21 at home, Mizzou completed its own improbable season in its second year in the league. Missouri now has five wins over opponents that were ranked when it played them. Like Auburn, Mizzou is very much in the national championship picture. The Tigers need help, but a win over Auburn would push a team that was left for dead last season a step closer to Pasadena, Calif.
3. Alabama (11-1, 7-1 SEC; LW: 1):
The three-peat is likely over after Alabama was bested by its archrival. Why Nick Saban would attempt a 57-yard field goal with a second left without any speedy athletes on the field is mind-blowing. Saban rarely makes mistakes, but this one will sting for a very long time. Alabama is still very much in the hunt for a BCS bowl game, but a return to the title game is a long shot.
4. South Carolina (10-2, 6-2 SEC; LW: 4):
Another year, another win over Clemson. That makes five in a row for Steve Spurrier and his Gamecocks after his guys walked over the Tigers 31-17. South Carolina forced six turnovers, and quarterback
Connor Shaw
impressed yet again with 246 yards of offense and two touchdowns. The BCS is out of reach for the Gamecocks, but they have a shot at three straight 11-win seasons.
5. LSU (9-3, 5-3 SEC; LW: 5):
This is easily the most confusing team to follow in 2013. The Tigers started hot, hit some bumps and then finished strong with an exciting 31-27 win over Arkansas. LSU was without starting quarterback
Zach Mettenberger
(knee) late, but it didn't matter, as freshman
Anthony Jennings
drove the Tigers 99 yards, with a 49-yard go-ahead touchdown pass with 1:15 left. This could be another double-digit-win season for the Tigers.
6. Texas A&M (8-4, 4-4 SEC; LW: 6):
Johnny Manziel
went from carving up defenses to being smothered in his last two outings. In Saturday's loss to Mizzou, Manziel was held to a season-low 216 total yards and a touchdown. The defense was gutted -- again -- allowing 225 rushing yards, including a 57-yard
Henry Josey
touchdown run with 3:34 remaining. It's been a long November in College Station, but at least Kevin Sumlin is locked up for the long haul.
7. Vanderbilt (8-4, 4-4 SEC; LW: 8):
Coach James Franklin might be near the top of USC's coaching list, but for now, he's doing a heck of a job as Vandy's coach. There's no wonder he's on the Trojans' radar. Vandy has won four straight, will make its third straight bowl game and is in line to win nine in back-to-back seasons. The Commodores didn't make it look easy against Wake Forest, but a
Carey Spear
field goal with 39 seconds left kept the Dores' winning streak alive.
8. Georgia (8-4, 5-3 SEC; LW: 9):
Another team that didn't want things to be easy over the weekend, Georgia needed double overtime to beat rival Georgia Tech. The Bulldogs' defense was pushed around for 495 yards, but the offense was there to bring the Dawgs back from deficits of 20-0 and 27-17. When you have a guy like
Todd Gurley
(158 total yards and four touchdowns), it doesn't matter who you have at quarterback.
9. Mississippi State (6-6, 3-5 SEC; LW: 10):
After being on the outside of the bowl picture just a couple of weeks ago, the Bulldogs rallied to win their last two, including an overtime victory against bitter rival Ole Miss on Thanksgiving. It wasn't the prettiest of games, but injured quarterback
Dak Prescott
came into the fourth quarter and threw for 115 yards, while running for 29, including the eventual winning 3-yard score. Dan Mullen has Mississippi State in the postseason for the fourth straight season.
10. Ole Miss (7-5, 3-5 SEC; LW: 7):
Oh, what could have been for this team. Not only have the Rebels lost two straight, but they allowed their archrivals to make it to the postseason. For a season that started 3-0, some poor play in the red zone -- especially near the goal line -- against Missouri and turnovers against Mississippi State cost Ole Miss in its final two games.
11. Tennessee (5-7, 2-6 SEC; LW: 11):
A long first year for Butch Jones ended with a nice 27-14 win over Kentucky. The Vols aren't going bowling, but now is the time when Jones has to ramp up the development phase and keep an already stellar recruiting class together. Remember, this team was a fake Vandy jump pass from a bowl berth.
12. Florida (4-8, 3-5 SEC; LW: 12):
The Gators' nightmare of a season ended with a 37-7 rout by rival Florida State inside the Swamp. Florida then fired embattled offensive coordinator Brent Pease and offensive line coach Tim Davis. Florida lost seven straight to end the season without scoring more than 20 points. And it isn't going bowling for the first time in 22 years and has its first losing season since 1979.
13. Arkansas (3-9, 0-8 SEC; LW: 13):
With that heartbreaking loss to LSU, the Razorbacks have dropped a school-record nine straight and went 0-8 in conference play for the first time. This team fought hard in its final act, but it's clear that development and recruiting need to amp up during the offseason if Bret Bielema is going to have a chance at really competing in this league.
14. Kentucky (2-10, 0-8 SEC; LW: 14):
The Wildcats have now gone 0-8 in SEC play in back-to-back seasons for the first time since 1941-42 and have lost 16 straight SEC games. Mark Stoops is building a pretty impressive recruiting class right now, but we all know it takes more than recruiting. The Wildcats need more than talent, as they took steps back on both sides of the ball late in the season.
ESPN Juco Top 50 Released