March, 25, 2015
Mar 25
9:00
AM ET
March, 24, 2015
Mar 24
10:00
AM ET
Attrition hit the SEC hard this offseason, for some more than others, but every school has a player moving on that left a mark, a player that can't easily be replaced. So we asked the question, which player will be missed most on every SEC team? And more importantly, how does that team plan to fill the void left behind?
First up in the two-part series is a look at the SEC East.
Florida: DE Dante Fowler Jr.

New defensive coordinator Geoff Collins will have his hands full trying to replace Fowler. The All-SEC star led the Gators last year in tackles for loss (15) and sacks (8.5), and it's going to take more than one player to replace that type of production. As Florida moves to a more traditional 4-3 scheme under Collins, defensive ends Alex McCalister and Bryan Cox Jr. will be responsible for getting to the quarterback. The two combined for 10 sacks last season. Five-star CeCe Jefferson is another name to watch, but he won't arrive on campus until the summer.
[+] Enlarge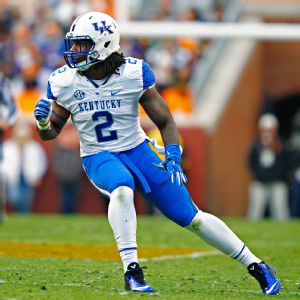 AP Photo/Wade PayneHow will Kentucky fill the void at defensive end with Alvin "Bud" Dupree out of the mix in 2015?
Georgia: C David Andrews

Don't get me wrong. Running back Todd Gurley will be missed. But Georgia has Nick Chubb, one of the nation's top rushers, coming back and that should help ease the pain of losing Gurley. But losing Andrews hurts. He played in 50 games during his UGA career and started every game the past three seasons. It will look a little different with somebody else snapping the ball, but Mark Richt has already tabbed Hunter Long and Isaiah Wynn as the two main contenders to win the job this spring. Long has the experience, but Wynn has more upside. Take your pick.
Kentucky: DE/LB Alvin "Bud" Dupree

There wasn't a better ambassador for Kentucky football over the past couple years than Dupree. And to think, he never even got to play in a bowl game. Now he's taking his game to the next level, and it's up to former ESPN 300 recruit Jason Hatcher to fill the void. Hatcher played some last season, finishing fourth on the team with 5.5 tackles for loss, but how will he fare as an every-down player? The Wildcats need him to be the elite pass-rusher they recruited out of high school if they want to take that next step and reach a bowl game.
Missouri: DE Shane Ray

Really, this could go to Ray or teammate Markus Golden. They formed the top defensive end duo in the SEC last season and played a major role in getting Missouri back to the SEC title game. With both moving on, who's next in line at D-Line Zou? Redshirt freshmen Marcus Loud and Charles Harris are the two most viable candidates, as the coaches are high on both, but junior-to-be Rickey Hatley will also be in the mix as will five-star recruit Terry Beckner Jr. when he enrolls this summer. Though at 6-foot-4, 298 pounds, Beckner is better suited to play inside.
South Carolina: QB Dylan Thompson

It was a disappointing season for South Carolina, but Thompson, in his first full year as the starter, led the SEC in passing with 3,564 yards. Coach Steve Spurrier probably wishes Thompson had one more year of eligibility. But instead the Head Ball Coach has to find a new quarterback this spring. Connor Mitch served as the primary backup last season and looks to be the early favorite to win the job, but he's no lock. Perry Orth and Michael Scarnecchia are competing this spring, and true freshman Lorenzo Nunez will have a say when he arrives this summer.
Tennessee: CB Justin Coleman

With more and more teams going to spread offenses, the nickel cornerback has become a valuable asset to SEC defenses. Coleman was a perfect example. As a senior, he led the team with four interceptions. Now Tennessee, who could have one of the top secondaries in the conference, has to find a new nickel corner. Rashaan Gaulden impressed as a freshman on special teams and could be a perfect fit with his size and instincts, but juniors Devaun Swafford and Malik Foreman will also get a look. Swafford played there in 2013.
Vanderbilt: LB Kyle Woestmann

Learning a new defense is not easy, let alone a new position. Just ask Woestmann, who moved from defensive end to linebacker last spring. But he was a gamer. He did it, no questions asked. The only problem now is that Woestmann has moved on. That means it's up to the likes of Stephen Weatherly and Jonathan Wynn to fill the void at outside linebacker. The good news is that both Weatherly and Wynn are already familiar with the position. In fact, Weatherly led the team with 12.5 tackles for loss while Wynn finished with 13 tackles and a sack.
March, 24, 2015
Mar 24
10:00
AM ET
BUFORD, Ga. -- Auburn and Georgia have been battling over top prospects in the Peach State for many a year. In the class of 2016, it's an uber talented collection of defensive linemen who will lead to what are sure to be bloodbath recruitments, and there is none bigger than 6-foot-6, 325-pound
Julian Rochester
.
The No. 32-ranked prospect in the ESPN Junior 300 has been considered an Auburn lean for some time due in large part to a very strong relationship between the dominant defensive lineman and Auburn assistant Rodney Garner.
March, 24, 2015
Mar 24
9:00
AM ET
Alabama returned from a 10-day break from practice on Monday, and one of the Crimson Tide's most intriguing players this spring worked at two different positions. Kenyan Drake, who broke his leg during a game last season, worked at both running back and at wide receiver during the media viewing periods on Monday. Drake flashed impressive rushing and receiving skills last season before suffering the devastating leg injury, so it's not exactly a surprise that he took some practice reps at both spots. What might be a bit surprising is how quickly he's already back on the field, roughly five months after the injury. If he returns to previous form by the time the season starts -- and those at Alabama seem optimistic that he will be -- his unique set of skills will make Lane Kiffin's offense much more dangerous this fall.
Add another chapter to the John Chavis-LSU squabble. LSU's legal team lobbed some grenades at Chavis -- the school's former defensive coordinator -- and his new employer, Texas A&M, in response to his lawsuit claiming that he does not owe LSU a buyout. According to a story in the Baton Rouge Advocate, LSU's response said that "Chavis happened to defect to Texas A&M to begin working for A&M before his service to LSU was complete. Notwithstanding the Aggies' dire need for defensive help, Chavis could have defected to a college or professional team in any state, or even a foreign country." Dang. "Dire need for defensive help?" Not that such a statement is false. A&M's defense has been atrocious for the last couple of years. But this situation has officially gotten ugly, with Chavis claiming that LSU owes him back pay and LSU insisting that he violated terms of his contract by refusing to pay a $400,000 buyout when he bolted for A&M after last season. It's going to make for an interesting subplot when these two programs meet in November.
Around the SEC
Tweet of the day
When Peyton met Hulk... pic.twitter.com/Lufop5S7kF

— Tennessee Football (@Vol_Football) March 23, 2015
March, 24, 2015
Mar 24
9:00
AM ET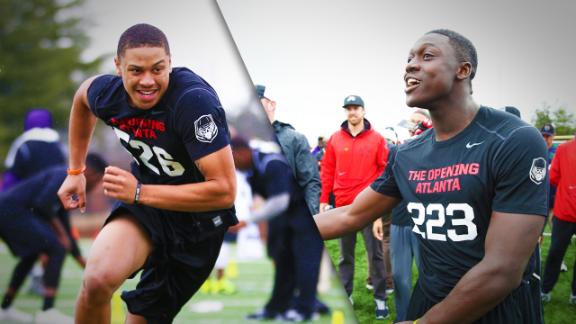 With more than 400 prospects in attendance at the Atlanta Nike The Opening regional camp on Sunday there were several trending topics scene and heard throughout the day. Here's a closer look at some of the top trends from Sunday's events.
To continue reading this article you must be an Insider
March, 23, 2015
Mar 23
11:45
AM ET
It didn't turn out how I thought it would. Then again, it never does when it comes to NCAA tournament time, so why should my fictional SEC football bracket be any different?
In what's become an annual tradition on the blog, Edward Aschoff and I seeded all 14 SEC teams to play out our very own spring tournament. Aschoff published his bracket earlier today, so now it's time for me to get in on the action.
It was a painstaking process -- filling out my 64-team bracket for the actual NCAA tournament was easier -- but I eventually got the seeding down and let the matchups dictate the rest.
I had upsets by NC State, UAB and Georgia State on my mind, so it's no coincidence that the underdog came out on top a few times.
Note: Since this tournament is based on the spring, injuries are taken into account.
[+] Enlarge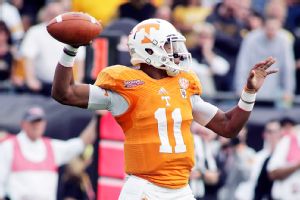 Phil Sears/USA TODAY SportsVolunteers QB Joshua Dobbs has a bounty of talented pass-catchers to throw to in 2015.
FIRST ROUND
In Memphis, Tennessee
No. 3 Alabama vs. No. 14 Vanderbilt: Who's Nick Saban's quarterback? Who cares? With one of the best D-lines in college football and an O-line that should come together nicely, Alabama has the right ingredients to control games where it counts most: in the trenches. The Commodores are better than in 2014 and they're benefitted by Alabama being without starting cornerback Cyrus Jones and starting linebacker Denzel Devall, but in the end they don't stand a chance. Winner: Alabama
No. 6 Arkansas vs. No. 11 Florida: Losing Alex Collins for the first round due to an appendectomy hurts, but Jonathan Williams is more than capable of carrying Arkansas' offense. And with an even bigger and better offensive line, the Hogs impose their will on the Gators, who are still learning the ropes under new coach Jim McElwain. Winner: Arkansas
In Kansas City, Missouri
No. 4 Tennessee vs. No. 13 Kentucky: Butch Jones' Vols might be a year away from competing for a national title, but the SEC East is another story. With a slew of talented pass-catchers (Marquez North, Pig Howard, Von Pearson, Josh Malone, Ethan Wolf) and a running back that's a safe bet to reach 1,000 yards (Jalen Hurd), quarterback Josh Dobbs orchestrates an offense that leaves Kentucky feeling dizzy. Winner: Tennessee
No. 5 Mississippi State vs. No. 12 South Carolina: Steve Spurrier crumpled up his 2014 defense and threw it in the trash, bringing in a new co-coordinator and a number of junior college transfers. But it won't be enough to stop the SEC's leading Heisman Trophy contender, Dak Prescott, who wills the Bulldogs to a first-round win. Winner: Mississippi State
In Jacksonville, Florida
No. 7 Ole Miss vs. No. 10 Texas A&M: The Aggies' defense doesn't need to be the best in the conference to win games. It takes some time, but John Chavis coaxes marginal improvement out of that side of the ball, enough that Kyle Allen and the high-flying offense earn the upset over the Rebs. Winner: Texas A&M
No. 8 Missouri vs. No. 9 LSU: This is a bad matchup for Missouri, which should find itself in the thick of the SEC East race yet again in 2015. But it hits a buzzsaw as Leonard Fournette negates its pass-rush by running right at it and its QB struggles by throwing too many risky passes into LSU's opportunistic secondary. Winner: LSU
SECOND ROUND
In Charlotte, North Carolina
No. 1 Georgia vs. No. 9 LSU: All the wins and all the NFL-level talent don't mean much when put up against Georgia's nine-year drought of failing to win an SEC title game. Losing the big game has become all too familiar, whether you look at a loss to Georgia Tech last season or go further back to a four-point loss to Alabama in 2012. And in this matchup, it will be more of the same as Nick Chubb's 200 yards isn't enough. Fournette breaks the century mark rushing, Travin Dural hits a few long-balls over the top of the defense and a field goal in overtime sends LSU to the semifinals. Winner: LSU
In Orlando, Florida
No. 4 Tennessee vs. No. 5 Mississippi State: You can't give a team like Tennessee an inch, because when they start believing and gaining confidence in themselves, they're scary. Mississippi State will learn that lesson the hard way as its defense struggles and its quarterback is dinged up early, putting it in a hole it can never quite come out of. Winner: Tennessee
In Houston
[+] Enlarge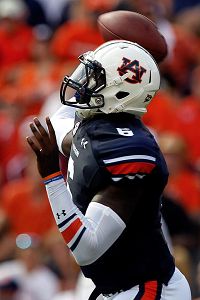 AP Photo/Butch DillAuburn QB Jeremy Johnson is sure to surpass his 436 total yards passing from last season.
No. 2 Auburn vs. No. 10 Texas A&M: Change out the light bulbs in the scoreboard before we get this one started. It's going to be a barn-burner. Neither team plays much defense and in the end, it's Auburn's balance on offense that tips the scales in the Tigers' favor as Jeremy Johnson throws for 300 yards and Jovon Robinson and Roc Thomas team up for 200 yards on the ground. Winner: Auburn
In New Orleans
No. 3 Alabama vs. No. 6 Arkansas: Remember what I said about who the QB is, not mattering for Alabama? Scratch that. In a close game it will. Arkansas runs the ball to control the tempo, keeps it a low-scoring affair and gets a late interception to sub out last season's one-point loss for this year's one-point win. Winner: Arkansas
SEMIFINALS
In Arlington, Texas
No. 2 Auburn vs. No. 9 LSU: This is the game where Will Muschamp earns his paycheck, stacking the Auburn defense against the run and forcing LSU to be one-dimensional. Brandon Harris is pulled in favor of Anthony Jennings early, but it makes no difference. Auburn's offense struggles to less than 300 yards, but wins the turnover battle to advance. Winner: Auburn
In Nashville, Tennessee
No. 4 Tennessee vs. No. 6 Arkansas: Ground-and-pound works, but only if you have the defense to back it up. And as it turns out, Arkansas doesn't against Tennessee. The Vols jump out to a two-touchdown lead in their home state and the Razorbacks don't have the firepower in the passing game to claw their way back, falling just short of a Cinderella season. Winner: Tennessee
SEC CHAMPIONSHIP
In Atlanta
No. 2 Auburn vs. No. 4 Tennessee: The Tigers have been on the big stage before and the Vols have not, and that's no small matter. So while Tennessee is able to score quickly against Auburn and jump out to another double-digit lead, it's not enough. Jones' offense goes stale in the second half while Gus Malzahn's uptempo attack gets hot, demoralizing the young Vols with a 21-0 run in the fourth quarter to win. Winner: Auburn
March, 23, 2015
Mar 23
11:31
AM ET
The NCAA tournament has hit the SEC, even if the conference just has one team to root for in the Big Dance.
But we here at the SEC blog are all about the madness and wanted to continue a fun tradition that gives us our own fictional March tournament. Today, we are unveiling our SEC football brackets in honor of this week's Sweet 16.
Esteemed colleague Alex Scarborough and I have seeded all 14 SEC teams in a tournament of our own to crown our rightful spring SEC champion(s).
The first College Football Playoff did a great job of exciting the masses, but imagine if we had even more teams. I'll show off my seedings and bracket first, and Alex will post his later.
After letting my cat Meeko take over most of the responsibility with this whole thing, here are my seeds for all 14 teams:
Auburn
Georgia
Alabama
Ole Miss
Arkansas
Tennessee
LSU
Texas A&M
Missouri
Mississippi State
South Carolina
Florida
Kentucky
Vanderbilt
FIRST ROUND
In Memphis, Tennessee
[+] Enlarge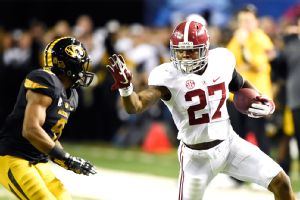 John David Mercer/USA TODAY SportsAlabama RB Derrick Henry looks to build on a promising sophomore season in which he averaged 5.8 yards per carry.
No. 3 Alabama vs. No. 14 Vanderbilt: This year's NCAA tournament saw two 14 seeds topple No. 3 seeds. That ain't happening in our bracket. Both teams are trying to figure things out at quarterback, but Alabama just has too much talent all around. Bama running back Derrick Henry will make quick work of Vandy's defense, giving OC Lane Kiffin the option to play every QB the Crimson Tide has. Winner: Alabama
No. 6 Tennessee vs. No. 11 South Carolina: The Vols are a trendy pick in the SEC East this year, and it makes sense when you realize Tennessee brings back 18 starters. South Carolina was a mess on defense last year and has its own quarterback battle to worry about. The Vols have rising star Josh Dobbs at QB and stud running back Jalen Hurd to lead the offense. The Gamecocks will have flashbacks of that horrendous fourth quarter against the Vols last fall. Winner: Tennessee
In Kansas City, Missouri


No. 4 Ole Miss vs. No. 13 Kentucky: Shocker, another SEC team with a quarterback issues, but we expect Chad Kelly to get most of the snaps in his game. Not having Laquon Treadwell (leg) will take a major part of the passing game away, but Cody Core will make a couple of big plays on Kentucky's defense, which will open things up for Jaylen Walton to slice up Kentucky's rebuilt defensive line. Winner: Ole Miss
No. 5 Arkansas vs. No. 12 Florida: Ah, the classic 12-5 upset. This has been such a fun pick to make in the NCAA tournament, but like this year's Big Dance, we'll have no 12-seed waltzing into the second round. Florida's offense is under construction, and even with Alex Collins recovering from an appendectomy, Johnathan Williams will tire out Florida's front seven, and the Hogs will force a couple of turnovers. Winner: Arkansas
In Jacksonville, Florida
No. 7 LSU vs. No. 10 Mississippi State: These aren't the same Bulldogs who pulled off an upset in Death Valley last year. However, LSU doesn't have the best quarterback situation. I think Brandon Harris gets the majority of the snaps and Leonard Fournette wears down the Bulldogs' line, but in the tournament you need a solid point guard, and that's where quarterback Dak Prescott comes in. LSU's lack of a pass rush gives Prescott the time he needs to lead a game-winning drive. Winner: Mississippi State
No. 8 Missouri vs. No. 9 Texas A&M: We get a little Big 12 feel with this game. The Tigers have won back-to-back SEC East titles, but don't have elite talent at defensive end this spring, and quarterback Maty Mauk has a completely rebuilt receiving corps to work with. The Aggies got a major defensive upgrade with the hiring of John Chavis, and he'll be the difference. Quarterback Kyle Allen will make some plays, and we'll finally see a defensive stand by the Aggies! Winners: Texas A&M
SECOND ROUND
In Charlotte, North Carolina
[+] Enlarge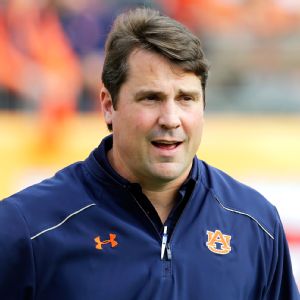 AP Photo/Chris O'MearaWill Muschamp takes over an Auburn passing defense that was ranked 86th in yards per game allowed last season.
No. 1 Auburn vs. No. 9 Texas A&M: Oh baby, we have a battle of new defensive coordinators. Chavis vs. Will Muschamp. This one should be one of the more exciting games of the tournament, but the Tigers will have a more balanced offense with Jovon Robinson and Roc Thomas beating down that A&M front and quarterback Jeremy Johnson making plays on the Aggies' secondary. Winner: Auburn
In Orlando, Florida
No. 2 Georgia vs. No. 10 Mississippi State: Georgia will start the game with Brice Ramsey at quarterback, but will use Jacob Park in special packages. But does it really matter? With Mississippi State trying to figure some things out up front, running back Nick Chubb will have a field day with that defense. Georgia won't need to throw much with Chubb going to work and the defense forcing key turnovers. Winner: Georgia
In Houston
No. 4 Ole Miss vs. No. 5 Arkansas: Last year's game didn't go so well for the Rebels, and they'll have another tough go down in H-Town. With Ole Miss' defensive line clamping down on the Hogs' running game, Arkansas will have to get more out of Brandon Allen. This is where we see the maturation of Allen's game inside new offensive coordinator Dan Enos' more spread-out passing offense. Winner: Arkansas
In New Orleans
No. 3 Alabama vs. No. 6 Tennessee: The Vols haven't beaten Alabama since 2006, but the Tide will have to settle on a quarterback in this game. I'm going with Jake Coker, who will have his hands full with pass-rusher Derek Barnett and one of the SEC's best secondary duos in Brian Randolph and Cameron Sutton. A Dobbs to Marquez North touchdown late is the difference in Tennessee's upset win. Winner: Tennessee
FINAL FOUR
In Arlington, Texas
No. 1 Auburn vs. No. 5 Arkansas: This could be the best game of the bunch: Auburn's potent uptempo offense vs. Arkansas' downhill, sledgehammer approach. Quarterback play will be essential in this game, and the key matchup to watch is Auburn edge rusher Carl Lawson against Arkansas LT Denver Kirkland, who just made the position switch this spring. Lawson is coming back from an ACL injury, but he's up to speed. Auburn's line will hold Arkansas' rushing attack back -- even with the return of Collins -- but Auburn's ability to force turnovers will be the difference. Winner: Auburn
In Nashville, Tennessee
No. 2 Georgia vs. No. 6 Tennessee: A great SEC East rivalry makes it to the Final Four, and Georgia's questions at quarterback remain. This will be the battle of pass-rushers, with Barnett trying to frustrate the Dawgs' backfield, and Georgia's trio of Leonard Floyd, Jordan Jenkins and Lorenzo Carter hunting Dobbs. The Dawgs will get to Dobbs a few times, but having four reliable receivers in the fold will push Tennessee's offense. Dobbs works some fourth-quarter magic to pull another upset. Winner: Tennessee
SEC CHAMPIONSHIP
In Atlanta
No. 1 Auburn vs. No. 6 Tennessee: Will time run out on our Creamsicle-colored Cinderella? To this point, Dobbs has been exceptional through the Vols' run, but Auburn's defense is getting more comfortable with Muschamp's scheme and teachings. Running the football will be a major advantage for Auburn with that pace and space. That's where the Tigers put it away. With Robinson and Thomas wearing down Tennessee's line, Johnson makes plays with freak receiver Duke Williams, bringing an SEC title back to the Plains. Winner: Auburn
March, 23, 2015
Mar 23
10:00
AM ET
BUFORD, Ga. -- At 6-foot-4 and 235 pounds, ESPN Junior 300 linebacker
Ben Davis
certainly looks the part of a big-time college football linebacker. And at the Atlanta Nike regional camp on Sunday, Davis played like it, too.
The Gordo (Ala.) High School product was one of the most impressive linebackers in attendance, which is why many schools around the country have made Davis a top priority. Prior to the camp, however, Davis took a short detour over to Athens, Georgia, to check out the Bulldogs on Saturday.
To continue reading this article you must be an Insider
March, 23, 2015
Mar 23
9:00
AM ET
BUFORD, Ga. -- Temperatures in the 50's on a rainy day didn't keep more than 400 prospects from coming out to the Nike The Opening Atlanta Regional Camp on Sunday with hopes of receiving an invite to The Opening in Beaverton, Oregon.
Though the performances of the prospects were at the forefront, there were plenty of recruiting notes and some subtle messages delivered by prospects before the event began.
#ESPNJr300 WR's #Clemson commit TJ Chase & #SouthCarolina verbal Kyle Davis at Atlanta #GetOpen pic.twitter.com/4CCy1nb2mq

— Gerry Hamilton (@HamiltonESPN) March 22, 2015
One of the best pictures of the day was ESPN Junior 300 wide receivers Tavares Chase and Kyle Davis. They could become rivals at the next level with Chase being committed to Clemson and Davis to South Carolina. The kink in the chain is the 6-foot-3, 215-pound Davis being a very "soft" verbal to the Gamecocks with Georgia, Auburn, and Tennessee all being in the mix. Though Chase was decked out in Clemson gear, Davis was very neutral. In this case, a picture is definitely worth a thousand words considering Davis sounded like anything but a solid pledge Sunday.
To continue reading this article you must be an Insider
March, 22, 2015
Mar 22
5:45
PM ET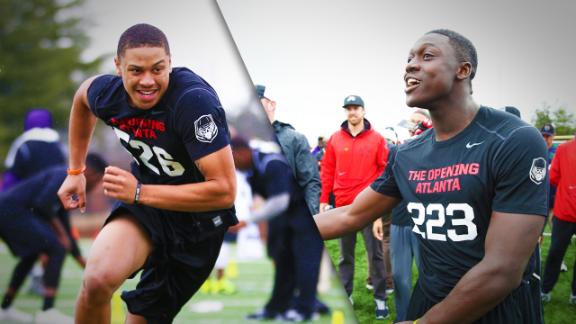 BUFORD, Ga. - Despite the cold and rainy weather conditions, more than 400 prospects from all over the Southeast made the trip to Buford High School for the Nike The Opening Regional Camp on Sunday.
[+] Enlarge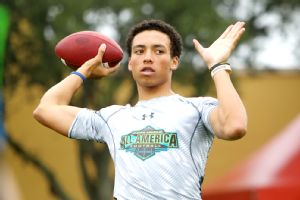 Miller Safrit/ESPNFlorida State quarterback pledge Malik Henry was among the prospects earning invitations to The Opening.
With less than ideal conditions for throwing the ball, several quarterbacks and wide receivers -- including
Malik Henry
,
David Moore
,
Josh Imatorbhebehe
,
Freddie Swain
,
Tre Nixon
and several other players -- had standout performances at the camp.
Swain, the No. 214 prospect in the ESPN Junior 300, was one of the most impressive receivers and took home the wide receiver MVP as well as an invitation to The Opening. The 6-foot, 170-pound athlete from Citra (Florida) North Marion High School took advantage of his trip to Atlanta by visiting the University of Georgia on Saturday before attending the Nike camp. The visit turned out to be a success for the talented receiver.
"I just got offered by Georgia yesterday on my visit," Swain said. "It was a lot of fun and I got to meet with coach Richt. He just said to keep working hard and he'll see me in the spring."
To continue reading this article you must be an Insider
March, 19, 2015
Mar 19
9:00
AM ET
It's tournament time. Before you call in sick for work (wink, wink), how about we take a quick look around the SEC?
Tweet of the day
There goes Steve Spurrier hatin' again ...
HBC called 7-6 in 2014 "a decent year." Then: "In Knoxville, they're still doing cartwheels because they went 7-6 and won a bowl game."

— Paul Myerberg (@PaulMyerberg) March 18, 2015
March, 18, 2015
Mar 18
4:45
PM ET
The path of a righteous journalist is paved with a straight and narrow avenue of objectivity. It should be the central mindset of any journalist trying to perfect his or her craft.
However, there are times when you just can't help but cheer. The professionalism needed for your job isn't flushed away, though. Not in these situations.
I'm not talking about rooting for a team or a particular outcome for a game. I'm talking about rooting for a specific athlete, more importantly, rooting for the return of a specific athlete.
[+] Enlarge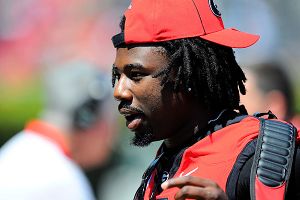 Dale Zanine/USA TODAY SportsKeith Marshall has seen action in only eight games over the past two seasons due to injuries.
That brings us to Georgia running back Keith Marshall, whose infectious smile and soft-spoken manner will have you taking a budding interest in him from the start. The once elite recruit, who dazzled as a freshman in 2012, has spent the last two years dealing with various injuries, including a devastating knee injury that cut his 2013 season short after just five games. It's hard not to feel for him.
Last year, Marshall played in just three games -- rushing for 24 yards on 12 carries -- after injuring both his knee and ankle in the Dawgs' blowout win over Troy on Sept. 20. The scene of him limping near Georgia's locker room on crutches after the game was heartbreaking. What would be even more unfortunate was the fact that Marshall wouldn't hit the field again for the Dawgs in 2014.
It doesn't matter what you do or what team you root for, it has to tug at your heart when you see something like that.
But here we are at the start of Georgia's spring practice, and Marshall is running around full-go. There's no hesitation, no limp and no holding him back.
"Marshall is in a situation of no limitations and I think he is getting back in playing shape," coach Mark Richt said after Tuesday's practice.
And now we reach the point where you can't help but root for Marshall to stay healthy and get back to the level that made him such a formidable rushing option for the Dawgs back in 2012. Marshall is one of the good guys, a tremendous player when healthy and a fine human away from the playing field. Adding Marshall back to Georgia's backfield could give the Bulldogs one of the best running back units in the country. Don't forget that sophomore-to-be Sony Michel returns after rushing for 410 yards and five touchdowns last season.
Add a third weapon to the bunch like Marshall, and Georgia might not even need to throw the ball this fall.
"He's back. Keith Marshall is back and I'm excited about that," star running back Nick Chubb told the Atlanta Journal-Constitution. "I look forward to Keith having a great year."
Opponents might differ on that as it relates to future contests against Marshall, but as a whole, I think most people who know Marshall -- or at least know his story -- are rooting for him to bounce back in 2015.
Peach State: Top Tier Recruiting Ground?
SEC SCOREBOARD
Thursday, 9/3
Saturday, 9/5