April, 17, 2014
Apr 17
8:59
AM ET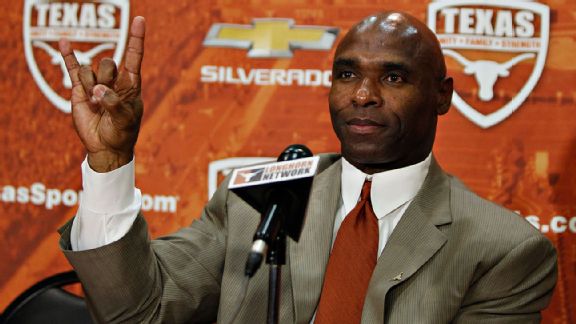 Erich Schlegel/Getty ImagesCharlie Strong has said he will reinforce an up-tempo offense with the Longhorns.
If you are unaware, Charlie Strong has the reputation of being someone who does not exactly like to show his cards. It's why some coaches I know wondered how the guarded, introverted coach would fare with a spotlight as bright as the one at the University of Texas.
We'll see, in time, but give him this: Strong was up front in saying the Longhorns will embrace an up-tempo offense, the same style that has worked, and mostly worked well, for years in the Big 12.
"I want to play fast," Strong said earlier this month as we talked in a conference room adjacent to his plush new office, the one that belonged to Mack Brown for a decade and a half. "For me, it starts at practice. I just don't like guys sitting round, not running on and off the field."
As spring workouts wind down, Texas leads our discussion of scheme changes and tweaks in college football.
Brown had promised a year ago that the Longhorns would, like the majority of their conference peers, move the offense at a faster pace.
To continue reading this article you must be an Insider
April, 16, 2014
Apr 16
6:41
PM ET
Associated Press
ATHENS, Ga. -- Quarterback Aaron Murray still has some convincing to do after undergoing reconstructive knee surgery in late November.
Even so, Murray believes he alleviated many potential concerns about his health after working out in front of 23 NFL teams at Georgia's pro day Wednesday.
Murray said he felt "no limitations" despite wearing a brace on his left knee. Murray hopes that some scouts will recommend him as a second-round draft pick after his scripted workout that included 54 passes to several receivers on a windy, chilly morning.
"We did a lot of throws on the run, left and right, to demonstrate my ability to cut off my leg and show everyone that I'm healthy," he said. "That way these teams don't have to worry about if they draft me that I'm going to have to sit out or anything like that."
Murray likewise understands that he could be the ninth quarterback taken and could fall into the fourth or fifth round.
But Murray says that NFL teams are impressed with his resume at Georgia -- 52 starts and Southeastern Conference career passing records for yards and touchdowns.
In conversations with former Georgia stars A.J. Green, a Pro Bowl receiver with Cincinnati, and Matthew Stafford, the Detroit Lions' quarterback, Murray has been reassured that NFL teams value a successful career in the SEC.
"Obviously it's not the NFL, but it's the closest thing to it when it comes to college football," Murray said. "That helps us after playing against these top (opponents) week in and week out, gets us ready for the NFL."
Green, among a couple hundred onlookers at the Bulldogs' practice fields, thought his former teammate appeared sharp, particularly given the severity of his injury and how soon he's returned to the field.
April, 16, 2014
Apr 16
4:35
PM ET
ATHENS, Ga. -- Like former Georgia teammate
Zach Mettenberger
a week before him,
Aaron Murray
wanted to prove that he's close to full health at the Bulldogs' pro day on Wednesday -- his first public passing session since tearing his left ACL last November.
Although he didn't attempt more than 100 throws like Mettenberger did at LSU's pro day last week, Murray's battery of agility drills and a wide range of drops, rollouts and throws showed that he should be physically ready to compete when his future team opens rookie camp.
[+] Enlarge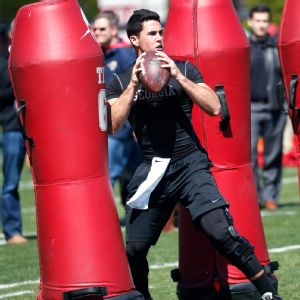 AP Photo/John BazemoreAt Wednesday's pro day, Aaron Murray didn't show ill affects from his November ACL injury.
"I think I've shown everyone that they don't have to worry about my injury, that it's not going to stop me from being able to compete this year," Murray said. "Now it's just a matter of what teams like me, what teams don't and is one going to draft me."
Murray completed 48 of 54 throws with three drops in Wednesday's passing session, which was directed by quarterback guru and former NFL assistant Terry Shea. Among Shea's previous pre-draft clients are No. 1 overall picks Matthew Stafford and Sam Bradford and No. 2 pick Robert Griffin III.
"I thought it went very well," Shea said. "In four weeks that we've been together, I've never seen him favor that knee or anything. So I'm really excited that he's healthy."
In fact, Murray is apparently ahead of schedule in his recovery. Trevor Moawad, vice president at the EXOS/Athletes' Performance facilities where Murray conducted his offseason workouts, said the training staff followed a similar rehab schedule as they did with Bradford, who was also coming off an injury when preparing for the 2010 draft.
"I think he's ahead of probably where he should be at this time and I think come May 8 after the draft, I think he's going to be able to show up at a team and be right where he needs to be," Moawad said.
Murray was the featured attraction at Wednesday's sparsely attended pro day, which represented a significant change from last year, when the Bulldogs had eight players drafted -- four in the first 85 picks -- and three more who made NFL rosters as undrafted free agents.
Murray (No. 129) is the only Bulldog listed among ESPN's top 150 draft prospects, and only he and tight end
Arthur Lynch
received invitations to the NFL combine. Nonetheless, 15 former Bulldogs worked out Wednesday before the 23 NFL teams that had representatives on hand -- many of whom still harbor hopes of becoming late-round selections or undrafted free agents.
That group included offensive guards
Chris Burnette
and
Dallas Lee
, both of whom snapped to the quarterbacks during passing drills, showing off what they hope teams will view as positional versatility.
"I feel like you get to the next level, they want to have a guy who's a swingman, who can play multiple positions," said Burnette, rated by ESPN as the draft's No. 19 guard prospect. "I don't want to limit myself to guard. I've had a little bit of experience playing center, so I tried to focus on my snaps and stuff like that during this time off. I think it was good for me to be able to do that."
Another player hoping to catch an NFL club's eye was defensive lineman
Garrison Smith
, who ranked fourth on the team with 63 tackles and added six sacks and 10 tackles for a loss. Smith is hardly a flashy player, but said scouts who pay close attention to his performances on film will see an NFL-caliber player.
"I can do it all. I can look good in a T-shirt, I can look good in the birthday suit, it don't matter. But I'm a football player," joked Smith, rated by ESPN as the No. 34 defensive tackle prospect. "When them pads get on, it gets real serious. In them trenches, ask about me down there. I've got a lot of respect down there and I made a lot of plays.
"Look at game film, look at my stats. I had good games against good teams this year. I didn't have no amazing games against teams that they say were less of opponents. I had good games against Florida, LSU, Tennessee. They're supposed to have one of the best offensive lines in the country. Watch the film. That's all I want people to see: I'm a good player."
Bulldogs coach Mark Richt agreed with his former player's assessment, noting that he would not be surprised to see Smith find a way to stick on an NFL roster like the three undrafted Bulldogs -- receiver
Marlon Brown
and defensive linemen Kwame Geathers and Abry Jones -- did a year ago.
"People will see his film. They'll see his productivity," Richt said. "From what I'm hearing, if he doesn't get drafted, he's going to get into a camp and get a chance to make it. We had Geathers last year didn't get drafted and made a team. We had Abry Jones, I don't think he was drafted [and] he made a team. I'm hoping he gets drafted, but if he doesn't, he'll get in camp and I think he'll find a way to stick."
April, 16, 2014
Apr 16
12:00
PM ET
Finish your taxes on time? Then sit back and enjoy Wednesday's lunch links.
April, 16, 2014
Apr 16
11:45
AM ET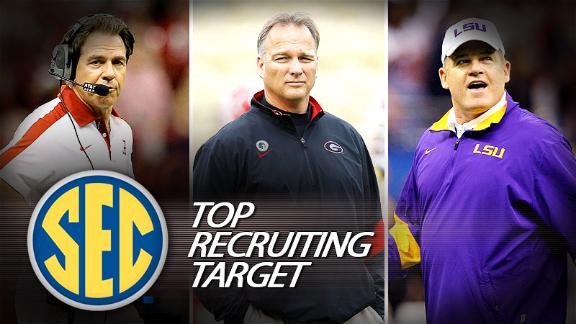 With Wednesday's release of the
2015 ESPN 300
, here is a look at five top targets for the top conference in college football.
To continue reading this article you must be an Insider
April, 15, 2014
Apr 15
12:00
PM ET
April, 14, 2014
Apr 14
1:15
PM ET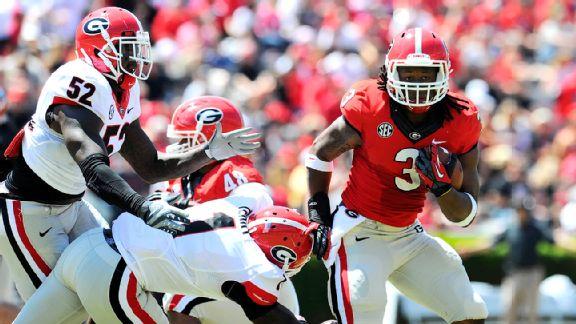 ATHENS, Ga. -- Try as he might, Georgia running back
Todd Gurley
just couldn't find his legs.
The usual sledgehammer of a player -- so used to ramming through and trampling defenders – felt frail and out of shape during his first few spring practices. That came after he returned from complications stemming from a nagging ankle injury that plagued him for most of the 2013 season.
"The first three practices, every time somebody touched me I kept falling to the ground," Gurley told ESPN.com last week. "… My legs were just weak.
[+] Enlarge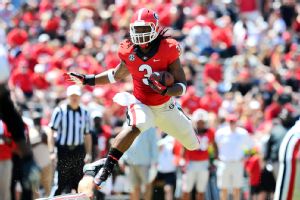 Dale Zanine/USA TODAY SportsTodd Gurley shook off some spring woes and plans on being a more vocal leader going forward.
"It was frustrating. Every time I tried to do a move or cut, somebody would just touch me and I'd just fall to the ground. I probably fell at least, like, 10 times in those first three practices."
Gurley, who has rushed for 2,374 career yards in two seasons with the Bulldogs, is a tank whose human side has failed him at times. He was held out of postseason workouts and drills as he tried to recover from a 15-inch high ankle sprain he originally suffered at the end of September in a back-and-forth win over LSU.
"That game, I felt perfect," Gurley said with a hint of bitterness in his tone. "I felt perfect running and I was the right size and [had the right] speed. I felt like I was going to have one of the best games of my life. When it happened, I was like, 'Dang.'"
Gurley missed three straight games after that -- a stretch in which Georgia went 1-2 -- and hasn't been 100 percent since. A leaner Gurley hobbled into spring practice, but eyebrows were raised at the sense that Gurley wasn't pushing himself hard enough and that his desire wasn't there.
"The really great players, they have to love to practice," offensive coordinator Mike Bobo said.
"None of [them] has arrived. You have to work. You're either going to get better or worse every day; you're not going to stay the same. Him going out there and trying to get better every day is going to make him and us better."
Gurley admits his energy was lacking. Spring practice wasn't pressing or exciting. But the coaches needed more from Gurley, and a conversation between Gurley and head coach Mark Richt a week before the Bulldogs' spring game helped deliver that.
"Even though he may feel that way, he still has to give effort on a daily basis to become great," Richt said of Gurley's early spring attitude. "Those were some of the things we talked about, and he was awesome with it and did well."
Gurley showed more effort during the final week, pushing his two-hour practices to the limit, before capping the spring with 70 total yards of offense and a touchdown in Georgia's spring game. His touches were limited, but he ran with fire and purpose. He pounded his teammates and fought for extra yards.
"Everything's starting to get better, slowly but surely," Gurley said. "It's been a while since I've been healthy, but it's slowly getting there."
When Gurley is at his best, he's in a class of his own. It's rare for someone with his size (6-foot-1, 232 pounds) to cut and explode like he does. Gurley punishes defenders with his strength and embarrasses them with his moves and breakaway speed. He'd easily have more than just 13 career 100-plus-yard rushing games if his body would cooperate.
But Gurley's physical side is only part of what could make him a truly special back. The way he carries himself and how he instructs those around him will go a long way as well.
This spring, his coaches pushed him to bring more energy and leadership. More of a leader by example, Gurley said he opened his mouth this spring. He got more serious and wanted to make sure younger players followed him for the right reasons.
"This Todd is doing a better job of leading," quarterback
Hutson Mason
said. "We feel like as long as he's in shape, he's healthy and he's strong, he's the best back in the country."
Aaron Murray
is gone.
Keith Marshall
's status is still up in the air after that devastating ACL injury. The spotlight is fixed on Gurley more than ever before, and he says he's ready to shine even brighter in a year that could be his last in Athens.
That idea has served as a distraction. Gurley equates this upcoming season to his senior year in high school when some around him told him not to work as hard because he was already headed to college. Save his body, they said.
It makes sense to some, but that's not Gurley's concern, he said. He doesn't want to take time or plays off to save up for the NFL. Gurley has more to prove. He wants more yards. He wants records. And he wants wins and at least one championship.
Resting won't bring any of that.
"That's never been the case for me," Gurley said. "The NFL isn't going anywhere. It's not like I'm going to be getting drafted [this fall]. I just have to make sure I'm focused on now and getting better every day so that can help me out for my future and basically doing it for my team."
April, 14, 2014
Apr 14
10:00
AM ET
ATHENS, Ga. -- Once again, Georgia took home the victory on G-Day.
The Bulldogs' annual spring game ended with the Red Team, comprised mostly of the first-team offense, defeating the Black Team, headed by most of the first-team defense, 27-24 in front of an announced crowd of 46,073 inside Sanford Stadium.
You can learn only so much from spring games, but there are always some nuggets here and there that you can take away from them.
[+] Enlarge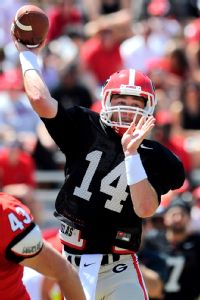 Dale Zanine/USA TODAY SportsHutson Mason looked in full command of the offense in Georgia's spring game.
Here are five things we learned from Georgia's G-Day:
1. Mason looks pretty comfortable:
It's easy when the quarterback isn't getting hit, but
Hutson Mason
looked very comfortable on Saturday. He was quick with his delivery, very accurate and very sharp. Again, he wasn't asked to do too much, but you can tell that he's more than comfortable running coordinator Mike Bobo's offense. I mean, he has been there for what feels like a decade now, so he better be. Even without some of his best targets in
Malcolm Mitchell
and
Justin Scott-Wesley
(both were out this spring recovering from ACL injuries), he didn't skip a beat, as he passed for 241 yards and a touchdown on 18 of 27. "I felt good about my accuracy and my completions," Mason said. "Just wish I would have thrown the deep ball a little better."
2. Floyd and Johnson could be a solid combo:
There's no question that Georgia's defense still needs a lot of work. The secondary had its issues and the defensive line is still looking for more playmakers. But one thing that really stood out on Saturday was the play of defensive lineman
Toby Johnson
and linebacker
Leonard Floyd
. Both required constant double teams on Saturday. We all knew Floyd had the potential to be a very, very special player, and he constantly harassed the Red Team's quarterbacks. He finished with six tackles and broke up two passes. Floyd can play with his hand down when the Dawgs are in a 4-3 formation or at outside linebacker in a 3-4. As for Johnson, he could be one to watch for the Dawgs this year. He made his way to the quarterback early and often in the game before the Black Team's line adjusted to put an extra body on him. Still, he was able to break through even with that extra set of arms to battle.
3. Gurley ran with purpose:
There has been plenty of talk this spring about running back
Todd Gurley
's toughness, but he didn't look like he was holding back on Saturday. While he was limited to just six rushes (32 yards and a touchdown) and caught three passes (38 yards), Gurley was trying his hardest to bowl guys over. Coach Mark Richt sat Gurley down earlier in the spring to talk about his toughness and his practice habits, and it clearly paid off. Gurley didn't look hesitant, despite still not being 100 percent with nagging ankle issues. We don't know if Gurley will ever truly be healthy at Georgia, but it's a good sign that he doesn't have an issue playing through pain. He just wanted to deliver it Saturday.
4. Battle for No. 2 continues:
Mason is clearly Georgia's starting quarterback, but the fight behind him should be a fun one for the months to come. It's down to redshirt sophomore
Faton Bauta
and redshirt freshman
Brice Ramsey
. On Saturday, Bauta was the more impressive of the two, passing for 232 yards and two touchdowns with an interception. Ramsey, who suited up for both teams, finished with 78 total yards and an interception on 2 of 13 passing. While Ramsey wasn't as accurate as he'd like to be, he has a cannon of an arm and might have the most arm talent on the team. He just has to get that thing under control before he can take another step in the process. "I obviously could have thrown it a lot better, but at the same time I feel good about my performance," Ramsey said. "I was picking up blitzes, making the right reads. I just need to put the ball on. I had a bad day throwing." As for Bauta, he shed the black non-contact jersey in order to take some contact and finish plays after defenders got their hands on him. He was certainly a lot more efficient than Ramsey, but he said he knows that he can't slow down when it comes to winning this job before the fall.
5. The secondary has a ways to go:
New defensive coordinator Jeremy Pruitt will have his hands full with Georgia's secondary. A unit that surrendered 227 passing yards per game and 18 touchdowns last year showed some of the same issues it had last season during the spring game. Now, injuries to guys like
Tray Matthews
and
J.J. Green
, who was at running back last year, contributed to that, but the offenses were able to make too many big plays in the passing game. If not for a couple of overthrown deep balls, the offenses could have put up a few more points. It didn't help that the defenses were called for six pass interference penalties with half of the starting receivers out. Six players averaged 15 or more yards per reception against the secondary on Saturday. "We're getting better," cornerback
Damian Swann
said. "Everything that happened today can be fixed, and that's why you have games like this. ... I think we did pretty good as a secondary."
April, 12, 2014
Apr 12
4:59
PM ET
By
ESPN.com staff
| ESPN.com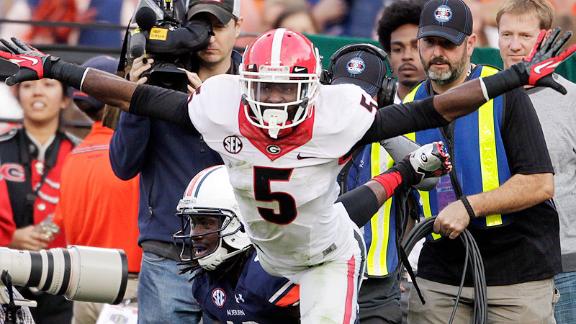 Edward Aschoff talks to Georgia cornerback
Damian Swann
about the secondary's play this spring and in Saturday's spring game.
April, 10, 2014
Apr 10
2:27
PM ET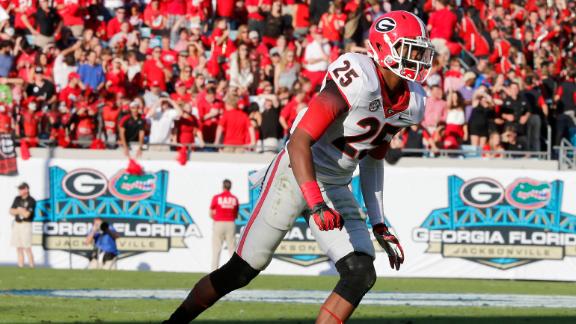 Former Georgia safety Josh Harvey-Clemons plans to transfer to Louisville and reunite with former Bulldogs defensive coordinator Todd Grantham.
A source at Louisville confirmed Harvey-Clemons' transfer plans to ESPN.com. His grandfather, Woodrow Clemons, told InsideTheVille.com that Harvey-Clemons "wants to stick with Coach Grantham and his defensive system."
Harvey-Clemons was dismissed from Georgia by coach Mark Richt in February following multiple violations of team rules -- issues that previously resulted in his serving suspensions for the 2013 opener against Clemson and the Gator Bowl loss to Nebraska.
Despite missing those two games, Harvey-Clemons ranked third on the team with 66 tackles. He also had 5.5 tackles for a loss, one interception and an SEC-high three fumble recoveries.
Grantham used the 6-foot-5 Harvey-Clemons as a traditional safety in his base 3-4 defensive scheme and in a hybrid linebacker-defensive back role called the "star" position when the Bulldogs moved to a nickel defensive.
"That star position that he's able to play safety and outside linebacker and cover the back coming out or able to rush the quarterback ... we kind of like that," Woodrow Clemons told InsideTheVille.com.
Grantham had coached at Georgia for four seasons before accepting a five-year deal in January to become defensive coordinator at Louisville under coach Bobby Petrino.
Harvey-Clemons, who was ranked by ESPN.com as the nation's No. 1 outside linebacker prospect and No. 17 overall recruit, picked Georgia in 2012. He told reporters late last fall that Louisville was actually his second choice behind Georgia at the time.
Scene and Heard: Top 10 Predictions
SEC SCOREBOARD
Thursday, 8/28
Saturday, 8/30
Sunday, 8/31