October, 22, 2014
Oct 22
8:00
AM ET
1. On Tuesday, my colleague Greg Ostendorf wrote about how Auburn freshman
Roc Thomas
is
primed for a big second half
to the season. Watching Thomas from afar, I'd have to agree. While he's not as fast as
Corey Grant
or as powerful as
Cameron Artis-Payne
, he's probably Gus Malzahn's most explosive running back when it comes to consistently picking up large chunks of yards. But Ostendorf's piece got me thinking: Who are some other potential second-half stars in the SEC? Here are four that come to mind:
2. The Head Ball Coach took the Florida question in stride. Steve Spurrier says he's not leaving South Carolina for The Swamp to replace Will Muschamp. "No,"
Spurrier told reporters on Tuesday
. "I tell everybody my next move is going to be to Crescent Beach, Fla." It was fun to imagine Spurrier roaming the Florida sideline again, but at 69 years old you knew it wasn't likely, if not altogether impossible. He's comfortable at South Carolina. Things might not be perfect there right now, but the work pales in comparison to what must be done at Florida. The Gators, should they choose to part ways with Muschamp, need a long-term solution, not a splashy stop-gap they'd have to replace sooner than later.
3. Texas A&M is going back to the drawing board. Even the QB position is up for grabs,
said coordinator Jake Spavital
. But that's not what caught my attention on Tuesday. What piqued my interest was coach Kevin Sumlin's comments about how Saturday's loss at Alabama was an "eye-opener." He said, "
This program was founded on three things -- play hard, play smart, be physical." Texas A&M has done none of those things recently. It started with Mississippi State and Ole Miss, but it ended with Alabama breaking its will. There was no aggressiveness from the Aggies' sideline, no fire to show in the second half they're better than the score indicated. They gave up. They wanted to go home. And if you're a coach, that's the worst possible thing you can see. What we're seeing from A&M is that you can't survive in this league on talent alone. You have to have those three things Sumlin discussed, but you have to have them in more than name only.
Tweet of the day
How unpopular is Lane Kiffin in Tennessee? Take a peek inside the race for the State House: http://t.co/51tJwekqD9 pic.twitter.com/xnPbzunPzw

— College GameDay (@CollegeGameDay) October 21, 2014
October, 21, 2014
Oct 21
1:00
PM ET
There's no denying that with his team's No. 1 ranking, undefeated record, wins against Top 25 teams and his own performance, Mississippi State's
Dak Prescott
is still the top contender
for the Heisman Trophy
from the SEC and, so it seems, he is the national favorite at the moment, depending on where you look (Oregon's
Marcus Mariota
is getting some love as well, lately).
[+] Enlarge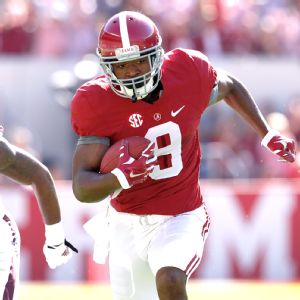 Marvin Gentry/USA TODAY SportsAmari Cooper caught eight passes for 140 yards and two touchdowns against Texas A&M.
But when it comes to SEC candidates, Prescott, the league's best quarterback on what is currently the league's best team, is the front-runner. Perhaps we should be paying some attention, however, to the league's best receiver: Alabama's
Amari Cooper
.
We've had this conversation before. Earlier this season, particularly after his 10-catch, 201-yard, three-touchdown performance against Florida, Cooper's name began to emerge as one deserving of Heisman Trophy candidacy.
Well, in case you forgot about Cooper after two less productive weeks (one in which he was hampered by an injury), he reminded us all on Saturday why he is the standard in the league at his position.
Cooper was dominant in Alabama's
59-0 win
against Texas A&M: eight catches, 140 yards, two touchdowns. The Aggies had no answers for Cooper, whom quarterback
Blake Sims
looked toward early and often in the game. He's big, fast, physical and extremely productive. He has been outstanding this season, with five games of at least 130 receiving yards and 908 receiving yards total, which ranks fourth in the country.
So while Prescott (whose team was off last weekend) remains the league's premier option currently and we continue to await word on what will happen with suspended Georgia running back
Todd Gurley
, perhaps we should keep a closer eye on Cooper moving forward.
Here are three other players to keep an eye on:
Bo Wallace, QB, Ole Miss: Wallace wasn't pristine this week (13-of-28, 199 yards), but he was still turnover-free and threw two touchdowns to guide the Rebels to a win over Tennessee. He is averaging 290.7 offensive yards per game in SEC play, while throwing nine touchdowns and zero interceptions in Ole Miss' four conference wins. He is third in the league in passer rating (163.0) and second in passing yards (1,899) and touchdown passes (17).
Josh Robinson, RB, Mississippi State: The Bulldogs were off this week but Robinson has no doubt been an excellent weapon to pair with Prescott this season. He's second in the SEC with 689 rushing yards and yards per carry (7.0) and tied for second with eight rushing touchdowns.
Todd Gurley, RB, Georgia: We don't know when Gurley will come back as he has missed the last two games, suspended by Georgia while it investigates allegation whether he profited from signing autographs. Even though he sat the last two games, he still leads the SEC in rushing yards (773), yards per carry (8.2) and is tied for second in rushing touchdowns (eight). The longer he's out, the more his chances are hindered, but for now, we'll keep him in the watch.
October, 21, 2014
Oct 21
10:00
AM ET
October, 21, 2014
Oct 21
8:00
AM ET
1. You knew a statement was coming. On Monday, Florida athletic director Jeremy Foley delivered a
short message
about the status of head coach Will Muschamp: "Our sole focus right now is supporting our coaching staff and players as they prepare for Georgia." There's not much reading between the lines to be done there, especially when you consider the brevity of the statement. But to give in and make a statement in the first place is a sure sign of where things stand. There are six more weeks left in the season. Are you going to issue one release per game the rest of the way? Maybe they'll grow in length as they "evaluate the season as it plays out," as Foley wrote. Maybe they'll become increasingly cryptic or employ a well-placed emoticon to lighten the mood. If you use a decoder, will it spell out the name of each week's leading candidate? Now that would be something. For now, though, we're left with a few throwaway sentences about what appears to be a lame duck coach.
2. I'll admit it, I wasn't very high on Georgia's prospects post-
Todd Gurley
. In fact, I didn't like the Bulldogs' chances before he was suspended indefinitely. But Mark Richt's squad has shown me something, and it's more than the uber-talented
Nick Chubb
that's impressed me. Instead, it's how
the rest of the team has picked up their play
.
Hutson Mason
has thrown three touchdowns and no interceptions in his last two games. And the defense has found a way to create turnovers in bunches, picking off Missouri's
Maty Mauk
four times and Arkansas'
Brandon Allen
a pair of times.
Leonard Floyd
has been a beast rushing the passer and the rest of that front seven showed me something as it held down the Razorbacks' vaunted rushing game. Post-Gurley, Georgia's become a much more complete football team. If and/or when he comes back, he'll only make it better.
3. If there's been one area of Ole Miss' game that's concerned me, it's the offensive line. Though they've played much better than expected, the fact remains that there wasn't a lot of returning experience there from a season ago.
Laremy Tunsil
was someone you knew you could count on, but the rest was iffy. It turns out offensive coordinator Dan Werner found a good starting five after all, but now his depth will be put to the test as it looks like starting center
Ben Still
is
questionable for the LSU game
. As we all know, playing the Tigers in Baton Rouge is most often a battle in the trenches. Without his starting center, will
Bo Wallace
be as comfortable under center? And will an already limp running game take a step back? It's hard to say exactly, but the timing isn't ideal, that's for sure.
Tweet of the day
These two former Vols have thrown a combined 510 NFL touchdown passes: pic.twitter.com/mMA2tRkpJb

— SI Vault (@si_vault) October 20, 2014
October, 20, 2014
Oct 20
7:46
PM ET
Over the past few weeks, ESPN Insider has featured the top 10 wide receivers and top 10 quarterbacks in college football.
This third part of the series will review the top 10 running backs in college football. The depth of quality candidates at this position is higher than it has been in a few years, so the competition was quite spirited. The list includes strong representation from the Big Ten, SEC and Pac-12 and varies from speedy breakaway threats to explosive power runners.
Here are the top 10 running backs in college football:
(Note: Unless otherwise noted, all metrics below are from games against Power 5 opponents.)
To continue reading this article you must be an Insider
October, 20, 2014
Oct 20
12:00
PM ET
Well, here we are once again after an entire Saturday of lopsided games. What did we learn that we didn't already know? If anything the league revealed itself to be more firmly divided between contenders and pretenders.
We'll just have to look forward to Week 9 for some better SEC entertainment.
Game of the week: No. 3 Ole Miss at No. 24 LSU
Now this should be fun. Night games at Tiger Stadium usually are. Two straight wins have LSU feeling good and back in the rankings. The Tigers are also back on the fringes of the SEC West race and could throw a giant wrench into the Magnolia State love-fest by upsetting the Rebels. The jury is still out on LSU quarterback
Anthony Jennings
, who didn't have to do much to beat Florida (110 yards passing) or Kentucky (120 yards passing). The Ole Miss defense, however, promises to give the Tigers their toughest test of the season. This unit is operating at peak performance at just the right time for a visit to Baton Rouge. The Rebs allowed zero rushing yards -- ZERO! -- to Tennessee last Saturday and have given up just six touchdowns in seven games this season. It should be a brawl in the Bayou.
Player under pressure: Maty Mauk, Missouri
The Tigers' gunslinging quarterback has been humbled and harnessed in his last two games -- a disastrous 34-0 home loss to Georgia in which he had five turnovers, and a goofy 42-13 win at Florida in which he was 6-of-18 passing for 20 yards and an interception. Mauk's and Missouri's seasons are nearing a crossroads. After playing what he called the worst game of his life against UGA, Mauk overcame a shaky start at Florida and played in control while the Gators self-destructed. The good news for the Tigers offense is that Mauk & Co. will have a solid chance to work out their issues against Vanderbilt, which will bring one of the worst defenses in the SEC (allowing 415.9 yards a game) to Columbia, Mo.
Coach under the microscope: Lane Kiffin, Alabama
The Tide's offensive coordinator might not have circled the third Saturday in October on his calendar, but you can bet 100,000 ticket-holding Volunteers fans sure did. In 2009 Kiffin coached his one and only season at Tennessee. He was full of promises, bravado and hot air. Other than some solid recruiting, the highlights of his 7-6 season were wins over Georgia and South Carolina and a near-miss at Alabama. Who can forget Bama's Terrance "Mount" Cody swatting away two Tennessee field goals in a 12-10 victory? Well, other than Kiffin? Now that he's back in the SEC, patrolling the Alabama sideline and steering its inconsistent offense, the vitriol is sure to reach a fever pitch on Saturday. Hundreds of students rioted when news broke of Kiffin's sudden departure in 2009. How are they going to treat his return?
Storyline to watch: Division dominance
The SEC West is a powerhouse. The East is a house of cards. So the story goes, and it doesn't seem likely to deviate with No. 1 Mississippi State visiting Kentucky and South Carolina traveling to No. 5 Auburn. The East has lost six of seven cross-division games so far this season, most of them with lopsided results. The much-improved Wildcats were riding high at 5-1 before being thrashed by LSU. Now they'll have to contend with
Dak Prescott
and his steamrolling MSU offense. South Carolina has the worst defense in the SEC and might need a miracle on the Plains to keep up with Auburn's offense. Don't look for the division script to flip this week.
Intriguing matchup: LSU offense vs. Ole Miss defense
As previously described in our game of the week entry, LSU can't expect much from its quarterback in Saturday's matchup against the fearsome Rebels defense. It gives Ole Miss a tremendous advantage to be able to stack the box against the run, but LSU has the horses to give the Rebel defense its toughest test of the season. Tigers senior RB Terrance Magee is coming off a career game with 220 all-purpose yards and two touchdowns. He makes a fine pairing with freshman stud
Leonard Fournette
, LSU's leading rusher with 544 yards (5.0 yards per carry) and seven touchdowns. If the Tigers can establish the run against Ole Miss it could open up some play-action passing or at least give Jennings a chance to take some shots with the very capable
Travin Dural
, a sophomore wide receiver with 26 catches, 665 yards and seven touchdowns. It all starts in the trenches.
October, 20, 2014
Oct 20
11:00
AM ET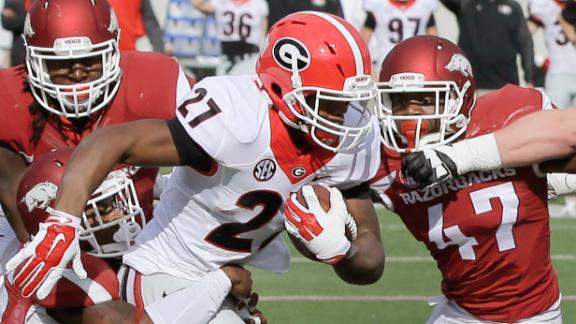 LITTLE ROCK, Ark. -- The ginormous question surrounding Georgia's football team after news broke of
Todd Gurley
's suspension has been whether the Bulldogs could win without arguably the nation's best player.
Well, after two games sans Gurley, who still leads the SEC with 773 rushing yards, the Bulldogs haven't really needed him. In two convincing wins -- on the road, mind you -- the Dawgs have put the running game squarely on true freshman
Nick Chubb
and he's, well, run away with that responsibility.
[+] Enlarge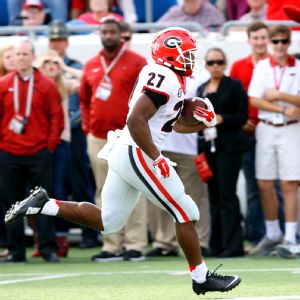 Nelson Chenault/USA TODAY SportsIn 99 carries through Week 8 this season, rookie Nick Chubb has taken over Georgia's rushing load and he isn't showing signs of slowing down.
The bruising, 5-foot-10, 228-pound frosh looked nothing like a youngster when he first stepped on the field and dazzled the country with his moves and strength in the opening win against Clemson, and he transformed into a certified manimal with his 345 rushing yards and three touchdowns in the past two games as the feature back for the Bulldogs.
"Nick's gonna be special. We know that," senior cornerback
Damian Swann
said. "Right now, he's taking on a very big load and he's handling it well. ... You've seen him on the past two Saturdays. He's got a bright future in Athens."
Unfortunately for the SEC, the future is now, and Chubb has been amazing filling in, especially with how much he has played. In the past two games, Chubb has carried the ball 68 times, eclipsing 30 carries in each outing. Gurley has never even carried the ball 30 times in a single game at Georgia.
After carrying it 38 times for 143 yards at Missouri, Chubb turned right around and ran 30 times for a career-high 202 yards and two touchdowns. How good was that? Chubb became just the third freshman in Georgia history to rush for more than 200 yards in a game (Herschel Walker, Rodney Hampton).
Chubb has five touchdowns and is eighth in the SEC with 569 rushing yards.
"He's taken the majority of the carries and it doesn't seem to faze him," quarterback
Hutson Mason
said. "The guy's a special cat. He's got to be the best freshman running back in the country. You give it to him 20 or 40 times and it just seems like he's going to keep pounding it. It's awesome."
That's all fine and dandy now, but it certainly begs the question. With Gurley out and running backs
Keith Marshall
and
Sony Michel
nursing injuries, are the Bulldogs running their young thoroughbred, who already had thumb surgery, too much? Does the colt need to take some plays off and rest his body with Gurley's return uncertain?
"He's built for it," coach Mark Richt said. "He's very, very tough physically and mentally. He's strong. He came from high school in Cedartown [Georgia] where they're just tough. They coach tough. Their offseason's tough. He didn't get babied in high school at all. He was not one of those guys where you could sit there and say he was given anything because he was a very good football player. He had to earn it every day in practice and every offseason workout."
The bye week will certainly help any sort of fatigue Chubb has, but with the way he has played in back-to-back weeks -- remember:
On the road
-- I don't know if another game would slow him down. He looked like he was shot out of a cannon on his 43-yard touchdown run midway through the second quarter on Saturday, and then he just went back to bulldozing guys for the rest of the game.
If he needs a rest, he isn't showing it.
"It's super impressive because that guy's durable," wide receiver
Chris Conley
said. "He doesn't complain, he does what he's told and he puts his head down and grinds for the team."
Players aren't surprised at how well Chubb has played. They saw the chiseled snapshots of him running track in high school before he enrolled. They saw him pulverize teammates during offseason drills. They watched him lift, cringed as he squatted ungodly amounts and saw the pain he inflicted during practice.
This was what the Bulldogs expected, and they haven't missed a beat without Gurley leading the pack.
"We know how special that kid is," Swann said.
Yes, and so does the entire country.
October, 19, 2014
Oct 19
8:00
PM ET
The SEC's ability to get two teams into the College Football Playoff field is what should and will generate the most headlines as we push toward the final month of the season.
Each highly ranked team that loses -- hello, Baylor, Notre Dame and Oklahoma -- makes it seem like more of a possibility, but we're not yet ready to project that half of the playoff teams will come from the SEC.
We'll stick with top-ranked Mississippi State as the SEC's playoff pick for now, but Ole Miss, Alabama, Auburn and Georgia remain in the middle of the discussion as well. Those teams still have several key games ahead that will determine the top half of the SEC's postseason pecking order.
Meanwhile, the bottom half of the pecking order should also become a source of late-season drama. After their losses on Saturday, we're dropping Arkansas (3-4) and Florida (3-3) from this week's bowl projections and adding Tennessee (3-4), although none of those teams is a sure bet at this point. Kentucky (5-2) gets to stay in, but the Wildcats are coming off a 41-3 loss at LSU and will face a challenging second half of the schedule where earning another victory (and achieving bowl eligibility) might be tough.
At any rate, there is assuredly plenty of movement ahead in these projections, but here is where we are entering the ninth week of the regular season:
College Football Playoff semifinal (Rose Bowl):
Mississippi State
Capital One Orange Bowl:
Ole Miss
Cotton Bowl:
Alabama
Chick-fil-A Peach Bowl:
Georgia
Citrus Bowl:
Auburn
TaxSlayer Bowl:
LSU
Outback Bowl:
Missouri
Franklin American Mortgage Music City Bowl:
Texas A&M
Belk Bowl:
South Carolina
AdvoCare V100 Texas Bowl:
Tennessee
AutoZone Liberty Bowl:
Kentucky
October, 19, 2014
Oct 19
2:00
PM ET
By
ESPN.com staff
| ESPN.com
Well, that wasn't a very competitive weekend, was it? Not a single close game, highlighted by the weekend's marquee Alabama-Texas A&M matchup turning into a 59-0 rout for the Crimson Tide. Ole Miss shook off a slow start to run past Tennessee, Georgia kept rolling without
Todd Gurley
and Missouri put Will Muschamp on the hottest of hot seats. How did it all affect this week's Power Rankings? Let's find out.
Edward Aschoff, Jeff Barlis, David Ching, Sam Khan Jr., Chris Low, Greg Ostendorf and Alex Scarborough contributed to these rankings.
October, 19, 2014
Oct 19
9:00
AM ET
The only good thing about a day full of blowouts in the SEC is that there are plenty of helmet stickers to hand out.

Nick Chubb, RB, Georgia:
How do you top a 143-yard, one-touchdown performance in your first collegiate start? By rushing for 202 yards and two touchdowns in your second start. That's exactly what Chubb did in place of the suspended
Todd Gurley
on Saturday, leading Georgia past Arkansas,
45-32
. He became only the third freshman in school history to rush for more than 200 yards in a game (Herschel Walker, Rodney Hampton). As long as Chubb keeps getting 30-plus carries a game, he's going to keep showing up on this list.
Marquis Haynes, DE, Ole Miss:
Don't get me wrong.
Senquez Golson
is deserving of a helmet sticker with two interceptions on Saturday. But it was Haynes and the defensive line that set the tone for the Rebels. They held Tennessee to zero rushing yards in large part thanks to nine sacks on the night. Haynes led the way with five tackles, 2.5 sacks, a forced fumble and a fumble recovery during the
34-3 win
. The freshman might not get the recognition of his counterpart
Robert Nkemdiche
, but he's one of the SEC's better young stars whom nobody's talking about.
Terrence Magee, RB, LSU:
It was supposed to be
Leonard Fournette
with the huge game, but Magee said "move over freshman, I'm taking this one." Magee rushed for 127 yards and two touchdowns on just nine carries in LSU's
41-3 win
over Kentucky. That's 14.1 yards per carry for those counting at home. He also happened to be the team's leading receiver with three catches for 44 yards. Fournette might be the LSU running back to watch in the second half, but don't forget about Magee. He's not going anywhere.
Marcus Murphy, RB, Missouri:
Murphy wasted no time putting his stamp on Saturday's game in Gainesville, returning the opening kickoff 96 yards for a touchdown. But he wasn't done yet. No, he had more in store for the Gators. Murphy made it 14-0 with a 5-yard touchdown run in the first quarter, and he would later return a punt 82 yards for another score. The senior finished with 224 all-purpose yards and three touchdowns on the night. He was one of the big reasons why Missouri
won 42-13
despite only gaining 119 yards on offense.
Blake Sims, QB, Alabama:
T.J. Yeldon
, you deserve a helmet sticker.
Amari Cooper
, you deserve a helmet sticker. Alabama's defense, you deserve a helmet sticker. It was that kind of game for the Crimson Tide. But the nod here goes to Sims, who went 16-of-27 for 268 yards and three touchdowns in the Tide's
59-0 win
over Texas A&M. He also made arguably the best move of the day on his 43-yard touchdown run early in the second quarter. This team, Sims included, was criticized after last week's win over Arkansas. It responded in a big way.
October, 18, 2014
Oct 18
11:58
PM ET
It wasn't as exciting a Saturday as we hoped for, in terms of competitiveness. Every SEC game was decided by double digits. Still, there is plenty to glean from Week 8. Here are the things we learned from the weekend's action:
[+] Enlarge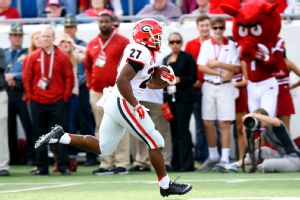 Nelson Chenault/USA TODAY SportsNick Chubb helped keep Georgia rolling with 202 rushing yards on Saturday.
Georgia is a great team, with or without its biggest star:
Even without running back
Todd Gurley
, this is your SEC East Division favorite. Some, including me, thought the Bulldogs could be stepping into a minefield in going on the road to face an Arkansas team that seemed to be knocking on the door of an SEC win. Well, No. 10 Georgia (6-1) is carrying the flag proudly for the SEC East after they cruised to a
45-32
win, a victory that included 38 first-half points. Running back
Nick Chubb
(30 carries, 202 yards, two touchdowns) was fantastic, quarterback
Hutson Mason
was sharp, and the defense came up with four turnovers. There's no doubt this is one of the best one-loss teams in the country.
Alabama silenced its critics, for now:
Nick Saban was a little irritated earlier this week by his fan base's outsized expectations, which had many disappointed the Crimson Tide "only" beat Arkansas 14-13 (a week after Alabama lost to Ole Miss). Well, there's nothing to criticize this week. Alabama played about as close to a perfect game as a team can. The Crimson Tide (6-1) had 602 offensive yards, converted 60 percent of their third downs, held Texas A&M to a meager 172 yards, had
zero
penalties and won the time of possession battle (36:31 to 23:29). Hard to be upset with
59-0
. Although two undefeated teams are ahead of Bama in the standings, you never know what might happen. The No. 7 Crimson Tide's playoff hopes are alive and well at the moment.
Texas A&M has serious soul-searching to do:
It's one thing to lose and quite another to be destroyed the way the Aggies were Saturday by the Crimson Tide. Kevin Sumlin used the words "embarrassing" and "unacceptable" in his postgame news conference, and those are pretty accurate. Alabama controlled the game in every phase while shutting out a Sumlin team for the first time in his seven-year coaching career. The Aggies (5-3) don't have a game next week, and it's a good time for them to reevaluate everything about their team, from top to bottom, to figure out why they've been dominated by three SEC West foes in the past three weeks.
Kentucky might be on the rise, but there's still a long way to go:
The Wildcats have been one of the surprise teams in the SEC this year, with their 5-1 start and talk of making a bowl game. The progress the program continues to make is admirable, and coach Mark Stoops should be commended for the job done so far, but after a
41-3
loss to LSU, it's clear there still is a lot of progress to be made. LSU handled its business and showed it's in a different class than the Wildcats (5-2), at least this weekend. This should serve as a good learning experience for a young Kentucky team that still has a bright long-term future.
It's not getting better in Gainesville anytime soon:
There has been a lot of discussion about Will Muschamp's job, and that isn't going to die down after Florida's performance against Missouri. The Gators were hammered
42-13
in their own backyard. What makes it even worse is the Tigers didn't do it with offense -- Missouri quarterback
Maty Mauk
threw for only 20 yards and no touchdowns, and Missouri finished with a minuscule 119 offensive yards. The Tigers did their damage with a kickoff return and punt return for touchdowns (both courtesy of
Marcus Murphy
), as well as an interception return (
Darvin Ruise
) and fumble return (
Markus Golden
) for touchdowns. That's ugly for Florida, who is 3-3 (2-3 in the SEC) with Georgia coming up in two weeks. It looks like it will only get worse before it gets better for the Gators.
Ole Miss' offense doesn't have to be great -- just good enough:
The No. 3 Rebels (7-0) took some time to get started offensively, as they went scoreless in the first quarter against Tennessee and were down 3-0 in the second quarter. No worries when you "Landshark D." The 27-yard
Aaron Medley
field goal was the only points the Vols would get, quarterback
Bo Wallace
started making some plays, and Ole Miss cruised to a
34-3
victory. The offensive numbers weren't great (383 total yards for the Rebels), but more importantly, they committed zero turnovers and won time of possession. With the type of defense Ole Miss has (it held Tennessee to zero yards rushing and 3-of-16 on third-down conversion attempts), that's a recipe for success.
October, 18, 2014
Oct 18
10:45
PM ET
[+] Enlarge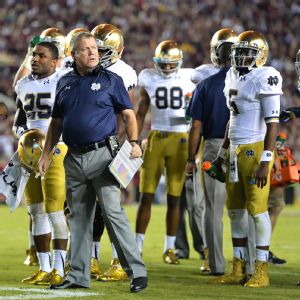 Scott Clarke/ESPN ImagesNotre Dame won't fall too far out of playoff contention despite its loss to top-ranked Florida State.
If there was any doubt about Brian Kelly's place as an elite coach and Notre Dame's place as an elite team, it vanished into the Tallahassee night.
The Fighting Irish left Doak Campbell Stadium in defeat, but they stood on level ground with the heavily favored, insanely talented national champions -- on the road, right until the final seconds. And if two receivers had been a little slicker with their pick attempts, Notre Dame might have slayed mighty Florida State.
"We don't coach illegal plays," Kelly said afterward.
Most of the legal plays Kelly called worked masterfully against the Seminoles. He made the right in-game decisions, including a punt midway through the fourth quarter that returned the ball to a scalding-hot Jameis Winston. Notre Dame's defense, one of the nation's most surprising units, held firm, and quarterback Everett Golson led the Irish to the threshold of victory only to fall just short.
Drive Through: Rankings Reaction