May, 11, 2013
May 11
7:00
AM ET
ATHENS, Ga. -- The most buzzworthy story around DawgNation this week is that of 2013 outside linebacker
Matthew Thomas
, ESPN's No. 6 overall prospect who signed with Florida State in February and announced this week that he wants out of the deal.
[+] Enlarge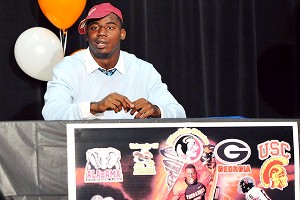 Steve Mitchell/USA TODAY SportsMatthew Thomas wants out of his letter of intent to Florida State. He is very interested in Georgia should he get a release.
Among the schools Thomas mentioned as possible alternatives
were Georgia and USC, although by week's end it was still unclear whether FSU would release Thomas from his scholarship or whether he might explore other options.
In this video
, NoleNation's Corey Dowlar explains the situation and Thomas' options.
It was a busy week on the recruiting front and we offered multiple updates on prospects, including:
" DL
Kentavius Street
(Greenville, N.C./Rose)
• S
Cameron Albright
(Acworth, Ga./North Cobb)
• OT
Dyshon Sims
(Valdosta, Ga./Lowndes), the cousin of Georgia safety Josh Harvey-Clemons
• ATH
Malkom Parrish
(Quitman, Ga./Brooks County)
Our Radi Nabulsi also offered some
notes and observations gleaned from last week's Georgia state track meet
in Jefferson, where multiple UGA signees and targets competed. One of them was
Preston Williams, an extremely colorful 2015 wide receiver prospect
.
The big story on the team side concerns offensive lineman Kolton Houston, who takes his
ongoing eligibility dispute with the NCAA to ESPN's airwaves on Sunday morning
. The piece, set to air at 9 a.m. on Outside the Lines, details the often unusual methods Houston has employed in an effort to remove the trace elements from a 2009 steroid injection from his system in order to pass an NCAA drug test that would make him eligible to compete.
It will be Houston's first interview since he first tested positive in 2010.
Our cohorts on the SEC blog published their spring wrapup this week and we contributed a
Georgia rundown
and
feature on quarterback Aaron Murray
for the package.
SEC blogger Chris Low also listed Murray as one of the league's top
20 NFL draft prospects for 2014
and mentioned
freshman safety Tray Matthews as a potential star in this video
.
Georgia offensive coordinator Mike Bobo and basketball coach Mark Fox spoke Thursday at a UGA Days event in Augusta, with both men providing updates on their teams -- including the
colorful strategy Bobo said the Bulldogs might have to use
to contend with South Carolina's superstar defensive end Jadeveon Clowney.
Bobo also told the crowd that sophomore receiver Justin Scott-Wesley is a
potential breakout performer for this fall
.
Additionally, we recapped springtime conversations with cornerback
Damian Swann
and receiver
Rantavious Wooten
-- a pair of veterans who will be leaders at their respective positions this year.
May, 10, 2013
May 10
12:08
PM ET
The 2014 recruiting classes around the SEC are starting to take shape.
The
latest class rankings by ESPN

has five SEC teams in the top-10 nationally and seven in the top 15. Obviously, it's going to change over the next several months. But right now, Texas has the No. 1 class.
Florida leads the way in the SEC at No. 2. LSU is No. 4, Texas A&M No. 5, Tennessee No. 7 and Alabama No. 9. Other SEC teams in the top 15 are Ole Miss at No. 11 and Georgia at No. 12. Vanderbilt is No. 18 and Auburn No. 22.
First-year Tennessee coach Butch Jones has made a big splash on the recruiting trail. The Vols already have 12 commitments.
Here's a look at our May recruiting scorecard:

ALABAMA
2014 verbal commitments:
6
Spotlight:
Bo Scarbrough
of Tuscaloosa, Ala., has been committed since last September. He's ranked as the No. 2 athlete nationally, but plays running back for his high school. The 6-2, 220-pound Scarbrough is a good enough athlete that he could also get a look on defense in college.
ESPN 150 members:
3 (Scarbrough, ILB
Shaun Dion Hamilton
of Montgomery, Ala., CB
Kalvaraz Bessent
of Kingsland, Ga.)
Key targets:
Running back
Leonard Fournette
of New Orleans is the No. 1 player overall in the ESPN 150, and the Tide would also love to have five-star offensive tackle
Cameron Robinson
of West Monroe, La., as well as the country's No. 1 receiver,
Ermon Lane
of Homestead, Fla., and the country's No. 3 defensive end,
Lorenzo Carter
of Norcross, Ga.

ARKANSAS
2014 verbal commitments:
4
Spotlight:
Defensive tackle
Bijhon Jackson
of El Dorado, Ark., is the top player in the state and ranked as the No. 5 defensive tackle nationally. The 6-2, 334-pound Jackson had a strong showing in January at the U.S. Army National Combine.
ESPN 150 members:
1 (Jackson)
Key targets:
Defensive tackle
Josh Frazier
of Springdale, Ark., is being pursued by all the heavyweights, including Alabama, Georgia, Texas A&M and USC. ESPN 150 prospect
Garrald McDowell
of Covington, La., is another defensive tackle at the top of the Hogs' board.

AUBURN
2014 verbal commitments:
5
Spotlight:
Linebacker
Tre' Williams
of Mobile, Ala., committed earlier this week and was a huge get for Gus Malzahn and the Tigers. He's ranked as the No. 5 inside linebacker nationally and was also being heavily recruited by Alabama. It's imperative that Auburn have some success in the Mobile area.
ESPN 150 members:
1 (Williams)
Key targets:
ESPN 150 defensive end
Justin Thornton
of Prichard, Ala., is set to make his decision on Sunday. Auburn is one of three finalists, along with LSU and Texas A&M.

FLORIDA
2014 verbal commitments:
9
Spotlight:
Running back
Dalvin Cook
of Miami has breakaway speed and is one of the more explosive athletes in this class. He's ranked No. 20 overall in the ESPN 150 and as the No. 4 running back in the country.
ESPN 150 members:
4 (Cook, QB
Will Grier
of Davidson, N.C.; OLB
Christian Miller
of Columbia, S.C.; DT
Anthony Moten
of Fort Lauderdale, Fla.)
Key targets:
Offensive tackle
David Sharpe
of Jacksonville, Fla., is right there at the top of the Gators' list. He's ranked as the No. 2 tackle nationally and is also strongly considering Georgia. Receiver
Johnnie Dixon
of Palm Beach Gardens, Fla., would fill a pressing need on offense. Dixon is ranked as the No. 4 receiver nationally.

GEORGIA
2014 verbal commitments:
5
Spotlight:
The Bulldogs were able to wrestle away running back
Sony Michel
of Plantation, Fla., away from Miami. The 5-11, 194-pound Michel is an every-down back who can do it all. He's ranked No. 16 overall in the ESPN 150.
ESPN 150 members:
2 (Michel; TE
Jeb Blazevich
of Charlotte, N.C.)
Key targets:
Five-star defensive tackle
Lamont Gaillard
of Fayetteville, N.C., has the Bulldogs at the top of his list along with Miami. He's ranked as the No. 2 defensive tackle nationally. Georgia will battle with Alabama for ESPN 150 defensive end Lorenzo Carter of Norcross, Ga. Carter is the No. 2 player in the state and the No. 3 defensive end nationally.

KENTUCKY
2014 verbal commitments:
5
Spotlight:
Receiver
Thaddeus Snodgrass
of Springfield, Ohio is a top 5 player in the state of Ohio and another key pickup for first-year coach Mark Stoops in the southwest Ohio area. Snodgrass is ranked No. 26 nationally among receivers.
ESPN 150 members:
None
Key targets:
ESPN 150 quarterback
Drew Barker
of Hebron, Ky., will announce his decision on Friday afternoon, and it appears to be down to Kentucky and South Carolina for the highly rated pocket passer.

LSU
2014 verbal commitments:
9
Spotlight:
Edward Paris, Jr. of Arlington, Texas is a top 10 player in the state of Texas and ranked as the No. 4 safety nationally. At 6-foot and 200 pounds, Paris has the skills to also play cornerback in college.
ESPN 150 members:
5 (Paris; OG
Garrett Brumfield
of Baton Rouge, La.; TE
Jacory Washington
of Westlake, La.; S
Devin Voorhies
of Woodville, Miss.; OLB
Sharieff Rhaheed
of Fort Pierce, Fla.)
Key targets:
The state of Louisiana is loaded this year. The Tigers are trying to keep Leonard Fournette at home. The nation's No. 1 prospect is being touted as a Trent Richardson-type of running back. Cameron Robinson is the country's top offensive lineman and also from the state.
Speedy Noil
of New Orleans is ranked as the No. 1 athlete nationally and could be an impact player at multiple positions.

MISSISSIPPI STATE
2014 verbal commitments:
2
Spotlight:
ESPN 150 athlete
Jamoral Graham
of Decatur, Miss., gave the Bulldogs his commitment earlier this week. The 5-11, 180-pound Graham has 4.4 speed and can play on both sides of the ball. He likely projects as a defensive back in college.
ESPN 150 members:
1 (Graham)
Key targets:
ESPN 150 prospect
Jesse Jackson
of Petal, Miss., is ranked as the No. 10 receiver nationally. Offensive lineman
Rod Taylor
of Jackson, Miss., is another ESPN 150 member the Bulldogs covet and the top prospect in the state.

MISSOURI
2014 verbal commitments:
7
Spotlight:
Kendall Blanton
of Blue Springs, Mo., is ranked as the No. 8 tight end nationally.
ESPN 150 members:
None
Key targets:
ESPN 150 offensive tackle
Roderick Johnson
of Florissant, Mo., is the No. 2 player in the state and ranked as the No. 13 offensive tackle nationally. Running back
Markel Smith
of St. Louis is looking around again after being previously committed to the Tigers.

OLE MISS
2014 verbal commitments:
9
Spotlight:
Andy Bauer
is the top player in the state of Missouri and the No. 4 offensive tackle nationally. At 6-6 and 304 pounds, Bauer could be a right tackle in college or move inside to guard, where he has all the tools to be a devastating run-blocker.
ESPN 150 members:
1 (Bauer)
Key targets:
Rod Taylor of Jackson, Miss., is the No. 1 prospect in the state and ranked as the No. 2 guard nationally. ESPN 150 safety
Laurence Jones
of Monroe, La., is also high on the Rebels' list, while the state of Illinois could again be good to Ole Miss. ESPN 150 inside linebacker
Nyles Morgan
of Crete, Ill., is strongly considering the Rebels.

SOUTH CAROLINA
2014 verbal commitments:
3
Spotlight:
Bryson Allen
-Williams of Ellenwood, Ga., is a top-25 prospect in the state of Georgia and ranked as the No. 20 outside linebacker nationally.
ESPN 150 members:
None
Key targets:
The Gamecocks are waiting on Friday afternoon's decision from ESPN 150 quarterback Drew Barker of Hebron, Ky. Closer to home, ESPN 150 tight end
Kevin Crosby
of Bamberg, S.C., would be a nice addition along with ESPN 150 receiver
Shaq Davidson
of Gaffney, S.C., and ESPN 150 offensive tackle
Bentley Spain
of Charlotte, N.C.

TENNESSEE
2014 verbal commitments:
12
Spotlight:
The Vols desperately needed a marquee running back and got the one they wanted when ESPN 150 prospect
Jalen Hurd
of Hendersonville, Tenn., committed in March. The 6-3, 223-pound Hurd is ranked as the No. 6 running back nationally.
ESPN 150 members:
2 (Hurd; S Todd Kelly, Jr., of Knoxville, Tenn.)
Key targets:
Linebacker
Dillon Bates
of Ponte Vedra Beach, Fla., would be another nice legacy pickup. His dad, Bill Bates, played at Tennessee. The younger Bates is the No. 3 outside linebacker in the country. ESPN 150 cornerbacks
Jalen Tabor
of Washington, D.C.,
Wesley Green
of Lithonia, Ga., and
D.J. Smith
of Marietta, Ga., would help shore up the secondary.

TEXAS A&M
2014 verbal commitments:
10
Spotlight:
The Aggies received a commitment last December from the nation's top outside linebacker,
Hoza Scott
of La Porte, Texas, and Scott has become one of Texas A&M's most ardent recruiters ever since.
ESPN 150 members:
3 (Scott; S
Dylan Sumner-Gardner
of Mesquite, Texas; ATH
Nick Harvey
of Richmond, Texas)
Key targets:
Myles Garrett
is an ESPN 150 defensive end from Arlington, Texas and ranked No. 6 overall nationally. He's the top prospect in the state of Texas and being recruited by everybody.

VANDERBILT
2014 verbal commitments:
8
Spotlight:
Safety
Emmanuel Smith
of Murfreesboro, Tenn., picked Vanderbilt over Tennessee in March. The 6-2, 200-pound Smith is ranked as the No. 25 safety in the country.
ESPN 150 members:
None
Key targets:
A pair of in-state prospects are near the top of the Commodores' wish list -- safety Rashaan Golden of Nashville and ESPN 150 receiver
Josh Malone
of Gallatin, Tenn.
May, 10, 2013
May 10
12:00
PM ET
AUGUSTA, Ga. --
Justin Scott-Wesley
enjoyed his first taste of success in Georgia's last game. But asked Thursday evening to name a potential breakout performer, Bulldogs offensive coordinator Mike Bobo selected the sophomore receiver as a player to watch this fall.
"He had a great spring," Bobo said at the UGA Days event in Augusta, "one of our most improved receivers."
Scott-Wesley entered the lineup in the Bulldogs' Capital One Bowl win against Nebraska only after
Malcolm Mitchell
left the game with a concussion sustained while returning a kick.
To that point in his first season as an active college player, Scott-Wesley had caught passes only in mop-up duty against Florida Atlantic and Georgia Southern. But he hauled in three balls against the Cornhuskers -- including two long passes that pushed the ball into Nebraska territory, one of which was a 31-yard gain on Georgia's go-ahead touchdown drive at the end of the third quarter -- and concluded a career-best performance with 67 yards.
[+] Enlarge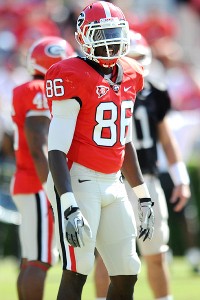 Radi Nabulsi/ESPN.comSpeedy receiver Justin Scott-Wesley had six catches for 135 yards and a TD as a redshirt freshman.
That performance propelled the young receiver into spring practice, Bobo said.
"I think the confidence level he gained from playing in the bowl game when Malcolm Mitchell went down with a concussion, he caught three passes -- two big third-down conversions -- and him making those plays in a game gave him confidence to carry over into spring ball and get better and make that next step," Bobo said.
Blessed with sprinter's speed -- in fact, the former Georgia high school record-setter will compete in the 100-meter dash for Georgia's track team on Saturday evening at the SEC championships -- Scott-Wesley was a project for the Bulldogs' coaching staff when he arrived on campus in 2011. Bobo credited receivers coach Tony Ball for molding an SEC-ready receiver out of a player who initially had much to learn about the finer points of his position.
"He can absolutely fly, but he was not a football player," Bobo said. "He was very raw, and coach Tony Ball does an outstanding job with our receivers and coaching the little things and the details and has really refined this guy's game to where I think he's going to have a breakout year."
Scott-Wesley made some noise last spring, as well, but barely dented the receiver rotation until the very end of the season. He concluded his redshirt freshman campaign with six catches for 135 yards and one touchdown, so it's far too early to say that another strong spring means he has arrived.
However, Bobo points out that it was a sign of progress -- which is exactly what he wanted to see from a developing player in the spring.
"That's what you're looking for and really looking for in the whole offense is taking that next step," Bobo said.
May, 10, 2013
May 10
10:19
AM ET
Inspired by
Florida's "#ComePlayWRFortheJoker" campaign
, our recruiting writers looked at other ways schools can sell themselves on the trail. Here's a look at recruiting pitches for the SEC:

Alabama Crimson Tide
What they are selling:
What's not to sell? Alabama is coming off back-to-back national championships, and the Crimson Tide had nine players taken in April's NFL draft, including three in the first round. For the critics who say you won't play early at UA, ask
T.J. Yeldon
and
Amari Cooper
how much they contributed as freshmen.
What they are missing:
Although they won a national championship, the Tide didn't generate much pass rush last fall, and they had trouble containing freshman sensation
Johnny Manziel
. Also, they need to rebuild the offensive line, a unit that anchored the offense last year.

Arkansas Razorbacks
What they are selling:
New head coach Bret Bielema runs a completely different offensive system than the previous two Arkansas coaches. The Razorbacks are selling an opportunity for freshmen to come in and earn playing time early in their careers.
What they are missing:
The Razorbacks signed only one offensive lineman,
Denver Kirkland
, who was rated a four-star prospect or higher last year. In this run-heavy system, look for Arkansas to focus on landing talented players along the offensive line.

Auburn Tigers
What they are selling:
It's a new regime for Auburn, but there's a familiar face running the show. New head coach Gus Malzahn knows the program from his days as offensive coordinator. He's already shown the ability to recruit, stealing ESPN 150 linebacker
Tre Williams
away from the Tide. There's a sense of excitement on The Plains again.
What they are missing:
Malzahn filled out his first recruiting class with playmakers, but Auburn needs to build up front on the offensive and defensive lines. No matter what offense you run, if you want to win in the SEC, you need to be able to compete up in the trenches.

Florida Gators
What they are selling:
With no proven wide receivers on the perimeter, Florida is attempting to sell early playing time at the position. A chance to play for one of the best defensive minds in college football in Will Muschamp is another selling point to defensive prospects.
What they are missing:
Production on offense. After finishing 114th nationally in passing offense, it will be hard to sell playing time to wide receivers without an explosive passing game in place.

Georgia Bulldogs
What they are selling:
Freshmen, if they're good enough, play early at Georgia. From running backs
Todd Gurley
and
Keith Marshall
to offensive tackle
John Theus
to defensive end
Jordan Jenkins
, several freshmen Bulldogs made major contributions on a team that was a few yards away from making the national championship game.
What they are missing:
Georgia has brought in four top-12 recruiting classes in the last four years. Depth might become an issue for some recruits, but Georgia has certainly shown a willingness to play younger players.

Kentucky Wildcats
What they are selling:
After finishing 2-10, Kentucky fired coach Joker Phillips. New head coach Mark Stoops is offering a fresh start and a chance to help build Kentucky in to a contender in the SEC East.
What they are missing:
Plain and simple -- tradition. Sure, Kentucky is full of basketball tradition, but the success on the hardwood completely overshadows the football program. A record 50,831 fans attended the Wildcats' spring game, so the interest level is certainly headed in the right direction.

LSU Tigers
What they are selling:
An unprecedented 10 underclassmen declared for the NFL draft. LSU is selling the opportunity, not only for early playing time because of the departures, but a chance to make it to the NFL in three years.
What they are missing:
Because of all the departures, there are some holes on both sides of the ball. Depth is now an issue at running back and LSU will need to replace
Eric Reid
,
Kevin Minter
, defensive ends
Sam Montgomery
and
Barkevious Mingo
, defensive tackle
Bennie Logan
and linebacker
Kevin Minter
.

Ole Miss Rebels
What they are selling:
Ole Miss landed the No. 5-ranked class in the country, including No. 1 overall player
Robert Nkemdiche
and No. 1 offensive tackle
Laremy Tunsil
. Look for Ole Miss to sell recruits on the opportunity to help build something special under head coach Hugh Freeze.
What they are missing:
Freeze brought a creative and innovative offense to the SEC, but the defense is still a work in progress. Ole Miss finished 12th in the SEC in pass defense and will need to continue to build depth in order to compete for the SEC West championship.

Mississippi State Bulldogs
What they are selling:
Only 11 of 22 starters return for a team that finished 8-5 last year. The Bulldogs offer recruits a chance to play early and play in the best division in college football.
What they are missing:
Mississippi State returns its starting quarterback
Tyler Russell
, but who will he be throwing to? Last year's four leading receivers, including Chad Bumphis, are gone. Look for the Bulldogs to focus on offensive weapons in this recruiting class.

Missouri Tigers
What they are selling:
The Tigers return 14 of 22 starters on a team that went 5-7 in its first year in the SEC East. Missouri runs a fun and innovative offense that is sure to attract recruits, and there is certainly an opportunity to play early.
What they are missing:
The defensive line is probably the most critical area on any defense in the SEC, and the Tigers lost their best lineman in Sheldon Richardson. Mizzou must find a viable replacement for Richardson and linebackers Zaviar Gooden and
Will Ebner
.

South Carolina Gamecocks
What they are selling:
The Gamecocks have been dominant on defense over the last few years, and a strong line is a big part of their success. South Carolina is selling an opportunity to be the next
Jadeveon Clowney
and be a part of one of the top defenses in the SEC.
What they are missing:
Hard to believe, but head coach Steve Spurrier needs help at wide receiver. The Gamecocks signed only one wide receiver in their 2013 class. They have young bodies, but not much depth or production from the returning group.

Tennessee Volunteers
What they are selling:
A fresh start under new head coach Butch Jones. Since 2011, Tennessee has finished with the No. 13, 21 and 29 recruiting classes in the country. There plenty of holes to fill, and any incoming freshman will have plenty of opportunities to earn a starting spot.
What they are missing:
Tennessee lost wide receivers Justin Hunter and Cordarrelle Patterson to the NFL draft and must replace their production on the outside. The Volunteers are also thin in the secondary and will look to recruiting to plug some key holes on defense.

Texas A&M Aggies
What they are selling:
There is a lot to sell a recruit on at Texas A&M right now. An explosive offense which led the SEC in total offense by more than 100 yards a game, Heisman Trophy winner
Johnny Manziel
and a team that went into Tuscaloosa and handed Alabama its only loss last season.
What they are missing:
There are still some holes to fill on defense. The Aggies finished with the No. 8-ranked defense in the SEC and the No. 10-ranked pass defense in the league. They also need to replace talented defensive end Damontre Moore, who is now in the NFL.

Vanderbilt Commodores
What they are selling:
Head coach James Franklin has taken Vanderbilt to a bowl in two consecutive years, and the Commodores are bringing in a solid recruiting class. Selling recruits on an opportunity to play at Vanderbilt during one of the best eras in the school's football history is enticing to high school recruits.
What they are missing:
Vanderbilt is not yet on par with other SEC schools as far as facilities. The Commodores, though, are certainly headed in the right direction. A new indoor practice facility is being constructed, and stadium renovations are in the planning stages.
May, 10, 2013
May 10
9:00
AM ET
ACWORTH, GA – The evaluation period is intended for assistant coaches to hit the road to check out potential future additions for their program. While sometimes the stops can be more about being seen than actual evaluation, that was not the case for safety
Cameron Albright
(Acworth, Ga./North Cobb) on Thursday.
The 6-foot-1, 215-pound defensive back looked over his shoulder during warmups to see University of Georgia defensive coordinator Todd Grantham and secondary coach Scott Lakatos. The two assistants eyed Albright's every move for over an hour.
To continue reading this article you must be an Insider
May, 9, 2013
May 9
8:14
PM ET
AUGUSTA, Ga. -- Georgia hasn't done much to slow
Jadeveon Clowney
's pass rush in its first two meetings with South Carolina and its star defensive end. So offensive coordinator Mike Bobo joked that the Bulldogs might have to get creative with how they attack him in their third meeting this fall.
"I think we're going to do the old Burt Reynolds 'Longest Yard' and not block him and let [quarterback Aaron] Murray throw it at him," Bobo cracked at Thursday's UGA Day meeting in Augusta, referencing the infamous scene in the 1974 football movie where Reynolds' quarterback character repeatedly pegs a vicious opponent, played by gridiron great Ray Nitschke, in the groin.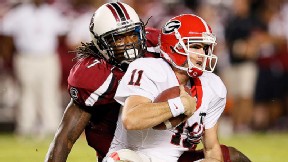 Kevin C. Cox/Getty ImagesJadeveon Clowney has harrassed Georgia quarterback Aaron Murray in each of their first two meetings.
Getting serious, though, Bobo said the Bulldogs have focused their pass protection schemes on Clowney in various ways over the last two seasons and he still accounted for three sacks, four tackles for a loss and a fumble that led to a back-breaking touchdown late in the Gamecocks' 2011 win in Athens.
At some point, it's a given that one of the top defensive players in the nation is going to make a big play, Bobo said.
"We can't throw the ball backwards when he's about to sack us and we've got to hold onto the ball and not turn a bad play into catastrophe," Bobo said. "That's what's got to happen when we play him because he's going to get [his]. He's a great player. ... We've just got to play hard and like I said, he's going to make some plays and we'll do some things to hopefully try to discourage him."
The key is doing what they can to limit the damage -- and they'll try to scheme toward that end again in September.
"I think our guys are eager to play that game. We were obviously embarrassed [last year] and got thoroughly whipped by that defense," Bobo said of the Bulldogs' 35-7 loss in Columbia last season. "So we'll be ready for that game, I promise you."
Bobo made his first-ever appearance Thursday on Georgia's summertime circuit of alumni association tour stops, and he was joined by men's basketball coach Mark Fox, athletic director Greg McGarity and Jere Morehead, who will succeed Michael Adams as university president this summer.
Among the other points Bobo and Fox made in interviews prior to the event:
• He called the third tailback spot behind
Todd Gurley
and
Keith Marshall
a "big concern for me," as the Bulldogs' depth at the position was not ideal during the spring. He expects that signees
A.J. Turman
and
Brendan Douglas
will both play this fall.
"They're going to have to play," he said. "You say that and you never know, but we're going to go in there with the idea of getting them ready to play and it might not be week one. It might be, 'Hey we're getting them ready to play' and they're playing on special teams and by week four, week five, that confidence they've gained on special teams has enabled them to play scrimmage downs."
• Bobo said freshman receiver
Tramel Terry
is ahead of schedule in his return from a torn ACL suffered last December and should begin running routes this summer. He added that All-SEC offensive guard
Chris Burnette
-- who missed spring practice while recovering from shoulder surgery -- "has really changed his body since being out" and looks to be in great shape for when the Bulldogs open preseason camp in August.
• Fox said assistant coach Kwanza Johnson remains on Georgia's staff as of now. TCU has approached Johnson about an assistant coaching job and Fox said he should make a decision in the near future.
• Fox said Georgia will likely not know the dates of its 2013-14 SEC games until August.
• Bulldogs forward
Nemanja Djurisic
is going home to Montenegro for UGA's May semester, but plans to rejoin his teammates on campus for the second summer session. Fox said he expects all of Georgia's players to be on campus for at least part of the summer, which will provide them with valuable preparation time as they prepare for preseason practice in the fall.
May, 9, 2013
May 9
10:15
AM ET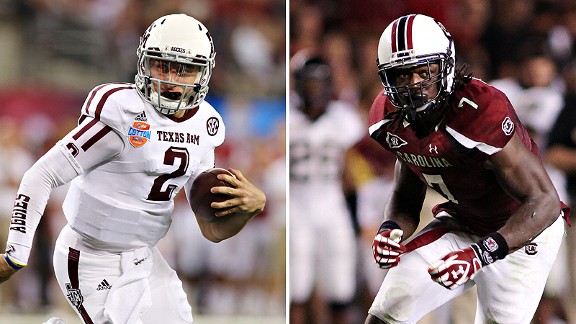 USA Today SportsTexas A&M's Johnny Manziel and S. Carolina's Jadeveon Clowney are top 2014 NFL draft prospects.
The SEC had a record 63 players selected in last month's NFL draft, including 12 in the first round.
I'm not sure it's realistic to expect that kind of haul next year, but it's never too early to start looking ahead to the 2014 draft class.
So, similar to a year ago, I've come up with our list of the SEC's top 20 draft prospects for 2014.
This isn't a mock draft. Likewise, it's not a ranking of who I think will be the best players in the SEC next season. Rather, it's a projection of who will be the most coveted NFL prospects from the SEC when the 2014 draft rolls around in April. In coming up with this list, I've talked to several draft analysts as well as NFL personnel, SEC coaches and others who are clued in to the whole draft process.
Some players will obviously play their way onto this list next season, while others will play their way off it. Injuries undoubtedly will be a factor, and then occasionally, guys will come from nowhere to be first-round picks.
Among the prospects I nailed this time a year ago were Alabama cornerback
Dee Milliner
, Alabama offensive guard
Chance Warmack
, LSU defensive end
Barkevious Mingo
and LSU safety
Eric Reid
.
Among those I missed the boat on were Texas A&M offensive tackle
Luke Joeckel
, Missouri defensive tackle
Sheldon Richardson
, Florida defensive tackle
Sharrif Floyd
and Alabama offensive tackle
D.J. Fluker
.
I had Arkansas quarterback
Tyler Wilson
No. 1 overall and South Carolina running back
Marcus Lattimore
in my top five. So it never goes exactly the way anybody predicts, especially 11 months before the draft.
Here goes with our 2014 list. Again, we're not suggesting all 20 will go in the first round or even the first two rounds. It's simply the order we think they will come off the board in next April's draft and includes only draft-eligible players:
1. Jadeveon Clowney, DE, South Carolina, Jr.:
The ultimate game-changer on defense, Clowney would have been a first-rounder had he been draft-eligible after his freshman season. Clowney then excelled in 2012, elevating his status as the 2014 No. 1 favorite.
2: Cyrus Kouandjio, OT, Alabama, Jr.:
A potential top-five pick in next year's draft, the 6-foot-6, 310-pound Kouandjio is everything you're looking for in a left tackle.
3. Jake Matthews, OT, Texas A&M, Sr.:
We know Matthews has the bloodlines, but he also has the game. He's shifting over from right tackle to left tackle for his senior season.
4. Antonio Richardson, OT, Tennessee, Jr.:
The man they call Tiny has the size and athleticism to be a franchise left tackle. Clowney said Richardson was one of the best tackles he faced a year ago.
5. Anthony Johnson, DT, LSU, Jr.:
There's a reason they call him Freak. They just seem to breed great defensive linemen at LSU, and Johnson is next in line.
6. Loucheiz Purifoy, CB, Florida, Jr.:
He's a pure cover cornerback with good size and an explosive athlete to boot. The Gators also will play him at receiver next season.
7. Johnny Manziel, QB, Texas A&M, RSo.:
Yes, Manziel is shorter than the NFL typically likes its quarterbacks, but do measurables really matter when you make as many plays as Johnny Football does?
8. Dominique Easley, DT, Florida, Sr.:
Easley is fully recovered from the torn ACL he suffered at the end of the 2011 season. He's sliding inside to tackle next season and will be a force for the Gators.
9. Adrian Hubbard, OLB, Alabama, RJr.:
We saw his ability to get to the quarterback in flashes last season. Look for Hubbard to take that next step in 2013 and become a premier finisher.
10. C.J. Mosley, LB, Alabama, Sr.:
As the saying goes, he's a football player. Mosley is a sure tackler. He's excellent in coverage and is always money whenever Alabama needs a big play.
11. Ha Ha Clinton-Dix, S, Alabama, Jr.:
In the past four drafts, Alabama has produced four first-round selections in the secondary. Clinton-Dix could be the top safety off the board next year.
12. Mike Evans, WR, Texas A&M, RSo.:
In his first season in the SEC, the 6-5, 225-pound Evans was sensational with 82 catches and 1,105 yards. He'll be even better his second time through.
13. AJ McCarron, QB, Alabama, Sr.:
Sure, he's been surrounded by great talent, but McCarron also has an NFL arm, delivers in the clutch and takes care of the football.
14. Jordan Matthews, WR, Vanderbilt, Sr.:
The 6-3, 205-pound Matthews is so smooth that he makes it look easy. And talk about productive. He averaged 109.6 receiving yards in eight SEC games.
15. Donte Moncrief, WR, Ole Miss, Jr.:
One of the more underrated players in the SEC, the 6-3, 215-pound Moncrief has a knack for finding the end zone with 14 touchdowns in his first two seasons.
16. Daniel McCullers, DT, Tennessee, Sr.:
This mountain of a man (6-8, 360 pounds) is still developing, but he should make an imposing nose tackle for a team that uses a 3-4 defensive scheme.
17. Marcus Roberson, CB, Florida, Jr.:
The "other" Florida cornerback also has big-time skills and was second in the SEC in passes defended last season with 14.
18: Chaz Sutton, DE, South Carolina, RJr.:
Clowney will get most of the attention next season, but don't be surprised if Sutton blows up and has a monster senior season.
19: Gabe Jackson, OG, Mississippi State, Sr.:
Jackson thought about coming out early this year. He returns as one of the top offensive guards in college football.
20: Aaron Murray, QB, Georgia, Sr.:
The opinions are mixed on Murray, who's bearing down on several SEC records. His numbers speak for themselves, and so does the way he approaches the game.
May, 9, 2013
May 9
9:00
AM ET
ATHENS, Ga. -- Offensive tackle
Dyshon Sims
(Valdosta, Ga./Lowndes) awoke from a post-practice nap to find out that a longtime dreams of his had come true.
"I was actually sleeping around 9:30 when I got an alert on my phone from my Facebook account that I had gotten a message," Sims said. "It was from the offensive line coach, Coach [Will] Friend. So I called him and he said they were offering me a full scholarship to come play at the University of Georgia."
The 6-foot-4, 278-pound junior was taken aback.
To continue reading this article you must be an Insider
May, 9, 2013
May 9
7:00
AM ET
ATHENS, Ga. --
Kolton Houston
will explain his side of a lengthy NCAA eligibility dispute for the first time on Sunday morning.
ESPN reporter Bob Holtzman visited the Georgia offensive lineman and his family at their Buford, Ga., home in March and assembled a piece for "Outside the Lines" that will air at 9 a.m. ET Sunday on ESPN.
[+] Enlarge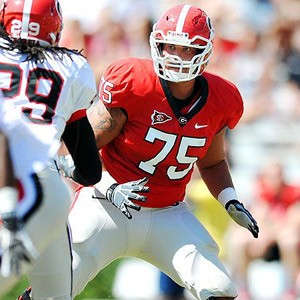 Radi Nabulsi/ESPN.comA year ago, Kolton Houston won a starting job during spring practice. But issues with the NCAA's policies on steroid use have kept him on the sidelines.
In Holtzman's story, Houston and UGA director of sports medicine Ron Courson describe their unusual three-year battle with the NCAA that began when Houston first tested positive for steroid use shortly after enrolling at Georgia in 2010.
Although the NCAA has accepted Courson's extensive testing data that indicates Houston has not reused the performance-enhancing drug, it has not wavered in its decision that Houston will remain ineligible until tests reveal that the drug remains in his system only at an allowable level. In dozens of tests since the initial positive result in 2010, the remaining trace elements of the drug have not dissipated enough to reach the minimum threshold set forth in the NCAA's rulebook. Thus he has yet to appear in a college game, and the
Bulldogs have been forced to play without
a player who was projected to start at right tackle after spring practice concluded last year.
What will happen next remains unclear. UGA sports information director Claude Felton said Wednesday morning that Houston is "currently on the roster," but "as of this moment still ineligible."
Courson made his
first public appeal on Houston's behalf last August
, when the Bulldogs opened preseason practice. He had privately lobbied college sports' governing body that the trace elements of the drug that remain in Houston's system do not provide a performance-enhancing benefit, but the NCAA has not made an exception to its rules for Houston.
Courson and Bulldogs coach Mark Richt have spoken to reporters about the case in the past year, but the "Outside the Lines" interview will represent the first time Houston has publicly addressed his situation.
In addition to its Sunday morning time slot, "Outside the Lines" will air next week at 3 p.m. ET Monday, Tuesday and Wednesday.
May, 8, 2013
May 8
4:30
PM ET
Alabama's athletic department led the SEC in revenue produced in 2012 and was fourth nationally, according to a
USA Today report
.
Alabama took in $124,899,945 in revenue and spent $108,204,867 for a subsidy of $5,461,200.
Texas was No. 1 nationally with $163,295,115 in total revenue.
Six of the top 12 schools in total revenue were from the SEC. Alabama, Florida, Texas A&M, LSU, Auburn and Tennessee were all over $100 million in revenue.
Below is a breakdown. The national rank is in parentheses:
(4.) Alabama:
$124,899,945 in revenue; $108,204,867 in expenses
(5.) Florida:
$120,772,106 in revenue; $105,102,198 in expenses
(6.) Texas A&M:
$119,702,222 in revenue; $81,792,118 in expenses
(7.) LSU:
$114,787,786 in revenue; $101,989,116 in expenses
(10.) Auburn:
$105,951,251 in revenue; $96,315,831 in expenses
(12.) Tennessee:
$102,884,286 in revenue; $101,292,015 in expenses
(14.) Arkansas:
$99,757,482 in revenue; $82,470,473 in expenses
(18.) Georgia:
$91,670,613 in revenue; $88,923,561 in expenses
(19.) Kentucky:
$88,373,452 in revenue; $84,929,819 in expenses
(21.) South Carolina:
$87,608,352 in revenue; $84,963,037 in expenses
(38.) Mississippi State:
$69,828,880 in revenue; $67,926,160 in expenses
(51.) Ole Miss:
$51,858,993 in revenue; $51,708,064 in expenses
(52.) Missouri:
$50,719,665 in revenue; $66,980,889 in expenses
May, 8, 2013
May 8
10:34
AM ET
By
RecruitingNation
| ESPN.com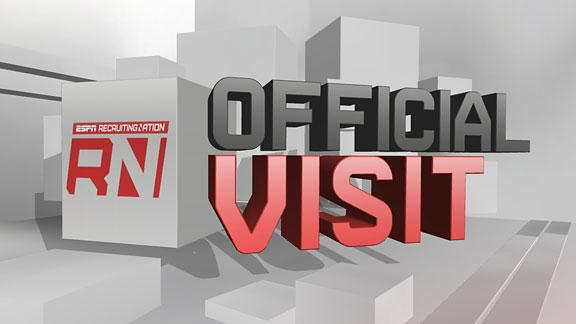 NoleNation's Corey Dowlar talks with Phil Murphy about the latest in Florida State 2013 signee Matthew Thomas' saga, and TideNation's Greg Ostendorf stops by to talk about the impending decisions of ESPN 150 recruits Tre' Williams and Justin Thornton.
May, 8, 2013
May 8
9:00
AM ET
JEFFERSON, Ga. -- The Georgia state track meet is almost always populated with top football prospects competing in their second sport of the year. This year did not disappoint, as a number of Peach State recruits descended on the track and field events to try and win a state title.
Bulldogs' signees compete in last prep events
Tight end
Jordan Davis
competed in the 110-meter high hurdles and 300-meter intermediate hurdles. He finished second in the 110-meter race, beating out several much smaller and quicker competitors.
"These little guys are faster than me," Davis said. "I can't catch them in a sprint. But I gain a foot on them on each hurdle."
Davis will report in June with the Bulldogs' other signees, including
Rico Johnson
, who was at the meet trying to defend his 100-meter title.
To continue reading this article you must be an Insider
May, 8, 2013
May 8
7:00
AM ET
Editor's note: This week we continue to clean out our notebook from Georgia's spring practices to tell the stories we didn't get to tell before the Bulldogs' G-Day game. Previously we featured fullback Quayvon Hicks
,
tight end Jay Rome, defensive end Ray Drew, safety Connor Norman and receiver Rantavious Wooten. Today we recap a conversation with cornerback Damian Swann.
ATHENS, Ga. -- Count Damian Swann among the Georgia players whose expectations were fairly low when the Bulldogs' rebuilt defense first took the field for spring practice. But it didn't take long for that outlook to change.
[+] Enlarge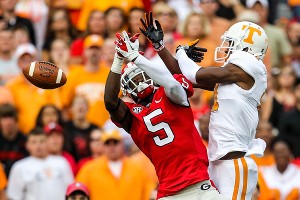 Daniel Shirey/USA TODAY SportsDamian Swann is embracing his newfound role as the veteran leader of Georgia's secondary.
"The first day, I kind of looked at it like, 'Man, we've got a lot of work.' But that just comes with we're losing all those guys to the NFL," Swann said of a 2012 defense that had seven players drafted and five more sign free agent deals after the draft. "We're returning, what, four guys that have played a tremendous amount? So we have seven guys out there that didn't really know. But after the first couple days once we put on pads, the first scrimmage, it's like, 'We've got something.' "
Swann made that comment midway through spring practice, but that optimism only grew throughout the spring -- up through the G-Day game, when the first-team defense largely held in check a starting offense that returns nearly everyone from last season's record-setting unit.
Of course, the low-pressure nature of spring practice makes it a perfect time for unbridled optimism. Also factor in that the offense played without some of its key pieces for all or most of the spring. Nonetheless, junior cornerback Swann -- the only returning defender who started all 14 games last fall -- was reassured by what he saw from the numerous youngsters who got their first heavy doses of playing time in the spring.
"Before we went into [the first] scrimmage, we had our competition days where we'd go team this, team that, and out of all the competition drills with the one-on-ones and two-on-twos and three-on-threes, what we win are the team drills. The drills that really matter," Swann said. "And that gave me confidence that, 'If we're doing this now with a very experienced offense, once we get very in sync come August, we should be fine.' "
Swann led the team with four interceptions last season and also forced two fumbles and recovered two more. But by this point it's a well-documented fact that he is the only returning member of the secondary with any significant playing experience.
With that in mind, he took it upon himself to become a leader for the group by setting a tone with his play and even learning the duties at the safety positions so he could help newcomers such as safeties
Tray Matthews
and
Quincy Mauger
progress more rapidly. Prior to the spring, Matthews cited Swann as one of the veterans who best helped him learn what to do when practices began.
"I think if I know more, I can teach more," Swann said. "Me being here, this is about to be my third year, I think I know exactly what to do at all three corners. So it wouldn't hurt me to try and learn safety, strong or free, to try and learn either one of them so I guess I can be more helpful and more beneficial to the guys that are going to be playing with me."
It wasn't so long ago that Swann was the youngster who leaned on more experienced teammates to make sure he played assignments correctly. He played intermittently as a true freshman in 2011 before enjoying a solid debut season as a starter last fall.
Now the veterans who preceded him such as Sanders Commings, Branden Smith, Bacarri Rambo and Shawn Williams are gone, causing Swann to shift from mentee to mentor. He embraced that role this spring because he knew that was the time for the Bulldogs to endure their growing pains if they are to avoid getting embarrassed when they open the season against Clemson's high-powered offense on Aug. 31.
"I think I have to take charge out there," Swann said. "When guys are kind of confused, I have to tell it to them on the fly because the offense knows we're new, but they're not taking it lightly. So we've just got to get everybody on the same page so everybody can play fast."
May, 7, 2013
May 7
6:17
PM ET
As colleges hit the road for the spring evaluation period, offers continue to pour in for ESPN 150 defensive lineman
Kentavius Street
(Greenville, N.C./Rose).
To continue reading this article you must be an Insider