January, 12, 2015
Jan 12
12:00
PM ET
Now that we're hours away from watching Oregon take on Ohio State in the College Football Playoff National Championship Game Presented by AT&T, it makes sense to peer into the not-so-distant future and try to find teams that could -- and should -- compete for conference titles and then some in 2015.
When I look at Georgia, I see a team that appears to be a quarterback away from making a deep run through the SEC and hopping into the second-ever College Football Playoff. And really, the Bulldogs could be the best-equipped team in the SEC for such a season.
Much has been made of coach Mark Richt, who is now 136-48 at Georgia, and his lack of titles. It's been a decade full of missed opportunities since Georgia's last SEC title, but 2015 could provide the remedy for Georgia's blues.
[+] Enlarge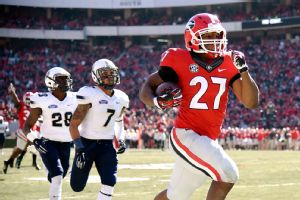 Dale Zanine/USA TODAY SportsBehind running back Nick Chubb, the road to Atlanta -- and potentially beyond -- sets up nicely for the Dawgs.
Offensively, the Bulldogs might have the SEC's best returning running back in
Nick Chubb
, along with a deep receiving corps, while the defense returns just about everyone from a group that vastly improved under first-year defensive coordinator Jeremy Pruitt in 2014.
Georgia isn't the perfect team, and won't be the nation's preseason No. 1, but the parts are there for a very big season. And if the Bulldogs fall short of at least a trip to Atlanta for the SEC championship game, there will be a lot of justifiably upset Dawgs fans.
It's time for Georgia to get out of its own way and go win the SEC title before "Georgiaing" replaces "Clemsoning."
Yes, the quarterback situation -- which will be headed by current redshirt freshman
Brice Ramsey
, redshirt sophomore
Faton Bauta
and true freshman
Jacob Park
-- is a little hazy at the moment due to relative inexperience, but there are enough weapons returning on this offense for
me
to be comfortable throwing the ball. And don't expect any wholesale scheme changes under new offensive coordinator Brian Schottenheimer.
As long as the Dawgs are constantly feeding Chubb the ball, that offense will be fine. Much like
Todd Gurley
, Chubb plays like he's from a different planet. He rushed for 1,547 yards and 14 touchdowns in just eight starts. When Gurley started 12 games as a freshman, he ran for 1,385 yards and 17 touchdowns. Chubb also averaged 7.1 yards per carry compared to Gurley's 6.2. I'm not trying to say that Chubb is better than Gurley, which he very well could be, but I think the running game is in good hands with the youngster.
Also, don't forget about the speedy, elusive
Sony Michel
, who could have a bigger role in the offense this fall as well.
The offensive line returns four starters, all upperclassmen. Veterans
Malcolm Mitchell
and speedy
Justin Scott-Wesley
lead a talented, young receiving corps that should make up for the losses of
Chris Conley
and
Michael Bennett
.
And that's all before we get to what should be an even better defense in 2015. Pruitt did a masterful job getting players adjusted to his defensive philosophy and how he wanted guys to approach games and practice, and he will have an even older group to work with in 2015. The key was getting rush specialists
Jordan Jenkins
and
Leonard Floyd
back. They could have flirted with the NFL, but decided to stay in Athens, which was the right move. The two combined for 11 sacks last year, but freshman
Lorenzo Carter
, who took some starts away from Floyd in 2014, could be a really special player after registering 4.5 sacks, seven tackles for loss and 17 quarterback hurries.
The defensive line will need some retooling with a couple of seniors gone, but the rotation last year was good enough to get guys such as
Sterling Bailey
and
Josh Dawson
quality snaps.
Then, there's the secondary that outside of veteran
Damian Swann
was almost completely comprised of underclassmen, who matured and improved steadily as the season went on. Georgia finished the year second in the SEC in pass defense (170.4 yards per game) and didn't allow any team to pass for more than 142 yards in the final month of the regular season.
The schedule sets up nicely, too. Georgia has two road games within the first month -- Vanderbilt and Tennessee. The Bulldogs get Alabama, South Carolina and Missouri at home before trips to Auburn and Georgia Tech. Tennessee certainly won't be a walk in the park, but Florida and South Carolina are considerable unknowns and both Alabama and Missouri lose a lot from this season.
The bottom line is that this team is loaded and the road to Atlanta -- and potentially beyond -- sets up nicely for the Dawgs. It was set up well this season and Georgia didn't take advantage. That can't happen in 2015. With the state of the East and the strength of the Dawgs, it's unacceptable for the team not to make it to Atlanta. There's little room for excuses for the Dawgs.
Dawgs fans are rightfully restless and tired of the continuous shortcomings. Richt engineered the last title run, and he has a team capable of accomplishing that feat again.
January, 11, 2015
Jan 11
3:02
PM ET
ESPN.com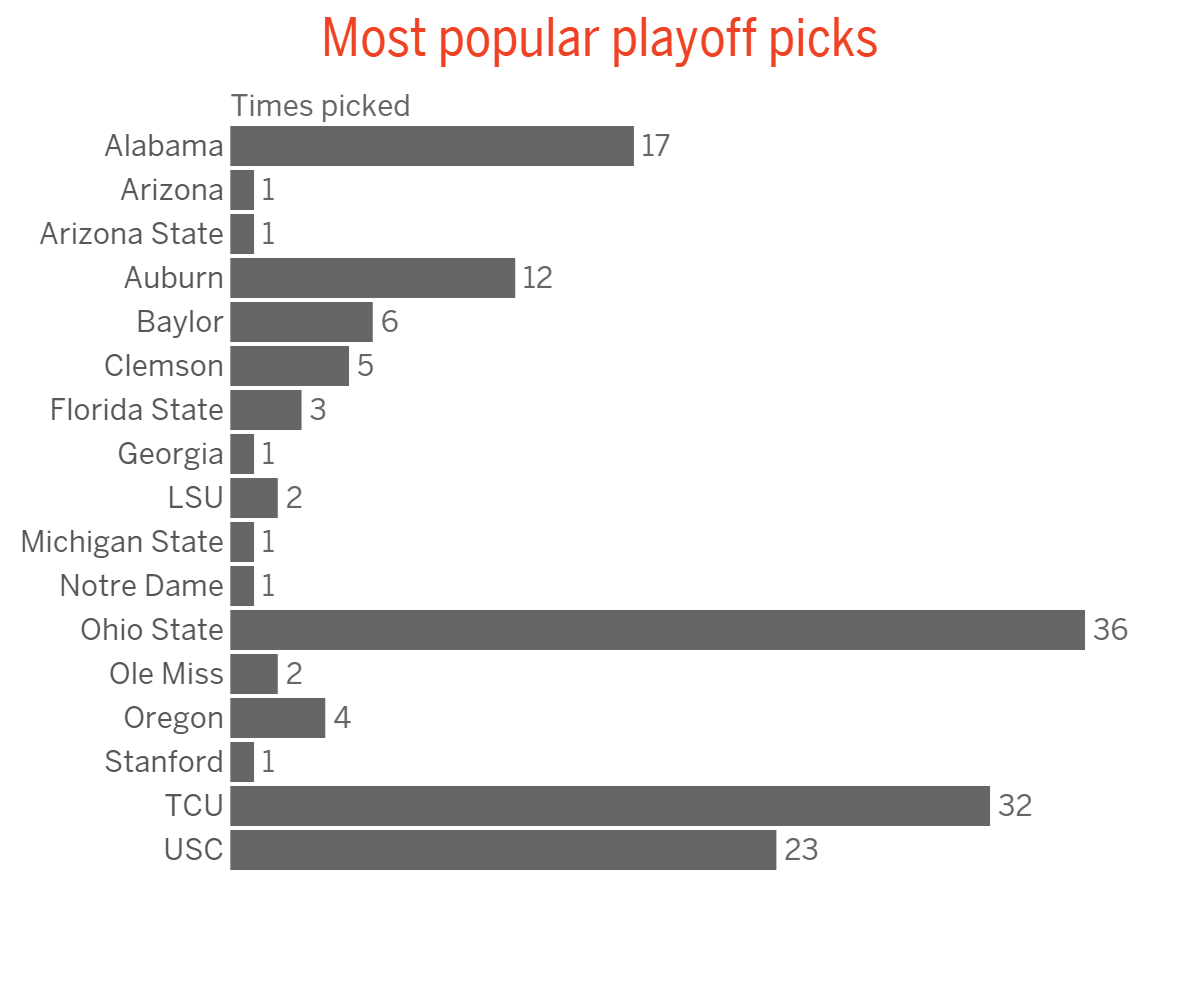 For more 2015 predictions, see Mark Schlabach's Way-Too-Early Top 25 and our best 2015 title bets.
The confetti on the 2014 season has barely settled, but it's never too early to look ahead to next season. We asked 37 of our experts which teams they think will be in the 2015 College Football Playoff field. While no team was unanimous, Ohio State led the list, showing up on 36 ballots.
January, 9, 2015
Jan 9
5:44
PM ET
Associated Press
ATHENS, Ga. -- Brian Schottenheimer's background as a Florida quarterback almost got in the way of his hopes to become offensive coordinator at Georgia.
During Schottenheimer's interview with Georgia coach Mark Richt, one of the Bulldogs' biggest rivalry games was mentioned. That was when Schottenheimer made his mistake.
"He did refer to it as the Florida-Georgia game," Richt said Friday. Richt said he quickly made sure Schottenheimer knew that in Athens it's called the Georgia-Florida game.
Schottenheimer managed to smile as he recalled his blunder.
"That almost did me in, truth be known, so I've been watching it real close from that point on," Schottenheimer said.
Schottenheimer, the former St. Louis Rams offensive coordinator whose hiring was announced on Wednesday, said he expects "an easy fit" in Georgia's pro-style offense.
He said he'll learn the terminology used by former coordinator Mike Bobo, who was named the Colorado State head coach on Dec. 22.
"We're not going to reinvent the wheel," said Schottenheimer, who also will coach Georgia's quarterbacks.
"That's going to allow these guys to play fast. There certainly will be some things that will have my fingerprint on it."
Richt said the college trend toward spread offenses limited his search.
"There wasn't a massive amount of candidates at the college level, quite frankly, who do the things that we do," Richt said.
January, 9, 2015
Jan 9
12:30
PM ET
Nick Chubb
or
Leonard Fournette
? It's a debate that will continue all offseason. We even discussed it in
today's "Take Two."
But when discussing those two and which one was the best freshman running back in the SEC, there should be another name in the conversation:
Jalen Hurd
.
The Tennessee freshman finished with 899 rushing yards, 221 receiving yards and seven touchdowns his first year on campus. His rushing totals might not be on par with Chubb or Fournette, but he did a little bit of everything for the Volunteers and was a big reason why they played in a bowl game.
"He's an all-purpose back," Tennessee offensive coordinator Mike Bajakian said. "He's an extremely well-rounded player. He runs with great physicality. He's very good in pass protection. He's good catching the ball out of the backfield.
[+] Enlarge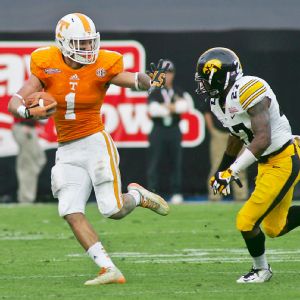 Phil Sears/USA TODAY Sports
"And he's an intelligent player. He's really studied the game and he's really come a long ways in understanding our scheme and in particular our pass protections."
Bajakian believes Hurd will be one of the SEC's top running backs in 2015. Unlike many freshmen, Hurd got stronger as the season progressed and played some of his best games down the stretch. He rushed for more than 100 yards in three of the team's last five games.
Against South Carolina on Nov. 1, Hurd rushed for a career-high 125 yards and his nifty 21-yard touchdown reception on fourth-and-6 late in the game might have saved Tennessee's season. If he doesn't spin out of a tackle, the Vols don't win that game.
That same intensity was there Jan. 2 in the TaxSlayer Bowl, when Hurd had rushed for 88 yards and two touchdowns by the end of the first quarter. He was finishing his runs and picking up yards after contact, making it clear he wanted the ball in his hands. The former ESPN 300 prospect finished with 122 rushing yards in Tennessee's 45-28 victory over Iowa.
"Jalen is one of those individuals who has continued to get better and better and better," Vols' head coach Butch Jones told reporters after the game. "I just think [his performance] was up to his standard, what we expect from him."
The future is clearly bright for the Vols, and Hurd has a lot to do with that. He won't be on any Heisman Trophy ballots heading into next season like his counterparts, but don't let that fool you. He belongs in that upper echelon alongside Chubb and Fournette.
It's scary to think that all three of those players still have at least two seasons of college football left to play. But they're not alone. The running back Class of 2014 was good to the SEC.
Kentucky freshman
Stanley "Boom" Williams
rushed for 100 yards or more on three occasions and capped his season with a career-high 126 rushing yards and two touchdowns against rival Louisville.
At Auburn,
Roc Thomas
was stuck behind the SEC's leading rusher,
Cameron Artis-Payne
, this season. He played a bigger role in the second half of the season, but never got going. That could change next year with Artis-Payne moving on.
And then there's Chubb's teammate,
Sony Michel
. He missed five games to injury, but when he did play, he was terrific.
Who said the SEC was a quarterback league? The running backs are taking over.
January, 9, 2015
Jan 9
10:00
AM ET
Having been in South Florida all week following the Under Armour All-America Game and the Under Armour Elite 50 Experience, I've picked up various interesting items along the way.

Randy Shannon and Florida


January, 9, 2015
Jan 9
10:00
AM ET
Our SEC reporters will occasionally give their takes on a burning question facing the league. They will have strong opinions, but not necessarily the same view. We'll let you decide which reporter is right.
Now that the SEC's 2014 football season is officially over (ummm, Alabama??), it's time to start thinking and talking about 2015. And next season could be the year of the sophomore, especially at running back. There are a handful of talented, young running backs, but two stand out above the rest.
Today's Take Two topic:
Who is the better rising sophomore running back -- Georgia's
Nick Chubb
or LSU's
Leonard Fournette
?
[+] Enlarge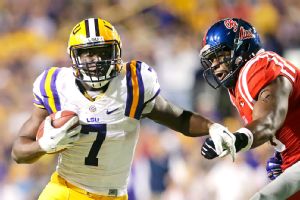 AP Photo/Gerald HerbertLSU's Leonard Fournette surpassed 140 rushing yards in each of his final two games.
Take one, Sam Khan:
Forget the ridiculous hype and virtually impossible-to-meet expectations that accompanied Leonard Fournette's recruitment. I present to you, my opening argument:
Ouch
!
Say what you will about the Texas A&M defense, but
Howard Matthews
is a hard hitter and a good inside-the-box safety. What Fournette did to him just ain't right.
Peel back the hype that surrounded Fournette and you will find an emerging star, one that had to go through a stronger SEC West (no matter what the bowl record might say).
Did you watch the Franklin American Mortgage Music City Bowl against Notre Dame? The one where he ran for 143 yards and two touchdowns
and
returned a kickoff 100 yards for another touchdown, and was clearly the best player on the field? Yeah, that guy is just getting started.
Fournette wasn't asked to carry a heavy load early on this season; he had the benefit of veterans in his backfield like
Terrence Magee
and
Kenny Hilliard
. LSU offensive coordinator Cam Cameron eased Fournette into things, and by midseason he found his footing. That will serve him well going into 2015, as the 19-year-old didn't have to get beat up between the tackles as much as Chubb, who had 32 more carries than Fournette.
Are his numbers as gaudy as Chubb's? No. Chubb didn't have to face Alabama. Or Mississippi State. Or Ole Miss. Those three were the SEC's best teams, ranked 1, 7 and 9, respectively, by the College Football Playoff selection committee at regular-season's end. So that certainly plays a role in the statistical discrepancy between the two in SEC play.
Fournette saved his best for last, though, surpassing 140 yards in each of his final two games despite having only 30 combined carries in those two games. If he had another couple games to play, I have a feeling he would do much of the same. This isn't about who was better in 2014. It's who will be better in 2015. And Fournette has the look of a running back who will be a serious contender for the Heisman Trophy. Imagine if the LSU offense around Fournette can get it together and improve, particularly at quarterback, next season. That would make him even more difficult to defend.
Fournette is 6-foot-1, 230 pounds of grown friggin' man. And he's fast, too: see
Exhibit A
and
Exhibit B
. Les Miles said it best: "I would get out of the way if Leonard was running at me."
Let me put it this way: If both backs were eligible to be drafted by the NFL today and you were a general manager, which back are you picking first? Give me Fournette, who is built like a linebacker but runs like a receiver. Good luck stopping that next season, SEC.
[+] Enlarge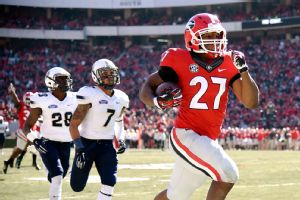 Dale Zanine/USA TODAY SportsGeorgia running back Nick Chubb finished with 1,547 rushing yards and 14 touchdowns.
Take two, Edward Aschoff:
Like Sam, I was mesmerized by all the glitz and glamour surrounding Fournette before and after he stepped on LSU's campus. And though I think Fournette will be nothing short of a star in the SEC, I'm taking Chubb yesterday, today, tomorrow and a week from next Tuesday.
The 5-foot-10, 228-pound block of rock with tornado-churning legs was arguably -- no, easily -- the nation's best running back 2014.
Boy,
Stop
!
With
Todd Gurley
still in Athens, Chubb was supposed to be a fun side act to watch and wonder what could be. Instead, he quickly shredded that title and looked like an All-Pro with his 1,547 rushing yards and 14 touchdowns. Only Herschel Walker had a better freshman season at Georgia, and Chubb's 14 touchdowns tied for the league lead.
Did you see
this kid miss
?
Thanks to an NCAA suspension and an ACL injury, Chub started the Bulldogs' final eight games, rushing for at least 113 yards in every contest. And those 113 yards came in a rout of Charleston Southern in which he carried the ball just nine times. With his elite vision, quickness, burst,
toughness, strength
and endurance, Chubb, who is both elusive and a downhill runner, averaged a league-high 7.1 yards per carry (6.7 vs. the SEC). He eventually set the SEC bowl record of 266 yards on 33 carries in Georgia's win against Louisville, which owned a top-10 rush defense, in the Belk Bowl.
Fournette had just five 100-yard games and averaged just 75.9 yards per game in SEC play, and just 62.2 yards in losses. In Georgia's two losses with Chubb starting, he averaged 142.5 yards, meaning he
always
showed up.
There is a reason LSU had to spell Fournette at times. Also, Georgia's coaches knew to get Chubb the ball as much as possible. They weren't afraid to
let their freshman do work
...
Trucking Texas A&M defenders? Please, Chubb does that in his sleep ... with Fournette latched to his back. I've heard Chubb hunts his own food and eats it on site. He's more ManBearPig than human, and will only get better, and better.
January, 8, 2015
Jan 8
3:31
PM ET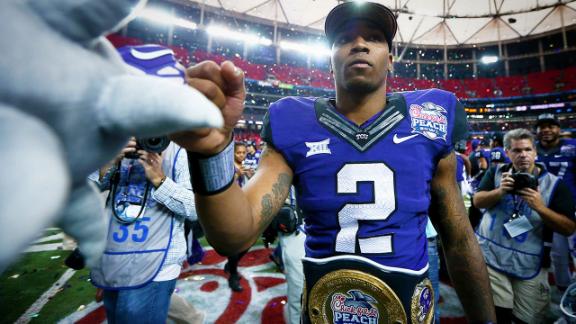 For more 2015 predictions, see our experts' playoff picks and best title bets.
DALLAS -- On Monday night, TCU coach Gary Patterson and his players had to watch Ohio State and Oregon play in their backyard in the first College Football Playoff Championship presented by AT&T.
The Horned Frogs, who went 12-1 this past season, were left out of the playoffs after falling from No. 3 to No. 6 on the playoff selection committee's final ballot. Instead of crying Texas-sized tears about being snubbed, the Horned Frogs blasted Ole Miss 42-3 in the Chick-fil-A Peach Bowl on New Year's Eve, which only strengthened their case as one of the country's top four teams.
It might not be much of a consolation, but the Horned Frogs are No. 1 in the first Way-Too-Early Top 25 of 2015. With 10 starters expected back on offense and six more returning on defense, TCU might be loaded for (Baylor) Bears this coming season.
"That's good," Patterson said. "We were 70th last year, I think. That's what people had us a year ago. That's where we were ranked. It's good for recruiting and all that kind of stuff, but that's tougher because now you have to create a chip on your shoulder. People are going to say you are [No. 1], but now you have to go prove you are. You've gotta go prove it."
No. 2 Ohio State, No. 3 Baylor and No. 4 USC follow the Horned Frogs, with hopes of reaching next season's four-team playoff. No. 5 Oregon and No. 6 Michigan State would be among the first teams left out.
January, 8, 2015
Jan 8
8:00
AM ET
1. With all apologies to Oregon and Ohio State's place on center stage, the SEC stole the news cycle yesterday. Between
Jonathan Taylor's signing at Alabama
and
Georgia's announcement of a new offensive coordinator
, it felt like the conference's day for debate. Even former LSU wideout Odell Beckham Jr. got some publicity as it was announced that he would
play in the Pro Bowl
. But while some might have seen Taylor's transfer to the Tide or Beckham's trip to the NFL's all-star game coming, I didn't sense many expected Brian Schottenheimer to land in Athens. For the Bulldogs, it's an intriguing hire. By going outside the box and reaching into the NFL, coach Mark Richt sent the signal that he doesn't want his pro-style offense to change much. But maybe getting someone with a pro pedigree like Schottenheimer's will give Georgia the extra boost it needs to get a more effective passing game going. It will at least shake up the tone of the offensive meeting rooms. With a new coordinator and a new quarterback, Georgia has the chance at a fresh start. How quarterback, coordinator and head coach mesh will ultimately determine whether the out-of-left field hire was a success.
2. Did you know that LSU played one day game the entire season? What about the fact that an SEC team has lost four consecutive Sugar Bowls? Mark Inabinette of Al.com has your "
SEC football by the numbers,
" including an interesting nugget about how it's been 71 years since a punter got off a longer kick in the Sugar Bowl than Alabama's JK Scott.
3. Watching a series of tweets from Manny Diaz's introductory newsconference at Mississippi State last night got me thinking: Is more of the same right for the Bulldogs? Because essentially that's what coach Dan Mullen went for when he brought Diaz back five years after he left to become an assistant at Texas. And, honestly, I'm not sure of the answer because watching Mississippi State's defense last season was such a confounding experience. On the one hand, you had to respect their athleticism and aggressiveness flying to the football. But on the other hand, they allowed so many big plays and gave up a ton of yards between the 20s. So what should Diaz's goal be this offseason? In my mind, it's to embrace the idea of continuity while preaching better consistency and fundamentals. Keep the "Psycho Defense" philosophy, only limit the mistakes of the recklessness that such a mindset demands.
"10 wins is erased. Our standards must change. We must get better." - @Coach_MannyDiaz

— MSU Football (@HailStateFB) January 8, 2015
"Our players have to play better than they did this past year. It's the only way it works. It's how you become great." - @Coach_MannyDiaz

— MSU Football (@HailStateFB) January 8, 2015
January, 7, 2015
Jan 7
9:49
PM ET
1. On the field,
Jameis Winston
went 26-1 and helped Florida State win a national championship. He combined size, athleticism, intelligence and competitiveness as did few before him. Off the field, he became a lightning rod -- at the center of the controversy over sexual assault on college campuses, not to mention pulling off a couple of really dumb stunts. He cleaned up his act over the last three months of this season. He could have a long time in the American spotlight, and if he continues to mature, no one will remember his college knucklehead side. Let's hope he does.
2. Oregon coaches long have derided traditional defensive statistics as a measure of the Ducks' efficacy. When you play as fast as the Oregon offense does, the opposing offense usually gets a lot more snaps, too. Former defensive coordinator Nick Aliotti, now a Pac-12 Network analyst, trumpeted the use of yards per play as a more effective measuring stick. Oregon is 84th in total defense, allowing 421.9 yards per game. But the Ducks are 61st in yards per play (5.45). Another example: The Ducks are 108th in passing yards allowed (265.9) but 50th in pass efficiency defense (123.6). The best example of the Oregon defense: The Ducks lead in turnover margin at plus-20.
3. The rumor spread last weekend that Georgia wanted Stanford's Mike Bloomgren to replace Mike Bobo as offensive coordinator. I contacted Bloomgren to see what was true. Bloomgren, in the course of saying he had not heard from Georgia, mentioned he and his family were vacationing in Florida, and he was hanging out with his good friend from their days together with the
New York Jets
, Brian Schottenheimer. Yeah, the guy Georgia named Wednesday as its new offensive coordinator. Right beach, wrong beachcomber.
January, 7, 2015
Jan 7
3:15
PM ET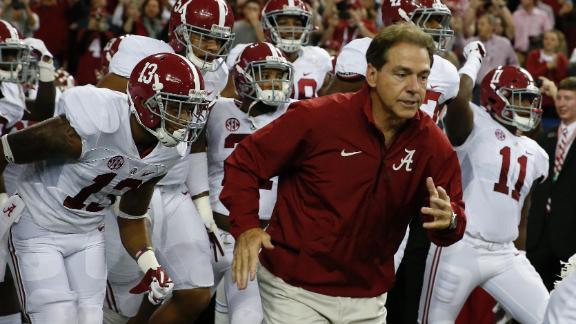 Former Georgia defensive lineman Jonathan Taylor, who was dismissed from the team in July after he was arrested for allegedly assaulting his girlfriend, enrolled in classes at Alabama on Wednesday.
Taylor, who spent this past season at Copiah-Lincoln Community College in Wesson, Mississippi, was one of eight early enrollees announced by the Crimson Tide on Wednesday.
Taylor, from Millen, Georgia, still faces two felony counts of aggravated assault in Athens, Georgia. He was arrested on July 22, after police say he struck his girlfriend with a closed fist and choked her during an argument at his dormitory room at McWhorter Hall. A UGA police report said Taylor is 6-foot-4 and 340 pounds; police said his girlfriend is 5-foot-11, 170 pounds.
Taylor was indicted by an Athens-Clarke County grand jury in November. A bench warrant was issued for his arrest by Athens-Clarke County Superior Court Judge H. Patrick Haggard on Dec. 9, but was later withdrawn.
Taylor's attorney, Kim Stephens of Athens, said he hopes the case will be reintroduced to a grand jury later this month or in February. Under a new Georgia law, which went into effect last year, Taylor was charged with a felony because police believe he choked the woman. Under the old law, Taylor would have been charged with misdemeanor battery, Stephens said.
"There are some technical issues with the indictment, so I would expect the case to be presented to a grand jury again," Stephens said. "My hope is the grand jury would no-bill it with no charges or return it with misdemeanor charges."
When contacted on Wednesday, Athens-Clarke County district attorney Ken Mauldin wouldn't say whether his office would consider reducing Taylor's charges to misdemeanors.
"It would be inappropriate for me to discuss it one way or the other," Mauldin said.
Taylor was also one of four Georgia players arrested in March on misdemeanor charges of theft by deception for allegedly double-cashing meal-reimbursement checks from the UGA athletic department. Taylor was ordered to repay the money and complete community service and was allowed to remain on the team. Because of his July arrest, Taylor has been removed from a pretrial intervention program and now faces an April trial on two misdemeanor charges. Stephens said he hoped to resolve those issues in the future.
"In this particular situation, we thoroughly investigated numerous sources regarding the young man. I had extensive discussions with several people who have been very close to him, including a lengthy visit with this young man," Alabama athletic director Bill Battle said in a statement. "Our coaches and I feel he is worthy of a second chance at completing his college football career at this level, and that he fully understands the position in which he has placed himself."
As a redshirt freshman at Georgia in 2013, Taylor appeared in 10 games with the Bulldogs, recording nine tackles with one sack. Taylor registered 44 tackles with 11 for loss and 4.5 sacks at Copiah-Lincoln Community College this past season.
Stephens said a few other schools inquired about recruiting him.
"There are a lot of other schools that were recruiting him and would have admitted him," Stephens said. "Most of the schools in the Southeast were recruiting him."
On Wednesday, Alabama spokeswoman Deborah Lane said Taylor's application for admission was evaluated like any other student who faced past legal issues.
"Jonathan Taylor was admitted to the University of Alabama following the same procedures that the UA Admissions office uses to evaluate any student who has dealt with legal issues," Lane said in a statement. "The admissions process includes representatives from academic, legal, student affairs, student conduct, UAPD and counseling. Athletics is not involved in the admissions process. Taylor's continued enrollment depends on his ability to fulfill all requirements the university has specifically mandated for him during his time as a UA student."
Alabama's decision to admit Taylor comes at a time when the NFL and other pro sports have increased their awareness about domestic violence, following incidents involving former Baltimore Ravens
January, 7, 2015
Jan 7
3:09
PM ET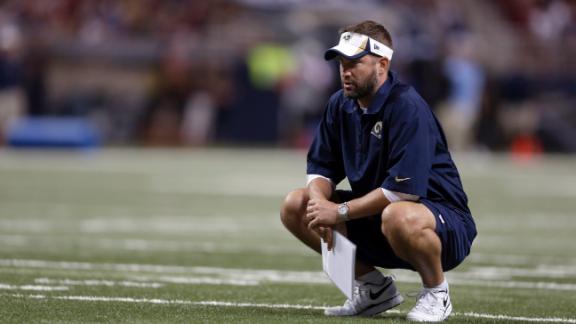 Georgia's search for its new offensive coordinator ended Wednesday, as coach Mark Richt announced the hire of veteran NFL coordinator Brian Schottenheimer.
Schottenheimer, who spent the past three years serving as the offensive coordinator for the St. Louis Rams, replaces longtime offensive coordinator Mike Bobo, who took over as head coach at Colorado State on Dec. 22.
"I'm excited to have Brian join our coaching staff," Richt said in a statement through the school. "His NFL experience will be a perfect fit for how we like to play offensive football here at Georgia. He'll be excellent in developing our players in both the running and passing games, which will benefit them while they are at Georgia and for their future."
Schottenheimer, the son of longtime NFL coach Marty Schottenheimer, will also coach Georgia's quarterbacks.
Before his three seasons with the Rams, Brian Schottenheimer was the offensive coordinator for the Jets (2006 to 2011) and the quarterbacks coach for the Chargers (2002 to '05) and Redskins (2001).
The Rams finished the regular season ranked 28th in total offense (314.7 yards per game) and 21st in scoring (20.3 points per game).
Schottenheimer doesn't have any coaching experience in the SEC, but he did transfer from Kansas to Florida, and he played for the Gators from 1994 to 1996. He graduated from Florida in 1997 with a degree in exercise and sports science.
January, 7, 2015
Jan 7
1:34
PM ET
Two of the bigger openings in this cycle, Nebraska and Wisconsin, came about in large part because of increasing strife between head coaches and their bosses.
You might have heard Bo Pelini spout about that to his former players on the way out the door in Lincoln. And Gary Andersen wasn't outwardly as vocal about his issues with the school's administrators, but the fact that he left Wisconsin for Oregon State was telling about the division in Madison.
Contention is always going to exist on some level between coaches who want more resources and administrators fighting to maintain budgets. But things recently came to a boil more than we're used to seeing.
Three additional Power 5 programs -- Georgia, Oklahoma State and Utah -- were on the brink of changes similar to Nebraska and Wisconsin. Each, it appears, has found a way to mend fences for the time being.
So what happened -- and what happens next -- for Mark Richt, Mike Gundy and Kyle Whittingham at their respective schools?
To continue reading this article you must be an Insider
January, 7, 2015
Jan 7
9:00
AM ET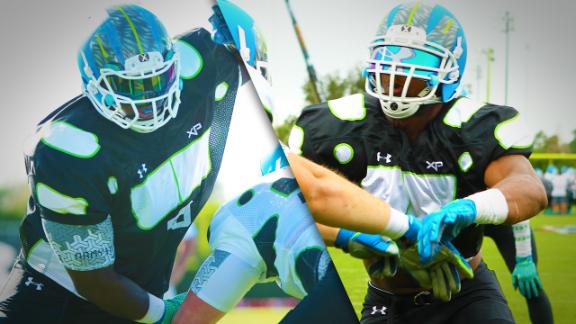 National signing day is just 29 days away. With three official visit weekends remaining, some of the top prospects and classes are hanging in the balance. Seems like a perfect time for five bold predictions heading down the home stretch.
To continue reading this article you must be an Insider
Top five SEC football players in 2015