March, 28, 2014
Mar 28
12:00
PM ET
While college basketball teams are punching their tickets to the Elite Eight, the SEC's best quarterback of the last two seasons might have cemented his position as an elite talent in the NFL draft.
March, 28, 2014
Mar 28
9:37
AM ET
March, 27, 2014
Mar 27
1:00
PM ET
ATHENS, Ga. --
Georgia
, which is trying to bounce back from last season's disappointing 8-5 finish, is finishing up its second week of spring practice.
It's the Bulldogs' first spring under new defensive coordinator Jeremy Pruitt, who directed Florida State's defense during the Seminoles' national championship run last season. Pruitt replaces Todd Grantham, who left UGA for Louisville after a couple of underperforming seasons with the Bulldogs.
[+] Enlarge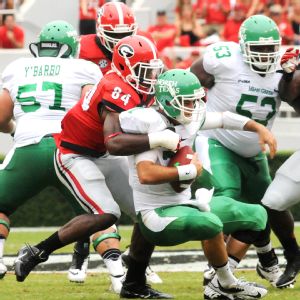 Jeffrey Vest/Icon SMIOutside linebacker Leonard Floyd, who started eight games as a freshman, has been a "beast" during spring practices.
Here are a few early observations from Georgia's spring:
• Outside linebacker
Leonard Floyd
, a sophomore from Eastman, Ga., added more than 20 pounds during the offseason and now weighs about 248. Floyd started eight games as a freshman in 2013 and finished with 55 tackles, 9.5 tackles for loss and a team-high 6.5 sacks. Pruitt will be looking for even more production from Floyd this coming season, and one UGA assistant called him the "best player on the team -- period."
"He's always making plays and setting the tone," linebacker
Ramik Wilson
said. "He stands out every play. He's just a beast right now."
• After running for 1,385 yards with 17 touchdowns as a freshman in 2012, tailback
Todd Gurley
was limited by a high ankle sprain during his sophomore campaign and finished with 989 yards and 10 touchdowns in 2013.
The Bulldogs weren't sure how much Gurley would be able to do during spring practice because of the lingering ankle injury, but he has participated in almost every aspect of practice so far. He's also expected to play a lot in Saturday's full-contact scrimmage, the first of the spring.
"He's been practicing every day in full-contract drills," Wilson said. "He's getting us better as a defense. He's the best running back in the country. He's not taking any plays off."
• One of the early surprises of the spring has been sophomore flanker
Blake Tibbs
, who played in only two games last season. Tibbs, from Martin Luther King Jr. High in Lithonia, Ga., was one of UGA's best performers during the offseason "mat drills" conditioning program. He also has looked good in practice so far, according to UGA coaches and players.
"He's doing really well," Wilson said. "It looks like he's added about 10 pounds and is blocking more physically. He's trying to show the coaches that he can contribute. If he keeps doing the things he's doing, he'll get on the field."
• UGA's coaches are hoping left tackle
John Theus
has finally turned the corner after a couple of so-so seasons. Theus, a junior from Jacksonville, Fla., started 22 games the past two seasons, including 14 as a freshman in 2012. He has moved from right tackle to left tackle this spring and will protect quarterback
Hutson Mason
's blind side.
Theus was bothered by a wrist injury the past two years but has been healthy during the offseason and excelled in the conditioning program, according to UGA offensive coordinator Mike Bobo.
With Theus moving to left tackle, senior
Mark Beard
, who briefly left the team during the offseason, is lining up at left guard. Senior
David Andrews
is back at center, with sophomore
Brandon Kublanow
at right guard and senior
Kolton Houston
at right tackle on the No. 1 unit.
March, 27, 2014
Mar 27
12:00
PM ET
The words "revolutionary" and "game-changing" are prominent in the aftermath of
Wednesday's ruling by a federal agency
that college athletes at Northwestern University are school employees and can form a union. The SEC had this to say:
"Notwithstanding today's decision, the SEC does not believe that full time students participating in intercollegiate athletics are employees of the universities they attend," commissioner Mike Slive said in a written statement.
Former South Carolina defensive tackle Kelcy Quarles came out
against the idea of college football players unions
.
Elsewhere in the South, spring practice and NFL scouting continued as if the earth had not spun off its axis.
March, 27, 2014
Mar 27
10:00
AM ET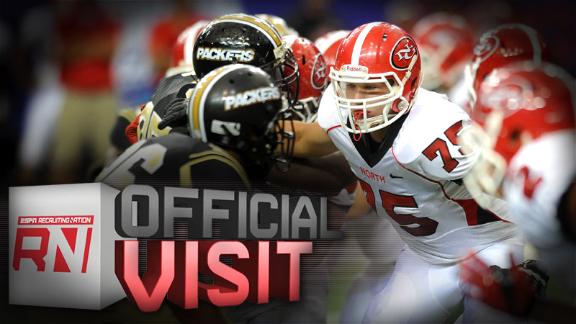 ATLANTA --
Jawon Pass
was sitting at a stoplight recently when he looked to his left and saw a Georgia Bulldogs bumper sticker. Then he turned to his right and saw a South Carolina Gamecocks logo staring at him from a window of another car. Then directly in front of him were vehicles with Tennessee Volunteers and Clemson Tigers license plate frames.
Pass, a highly regarded 2016 quarterback from Columbus (Ga.) Carver, has lived in 10 different cities while growing up, but when he arrived in Georgia six years ago, he immediately noticed things were different.
"There are fans from everywhere here," said Pass, who already has scholarship offers from Clemson, Florida, Mississippi State, North Carolina, NC State, Notre Dame and Texas A&M. "Georgia is the heart of college football. Georgia fans are all over. But you're also going to see a lot of Clemson, Auburn, Alabama fans and everybody else. It's like nowhere else I've lived before. Georgia is the melting pot of college football, if you ask me."
To continue reading this article you must be an Insider
March, 27, 2014
Mar 27
9:00
AM ET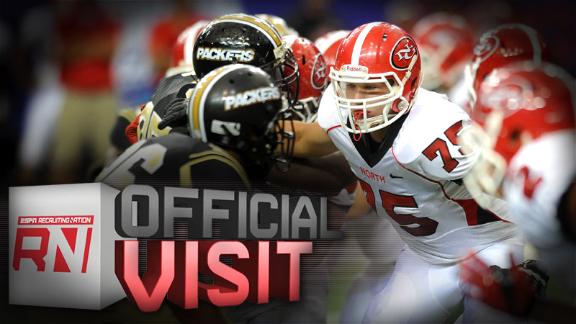 ROSWELL, Ga. -- When listing the most explosive prospects in the Class of 2015, it does not take long to call on
Taj Griffin
.
The 5-foot-10, 174-pound, versatile running back was one of the standouts at last weekend's
Atlanta Nike Nike Football Training Camp
and SPARQ combine, earning an invitation to the The Opening in early July.
To continue reading this article you must be an Insider
March, 26, 2014
Mar 26
12:00
PM ET
Spring storylines abound this week around the SEC. Let's take a quick spin around the league to see what's happening.
March, 26, 2014
Mar 26
9:30
AM ET
Throughout this recruiting cycle, RecruitingNation will profile a number of ESPN 300 prospects in the 2015 class, including an inside look at the prospect, his recruitment, a scouting report and what college program could benefit when he ultimately makes his decision.
ROSWELL, Ga. — Running back
Eric Swinney
was one of 13 ESPN Junior 300 prospects to attend the
Atlanta Nike Football Training Camp
on Sunday. Of those 13, 12 are from Georgia, which regularly churns out elite college football players. For some reason, however, the state doesn't seem to get the recognition as a top talent-producing state.
To continue reading this article you must be an Insider
March, 25, 2014
Mar 25
8:55
PM ET
Associated Press
ATHENS, Ga. -- Georgia coach Mark Richt said Tuesday he's still deciding how to discipline four players arrested last week on charges of illegal check-cashing.
The players, including starting safety Tray Matthews, are participating in spring practice, which continued Tuesday. Richt said that does not mean he has ruled out dismissals for the group, which also includes defensive linemen Jon Taylor and James DeLoach and wide receiver Uriah LeMay.
"I wouldn't put anything out of the realm of possibilities right now," Richt said. "Right now we're just allowing them to continue to work."
Richt said Tuesday that the four, who were charged with receiving double payments for checks of $71.50 issued by the Georgia athletic department, have been assigned extra work, including early morning running.
"There's more to come," Richt said. "I'm just thinking it through real good."
The four players, who were arrested by University of Georgia police, face misdemeanor charges of theft by deception.
Matthews, Taylor and DeLoach deposited the paper checks through a mobile device and cashed the checks at a convenience store, according to University of Georgia police chief Jimmy Williamson.
LeMay was charged with cashing a roommate's check that already had been deposited through a mobile device, according to Williamson.
March, 25, 2014
Mar 25
10:55
AM ET
Can't get enough of March Madness?
We'll do you one better here on the SEC blog, particularly now that the SEC is suddenly a hoops league.

For the second straight year, Edward and I will both seed all 14 SEC football teams based on how we think they would be seeded going into the 2014 season, and then we'll "fill out our brackets" all the way through the championship game.
We'll have different sites and everything, including doubleheaders in the first round. The top two seeds will get byes into the second round, meaning the No. 3 seed will face the No. 14 seed, the No. 4 seed gets the No. 13 seed and so forth in the first round.
With the College Football Playoff kicking off next season, it will be a good test run. For the record, I had the two SEC championship game participants last season -- Auburn and Missouri -- losing in the second round and had Georgia winning the championship.
We've already seen
Edward's seeds and bracket
on Monday. Now, we'll examine the winning bracket. So after careful consideration and consultation with the selection committee, I'll unveil my seeds:
1. Auburn
2. Alabama
3. Georgia
4. South Carolina
5. LSU
6. Mississippi State
7. Ole Miss
8. Missouri
9. Florida
10. Texas A&M
11. Vanderbilt
12. Tennessee
13. Kentucky
14. Arkansas
FIRST ROUND
In Nashville, Tenn.

No. 3 Georgia vs. No. 14 Arkansas:
After all the various injuries last season, the Bulldogs are due to stay healthy. And even without Aaron Murray, a healthy
Todd Gurley
is more than enough for Georgia to surge past an improved Arkansas team.
Winner: Georgia

No. 6 Mississippi State vs. No. 11 Vanderbilt:
Don't sleep on the Bulldogs. This could very well be Dan Mullen's best team, and Mississippi State quarterback
Dak Prescott
will make enough plays in the second half to pull away from a Vanderbilt team that is replacing its entire secondary.
Winner: Mississippi State
In Kansas City, Mo.

No. 4 South Carolina vs. No. 13 Kentucky:
The Head Ball Coach has owned Kentucky, both when he was at Florida and now at South Carolina. He's 20-1 against the Wildcats at his two SEC coaching stops and will make that 21-1 in the first round of the tournament.
Winner: South Carolina

No. 5 LSU vs. No. 12 Tennessee:
Butch Jones' Tennessee team will be more talented than a year ago, but it just won't have the experience across the board to take down an LSU club that will be counting on a lot of new faces on offense.
Winner: LSU
In Tampa, Fla.

No. 7 Ole Miss vs. No. 10 Texas A&M:
It's our first upset of the tournament, although not a huge one. The Aggies get better as the season goes on, particularly on defense, and
Ricky Seals-Jones
makes a big catch late to send the Rebels packing.
Winner: Texas A&M

No. 8 Missouri vs. No. 9 Florida:
New offensive coordinator Kurt Roper and junior quarterback
Jeff Driskel
make a good pairing, and with an offense tooled around Driskel's strengths, the Gators find enough consistency on that side of the ball to advance.
Winner: Florida
SECOND ROUND
In Orlando, Fla.

No. 1 Auburn vs. No. 9 Florida:
The Gators get a break by getting to play in nearby Orlando, but it's never a lot of fun having to defend Gus Malzahn's offense.
Nick Marshall
, with an entire year in Malzahn's system, is too much for the Gators to handle.
Winner: Auburn
In New Orleans

No. 4 South Carolina vs. No. 5 LSU:
Just like Florida in Orlando, it's a huge homefield advantage for LSU playing in the Big Easy. And this time, the Tigers take advantage with
Rashard Robinson
picking off a pass late to thwart a South Carolina drive.
Winner: LSU
In Houston

No. 2 Alabama vs. No. 10 Texas A&M:
It's a rematch of last season's track meet in College Station, only Johnny Manziel and AJ McCarron are nowhere to be found. The difference is the Alabama running game with
T.J. Yeldon
and
Derrick Henry
each rushing for more than 100 yards.
Winner: Alabama
In Charlotte, N.C.

No. 3 Georgia vs. No. 6 Mississippi State:
In the battle of the Bulldogs, the maroon version prevails in one of Mullen's biggest wins since coming to Starkville. Mississippi State sophomore defensive lineman
Chris Jones
takes the game over in the second half and shuts down the Dawgs' running game.
Winner: Mississippi State
SEMIFINALS
In Miami

No. 1 Auburn vs. No. 5 LSU:
Auburn's only loss last season came at the hands of LSU in Tiger Stadium. These two teams have played some memorable games with some wild endings. This one also goes right down to the wire, but
Carl Lawson
saves Auburn with a big sack and strip (sort of Nick Fairley-esque) in the final minutes.
Winner: Auburn
In Arlington, Texas

No. 2 Alabama vs. No. 6 Mississippi State:
A year ago in Starkville, Mississippi State didn't back down from Alabama and fought to hang around in that game. The same thing happens this time with both defenses trading blows, but it's a nifty catch and run for a touchdown by
Amari Cooper
that sends the Crimson Tide to the title game.
Winner: Alabama
CHAMPIONSHIP
In Atlanta

No. 1 Auburn vs. No. 2 Alabama:
You couldn't write the script any better (and, yes, I'm the one writing it), but the Iron Bowl will determine our champion. Not only that, but it's the first meeting between these fierce rivals since the epic Kick-Six game a year ago on the Plains. And wouldn't you know it? Alabama again lines up to kick a long field goal with just seconds left, and this time
Adam Griffith
splits the uprights from 48 yards away to avenge one of the most bitter losses in Alabama football history and return the championship trophy to Tuscaloosa.
Winner: Alabama
March, 24, 2014
Mar 24
2:15
PM ET
The Madness is all around us, and while basketball is having all the fun, we thought we'd give football a go at the craziness that this month embodies.

While we'll have to wait a few months until a playoff takes over college football, we thought we'd have a little fun with our own SEC tournament now that the first weekend of games have concluded in this year's NCAA tournament.
As a tribute to the Big Dance, Chris Low and I have seeded all 14 SEC teams in a tournament of our own to crown our rightful spring SEC champion(s). We'll spice things up by having different seedings for all 14 teams in our individual tournaments. We have different sites, the top two seeds will receive an opening-round bye and we'll have an upset or two.
Our first round will feature the No. 3 seed facing the No. 14 seed and the No. 4 seed playing the No. 13 seed, etc.
I'll debut my bracket first, while Chris will have his prepared later Monday.
After countless hours of deliberation with the selection committee, namely my cat Meeko, here's what my seedings look like:
1. Auburn
2. Alabama
3. Georgia
4. Ole Miss
5. Missouri
6. South Carolina
7. Mississippi State
8. Texas A&M
9. LSU
10. Florida
11. Tennessee
12. Vanderbilt
13. Arkansas
14. Kentucky
FIRST ROUND
In Nashville, Tenn.

No. 3 Georgia vs. No. 14 Kentucky:
The Bulldogs might be without
Aaron Murray
for the first time in a long time, but
Hutson Mason
has plenty of offensive options to pick from. Not having
Todd Gurley
as an option hurts, but Georgia has enough to get past the Cats in Nashville.
Winner: Georgia

No. 6 South Carolina vs. No. 11 Tennessee:
You'd better believe the Gamecocks are still fuming after that loss to the Vols that eventually cost them a chance to go to Atlanta for the SEC title game last fall. A lot is different for the Gamecocks, but
Dylan Thompson
works some magic late to avoid the first upset of the tournament.
Winner: South Carolina
In Kansas City, Mo.

No. 4 Ole Miss vs. No. 13 Arkansas:
The Rebels could be a dark horse to win the SEC this fall, and with so much talent coming back on both sides, Ole Miss could make a nice run in this tournament. Arkansas just has way too many questions on both sides to pull the shocker.
Winner: Ole Miss

No. 5 Missouri vs. No. 12 Vanderbilt:
Ah, the classic 12-5 upset. There's always one. But the Tigers still have a lot of firepower returning on offense, a stout defensive line and are playing in front of what should be a home crowd. Also, James Franklin and
Jordan Matthews
are both gone.
Winner: Missouri
In Tampa, Fla.

No. 7 Mississippi State vs. No. 10 Florida:
The Bulldogs are a team on the rise after winning their last three to close the 2013 season. They return a lot from their two-deep and could have a special player in quarterback
Dak Prescott
. The Gators suffered a rash of injuries, but have quarterback
Jeff Driskel
back with an offense that fits his skills more. Playing close to home will give the Gators an advantage and the defense will make a stop late to pull our first upset.
Winner: Florida

No. 8 Texas A&M vs. No. 9 LSU:
Both teams are breaking in new quarterbacks and playmakers at receiver. LSU's defense is getting revamped again, but there's still a lot of athleticism across the board. This one is coming down to the wire, but LSU's young, yet stealthy corners will be the difference in another upset.
Winner: LSU
SECOND ROUND
In Orlando, Fla.

No. 1 Auburn vs. No. 9 LSU:
Last fall, this was the game the served as the emotional turning point for Auburn, even though it was a loss. Auburn has a lot to work with once again on the Plains, and while the defense still has its questions, these Tigers will get revenge in a fun one in the Sunshine State.
Winner: Auburn
In New Orleans

No. 2 Alabama vs. No. 10 Florida:
The Gators will be more consistent on offense in this one. Alabama is still looking to find its defensive playmakers, but will have the advantage in the running game. This one is coming down to the fourth quarter, where corner
Vernon Hargreaves III
seals it for the Gators with a pick in the end zone on a
Cooper Bateman
pass intended for
Amari Cooper
.
Winner: Florida
In Houston

No. 4 Ole Miss vs. No. 5 Missouri:
Two fast offenses take the field, and the Rebels would love to get back at the Tigers after last season's loss.
Maty Mauk
has what it takes to direct this Missouri team to a deep run, but Ole Miss' defense is the difference in this one. Keep an eye on that defensive line, which gets a major upgrade in the return of end
C.J. Johnson
.
Winner: Ole Miss
In Charlotte, N.C.

No. 3 Georgia vs. No. 6 South Carolina:
The hope in Athens is that the defense will be improved with Jeremy Pruitt running the show, but watch out for
Mike Davis
. South Carolina's pounding running back gets the edge in this one with Gurley on the mend. Expect a lot of points in this one, but Davis grinds this one out for the Gamecocks in the fourth quarter.
Winner: South Carolina
FINAL FOUR
In Miami

No. 1 Auburn vs. No. 4 Ole Miss:
You want fast, fast, fast? How about these two teams playing? I mean, Ole Miss got to see tons of speed against Mizzou, and now has to take on Auburn? Expect marathon of scoring, but
Bo Wallace
is the hero in the end. A gritty fourth-quarter performance puts the Rebels in the title game.
Winner: Ole Miss
In Arlington, Texas

No. 6 South Carolina vs. No. 10 Florida:
It's been a fun run for this spring's Cinderella. Florida's offense is catching up to its defense, but the Gamecocks will find holes in the Gators defense. Thompson hits a few big plays to receiver
Shaq Roland
and defensive end
Gerald Dixon
forces a late fumble on a sack of Driskel to run out the clock.
Winner: South Carolina
SEC CHAMPIONSHIP
In Atlanta

No. 4 Ole Miss vs. No. 6 South Carolina:
Steve Spurrier is back in Atlanta with a gritty team hungry for a title. The Rebels have the advantage with that high-flying offense and will get some huge catches out of
Laquon Treadwell
against the inexperienced secondary. Thompson and Davis will keep the Gamecocks in this one for most of the game, but true freshman safety
C.J. Hampton
seals it for the Rebels with a game-ending interception at midfield.
Winner: Ole Miss
March, 24, 2014
Mar 24
12:00
PM ET
March, 24, 2014
Mar 24
11:15
AM ET
The NFTC tour continued to roll on with a stop in Atlanta this past weekend. The event featured a very strong roster of talent, including a pair of top-five prospects in the
ESPN Junior 300
. No group was lean on talent, with plenty of promising 2015 and even 2016 prospects to evaluate. It's tough to name everyone who competed and did well. Below are some of the event's top and most notable performers in the latest addition of the Recruiting Nation NFTC Awards.
To continue reading this article you must be an Insider
March, 24, 2014
Mar 24
5:30
AM ET
The Early Offer is RecruitingNation's regular feature, giving you a dose of recruiting in the mornings. Today's offerings: As the center of an intense recruiting battle between Florida, Georgia, Ohio State, Texas and Texas A&M, a four-star linebacker will lean on those close to him when it comes time to make a decision; and two future SEC opponents took turns testing each other at Sunday's Atlanta Nike Training Camp.
To continue reading this article you must be an Insider
Scene and Heard: Top 10 Predictions
SEC SCOREBOARD
Thursday, 8/28
Saturday, 8/30
Sunday, 8/31