August, 14, 2014
Aug 14
9:30
AM ET
As we count down the days, hours, minutes and seconds until the official start of the 2014 college football season, we're also gearing up for our first trip through the College Football Playoff.
Yes, after
waaaaay
too many years of being stubborn and different, this beloved sport is finally getting a playoff system to determine its national champion at the end of the year.
Better late than never.
[+] Enlarge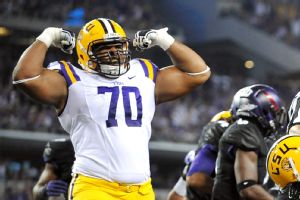 Patrick Green/Icon SMIThere's strong support among SEC players such as La'el Collins for the new College Football Playoff, but they have different ideas on how big it should get.
There's a 13-member playoff committee, revolving playoff sites and newfound excitement attached to the playoff. Fans, coaches, media members and school administrators have all weighed in on the pros and cons of the College Football Playoff, but we haven't really heard a lot from the players who will actually be partaking in the playoff and throwing their bodies around a couple of more times each season.
What do the players think of it? Are four teams enough? Should it expand? What effect will it have on players' bodies and academics? What about travel for their families and friends? Do they want the playoff at all?
Over the past month, we asked players around the conference to weigh in on the playoff and give us
their
thoughts on the playoff.
Enough teams?
You were hard-pressed to find a player who didn't agree with FBS football adopting a playoff system. So with that out of the way, we asked players whether they thought four games was enough. The majority were happy with that number.
What if the playoff were to expand to eight or 16 teams?
"That might be too much because it's a hard game already. Playing all those games, there would definitely be more injuries. Four is fine, eight could be cool too, but I don't think 16 would be smart." -- Ogbuehi

"That would probably be a little too much." -- Gurley

"As players, we don't think about it like that. We think of it as some players are going to go on and play in the NFL where there are 16 games on top of a playoff and a Super Bowl -- mind you that some of those guys play in a wild-card game. By the time they finish, it's like 20-something games." -- Florida defensive end/linebacker Dante Fowler Jr.
What about your life away from football? Wouldn't an expanded playoff eat into your family time during the holidays and conflict with finals?
"Fans don't think about that. Fans don't think about us spending time with our families or finishing out our classes with good grades. That's something that they have to take into consideration." -- Driskel
Travel
A playoff, whether it has four teams or 16, means more travel for players, fans and family members. That means more money out of people's pockets when it comes to transportation -- which is more than likely going to be by plane -- food, lodging, and miscellaneous. And that's just for one game.
Let's face it, some people are going to have to decide between going to the semifinal game or the national championship.
"Not every family can make that trip. The fact that there are more games and both are immensely huge games could make it difficult on a lot of families [to plan travel]. I could see that happening. ... It's not necessarily something that we thought about. But when we look at the schedule and we know how that's going to play out, then some people have to start thinking about that, and some more than others." -- Georgia WR Chris Conley

"It's definitely a concern. It's something that guys' families are going to have to start preparing themselves now." -- Collins

"You can watch us on TV. As long as we win, that's all that matters." -- Fowler
Even South Carolina coach Steve Spurrier thinks players and families should be helped out with travel.
"They have to do that now because most of them don't have enough money to make all those trips. That's why I think we should give the players and the parents expense money -- $200 to the player, $200 to the parents. Every time we play, here's $400 of expense money."
Injury concern?
More games mean more chances for injuries. That's just science. So are players concerned about wearing down?
"I just see it as more games, and I love playing games. You can get hurt literally at any point in the season. At the end of the season, some guys are going to be completely healthy, some guys are gonna be beat up." -- Crowder

"That's the sacrifice you make, but it all pays off in the end." -- Collins

"It's a lot of games, but it's something that you have to prep yourself up for and prepare yourself to just go. You're going to have aches and injuries, and things like that, but if you want to win it takes hard work, dedication, blood, sweat, and tears." -- Fowler
For now, players will go through the motions of the season before they sniff what life in the playoff will be like. It's worked at all other levels of sport, and now Division 1 football is getting in on the act. All these questions and concerns will be approached head-on in the months to come, and we'll see how players' opinions on the playoff change.
August, 13, 2014
Aug 13
11:00
PM ET
The
Early Offer
is RecruitingNation's regular feature, giving you a daily dose of recruiting news across the country. Today's offerings: A look at how landing
Trenton Thompson
could help Georgia land even more highly coveted players and who might be next to join the Dawgs' commitment list. Plus, Alabama has the top-ranked class by far, but there's something that could loosen the Tide's grip on No. 1, and our daily tour of the top recruiting happenings on social media.
August, 13, 2014
Aug 13
4:00
PM ET
Now that we've checked out the quarterbacks I think
could reach 3,000 passing yards
and the guys who
could hit 1,000 yards rushing
, it's time to see what this season's crop of receivers is all about.
Who can reach the 1,000-yard club?
Last season, four receivers made it to the 1,000-yard club -- Vanderbilt's
Jordan Matthews
(1,477 yards), Texas A&M's
Mike Evans
(1,394 yards) and LSU's
Jarvis Landry
(1,193 yards) and
Odell Beckham Jr
. (1,152 yards). All four of those guys are gone. Actually, the SEC lost eight of its top 10 receivers from a year ago.
[+] Enlarge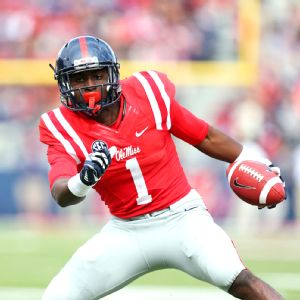 Spruce Derden/USA TODAY SportsLaquon Treadwell scored five receiving touchdowns in his freshman season at Ole Miss.
There are still some talented pass-catchers lurking in the league, so I'm going to go with three 1,000-yard receivers. Here are the guys I think have the best chance of getting to that number (in order):
1. Amari Cooper, Alabama:
One of the nation's best receivers, Cooper wasn't at his best and wasn't 100 percent healthy last season, but he still managed 736 receiving yards. He's playing at a faster level now and is tougher, which means he'll have no trouble crossing the 1,000-yard mark this fall.
2. Laquon Treadwell, Ole Miss:
He learned a ton from
Donte Moncrief
and still caught more passes than him in 2013. Treadwell is a physical specimen and is already the most athletic person when he steps out on the field. As the No. 1 guy in Oxford, he'll easily surpass the 608 yards he had last season.
3. Jameon Lewis, Mississippi State:
He was so close to 1,000 yards and probably would have made it into triple digits if he didn't have to work with multiple quarterbacks all season. Lewis is still developing his game, but he's the perfect playmaker for Mississippi State's spread offense.
4. Sammie Coates, Auburn:
Talk about coming out of nowhere. Coates was a real unknown before last season and somehow wound up with 902 yards. He's a deep threat and someone who isn't afraid to make plays over the middle. Getting pushed more by other players might cut into his numbers, though.
5. Malcolm Mitchell, Georgia:
If Mitchell is healthy, he's one of the most athletic and talented receivers that this league has to offer. A knee injury cost him just about all of his 2013 season, and he's already have complications with his knee this fall. But if he's out there and ready to go, he'll be fun to watch.
6. Marquez North, Tennessee:
In a struggling passing game, North finished the 2013 season with 496 yards. He's so much better than that, and he's playing like it this fall. He's added some needed weight and is understanding his role more and running his routes better.
7. Ricky Seals-Jones, Texas A&M:
Another player who basically saw the 2013 season from the sideline, don't sleep on Seals-Jones. He was one of the nation's best recruits a couple of years ago and when he's at full speed, Seals-Jones can really fly. He'll make tons of plays inside and out.
8. D'haquille Williams, Auburn:
The junior college transfer could be really special. He has all the talent to make a ton of plays in such a wide open offense. Williams will push Coates all season for the role as the Tigers' No. 1 target.
9. Shaq Roland, South Carolina:
Dealing with the hype that came with him out of high school hasn't been easy, but the thought out of Columbia is that this could be a big season for Roland. He can stretch the field and is great in space.
August, 13, 2014
Aug 13
8:00
AM ET
1. On Tuesday, ESPN unveiled
campaign posters for the top four contenders
in the College Football Playoff hunt. Each came with a clever tagline, such as Alabama's "Process of elimination" and Oregon's "Look good, play better." Florida State's "Dallas to Dallas" was a nod, of course, to the Seminoles opening the season in Big D against Oklahoma State and, hopefully, closing the season there in the CFB Playoff title match. But it got me thinking: What taglines would other SEC programs employ in their bid to make the Playoff? Auburn's is easy:
#AuburnFast
. Florida's could read: No Georgia Southern, no problem. LSU's might go: The young and the relentless. And South Carolina's could nod to the Head Ball Coach: Keeping the SEC spicy. There's a comments section, so go ahead and have fun with the concept.
2.
Laquon Treadwell
is not a man to be trifled with. Even in practice, he does things that make your jaw hit the floor.
Just look at this catch the other day
. His Go-Go-Gadget fingertips are just ridiculous. How he corralled that pass is mesmerizing. To me, he seems like a young Joe Horn (
without the cell-phone celebrations
). He not physically imposing or particularly fast, yet he's explosive. If he can't get by a DB, he'll simply jump around or over them. He's got that knack for getting his hands on the football. Though there are definite questions about the quarterbacks in the SEC, I'm excited to see the crop of receivers. Treadwell and
Amari Cooper
are clearly at the top of the list. But look out for young studs such as
Ricky Seals-Jones
(
Mike Evans
2.0),
Speedy Noil
(the SEC West's long-awaited answer to
Percy Harvin
) and
Malachi Dupre
(think of a young
A.J. Green
).
3. A few weeks ago, ESPNU replayed the South Carolina-Missouri game from last season. You remember it, I'm sure:
Connor Shaw
comes off the bench to lead the Gamecocks to a furious come-from-behind win in double overtime. It was a doozy. But watching it again, I paid closer attention to the offense under
Dylan Thompson
. It was a best case-worst case scenario. At times, Thompson was sharp. It wasn't his fault
Mike Davis
fumbled twice in the first half. But there were other times where Thompson left you wanting more. I had to rewind and replay his interception at least a dozen times. His footwork and fundamentals were unspeakably bad. It was what you teach a QB not to do. Turns out, he has a little gunslinger in him.
Now he's trying to tone some of that down
. That's good news if you're a Gamecocks fan. You don't need Thompson to be Brett Favre. With a stellar group of tailbacks, a strong offensive line and an underrated receiving corps, Thompson needs to simply manage the game. If he limits his mistakes and keeps his defense out of short-field situations, South Carolina has a chance to separate itself in the East.
More around the SEC
August, 12, 2014
Aug 12
7:31
PM ET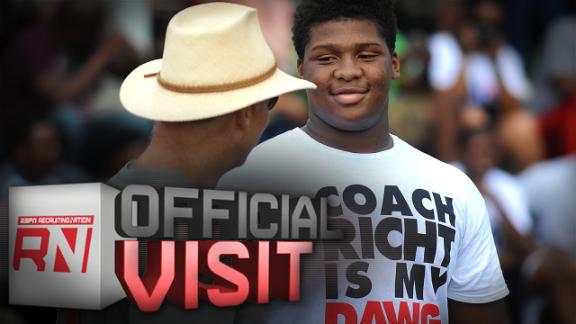 Georgia has landed its signature recruit for 2015 in five-star defensive tackle
Trenton Thompson
. Read on to see what type of impact to expect from Thompson next fall:
To continue reading this article you must be an Insider
August, 12, 2014
Aug 12
9:00
AM ET
You can sign all the four- and five-star recruits in the world, but none of that matters if you're not able to fill your needs. RecruitingNation takes a look at 2015 recruits who most fill the needs of each of the SEC schools.
To continue reading this article you must be an Insider
August, 12, 2014
Aug 12
8:30
AM ET
By
ESPN.com staff
| ESPN.com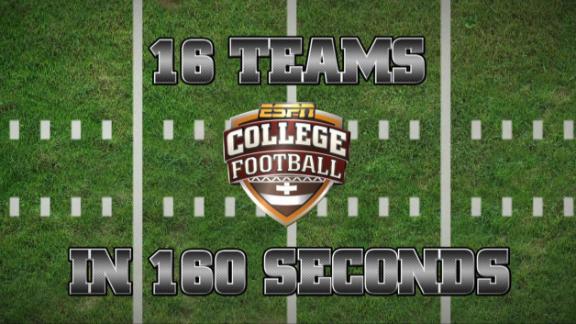 Have you watched the video headlining this post? If not, check it out. Because if you weren't ready for college football already, you will be then.
But who are we kidding? Of course you're ready for college football. After seven
grueling
offseason months, actual games are almost here.
So with just 16 days left until Texas A&M and South Carolina kick things off on the SEC Network,
@ESPNStatsInfo
has compiled a few things you should know about each of the top 16 teams in
ESPN's preseason Power Rankings
.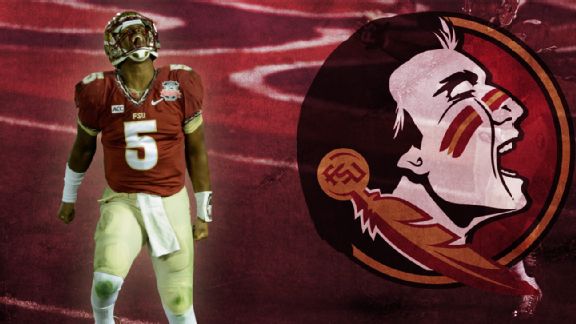 ESPN Illustration
1. Florida State Seminoles
Florida State will almost assuredly be No. 1 when the AP preseason poll is released Sunday. FSU has been ranked preseason No. 1 five times in school history. The last time? The Seminoles won the national championship in 1999.

Heisman-winning quarterback Jameis Winston threw 40 touchdown passes last season, most by any freshman in FBS history.

The Noles outscored their opponents by 39.5 points per game last season, the best differential for any FBS team since Houston bested opponents by 39.9 in 1989.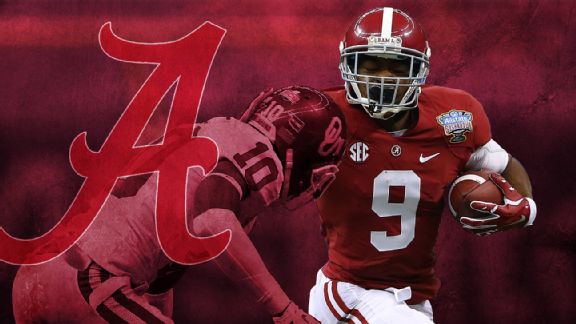 ESPN Illustration
2. Alabama Crimson Tide
Since the bowl era began in 1936, Alabama has won 10 national titles, most of any FBS team.

The Crimson Tide have been in the preseason top 5 each of the last five years, tying the longest streak in school history (1978-1982). Expect that record to be broken when the AP poll is released this weekend.

The Crimson Tide continues to dominate in recruiting, Alabama signed five of the ESPN Recruiting Nation's 15 five-star recruits in the 2014 class, most by any FBS school.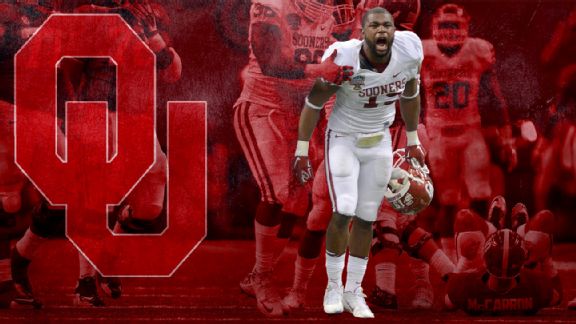 ESPN Illustration
3. Oklahoma Sooners
Oklahoma has gone 14 seasons without losing consecutive regular-season games.

Since Bob Stoops took over as head coach in 1999, OU has never gone longer than two years without winning a Big 12 championship. Baylor is the league's defending champ.

The Sooners have been ranked in the AP preseason top 10 in 13 of the last 14 seasons -- and are expected to be once again this season.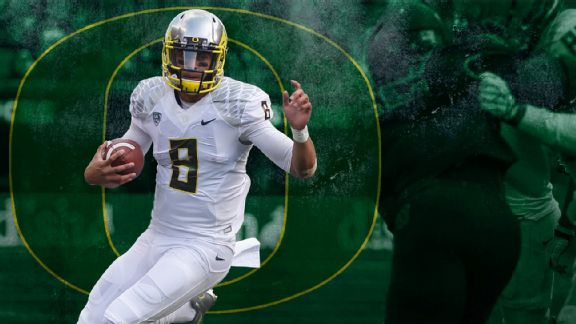 ESPN Illustration
4. Oregon Ducks
Oregon joins Alabama, Nebraska and LSU as the only teams to win at least nine games in each of the past five seasons.

Ducks' quarterback Marcus Mariota led FBS with an 89.5 Total QBR in 2013. His 88.7 career-QBR is the best of any QB since 2005

Mariota has thrown a touchdown in 26 consecutive games. Only Marshall's Rakeem Cato has a longer active streak (32).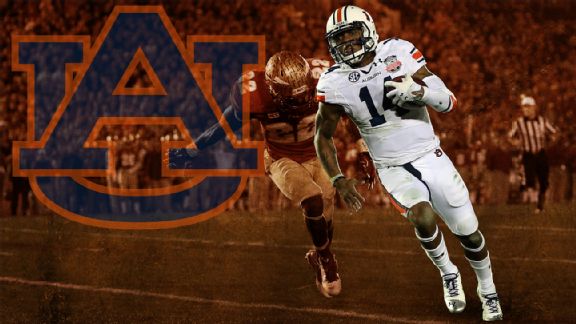 ESPN Illustration
5. Auburn Tigers
Auburn, which finished 12-2 in 2013, has won 10-plus games in back-to-back seasons just once in school history (1988-1989).

If the Tigers begin the season in the AP top 5, it'll mark the first time that's happened since 2006.

No quarterback finished the season hotter than Nick Marshall, whose 88.3 total QBR in the final eight games was the best in FBS during that span.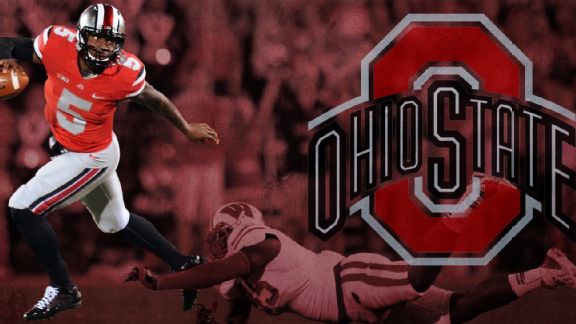 ESPN Illustration
6. Ohio State Buckeyes
Quarterback Braxton Miller is 11 wins away from passing Art Schlichter as the winningest quarterback in Buckeyes' history.

The last eight times Ohio State has been ranked in the preseason top 6, the Buckeyes have finished the season somewhere inside the top 12.

OSU gained at least five yards on 55 percent of its carries last season, the highest percentage in the nation.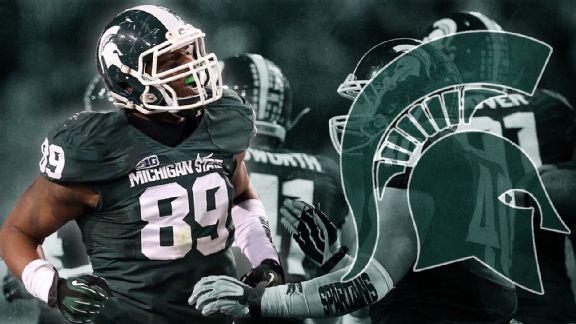 ESPN Illustration
7. Michigan State Spartans
Last season, Michigan State's defense allowed opponents to complete a mere 23.4 percent of their passes of 15-plus yards, best in the nation.

Running back Jeremy Langford has rushed for more than 100 yards in eight of his last nine games, and averaged 61 rushing yards after contact last season.

In the last 14 times the Spartans have been ranked in the preseason, they've finished the year unranked 12 times.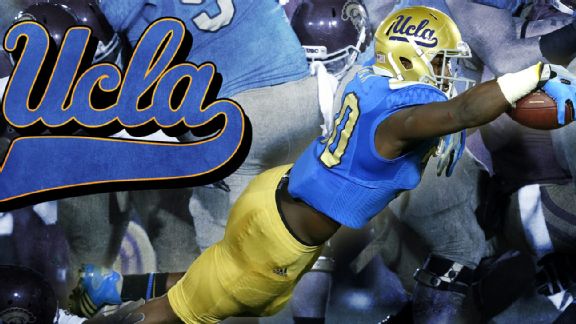 ESPN Illustration
8. UCLA Bruins
In 2013, Myles Jack became the first player in Pac-12 history to win Offensive and Defensive Freshman of the Year.

Quarterback Brett Hundley completed 67.2 percent of his passes in 2013, the highest percentage of any returning quarterback in the Big 5 conferences.

On the flip side, Hundley has been sacked 87 times the last two seasons, 17 more than any other FBS player.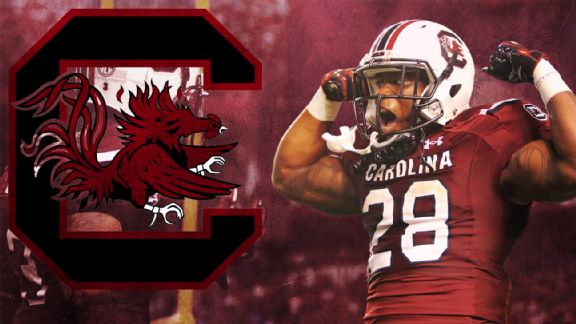 ESPN Illustration
9. South Carolina Gamecocks
The Gamecocks have started and finished in the AP top 12 in each of the last three years.

South Carolina lost Jadeveon Clowney to the NFL, but the Gamecocks had a better defensive rating in the three years prior to Clowney than they had in three years with him.

South Carolina finished last season ranked fourth in the AP poll, its best ranking in school history.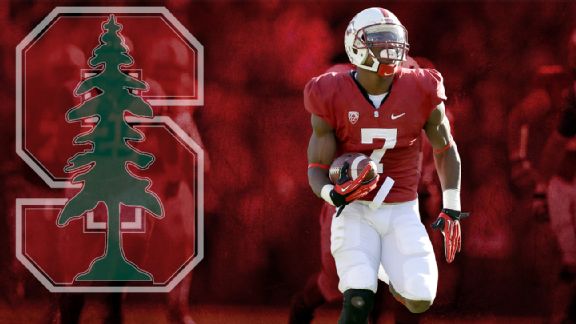 ESPN Illustration
10. Stanford Cardinal
Stanford will appear in the preseason rankings for the fourth straight year, tying the best streak in school history (1969-1972).

Quarterback Kevin Hogan has posted an .842 win percentage as Stanford's starting quarterback, including a 10-1 mark against AP top-25 opponents.

The Cardinal has finished in the Top 11 in each of the last four seasons.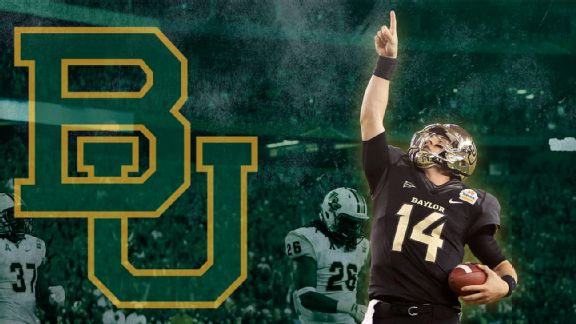 ESPN Illustration
11. Baylor Bears
Baylor averaged 52.4 points per game last season, third-most in modern college football history.

In 2013, the Bears' offense scored 60 touchdowns in drives lasting less than two minutes -- nine more than any team has over the last 10 seasons.

Baylor hasn't been ranked in the AP preseason poll since 1986. That will change come Sunday.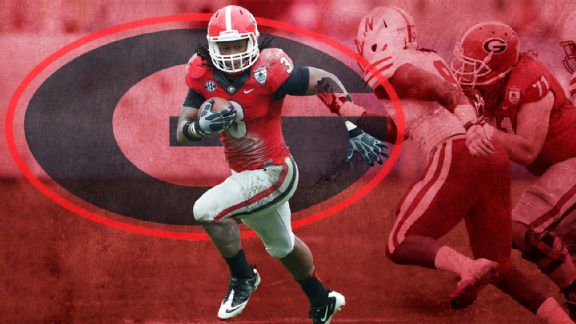 ESPN Illustration
12. Georgia Bulldogs
This will be the 12th straight year Georgia is ranked in the AP preseason poll (2002 was the last time the Bulldogs were unranked heading into the season).

Todd Gurley set a UGA freshman running back record with 17 rushing touchdowns in 2012 and followed it up with 10 more touchdowns in 2013.

Georgia was one of six teams last season to pass for at least 4,000 yards and rush for at least 2,000. Those six teams averaged 10.5 wins. UGA won eight.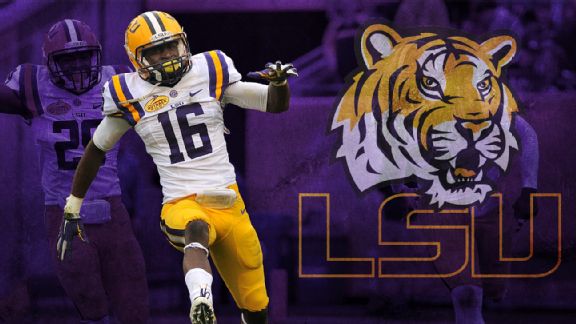 ESPN Illustration
13. LSU Tigers
LSU has had 18 players drafted by the NFL in the last two seasons, including a nation-high nine in 2014.

The Tigers have been ranked in the AP preseason poll in each of the last 12 years and are a virtual lock for No. 13.

LSU signed running back Leonard Fournette, the No. 1 overall recruit in the 2014 ESPN 300.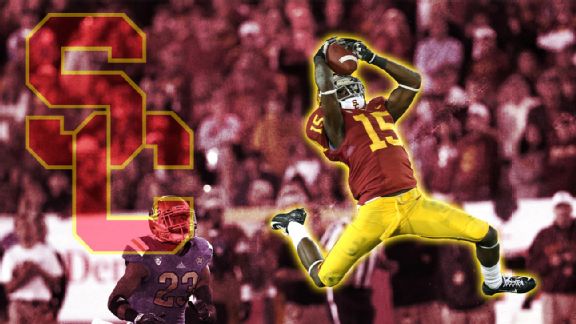 ESPN Illustration
14. USC Trojans
USC won four BCS bowls with Steve Sarkisian as an assistant coach. He returns this year as head coach.

In 2013, USC's quarterbacks threw six interceptions in the first five games but finished the year strong, only throwing three picks in the last nine games.

The Trojans return Nelson Agholor, who is the nation's second-leading punt returner and contributed 56 catches and 1,444 all-purpose yards last season.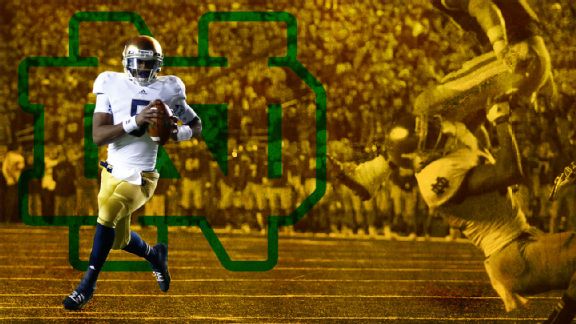 ESPN Illustration
15. Notre Dame Fighting Irish
Notre Dame welcomes back quarterback Everett Golson, who has been gone for 19 months, but owns a perfect 11-0 regular season record with the Fighting Irish.

The Irish have 21 wins in the past two seasons, the most in back-to-back seasons since 1992-93 under Lou Holtz

Six of the last nine times Notre Dame has been ranked in the preseason, it has finished the season unranked.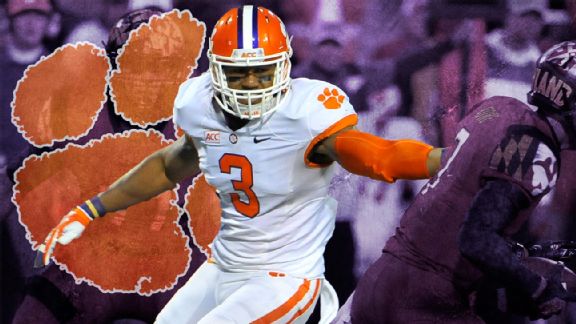 ESPN Illustration
16. Clemson Tigers
Quarterback Cole Stoudt replaces Tajh Boyd, who won 32 games for the Tigers, tying him as the winningest quarterback in school history.

Clemson returns all four of its starting defensive linemen, who combined to record 28 sacks in 2013, fifth-most among Power Five conference teams.

In each of the last two years, Clemson has begun and finished the season ranked. Prior to 2012, the Tigers hadn't been ranked to start the year since 2000.
August, 12, 2014
Aug 12
8:00
AM ET
1. Tennessee needed some good news. And on Saturday, the Vols got some as Alton Howard
returned to the football field
after being absent from the program for spring practice and the start of fall camp. Now, "The past is the past," Howard says. Let's hope so. If Tennessee is going to be competitive this season, it's going to need Howard to perform. Along with Marquez North and Marlin Lane, you're looking at a good group of skill players on offense. Whoever starts at QB --
and that person could be named soon
-- will need their help, especially when you consider the fact that there are no returning starters on the offensive line.
2. On Monday, Travis Haney gave you his
four teams that should be in the top 25
of
ESPN's Power Rankings
. Among them was Mississippi State and Florida, which got me thinking: If we put them in the top 25, who from the SEC would we boot out? Alabama, Auburn and South Carolina aren't going anywhere. And though I'm not high on Georgia (where's the defense?) and LSU (how much can you really count on freshmen?), I'm not ready to throw them out, either. That, of course, leaves Ole Miss and Texas A&M. The Rebs are solid with good skill players on offense and a defense that goes two deep. Even though their O-line scares me, I wouldn't leave them unranked. I can't say the same for the Aggies. They look like LSU without the defense. I love the young wideouts and running backs, but who starts under center? And until I see a single three-and-out from Mark Snyder's bunch, I'm inclined to think last season wasn't a fluke. Things could change, but for now I'm not sold on the Aggies being ranked in the Top 25.
3. Andy Staples had a good story Monday on
finding hidden gems on the recruiting trail
. In it, he spotlighted Mississippi State linebacker Bernardrick McKinney. After seeing McKinney in person and talking to defensive coordinator Geoff Collins about him last fall, it's a wonder how anyone ever missed on him. But Staples' story reminded me of a conversation I had with Dan Mullen this spring. The gist of what he said was that not everyone can pretend to be Alabama and Florida -- top-tier programs that plug in five-star prospects with other, younger five-star prospects. "We don't get the pre-made guys," Mullen told me, citing Derrick Henry at Alabama. "We take a guy and develop them." With that, the hope is the cycle of turnover aligns every few years where a large group of upperclassmen are contributing. Mississippi State has that this year with a loaded defense and Dak Prescott under center. The question for teams like State -- programs like Arkansas, Vanderbilt and Kentucky -- is how they develop their young guys now and when their window of opportunity opens up down the road.
More around the SEC
August, 11, 2014
Aug 11
11:00
PM ET
Over the years, Georgia coach Mark Richt has taken a lot of lumps from both fans and reporters for his perceived struggles landing the best players in the Peach State. There is some validity to the concerns, because in the eight years ESPN has been covering recruiting, the Dawgs have landed the top player in Georgia only two times.
But keen observers know there's so much talent in Georgia that missing out on the best prospect in the state doesn't always equate to disaster. Richt has won plenty of games and knows how to mine other talent-rich states like Florida, North Carolina and South Carolina and key junior college programs, but it still doesn't erase the fact that Georgia fans want to see the best high school football player in the state donning red and black.
"Back in the '80s and '90s, the No. 1 player in the state at a position would have gone to Georgia in a heartbeat," said Lawrenceville (Ga.) Central Gwinnett coach Todd Wofford, who has coached high-profile recruits like 2013 Ohio State signee
Trey Johnson
and 2015 ESPN 300 linebacker and Florida commitment
Adonis Thomas
.
"Last year the top player in state,
Raekwon McMillan
went to Ohio State. Two years ago, the No. 1 player in the country,
Robert Nkemdiche
, went to Ole Miss," Wofford added. "In my opinion, that would have never happened in the '80s and '90s. It was one of those things that if you're from the state of Georgia, you're going to go to Georgia. But that's just not true any more. Georgia is so much more wide open than it ever has been, and that puts a tremendous amount of pressure on the guys in Athens to make sure they get the top kid in the state."
The good news is that it looks like the Dawgs will in the 2015 class.
To continue reading this article you must be an Insider
August, 11, 2014
Aug 11
4:00
PM ET
The SEC, a league that has hung its hat on line play and the run game, was loaded with top passers last fall.
Five quarterbacks topped 3,000 passing yards -- Texas A&M's
Johnny Manziel
(4,114 yards), Ole Miss'
Bo Wallace
(3,346 yards), LSU's
Zach Mettenberger
(3,082 yards), Georgia's
Aaron Murray
(3,075 yards) and Alabama's
AJ McCarron
(3,063 yards).
Only Wallace returns from that group, leaving the SEC with a handful of inexperienced and unproven quarterbacks. Oh, and defenses should be a lot better in 2014, making things that much tougher.
So how many will hit the 3,000-yard mark in 2014? I'll say four.
Here's my list in order of most likely to get to 3,000 yards:
[+] Enlarge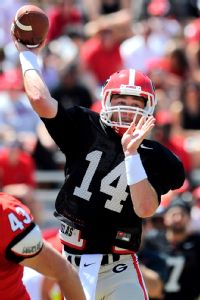 Dale Zanine/USA TODAY SportsHutson Mason passed for 619 yards in his two starts in 2013.
1. Hutson Mason, Georgia:
This is Mason's first year as the starter for the Bulldogs, but he knows the offense inside and out and learned a ton from Murray. Having a solid offensive line and a handful of talented, experienced receivers returning should help Mason light up the skies this fall. Mason threw for 968 yards last year in relief duty and after Murray went down with a season-ending knee injury late in 2013.
2. Wallace, Ole Miss:
Quietly, Wallace threw for 3,346 yards during his second season as the Rebels' quarterback. While Wallace has battled with inconsistency and a shoulder injury, he finally is healthy and is working with more confidence and zip on his passes.
3. Jacob Coker, Alabama:
No, he hasn't been named Alabama's starter or even taken a real snap for the Crimson Tide, but come on, Coker is going to be the guy. He backed up Heisman Trophy winner
Jameis Winston
at Florida State last year and threw for 250 yards on 36 attempts. He doesn't have much experience, but he has receiving threats such as
Amari Cooper
,
Christion Jones
,
DeAndrew White
,
Chris Black
and
O.J. Howard
.
4. Dylan Thompson, South Carolina:
Another career backup, Thompson has thrown for 1,827 yards in his career. The senior spent plenty of time filling in for Connor Shaw in the past, so he knows his way around the SEC. He isn't a runner like Shaw, but Thompson might be a more polished passer.
5. Maty Mauk, Missouri:
He went 3-1 as a starter last year when James Franklin was sidelined and threw for 1,071 yards. Mauk has everything you'd want in a starting quarterback, and he'd be higher on the list if there wasn't some uncertainty at receiver. If his chemistry with his receivers really gets going, watch out.
6. Nick Marshall, Auburn:
Much more of a runner last fall, Marshall has been working on his passing. During the Tigers' BCS run, Marshall threw for 1,976 yards in a very run-heavy offense. Expect that number to increase with a more confident Marshall under center and more experience and talent at receiver.
7. Dak Prescott, Mississippi State:
He's getting a lot of hype after a season filled with nagging injuries, but when Prescott is healthy, he can be a deadly player. Known for his running skills, Prescott returns the Bulldogs' top five receiving targets from last year. Prescott threw for 1,940 yards in 2013.
8. Jeff Driskel, Florida:
You'd think Driskel, the nation's No. 1 quarterback recruit coming out of high school a few years ago, would be higher on this list. But multiple offensive coordinators and a devastating leg injury from last year have Driskel low on the SEC quarterbacks totem pole. However, Kurt Roper's new offense fits Driskel better than any offense he has been in, so he has a chance to surpass his 2,271 career passing yards.
August, 11, 2014
Aug 11
12:15
PM ET
By
ESPN.com staff
| ESPN.com
As college football's new playoff era gets started, ESPN has assembled its own 13-member committee to come up with a
Top 25 Power Rankings
.
Florida State is the No. 1 overall team, while Alabama leads the SEC contingent at No. 2. Other SEC teams in the rankings are Auburn, South Carolina, Georgia, LSU, Ole Miss and Texas A&M.
Click here
to find out where they landed.
Meanwhile, Insider's Travis Haney makes the case four teams that
should have made the power rankings

, including two from the SEC.
August, 11, 2014
Aug 11
8:00
AM ET
Yes, you're reading this right. And, no, you're not reading this at the wrong time, either.
"SEC lunchtime links" is no more. But don't cue the funeral procession music. We wanted to give you more to read earlier in the day, so we've shifted the post to the morning. And rather than focusing solely on providing you with links from every team around the SEC, we're instead going to make the post more multi-faceted with fewer quotes, more analysis and, hopefully, more fun.
With that said, let's get on with our maiden voyage.
Saban gets defensive
Don't call it a tirade, because it wasn't. But when
Nick Saban was asked on Saturday
how he and the staff were preparing for hurry-up, no-huddle offenses, he didn't exactly answer in kind.
"You know, in all honesty, guys, you all make way too much of this," he said.
Oh, do tell.
"I mean, [Auburn] had 21 points against us with 30 seconds to go in the game, and I don't think anybody held them to 21 points all year long," Saban said. "I saw them score 60 in the SEC Championship Game, or whatever. We shut Ole Miss out here. We had four turnovers against Oklahoma that led to 28 points; two [touchdowns] the defense never even got back on the field."
You know what that sounds like? Excuses.
Before you go ballistic, think about it. Did Alabama play all that poorly against HUNH offenses last season? Maybe not, compared to the rest of the country. But since when does Alabama compare itself to anyone? As Kirby Smart said prior to last season, "A lot of people think our standard is to be first in the SEC, be first in the country. ... We really don't go by that motto. We go by: Be the best Alabama defense there's been."
From 2009-11, it seemed like no one could score on the Tide. Now, uptempo offenses are having some success poking holes in Alabama's aura of invincibility. Are they big holes? Maybe not, but they are there nonetheless. Nearly 300 yards rushing by Auburn says so. Oklahoma throwing for 348 yards and four touchdowns says so. Texas A&M racking up 628 yards -- the most
ever
allowed by an Alabama defense -- says so, too.
When Saban said, "We make it out like we're horrible when we play a (no-huddle) team," his argument was essentially that the scheme is sound, the preparation is good, but that the tempo makes it difficult to implement because of the trouble communicating from the sideline. But that sounds like a distinction without a difference. If you study all week for an exam, bring the sharpest No. 2 pencils and then answer most of the questions incorrectly, you still fail.
"We need to improve on it," Saban said of defending the HUNH. "But I think we need to improve on defense, period."
Both are true. But what good is one without the other?
Scrimmage season
From now until the season begins, you'll hear a lot of talk about scrimmages. At Georgia, Hutson Mason called the Bulldogs'
first scrimmage a "draw."
At Alabama, Saban said both quarterbacks "
did a lot of good things."
And at Tennessee, Butch Jones said
he saw "marked improvement."
That's cause for celebration, right? Well, maybe.
Talk is great, but seeing is believing. And with many scrimmages these days, no one in the media or the general public is allowed to see anything.
So practice caution with the post-scrimmage news conferences, and beware of the stat sheet you'll see shortly thereafter. The picture they paint is often a little too rosy.
Just look at Georgia, where somehow
51 passes were attempted without a single interception
or touchdown. Alabama provided some rushing and receiving stats,
but nothing from the QBs
. Tennessee, meanwhile, didn't provide any statistics whatsoever.
South Carolina, on the other hand, had a scrimmage open to the media in which
Pharoh Cooper continued to impress
and Dylan Thompson connected on
9 of 15 passes for 114 yards, one touchdown and no interceptions
.
Around the SEC
SEC Recruiting Report Card
SEC SCOREBOARD
Thursday, 8/28
Saturday, 8/30
Sunday, 8/31