April, 2, 2014
Apr 2
6:00
PM ET
Every year it seems there is a battle within a battle in SEC recruiting. It's a game of one-upmanship in which schools look to get the most attention with new and creative ways to sell their program.

A couple of years ago, Alabama
overloaded the mailbox of running back Alvin Kamara
with 105 letters in one day. It worked, as today Kamara is on the Crimson Tide roster. Such success often results in copycat maneuvers, as
Tennessee followed suit a year ago with athlete Stanton Tuitt
(who ultimately chose to sign with Auburn).
SEC recruiters have shown that there is little they won't do. From
singing karaoke
to sending pictures, photoshopped images, puzzles and more. This is serious business.
Now Georgia has hit on the latest in a long line of eye-catching recruiting pitches. The Bulldogs have sent
hand-drawn portraits to prospects
with a personal note from coach Mark Richt included. There was speculation Richt had drawn the pictures, but safety
Rashad Roundtree
was told by Georgia coaches that somebody working in the Dawgs' football office had drawn the portraits. Four-star linebacker
Roquan Smith
was told the same thing.
"It was really cool," said Roundtree, who has Georgia among his leaders and also has scholarship offers from Alabama, Auburn, Clemson, Florida, Ohio State, South Carolina and others. "Only a few people got them. A lot of other mail is just stats and posters, but it's nice to see something different. It made me feel one-of-a-kind."
Smith, who has offers from more than 20-plus schools and lists Georgia among his leaders, said the portrait was the "most creative thing" he's received in the mail and speaks volumes to how important he is to the Dawgs.
"To have them take their time to have somebody do that for me was great," he said. "I loved it. It shows they take time out for their recruits."
In the dog-eat-dog world of recruiting in the SEC, schools jockey to differentiate themselves when communicating with prospects. Most elite recruits receive around 50 letters a day from schools all over the country, but Georgia has done something that has caught the attention of recruits and separate itself from the other schools.
One rival SEC assistant coach said he wished he thought of the portraits and immediately sent his recruiting staff to come up with something "better."
Have a look:
Little Something Georgia Sent Today #godawgs pic.twitter.com/8Q27drOKMh

— D'Andre Walker (@LuxuryLife1K) April 2, 2014
Best mail yet ! Really makes an impact! #Dawgs #UGA pic.twitter.com/j3JwnyRBwa

— Tree (@Rashad_Tr33) March 31, 2014
Something from UGA and Mark Richt #DawgNation #UGADawgs pic.twitter.com/q7t2B2P4ld

— Hunnit_Gang1 (@RoquanSmith1) February 28, 2014
April, 2, 2014
Apr 2
9:00
AM ET
AUBURN, Ala. -- There wasn't much fire in the voice of Gus Malzahn as he stood at the podium following Auburn's first scrimmage of the spring on Saturday. All told, it was a pretty boring scene. No injuries to report. No position changes to speak of. Only one turnover and a handful of big plays. His team had to move indoors because of the threat of rain, but as he said, "It didn't bother us a bit."
Watching Malzahn, you got the feeling he wasn't playing coy. This was the difference a year makes. Last spring was an anxious time for Auburn. There was no quarterback, no depth chart and no sense of expectations. Malzahn and Co. were simply trying to pick up the pieces left behind from the previous staff.
This spring has a much different tone. All one needed to do was look at the long-sleeve, collared shirt Malzahn wore after practice, the one with the SEC championship patch on its left shoulder. The building phase of Malzahn's tenure is over. The questions are much fewer this year than the last. And with that, the sense of urgency is far more diminished.
"We've got more information now, so we're not as urgent," Malzahn said. "We pretty much know a lot about the guys returning."
Not every coach in the SEC is in the same enviable position.
"You've also got to keep in mind next year," Malzahn said. "You want to get your guys as much reps as you can moving forward for next year, because that's what it's all about ... but I would say, probably, for the most part, that we've got guys in the position that we want them to be in."
Not every coach can afford to look ahead this spring. Not every coach has the time.
With that said, let's take a look at the programs with the most to accomplish this spring, ranking all 14 schools by the length of their to-do list.

Vanderbilt:
Any new coaching staff has the most work to do, from determining the roster to installing new schemes on both sides of the ball. Throw in a new starting quarterback and the
raid James Franklin put on the recruiting class
, and it adds up to an enormously important spring for Derek Mason.

Kentucky:
Mark Stoops has done a lot to turn around the culture at Kentucky. In fact, veteran defensive end
Alvin Dupree
said it feels like more of a football school now
. But the fact remains that Stoops has a very young group to deal with, so inexperienced that true freshman
Drew Barker
is in contention to start at quarterback.

Tennessee:
The Vols are facing many of the same
challenges in Year 2 under Butch Jones
. He has brought in a wealth of talent, including a remarkable 14 early enrollees. Considering the Vols lost all of their starters on both the offensive and defensive lines, there's a lot of work to do.

Florida:
The hot seat knows no reason. All is good in Gator Land right now as a new offense under a new coordinator is installed, injured players -- including starting quarterback
Jeff Driskel
-- return, and expectations creep upward. But a bad showing in the spring game could change the conversation quickly for Will Muschamp.

Arkansas:
There's
nowhere to go but up for Bret Bielema
after a 3-9 finish his first year with the program. The good news is he has young playmakers on offense (
Hunter Henry
,
Alex Collins
, etc.). The bad news is the quarterback position is unsettled and his defensive coaching staff is almost entirely overhauled from a year ago.

LSU:
A depth chart full of question marks is nothing new for Les Miles, who has
endured plenty of underclassmen leaving for the NFL
before. But missing almost every skill player on offense (
Zach Mettenberger
,
Jeremy Hill
,
Odell Beckham
,
Jarvis Landry
) hurts. He has to find replacements at several key positions, and we haven't even gotten into the defense.

Texas A&M:
Cedric Ogbuehi
can replace
Jake Matthews
at left tackle. The combination of
Ricky Seals-Jones
and
Speedy Noil
can replace
Mike Evans
at receiver. But
who replaces the legend of Johnny Football
? Determining a starter under center won't be easy, but neither will be overhauling a defense that was far and away the worst in the SEC last year.

Georgia:
Jeremy Pruitt
should breathe some new life
into a struggling Georgia defense. Having
Hutson Mason
to replace
Aaron Murray
helps as well. But
off-the-field problems continue
to plague Mark Richt's program. With stars such as
Todd Gurley
, the players are there. The pieces just need to come together.

Missouri:
After 13 seasons in Columbia, Gary Pinkel knows how to handle the spring.
Maty Mauk
appears ready to take over for James Franklin at quarterback, and even with the loss of
Henry Josey
, there are still plenty of weapons on offense. The real challenge will be on defense, where the Tigers must replace six starters, including cornerstones
E.J. Gaines
,
Kony Ealy
and
Michael Sam
.

Alabama:
The quarterback position won't be settled this spring, so we can hold off on that. But still, Nick Saban faces several challenges, including finding two new starters on the offensive line, replacing
C.J. Mosley
on defense and completely overhauling a secondary that includes
Landon Collins
and a series of question marks.

Ole Miss:
Hugh Freeze has his players. Now he just has to develop them. With emerging stars
Robert Nkemdiche
,
Tony Conner
,
Laremy Tunsil
,
Evan Engram
and
Laquon Treadwell
, there's plenty to build around. Include a veteran starting quarterback in
Bo Wallace
and there's a lot to feel good about in Oxford.

Mississippi State:
It's a new day in the state of Mississippi as
both state institutions have high expectations this spring
. Mississippi State returns a veteran defense, a solid offensive line and a quarterback in
Dak Prescott
who could turn into a Heisman Trophy contender. A few months after Dan Mullen was on the hot seat, he now appears to be riding high.

Auburn:
Losing
Tre Mason
and
Greg Robinson
hurts, but outside of those two stars, the roster remains fairly intact.
Nick Marshall
figures to
improve as a passer
, the running back corps is well off, and the receivers stand to improve with the addition of
D'haquille Williams
. The defense should get better as youngsters such as
Montravius Adams
and
Carl Lawson
gain experience.

South Carolina:
Steve Spurrier would like to remind everyone that
Dylan Thompson
was the only quarterback in the country to beat Central Florida last season. Sure, Thompson wasn't the full-time starter last year, but he has
plenty of experience and is ready to be the man
. Throw in a
healthy and eager
Mike Davis
and an improving set of skill players, and the offense should improve. The defense has some making up to do on the defensive line, but there's no reason to panic, considering the rotation they used last year.
April, 1, 2014
Apr 1
12:00
PM ET
College football's most high-profile head coach weighed in on the Northwestern players' bid to unionize yesterday. Nick Saban said after practice at Alabama that
players should be compensated and deserve a voice
in what happens. Are we seeing the beginning of a movement, the start of a never-ending legal process or both? Whatever it is, it's moving along as the
next step is Washington, D.C
.
March, 31, 2014
Mar 31
2:20
PM ET
We hope you're grabbing a late lunch and can catch up on the goings on around the SEC. Unfortunately we slept in a bit -- we blame the weekend's fantastic college basketball action -- and we're running just a touch behind. So without further delay, here's some reading material for your day.
March, 31, 2014
Mar 31
10:30
AM ET
ATHENS, Ga. -- When Georgia defensive coordinator Jeremy Pruitt watched film of his new team's first spring practice last month, he wasn't very encouraged by what he saw.
Pruitt and the Bulldogs' other defensive assistants counted 147 "loafs," in which Georgia's defenders didn't run to the ball, finish a play or hustle until the whistle.
"The first practice we were like deer in headlights," outside linebacker Jordan Jenkins said. "We didn't know what to expect or what the coaches wanted."
[+] Enlarge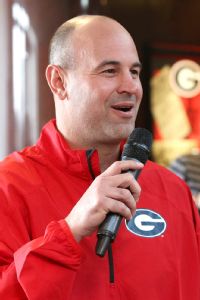 AP Photo/Jason GetzNew defensive coordinator Jeremy Pruitt says the players are adapting to his system with a good attitude.
While Georgia's players might have been surprised by the pace and structure of their first spring practice under Pruitt, they adjusted to the new staff's expectations with surprising quickness. Pruitt said he counted only 13 "loafs" in the second practice.
"The kids have good attitudes," said Pruitt, who left Florida State for UGA in January after helping lead the Seminoles to a BCS national championship last season. "They're trying to do what we're asking them to do. We're doing things a little different in terms of how we practice and finish. They're doing a good job."
In the first two weeks of spring practice, Pruitt has made it clear that Georgia's defense will operate differently, at least in how it practices and prepares. Bulldogs fans can only hope that the changes lead to better on-the-field results this coming season.
Last year, Georgia's defense ranked tied for 78th in scoring defense (29 points per game), 45th in total defense (375.5 yards), 41st in run defense (148.2 yards) and 84th in pass-efficiency defense (134.7 rating). Worse, the Bulldogs generated only 15 turnovers, tied with Kentucky for second-fewest in the SEC and 109th nationally.
Along with myriad injuries on offense, Georgia's woeful defense caused it to limp to an 8-5 finish in 2013 after a promising start in which it defeated South Carolina and LSU, which were each ranked No. 6 nationally at the time. In four regular-season losses, UGA's defense allowed an average of 38 points.
"They lost a lot of guys from the 2012 defense," Pruitt said. "Some of the young guys were forced into roles they weren't ready for. It's no fault of their own or the coaches. They were the best guys here."
Pruitt, a native of Rainsville, Ala., surprised a lot of people when he left FSU for UGA after only one season. Last season, FSU's defense ranked first nationally in scoring defense (12.1 points), second in pass-efficiency defense (93.8 rating), third in total defense (281.4 yards) and 18th in rushing defense (124.8 yards). Pruitt, who was a finalist for the Broyles Award as the sport's top assistant coach last season, replaced Todd Grantham, who left UGA for Louisville.
"To me, I've always wanted to coach in the SEC," Pruitt said. "Once I got to college, that's where I wanted to be. I think Georgia is a fantastic job and opportunity. I loved Florida State. They're great people, and it's a great place. But I just thought this would be a really good challenge."
There's good news and bad news for Pruitt. The good news is that UGA brings back nine defensive starters from a year ago. The bad news is that not everyone returns. Defensive end Garrison Smith exhausted his eligibility, and free safety Josh Harvey-Clemons was dismissed from the team in February for an undisclosed violation of team rules. Earlier this month, sophomore safety
Tray Matthews
and three other players were arrested and charged with misdemeanor theft by deception for allegedly cashing university-issued checks twice. UGA coach Mark Richt hasn't yet announced punishment for the accused players.
Pruitt doesn't yet know what led to so many defensive breakdowns at UGA last season. In Georgia's 43-38 loss at Auburn, its defense allowed a 73-yard touchdown pass on fourth-and-18 with 25 seconds to play. In a 24-19 loss to Nebraska in the Taxslayer.com Gator Bowl, the Bulldogs surrendered a 99-yard touchdown pass on third-and-14.
"The big thing is we gave up way too many big plays last year," Pruitt said. "Whether it was in the run game or the throw game, there were too many mistakes. We've got to do a better job of rotating in the secondary, where it's a 7-yard gain instead of a 25-yard gain if the ball spits out of there. If we do that, we'll make the offense work harder and have to earn it."
[+] Enlarge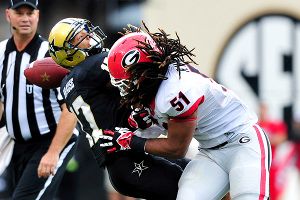 Don McPeak/USA TODAY SportsLinebacker Ramik Wilson, last year's leading tackler, figures to be a cornerstone for Jeremy Pruitt's revamped defense.
The strength of Georgia's defense this coming season figures to be its linebacker corps. Senior inside linebacker
Ramik Wilson
led the SEC with 133 tackles last season, and Jenkins and outside linebacker
Leonard Floyd
combined for 11.5 sacks and 17.5 tackles for loss.
Georgia's secondary, which was plagued by communication breakdowns last season, remains a work in progress. Incoming freshmen
Malkom Parrish
,
Dominick Sanders
and
Shaquille Jones
might be asked to contribute right away, along with
Shattle Fenteng
, the No. 1 juco cornerback, according to ESPN RecruitingNation.
Pruitt figures to use more four-man fronts than Grantham did, although he prefers smaller, quicker linemen than what UGA had last season.
Pruitt hopes the faster pace in practice will help UGA's conditioning.
"It's a lot more up-tempo," Wilson said. "We're running more, and they're trying to bring in more passion and effort. [Pruitt] is making the point that he's going to play the best 11 guys out there. It's a lot more intense."
Said Jenkins, "The tempo is a lot faster and people are moving a lot faster. There's no more watching. I feel like we have a sense of urgency now. We're a lot more aggressive. Everybody is trying to make plays."
Georgia fans will have to wait until Aug. 30, when the Bulldogs open the season against Clemson at Sanford Stadium, to learn whether last year's growing pains will pay dividends this coming season.
"Our guys are learning how we want them to practice," Pruitt said. "They're trying to finish and trying to do what we ask them to do. We're going to have to play with a lot of toughness and effort. We're going to have to make fewer mental mistakes. That's how we're going to play this year. That's our focus -- effort, toughness and eliminating mental errors."
March, 28, 2014
Mar 28
12:00
PM ET
While college basketball teams are punching their tickets to the Elite Eight, the SEC's best quarterback of the last two seasons might have cemented his position as an elite talent in the NFL draft.
March, 28, 2014
Mar 28
9:37
AM ET
March, 27, 2014
Mar 27
1:00
PM ET
ATHENS, Ga. --
Georgia
, which is trying to bounce back from last season's disappointing 8-5 finish, is finishing up its second week of spring practice.
It's the Bulldogs' first spring under new defensive coordinator Jeremy Pruitt, who directed Florida State's defense during the Seminoles' national championship run last season. Pruitt replaces Todd Grantham, who left UGA for Louisville after a couple of underperforming seasons with the Bulldogs.
[+] Enlarge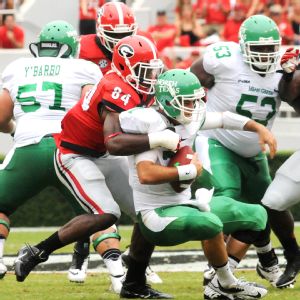 Jeffrey Vest/Icon SMIOutside linebacker Leonard Floyd, who started eight games as a freshman, has been a "beast" during spring practices.
Here are a few early observations from Georgia's spring:
• Outside linebacker
Leonard Floyd
, a sophomore from Eastman, Ga., added more than 20 pounds during the offseason and now weighs about 248. Floyd started eight games as a freshman in 2013 and finished with 55 tackles, 9.5 tackles for loss and a team-high 6.5 sacks. Pruitt will be looking for even more production from Floyd this coming season, and one UGA assistant called him the "best player on the team -- period."
"He's always making plays and setting the tone," linebacker
Ramik Wilson
said. "He stands out every play. He's just a beast right now."
• After running for 1,385 yards with 17 touchdowns as a freshman in 2012, tailback
Todd Gurley
was limited by a high ankle sprain during his sophomore campaign and finished with 989 yards and 10 touchdowns in 2013.
The Bulldogs weren't sure how much Gurley would be able to do during spring practice because of the lingering ankle injury, but he has participated in almost every aspect of practice so far. He's also expected to play a lot in Saturday's full-contact scrimmage, the first of the spring.
"He's been practicing every day in full-contract drills," Wilson said. "He's getting us better as a defense. He's the best running back in the country. He's not taking any plays off."
• One of the early surprises of the spring has been sophomore flanker
Blake Tibbs
, who played in only two games last season. Tibbs, from Martin Luther King Jr. High in Lithonia, Ga., was one of UGA's best performers during the offseason "mat drills" conditioning program. He also has looked good in practice so far, according to UGA coaches and players.
"He's doing really well," Wilson said. "It looks like he's added about 10 pounds and is blocking more physically. He's trying to show the coaches that he can contribute. If he keeps doing the things he's doing, he'll get on the field."
• UGA's coaches are hoping left tackle
John Theus
has finally turned the corner after a couple of so-so seasons. Theus, a junior from Jacksonville, Fla., started 22 games the past two seasons, including 14 as a freshman in 2012. He has moved from right tackle to left tackle this spring and will protect quarterback
Hutson Mason
's blind side.
Theus was bothered by a wrist injury the past two years but has been healthy during the offseason and excelled in the conditioning program, according to UGA offensive coordinator Mike Bobo.
With Theus moving to left tackle, senior
Mark Beard
, who briefly left the team during the offseason, is lining up at left guard. Senior
David Andrews
is back at center, with sophomore
Brandon Kublanow
at right guard and senior
Kolton Houston
at right tackle on the No. 1 unit.
March, 27, 2014
Mar 27
12:00
PM ET
The words "revolutionary" and "game-changing" are prominent in the aftermath of
Wednesday's ruling by a federal agency
that college athletes at Northwestern University are school employees and can form a union. The SEC had this to say:
"Notwithstanding today's decision, the SEC does not believe that full time students participating in intercollegiate athletics are employees of the universities they attend," commissioner Mike Slive said in a written statement.
Former South Carolina defensive tackle Kelcy Quarles came out
against the idea of college football players unions
.
Elsewhere in the South, spring practice and NFL scouting continued as if the earth had not spun off its axis.
March, 27, 2014
Mar 27
10:00
AM ET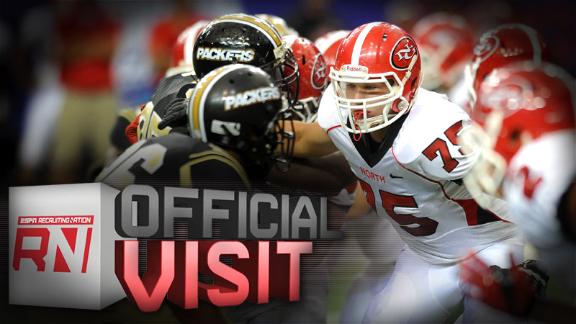 ATLANTA --
Jawon Pass
was sitting at a stoplight recently when he looked to his left and saw a Georgia Bulldogs bumper sticker. Then he turned to his right and saw a South Carolina Gamecocks logo staring at him from a window of another car. Then directly in front of him were vehicles with Tennessee Volunteers and Clemson Tigers license plate frames.
Pass, a highly regarded 2016 quarterback from Columbus (Ga.) Carver, has lived in 10 different cities while growing up, but when he arrived in Georgia six years ago, he immediately noticed things were different.
"There are fans from everywhere here," said Pass, who already has scholarship offers from Clemson, Florida, Mississippi State, North Carolina, NC State, Notre Dame and Texas A&M. "Georgia is the heart of college football. Georgia fans are all over. But you're also going to see a lot of Clemson, Auburn, Alabama fans and everybody else. It's like nowhere else I've lived before. Georgia is the melting pot of college football, if you ask me."
To continue reading this article you must be an Insider
March, 27, 2014
Mar 27
9:00
AM ET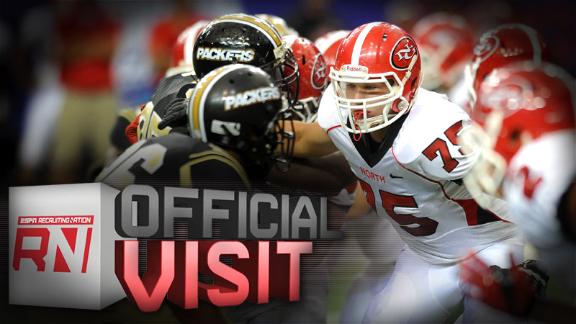 ROSWELL, Ga. -- When listing the most explosive prospects in the Class of 2015, it does not take long to call on
Taj Griffin
.
The 5-foot-10, 174-pound, versatile running back was one of the standouts at last weekend's
Atlanta Nike Nike Football Training Camp
and SPARQ combine, earning an invitation to the The Opening in early July.
To continue reading this article you must be an Insider
March, 26, 2014
Mar 26
12:00
PM ET
Spring storylines abound this week around the SEC. Let's take a quick spin around the league to see what's happening.
March, 26, 2014
Mar 26
9:30
AM ET
Throughout this recruiting cycle, RecruitingNation will profile a number of ESPN 300 prospects in the 2015 class, including an inside look at the prospect, his recruitment, a scouting report and what college program could benefit when he ultimately makes his decision.
ROSWELL, Ga. — Running back
Eric Swinney
was one of 13 ESPN Junior 300 prospects to attend the
Atlanta Nike Football Training Camp
on Sunday. Of those 13, 12 are from Georgia, which regularly churns out elite college football players. For some reason, however, the state doesn't seem to get the recognition as a top talent-producing state.
To continue reading this article you must be an Insider
March, 25, 2014
Mar 25
8:55
PM ET
Associated Press
ATHENS, Ga. -- Georgia coach Mark Richt said Tuesday he's still deciding how to discipline four players arrested last week on charges of illegal check-cashing.
The players, including starting safety Tray Matthews, are participating in spring practice, which continued Tuesday. Richt said that does not mean he has ruled out dismissals for the group, which also includes defensive linemen Jon Taylor and James DeLoach and wide receiver Uriah LeMay.
"I wouldn't put anything out of the realm of possibilities right now," Richt said. "Right now we're just allowing them to continue to work."
Richt said Tuesday that the four, who were charged with receiving double payments for checks of $71.50 issued by the Georgia athletic department, have been assigned extra work, including early morning running.
"There's more to come," Richt said. "I'm just thinking it through real good."
The four players, who were arrested by University of Georgia police, face misdemeanor charges of theft by deception.
Matthews, Taylor and DeLoach deposited the paper checks through a mobile device and cashed the checks at a convenience store, according to University of Georgia police chief Jimmy Williamson.
LeMay was charged with cashing a roommate's check that already had been deposited through a mobile device, according to Williamson.
Scene and Heard: Top 10 Predictions
SEC SCOREBOARD
Thursday, 8/28
Saturday, 8/30
Sunday, 8/31