May, 9, 2013
May 9
8:14
PM ET
AUGUSTA, Ga. -- Georgia hasn't done much to slow
Jadeveon Clowney
's pass rush in its first two meetings with South Carolina and its star defensive end. So offensive coordinator Mike Bobo joked that the Bulldogs might have to get creative with how they attack him in their third meeting this fall.
"I think we're going to do the old Burt Reynolds 'Longest Yard' and not block him and let [quarterback Aaron] Murray throw it at him," Bobo cracked at Thursday's UGA Day meeting in Augusta, referencing the infamous scene in the 1974 football movie where Reynolds' quarterback character repeatedly pegs a vicious opponent, played by gridiron great Ray Nitschke, in the groin.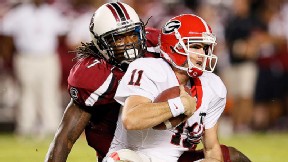 Kevin C. Cox/Getty ImagesJadeveon Clowney has harrassed Georgia quarterback Aaron Murray in each of their first two meetings.
Getting serious, though, Bobo said the Bulldogs have focused their pass protection schemes on Clowney in various ways over the last two seasons and he still accounted for three sacks, four tackles for a loss and a fumble that led to a back-breaking touchdown late in the Gamecocks' 2011 win in Athens.
At some point, it's a given that one of the top defensive players in the nation is going to make a big play, Bobo said.
"We can't throw the ball backwards when he's about to sack us and we've got to hold onto the ball and not turn a bad play into catastrophe," Bobo said. "That's what's got to happen when we play him because he's going to get [his]. He's a great player. ... We've just got to play hard and like I said, he's going to make some plays and we'll do some things to hopefully try to discourage him."
The key is doing what they can to limit the damage -- and they'll try to scheme toward that end again in September.
"I think our guys are eager to play that game. We were obviously embarrassed [last year] and got thoroughly whipped by that defense," Bobo said of the Bulldogs' 35-7 loss in Columbia last season. "So we'll be ready for that game, I promise you."
Bobo made his first-ever appearance Thursday on Georgia's summertime circuit of alumni association tour stops, and he was joined by men's basketball coach Mark Fox, athletic director Greg McGarity and Jere Morehead, who will succeed Michael Adams as university president this summer.
Among the other points Bobo and Fox made in interviews prior to the event:
• He called the third tailback spot behind
Todd Gurley
and
Keith Marshall
a "big concern for me," as the Bulldogs' depth at the position was not ideal during the spring. He expects that signees
A.J. Turman
and
Brendan Douglas
will both play this fall.
"They're going to have to play," he said. "You say that and you never know, but we're going to go in there with the idea of getting them ready to play and it might not be week one. It might be, 'Hey we're getting them ready to play' and they're playing on special teams and by week four, week five, that confidence they've gained on special teams has enabled them to play scrimmage downs."
• Bobo said freshman receiver
Tramel Terry
is ahead of schedule in his return from a torn ACL suffered last December and should begin running routes this summer. He added that All-SEC offensive guard
Chris Burnette
-- who missed spring practice while recovering from shoulder surgery -- "has really changed his body since being out" and looks to be in great shape for when the Bulldogs open preseason camp in August.
• Fox said assistant coach Kwanza Johnson remains on Georgia's staff as of now. TCU has approached Johnson about an assistant coaching job and Fox said he should make a decision in the near future.
• Fox said Georgia will likely not know the dates of its 2013-14 SEC games until August.
• Bulldogs forward
Nemanja Djurisic
is going home to Montenegro for UGA's May semester, but plans to rejoin his teammates on campus for the second summer session. Fox said he expects all of Georgia's players to be on campus for at least part of the summer, which will provide them with valuable preparation time as they prepare for preseason practice in the fall.
May, 9, 2013
May 9
10:15
AM ET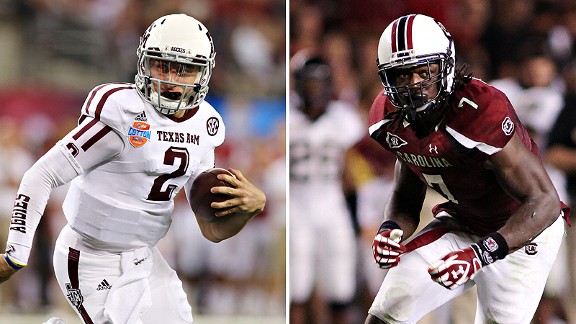 USA Today SportsTexas A&M's Johnny Manziel and S. Carolina's Jadeveon Clowney are top 2014 NFL draft prospects.
The SEC had a record 63 players selected in last month's NFL draft, including 12 in the first round.
I'm not sure it's realistic to expect that kind of haul next year, but it's never too early to start looking ahead to the 2014 draft class.
So, similar to a year ago, I've come up with our list of the SEC's top 20 draft prospects for 2014.
This isn't a mock draft. Likewise, it's not a ranking of who I think will be the best players in the SEC next season. Rather, it's a projection of who will be the most coveted NFL prospects from the SEC when the 2014 draft rolls around in April. In coming up with this list, I've talked to several draft analysts as well as NFL personnel, SEC coaches and others who are clued in to the whole draft process.
Some players will obviously play their way onto this list next season, while others will play their way off it. Injuries undoubtedly will be a factor, and then occasionally, guys will come from nowhere to be first-round picks.
Among the prospects I nailed this time a year ago were Alabama cornerback
Dee Milliner
, Alabama offensive guard
Chance Warmack
, LSU defensive end
Barkevious Mingo
and LSU safety
Eric Reid
.
Among those I missed the boat on were Texas A&M offensive tackle
Luke Joeckel
, Missouri defensive tackle
Sheldon Richardson
, Florida defensive tackle
Sharrif Floyd
and Alabama offensive tackle
D.J. Fluker
.
I had Arkansas quarterback
Tyler Wilson
No. 1 overall and South Carolina running back
Marcus Lattimore
in my top five. So it never goes exactly the way anybody predicts, especially 11 months before the draft.
Here goes with our 2014 list. Again, we're not suggesting all 20 will go in the first round or even the first two rounds. It's simply the order we think they will come off the board in next April's draft and includes only draft-eligible players:
1. Jadeveon Clowney, DE, South Carolina, Jr.:
The ultimate game-changer on defense, Clowney would have been a first-rounder had he been draft-eligible after his freshman season. Clowney then excelled in 2012, elevating his status as the 2014 No. 1 favorite.
2: Cyrus Kouandjio, OT, Alabama, Jr.:
A potential top-five pick in next year's draft, the 6-foot-6, 310-pound Kouandjio is everything you're looking for in a left tackle.
3. Jake Matthews, OT, Texas A&M, Sr.:
We know Matthews has the bloodlines, but he also has the game. He's shifting over from right tackle to left tackle for his senior season.
4. Antonio Richardson, OT, Tennessee, Jr.:
The man they call Tiny has the size and athleticism to be a franchise left tackle. Clowney said Richardson was one of the best tackles he faced a year ago.
5. Anthony Johnson, DT, LSU, Jr.:
There's a reason they call him Freak. They just seem to breed great defensive linemen at LSU, and Johnson is next in line.
6. Loucheiz Purifoy, CB, Florida, Jr.:
He's a pure cover cornerback with good size and an explosive athlete to boot. The Gators also will play him at receiver next season.
7. Johnny Manziel, QB, Texas A&M, RSo.:
Yes, Manziel is shorter than the NFL typically likes its quarterbacks, but do measurables really matter when you make as many plays as Johnny Football does?
8. Dominique Easley, DT, Florida, Sr.:
Easley is fully recovered from the torn ACL he suffered at the end of the 2011 season. He's sliding inside to tackle next season and will be a force for the Gators.
9. Adrian Hubbard, OLB, Alabama, RJr.:
We saw his ability to get to the quarterback in flashes last season. Look for Hubbard to take that next step in 2013 and become a premier finisher.
10. C.J. Mosley, LB, Alabama, Sr.:
As the saying goes, he's a football player. Mosley is a sure tackler. He's excellent in coverage and is always money whenever Alabama needs a big play.
11. Ha Ha Clinton-Dix, S, Alabama, Jr.:
In the past four drafts, Alabama has produced four first-round selections in the secondary. Clinton-Dix could be the top safety off the board next year.
12. Mike Evans, WR, Texas A&M, RSo.:
In his first season in the SEC, the 6-5, 225-pound Evans was sensational with 82 catches and 1,105 yards. He'll be even better his second time through.
13. AJ McCarron, QB, Alabama, Sr.:
Sure, he's been surrounded by great talent, but McCarron also has an NFL arm, delivers in the clutch and takes care of the football.
14. Jordan Matthews, WR, Vanderbilt, Sr.:
The 6-3, 205-pound Matthews is so smooth that he makes it look easy. And talk about productive. He averaged 109.6 receiving yards in eight SEC games.
15. Donte Moncrief, WR, Ole Miss, Jr.:
One of the more underrated players in the SEC, the 6-3, 215-pound Moncrief has a knack for finding the end zone with 14 touchdowns in his first two seasons.
16. Daniel McCullers, DT, Tennessee, Sr.:
This mountain of a man (6-8, 360 pounds) is still developing, but he should make an imposing nose tackle for a team that uses a 3-4 defensive scheme.
17. Marcus Roberson, CB, Florida, Jr.:
The "other" Florida cornerback also has big-time skills and was second in the SEC in passes defended last season with 14.
18: Chaz Sutton, DE, South Carolina, RJr.:
Clowney will get most of the attention next season, but don't be surprised if Sutton blows up and has a monster senior season.
19: Gabe Jackson, OG, Mississippi State, Sr.:
Jackson thought about coming out early this year. He returns as one of the top offensive guards in college football.
20: Aaron Murray, QB, Georgia, Sr.:
The opinions are mixed on Murray, who's bearing down on several SEC records. His numbers speak for themselves, and so does the way he approaches the game.
May, 9, 2013
May 9
9:00
AM ET
ATHENS, Ga. -- Offensive tackle
Dyshon Sims
(Valdosta, Ga./Lowndes) awoke from a post-practice nap to find out that a longtime dreams of his had come true.
"I was actually sleeping around 9:30 when I got an alert on my phone from my Facebook account that I had gotten a message," Sims said. "It was from the offensive line coach, Coach [Will] Friend. So I called him and he said they were offering me a full scholarship to come play at the University of Georgia."
The 6-foot-4, 278-pound junior was taken aback.
To continue reading this article you must be an Insider
May, 9, 2013
May 9
7:00
AM ET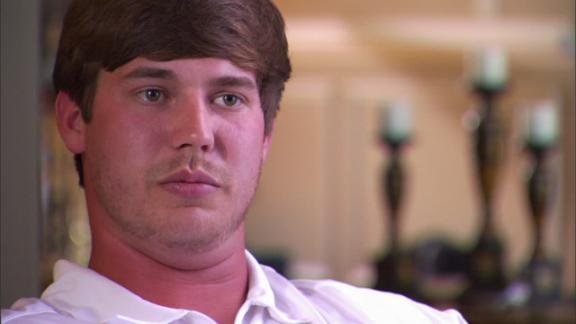 ATHENS, Ga. --
Kolton Houston
will explain his side of a lengthy NCAA eligibility dispute for the first time on Sunday morning.
ESPN reporter Bob Holtzman visited the Georgia offensive lineman and his family at their Buford, Ga., home in March and assembled a piece for "Outside the Lines" that will air at 9 a.m. ET Sunday on ESPN.
[+] Enlarge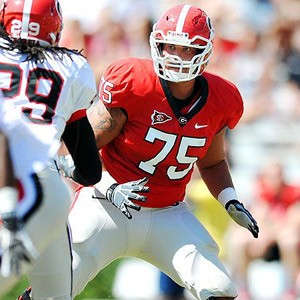 Radi Nabulsi/ESPN.comA year ago, Kolton Houston won a starting job during spring practice. But issues with the NCAA's policies on steroid use have kept him on the sidelines.
In Holtzman's story, Houston and UGA director of sports medicine Ron Courson describe their unusual three-year battle with the NCAA that began when Houston first tested positive for steroid use shortly after enrolling at Georgia in 2010.
Although the NCAA has accepted Courson's extensive testing data that indicates Houston has not reused the performance-enhancing drug, it has not wavered in its decision that Houston will remain ineligible until tests reveal that the drug remains in his system only at an allowable level. In dozens of tests since the initial positive result in 2010, the remaining trace elements of the drug have not dissipated enough to reach the minimum threshold set forth in the NCAA's rulebook. Thus he has yet to appear in a college game, and the
Bulldogs have been forced to play without
a player who was projected to start at right tackle after spring practice concluded last year.
What will happen next remains unclear. UGA sports information director Claude Felton said Wednesday morning that Houston is "currently on the roster," but "as of this moment still ineligible."
Courson made his
first public appeal on Houston's behalf last August
, when the Bulldogs opened preseason practice. He had privately lobbied college sports' governing body that the trace elements of the drug that remain in Houston's system do not provide a performance-enhancing benefit, but the NCAA has not made an exception to its rules for Houston.
Courson and Bulldogs coach Mark Richt have spoken to reporters about the case in the past year, but the "Outside the Lines" interview will represent the first time Houston has publicly addressed his situation.
In addition to its Sunday morning time slot, "Outside the Lines" will air next week at 3 p.m. ET Monday, Tuesday and Wednesday.
May, 8, 2013
May 8
4:30
PM ET
Alabama's athletic department led the SEC in revenue produced in 2012 and was fourth nationally, according to a
USA Today report
.
Alabama took in $124,899,945 in revenue and spent $108,204,867 for a subsidy of $5,461,200.
Texas was No. 1 nationally with $163,295,115 in total revenue.
Six of the top 12 schools in total revenue were from the SEC. Alabama, Florida, Texas A&M, LSU, Auburn and Tennessee were all over $100 million in revenue.
Below is a breakdown. The national rank is in parentheses:
(4.) Alabama:
$124,899,945 in revenue; $108,204,867 in expenses
(5.) Florida:
$120,772,106 in revenue; $105,102,198 in expenses
(6.) Texas A&M:
$119,702,222 in revenue; $81,792,118 in expenses
(7.) LSU:
$114,787,786 in revenue; $101,989,116 in expenses
(10.) Auburn:
$105,951,251 in revenue; $96,315,831 in expenses
(12.) Tennessee:
$102,884,286 in revenue; $101,292,015 in expenses
(14.) Arkansas:
$99,757,482 in revenue; $82,470,473 in expenses
(18.) Georgia:
$91,670,613 in revenue; $88,923,561 in expenses
(19.) Kentucky:
$88,373,452 in revenue; $84,929,819 in expenses
(21.) South Carolina:
$87,608,352 in revenue; $84,963,037 in expenses
(38.) Mississippi State:
$69,828,880 in revenue; $67,926,160 in expenses
(51.) Ole Miss:
$51,858,993 in revenue; $51,708,064 in expenses
(52.) Missouri:
$50,719,665 in revenue; $66,980,889 in expenses
May, 8, 2013
May 8
10:34
AM ET
By
RecruitingNation
| ESPN.com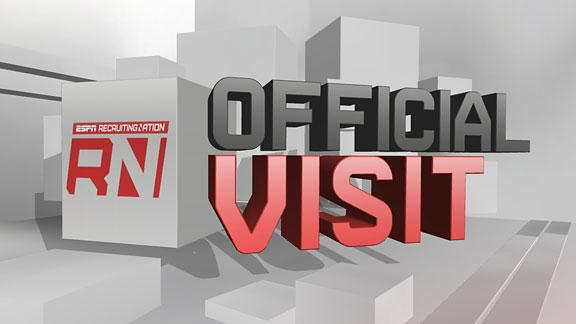 NoleNation's Corey Dowlar talks with Phil Murphy about the latest in Florida State 2013 signee Matthew Thomas' saga, and TideNation's Greg Ostendorf stops by to talk about the impending decisions of ESPN 150 recruits Tre' Williams and Justin Thornton.
May, 8, 2013
May 8
9:00
AM ET
JEFFERSON, Ga. -- The Georgia state track meet is almost always populated with top football prospects competing in their second sport of the year. This year did not disappoint, as a number of Peach State recruits descended on the track and field events to try and win a state title.
Bulldogs' signees compete in last prep events
Tight end
Jordan Davis
competed in the 110-meter high hurdles and 300-meter intermediate hurdles. He finished second in the 110-meter race, beating out several much smaller and quicker competitors.
"These little guys are faster than me," Davis said. "I can't catch them in a sprint. But I gain a foot on them on each hurdle."
Davis will report in June with the Bulldogs' other signees, including
Rico Johnson
, who was at the meet trying to defend his 100-meter title.
To continue reading this article you must be an Insider
May, 8, 2013
May 8
7:00
AM ET
Editor's note: This week we continue to clean out our notebook from Georgia's spring practices to tell the stories we didn't get to tell before the Bulldogs' G-Day game. Previously we featured fullback Quayvon Hicks
,
tight end Jay Rome, defensive end Ray Drew, safety Connor Norman and receiver Rantavious Wooten. Today we recap a conversation with cornerback Damian Swann.
ATHENS, Ga. -- Count Damian Swann among the Georgia players whose expectations were fairly low when the Bulldogs' rebuilt defense first took the field for spring practice. But it didn't take long for that outlook to change.
[+] Enlarge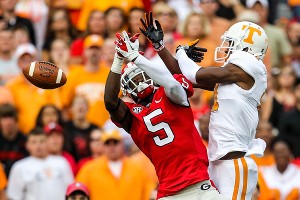 Daniel Shirey/USA TODAY SportsDamian Swann is embracing his newfound role as the veteran leader of Georgia's secondary.
"The first day, I kind of looked at it like, 'Man, we've got a lot of work.' But that just comes with we're losing all those guys to the NFL," Swann said of a 2012 defense that had seven players drafted and five more sign free agent deals after the draft. "We're returning, what, four guys that have played a tremendous amount? So we have seven guys out there that didn't really know. But after the first couple days once we put on pads, the first scrimmage, it's like, 'We've got something.' "
Swann made that comment midway through spring practice, but that optimism only grew throughout the spring -- up through the G-Day game, when the first-team defense largely held in check a starting offense that returns nearly everyone from last season's record-setting unit.
Of course, the low-pressure nature of spring practice makes it a perfect time for unbridled optimism. Also factor in that the offense played without some of its key pieces for all or most of the spring. Nonetheless, junior cornerback Swann -- the only returning defender who started all 14 games last fall -- was reassured by what he saw from the numerous youngsters who got their first heavy doses of playing time in the spring.
"Before we went into [the first] scrimmage, we had our competition days where we'd go team this, team that, and out of all the competition drills with the one-on-ones and two-on-twos and three-on-threes, what we win are the team drills. The drills that really matter," Swann said. "And that gave me confidence that, 'If we're doing this now with a very experienced offense, once we get very in sync come August, we should be fine.' "
Swann led the team with four interceptions last season and also forced two fumbles and recovered two more. But by this point it's a well-documented fact that he is the only returning member of the secondary with any significant playing experience.
With that in mind, he took it upon himself to become a leader for the group by setting a tone with his play and even learning the duties at the safety positions so he could help newcomers such as safeties
Tray Matthews
and
Quincy Mauger
progress more rapidly. Prior to the spring, Matthews cited Swann as one of the veterans who best helped him learn what to do when practices began.
"I think if I know more, I can teach more," Swann said. "Me being here, this is about to be my third year, I think I know exactly what to do at all three corners. So it wouldn't hurt me to try and learn safety, strong or free, to try and learn either one of them so I guess I can be more helpful and more beneficial to the guys that are going to be playing with me."
It wasn't so long ago that Swann was the youngster who leaned on more experienced teammates to make sure he played assignments correctly. He played intermittently as a true freshman in 2011 before enjoying a solid debut season as a starter last fall.
Now the veterans who preceded him such as Sanders Commings, Branden Smith, Bacarri Rambo and Shawn Williams are gone, causing Swann to shift from mentee to mentor. He embraced that role this spring because he knew that was the time for the Bulldogs to endure their growing pains if they are to avoid getting embarrassed when they open the season against Clemson's high-powered offense on Aug. 31.
"I think I have to take charge out there," Swann said. "When guys are kind of confused, I have to tell it to them on the fly because the offense knows we're new, but they're not taking it lightly. So we've just got to get everybody on the same page so everybody can play fast."
May, 7, 2013
May 7
6:17
PM ET
As colleges hit the road for the spring evaluation period, offers continue to pour in for ESPN 150 defensive lineman
Kentavius Street
(Greenville, N.C./Rose).
To continue reading this article you must be an Insider
May, 7, 2013
May 7
9:00
AM ET
JEFFERSON, Ga. -- A bystander watching
Preston Williams
(Lovejoy, Ga./Lovejoy) warm up at the Georgia state track and field championships simply said, "Who is
that
guy?" Williams stood on the edge of the long jump pit -- where he was challenging for a state title as only a sophomore -- and exploded with a flat-footed jump to the middle of the pit, reaching a height and distance that turned heads.
As did his outfit. Williams wore blindingly bright yellow shoes, mismatched socks (one was a multi-colored, neon leopard print, while the other was decorated with cupcakes), cut-off camouflage sweat pants over black leggings and a Lovejoy t-shirt. The ensemble was topped off with a gray scarf that would look great on a 78-year-old retiree from Boca Raton but seemed out of place wrapped around Williams' noggin as a headband.
"This is my look," Williams said. "My jumping look -- I am exotic."
While his fashion is eclectic, the true answer to who Williams is a lot more complicated.
To continue reading this article you must be an Insider
May, 7, 2013
May 7
7:00
AM ET
Editor's note: This week we continue to clean out our notebook from Georgia's spring practices to tell the stories we didn't get to tell before the Bulldogs' G-Day game. Previously we featured fullback Quayvon Hicks
,
tight end Jay Rome, defensive end Ray Drew and safety Connor Norman. Today we recap a conversation with senior receiver Rantavious Wooten.
ATHENS, Ga. -- As the old man in Georgia's receiving corps,
Rantavious Wooten
has developed the guile that accompanies on-field experience.
While he hopes to contribute in measurable ways this fall -- catches, receiving yards, touchdowns -- the fifth-year senior believes his intangible qualities will benefit the Bulldogs.
To continue reading this article you must be an Insider
May, 6, 2013
May 6
9:30
AM ET
GEORGIA BULLDOGS
2012 record:
12-2
2012 conference record:
7-1 (first, SEC East)

Returning starters:
Offense: 10; defense: 4; kicker/punter: 2
Top returners:
QB
Aaron Murray
, RB
Todd Gurley
, CB
Damian Swann
, WR
Malcolm Mitchell
, OLB
Jordan Jenkins
, OL
Kenarious Gates
, OG
Chris Burnette
, ILB
Amarlo Herrera
Key losses:
OLB
Jarvis Jones
, LB
Alec Ogletree
, S
Shawn Williams
, S
Bacarri Rambo
, NG
John Jenkins
, CB
Sanders Commings
, WR
Tavarres King
2012 statistical leaders (* - returner)
Rushing: Gurley * (1,385 yards)
Passing: Murray * (3,893 yards)
Receiving: King (950 yards)
Tackles: Alec Ogletree (111)
Sacks: Jones (14.5)
Interceptions: Swann * (4)
Spring answers
1. Safety starters:
With 2011 All-Americans Rambo and Williams completing their college careers, the Bulldogs entered the spring with two big holes at safety. It appears sophomore
Josh Harvey-Clemons
and January enrollee
Tray Matthews
have all but claimed the starting positions, however. Harvey-Clemons was named the Bulldogs' defensive MVP of spring practice, and Matthews generated the most buzz of anyone this spring with his ability to deliver crushing hits. Georgia's inexperience along the back end of the defense is not ideal, but the two youngsters could become a pleasant surprise.
May, 6, 2013
May 6
9:00
AM ET
ATHENS, Ga. -– ESPN 150 athlete
Malkom Parrish
(Quitman, Ga./Brooks County) visited Georgia on Friday, talking with the coaches and trying to avoid the rain as he was shown around campus. The gloomy weather didn't dampen his enthusiasm for the Bulldogs' program, as Georgia gave him the red-carpet treatment.
To continue reading this article you must be an Insider