February, 14, 2012
2/14/12
3:51
PM ET
What started as a "Blind Side"-esque look at one high school football player's story turned into so much more as the documentary
"Undefeated" chronicles the 2009 season of the Manassas (Memphis, Tenn.) football team.
The film was nominated for an Academy Award and opens Feb. 17 in limited release.
And read here
about ESPNHS's look at Life imitating art imitating football, and how the four main "characters" in the documentary -- three players and the coach -- compare with four fictional football equivalents.
February, 14, 2012
2/14/12
3:49
PM ET
By
Tony Parker
| ESPN.com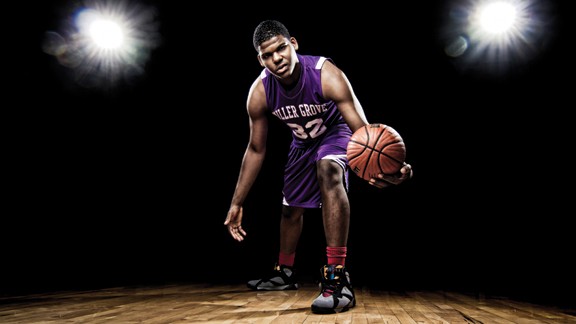 Ryan Gibson/ESPNHSMiller Grove center Tony Parker is the No. 21 player in the ESPNU 100.
Tony Parker
| Senior | Center | Miller Grove
Parker Blog No. 1
Tony Parker, a senior at Miller Grove (Lithonia, Ga.), is the No. 21 player in the Class of 2012 and one of the most sought-after recruits in the nation, with UConn, Duke, UCLA, Ohio State, Georgetown, Memphis, Kentucky and Kansas all in the running for his services. He has agreed to chronicle the remainder of his final season and recruiting experiences leading up to his decision through a diary with ESPNHS.
February, 14, 2012
2/14/12
1:25
PM ET
I don't suppose many of us expected Georgia to make the NCAA basketball tournament before the season started -- and the Bulldogs' 1-7 start in SEC play certainly clinched that outcome (although I guess the 2008 UGA team taught us to never rule out a miracle at the conference tournament. Let's hope New Orleans doesn't get hit by another natural disaster, though, for that wonderful city's sake).
Anyway, ESPN college basketball blogger Eamonn Brennan is taking a look at the
possible NCAA tournament entries and bubble teams
today and there is a common thread for Georgia's last two opponents, Arkansas and Mississippi State. Their tourney resumes took hits in the last week after losses to Georgia. In fact, Arkansas has darn near fallen off the bubble.
To continue reading this article you must be an Insider
February, 14, 2012
2/14/12
1:20
PM ET
As a sophomore at Stephenson High School,
Reggie Carter
(Snellville, Ga./South Gwinnett) beat out 2011 Mississippi State signee Preston Smith for the starting defensive end job midway through the season, en route to 73 tackles and 10.5 sacks. More than 10 college programs, including Alabama, FSU and Michigan, had offered Carter before he transferred to South Gwinnett in the summer, and in the season opener he was anxious to show he could lead the Comets against Lowndes, one of the top programs in the Southeast.
Then it happened.
"I knew it was bad but I did not think it was bad because when the doctor was pulling on it on the sidelines it did not feel like it was torn or anything," Carter said. "But then when we got the MRI that said I tore my ACL, it was a sad moment. My dad told me to stop crying and look forward to the positive."
To continue reading this article you must be an Insider
February, 13, 2012
2/13/12
3:39
PM ET
ATHENS, Ga. -- Georgia senior
Gerald Robinson
on Monday was named as the SEC's basketball player of the week.
The senior guard scored eight of his 13 points in overtime of the Bulldogs' 70-68 win at No. 20 Mississippi State on Saturday, following his career-high 27 points in Georgia's 81-59 win against Arkansas last Wednesday.
Robinson is 10th in the SEC in scoring at 14 points per game and seventh in assists (3.7 apg) and free-throw percentage (79.8 percent).
The Bulldogs' first SEC player of the week this season, Robinson and the Bulldogs (11-12, 3-7 SEC) will go for their third straight SEC win on Wednesday when they visit South Carolina.
To continue reading this article you must be an Insider
February, 13, 2012
2/13/12
2:46
PM ET
It's fairly evident the Indianapolis Colts will pick a quarterback -- most likely Stanford's Andrew Luck -- with the first pick in the upcoming NFL draft.
To continue reading this article you must be an Insider
February, 13, 2012
2/13/12
1:28
PM ET
While the University of Georgia has had plenty of success recruiting the position in the Southeast, the Bulldogs are willing to extend their recruiting base for elite prospects when needed. Three years ago Georgia was able to sign one of the top tight ends in the nation, Arthur Lynch of Dartmouth, Mass. Last month, UGA tight ends coach John Lilly made a trip to Pennsylvania, this time setting his sights on
Adam Breneman
(Camp Hill, Pa./Cedar Cliff), considered by many to be one of the best at his position in the Class of 2013.
To continue reading this article you must be an Insider
February, 13, 2012
2/13/12
11:34
AM ET
JACKSONVILLE, Fla. -- Five-star wide receiver prospect
Ahmad Fulwood
(Jacksonville, Fla./Bishop Kenny) will be one of the most highly recruited prospects in the state of Florida for the 2013 class, but he is likely headed out of state to play college football.
Fulwood lists Clemson, Alabama, USC, Arkansas, Georgia, Ohio State and Notre Dame as schools that he is most interested. The 6-foot-4, 200-pound receiver said that out of those schools, he likely will visit Georgia, Clemson, Ohio State and possibly USC this spring.
Noticeably missing are in-state schools Florida, Florida State and Miami. Fulwood said he is likely to leave the state to attend college. Fulwood, who is from New Jersey, said there is no particular reason he wants to leave the state.
To continue reading this article you must be an Insider
February, 11, 2012
2/11/12
6:56
PM ET
How the game was won:
Georgia (12-12, 3-7 SEC) tied Mississippi State (19-6, 6-4) at 59 on
Gerald Robinson's
layup with 29 seconds left in regulation and then the senior guard scored eight points in overtime as Georgia earned its first road win in SEC play by stunning the 20th-ranked Maroon Bulldogs.
Turning point:
Georgia trailed again in overtime before freshman
Kentavious Caldwell-Pope
hit a 3-pointer with 1:08 left in the extra session to give the Bulldogs a 68-66 lead that they would later push to 70-66 before staving off Mississippi State's last-second charge.
February, 10, 2012
2/10/12
5:05
PM ET
ATHENS, Ga. -- Georgia coach Mark Fox was worried about his team's slipping confidence prior to Wednesday's somewhat surprising 81-59 win against Arkansas.
Fox's Bulldogs (11-12, 2-7 SEC) had hung with their opponents until the closing minutes of most of their conference games, only to fall out of contention at the end. A wire-to-wire dominant win against an Arkansas team that entered with a 16-7 record was good medicine for the young Georgia team, Fox said.
"We were just at that point where they needed to have some success," said Fox, whose team visits No. 20 Mississippi State (19-5, 6-3) on Saturday at 1:30 p.m. ET. "They've been improving, but they still needed to get the result that they wanted, so it was good to have a night like they had the other night.
To continue reading this article you must be an Insider
February, 10, 2012
2/10/12
1:44
PM ET
Georgia Basketball coach Mark Fox has picked up his first verbal commitment of 2013 in point guard
J.J. Frazier
of Faith Baptist Christian Academy in Ludowici, Ga.
"He committed this morning actually," Crusaders head coach Matthew Sellars told DawgNation . "He called coach Mark Fox this morning. It was a fun conversation."
Frazier is a relative unknown for 2013 but that will change soon.
To continue reading this article you must be an Insider
February, 10, 2012
2/10/12
11:45
AM ET
Two weeks ago, the Georgia Bulldogs had more than 70 prospects on campus for their first junior day of 2012. The campus tour gives the prospects a chance to find out more about the Bulldogs' program and what life is like as a student-athlete in Athens while giving the coaching staff a chance to take a closer look at many of the top underclassmen for the future.
While many coaching staffs around the country spent the final weekend before national signing day trying to secure commitments from undecided targets, the coaches at Georgia were focused on signing day 2013. That is not to say they ignored the 2012 targets on the board; rather the staff in Athens held a junior day to get an early jump on the competition.
Defensive lineman
D'Von Isaac
(McDonough, Ga./Henry County) camped at Georgia last summer, and he was invited to come back and get a better feel for the program.
"The experience at Georgia was really nice," Isaac said of the Jan. 28 junior day. "It was like a brotherhood there and they try to focus on becoming a better man in life. Some colleges just want you to play football instead of trying to focus on the academics."
Isaac, a 6-foot-3, 280-pound lineman, was selected to play in last month's Rising Seniors Georgia Junior Bowl and had a solid week of practice as well. Clemson, Tennessee, Oregon, Georgia, Georgia Tech, Duke are showing interest, with Clemson and Georgia showing the most interest at the moment. Isaac is hoping one of them pulls the trigger on an offer soon.
"I got to talk to our recruiter Rodney Garner, and he said they were very interested in me," Isaac said. "He talked to me about campus life and what they try to do at Georgia. When that first offer comes, it will mean all of my hard work in the weight room has paid off."
The state of Georgia is again loaded with talent this year and the Bulldogs, having signed only 19 recruits in this year's class, need to get more than their fair share of it. Five days before signing day, intentional or not, the message was: "We are looking ahead to next year and are willing to spend our last Saturday focusing on 2013 over the 2012 class."
Prospects who attended who have a verbal offer from Georgia include running back
Tyren Jones
(Marietta, Ga./Walton), offensive linemen
Brandon Kublanow
(Marietta, Ga./Walton),
DeVondre Seymour
(Suwanee, Ga./North Gwinnett),
Delando Crooks
(Atlanta/Carver),
Shamire Devine
(East Point, Ga./Tri-Cities) and linebacker Johnny O'Neal (Dublin, Ga./West Laurens).
Georgia handed out two additional offers that day, one to defensive back
Shaq Wiggins
(Atlanta/Westlake) and one to 2014 wide receiver
Demarre Kitt
(Tyrone, Ga./Sandy Creek). The Bulldogs are very thin in the secondary and will need to sign at least four defensive backs in the next class. Wiggins will be in Athens today on a visit.
Other juniors in attendance included Suwanne (Ga.) North Gwinnett OL
Alex Stoehr
and DB
Donnie Miles
; WR
Rashad Mathis
(Valdosta, Ga./Valwood), TE Adam Ledford (Snellville, Ga./Brookwood), and Warner Robins (Ga.) Northside DL Anfirnee Chatfield and WR Keshun Hill.
One junior day isn't enough, though, and Georgia's next one should be interesting. On March 3 the Bulldogs' junior day will be invitation only, with around 50 of their top targets in attendance. Considering that the state of Georgia produces anywhere from 115 to 180 FBS-level players annually, attendees to that junior day will be considered VIPs in the Bulldog's recruiting efforts.
As fans might wonder what exactly goes into a junior day at Georgia, DawgNation has spoken to several prospects over the years, and will walk you through what a typical junior day is like:
Prospects typically check in at the Butts-Mehre building around 10 a.m.
After everyone has arrived, they are welcomed to Georgia and introduced to the coaches and academic/support staff.
To continue reading this article you must be an Insider
February, 10, 2012
2/10/12
10:53
AM ET
LUELLA, Ga. -- Locust Grove has only been in existence for three years now, but head coach Clint Satterfield already has a couple of athletes who could help put the program on the map: Quarterback
Keenan Wise
and 2014 athlete
Cortez McDowell
.
Wise, at 6-foot-1 and 180 pounds, is a dual-threat passer who already has coaches, including Dan Mullen at Mississippi State, intrigued.
"Keenan is a versatile quarterback with tremendous speed and good arm strength," Satterfield said. "Once he adds weight he is going to be another big-time player."
To continue reading this article you must be an Insider
February, 9, 2012
2/09/12
9:05
PM ET
Running back
Tyshon Dye
(Elberton, Ga./Elbert County) will be one of the most sought-after recruits from the South. Now word is starting to spread across the country, as Dye picked up an offer from USC this week.
"They did and I was kind of surprised at that one," Dye said. "They are from the West Coast and there is so much talent over there. I am way over here. I am shocked but I think that's pretty cool. I would sure like to look into USC."
Clemson was Dye's first offer, last summer. Then came Georgia.
To continue reading this article you must be an Insider
February, 9, 2012
2/09/12
5:22
PM ET
Signing day was more than a week ago, but the Georgia Bulldogs are still hoping for a couple of additions to the 2012 class. The graduation of three starters at offensive line, the decision by offensive lineman
Avery Young
(Palm Beach Gardens, Fla./Palm Beach Gardens) to sign with Auburn, and the loss of commit
Chester Brown
(Hinesville, Ga./Bradwell Institute) due to apparent citizenship status issues have put the Bulldogs in need of some serious help along the line. After watching film, the Georgia staff this week targeted one of the top juco offensive linemen in the country.
"UGA contacted us two days ago and said they had just received film on
Fehoko Fanaika
(San Mateo, Calif./College of San Mateo) and that they really liked him," College of San Mateo assistant head coach Tim Tulloch said. "He said they lost three starters to the draft and lost a few guys to injury, and they needed someone to come in physically ready and experienced like 'Hoko. They wanted to know more about his work ethic and character, and after I walked them through that they said they wanted him."
Coach Will Friend made sure to let Fanaika know he is needed in Athens and is hoping for the chance to tell him in person soon.
To continue reading this article you must be an Insider