November, 17, 2014
Nov 17
8:00
AM ET
Mississippi State, the No. 1 team in the nation, lost this weekend and yet nobody was talking about the Bulldogs on Sunday. That's what happens when another SEC team lets go of their head coach and one of the top players in the conference is lost for the season to injury.
1. Let's begin with the
Todd Gurley
news. Gurley, who returned for Georgia on Saturday after missing four games due to suspension, injured his left knee late in the game. On Sunday, it was announced that the star running back
suffered a torn ACL
and will miss the remainder of the season. Terrible news considering that he didn't have to come back. He could've foregone the rest of his junior season and turned his focus to the NFL,
an idea suggested by Marc Edelman
of Forbes Magazine -- which is sad now given the timing of the piece. Instead, Gurley took the risk for the benefit of his team. It's a big blow for Georgia, too, but not season-ending. The Bulldogs still have
Nick Chubb
in their backfield, and the freshman has shown he's more than capable of
carrying the load
. He'll be counted on the rest of the way.
2. The other big news of the day came out of Florida where the school announced head coach Will Muschamp
will not return next season
. Muschamp, who went 27-20 in his four seasons with the Gators will stay on and coach the team's last two games. Go ahead and strike up the coaching rumors. Who will be the next coach in Gainesville? ESPN's Travis Haney put out
a list of eight possible candidates

that includes names such as Bob Stoops and Rich Rodriguez. At CBS Sports, Dennis Dodd has three current SEC coaches, including Ole Miss coach Hugh Freeze, on
his list of replacements
. It's safe to say that nobody really knows what Florida athletic director Jeremy Foley is going to do. It's also safe to assume that Muschamp won't have trouble finding a job as a defensive coordinator if he so chooses.
3. And then there's Mississippi State. Do they still have a legitimate case at making the four-team playoff even after Saturday's loss to Alabama? Count quarterback
Dak Prescott
among those who believe they are still
one of the best four teams
in college football. Both Prescott and head coach Dan Mullen stated their case after Saturday's game. We'll find out just how far back the Bulldogs will fall Tuesday when the new rankings come out. Saturday was a much better day for cross-state rival Ole Miss. The Rebels didn't play, but losses by Mississippi State and Auburn
opened the door for them
to possibly win the West. The Rebels still need to win out and hope Auburn takes down Alabama in the regular-season finale, but there's a chance.
Around the SEC
Tweet of the day
No Pain, No Gain....

— Todd Gurley II (@TG3II) November 16, 2014
November, 16, 2014
Nov 16
6:19
PM ET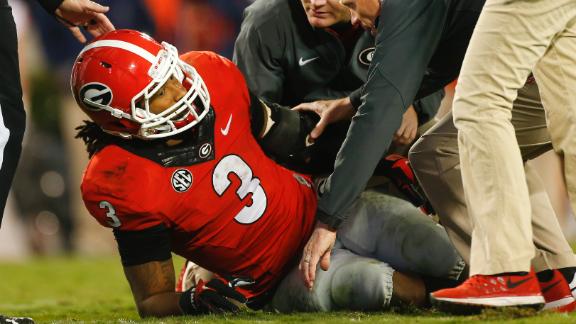 As Georgia running back Todd Gurley was serving a four-game suspension for accepting money for autographs, the University of Georgia spent more money on him to support him when he did get back on the field.
Sources told ESPN.com that, within the last two weeks, Georgia upped Gurley's insurance policy to $10 million in coverage -- $5 million for total disability if Gurley got injured and never played again and $5 million in loss of value insurance, which would kick in if Gurley injured himself and slipped in the draft.
Gurley, who tore his ACL against Auburn in his first game back, previously had $5 million in total disability and $2.5 million in loss of value insurance. The policy was written by International Specialty Insurance.
In his latest draft big board, published Nov. 12, ESPN's Mel Kiper Jr. listed Gurley as his No. 8 overall pick.
Sources say that Gurley would start to collect on his loss of value insurance if he slipped out of the first round. He would collect the full $5 million if he somehow went undrafted. He also could collect $5 million if the injury prevented him from ever playing again.
Sources say Georgia paid in between $50,000 and $60,000 for the policy. Over the last two years, the NCAA has allowed schools to pay such policies, most of which have been paid for through the Student Assistance Fund. The fund allows schools to pay for certain items for athletes in need, including insurance.
The date for Gurley's surgery to repair his ACL has not yet been determined.
November, 16, 2014
Nov 16
5:25
PM ET
November, 16, 2014
Nov 16
4:30
PM ET
Another interesting week in the SEC and plenty of great plays league-wide. Let's take a look at our five favorites from Week 12:
Chubb train coming through
This was originally ruled a touchdown but later overturned (correctly) but that doesn't make the play any less spectacular because Georgia freshman running back
Nick Chubb
's broken tackle is what makes it. Chubb powers through Auburn's
Jonathon Mincy
to stay on his feet and if not for his right foot stepping on the out of bounds, he would have been in for six. As it is, it winds up as a nice 27-yard gain on a screen pass from
Hutson Mason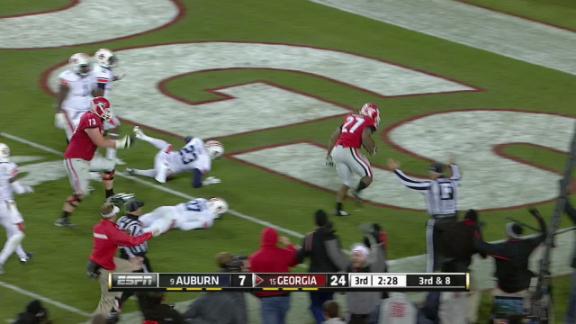 Heard's timely block
Florida held a 17-10 lead with less than a minute left and that's when South Carolina came up with a huge special-teams play. Receiver
Carlton Heard
sprinted up the middle and got his hands on the
Kyle Christy
punt, giving South Carolina possession in a prime area for the eventual game-tying score.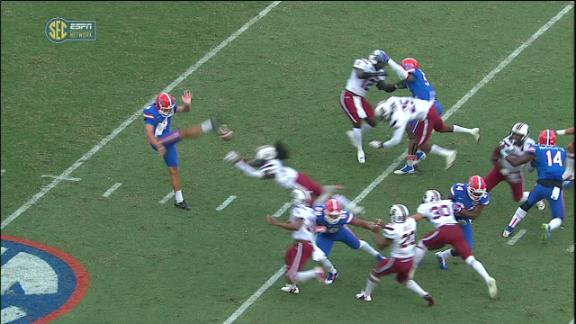 Mizzou magic
Missouri had much success on third down in its win over Texas A&M but this was perhaps the best conversion of the night. On third-and-5,
Maty Mauk
found himself under pressure, backing up almost 20 yards behind the line of scrimmage before firing a strike to
Darius White
, who hauled in the pass one-handed for a 21-yard gain and a first down.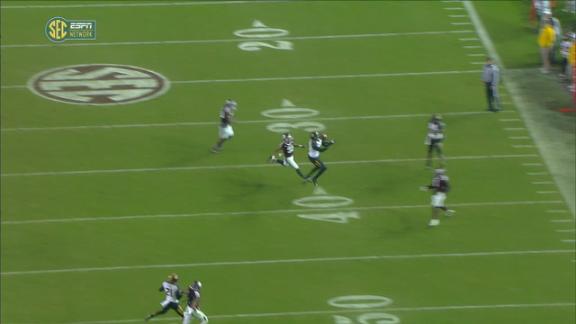 Extra effort
Tennessee is enjoying offensive success since
Joshua Dobbs
took over as the quarterback. Saturday was a nice day as he threw for 297 yards and three touchdowns and one of them came courtesy of some extra effort by
Von Pearson
. On this play, Pearson is met by a Kentucky defender near the goal line but Pearson simply continues churning his legs and forcing his way into the end zone for six.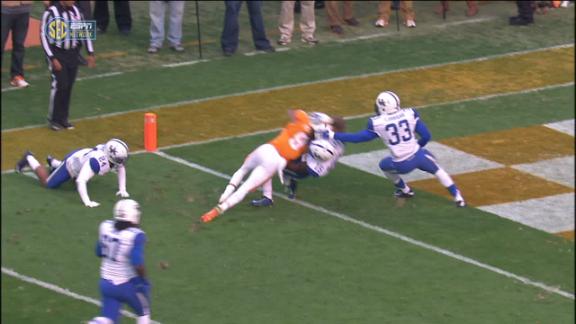 Cooper's catch
Amari Cooper
is quite simply one of college football's best receivers and he shows us weekly why he has that status. On Saturday in Alabama's win over Mississippi State, he caught eight passes for 88 yards but none prettier than his 50-yard reception from
Blake Sims
in which Cooper high-pointed the ball on a leap in between two Bulldogs defenders. The catch set up a 1-yard
Derrick Henry
touchdown run that gave Alabama a 19-0 lead.
(No video, CBS game)
November, 16, 2014
Nov 16
3:50
PM ET
ESPN.com news services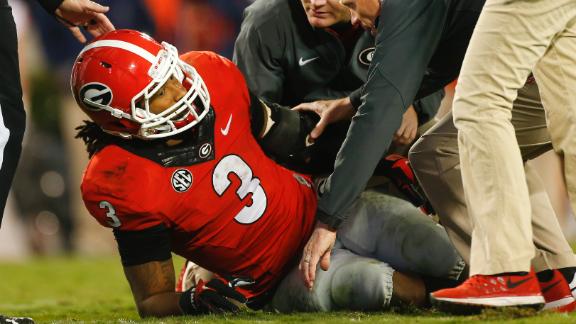 Georgia running back Todd Gurley suffered a torn ACL in his left knee Saturday, the school announced Sunday.
An MRI confirmed the injury, but a surgery date has not been set.
Gurley injured his knee in the Bulldogs' 34-7 win over Auburn on Saturday night.
The former Heisman Trophy frontrunner was injured on a 6-yard run with a little more than five minutes remaining in the fourth quarter.
Saturday was Gurley's first game back for the Bulldogs after serving a four-game NCAA suspension for taking $3,000 for autographed memorabilia and other items over the course of two years.
Gurley rushed for 138 yards and a touchdown on 29 carries against the Tigers before leaving.
On the season, Gurley has rushed for 911 yards and nine touchdowns.
ESPN.com's Edward Aschoff contributed to this report.
November, 16, 2014
Nov 16
3:29
PM ET
Each week throughout the season, the Playoff Forecast will use the ESPN Football Power Index and human logic (i.e., the eye test) to determine which teams are best positioned in the chase for the inaugural College Football Playoff. These rankings take into account perceived team strength (including injuries), remaining schedule difficulty (including prospective conference championship games) and the current selection committee rankings.
The Playoff Forecast is not intended to be a prediction of the committee's top 25, which will be released every Tuesday. It is a projection of which teams have the best chance to be in the top four at the end of the regular season.
---
FPI's chance of winning out: 51.9 percent
FPI's chance of winning the conference: 74.1 percent
Florida State just keeps winning. But the more the Seminoles continue to play with fire against teams with lesser talent, the less confidence I have that they're going to win these last few games. That said, they retake the top spot on this list because Miami was a major hurdle to clear, and FSU should finish unbeaten. My biggest concern for the Seminoles would be if they had to face Georgia Tech in the ACC title game.
November, 16, 2014
Nov 16
2:12
PM ET
Associated Press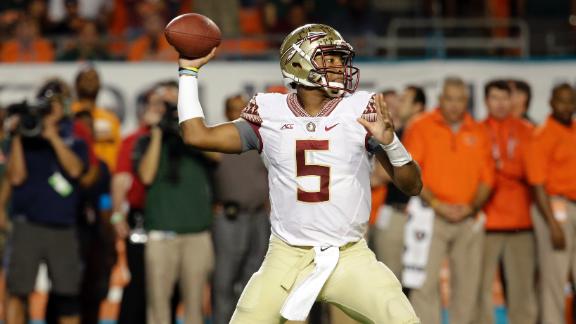 Florida State is No. 1 again in The Associated Press college football poll in another comeback of sorts for a team with a season full of remarkable rallies.
The Seminoles (10-0) were preseason No. 1 before being replaced by Mississippi State in October. The Bulldogs (9-1) had a run of six weeks at No. 1 stopped by a 25-20 loss at Alabama on Saturday.
The Crimson Tide moved up four spots to No. 2. The Bulldogs dropped to fourth.
The Seminoles received 43 first-place votes from the media panel. Alabama got 16 and No. 3 Oregon got one.
Florida State is the only unbeaten team remaining from the Big Five conferences after Jameis Winston and the 'Noles erased a halftime deficit for the fifth time this season in a 30-24 victory at Miami.
TCU remained fifth after a close call against Kansas. Baylor is sixth, just five points behind its Big 12 rival.
November, 16, 2014
Nov 16
2:00
PM ET
By
ESPN.com staff
| ESPN.com
After its 25-20 win over Mississippi State, Alabama is back in a familiar spot, atop the SEC. The Tide's path to the playoff just a got a whole lot clearer. Meanwhile, Auburn struggled mightily, Arkansas got its first SEC win in more than two years and Tennessee keeps rolling.

Edward Aschoff, David Ching, Sam Khan Jr., Greg Ostendorf and Alex Scarborough contributed to these rankings.

November, 16, 2014
Nov 16
12:59
PM ET
From Alabama's big 25-20 win over Mississippi State on Saturday afternoon to Georgia's dominating 34-7 win over Auburn, there were some incredible games for recruits to watch this weekend. Some prospects attended the games while others watched on television and used social media as a platform to share their experiences. Here's a look at some of the top social media posts from the weekend:
Five-star defensive end
CeCe Jefferson
took an official visit to Alabama this weekend. The No. 9-ranked player in the nation has Alabama as one of his top schools and posed for a picture with Alabama head coach Nick Saban before the game on Saturday.
#RTR pic.twitter.com/zhlgTKh32r

— Beowulf (@cecejeferson7) November 15, 2014
The 18th-ranked prospect in the ESPN Junior 300,
Rashard Lawrence
, a Monroe, Louisiana, native, also posed for a picture during his trip to Alabama.
Roll Tide Roll ?????? pic.twitter.com/sM37I4cmQp

— Rashard Lawrence (@Rashard_99) November 16, 2014
An Alabama fan posted a photo of himself with five-star quarterback commit
Blake Barnett
after Alabama's big win.
Nice to meet @BlakeBarnett_8. The future of Alabama football pic.twitter.com/FdVJuKBA61

— Jackson Paisley (@JacksonKPaisley) November 16, 2014
Florida offensive line commit Brandon Sandifer tweeted this photo of himself and two other Florida commits
Tyler Jordan
and George Brown Jr., who all visited the Gators Saturday.
Ain't no trading for us 3. #GatorNation @MADDAWG_G @tyjordan58 pic.twitter.com/m5fGrc7U7p

— Heavy Chocolate (@_bsandifer) November 16, 2014
Alabama commit
Ronnie Harrison
visited Georgia this weekend and found an unusual connection with head coach Mark Richt's wife. The two posed for a picture on Saturday.
Me and Mrs. Richt both went to Florida High, its a small world pic.twitter.com/NNNMayDOrl

— Ronnie Harrison II (@Rharr_15) November 16, 2014
ESPN Junior 300 cornerback
Chad Clay
posted a picture from the Georgia sideline at the game on Saturday night.
Saturday night in Athens?? pic.twitter.com/pDqmxFjYWq

— december 1st (@TheReal_Chad4) November 16, 2014
Another junior cornerback,
Malek Young
, also visited Georgia for the exciting game against Auburn and posed for a photo on the sideline.
My Ol Boy & I On The Sideline At UGA #GO DAWGS pic.twitter.com/GgYOEzI9Eu

— Mr.L.I.V.E (@MalekYoung) November 16, 2014
Arkansas commit C.J. O'Grady posted a photo of fellow Arkansas commit
Will Gragg
before Arkansas's first SEC win under head coach Brett Beliema.
Guess who pic.twitter.com/0KYL0YuR4U

— CJ O'Grady (@OhMyGrady15) November 16, 2014
Junior cornerback Ikenna Okeke posted a photo of himself with Tennessee linebacker A.J. Johnson.
After the game with my boy AJ Johnson #GBO #Vols pic.twitter.com/wc86WrgYiN

— Ikenna Okeke (@KingOkeke2) November 16, 2014
November, 16, 2014
Nov 16
9:00
AM ET
Week 12 in the SEC featured everything from last-minute comebacks to bitter rivalries to the fall of No. 1. Now that the dust has settled, it's time to hand out the helmet stickers from the weekend that was. Here are the five we think are most deserving.

Nick Chubb, RB, Georgia:
The return of
Todd Gurley
didn't get in the way of Chubb doing what he's been doing the past four weeks. Gurley rushed for 138 yards and a touchdown in his first game back from suspension, but he was overshadowed by the freshman Chubb, who finished with 144 yards rushing, 48 yards receiving and two touchdowns in Georgia's
34-7
win over Auburn. The two form one of the top backfield duos in college football, though depending on the severity of Gurley's knee injury, Chubb might be carrying the load on his own again next week.
Joshua Dobbs, QB, Tennessee:
The South Carolina game was no fluke: Dobbs is the real deal, and he has the Volunteers rolling. On Saturday, Dobbs went 19 of 27 for 297 yards with three touchdowns and no interceptions to lead Tennessee past Kentucky,
50-16
. He also rushed for 48 yards and a score. The sophomore quarterback has now accounted for 1,079 total yards and 11 touchdowns in his last three games, and the Volunteers are one win away from becoming bowl eligible with Missouri and Vanderbilt left on the schedule.
Russell Hansbrough, RB, Missouri:
Coming off maybe his worst career performance last week against Kentucky, Hansbrough rushed for a career-high 199 yards Saturday at Texas A&M. He had back-to-back long touchdown runs (45, 49) in the third quarter to first tie the game and then take the lead, a lead the Tigers never relinquished in their
34-27
win over the Aggies. As a team, Missouri rushed for 335 yards, but Hansbrough was the star. He now leads the Tigers with 591 rushing yards and seven touchdowns on the season.
Nick Perry, DB, Alabama:
The entire Alabama defense deserves a helmet sticker for its performance against
Dak Prescott
and No. 1 Mississippi State, but if we're giving it to one guy, it has to be Perry. The senior led the team with 12 tackles, and he also pulled down one of three Crimson Tide interceptions on the day. Though
Jameon Lewis
caught a touchdown for the Bulldogs, it was Perry who helped keep him in check for most of the game. At the end of the day, Alabama has its defense to thank for Saturday's
25-20
win over the top-ranked Bulldogs.
Martrell Spaight, LB, Arkansas:
Two defensive players on this list? That must be what happens when the temperature drops and teams start playing defense in the SEC. It's also a credit to Spaight, who was the best player on the field Saturday in the Razorbacks'
17-0
shutout win over LSU. The senior linebacker finished with 10 tackles, a sack, a forced fumble and a quarterback hurry to lead this much-improved Arkansas defense against the Tigers. Spaight now has a team-high 97 tackles on the season with two games left to play.
November, 16, 2014
Nov 16
1:40
AM ET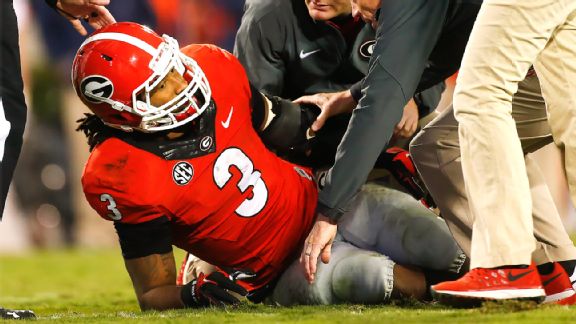 AP Photo/John BazemoreGeorgia running back Todd Gurley's status is unknown following a knee injury against Auburn.
ATHENS, Ga. -- In what was supposed to be a rousing homecoming for
Todd Gurley
, the
Georgia Bulldogs
' chilly, late-night celebration felt a little more subdued after their star went down in the fourth quarter.
Gurley's
late-game knee injury
, which came with Georgia's dominating win over Auburn well in hand, has many wondering if the Bulldogs will yet again have to move on without their best player.
"You never want to see a guy like that go down," cornerback
Damian Swann
said of Gurley's injury. "We know how much that guy means to our team. … Hopefully, everything will be OK and he'll be back."
For now, Gurley's prognosis is unknown. Coach Mark Richt didn't have an update on the junior after the game, but expects him to take X-rays on the knee soon.
The hope is that Gurley, who rushed for 138 yards and a touchdown on 29 carries in his first game back from his four-game NCAA suspension, will be fine, but if No. 15 Georgia (8-2, 6-2 SEC) has to continue without him for any amount of time, it's clear that this team is more than prepared for such a challenge.
[+] Enlarge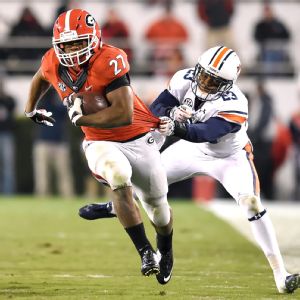 Dale Zanine/USA TODAY SportsNick Chubb has rushed for at least 143 yards in his past five games. He had 144 yards and 2 touchdowns against Auburn.
And if the past four weeks didn't prove that, Saturday's
34-7 rout
of No. 9 Auburn (7-3, 4-3) should have made you a believer.
Before the game, Gurley stalked the field during warm-ups, as cheers bellowed throughout Sanford Stadium whenever his face appeared on the scoreboard. You got the sense this would be a storybook comeback for the former Heisman Trophy favorite.
And we almost got it when he took a kickoff 100-plus yards for a touchdown, only to have it called back because of a penalty.
That's how Gurley's return went, but it didn't hurt the Bulldogs one bit. Not with true freshman
Nick Chubb
-- who more than filled in for Gurley during his four-game absence -- playing out of his mind, and Jeremy Pruitt's defense executing a near-flawless game plan.
With Gurley more the appetizer than the main course, Georgia turned Auburn into a cupcake on a frigid night between the hedges. The Deep South's Oldest Rivalry was hardly close, as Georgia scored 34 straight points after Auburn's opening drive.
Like the Bulldogs had done in three of their past four games, they found ways to dominate opponents without Gurley leading the way. And that's not taking anything away from Gurley, but it was clear he was rusty after not playing in a game in 42 days.
As Gurley slowly regained his football legs, Chubb chugged away to 192 total yards, including a game-high 144 rushing yards and 2 touchdowns. He bounced and bullied his way over the 1,000-yard mark for the season and continues to play at superhuman levels despite his age.
"Once he gets a little bit of a head of steam up, I tell you it's just so difficult to get him down with just one person," Richt said of Chubb, who has now rushed for at least 143 yards in each of the past five games. "You see it all the time, guys are just bouncing off of him. You can go low, and you're going to get punished down there, too. He's about as strong as Todd is. ... Guys don't like to go high or low on those guys because they are like a little locomotive going through there."
When Chubb wasn't rambling through or around Auburn's overmatched defense, Georgia's own defense was slowing down one of the SEC's most explosive units. Entering the night, Auburn ranked second in the SEC with an average of 506.9 total yards of offense per game, including an SEC-high 286.44 rushing yards.
Against the Bulldogs, Auburn totaled just 292 yards of offense and 7 points -- the lowest in either category for Gus Malzahn as Auburn's head coach.
A defense that a couple of weeks ago was gashed for 418 rushing yards by Florida made Auburn look nothing like, well, Auburn.
"Coach [Pruitt] put together a great plan and after we executed it, it was hard for those guys to do anything," Swann said.
This was supposed to be a barn burner, but Georgia pushed Auburn around in every phase of the game, showing it has the talent to hang with any of the top teams. When this team is clicking, watch out.
Georgia is now 2-0 against the SEC West, and a Missouri slip away from heading back to Atlanta for the SEC championship game.
But that's where frustration sets in for the Dawgs. Their life is in the hands of a Missouri team they waxed on the road by 34. A Missouri team that has been incredibly inconsistent on offense and lost
at home
to Indiana, yet just walked out of College Station with a shootout win over Texas A&M.
Georgia needs only one Mizzou loss to get to Atlanta, but after losses to South Carolina and Florida, the Dawgs can only hope.
It's a shame with how well this team has played outside of those two blunders, but if the Dawgs find a seam to Atlanta -- and maybe even the playoff -- quarterback
Hutson Mason
likes his team's odds.
"The one thing about this team that's special about it is we get better every single game," Mason said.
"When you have a team like that, that's pretty dangerous, because you're gaining a lot of momentum and you're improving every week and you're gaining a lot of confidence. We have a lot of that right now."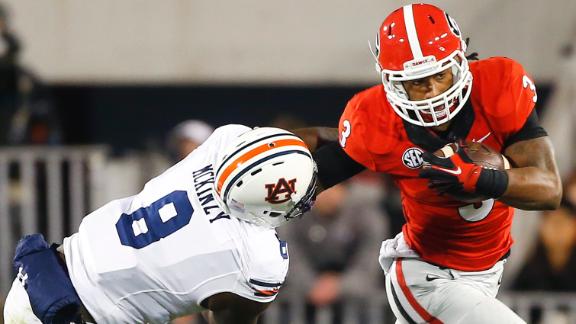 November, 16, 2014
Nov 16
12:12
AM ET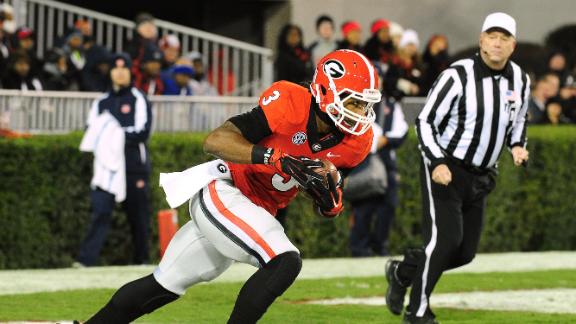 ATHENS, Ga. -- Georgia running back Todd Gurley injured his left knee in the Bulldogs' 34-7 win over Auburn on Saturday night.
The former Heisman Trophy frontrunner injured the knee on a 6-yard run with a little more than five minutes remaining in the fourth quarter and Georgia leading 27-7.
The junior was seen sitting on the Bulldogs' training table on the sideline with ice on the knee and was being comforted by a handful of players.
He left the field on a cart after the game.
Coach Mark Richt said he didn't know the extent of Gurley's injury.
"He hurt his knee," Richt said. "We'll just have to see what it was.
"I'm just as curious as everybody else."
Richt said he expected Gurley to have X-rays on the knee later Saturday night.
"That would be my guess," he said. "I just don't know."
Saturday was Gurley's first game back for the Bulldogs after serving a four-game NCAA suspension for taking $3,000 for autographed memorabilia and other items over the course of two years.
Gurley rushed for 138 yards and a touchdown on 29 carries against the Tigers before leaving.
On the season, Gurley has rushed for 911 yards and nine touchdowns.
November, 15, 2014
Nov 15
11:59
PM ET
We're getting close to resolution in the SEC's division races after another wild weekend of conference play.
Here are five things we learned after the conclusion of Saturday's games:
[+] Enlarge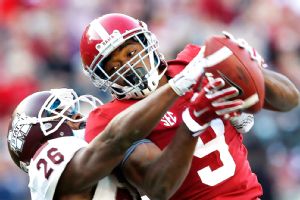 AP Photo/Butch DillWith their win over Mississippi State, Amari Cooper and Alabama are on track to play for the SEC title.
Georgia-Alabama?:
We went through all of that to get to this? After beating No. 1 Mississippi State
25-20
on Saturday, Alabama is back in the driver's seat in the SEC West, as many prognosticators expected before the season. Meanwhile, Georgia (9-2, 6-2 SEC) destroyed Auburn
34-7
in its final SEC game of the season, which put the pressure on Missouri to win out if it wants to win the SEC East. Otherwise, it'll be Alabama-Georgia in the SEC championship game, which seemed the most likely outcome before the Mississippi schools and Missouri made unexpected title pushes. Mizzou (8-2, 5-1) still leads the way in the East, though, with games remaining at Tennessee and versus Arkansas. The Tigers can still spoil the Bulldogs' title hopes, and Georgia tailback
Todd Gurley
's injury status will also have a bearing on the Bulldogs' prospects moving forward.
It tolls for thee, Muschamp:
Maybe there was a way for Will Muschamp to save his job after Florida shocked Georgia a couple weeks ago. But the way the Gators blew a late lead and fell
23-20
in overtime against South Carolina on Saturday -- getting two kicks blocked in the last 3:30 -- probably removed any doubt. The Gators are now 5-4 and can become bowl eligible with a win against Eastern Kentucky next week, but this has to be the end for Muschamp. The Gators should have won this game but imploded at home in the closing minutes.
A breakthrough for Arkansas:
It was a long time coming, but Bret Bielema finally got the first league win of his Arkansas tenure when the Razorbacks shut out LSU
17-0
on Saturday. Oddly enough, the win ended a 17-game SEC losing streak. The Hogs came close against several teams this season -- most notably Alabama and Mississippi State -- but they controlled the night against LSU. They even handed the Tigers their first shutout loss since they fell 21-0 to Alabama in the BCS title game to end the 2011 season. Clearly, it meant something to the Razorbacks' fans, though. They rushed the field to celebrate the win.
Gus Bus hits a speed bump:
Saturday's loss was by far the worst for No. 9 Auburn since Gus Malzahn became head coach last season. The Tigers scored seven points in a loss to Georgia -- well below their previous scoring low (20 points in a win against Kansas State earlier this season) under Malzahn. Auburn came in averaging 506.9 yards and 38.7 points per game and mustered just 292 yards and seven points against a UGA defense that got dominated by lowly Florida two weeks ago. The Tigers also lost for the second straight week and fell out of the SEC West and playoff conversations.
Look out for the Vols:
They lost their first four games in SEC play, but here come the Tennessee Volunteers (5-5, 2-4). With quarterback
Josh Dobbs
leading the charge, the Vols blasted Kentucky
50-16
on Saturday after beating South Carolina in overtime two weeks ago. Dobbs passed for 297 yards and three touchdowns on Saturday and ran for 48 yards and another score. They'll host Missouri on Saturday with a chance to spoil the Tigers' hopes of winning the SEC East.
College Football Minute