April, 15, 2012
4/15/12
9:33
PM ET
Results: Georgia bounced back from a recent slump -- the Bulldogs dropped five of their last seven games entering the week -- by winning three out of four games this week. The Bulldogs visited Clemson on Wednesday and won 8-7, then took two of three against No. 19 Ole Miss. The Bulldogs rode starting pitchers Michael Palazzone and Alex Wood to 8-4 and 6-3 wins to open the Ole Miss series before dropping Saturday's series finale 8-3.

Georgia record: 22-14 (7-8 SEC)

Highlight of the week: Georgia trailed 4-2 entering the bottom of the eighth inning of Thursday's opener against Ole Miss, but the Bulldogs rallied for six runs to take a comfortable lead. The Bulldogs clubbed five hits in the inning, including a three-run double by Kyle Farmer, to earn the comeback win.


April, 15, 2012
4/15/12
11:03
AM ET
ATHENS, Ga. -- Georgia's coaches hardly would have predicted last September that
Ken Malcome
would rank among the Bulldogs' top options at tailback following spring practice.
For a period of one whole day last Sept. 28, Malcome wasn't a member of the team at all. He informed coach Mark Richt of his intentions to transfer because he was buried on the depth chart following a spate of injuries, only to return a day later.
Malcome didn't play for another five games after rejoining the team -- he missed the last of those games, against New Mexico State, for failing a drug test -- but began to make an impact by the end of the season, leading the Bulldogs in rushing in each of their last three games. His progress continued this spring as coaches complimented him for an improved focus and attitude. That helped him move up the depth chart.
To continue reading this article you must be an Insider
April, 15, 2012
4/15/12
10:03
AM ET
By
DawgNation Staff
| ESPN.com
After a little beauty rest, the DawgNation writers took a look back at Saturday's G-Day game and put together some overall impressions of the final spring scrimmage. Here are their takeaways:
David Ching:
My impression of G-Day is about what I would have expected beforehand. The starting defense controlled things for the most part when that was the goal, and things opened up more as coaches swapped around lineups in an effort to get everyone on the field (and on film).
In particular, I enjoyed seeing more of the redshirt freshmen I've been writing about this spring, including
Jay Rome
,
Devin Bowman
,
Christian LeMay
and
Justin Scott-Wesley
. I also enjoyed watching the various quarterbacks attempting to lead drives, as that will be a storyline to watch well into the season.
Hutson Mason
looked great on a couple of series, and I thought LeMay had two or three drives where he made some excellent throws.
To continue reading this article you must be an Insider
April, 14, 2012
4/14/12
10:56
PM ET
The USC Trojans added another piece to their 2013 recruiting class on Saturday afternoon, as they received a verbal commitment from defensive end
Kylie Fitts
(Redlands, Calif./Redlands East Valley).
"All glory to God, and with that said, I did commit to the University of Southern California today," Fitts said. "It's a dream come true. That has always been a dream school for me. Growing up I always wanted to go there. I'm really happy right now."
The 6-foot-4, 245-pound Fitts fills a need for the Trojans as they look to continue to build up the defensive line, and Fitts will fill one of the three available early enrollee slots, as well. His commitment ends an interesting recruiting saga that saw the Trojans begin well out in front as the hometown favorite but then fall behind when an offer wasn't extended during February's junior day. But when an offer was extended in the following weeks, Lane Kiffin and staff quickly established themselves as the frontrunner for Fitts' services.
To continue reading this article you must be an Insider
April, 14, 2012
4/14/12
7:14
PM ET
ATHENS, Ga. -- On a largely drama-free G-Day,
Christian LeMay
and
Jay Rome
combined to provide a reason to pay attention in the waning moments of Georgia's spring game.
The two redshirt freshmen connected on a 66-yard touchdown pass with 59 seconds to play, pulling their Black team within a point of the Red team at 32-31. LeMay's two-point pass attempt to
Rhett McGowan
glanced off the receiver's fingertips, allowing the Red to escape with a victory, but the sequence was big for LeMay, who hopes to become the Bulldogs' backup quarterback this fall.
"It doesn't matter if I'm playing checkers, I want to win," LeMay said. "I was like, 'Hey, guys, we're about to score.' I believe that if we have any time left on the clock, we can score -- especially with the offense that we have and the players.
To continue reading this article you must be an Insider
April, 14, 2012
4/14/12
6:28
PM ET
By
DawgNation Staff
| ESPN.com
Red Team 32, Black Team 31
44,117
-- Attendance at Sanford Stadium.
2:10
-- How long the game took, in hours and minutes.
Offense
4
-- Number of yards by which senior RB
Richard Samuel
beat out sophomore RB
Isaiah Crowell
for most net yards rushing. Samuel, 43 yards on eight carries. Crowell, 39 on 10 carries.
April, 14, 2012
4/14/12
2:43
PM ET
More good news is in for the Georgia Bulldogs, as they have added a second commitment before kickoff of the annual G-Day game. The latest addition is the 15
th
for the 2013 class, giving Georgia some much-needed assistance at a position sorely lacking depth at the moment.
Defensive back
Reggie Wilkerson
(Citron, Fla./North Marion) made the trip Saturday to Athens, and he wasted little time announcing where he wanted to play at the next level.
"I am glad to say the University of Georgia is my new home for the next four years," Wilkerson said. "I plan to be in Athens in January to compete for the starting cornerback job."
To continue reading this article you must be an Insider
April, 14, 2012
4/14/12
12:19
PM ET
The Georgia Bulldogs coaching staff got great news Saturday before even taking the field for the annual G-Day game, as one of the top playmakers in the Peach State has decided he wants to play "between the hedges" in 2014.
As sophomore wide receiver
Demarre Kitt
(Tyrone, Ga./Sandy Creek) watched fellow 2014 standout
Nick Glass
(Atlanta/St. Pius X) commit to the Bulldogs last week, he knew it would not be long before he joined Glass on the commitment list. Saturday morning he made it official.
"I have committed to the University of Georgia," Kitt said. "When I come down here, it just feels like home. I can talk to any coach, and they all treat me like family."
To continue reading this article you must be an Insider
April, 14, 2012
4/14/12
10:42
AM ET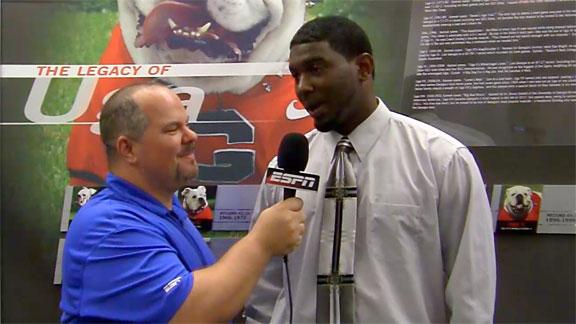 April, 13, 2012
4/13/12
10:01
PM ET
PONTE VEDRA BEACH, Fla. -- Bubba Watson was three strokes out of the lead heading into the final round of The Masters, but one of the first things he thought about after he got to Augusta National Golf Club last Sunday was Tim Tebow.
It was hard not to, Watson said, when he was handed his randomly-selected player badge for the day. It was No. 15 -- Tebow's jersey number at the University of Florida and with the Denver Broncos and now the New York Jets.
[+] Enlarge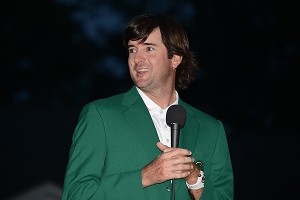 ROBYN BECK/AFP/Getty ImagesBubba Watson
Watson's immediate thought: I got No. 15 on Easter Sunday? I gotta give this to Tim.
That's what the University of Georgia alum did Friday when he arrived at the Tim Tebow Foundation Celebrity Golf Classic at TPC Sawgrass. It was an emotional moment between the two men, both of whom are devout Christians, and showed the kind of bond they have developed through their faith.
"I told my caddy, 'I'm going to keep it unopened and I'm going to hand it to him' " Watson said. "I don't know if he really wanted it, but I just felt like I should give it to him because it's his football number, and I thought he might even want it more now because I did win [The Masters]. Hopefully he thinks it was special."
April, 13, 2012
4/13/12
5:41
PM ET
ATHENS, Ga. -- Hundreds of friends, family and dignitaries gathered Friday afternoon at the Georgia Center for Continuing Education to honor Charley Trippi -- a coal miner's son from Pennsylvania who starred at Georgia in the 1940s and went on to become one of the most accomplished football players of all time.
A host of speakers paid tribute to the 90-year-old Trippi at the dais, including Athens mayor Nancy Denson, who declared Friday "Charley Trippi Day" in his adopted hometown.
"To me, this is a great day. I will cherish it the rest of my life," Trippi said.
To continue reading this article you must be an Insider
April, 13, 2012
4/13/12
3:21
PM ET
ATHENS, Ga. -- Uga IX could greet his Bulldog kingdom as early as the Sept. 1 football season opener against Buffalo.

This according to Sonny Seiler, whose family has owned Georgia's continuous line of bulldog mascots since 1956.

"We hope to present the dog physically at the first home game. That's what's in the works now," Seiler said Friday afternoon after a luncheon honoring Georgia football great Charley Trippi. "Can it change? Yeah, it can change, but that's all I can tell you."

Seiler said his family hopes to choose between two or three options by the time the football team holds its picture day in August. Before making their decision, they intend to have the dog thoroughly inspected at Georgia's veterinary school in an attempt to ensure that a healthy dog will wear the Uga collar.

April, 13, 2012
4/13/12
1:27
PM ET
DawgNation is here to take you Inside the DawgHouse -- a confidential look inside Georgia football recruiting for DawgNation subscribers only. As it will be every week, everything reported Inside the DawgHouse stays on The Pound forum. We are providing this information for our subscribers and hope that you help keep this information protected by keeping it here.
In this week's update:
G-Day recruiting preview
Schools coming after 2014 commit
To continue reading this article you must be an Insider
April, 12, 2012
4/12/12
8:16
PM ET
ATHENS, Ga. -- Typically by this point in spring practice, Coach Mark Richt expects a fairly listless performance from his players with the G-Day game only a couple of days away.
Richt said after Thursday's final practice in full pads that he was surprised by the level of intensity the Bulldogs displayed.
To continue reading this article you must be an Insider
April, 12, 2012
4/12/12
1:11
PM ET
By
DawgNation Staff
| ESPN.com
Don't forget to check out Saturday's culmination of spring football, the G-day game, live from Sanford Stadium in Athens, Ga. Note: Telecast is subject to blackouts.
Watch on ESPN3.