September, 1, 2014
Sep 1
8:00
AM ET
What a weekend of college football. The SEC kicked off the festivities with three games on Thursday night and wrapped it all up with the Tennessee-Utah State game on Sunday night. Here's a look at the five best performances from Week 1.

Kenny Hill, QB, Texas A&M:
The award for most obvious helmet sticker goes to the Aggies' sophomore quarterback, who dazzled in his first start. Hill broke
Johnny Manziel
's single-game school record with 511 yards passing. His 44 completions (on 60 attempts) broke another Manziel record and were the second most in SEC history. We'd give a special sticker to head coach Kevin Sumlin if he only wore a helmet, because Sumlin's offense might be the biggest story of the league's opening weekend.
Todd Gurley, RB, Georgia:
Another obvious sticker recipient, Gurley carried his Bulldogs to a huge statement win against Clemson. His 293 all-purpose yards broke Rodney Hampton's school single-game record. Gurley had 198 yards rushing with three touchdowns as well as a 100-yard kickoff-return TD that wrestled momentum back for UGA after Clemson had taken a 21-14 lead. As a precaution, Georgia limited his carries to 15, and Gurley still averaged 13.2 yards per carry. Imagine what he could do with a full load.
Alabama running backs:
With a new quarterback and a feisty opponent, the Crimson Tide needed every ounce of effort from their stellar backfield tandem. When the final whistle blew and Bama had edged West Virginia, there was little to distinguish between the results of junior
T.J. Yeldon
(126 yards rushing and two touchdowns) and sophomore
Derrick Henry
(113 yards and one touchdown). Sometimes Yeldon starts a drive, sometimes Henry does. It's anyone's guess which back finishes them.
Cameron Artis-Payne, RB, Auburn:
In his second career start for the Tigers, the senior and former juco transfer showed little drop-off as the replacement for star running back
Tre Mason
. Artis-Payne proved capable of being Auburn's bell cow with a total of 26 carries. After scoring a first-quarter touchdown, he helped the Tigers wear out the Razorbacks defense in the second half with 122 of his career-high 177 rushing yards.
Cody Core, WR, Ole Miss:
There were plenty of worthy candidates for Week 1 helmet stickers, but Core deserves to bask in the limelight after dealing with the tragic loss of his mother in late July and then fighting his way up the depth chart in preseason camp to win a starting job. Core had four catches for 110 yards, including the Rebels' two biggest plays of the night -- a 30-yard TD grab in the first quarter to open the scoring and a decisive 76-yard catch-and-run TD in the fourth quarter.
August, 31, 2014
Aug 31
10:13
PM ET
By
Sharon Katz
| ESPN.com
For more information on the rankings here, check out the Football Power Index and Dean Oliver's primer on this metric used by the Stats & Information analytics team.
What were the top analytical and statistical storylines from Week 1 of the college football season?
Georgia is the new favorite in the SEC
Georgia's
chances of winning the SEC greatly improved in Week 1.
The Bulldogs' win over
Clemson
and
South Carolina's
loss to
Texas A&M
combined to raise Georgia's chances of winning the SEC East from 29 percent (in preseason) to 62 percent and its overall chance of winning the SEC from 11 percent to 31 percent, via ESPN's FPI rating.
The Bulldogs jumped from 14th to sixth in the rankings. That was the third-biggest FPI ranking jump of any Top-25 team after Week 1, behind Nebraska (up 13 spots to 28) and Texas A&M (up eight spots to No. 8).
South Carolina's probability of winning the SEC East plummeted from 41 percent to 11 percent and its chance of winning the SEC fell from 19 percent to four percent.
Clemson and South Carolina had the two biggest drops in FPI rankings among teams in the Top 25, with Clemson falling 17 spots (to 30th) and South Carolina slipping 13 (to 20th). They were followed by North Carolina, which dropped 12 spots to 31 despite beating Liberty, 56-29.
North Carolina's
win against Liberty may have seemed dominant based on the 56-29 final score, but the Tar Heels trailed Liberty early in the second half before scoring 28 straight points. Their average in-game win probability ranked 29th out of 59 teams that won on Saturday.
USC rises in Pac-12
USC
jumped from No. 9 to No. 5 in FPI after defeating Fresno State on Saturday. Conversely,
UCLA
dropped in FPI from No. 4 to No. 7 after its offense struggled on the road against Virginia.
USC now has the second-best chance to win the Pac-12 behind Oregon and the No. 1 chance to win the Pac-12 South.
USC travels to
Stanford
on Saturday in a game with conference implications. The Football Power Index gives the Trojans a 51.6% chance to win the game, and it is projected to be the closest Pac-12 game of the year.
Comeback of the week: LSU over Wisconsin
LSU
came back from a 17-point second-half deficit to defeat
Wisconsin
28-24. Not only was that the largest comeback of the week, but LSU had the lowest average in-game win probability (35 percent) of any team that won on Saturday. The Tigers had an above-average chance to win on only 16 percent of their plays.
LSU's win probability dipped to six percent early in the third quarter after Wisconsin took a 24-7 lead. The Tigers went on to score 21 straight points to win the game.
Unlikeliest wins of Week 1
Based on ESPN's FPI projections,
UTSA's
win against
Houston
was the most unlikely win by an FBS team against another FBS team in Week 1. FPI gave UTSA a 19 percent chance to win entering the game.
Other significant upsets included
Temple
(30 percent chance to win) over
Vanderbilt
,
Colorado State
(34 percent chance to win) over
Colorado
and
Rutgers
(34 percent chance to win) over
Washington State
.
August, 31, 2014
Aug 31
4:25
PM ET
Each week during the college football season, Mel Kiper and Todd McShay kick off the week by settling a debate and then look at emerging NFL prospects and peek ahead to next week.
August, 31, 2014
Aug 31
10:00
AM ET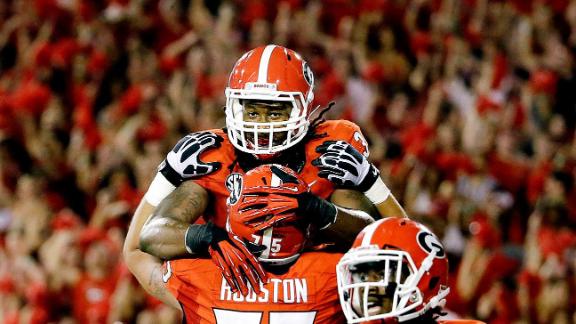 There is one thing the College Football Playoff
didn't
change, and that's the importance of the regular season. The playoff picture has already been affected. Here's a look at how the biggest games impacted the postseason in Week 1:
NOBODY LOOKED INVINCIBLE
[+] Enlarge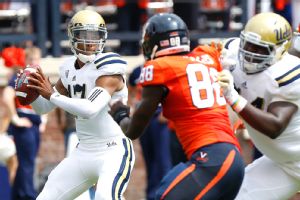 Geoff Burke/USA TODAY SportsHeisman candidate Brett Hundley looked rather ordinary against Virginia on Saturday.
Nobody looked as good as Florida State did a year ago -- including this Florida State. The No. 1-ranked Seminoles got a good scare from Oklahoma State. No. 7 UCLA traveled across the country and ran into a shockingly good Virginia defense. No. 5 Ohio State's defense looked like it had one week to prepare for Navy's triple option -- not all summer. No. 2 Alabama looked vulnerable on defense and had its hands full with West Virginia. Two Heisman hopefuls – FSU quarterback
Jameis Winston
and UCLA's
Brett Hundley
-- looked more average than they did spectacular, and were overshadowed by the likes of
Melvin Gordon
,
Todd Gurley
and – surprise --
Kenny Hill
. Nothing came easy in Week 1 -- including any indication as to who the best team in the country might be -- but that's typical. Look for significant improvement and more clarity in Week 2 now that the nerves have settled and the rust is off.
GAMECOCKS WENT SOUTH
South Carolina coach Steve Spurrier had no answers following his team's 52-28 loss to Texas A&M, one of the most surprising results of the week. The Aggies looked in midseason form against a porous South Carolina defense that allowed a school-record 680 yards. Hill outplayed South Carolina quarterback
Dylan Thompson
, and while South Carolina's playoff stock plummeted, the Aggies' rose. Consider this: The next four opponents for A&M are Lamar, Rice, SMU and Arkansas. The Aggies should be 5-0 heading into October and a trendy playoff pick – especially if Hill continues to play with that poise and accuracy. It was a rough opening for the entire state of South Carolina, as Clemson lost to Georgia, which looked very capable of winning the SEC East. The Bulldogs, led by Gurley's school-record 293 all-purpose yards, scored 24 unanswered points in the second half to break away for a 45-21 win.
GOOD NOT GREAT
Ohio State doesn't look like it's going to bulldoze its way through the Big Ten with
J.T. Barrett
at quarterback and a young offensive line paving the way, but it certainly isn't going to roll over for anyone, either. The loss of
Braxton Miller
to injury was a game-changer, but the team's relentless performance against Navy showed that the Buckeyes can't be counted out just yet. Barrett threw for 226 yards and two touchdowns in his collegiate debut, and coach Urban Meyer used a conservative game plan to keep his rookie comfortable. Ohio State has three straight home games against unranked opponents (Virginia Tech, Kent State and Cincinnati) before opening league play at Maryland on Oct. 4. The Hokies' defense should present the biggest challenge, but the Buckeyes can still enter their Big Ten schedule in exactly the same place everyone thought they'd be with Miller -- in the playoff conversation.
PERCEPTION PROBLEMS
The Big Ten was oh-so-close to gaining some respect this weekend until Wisconsin squandered its 10-point halftime lead against LSU. With the exceptions of Wisconsin and Northwestern, the conference won all of its games. League newcomer Rutgers found a way to beat Washington State in Seattle, and Penn State beat UCF in Ireland, but the Badgers missed their opportunity on the biggest stage. They had the best chance at making a statement for the entire conference. Instead, it was an underwhelming debut for quarterback
Tanner McEvoy
, who completed 8 of 24 passes for 50 yards, no touchdowns and two interceptions. Melvin Gordon had 140 yards -- but only had 16 carries. With Wisconsin's schedule -- the Badgers don't play Ohio State, Michigan State or Michigan -- a win over LSU would've pushed them into the playoff conversation. Now? The Big Ten better hope the Spartans or Buckeyes can live up to the expectations.
BUH-BYE BOISE (and UCF)
The Broncos had one chance to impress the College Football Playoff selection committee against a Power 5 opponent, and it disappeared with a 35-13 loss to Ole Miss on Thursday night. If an undefeated Boise State couldn't get into the title game in the old BCS system, a one-loss Broncos team probably isn't going to sneak into the four-team playoff. The same can be said for UCF, which had high expectations for this season coming off its Fiesta Bowl win over Baylor. A tough 26-24 loss to Penn State in Ireland was hardly an embarrassment, but it's going to be nearly impossible to overcome as a member of the American Athletic Conference.
That's not to say that Boise State or UCF won't play on New Year's Day. The highest-ranked conference champion not from the Group of 5 will earn a spot in one of the New Year's Six bowls, but that's a consolation prize to two programs that have already been there, won that.
August, 31, 2014
Aug 31
1:10
AM ET
Wow, what a first weekend of football around the SEC. And it's not over yet, since Tennessee-Utah State will wrap up the weekend on Sunday.
For now, though, let's recap some of what we've learned so far about the SEC of 2014.
[+] Enlarge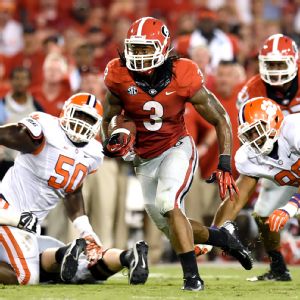 Dale Zanine/USA TODAY SportsTodd Gurley and Georgia made a loud statement with their 45-21 trouncing of Clemson on Saturday.
The league looks wide open:
If we learned anything over the last couple of days, it's that both of these division races will be wide open. It started when Eastern Division favorite South Carolina laid an egg against Texas A&M on Thursday, but several of Saturday's games only solidified the point.
Alabama -- particularly its reconstructed secondary -- had all sorts of problems against West Virginia and its vaunted passing game. Defending league champ Auburn remains an offensive juggernaut, but its defense got manhandled at times early by an improving Arkansas offense. And LSU was on the verge of getting blown out early in the second half before a fake punt gave the Tigers some life, helping them rally from a 24-7 deficit to beat Wisconsin 28-24.
With Texas A&M and Georgia also making statements with impressive wins in their season debuts, it's evident that nobody has a cakewalk to reach Atlanta. The preseason favorites all have questions to answer, and there are several candidates to rise from the middle of the pack to challenge them.
Heisman hopefuls make moves:
Texas A&M quarterback
Kenny Hill
wasn't the only SEC player to jump into the Heisman Trophy conversation. Hill's school-record 511 passing yards and three touchdowns on 44-for-60 passing had to go down as one of the most impressive starting debuts in recent memory. But he had company among SEC offensive standouts.
Todd Gurley
broke Rodney Hampton's Georgia record with 293 all-purpose yards against Clemson -- 198 on the ground and 100 more on a kickoff return for a touchdown (he lost five yards receiving). Between his running and a dominant second half from Jeremy Pruitt's defense, the Bulldogs were able to bury Clemson 45-21.
Cameron Artis-Payne
ran for 122 yards in the second half against Arkansas and finished with 26 carries for 177 yards and a touchdown as Auburn held the Razorbacks scoreless in the second half to put away a 45-21 win.
Quarterback races progress:
Hill made as emphatic a statement as possible about his status as Texas A&M's starting quarterback after winning a preseason battle. But some of the league's other QB races remain, well, unclear.
Blake Sims
(24-33, 250 yards, INT, plus 42 rushing yards) did a fine job in taking nearly every snap in Alabama's win over West Virginia. And
Patrick Towles
(20-29, 377 yards, TD, plus a 23-yard rushing score) was outstanding in Kentucky's rout of overmatched Tennessee-Martin.
But then a couple of QB battles don't seem resolved at all. LSU's
Anthony Jennings
played most of the game against Wisconsin, but the Tigers' offense struggled mightily before closing with a flourish. He finished 9-for-21 for 238 yards and two touchdowns. However, freshman
Brandon Harris
looked lost during the one series he was in the game, so he doesn't appear to be a better option right now.
Vanderbilt also faces a bit of a quandary at the position.
Stephen Rivers
(12-25, 186 yards, INT),
Patton Robinette
(4-6, 38 yards) and
Johnny McCrary
(0-3, 2 INTs) all played, but nothing went right for the Commodores in a 37-7 loss to Temple.
We'll see how Tennessee's
Justin Worley
fares on Sunday night after winning the Volunteers' preseason QB battle.
Bad teams are better:
Arkansas and Kentucky -- two teams that went winless in SEC play a season ago -- made it clear that they will be tougher in 2014.
It's difficult to know what to make of Kentucky's 59-14 win over UT-Martin. We probably shouldn't read too much into a blowout against a middling FCS program, after all. And yet the Wildcats showed off some impressive new weapons.
How about Nebraska transfer
Braylon Heard
taking his only two carries for touchdowns of 73 and 43 yards? And Towles connecting with 10 different receivers? It was an impressive debut to be sure.
Even in a losing effort, Arkansas' physicality had to be what Razorbacks fans wanted to see from a club that lost nine straight games to close out the 2013 season. They pushed Auburn around for a portion of the game and were still thinking upset until Auburn's
Jermaine Whitehead
made it a two-touchdown game by returning a deflected pass for a score with 2:39 left in the third quarter.
Auburn really can pass:
We heard all offseason that Auburn would put the ball in the air more frequently this season, and it looks like the Tigers have the pieces in place to do that.
Junior college transfer
D'haquille Williams
was outstanding in his Auburn debut, catching nine passes for 154 yards and a touchdown, while
Nick Marshall
and
Jeremy Johnson
combined to throw for 293 yards and a pair of scores. The ground game is still the Tigers' calling card (Auburn rushed for 302 yards), but they're going to be even tougher to defend if they keep throwing like this.
August, 30, 2014
Aug 30
10:02
PM ET
By
ESPN.com staff
| ESPN.com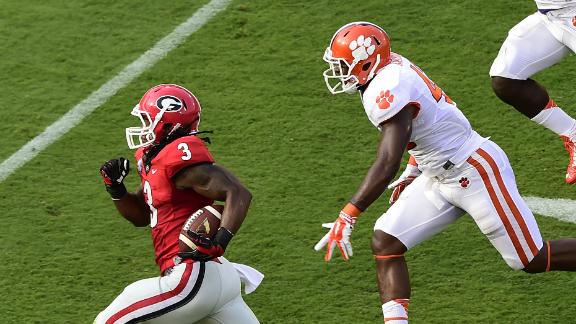 Todd Gurley
showed why he is a Heisman contender with a huge night for Georgia against Clemson.
August, 30, 2014
Aug 30
9:46
PM ET
By
ESPN.com staff
| ESPN.com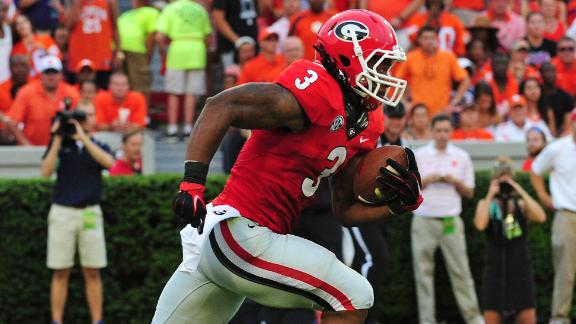 Todd Gurley
rushed for 198 yards and three touchdowns and returned a kickoff 100 yards for a touchdown in Georgia's 45-21 win over Clemson.
August, 30, 2014
Aug 30
9:35
PM ET
For a while, it looked as if Clemson might give Georgia a game. But in the second half, Mark Richt's Bulldogs pulled away at home behind a powerful offensive line and a strong group of running backs and won the season opener in Athens
45-21
.
You can't keep the monster in his cage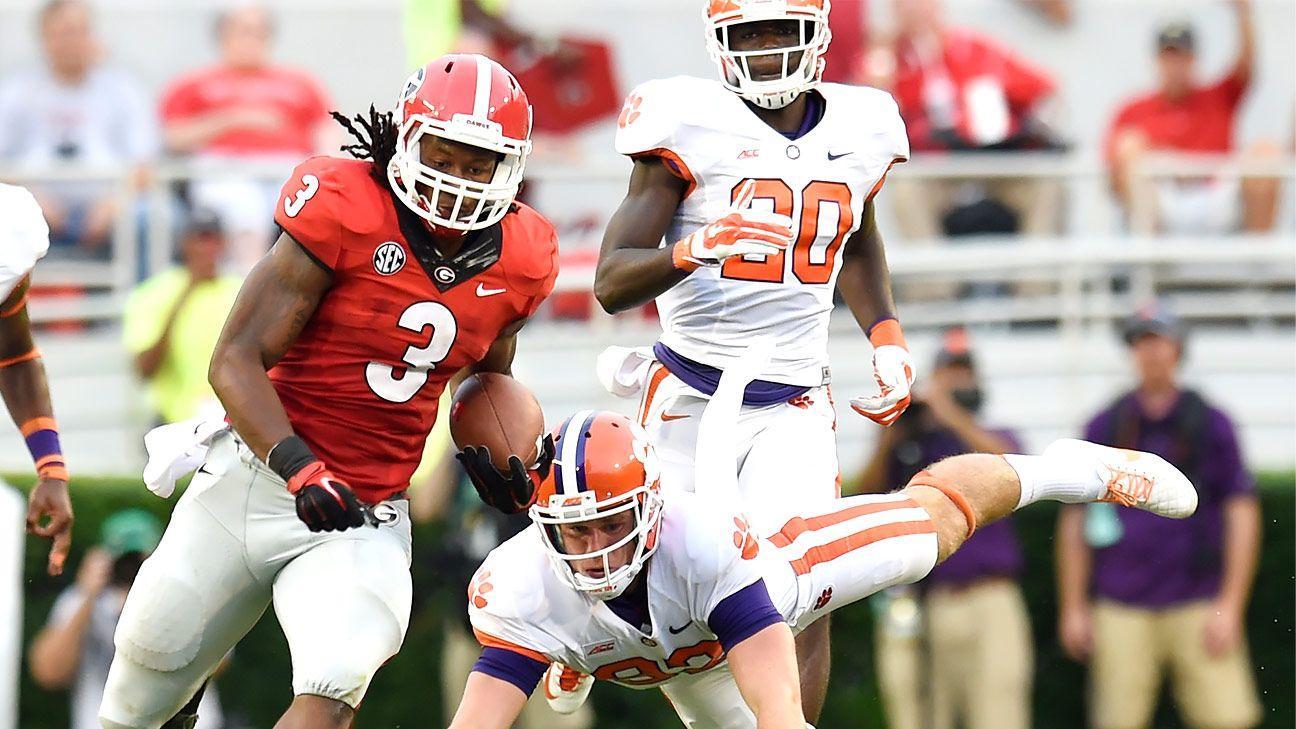 It looked like
Todd Gurley
wasn't going to get a chance to run free. Halfway through the first half, Georgia's star tailback had only four carries. Then he decided to take matters into his own hands. On special teams, he fielded the kickoff and found daylight. Splitting the middle of the field, he sprinted 100 yards for the touchdown. It wasn't fair. A guy that big isn't supposed to run that fast. The 226-pound junior couldn't be caught as he ran 100-plus yards without being touched. It was one of those Heisman Trophy-type moments. All that was missing was the stiff-arm pose.
Georgia runs it down Clemson's throat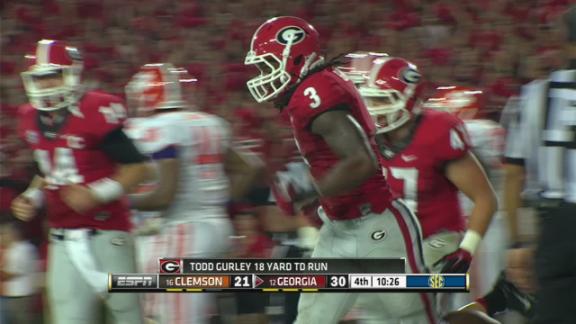 Georgia telegraphed what it was doing. The Bulldogs were running the football, no matter what. And Clemson couldn't do a darn thing to stop it. Gurley carried for two, then 38 yards to start the drive.
Sony Michel
then came in and went for six yards.
Hutson Mason
got in on the action, picking up a yard of his own. Michel then came back and showed off his wheels and reeled off a 17-yard gain. Gurley, now facing a gassed defense, took care of the rest. With the front seven overloaded to his right, he took the pitch that direction, cut back and caught Clemson sleeping. He found daylight in the middle of the field, made a safety miss and went 18 yards to pay dirt. The touchdown pulled Georgia ahead by two scores. But more importantly, it proved Clemson didn't have an answer for a determined Bulldogs offense.
And then it happened again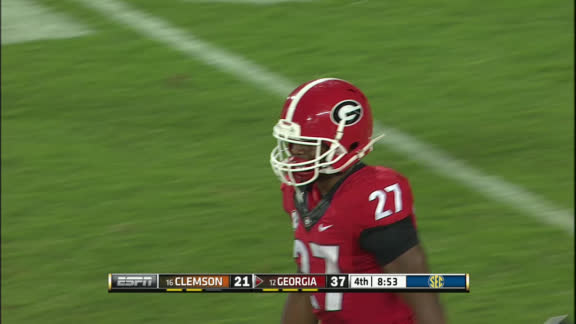 How would you like to face
Nick Chubb
after Gurley,
Keith Marshall
and Michel have been pounding the rock all night? How would you like to tackle that 228-pound beast? The true freshman running back couldn't be corralled by Clemson all night. And when he took the handoff with his team up 10 points, he decided to finish the job, this time showing off his wheels
and
his strength running through tackles. He shook four Clemson defenders' grasp, hit the edge and took off. He went 47 yards for the touchdown that put the game away for Georgia.
Gurley isn't to be outdone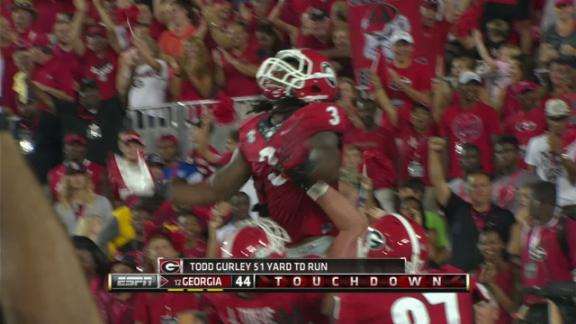 What more can we say? Gurley played like he was trying to win the Heisman Trophy in one game and did a good job of stating his case. Midway through the fourth quarter, you're not supposed to have the gas to run like this. You're not supposed to slip a bunch of tackles and go 51 yards that quickly. But Gurley isn't normal. By the time the night was over, he had 298 total yards and four touchdowns.
Georgia, A&M Move Up In Power Rankings