Georgia Bulldogs:

TCU Horned Frogs
May, 16, 2013
5/16/13
3:30
PM ET
The SEC and Big 12 announced an annual challenge on the basketball court, but
colleague Edward Aschoff wondered what it would look like
if that challenge extended to the football field.
There are already two games on the schedule this season -- between TCU and LSU, and Oklahoma State and Mississippi State. What else would I like to see?
Let me start by saying that renewing the Texas-Texas A&M and Missouri-Kansas rivalries are a given. I'm omitting those matchups, but I'd love to see them.
Let's get started:
Oklahoma State vs. Alabama:
OSU narrowly missed out on playing for the national title back in 2011, and both are among their conference favorites again in 2013. When the BCS "snubbed" the Pokes after the 2011 regular season, OSU coach Mike Gundy half-jokingly suggested these two play for the right to play LSU in the title game. It would be fun to see this one finally played out on the field.
Baylor vs. LSU
: Straight up offense vs. defense. That's the Big 12 vs. SEC debate at its heart. Baylor just might be the Big 12's best offense, and LSU will put together another strong defense. These are the matchups we want to see. The Big 12 has faltered on the big stage, helping the SEC stretch its run of national titles, but seeing
Bryce Petty
sling it around against an athletic defense would be a lot of fun.
Texas vs. Arkansas:
Arkansas' exit from the Southwest Conference helped usher in the birth of the Big 12 after the SWC crumbled. Texas has bigger rivals like Oklahoma and Texas A&M, but these two played some of the greatest games in college football history, and as an Arkansas native, I've seen up close how much Razorbacks fans detest the Longhorns to this day. The result would be a great game and a hyped atmosphere.
TCU vs. Texas A&M:
Texas A&M fans take exception to the idea that TCU was an on-field "upgrade" over the Aggies in the Big 12. The Aggies largely struggled in the Big 12 after some early success and a Big 12 title under R.C. Slocum. Since leaving for the SEC, the Aggies have gone nowhere but up, and ended 2012 as the hottest team in college football. Aggies quarterback
Johnny Manziel
has a Heisman Trophy. Could he shred the Frogs? Want to prove TCU is not an upgrade? Beat TCU on the field.
Kansas State vs. Florida:
Kansas State is perpetually underrated and wins with a bunch of junior college guys, and high school players overlooked by major programs. Florida won big under Urban Meyer, but has been largely overrated since Meyer left and was whacked by Louisville to end 2012. The Gators would be suiting up an army of recruiting stars, but could Bill Snyder, the Manhattan Magician, grab a win for the Big 12?
Oklahoma vs. Georgia: Mark Richt and Bob Stoops have one big thing in common: Neither fan base truly appreciates what their coach has accomplished. Consider this an opportunity for both to quiet the hot-seat talk. It's been a lot more intense for Richt, who endured a 6-7 season back in 2010, but he's won the SEC East in each of the past two seasons. Stoops has averaged just over 10 wins a season at Oklahoma, and Richt has averaged just under 10 wins. Call this the "Underappreciated Bowl."


February, 15, 2013
2/15/13
1:54
PM ET
ESPN Watch List defensive end
Peyton Newell
(Hiawatha, Kan./Hiawatha) estimates that he has picked up seven new offers over the last two weeks. His offer list stretches from UCLA to South Carolina and from Texas to Michigan State. Twenty-seven schools so far have extended verbal offers to the 6-foot-3, 270-pound junior, including the Georgia Bulldogs who offered on Wednesday.
"Yesterday I got offers from Georgia and Michigan State on the same day," Newell said. "So it has been definitely crazy. I think I have gotten an offer from every conference. It is overwhelming and exciting. And I am very blessed to be in the situation that I am in with being able to have my choice on where to go. So I am really excited for next year."
The Bulldogs' coaching staff may be the latest offer but Newell has been on Georgia's radar for a while.
To continue reading this article you must be an Insider
January, 8, 2013
1/08/13
1:41
PM ET
By
RecruitingNation staff
| ESPN.com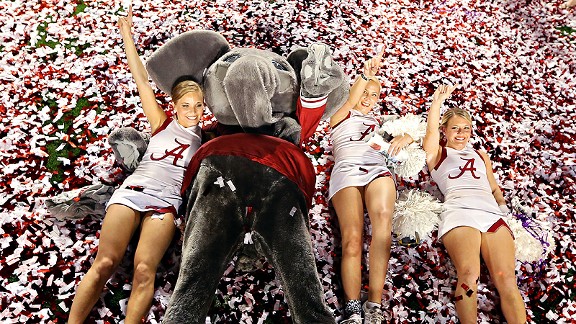 Streeter Lecka/Getty ImagesAlabama, with three of the past four national titles, is No. 1 in the Way-Too-Early Top 25 for 2013.
There are still seven months before the start of the 2013 season, and the teams and their order figure to change frequently, but it's never too early to take a look at the
Way-Too-Early Top 25 for 2013
.
And with three national championships in the past four years, there's no reason to change the team that's on top. Georgia, with Aaron Murray and a potent offense returning, is No. 6.
Also see:
November, 2, 2012
11/02/12
1:42
PM ET
By
RecruitingNation staff
| ESPN.com
RecruitingNation has summoned its writers from around the country to compile
a list of the top 10 battles for elite football recruits

leading up to February's signing day. We'll update our rankings periodically to reflect a change in a player's status (i.e., new offers, trimmed-down list or a positive/negative official visit).
Our writers have debated the list for weeks, but we value your input as well. Voice your opinion on Twitter (
@RecruitingESPN
) using
#BlueChipBattles
or vote for which player should hold the No. 1 spot on
Facebook
.
October, 26, 2012
10/26/12
1:12
PM ET
By
RecruitingNation staff
| ESPN.com
Pitt doesn't want WR
Robert Foster
to leave the Keystone State and USC hopes to keep CB
Max Redfield
in Cali. The local programs' bid to keep those two stars in-state highlights
this week's #BlueChipBattles

.
#BlueChipBattles
is the Twitter hashtag to use if you want to voice your opinion on our list or to view other fans' reactions as the commitments begin to roll in. Get recruiting updates on the players above as well as the nation's other top football prospects here:
@RecruitingESPN
.
October, 22, 2012
10/22/12
12:50
PM ET
On Saturday, defensive end
Naim Mustafaa
(Alpharetta, Ga
.
/Alpharetta) took his first official visit -- not to the University of Georgia where he has been committed since June -- but to Tennessee. The 6-foot-4, 235-pound senior was excited to see the
Volunteers'
defensive coordinator in action for the first time.
[+] Enlarge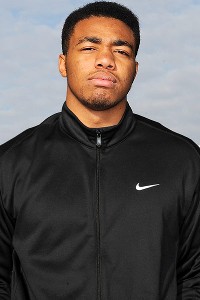 Radi Nabulsi/ESPN.comNaim Mustafaa is committed to Georgia, but he visited Tennessee during the weekend.
"I have been there a few times, but I have not been able to see Coach Sal [Sunseri] in an actual game," Mustafaa said. "I love Coach Sal and how intense he is and I also love their stands and their stadium."
The day before his official to Tennessee began, Mustafaa was on the phone with his recruiter of record for Georgia. As the two talked, Mustafaa says there was no sense of worry on the other line.
To continue reading this article you must be an Insider
October, 9, 2012
10/09/12
9:45
AM ET
The Big 12's held on all season, but the SEC finally passed it for the No. 1 spot in the
ESPN Stats & Info Conference Power Rankings.
The Big 12 still has the No. 1 spot in the computer polls, but the Big 12 took a hit in the human polls after just four Big 12 teams showed up in Sunday's AP rankings. The SEC took the lead by a full point after steadily creeping up on the Big 12 since the rankings debuted.
What was the biggest factor for the move? From the Stats & Info Blog:
Losses by Top-5 teams LSU and Georgia did not impact the SEC's conference ranking because they lost to teams that were also in the Top 10.

On the other hand, losses by TCU and Texas Tech impacted the Big 12 in the rankings since they lost to teams with worse records entering the game.

The computers still favor the Big 12 over the SEC due to the depth of the conference, but the gap has narrowed. The SEC's dominance in the polls has vaulted the conference into first place for the first time since the final conference power rankings of the 2011 season.
It's going to be a tight race all season, but for now, the SEC's pulled ahead by a nose.
October, 7, 2012
10/07/12
11:37
PM ET
Fresh off of an upset victory over No. 3 FSU, the NC State coaches received some good news on the recruiting trail as ESPN 300 wide receiver
Kyrin Priester
(Snellville, Ga./Brookwood) made a commitment to the Wolfpack on Saturday.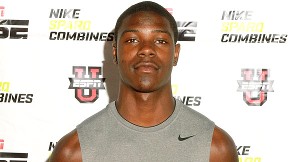 Tom Hauck for ESPN.comFormer Georgia commit Kyrin Priester has now chosen NC State after Saturday's upset win over Florida State.
"I am officially committed to NC State," Priester said Sunday.
The late-evening upset made a strong impression on Priester while he was in attendance.
To continue reading this article you must be an Insider
September, 12, 2012
9/12/12
9:00
AM ET
Finally, it's time. College football's two best conferences will meet on the gridiron, with bragging rights at stake.
The Big 12. The SEC. Head to head. Get excited.
... Wait, what?


It's Texas and Ole Miss? As in, No. 12 Texas and Ole Miss, who was picked to finish last in the SEC West after winning two games a year ago and firing its coach.
Sigh. Nevermind.
The two leagues' only 2012 meeting will take place in Oxford on Saturday, but could you draw up a worse representation of the two leagues?
The annual Big 12-SEC debate, at its core, is a simple one: Offense vs. Defense. The SEC swept both meetings in 2011, but both involved the SEC's top spread attack, Arkansas, and one of those games involved Texas A&M, who's now an SEC member.
On Saturday, the Big 12's best defense (and No. 8 offense a year ago) will take on the Rebels, who, well, weren't good at much of anything a year ago, and finished last in total defense and 11th in total offense.
In each of the past two seasons, the two leagues have scheduled just one regular-season matchup, and played once in the Cotton Bowl.
There's hope in the future: West Virginia will meet Alabama in Atlanta to open the 2014 season. Oklahoma will play a home-and-home against Tennessee in 2014 and 2015, and the same against LSU in 2018 and 2019. Kansas State is scheduled to host Auburn in 2014. TCU is scheduled for a home-and-home against Arkansas in 2015 and 2016, right after it finishes a home-and-home with LSU in 2013 and 2014.
Next year, Texas hosts Ole Miss as the back half of the home-and-home, and there's a chance Oklahoma State and Mississippi State
meet in Houston to kick off the season.
For both leagues, more meetings would be a win-win. The SEC can strengthen the debatable premise that it's the nation's best league. Yearly Big 12 beatdowns would assure that.
Head-to-head wins by the Big 12 (along with a national title or two) would boost the league into the SEC's equal, an idea that's not as far as it seems even now.
The best piece of news for fans clamoring for more? The Champions Bowl.
The Cotton Bowl provides the biggest stage for the two teams to meet, but the SEC has dominated that rivalry, winning eight of the last nine games. The Big 12's lone winner — Missouri in 2007 — left for the SEC after 2011.
The Champions Bowl provides a better game, a bigger stage and more money. The details of the game (site, cash payouts, television deal) still have to be ironed out, but when it's done, there's no doubt it will stake a claim as one of the game's best postseason exhibitions.
There's a natural rivalry between the two leagues fostered on and off the field now, after Texas A&M and Missouri spurned the league they helped found to become the SEC's 13th and 14th members.
The Big 12 says it's stronger with TCU and West Virginia as replacements, and there's plenty of evidence to suggest that's the case. The only way to know? Prove it on the field.
Of course, Texas and Kansas hold the key to two more Big 12-SEC matchups, but refuse to make them happen. Texas A&M and Missouri were the other half to two of college football's oldest rivalries. For now, both are dead. If (and it's a big if) Texas and Kansas change their minds, the two leagues can add two more annual meetings. Don't count on that any time soon.
The Big 12's new nine-game conference schedule helps up the Big 12's TV money with a better inventory of games to sell TV networks, but further discourages any difficult nonconference games.
The Champions Bowl will help foster more on-field meetings between the leagues. It won't every be the SEC champion vs. the Big 12 champion as advertised, but it's guaranteed to be two really good teams from both leagues, followed up by another matchup with between the leagues in the Cotton Bowl.
This weekend's no reason to get excited about the two leagues colliding.
The Champions Bowl is. It provides a much-needed, high-demand matchup between college football's best leagues.
In short, it makes college football better. With rampant scandal and realignment threatening to do the opposite, that's a welcome development.
That game will thrive, and because of it, so will the two leagues who helped make it happen.
July, 17, 2012
7/17/12
6:21
PM ET
Fresh off a solid showing at the Alabama prospect camp, 2014 defensive back
Jamal Adams
(Carrollton, Texas/Hebron) is hoping to pick up an offer from the reigning BCS national champion.
At 6-foot-1 and 195 pounds, Adams showed his versatility in the secondary at the camp. He lines up at safety at Hebron, but he participated in cornerback drills and showed a comfort level at Alabama.
"I think I gave them a little taste of what I can do at the camp," Adams said. "There was some great talent out there. A couple of DBs and receivers from Georgia were really good."
To continue reading this article you must be an Insider
February, 22, 2012
2/22/12
10:10
AM ET
The offers continue to pour in for offensive lineman
Josh Outlaw
(Lithonia, Ga./Martin Luther King), and after making a trip to one of the top programs in the Southeast, the 6-foot-4, 275-pound prospect got big news that he had been waiting on.
[+] Enlarge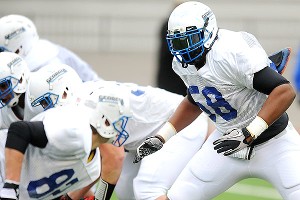 Radi Nabulsi/ESPN.comMLK High teammate Blake Tibbs, a 2012 UGA commit, has already started to bend Josh Outlaw's (above) ear about being a Bulldog.
Last weekend, Outlaw was in Gainesville to check out the University of Florida. The Gators offered him in mid-December, so while on campus he was able to focus on getting to know the coaches vying for his signature. They made sure to let Outlaw know his position was a priority for the 2013 class.
"I enjoyed spending time with the staff at Florida," Outlaw said. "Coach [Will] Muschamp was very up front with me in letting me know that they need offensive linemen. It seems like with the depth chart right now there is an opportunity to play early there."
To continue reading this article you must be an Insider
ESPNU's national signing day coverage kicks off at 9 a.m. ET. Here's the list of the announcements and time for some of the top prospects.

NOTE: Bold names are announcements, all others are interviews.

January, 30, 2012
1/30/12
12:11
PM ET
ESPNU's national signing day coverage kicks off at 9 a.m. ET. Here's the list of the announcements and time for some of the top prospects.

NOTE: Bold names are announcements, all others are interviews.


Scene and Heard: Top 10 Predictions
SEC SCOREBOARD
Thursday, 8/28
Saturday, 8/30
Sunday, 8/31