Georgia Bulldogs:

Iowa State Cyclones
March, 21, 2013
3/21/13
9:00
AM ET
ESPN Watch List defensive end
Keyon Brown
of Wauchula, Fla., knows which play helped put him on the radar of a major college programs. The fourth game of his junior year involved his Hardee Wildcats in a close game against the Sebring Blue Streaks.
"We were playing Sebring, and they threw a screen to the wide receiver," Brown said. "I had gone in to try to get the quarterback, but he had already thrown it, so I went after the receiver over by the sideline. He was trying to shake somebody, I guess, but he cut back inside, and I was headed out, so I hit him hard and he fumbled. It was a big hit. Everybody just went crazy and started yelling. We recovered it; the receiver was hurt on that play."
Hustle like that earned Brown double digit scholarship offers, with the latest one coming from Florida State.
February, 15, 2013
2/15/13
1:54
PM ET
ESPN Watch List defensive end
Peyton Newell
(Hiawatha, Kan./Hiawatha) estimates that he has picked up seven new offers over the last two weeks. His offer list stretches from UCLA to South Carolina and from Texas to Michigan State. Twenty-seven schools so far have extended verbal offers to the 6-foot-3, 270-pound junior, including the Georgia Bulldogs who offered on Wednesday.
"Yesterday I got offers from Georgia and Michigan State on the same day," Newell said. "So it has been definitely crazy. I think I have gotten an offer from every conference. It is overwhelming and exciting. And I am very blessed to be in the situation that I am in with being able to have my choice on where to go. So I am really excited for next year."
The Bulldogs' coaching staff may be the latest offer but Newell has been on Georgia's radar for a while.
To continue reading this article you must be an Insider
November, 19, 2012
11/19/12
3:01
PM ET
The Georgia recruiting class for 2013 already has 27 commitments, so the remaining spots are at a premium.
The only way the Bulldogs can sign all their targets is to make use of the early enrollee spaces available in January. One official visitor to Athens, Ga., this weekend might take one of those spots as junior college defensive back
Kennar Johnson
(Miami, Fla./Mississippi Gulf Coast) is slated to graduate in December.

"I will be visiting on Friday," Johnson said. "I am going to sit down with the coaches and see where we are at. I want to enjoy the game. It is going to be a rivalry game with Georgia Tech so I will get a chance to see that."
To continue reading this article you must be an Insider
October, 9, 2012
10/09/12
9:45
AM ET
The Big 12's held on all season, but the SEC finally passed it for the No. 1 spot in the
ESPN Stats & Info Conference Power Rankings.
The Big 12 still has the No. 1 spot in the computer polls, but the Big 12 took a hit in the human polls after just four Big 12 teams showed up in Sunday's AP rankings. The SEC took the lead by a full point after steadily creeping up on the Big 12 since the rankings debuted.
What was the biggest factor for the move? From the Stats & Info Blog:
Losses by Top-5 teams LSU and Georgia did not impact the SEC's conference ranking because they lost to teams that were also in the Top 10.

On the other hand, losses by TCU and Texas Tech impacted the Big 12 in the rankings since they lost to teams with worse records entering the game.

The computers still favor the Big 12 over the SEC due to the depth of the conference, but the gap has narrowed. The SEC's dominance in the polls has vaulted the conference into first place for the first time since the final conference power rankings of the 2011 season.
It's going to be a tight race all season, but for now, the SEC's pulled ahead by a nose.
September, 12, 2012
9/12/12
9:00
AM ET
Finally, it's time. College football's two best conferences will meet on the gridiron, with bragging rights at stake.
The Big 12. The SEC. Head to head. Get excited.
... Wait, what?


It's Texas and Ole Miss? As in, No. 12 Texas and Ole Miss, who was picked to finish last in the SEC West after winning two games a year ago and firing its coach.
Sigh. Nevermind.
The two leagues' only 2012 meeting will take place in Oxford on Saturday, but could you draw up a worse representation of the two leagues?
The annual Big 12-SEC debate, at its core, is a simple one: Offense vs. Defense. The SEC swept both meetings in 2011, but both involved the SEC's top spread attack, Arkansas, and one of those games involved Texas A&M, who's now an SEC member.
On Saturday, the Big 12's best defense (and No. 8 offense a year ago) will take on the Rebels, who, well, weren't good at much of anything a year ago, and finished last in total defense and 11th in total offense.
In each of the past two seasons, the two leagues have scheduled just one regular-season matchup, and played once in the Cotton Bowl.
There's hope in the future: West Virginia will meet Alabama in Atlanta to open the 2014 season. Oklahoma will play a home-and-home against Tennessee in 2014 and 2015, and the same against LSU in 2018 and 2019. Kansas State is scheduled to host Auburn in 2014. TCU is scheduled for a home-and-home against Arkansas in 2015 and 2016, right after it finishes a home-and-home with LSU in 2013 and 2014.
Next year, Texas hosts Ole Miss as the back half of the home-and-home, and there's a chance Oklahoma State and Mississippi State
meet in Houston to kick off the season.
For both leagues, more meetings would be a win-win. The SEC can strengthen the debatable premise that it's the nation's best league. Yearly Big 12 beatdowns would assure that.
Head-to-head wins by the Big 12 (along with a national title or two) would boost the league into the SEC's equal, an idea that's not as far as it seems even now.
The best piece of news for fans clamoring for more? The Champions Bowl.
The Cotton Bowl provides the biggest stage for the two teams to meet, but the SEC has dominated that rivalry, winning eight of the last nine games. The Big 12's lone winner — Missouri in 2007 — left for the SEC after 2011.
The Champions Bowl provides a better game, a bigger stage and more money. The details of the game (site, cash payouts, television deal) still have to be ironed out, but when it's done, there's no doubt it will stake a claim as one of the game's best postseason exhibitions.
There's a natural rivalry between the two leagues fostered on and off the field now, after Texas A&M and Missouri spurned the league they helped found to become the SEC's 13th and 14th members.
The Big 12 says it's stronger with TCU and West Virginia as replacements, and there's plenty of evidence to suggest that's the case. The only way to know? Prove it on the field.
Of course, Texas and Kansas hold the key to two more Big 12-SEC matchups, but refuse to make them happen. Texas A&M and Missouri were the other half to two of college football's oldest rivalries. For now, both are dead. If (and it's a big if) Texas and Kansas change their minds, the two leagues can add two more annual meetings. Don't count on that any time soon.
The Big 12's new nine-game conference schedule helps up the Big 12's TV money with a better inventory of games to sell TV networks, but further discourages any difficult nonconference games.
The Champions Bowl will help foster more on-field meetings between the leagues. It won't every be the SEC champion vs. the Big 12 champion as advertised, but it's guaranteed to be two really good teams from both leagues, followed up by another matchup with between the leagues in the Cotton Bowl.
This weekend's no reason to get excited about the two leagues colliding.
The Champions Bowl is. It provides a much-needed, high-demand matchup between college football's best leagues.
In short, it makes college football better. With rampant scandal and realignment threatening to do the opposite, that's a welcome development.
That game will thrive, and because of it, so will the two leagues who helped make it happen.
July, 30, 2012
7/30/12
8:45
AM ET
Juco safety
Shaquille Fluker
of Meridian, Miss., is getting close to picking his next destination after his stint at East Mississippi Community College. The 6-foot-2, 200-pound defensive back says he wants to get the decision out of the way.
"I want to make a decision at least by the second week of August, before we kick off the season," Fluker said.
With his decision coming soon, several schools are making their pitch to the hard-hitting safety.
To continue reading this article you must be an Insider
July, 13, 2012
7/13/12
3:45
PM ET
Dawg Night got started with a bang.
University of Georgia head coach Mark Richt got great news Friday with commitment No. 20 for the 2013 class. Interestingly enough, it was the second time he had received the news that
Quincy Mauger
(Marietta, Ga./Kell) wanted to play for him.
[+] Enlarge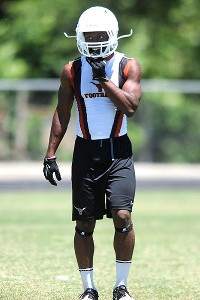 Radi Nabulsi/ESPN.comS Quincy Mauger became UGA's 20th commitment.
Last month, the 6-foot, 200-pound safety competed at the Mark Richt Camp, earning an offer from the Bulldogs. A few days later, he knew he needed to secure his spot at Georgia.
"When I called Coach Richt, he told me how great Georgia was," Mauger said. "I already knew it was a once-in-a-lifetime opportunity. A lot of kids line up to play for them.
"I told Mark Richt that I wanted to commit, but I wanted to surprise my mom and make it official with her in person at Dawg Night. He said he was very happy but would be ecstatic when I make it official."
Earlier on Friday, Mauger arrived with his mom and toured the academic facilities. That played a key part in his decision.
"I have done my research on academics and their engineering department," Mauger said. "I also did my research on Coach [Todd] Grantham and he is a wonderful person with an amazing track record. I respect everything about him, the coaching staff and the Georgia tradition. It feels great to be a Dawg."
Mauger thinks the opportunity to stay in-state will make life easier for his mother, and he is looking forward to playing with other top prospects in Georgia.
"She is going to be very happy being able to have me stay close to home, and I am very excited about teaming up with
Tray Matthews
(Newnan, Ga./Newnan) and
Shaq Wiggins
(Tyrone, Ga./Sandy Creek) on defense," Mauger said.
To continue reading this article you must be an Insider
June, 16, 2012
6/16/12
7:59
PM ET
The University of Georgia is looking to add another safety for its 2013 class, but defensive back
Quincy Mauger
(Marietta, Ga./Kell) was still caught off guard when he got the big news following Saturday's Mark Richt Camp.
"Coming in, I did not expect to earn an offer, but I came out and competed and tried my best to earn one anyway," Mauger said. "Coach [Mark] Richt offered me at the end, and I was surprised."
Iowa State, Navy, Ohio and UCF were Mauger's biggest offers before Saturday, and the 6-foot, 200-pound safety was happy that he showed the Bulldogs' coaching staff he had the speed and talent to play in the Southeastern Conference.
To continue reading this article you must be an Insider
March, 2, 2012
3/02/12
10:15
PM ET
As a sophomore,
Reggie Wilkerson
(Citra, Fla./North Marion) starred for the Colts at quarterback for 967 yards passing, 300 yards rushing, and 12 touchdowns in 2010. Last fall, the 5-foot-11, 175-pound junior put up 750 all-purpose yards with six scores on offense, this time playing more at wide receiver. But when projecting to the next level, Wilkerson's upside might be greatest as a cornerback, and several colleges have extended scholarships with the same thing in mind.
Coming into his visit Friday to Athens, Duke, Iowa State, USF and Utah had all offered Wilkerson, and the University of Georgia became offer No. 5 late Friday afternoon. UGA recruiter of record John Lilly had mentioned the news might be coming, so when Wilkerson entered head coach Mark Richt's office, he wasted no time checking to see where things stood.
"I asked [Richt] when they might offer, and Coach Richt said I had an offer right now," Wilkerson said. "I was just smiling big when he said that; I could not believe it. They are a top-25 program, so it makes me feel good that they think I am a good enough athlete to help their program."
To continue reading this article you must be an Insider
February, 18, 2012
2/18/12
11:04
AM ET
North Marion (Citra, Fla.) defensive back
Reggie Wilkerson
will be taking the short trip to Florida for the third time in the last eight months this weekend.
"I went to UF for Friday Night Lights, and I also went to a game this past season with Latroy [Pittman]," Wilkerson said.
The 6-foot, 170-pound athlete has said that he is a Miami Hurricanes fan and likes the Gators as well. Despite that he plans to look around.
To continue reading this article you must be an Insider
Peach State: Top Tier Recruiting Ground?
SEC SCOREBOARD
Thursday, 9/3
Saturday, 9/5