Florida State Seminoles:

Valdosta State Blazers
December, 19, 2012
12/19/12
3:11
PM ET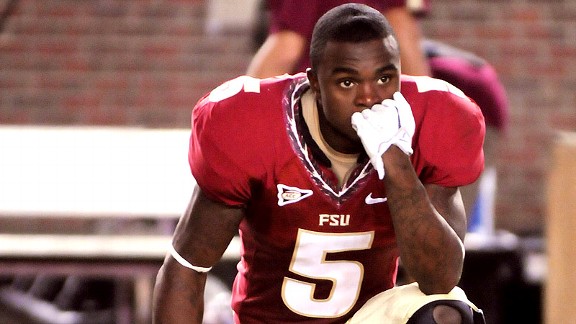 Melina Vastola/US PresswireGreg Reid was dismissed from the Florida State team over the summer, then tore his ACL before what would have been his senior season at Valdosta State.
Former Florida State cornerback Greg Reid said he plans to declare for the 2013 NFL draft, despite missing the entirety of the 2012 season with Valdosta State with a knee injury.
Reid could have applied for a medical redshirt that would have allowed him to return to college next season -- perhaps at a Division I school -- but he said the only destination he would have considered was FSU.
"If I had a chance to go back to a Division I school, of course it would be Florida State, but after [former defensive coordinator Mark] Stoops left and things like that, I think I'm going to declare for the draft and hope for the best," Reid said. "I want to just get my image cleared up and go from there. Train hard, work hard and hope everything pans out."
Reid was a three-year starter for the Seminoles at cornerback and punt returner, but he was dismissed on Aug. 1 for a violation of team rules following an arrest on charges of marijuana possession. It was Reid's third off-field violation.
Goodell Has Sit-Down With Jameis Winston
ESPN NFL Insider Field Yates discusses Roger Goodell's meeting with presumptive No. 1 draft pick Jameis Winston.
Goodell Has Sit-Down With Jameis Winston
VIDEO PLAYLIST
FSU FB RECRUITING SCORECARD
Nike Men's Florida State Seminoles #5 Garnet Football Limited Jersey Shop »
WellOffForever

Well Off


Get 25% off on your next Well Off purchase by using the code WOF!! Buy here at http://t.co/ys2bt5BouI http://t.co/mbX2PvcMgR
about 5 hours ago

AaronSuttles

Aaron Suttles


FULL STORY: Alabama defensive tackle Jonathan Taylor arrested for domestic violence. https://t.co/mS8Rexxi27
about 6 hours ago

accmbb

ACC Men\'s Basketball


#ACCMBB Recap: @NDmbb's Run Ends in #Elite8: http://t.co/vAAqMlW8SE
about 6 hours ago

WellOffForever

Well Off


Get 25% off on your next Well Off purchase by using the code WOF!! Buy here at http://t.co/ys2bt5BouI http://t.co/dXw4Br6q1J
about 7 hours ago

WellOffForever

Well Off


The money don't sleep! #WellOffForever http://t.co/2JTbShONkw
about 7 hours ago

idontwan2know

Alan Mundy


Luck = preparation + opportunity. RT @TomahawkNation: Was worried ND was actually going to win and I wouldn't be able to use that tweet.
about 7 hours ago

TomahawkNation

TomahawkNation.com


Was worried ND was actually going to win and I wouldn't be able to use that tweet.
about 7 hours ago

TomahawkNation

TomahawkNation.com


Notre Dame fails to stop historic streak. Again. http://t.co/BbjB7IZuY6 http://t.co/2DpjbtaYHc
about 7 hours ago

TomahawkNation

TomahawkNation.com


"We did a great job of winning"Karl Anthony-Towns is already qualified to be a TBS analyst.
about 7 hours ago

accmbb

ACC Men\'s Basketball


Final: @NDmbb falls to Kentucky 68-66.
about 7 hours ago

BrianHamiltonSI

Brian Hamilton


That's how you beat Kentucky.And Kentucky still wins.Wildcats 68, Irish 66.
about 7 hours ago

TomahawkNation

TomahawkNation.com


I feel like there are too many timeouts for a 40-minute game
about 7 hours ago

TomahawkNation

TomahawkNation.com


Who benefits if this goes to OT? Kentucky because of its depth?
about 7 hours ago

TomahawkNation

TomahawkNation.com


Length.
about 7 hours ago

FSU_Swimming

FSU Swimming/Diving


Connor Knight closes out his career with an #AllAmerica honorable mention in the 200 fly. Placing 9th. #Noles http://t.co/aZxZB96vKf
about 7 hours ago

Noles247

Noles247.com


Gamer: #FSU pounds Virginia Tech 19-9 http://t.co/EIC8DU1tfM via @Noles247
about 8 hours ago

Warchant

Warchant.com


The scoreboard couldn't even keep up. John Sansone started FSU's 11-run 8th inning Saturday: https://t.co/Om5Ijc2Irz http://t.co/NO1Xt5GCuj
about 8 hours ago

TomahawkNation

TomahawkNation.com


So at what point do we start to think UK might go down
about 8 hours ago

_ALLWORLD24

? Geno Smith \u2122 ?


I know I have lost respect from alot of Alabama fans and thats understandable but I will be better from these events in my life!
about 8 hours ago

_ALLWORLD24

? Geno Smith \u2122 ?


Moving forward I am praying to make better choices and decisions . So Learn from my mistakes and mis judgement!
about 8 hours ago

_ALLWORLD24

? Geno Smith \u2122 ?


I apologize to the University of Alabama , the football program and all the Alabama fans. I have made an awful decision on my part.
about 8 hours ago

WellOffForever

Well Off


Get your new Well Off shirt with 25% off by using the code WOF!! Buy here at http://t.co/ys2bt5BouI http://t.co/3k9MiEUJ5U
about 8 hours ago

TomahawkNation

TomahawkNation.com


Lol and Kentucky breaks its slump with an oop.
about 8 hours ago

NolesTV

NolesTV


An 11 run eighth broke open a close game for @FSU_Baseball #Noles HIGHLIGHTS: http://t.co/bkkVFJ2XPB http://t.co/neNqR0Exnu
about 8 hours ago

FSU_Baseball

FSU Baseball


The #Noles take the 2nd game of the series 19-9 over the Hokies http://t.co/iT7OS21eRH
about 8 hours ago

Warchant

Warchant.com


FINAL: Florida State 19, Virginia Tech 9. It's finally over. Seminoles poured on 11 runs in the 8th to win this one.
about 8 hours ago

DeionSanders

Deion Sanders


Kentucky done ran Into some @UnderArmour dogs with @NotreDame. This is when u got to have 2 dogs stand up 4 real Ain't no time to rotate!
about 8 hours ago

Warchant

Warchant.com


FSU's 11-run 8th inning is over. That's 14 runs between the two teams in the 8th, and 20 in the last 2 innings. FSU leads 19-7.
about 8 hours ago

Warchant

Warchant.com


FSU's first 10 batters this inning all reached base. Seminoles up 15-7 on Virginia Tech now (7 runs this inning) with one out.
about 9 hours ago

Warchant

Warchant.com


FSU taking its turn roughing up the Virginia Tech bullpen now. Seminoles have scored 4 in the 8th, have two on, no outs.
about 9 hours ago

Warchant

Warchant.com


FSU gets out of the 8th inning ahead 8-7. Those insurance runs are gone, though.
about 9 hours ago

Warchant

Warchant.com


FSU's bullpen falling apart in the 8th now. Seminoles started the inning with an 8-4 lead, now 8-7 with bases loaded and one out for Va Tech
about 9 hours ago

georgewhitfield

George Whitfield Jr.


The incomparable Bobby Bowden #FloridaState http://t.co/JRJsmdXKhp
about 9 hours ago

elwinter

Eric Winter


PRIME TIME: The http://t.co/G3FZTBIHER team is honored @DeionSanders showed up to represent @UnderArmour #RivalsCamp http://t.co/Pqs32II2qr
about 9 hours ago

TomahawkNation

TomahawkNation.com


Ugh Clark Kellog. PICK your poison. Nobody chooses their poison.
about 9 hours ago

TomahawkNation

TomahawkNation.com


Preciate y'all. What's better than google? 39,000 twitter followers.
about 9 hours ago

TomahawkNation

TomahawkNation.com


What channel is the kentucky game on?
about 9 hours ago

accmbb

ACC Men\'s Basketball


Tune to TBS now to see @NDmbb take on Kentucky for a spot in the #FinalFour!
about 10 hours ago

Noles247

Noles247.com


#FSU leads 8-4 in the 8th http://t.co/rXofFXllop via @Noles247
about 10 hours ago

Warchant

Warchant.com


Jameis Winston hanging out in the dugout as FSU baseball takes an 8-4 lead to the 8th inning against Virginia Tech.
about 10 hours ago

AGallina2010

Anthony Gallina


FSU leads 8-4 after seven innings. http://t.co/Rwa970au00
about 10 hours ago

Warchant

Warchant.com


Danny De La Calle doubles, and FSU's big inning continues. FSU is now up 8-4 after scoring 5 runs in the 7th.
about 10 hours ago

Warchant

Warchant.com


Hank Truluck draws ball four, and FSU is now up 6-4 with no outs in the 7th. Unraveling for Virginia Tech.
about 10 hours ago

Warchant

Warchant.com


Dylan Busby draws a bases loaded walk and FSU takes a 5-4 lead in the bottom of the 7th. Still no outs. Hank Truluck coming up.
about 10 hours ago

Noles247

Noles247.com


#FSU and #VT in a tight one. Follow along: http://t.co/37vomIWygf via @Noles247
about 10 hours ago

Warchant

Warchant.com


FSU not trying to repeat yesterday's 7th inning. Marconcini ties it up with an RBI single. 4-4 now, still no outs for Nieporte.
about 10 hours ago

theACC

The ACC


RT @accwbb: Tough day for #ACCWBB today. Both @Duke_WBB & @UofLWBB go down in the Sweet 16. http://t.co/8thtHoesdX
about 10 hours ago

FSU_Softball

FSU Softball


NOLES WIN! A strikeout from Burroughs ends it! FSU defeats Pitt, 7-0! #LTS http://t.co/1DbR3dctlU
about 11 hours ago

Warchant

Warchant.com


FSU ties up the game in the bottom of the 6th on a 2-run single from Josh Delph. 3-3 now.
about 11 hours ago

DeionSanders

Deion Sanders


Highschool Athletes if you're Tripping in highschool you will FALL in college. College coaches are looking for kids with Character! #Truth
about 11 hours ago

WellOffForever

Well Off


Work hard and never give up! #WellOffForever http://t.co/CwXx828rUV
about 11 hours ago

WellOffForever

Well Off


Get your new Well Off shirt with 25% off by using the code WOF. Buy here at http://t.co/ys2bt5BouI http://t.co/vLyBlJEEP0
about 11 hours ago

Warchant

Warchant.com


Virginia Tech back on top after two errors in the top of the 4th. Hokies take a 2-1 lead on FSU.
about 11 hours ago

Noles247

Noles247.com


#FSU leads 1-0 over VT in the 4th inning http://t.co/37vomIWygf via @Noles247
about 11 hours ago

TomahawkNation

TomahawkNation.com


Interested to see how some teams look tomorrow when they don't rotate their BCS-level QBs with guys who are DII/DIII level kids.
about 12 hours ago

Warchant

Warchant.com


Drew Carlton has now struck out 5 straight batters. FSU due up in the bottom of the second with a 1-0 lead.
about 12 hours ago

Warchant

Warchant.com


FSU takes a 1-0 lead in the first inning against Virginia Tech. Taylor Walls reached on an error, scored on a wild pitch. Hokies due up now.
about 12 hours ago

dylankidd

Dylan Kidd


@TomahawkNation @DwightAKAJP2 completely true. @TN_Hoops @RodMahoney and others just kill it and go under appreciated for it traffic-wise.
about 12 hours ago

Warchant

Warchant.com


Drew Carlton and FSU get through the first inning 1-2-3. Live chat here: https://t.co/mAncJwtJls (FREE)
about 12 hours ago

TomahawkNation

TomahawkNation.com


Very much like the idea of Travis Rudolph in the slot. http://t.co/iqmeWw0ThM #Noles #FSU
about 12 hours ago

TomahawkNation

TomahawkNation.com


.@DwightAKAJP2 & our hoops & bases coverage is insanely good. You just don't get the bandwagon fan traffic for those like you do football.
about 12 hours ago

TomahawkNation

TomahawkNation.com


.@DwightAKAJP2 yeah lol. From biz perspective an injury to a backup fullback is more newsworthy than a recap of a basketball game. crazy.
about 12 hours ago

TomahawkNation

TomahawkNation.com


Feel like I watch less and less FSU baskets and baseball each year, but in biz terms, football is #1, recruiting #2, spring football #3
about 12 hours ago

TomahawkNation

TomahawkNation.com


.@cbfsu13 oh, @RodMahoney might know about the baseball game.
about 12 hours ago

FSU_Baseball

FSU Baseball


Here are today's starting lineups for the #Noles http://t.co/sJMH42yqdD
about 13 hours ago

MarioLopezExtra

Mario Lopez


Nico & I ran into my guy @DeionSanders at lunch. Love this dude, great energy... What's up @Traceyeedmonds :) http://t.co/E6eJVvjqNU
about 13 hours ago

TomahawkNation

TomahawkNation.com


The video quality on the Note 4 is great.
about 13 hours ago

Warchant

Warchant.com


Freshman RHP Drew Carlton (1-1, 5.59) makes his third start of the season tonight. He's been the Saturday starter with Mike Compton out.
about 13 hours ago

Warchant

Warchant.com


FSU Lineup1. Walls SS2. Sansone 2B3. Stewart LF4. Marconcini DH5. Nieporte 1B6. Busby 3B7. Truluck CF8. Delph RF9. De La Calle C
about 13 hours ago

Noles247

Noles247.com


Video: Fisher talks Saturday's practice - http://t.co/Fqjh6FBWki via @Noles247
about 13 hours ago

FSU_Softball

FSU Softball


NOLES WIN! Lacey Waldrop earns her 100th career victory as FSU takes down Pitt, 8-0! http://t.co/Pl3CWr51SB
about 13 hours ago

bevobeat

Bevobeat


Source: Texas officials will release men's basketball coach Rick Barnes http://t.co/STsiIDii9q http://t.co/xrp9Z6h8xV
about 13 hours ago

TomahawkNation

TomahawkNation.com


Florida State and Virginia Tech: Game 2 - Saturday, 6PM http://t.co/Us8ZdaopTg
about 13 hours ago

accwbb

ACC WomensBasketball


Familar foes square off in the Sweet 16 WATCH LIVE on ESPN or WatchESPN - @Duke_WBB vs Maryland #ncaaW http://t.co/WQD0RSMHTP
about 13 hours ago

accmbb

ACC Men\'s Basketball


The ACC has 3 teams - @Duke_MBB , @GoCards, @NDmbb - in #NCAA Tournament Regional Finals for the 1st time since 1985 & the 3rd time overall.
about 14 hours ago

FSU_MTennis

FSU Men\'s Tennis


#Noles win! Terrell Whitehurst clinches the match in a third-set win on Court 6; FSU wins 4-3. http://t.co/Me4ijlyvIV
about 14 hours ago

FSU_track

Florida State Track


Chelsea Jarvis talks about her 1500 win and the #Noles women winning FSU Relays team title http://t.co/zQelk5n7qz
about 14 hours ago

DeionSanders

Deion Sanders


Want 1? http://t.co/ueXFhETiW4
about 14 hours ago

DeionSanders

Deion Sanders


My dear friend and Hall of famer @CharlesHaley94 http://t.co/gZxw7ahcJz
about 14 hours ago

DeionSanders

Deion Sanders


Prime and Lil Nate Newton http://t.co/6C0Fr2z8ji
about 14 hours ago

DeionSanders

Deion Sanders


Cincy baby! http://t.co/ikZ77otqSP
about 14 hours ago

DeionSanders

Deion Sanders


Young Prime! http://t.co/KlZwtm2F8A
about 14 hours ago

DeionSanders

Deion Sanders


I Love the @AtlantaFalcons ! http://t.co/fTpN3qsknl
about 14 hours ago

DeionSanders

Deion Sanders


Home!!! #Truth http://t.co/Szqjapatzf
about 14 hours ago

DeionSanders

Deion Sanders


If I'm praising him that means I was raising them legs highstepping on the 21st cloud in a breeze like the wind. http://t.co/O0ngiMJBKf
about 14 hours ago

accmbb

ACC Men\'s Basketball


Catch @GoCards #MarchMadness press conference from 3:40pm - 4:20pm: http://t.co/Uen8PFxiDw http://t.co/rcTBBdzjqK
about 15 hours ago

DavidHaleESPN

David Hale


Steve Addazio on #BC's last spring scrimmage... http://t.co/P9RcPPrw4G
about 15 hours ago

DavidHaleESPN

David Hale


Dave Clawson on #Wake's first spring scrimmage... http://t.co/OMjXFznO88
about 15 hours ago

Seminoles_com

Seminole Athletics


Double header with @FSU_Softball today starting at 4p ET!🔊 :http://t.co/WOOuhiTMXD http://t.co/6wGsdNZYT5
about 15 hours ago

WellOffForever

Well Off


Get your new Well Off shirt with 25% off by using the code WOF. Buy here at http://t.co/ys2bt5BouI http://t.co/m4uVk7mzl2
about 15 hours ago

Noles247

Noles247.com


#FSU commit Jamel Cook to take other visits http://t.co/zPxl4QJnCs
about 16 hours ago

accwbb

ACC WomensBasketball


It's a super sweet Saturday with @Duke_WBB playing Maryland & @UofLWBB playing Dayton this afternoon in the #NCAAW
about 16 hours ago

accwbb

ACC WomensBasketball


WATCH LIVE on ESPN or WatchESPN - @UofLWBB vs Dayton #ncaaW http://t.co/Pe3IE47NoJ
about 16 hours ago

Warchant

Warchant.com


Tyler Hunter called FSU freshman Derwin James "a freak of nature." Said "He's going to knock somebody out in the scrimmage."
about 16 hours ago

Warchant

Warchant.com


Updated post-practice notes from FSU spring football. Maguire gets an 'A-minus' from Jimbo, injuries, and more. ($) https://t.co/UkjhpZASTy
about 16 hours ago

TomahawkNation

TomahawkNation.com


4-star FSU DB commit Jamel Cook to take visits #Noles #FSU @rollbamaroll http://t.co/06SIkUMftB http://t.co/5rW8ZGvA4j
about 16 hours ago

accmbb

ACC Men\'s Basketball


Watch today's #MarchMadness Press Conferences LIVE on http://t.co/10Um6KcFyN: http://t.co/Uen8PFxiDw http://t.co/K6PbBzCjis
about 17 hours ago

TomahawkNation

TomahawkNation.com


I don't care if Kaaya throws 10 picks in a spring game. He's Miami's guy. Rest of the Qbs on that roster no threat. Spring means nothing.
about 17 hours ago

Noles247

Noles247.com


Walker says #FSU pass rush improving - http://t.co/cAHCBHbbr4 via @Noles247
about 17 hours ago

ACCMLax

ACC Men\'s Lacrosse


Doesn't get any better than the top 2 teams in the nation playing. Watch @CuseMLAX at @NDLacrosse on ESPNU/WatchESPN http://t.co/BCY74cMhzW
about 17 hours ago
ACC SCOREBOARD
Thursday, 9/3
Saturday, 9/5
Monday, 9/7
BLOG ARCHIVE:
CATEGORIES: