Florida State Seminoles:

Tim Brewster
October, 17, 2013
Oct 17
5:30
AM ET
The Early Offer is RecruitingNation's regular feature, giving you a daily dose of recruiting in the mornings. Today's offerings: Oregon State coach Mike Riley launched a new Twitter campaign on Tuesday to help the Beavers connect with recruits across the country; LSU's
Frank Wilson
didn't make the first edition of the ESPN recruiting power rankings, but he could be leading the poll by signing day; and a question and answer session on Wednesday helped identify what topics are most important with recruiting fans today.
#SmartRecruitingTool
Oregon State coach Mike Riley has more than 18,900 followers and is great communicating with fans on Twitter. So it was no surprise to see him launch a campaign Tuesday called "Tweet Film Tuesday" where he asked recruits to send him links to their film, and he and his staffers will then select 10 recruits to evaluate each week. With only 140 characters to work with, Riley didn't explain how he and his assistants would pick the 10 recruits to evaluate, but the idea is ingenious. Not only does it help Riley and the Beaver coaches communicate with prospects in a way they're already familiar with, it also allows the OSU coaches to find prospects they might not have been familiar with who are truly interested in the program. Also with Riley's track record of uncovering hidden talent, you can all but guarantee there will be a story a few years down the road where the Beavers found a sleeper through this approach.
To continue reading this article you must be an Insider
July, 8, 2013
Jul 8
5:53
PM ET
ESPN 300 athlete
Treon Harris
(Miami/Booker T. Washington) is staying in the ACC, but he's leaving his hometown.
The 5-foot-11, 186-pound four-star prospect committed to Florida State over Miami on Monday afternoon, calling the Seminoles' coaching staff to share the news.
To continue reading this article you must be an Insider
July, 8, 2013
Jul 8
8:00
AM ET
Target:
ESPN 150 CB
Tony Brown
(Beaumont, Texas/Ozen), 6-foot, 196 pounds.
Status:
Undeclared
Offers:
Alabama, Arkansas, Auburn, Baylor, Florida State, Illinois, LSU, Michigan State, Mississippi State, Nebraska, Notre Dame, Ohio State, Oklahoma, Ole Miss, Rutgers, South Carolina, TCU, Texas, Texas Tech, UCLA, USC and West Virginia.
To continue reading this article you must be an Insider
June, 14, 2013
Jun 14
8:30
AM ET
TALLAHASSEE, Fla. -- If you're looking for the next group of quarterbacks that will come through Florida State, the practice fields at the Jimbo Fisher Camp was the place to be.
J.J. Cosentino
(Pittsburgh/Central Catholic), a 2014 commitment, was strong in drills under Fisher's watchful eye, and
De'Andre Johnson
(Jacksonville, Fla./First Coast), a 2015 commitment, was right behind him.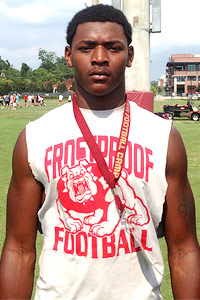 Corey Dowlar/ESPNXavier Gaines, a 2016 prospect, is impressed with Florida State's track record of developing QBs.
Xavier Gaines
(Frostproof, Fla./Frostproof), a 2016 QB, also fit right in with the older campers. He measured in at 6-foot-2, 215 pounds and said he learned some new, beneficial techniques.
To continue reading this article you must be an Insider
June, 5, 2013
Jun 5
10:00
AM ET
This week's targets:
Florida State sent out a couple of new offers this week in both the 2013 and 2014 classes.
To continue reading this article you must be an Insider
May, 29, 2013
May 29
9:00
AM ET
MANVEL, Texas -- When 2015 tight end
Jordan Davis
(Houston/Clear Lake) committed to Florida State in March, he acknowledged that he knew other schools and coaches would continue to recruit him in the coming months and years.
Perhaps what caught him a little off guard was how quickly others threw their hat in the ring.
To continue reading this article you must be an Insider
May, 28, 2013
May 28
3:00
PM ET
Tight end is an interesting position to watch at Florida State. Though it appears to be a deep group, it's not that far away from being bare.
To continue reading this article you must be an Insider
May, 19, 2013
May 19
9:40
AM ET
Markell Pack
(Purvis, Miss./Purvis) has been high on the Seminoles board for quite a while. So when he committed to Florida State late Saturday night, it was not a surprise that the Florida State coaches were a happy group.
New assistant coach Tim Brewster was the first to get the news Sunday morning.
"I decided to do it last night and when we talked this morning, they were pretty fired up," Pack said.
During the recruiting process, it was Brewster's candid approach that really hooked Pack.
"He's just straight up with me," said Pack, who holds offers from Georgia, Ole Miss and Mississippi State amongst others.
The 6-foot-2, 175-pound receiver is versatile given his size. He'll be able to do a lot of things at the next level, whether in the slot or out wide.
And from his perspective, he thinks he'll enter the offense as a good match.
"I just really like what they've got going," he said. "I think I'll fit in great."
Pack joins J.C. Jackson (Immokalee, Fla./Immokalee), JoJo Robinson (Miami/Northwestern) and C.J. Worton (Homestead, Fla./South Dade) as the other wide receivers in Florida State's 2014 class.
Pack, who ranks as a four-star prospect, is the tenth commitment for the Seminoles in this class.
May, 14, 2013
May 14
9:00
AM ET
Each season brings with it new expectations, and a handful of Seminoles will bear the brunt of the pressure to perform in 2013. We're counting down the top 10 Florida State players being counted on the most to help the Seminoles live up to expectations.
No. 9: TE Nick O'Leary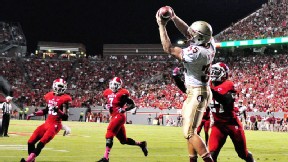 Rob Kinnan/US PresswireFlorida State tight end Nick O'Leary caught 21 passes in 2012.
2012 performance:
Those expecting a marked improvement from O'Leary's freshman season in which he caught 12 pass were disappointed as the talented sophomore managed just 21 catches for 252 yards and three touchdowns. It's not that those totals were awful -- O'Leary, in fact, enjoyed one of the most productive seasons by an FSU tight end in a while -- but they certainly didn't match rather lofty expectations. O'Leary also seemed to disappear for long stretches.
Pressure point:
O'Leary arrived amid much hype, and for good reason. He's got the size to be a solid blocker, but his athleticism and pass-catching ability should make him a major mismatch against linebackers and defensive ends. Through two seasons, however, FSU hasn't enjoyed many fruits of those mismatches. The pressure to find more success as a junior will be ratcheted up even further in 2013. With fullback Lonnie Pryor gone, Jimbo Fisher has said he plans to use O'Leary at halfback and will scheme numerous sets with two tight ends. That's a potentially successful wrinkle to the FSU offense -- but only if O'Leary blossoms into the star he's been projected to become.
If he succeeds:
Several potential stumbling blocks for FSU's offense could be instantly solved if O'Leary puts together an all-conference-caliber season. If O'Leary's blocking improves, he could help ease the loss of Menelik Watson on the right side. If he becomes a more consistent threat in the passing game, he could provide a valuable safety valve for a young quarterback. If he can avoid making dumb mistakes -- such as fumbling while trying to hurdle defenders -- he could supply the same type of consistency that made Pryor such a valuable part of FSU's offense. Those are all big ifs at the moment.
If he fails:
Fisher raved about the progress of senior
Kevin Haplea
this spring, and the Penn State transfer at least provides FSU with a solid Plan B at tight end. Haplea will never be the receiving threat O'Leary already is, but after a year in the program, he's at least consistent as a blocker and can do enough in the passing game to be an asset. Still, Haplea is the safe option. O'Leary is the potentially explosive one. If O'Leary fails to develop, FSU misses out on a major weapon who could be even more valuable with a young quarterback running the show. More importantly, struggles from any of FSU's tight ends ties Fisher's hands in terms of scheme.
Projection:
The first step in meeting expectations for O'Leary would be to simply stop making so many ugly plays. It's one thing to disappear in the offense (something O'Leary has done at times) but it's another to turn a potentially big play into a disastrous one (something O'Leary has become known for among frustrated fans). New tight ends coach Tim Brewster knows he has a potential gold mine in O'Leary, though, and those struggles in 2012 might have served to light a fire under a player who was No. 20 in the ESPN 150 in the 2011 class. O'Leary will be given plenty of chances to shine, and a solid step forward -- 30 catches, more looks in the red zone -- would be a welcome addition. Anything more, and FSU's offense could become a lot more dynamic than many are projecting.
April, 17, 2013
Apr 17
2:00
PM ET
A Lone Star State prospect who has seen his profile rise quickly this spring is 2015 tight end
Jordan Davis
. The Houston Clear Lake product committed to Florida State in March. At the time, the Seminoles were his only offer but the relationship existed for some time after Davis visited an FSU camp last summer. The 6-foot-4, 250-pound tight end acknowledged that even with the commitment, he would take visits and in the last month has gone to Texas for its sophomore day and most recently, to Texas A&M for the Maroon-and-White spring game. He has added offers from Texas and Oklahoma since his commitment.
Davis, who is being courted by Aggies special teams coordinator and tight ends coach Jeff Banks as well as offensive coordinator Clarence McKinney, recaps his visit to Aggieland with GigEmNation:
To continue reading this article you must be an Insider
April, 1, 2013
Apr 1
11:30
AM ET
This weekend gave Florida State a chance to improve its standing with commitment
C.J. Worton
(Homestead, Fla./South Dade) amid the speculation of Miami's increased influence.
To continue reading this article you must be an Insider
March, 29, 2013
Mar 29
7:31
AM ET
James Coley's departure to Miami has already made an impact.
Joseph Yearby
(Miami/Central), a former Florida State commitment, switched to the Hurricanes since the change was made.
And now Coley is hoping it can happen again with wide receiver
C.J. Worton
(Homestead, Fla./South Dade). Miami recently offered the Florida State commitment and gave him something new to think about.
To continue reading this article you must be an Insider
March, 28, 2013
Mar 28
7:51
PM ET
TALLAHASSEE, Fla. -- Tim Brewster is excited to be at Florida State, and he's not interested in tempering his enthusiasm -- particularly on the recruiting trail.
Just days after taking over as FSU's new tight ends coach and recruiting coordinator, Brewster took to Twitter to lay the groundwork with some top targets.
[+] Enlarge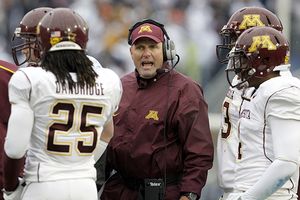 AP Photo/Carolyn KasterFormer Minnesota coach Tim Brewster wasted no time introducing himself to recruits in the state of Florida after joining the Seminoles.
"All the ballers in Miami just know I'm coming to getcha," Brewster tweeted as part of a flurry of excitement aimed at south Florida recruits.
It might have been an ostentatious opening salvo in the recruiting battles with his in-state rivals, but Brewster is making no apologies. That's how he does business.
"I'm not bashful, and I'm extremely proud of the university I represent," Brewster said. "I just want to make sure that people understand, we're going to take an extremely aggressive approach to getting the best players in the state of Florida to come to Tallahassee. We're going to recruit relentlessly."
It's an infectious enthusiasm, and it's a big part of what caught Jimbo Fisher's attention after former FSU recruiting coordinator -- and south Florida expert -- James Coley departed to join the Miami Hurricanes.
Still, Brewster knows that all his in-person excitement doesn't always translate well to social media. It's just that when he's excited about something, he just can't help himself.
"If you're not using social media, you're missing the boat. It's a tremendous way to reach out, because young people today, that's how they communicate," Brewster said. "I try not to go overboard, but it's hard sometimes, because I enjoy it."
March, 7, 2013
Mar 7
6:32
PM ET
Florida State's much-hyped quarterback competition was hardly at full speed during Thursday's drills.
Jameis Winston
was absent from the proceedings, part of a balancing act with his baseball career, and
Jacob Coker
was limited to a stationary bike due to a foot injury. But Jimbo Fisher said things are about to get much more interesting once spring practice begins, and he expects it to be a wide-open competition.
"I think I know what their abilities are, but you never know what somebody is capable of until they're put out there in a position to lead and take off," Fisher said. "You just have to let it happen and trust your eyes. Don't force it. Let them tell you. You can't tell them."
[+] Enlarge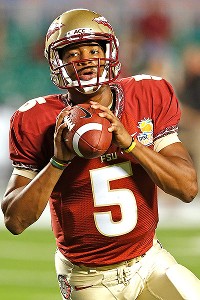 Joel Auerbach/Getty ImagesHeralded quarterback Jameis Winston was redshirted last season.
Among the three leading contenders for the job vacated by
EJ Manuel
,
Clint Trickett
was the only full participant Thursday, but both Winston and Coker should be back at work in time for spring practice, which begins March 20.
Coker has a minor foot injury and has been wearing a walking boot, but Fisher said he expects the sophomore "should be out there every day" this spring. Winston, who has been an integral part of the FSU baseball team thus far, will shift his focus back to football then, too, with Fisher assuring the freshman won't miss a single meeting or practice.
While Winston has only been a limited participant during fourth-quarter drills, his work has been impressive.
"He came over the other day and blew this thing away," Fisher said. "He flew around here like a wild man. He's in great shape, he's throwing, he's probably up there watching film by himself an hour or two hours a day. He's been right involved in the middle of everything."
While Winston has impressed, Fisher certainly isn't indicating he has a favorite in the race. In fact, he said he'll let what happens on the practice field -- both in the spring and potentially into fall camp -- decide who will win the starting job.
"It's going to be very interesting not only to see how they do their job but how they can make the other 10 guys around them do their job and make the guys on defense feel uncomfortable about them doing their job," Fisher said. "That's all important for a quarterback."
Auburn Fan Hopes To Cash In