Florida State Seminoles:

Thomas Holley
November, 27, 2013
Nov 27
9:00
AM ET
The annual Florida-Florida State game is usually one of the top games in the country. This year, with Florida's disappointing season, the game seems to have lost some luster. Florida State, however, is fighting for a chance to make it to the BCS National Championship game in January. The Gators would like nothing more to ruin their archrival's season, especially in front of several top recruits. Here's a closer look at which recruits will be watching this weekend.
To continue reading this article you must be an Insider
November, 4, 2013
Nov 4
5:30
AM ET
The Early Offer is RecruitingNation's regular feature, giving you a daily dose of recruiting in the mornings. Today's offerings: With the newest edition of the
BCS rankings released
, we take a look at the biggest headlines of the top five teams from the recruiting trail.
To continue reading this article you must be an Insider
October, 8, 2013
Oct 8
8:00
AM ET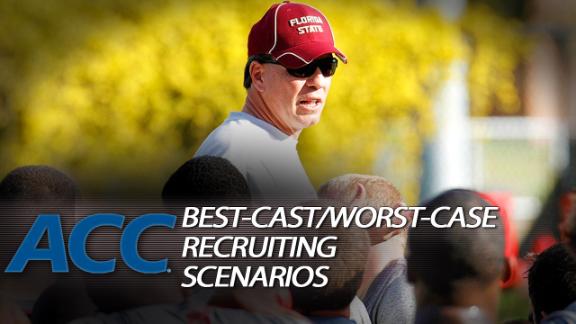 Hope for the best but prepare for the worst. That is what college coaches must do when it comes to recruiting. Every coach would love to land their top target at every position, but coaches are forced to play the what-ifs and continue to recruit prospects lower on the recruiting board. With signing day a few months away and several classes close to completion, college staffs are pushing for those few final targets but also keeping a watchful eye on players down the board.
Here are the best- and worst-case scenarios for each of the ACC schools.
To continue reading this article you must be an Insider
September, 20, 2013
Sep 20
11:00
AM ET
By
Corey Dowlar & Jared Shanker
| ESPN.com
In this week's mailbag, ACC recruiting writers Jared Shanker and Corey Dowlar address a bunch of questions submitted on Twitter.
Florida State, Miami, North Carolina and the ACC newcomers are all covered here.
@jgreco33 asks: Is Miami QB Brad Kaaya a solid lock, and can he come in and play right away? Also, did his mom really play in the movie Friday?
Dowlar:
Well, unless San Diego State can somehow unseat Miami for him, I think he's headed to Coral Gables. There isn't a ton of local competition for Kaaya, and Miami has a program of prestige, so on that front, I think the Hurricanes are OK.
He might be able to get into that conversation right away, but I see
Kevin Olsen
as the future of that offense. Olsen has got a lot of talent and a good arm. I would be surprised if he's not the guy going forward.
As for his mom, a quick search would suggest that she is. I don't know for sure, though, so don't quote me on that.
---
@ShaneArrington1 asks: Who is the most underrated recruit that could be a huge get for the Noles?
Dowlar:
To me, I think this one is obvious from looking at the commitment list.
Ethan Frith
is considered a three-star talent by most. And judging from his junior year, that's probably about right. But after seeing him in camp, some 20 or 30 pounds lighter, FSU is going to have a monster offensive tackle to work with.
Trickett absolutely loved him when working with him over the summer. He's a guy who has his weight under control now and can be built up properly. And, oh yeah, he's huge at 6-foot-7.
As far as uncommitted targets who could fit here, two come to mind, really.
Frank Ragnow
, the offensive tackle out of Minnesota, and
Ryan Izzo
, the tight end who just visited last weekend, are good looking, physical prospects.
---
@baxterfsu1 asks: Has joining the ACC helped recruiting for Pittsburgh, Syracuse and Louisville?
Shanker:
It can't be pinpointed to just moving to the ACC, but it is clear the impending switch for Louisville is having quite the impact on the Cards' recruiting efforts. The 2013 class finished No. 43 in the country. In 2014, Louisville sits at No. 18 and has five ESPN 300 commitments. For the Cards and Charlie Strong, there is no more answering questions to recruits about the future of the program and whether Louisville is going to be able to compete for national titles. Playing in the Conference Formerly Known as the Big East could have kept Louisville out of the future playoffs.
The Sugar Bowl win against Florida went a long way, too. Let's not forget that.
As for Pittsburgh and Syracuse, I'm not sure the move has paid big dividends yet or if it will at all. The Panthers are recruiting Virginia a lot more and have a shot at ESPN 300 receiver
Jamil Kamara
. As of now, however, the impact has been minimal. The same can be said for Syracuse. Now, if the Panthers land Kamara or the Orange reel in
Thomas Holley
, I might change my tune some.
---
@t_pope10 asks: other than Elijah Hood who is UNC next big recruit? I think Caleb Henderson, and do you think he will start next year?
Shanker:
Assuming you mean just UNC commitments, then I would agree it is Henderson. It can still be argued he is the biggest recruit in the 2014 class for the Tar Heels strictly based on the position he plays. With
Bryn Renner
set to graduate, there is an opportunity to play early next season. However, UNC also has freshman quarterback
Mitch Trubisky
, an ESPN 300 QB in 2013 who enrolled in January. Trubisky will have two spring practices and a full season uinder his belt heading into the 2014 season. Clearly Henderson has an opportunity to play early, but there is a lot he will need to do to see the field next year as a freshman.
---
@oalege87 asks: Why does it seem like FSU is lagging behind Florida and Miami for the big names in the state for 2014 and 2015?
Dowlar:
I honestly think you could point to the coaching changes of last offseason as the main reason here. Florida State had to replace the majority of their assistants, and that's a lot of relationships to restart.
But I also think it's not insurmountable. If you look at the direction the teams are headed -- and it is obviously early -- Florida State has been the most impressive team of the three. If
Jameis Winston
continues to play well and the Seminoles have a good year, they'll make that ground up pretty easily.
Yes, I know Miami fans, that was a good win over Florida. But that wasn't necessarily aesthetically pleasing. I think you'll agree with that.
It will, however, be increasingly more difficult for the Seminoles to go into Miami and grab recruits out of there if Miami has a strong season. But the trend of Florida State's targeting seems to be more along the lines of Interstate 10 from Jacksonville to Alabama.
September, 19, 2013
Sep 19
9:15
AM ET
Ten ESPN 300 prospects from the East region count themselves among the top uncommitted prospects in the 2014 class, and there is a very strong ACC flavor to most of their recruitments. An ACC school is the favorite or in the running for eight of the 10, and surprisingly it is not just Florida State and Miami, which are both in the top five of the ESPN class rankings, under consideration.
Here is a recruiting breakdown of the uncommitted ESPN 300 prospects from the East region:
DE Da'Shawn Hand (Woodbridge, Va./Woodbridge)
To continue reading this article you must be an Insider
September, 17, 2013
Sep 17
8:00
AM ET
Few recruits are labeled indispensable to a class, but there are must-have prospects on the recruiting board for every school across the country. The reasons vary, however, ranging from whether the recruit fills a position of need or if he is an in-state prospect a program cannot afford to miss.
Here is the top target for each ACC school and the reasons behind it.
Boston College
S Lubern Figaro (Everett, Mass./Everett)
6-foot-1, 180 pounds
ESPN 300 rank:
N/A
Steve Addazio's first full class at BC is close to completion, but he would like to add one more important in-state piece before signing day. Figaro continues to list BC among his top five, along with Michigan State, Syracuse, Vanderbilt and Wisconsin. The Badgers will get his first official visit, as he will be in Madison this weekend. The Eagles have some work to do to keep Figaro at home, but there is a lot of time left to secure his pledge.
To continue reading this article you must be an Insider
August, 15, 2013
Aug 15
1:00
PM ET
This is the quietest time of a recruiting season that is active for nearly all but a few weeks of the year. Both high school and college programs are in the midst of a preseason practice, so recruiting takes a back seat. That is not to say recruiting still isn't in the air, as even during the slow periods there is always news going on.
FSU beats division rival for Leonard

The future of the ACC Atlantic Division was not decided Aug. 13, but it is always nice to beat not just a conference rival, but a division rival for a recruit. Three-star
Rick Leonard
(Middletown, Md./Middletown), the No. 34 defensive end nationally, chose Florida State over Clemson earlier this week. Leonard adds to an impressive defensive line haul for the Seminoles, who also have two ESPN 300 linemen committed. On the other hand, Clemson doesn't have any committed defensive ends.
To continue reading this article you must be an Insider
June, 29, 2013
Jun 29
2:40
PM ET
Now that five-star defensive tackle
Andrew Brown
(Chesapeake, Va./Oscar Frommel Smith) has verbally committed to Virginia, his other four finalists -- Alabama, FSU, Virginia Tech and Clemson -- are forced to look in other directions. Here's a closer look at some of the targets they are considering:
To continue reading this article you must be an Insider
June, 22, 2013
Jun 22
6:49
PM ET
The Opening, presented by Nike, will feature 162 of the best high school football players in the country. The event, which will include linemen, 7-on-7 and SPARQ testing competitions, is set to run from June 30 to July 3 at the Nike headquarters in Beaverton, Ore.
The following events from The Opening will be televised on ESPNU:
July 1: SPARQ Rating National Championship, 7 p.m.-8:30 p.m. ET
July 2: 7-on-7 Pool Play, 9 p.m.-11:30 p.m. ET
July 3: Linemen Challenge Finals and 7-on-7 semifinal and championship games, 9 p.m.-midnight ET
The players will be divided in to six teams -- Alpha Pro, Apocalypse, Field Generals, Land Sharks, Super Bad and Vapor Carbon. Here is a closer look at how the teams match up.
Team:
Alpha Pro
Coaches:
Offensive coordinator Jordan Palmer, defensive coordinator Hardy Nickerson
The Alpha Pro team will have plenty of targets to spread the ball around.
Ermon Lane
and
Tyler Luatua
, the No. 1-ranked receiver and tight end in the country respectively, bring size and playmaking ability to the passing game. ESPN 300 athletes
Corey Holmes
,
Jalen Hurd
,
John "JuJu" Smith
,
Ja'Von Harrison
, and
Derrell Scott
are all explosive offensive weapons.
Defensively Alpha Pro is led by
Andrew Brown
, the No. 1-ranked defensive tackle in the country, ESPN 150 cornerback
Damon Webb
, defensive end
Andrew Williams
, Ohio State linebacker commit
Dante Booker
and LSU cornerback commit
Chris Hardeman
.
Complete Alpha Pro
roster
.
Team:
Apocalypse
Coaches:
Offensive coordinator Adam Tafralis, defensive coordinator Donovin Darius
The first thing that jumps out about team Apocalypse is the talent in the defensive front seven. Team Apocalypse will be led by five-star defensive end
Da'Shawn Hand
and inside linebacker
Raekwon McMillan
. Hand, from Woodbridge, Va., is the No. 4-ranked player in the country, while McMillan was recently bumped up to a five-star linebacker. Joining Hand and McMillan along the front seven are ESPN 300 defensive linemen
Anthony Moten
and
Ainuu Taua
, and linebackers
D.J. Calhoun
and
Rashaan Evans
.
Offensively, team Apocalypse has no shortage of playmakers. ESPN 300 wide receivers
Artavis Scott
,
K.D. Cannon
and
Michiah Quick
will provide explosiveness in the passing game, while athletic running backs
Joe Mixon
and
Royce Freeman
will provide athletic and reliable targets out of the backfield.
Complete Apocalypse
roster
.
Team:
Field Generals
Coaches:
Offensive coordinator Charlie Frye, defensive coordinator Michael Fletcher
Seven-on-seven events are always geared towards the offense, but with five-star defensive back
Adoree' Jackson
, No. 3-ranked safety
Jamal Adams
, and ESPN 300 cornerback
Adarius Pickett
in the secondary, the Field Generals should more than hold their own. New Ohio State defensive end commit
Jalyn Holmes
and the No. 6-ranked defensive end in the country,
Solomon Thomas
, will be two to watch along the defensive line.
Offensively, the Field Generals are led by ESPN 300 offensive guard
Damien Mama
, ESPN 300 wide receivers
Austin Roberts
and
Thaddeus Snodgrass
and explosive Notre Dame running back commit
Elijah Hood
.
Complete Field Generals
roster
.
Team:
Landsharks
Coaches:
Offensive coordinator Craig Nall, defensive coordinator Keith Bulluck
The Landsharks have some big-time talent along each line of scrimmage. Led by five-star offensive tackle
Cameron Robinson
, the Landsharks also feature ESPN 300 offensive guard
Corey Martinez
. ESPN 300 defensive linemen
Gerald Willis III
and
Thomas Holley
, as well as ESPN 300 defensive end
Chad Thomas
, will form a very physical and athletic defensive line.
In the secondary, the Landsharks will have three defensive backs --
Arrion Springs
,
Chris Lammons
and
Tony Brown
-- that are ranked among the top 85 players in the country. The defense also features ESPN 150 linebacker
Nyles Morgan
.
Offensively, explosive running backs
Dalvin Cook
, a Florida commit, and
Racean Thomas
form a dangerous tandem out of the backfield, and wide receivers
Travis Rudolph
and
Jalen Harvey
are solid receiving threats.
Complete Landsharks
roster
.
Team:
Superbad
Coaches:
Offensive coordinator Dennis Gile, defensive coordinator Harold Nash Jr.
The Superbad defense line is led by five-star defensive end
Lorenzo Carter
and ESPN 150 defensive tackle
Bijhon Jackson
. The linebacking corp is stacked with three ESPN 300 members, including
Clifton Garrett
,
Christian Miller
and
Edwin Freeman
. Cornerback
Jalen Tabor
is the No. 19-ranked player in the country.
Offensively, Superbad has a huge advantage with the No. 1-ranked prospect in the country, running back
Leonard Fournette
. This team is loaded on offense, with wide receivers
Drake Harris
,
Josh Malone
and
Speedy Noil
all in the mix.
Complete Superbad
roster
.
Team:
Vapor Carbon
Coaches:
Offensive coordinator George Whitfield, defensive coordinator Chris Gizzi.
Vapor Carbon will be tough to throw against with defensive backs
Quin Blanding
,
Naijiel Hale
and
Ed Paris
roaming the field. The linebacker group is just as impressive, with Ohio State commit
Kyle Berger
,
Kain Daub
and
Dillon Bates
all leading the way.
The offense for Vapor Carbon could be lethal with running back
Joseph Yearby
and
Nick Chubb
in the backfield. Spreading out wide receivers
T.V. Williams
,
Justin Brent
and tight end
Ian Bunting
on the outside could prove to be an awesome combination for this squad.
Team Vapor Carbon has a lot of pieces to make a long run in the 7-on-7 tournament, but then again, every team is stacked in this competition.
Complete Vapor Carbon
roster
.
June, 13, 2013
Jun 13
9:14
PM ET
GAINESVILLE, Fla. -- Like many a northerner,
Thomas Holley
is soaking up some sun on a summer visit to the state of Florida.
But there aren't any beaches on Holley's itinerary. No, this is a fact-finding mission for the ESPN 150 prospect from Brooklyn (N.Y.) Lincoln.
Holley visited Florida State on Wednesday, Florida on Thursday and plans to be on Miami's campus on Friday.
The 6-foot-4, 300-pound defensive tackle, rated No. 8 in the nation at his position, found the first two stops to be a lot alike.
To continue reading this article you must be an Insider
June, 6, 2013
Jun 6
9:00
AM ET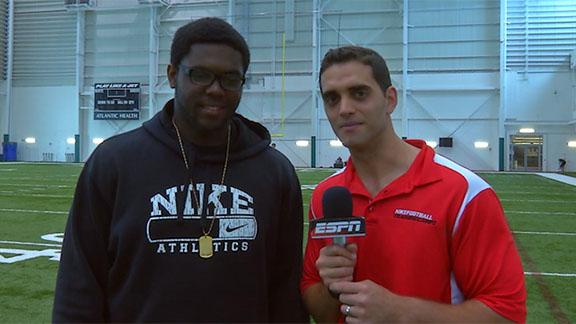 The evaluation period might have ended a few days ago, but that doesn't mean ESPN 150 DT
Thomas Holley
(Brooklyn, N.Y./Lincoln) has been able to get a break from recruiting.
He missed a call Wednesday night from a reporter but called back a few minutes later. Turns out he was on the other line -- picking up an offer from N.C. State, his 25th.
To continue reading this article you must be an Insider
May, 1, 2013
May 1
2:49
PM ET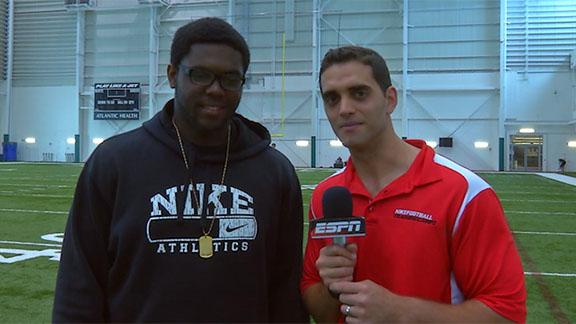 Thomas Holley
's recruitment has been a lot like his most recent visit.
The ESPN 150 defensive tackle out of Brooklyn (N.Y.) Abraham Lincoln was at Penn State for the annual spring game, which was hampered by every weather condition imaginable.
"It did a little bit of everything -- rain, snow, everything -- it was crazy," Holley said.
The first few months of his recruitment have been the same. Holley, No. 93 in the ESPN 150, has seen it all in a short time. He went from basketball prospect to first-year football player to playing just a handful of games to landing his first offer. Now he is an Under Armour All-American with more than 20 offers.
To continue reading this article you must be an Insider
March, 13, 2013
Mar 13
5:05
PM ET
Thomas Holley
(Brooklyn, N.Y./Abraham Lincoln) grew tired of the questions after every basketball game.
[+] Enlarge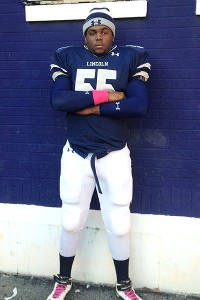 Courtesy of Thomas HolleyBrooklyn (N.Y.) Lincoln DT Thomas Holley has an impressive list of offers, even though he has only played eight varsity football games.
Inevitably, someone would stroll up to him on the hardwood and ask if he played football. Underclassmen weren't supposed to be so big, they'd say. And at about 250 pounds, they sure weren't supposed to move that fast.
"I kept saying no, that I didn't play football, and they'd just look at me funny," Holley said with a laugh. "They're like, 'Stop playing with me.' That's always how it's been for me, everywhere I go. So when I started thinking about it, people were all like, 'You should play football.' "
Football was always a lingering curiosity for the ESPN Watch List prospect, who took up the sport less than a year ago. The defensive tackle played basketball since third grade, and he always wondered about the sport. But his mother wasn't a fan of him playing such a rough-and-tumble game.
Holley didn't press the issue because he was over the league's weight limit in middle school anyway. He couldn't play football if he was over 185 pounds -- and he towered over most of his classmates at 6-foot, 230. But when fan after fan kept approaching him after those high school games, Holley couldn't resist.
He had to try it out. He wasn't even sure if he'd like it -- but what did he have to lose? He recruited his uncle to help persuade his mother into allowing him to play toward the end of his sophomore year. Scholarship offers weren't on his mind at that point, so he just focused on maintaining his weight by shedding fat and adding muscle.
To continue reading this article you must be an Insider
February, 27, 2013
Feb 27
12:42
PM ET
Sometimes it takes a few years for high school prospects to be discovered by major college football programs, but for Brooklyn (N.Y.) Lincoln junior defensive tackle
Thomas Holley
, it took only eight games.
Holley began his high school career playing basketball at national powerhouse Christ the King in Middle Village, N.Y., but when he began to fill in to his 6-foot-4 frame, he realized his future might be in another sport.
To continue reading this article you must be an Insider
Independent Investigation Highly Unlikely