Florida State Seminoles:

scheduling
October, 4, 2012
10/04/12
7:53
PM ET
TALLAHASSEE, Fla. -- Jimbo Fisher had pushed for the ACC to consider reverting to an eight-game conference schedule for months, but now that he's gotten his wish, he admits the change has thrown Florida State into a bit of a quandary.
[+] Enlarge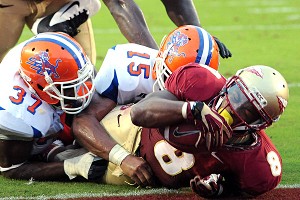 Melina Vastola/US PresswireFlorida State might have to schedule another Savannah State at the last minute next season to account for the ACC's decision to move back to eight conference games.
"It's kind of weird how it's happening right now because it's going to put a lot of teams scrambling here quickly," Fisher said.
After deciding on a nine-game conference slate for 2013, the ACC reversed course Wednesday, switching back to an eight-game schedule in lieu of the addition of Notre Dame as a partial league member.
That's a step in the right direction, Fisher admits, but it also leaves the Seminoles -- along with the rest of the ACC -- scrambling to fill out their 2013 schedules.
FSU has already been in the process of trying to find an opponent to replace Nevada, which hasn't officially pulled out of its scheduled meeting, but is looking for alternatives. Fisher said that may give the Seminoles a jump on understanding the market, but that doesn't necessarily mean the process will be simpler.
"We've been jumping, but I don't know what we're seeing out there," Fisher said.
Florida State was in a similar situation in the spring when West Virginia pulled out of its planned Week 2 game in Tallahassee, forcing FSU to sift through dozens of potential alternatives before settling on Savannah State, an overmatched FCS foe that drew groans from fans.
"Everybody joked about us getting Savannah [State] but you could not find a game," Fisher said. "And everybody thinks I'm crazy but wait until 12 [teams] go through it this year."
One potential alternative is to simply keep nine ACC games on the schedule for 2013. It's an option several athletics directors are considering, but Fisher said Florida State hopes to avoid that possibility.
"I don't know if you want to do that, but I want to wait and see everything," Fisher said. "It may be the only way you can get a game until you can get your scheduled fixed out in the future."
October, 3, 2012
10/03/12
5:40
PM ET
TALLAHASSEE, Fla. -- Jimbo Fisher got his wish, and the ACC will move forward with an eight-game conference football schedule, the league announced Wednesday.
Fisher had railed against the proposed nine-game slate, which would severely limit non-conference scheduling for teams like Florida State, Clemson and Georgia Tech, who already play an annual rivalry game against an out-of-conference foe.
With Notre Dame coming on board as a partial member of the ACC -- set to play five games a year against ACC opponents -- another wrinkle was added to the mix, making it financially problematic for member schools who want to maintain seven home games each season for revenue purposes.
[+] Enlarge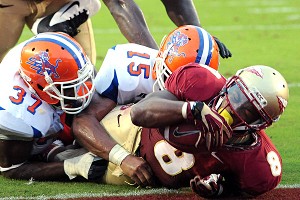 Melina Vastola/US PresswireThe matchup with Savannah State was a lowlight on the FSU schedule this season.
But while the change of course back to the current eight-game slate offers Florida State more flexibility, it also means the Seminoles will need to find at least one more opponent to fill out their 2013 schedule.
Currently FSU has non-conference games against Wofford, Nevada and Florida scheduled for next season, but losing the ninth ACC game opens up a vacancy. Meanwhile, Nevada is hoping to withdraw from its scheduled trip to Tallahassee next season and is working with Florida State to find a viable alternative opponent.
The Seminoles endured similar last-minute scheduling issues this season when West Virginia pulled out of a planned Week 2 meeting in February, forcing FSU to scramble for a replacement. The school eventually settled on Savannah State, an FCS program that won just one game last year. The game had low attendance and FSU won in a route, despite weather putting an end to the contest midway through the third quarter.
With the tepid response to the Savannah State game among fans and questions swirling about how Florida State's lackluster schedule will affect its chances at a national championship, it seems likely AD Randy Spetman will want to avoid scheduling a second FCS foe for 2013, but he said the process of filling out next year's slate is only in its infancy.
"The change in the ACC's schedule plans obviously happened very quickly over the last few days," Spetman said. "We are immediately assessing what that will mean for Florida State, but speculating about potential opponents is premature right now. It is particularly difficult to plan too far in the future without knowing where and when Notre Dame is going to fit into schedules."
The plan for Notre Dame at this point would be for each ACC team to play one home game and one road game against the Irish every six years. When and where the first of those meetings would take place for Florida State remains a mystery.
Things will be a bit simpler in basketball, where the new schedule -- which includes Notre Dame as a full member -- will be an 18-game slate that includes one game annually against every other ACC team. Each team also will play an annual home-and-home series against two partner teams, which for FSU will be Clemson and Miami.
Scene and Heard: Top 10 Predictions
ACC SCOREBOARD
Thursday, 8/28
Friday, 8/29
Saturday, 8/30
Monday, 9/1