Florida State Seminoles:

Ro'derrick Hoskins
August, 28, 2013
Aug 28
10:30
AM ET
TALLAHASSEE, Fla. -- Florida State lost 11 starters to the NFL draft this spring, but that didn't necessarily turn the depth chart into a gold mine for the Seminoles' incoming freshmen. Of Jimbo Fisher's biggest accomplishments during his first four years on the job, none loom larger that the immense influx of talent on the roster -- meaning depth isn't a concern in most areas.
Of the 14 non-specialists Florida State added in 2012, only six saw action last year.
Mario Edwards Jr.
was the only freshman to start a game, and
Ronald Darby
and
Eddie Goldman
were the only others to see regular playing time.
The situation may not be dramatically different this year. Twenty-one freshmen were added to the roster, but aside from a small minority, there doesn't appear to be regular reps awaiting the bulk of the group. FSU's initial depth chart lists nine freshmen on the two-deep, though the playing time for each may be limited, and the roles for a few others may yet develop. As it stands though, here's our projections for early playing time for the Class of 2013.
The likely redshirts (4):
QB
John Franklin
, OT
Ira Denson
, C
Ryan Hoefeld
, TE
Jeremy Kerr
Fisher is never shy with praise for his players -- even those with virtually no shot at seeing a moment of playing time. That's been the case for Franklin, whom Fisher said has looked very good in practice throughout fall camp. Chalk it up to Fisher's desire to talk about any quarterback other than
Jameis Winston
, but it's nevertheless encouraging given that so many college coaches wanted Franklin as a receiver, not a QB.
Denson arrived overweight, and Hoefeld is still a touch lighter than line coach Rick Trickett would like, which means both are likely to spend the year prepping for the future. Kerr might have been a lock for early playing time given FSU's utter lack of depth at tight end, but a knee injury has kept him off the practice field for weeks.
The victims of numbers (4):
DT
Keith Bryant
, OG
Wilson Bell
, DB
Marquez White
, S
Nate Andrews
The reports on these four have been generally positive -- particularly Bell, who was well ahead of the other young linemen, according to Trickett -- but barring injuries, there's probably not much playing time to be had. It's possible one or two will find a role -- Andrews and White could make a special-teams impact -- but none are guaranteed to see action at all.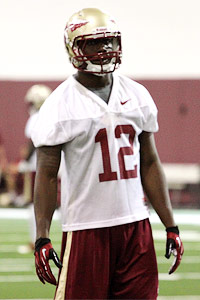 Courtesy of Florida StateAfter considering transferring to USC before ever playing a snap for FSU, LB Matthew Thomas has settled into the Seminoles' defense.
The linebackers (5):
Ro'Derrick Hoskins
,
Tyrell Lyons
,
E.J. Levenberry
,
Matthew Thomas
,
Freddie Stevenson
Levenberry and Thomas headline the current depth chart, where both are listed as the primary backups at the Mike and Will linebacker spots, respectively. Both offer immense promise. Thomas is the star of the group, and after an on-again, off-again spring in which he considered transferring to USC, the five-star recruit seems to be happy and comfortable in FSU's defense. Levenberry has also been a big hit with his coaches, and his size -- 6-3, 240 pounds -- has had Fisher drooling.
Both Thomas and Levenberry figure to play, but they may not be alone. Freddie Stevenson was an early enrollee and has drawn praise from teammates. Lyons and Hoskins could figure in the special-teams mix, too.
Florida State has just two established veteran linebackers, and both will be gone at year's end. The Seminoles need to start developing some depth there, which is good news for the entire group.
The special-teams stalwarts (4):
DE
Davarez Bryant
, DE
Desmond Hollin
, RB
Ryan Green
, WR
Levonte Whitfield
Fisher's history suggests skill-position players who can contribute on special teams will get a chance as freshmen, even if there isn't much of a role beyond that. FSU allowed
P.J. Williams
,
Reggie Northrup
and Christo Kourtzidis to do it last year, which means Green, Bryant and others could do the same in 2013, even if a wealth of scrimmage snaps aren't there. Hollin, a juco transfer, probably stands the best shot at a bigger role, and Bryant has actually worked in some at tight end, too. Whitfield figures to be in the mix as a kick returner early, but he is a potential weapon as a slot receiver on offense, too.
The best bets to play (4):
CB
Jalen Ramsey
, DE
DeMarcus Walker
, WR
Jesus Wilson
, WR
Isaiah Jones
Fisher was impressed with his freshman wideouts from the outset, but now it's a necessity that at least one or two contributes heavily. FSU lost three senior receivers for the season, which means there should be ample playing time to go around. Wilson has wowed teammates since the summer, and he figures to be first up, Jones also turns up on FSU's two-deep, backing up
Rashad Greene
at the X position.
Walker's progression was hindered a bit during the spring when NCAA compliance issues kept him off the practice field. Still, he spent long hours in the film room and coach's office, and his teammates have raved about his football IQ. Given the relative depth issues at defensive end combined with a depth chart with little or no game experience, Walker has as good a shot as anyone at getting playing time early.
Unlike the rest of this group, the numbers don't exactly favor Ramsey. The FSU secondary is stacked with talent, but that's only more of a testament to how good Ramsey has looked during fall camp. He spent the first few weeks working with the No. 1 defense while Darby nursed an injury, and he appears to have established himself as a legitimate threat to contribute. He opens the season No. 2 on the depth chart behind
Lamarcus Joyner
, and that's a role that could expand as the season progresses.
April, 9, 2013
Apr 9
7:00
AM ET
After consecutive finishes inside the top five in total defense, it's hard to really point out major weaknesses on Florida State's defense the last two seasons. In 2011 and 2012, the Seminoles held opponents to 15 points or less.
But upon closer examination, if there were some gripes, they probably revolved around the linebacker position.
Well, Jimbo Fisher and Co. are on a mission to change that. And it looks like they're on the right track.
To continue reading this article you must be an Insider
February, 19, 2013
Feb 19
8:30
AM ET
By
David M. Hale & Corey Dowlar
| ESPN.com
NoleNation writers David Hale and Corey Dowlar are going position by position, looking at what FSU has on its roster now, and who might provide reinforcements down the line, projecting starters and evaluating the depth through 2015.
Up next, a position where the scheme might be as much in question as the personnel: Linebacker.
Current scholarship linebackers (11):
Reggie Northrup (So.), Terrance Smith (RSSo.), Nigel Terrell (RSJr.), Christian Jones (Sr.), Markus Uligwe (RFr.), Telvin Smith (Sr.), Matthew Thomas (Fr.), Freddie Stevenson (Fr.), Tyrell Lyons (Fr.), E.J. Levenberry (Fr.), Ro'Derrick Hoskins (Fr.)
Potential early departures:
FSU brings a talented group of five freshmen into the fold this season, and several -- Thomas in particular -- have NFL potential, but at this point, none of the younger players have enough experience to appear likely to leave early.
To continue reading this article you must be an Insider
February, 19, 2013
Feb 19
7:00
AM ET
With national signing day now beyond us, NoleNation takes a closer look at the next crop of Seminoles.
Vitals:
Linebacker
Ro'Derrick Hoskins
(Orlando, Fla./Evans), 6-foot-3, 215 pounds.
Committed:
Feb. 25, 2012.
ESPN.com grade:
83, four-star prospect.
ESPN.com rankings:
No. 14 outside linebacker in the country, No. 79 player in the Southeast region, No. 35 player in the state of Florida and No. 168 in the ESPN 300.
Picked Florida State over:
Auburn and Louisville.
To continue reading this article you must be an Insider
February, 6, 2013
Feb 6
5:48
PM ET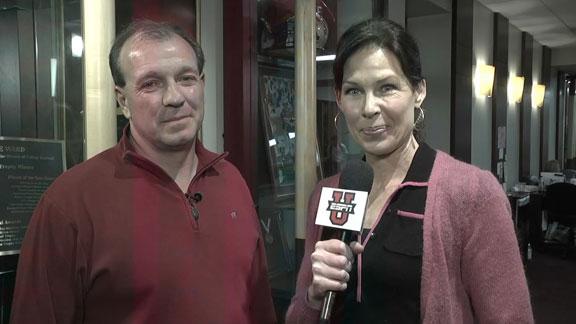 As it is virtually every year on national signing day, there were some big hits for Florida State, and there were a few tough misses, too. Overall, Jimbo Fisher and his new-look coaching staff have to consider the Class of 2013 a big win given the immense chaos that has ensued with six assistants leaving since Dec. 1. Most key commitments held strong, and a few late arrivals turned a solid class into one that cracked the top 10 in ESPN's national rankings.
Of course, rankings aren't everything. A lot of the success or failure of a class is based on a team's needs, and on that front, there were also a few highlights and a few noticeable problems. Here's how it breaks down.
To continue reading this article you must be an Insider
January, 23, 2013
Jan 23
9:00
AM ET
Who is leaving
: Florida State is losing three top-flight defensive ends to the NFL draft this season, led by draft-eligible junior
Bjoern Werner
. Senior Tank Carradine's stock would have been much higher if not for a late knee injury in the regular season finale against Florida.
Brandon Jenkins
, who was lost for most of the 2012 season because of a foot injury, will also be heading to the pros.
The offensive line only loses one player, junior
Menelik Watson
, but it is a big one. He's likely to go in the first couple of rounds and had a major impact for Florida State in just one season.
Xavier Rhodes
is the lone corner departing, but it's also a big one. Aside from Rhodes, the secondary will return largely intact.
To continue reading this article you must be an Insider
January, 13, 2013
Jan 13
7:16
PM ET
ESPN 300 linebacker and Florida State pledge
Ro'derrick Hoskins
(Orlando, Fla./Evans) got to meet some new friends and new coaches during his official visit over the weekend.
To continue reading this article you must be an Insider
January, 11, 2013
Jan 11
7:00
AM ET
Florida State will host a bunch of top visitors this weekend in what is likely their biggest and busiest of the year. Here is the breakdown of who is visiting and why it is important.
To continue reading this article you must be an Insider
October, 29, 2012
10/29/12
7:00
AM ET
Now through most of the regular season, Florida State's commitments are hitting the home stretch with one eye on the playoffs and the other trained on finishing out district play. Here are five top performers from this week, regardless of class.
Levonte Whitfield
(Orlando, Fla./Jones): A fixture this season in the commitment performance watch, Whitfield again put up some big numbers this week. Showing off his superior speed, he took two kickoff returns back for touchdowns. Offensively, he racked up 120 yards receiving on five catches. He finished the night with four total touchdowns.
Ro'derrick Hoskins
(Orlando, Fla./Evans): Hoskins led the way for the Evans' defense from his linebacker spot to make eight stops this week. He also showed proper positioning by being in the right place at the right time to return a fumble 15 yards for a defensive score. Like Whitfield, Hoskins has frequented the performance watch.
To continue reading this article you must be an Insider
October, 15, 2012
10/15/12
7:00
AM ET
Florida State's commitments are having big campaigns as the high school season is nearly halfway complete. Here are some prospects who had exceptional weekends.
Tyrell Lyons
(Jacksonville, Fla./First Coast): The four-star outside linebacker commitment racked up seven tackles in his game this week against Yulee and future Alabama RB commit Derrick Henry, showing a willingness to get to the ball and make a play. First Coast's defense has some playmakers on it, so tackles, by default, are not easy to come by. Both
Daniel McMillian
and
Sherrod Pittman
, other starting linebackers, get their fair share as well.
[+] Enlarge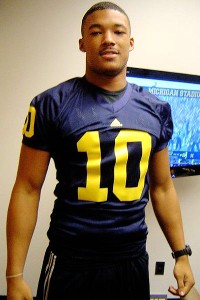 Courtesy of Eric LevenberryE.J. Levenberry had nine tackles and an interception in his latest game.
E.J. Levenberry (Woodbridge, Va/Hylton):
The nation's No. 12 inside linebacker prospect turned in another solid performance on Friday. Levenberry racked up nine tackles, showing his toughness against the run and also recorded an interception. The 6-foot-3, 230-pound linebacker is an ESPN 300 prospect.
To continue reading this article you must be an Insider
October, 8, 2012
10/08/12
7:00
AM ET
Florida State's commitments are having big campaigns as the high school season is nearly halfway complete. Here are some prospects who had exceptional weekends.
Davin Bellamy
: The former basketball star has really begun to find himself with each passing week. Without a ton of experience playing defensive line in high school, every game has been a learning experience. This past Friday, Bellamy was responsible for two quarterback sacks, six tackles, a pass break-up and a fumble return for a touchdown. Not a bad night's work.
Adrian Baker
: ESPN 300 athlete Adrian Baker held his own against University School, a top team in the state of Florida, this week. He recorded four tackles and a catch on offense. He did allow a 10-yard reception from four-star receiver Jordan Cunningham, but there are many defensive backs that would be willing to admit that.
To continue reading this article you must be an Insider
August, 29, 2012
8/29/12
7:58
AM ET
ESPN's NoleNation takes a look at some of Florida State's commitments who have garnered accolades from publications around the country.
5-10/187 (St. Petersburg, Fla./St. Petersburg Catholic)
• Named the No. 2 player in the Tampa Bay area by the Tampa Bay Times.
To continue reading this article you must be an Insider
July, 12, 2012
7/12/12
12:00
PM ET
ESPN's revised recruiting rankings were released Thursday, and there aren't many changes among the 17 players already committed to Florida State for 2013.
Ten of FSU's commitments remain in the ESPN 300, though wide receiver
Tony Stevens
(Orlando, Fla./Evans) dropped out of the ESPN 150.
Overall, Florida State ranks fifth nationally for the work coach Jimbo Fisher and his staff have already done on the recruiting trail, and a few big fish remain in the pond.
To continue reading this article you must be an Insider
Auburn Fan Hopes To Cash In