Florida State Seminoles:

Racean Thomas
December, 29, 2013
12/29/13
10:30
AM ET
ORLANDO, Fla. -- There are many topics of conversation among prospects playing in the 2014 Under Armour All-America Game. One of them centers around the past two Heisman Trophy winners.
On Saturday, upon checking in for the prestigious game, a number of prospects weighed in on a hot topic involving Texas A&M's
Johnny Manziel
and Florida State's
Jameis Winston
.
If they had to choose between the two, who would the players take as their college quarterback? Here are their responses:
[+] Enlarge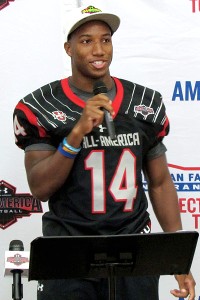 Courtesy of IntersportNo. 9 overall prospect Marlon Humphrey likes how Johnny Manziel makes others around him better.
Five-star cornerback Marlon Humphrey (Hoover, Al./Hoover High)
: Ah man, I think I'm going to have to go with Johnny Manziel. I just feel like he kind of made a team out of nothing. Jameis Winston is a great quarterback too, but he doesn't have the scrambling skills that Manziel has. This year, you could tell that his teams defense wasn't that good, the players around him weren't as good, but he kept making his team better. He's has the fight in him I would want on my team.
Florida commit and No. 20-ranked Dalvin Cook (Miami/Central High)
: I would say Jameis Winston. He's really a pure quarterback, and I think he sets up things more for a running back than Johnny Manziel does.
Auburn running back commit Racean Thomas (Oxford, Al./Oxford High)
: I would probably pick Jameis Winston. The reason behind that is because he is more of a leader for a young quarterback, and I think he can make his team a more mature team. I really think he would be a great quarterback to play with.
Florida wide receiver commit and No. 28 Ermon Lane (Homestead, Fla./Homestead Senior High)
: Whew, I don't know. I think Jameis Winston. I look at how both of them played as a freshman, and I like how Jameis Winston leads his team. He is also more pro-ready than Manziel.
Texas defensive end commit and No. 78-overall Derick Roberson (San Antonio, Texas/William J. Brennan High)
: I guess I would say Johnny Manziel. I like how he plays with his swagger and confidence the most, so I would probably say him.
Notre Dame commit and No. 76-ranked Tyler Luatua (la Mirada, Calif./La Mirada High)
: I would take Manziel just because of the way he plays. If he doesn't have a wide receiver open, he can make plays himself. He can get the ball to his players if and when he wants to, but can also do it on his own when he needs to.
No. 38 overall John Smith (Long Beach, Calif./Long Beach Polytechnic High School)
: That's a hard one. As of right now, I would go with Jameis Winston. Overall, he's a great player. I think Winston has an awesome football IQ. Johnny had his year too, but I think Winston is just a great player. Outstanding.
Dylan Sumner-Gardner
: Jameis Winston, man. I feel comfortable with Jameis Winston as my quarterback because he's smart and accurate. Johnny is accurate too, but Johnny is Johnny. How he runs around, people may get nervous. I would just feel more comfortable with Jameis as my quarterback.
No. 22 overall Laurence Jones (Monroe, La./Neville High)
: That's a hard one right there. Let me think ... maybe Johnny Manziel because I don't think I've ever seen a white boy get down like that. It would have to be Johnny Manziel.
Penn State wide receiver commit Chris Godwin (Middletown, De./Middletown High)
: I think Jameis Winston. I think overall he's a better passer. I want a quarterback back there that can get me the ball on a consistent basis, but Johnny Manziel is a great player, too. I'm actually a big fan of both of them.
Five-star and Virginia defensive tackle commit Andrew Brown (Chesapeake, VA
Oscar Frommel Smith High)
: Dang, that's a good question, man. I would go with Jameis Winston. His leadership qualities, coming in as a freshman and doing the things he is doing is definitely uncommon. It just foreshadows what he is going to do in the future, too. He's already established a great foundation for himself, and I would definitely take him in the future.
Maryland commit Will Ulmer (Washington, D.C./Saint John's High)
: I'm going with Johnny Manziel. I think he's more dynamic, and more of a game-changer. Jameis Winston is a great quarterback too, but you have to think about all the dudes he has around him at FSU -- all the great receivers and good running backs. I would go with Manziel because if you put him on the Florida State team, or a stacked team like that, it would be a scary sight.
August, 20, 2013
8/20/13
8:00
AM ET
Whether it's on-field production or friendships that recruits develop with other recruits, some prospects just have a desire to play with other top prospects. Here's a closer look at the most important committed player for each SEC school.
Alabama
ATH Bo Scarbrough (Bradenton, Fla./IMG Academy)
6-foot-2, 215 pounds
ESPN 300 rank: 20
The 20th-ranked player in the country has been committed to the Crimson Tide for nearly a year and is the highest-ranked Alabama commit. With his size and athleticism, Scarbrough could play either running back or linebacker. Alabama is targeting at least three players in the ESPN 300 top 10, including RB
Leonard Fournette
, OL
Cameron Robinson
and CB
Marlon Humphrey
, and Scarbrough is the type of star player with whom other big-name recruits want to play.
June, 24, 2013
6/24/13
9:00
AM ET
The RN Top 10 will appear throughout the camp and combine season and rank prospects based strictly on their on-field performance at that particular event. It does not reflect their overall prospect ranking.
BRADENTON, Fla. -- The IMG 7v7 National Championships brought in top talent from all over the country. Narrowing it to 10 was difficult, as top prospects such as linebacker
Clifton Garrett
(Plainfield, Ill./Plainfield South) and running back
Racean Thomas
(Oxford, Ala./Oxford) didn't make the list. It's not because they didn't play well, but because 7-on-7 events are geared more for wide receivers and quarterbacks on offense and the defensive backs on defense.
10. Chris Godwin
Middletown (Del.) High School | WR | 6-2, 203
Godwin, an Under Armour All-American, was one of the main reasons his Delaware team went 6-0 before finally losing a game. In this talent-filled tournament, Godwin showed why he is one of the top receivers in the country. He made several tough catches and displayed his 4.4 speed on a consistent basis. He displayed all the tools to be successful on the next level.
9. Sean White
Ft. Lauderdale (Fla.) Unversity School | QB | 6-1, 199
With receivers such as Ermon Lane and Travis Rudolph, it's hard for White not to look good, but he was extremely accurate throughout the tournament and made several big-time throws. White did a nice job of taking what the defense gave him underneath and also showed the arm strength to make several tough throws over the middle. White has seen his recruitment pick up lately and it will likely continue to increase with performances like this.
8. Tyler Queen (2015)
Kennesaw (Ga.) North Cobb | QB | 6-2, 237
North Cobb was one of the few that brought their high school team, instead of an All-Star team from their region. Queen led his team to several victories and showed pinpoint accuracy on a majority of his throws. He displayed great touch on his deep ball and completed several long touchdowns on the day. It was easy to see why he is already a highly recruited prospect.
7. George Campbell (2015)
Tarpon Springs (Fla.) East Lake | WR | 6-4, 184
Campbell proved why he might be the top receiver in Florida next year. He used his 6-foot-4 height to go up over defensive backs and come down with several long catches. It wasn't just the jump ball that impressed; his route running was good and he consistently got open. On top of his impressive offensive performance, Campbell made several plays at safety. This Under Armour All-American has a chance to be a special player as a senior.
6. Travis Rudolph
West Palm Beach (Fla.) Cardinal Newman | WR | 6-1, 186
To continue reading this article you must be an Insider
June, 22, 2013
6/22/13
7:40
PM ET
BRADENTON, Fla. -- ESPN 300 running back
Racean Thomas
(Oxford, Ala./Oxford) was one of the top performers on Saturday at the IMG 7on7 National Championships.
While in Florida, Thomas had a chance to visit both Florida and Florida State, and the 5-foot-10, 202-pound back came away impressed with both schools.
To continue reading this article you must be an Insider
June, 22, 2013
6/22/13
6:49
PM ET
The Opening, presented by Nike, will feature 162 of the best high school football players in the country. The event, which will include linemen, 7-on-7 and SPARQ testing competitions, is set to run from June 30 to July 3 at the Nike headquarters in Beaverton, Ore.
The following events from The Opening will be televised on ESPNU:
July 1: SPARQ Rating National Championship, 7 p.m.-8:30 p.m. ET
July 2: 7-on-7 Pool Play, 9 p.m.-11:30 p.m. ET
July 3: Linemen Challenge Finals and 7-on-7 semifinal and championship games, 9 p.m.-midnight ET
The players will be divided in to six teams -- Alpha Pro, Apocalypse, Field Generals, Land Sharks, Super Bad and Vapor Carbon. Here is a closer look at how the teams match up.
Team:
Alpha Pro
Coaches:
Offensive coordinator Jordan Palmer, defensive coordinator Hardy Nickerson
The Alpha Pro team will have plenty of targets to spread the ball around.
Ermon Lane
and
Tyler Luatua
, the No. 1-ranked receiver and tight end in the country respectively, bring size and playmaking ability to the passing game. ESPN 300 athletes
Corey Holmes
,
Jalen Hurd
,
John "JuJu" Smith
,
Ja'Von Harrison
, and
Derrell Scott
are all explosive offensive weapons.
Defensively Alpha Pro is led by
Andrew Brown
, the No. 1-ranked defensive tackle in the country, ESPN 150 cornerback
Damon Webb
, defensive end
Andrew Williams
, Ohio State linebacker commit
Dante Booker
and LSU cornerback commit
Chris Hardeman
.
Complete Alpha Pro
roster
.
Team:
Apocalypse
Coaches:
Offensive coordinator Adam Tafralis, defensive coordinator Donovin Darius
The first thing that jumps out about team Apocalypse is the talent in the defensive front seven. Team Apocalypse will be led by five-star defensive end
Da'Shawn Hand
and inside linebacker
Raekwon McMillan
. Hand, from Woodbridge, Va., is the No. 4-ranked player in the country, while McMillan was recently bumped up to a five-star linebacker. Joining Hand and McMillan along the front seven are ESPN 300 defensive linemen
Anthony Moten
and
Ainuu Taua
, and linebackers
D.J. Calhoun
and
Rashaan Evans
.
Offensively, team Apocalypse has no shortage of playmakers. ESPN 300 wide receivers
Artavis Scott
,
K.D. Cannon
and
Michiah Quick
will provide explosiveness in the passing game, while athletic running backs
Joe Mixon
and
Royce Freeman
will provide athletic and reliable targets out of the backfield.
Complete Apocalypse
roster
.
Team:
Field Generals
Coaches:
Offensive coordinator Charlie Frye, defensive coordinator Michael Fletcher
Seven-on-seven events are always geared towards the offense, but with five-star defensive back
Adoree' Jackson
, No. 3-ranked safety
Jamal Adams
, and ESPN 300 cornerback
Adarius Pickett
in the secondary, the Field Generals should more than hold their own. New Ohio State defensive end commit
Jalyn Holmes
and the No. 6-ranked defensive end in the country,
Solomon Thomas
, will be two to watch along the defensive line.
Offensively, the Field Generals are led by ESPN 300 offensive guard
Damien Mama
, ESPN 300 wide receivers
Austin Roberts
and
Thaddeus Snodgrass
and explosive Notre Dame running back commit
Elijah Hood
.
Complete Field Generals
roster
.
Team:
Landsharks
Coaches:
Offensive coordinator Craig Nall, defensive coordinator Keith Bulluck
The Landsharks have some big-time talent along each line of scrimmage. Led by five-star offensive tackle
Cameron Robinson
, the Landsharks also feature ESPN 300 offensive guard
Corey Martinez
. ESPN 300 defensive linemen
Gerald Willis III
and
Thomas Holley
, as well as ESPN 300 defensive end
Chad Thomas
, will form a very physical and athletic defensive line.
In the secondary, the Landsharks will have three defensive backs --
Arrion Springs
,
Chris Lammons
and
Tony Brown
-- that are ranked among the top 85 players in the country. The defense also features ESPN 150 linebacker
Nyles Morgan
.
Offensively, explosive running backs
Dalvin Cook
, a Florida commit, and
Racean Thomas
form a dangerous tandem out of the backfield, and wide receivers
Travis Rudolph
and
Jalen Harvey
are solid receiving threats.
Complete Landsharks
roster
.
Team:
Superbad
Coaches:
Offensive coordinator Dennis Gile, defensive coordinator Harold Nash Jr.
The Superbad defense line is led by five-star defensive end
Lorenzo Carter
and ESPN 150 defensive tackle
Bijhon Jackson
. The linebacking corp is stacked with three ESPN 300 members, including
Clifton Garrett
,
Christian Miller
and
Edwin Freeman
. Cornerback
Jalen Tabor
is the No. 19-ranked player in the country.
Offensively, Superbad has a huge advantage with the No. 1-ranked prospect in the country, running back
Leonard Fournette
. This team is loaded on offense, with wide receivers
Drake Harris
,
Josh Malone
and
Speedy Noil
all in the mix.
Complete Superbad
roster
.
Team:
Vapor Carbon
Coaches:
Offensive coordinator George Whitfield, defensive coordinator Chris Gizzi.
Vapor Carbon will be tough to throw against with defensive backs
Quin Blanding
,
Naijiel Hale
and
Ed Paris
roaming the field. The linebacker group is just as impressive, with Ohio State commit
Kyle Berger
,
Kain Daub
and
Dillon Bates
all leading the way.
The offense for Vapor Carbon could be lethal with running back
Joseph Yearby
and
Nick Chubb
in the backfield. Spreading out wide receivers
T.V. Williams
,
Justin Brent
and tight end
Ian Bunting
on the outside could prove to be an awesome combination for this squad.
Team Vapor Carbon has a lot of pieces to make a long run in the 7-on-7 tournament, but then again, every team is stacked in this competition.
Complete Vapor Carbon
roster
.
June, 2, 2013
6/02/13
8:43
PM ET
May, 19, 2013
5/19/13
4:11
PM ET
HUEYTOWN, Ala. -- College coaches from across the country came to see ESPN 150 running back
Racean Thomas
(Oxford, Ala./Oxford) this spring, but it was the usual suspects -- Alabama and Auburn -- who were in attendance for his spring game on Saturday night.
The Alabama native didn't disappoint. In two quarters of action, Thomas rushed seven times for 124 yards and two touchdowns. He took his first carry 73 yards for a score.
With that type of performance, it's no surprise that new schools continue to enter the mix.
To continue reading this article you must be an Insider
March, 3, 2013
3/03/13
3:21
PM ET
ATLANTA -- More than 1,700 student-athletes took part Saturday in the Nike SPARQ Combine here, a record for the event. Players from across the Southeast braved freezing conditions, snow flurries and significant wind chill to compete and test their athletic ability in the 40-yard dash, 20-yard shuttle, vertical jump and power ball throw. Below are the standouts from the event, which includes several prominent recruits and some off-the-radar prospects for the 2014 and 2015 classes.
Top SPARQ Ratings
Daryl Rollins, RB (Knoxville, Tenn./Fulton) - 111.21
Dillon Bates
, LB, (Ponte Vedra, Fla./Ponte Vedra) - 109.05
Nick Chubb
, ESPN Watch List RB (Cedartown, Ga./Cedartown) - 107.16
Khari Blasingame
, DB (Huntsville, Ala./Buckhorn) - 106.89
Taj Griffin
, 2015 RB (Powder Springs, Ga./McEachern) - 105.42
Top 40-yard dashes
October, 5, 2012
10/05/12
7:00
AM ET
Florida State already has one top-rated running back committed for the class of 2014, but will likely try to sign two.
NoleNation takes a look at some candidates who are already on the radar.
Joseph Yearby 5-9, 191 (Miami/Central):
Already a Florida State commitment, Joseph Yearby is regarded as one of the country's top backs already as a junior. He was named a first-team All-American by USA Today, a honor usually reserved for top seniors. Yearby is a major piece of the puzzle for the Seminoles' 2014 haul, having chosen Florida State over Alabama, Florida, Miami and West Virginia.
To continue reading this article you must be an Insider
September, 11, 2012
9/11/12
1:05
PM ET
Recruiting has picked up for
Racean 'Rock' Thomas
in recent weeks, but the 2014 running back might be ready to shut the process down and make a commitment. Thomas says he wants to try to make a decision sometime during the next few weeks.
The Oxford, Ala., native has double-digit scholarship offers, including an offer from nearly half of the teams in the SEC. Currently, Alabama, Florida State and LSU are the three schools that stand out.
Alabama:
"I just like how close they are to home," Thomas said. "They have great coaches. I like how they produce their running backs. They just make them a lot stronger when they come in, put some weight on them, make them be able to play the game better than they did in high school and make them great character-wise."
To continue reading this article you must be an Insider
Goodell Has Sit-Down With Jameis Winston
ACC SCOREBOARD
Thursday, 9/3
Saturday, 9/5
Monday, 9/7