Florida State Seminoles:

Odell Haggins
July, 22, 2013
Jul 22
8:19
AM ET
Florida State dipped into its rich legacy to recruit a defensive lineman.
Fredrick Jones
(Miami/Miami Central), a 6-foot-2, 270-pound defensive tackle, committed over the weekend. He is the nephew of one of the best linebackers in school history, Marvin Jones. Fredrick's father, Fred Jones, played at FSU as well.
Needless to say, it was an easy choice for him once he was offered. That, of course, came at the Jimbo Fisher Camp last week, where he spent a lot of time working with defensive tackles coach Odell Haggins.
Haggins apparently liked what he saw and decided to pull the trigger. The feeling was mutual.
"Hard work pays off," he said. "I committed to Florida State University."
The addition of Jones makes it 21 commitments for the Class of 2014. He is the second defensive tackle in the class alongside
Demarcus Christmas
(Bradenton, Fla./Manatee).
Though
Blake McClain
(Jacksonville, Fla./Sandalwood) is listed as such, he will be brought in as a defensive end.
Florida State is expected to have a very full class and will likely sign more than 25 prospects in this cycle.
June, 12, 2013
Jun 12
6:50
PM ET
TALLAHASSEE, Fla. -- The first session of the Jimbo Fisher Football Camp was a little light in the amount of top quality prospects. That's not too unusual, and it is likely to pick up as the week goes on.
But given the circumstances, it wasn't hard to pick out
Breeland Speaks
(Jackson, Miss./Callaway) among the crowd. The 6-foot-3, 281-pound defensive lineman looked and played the part.
To continue reading this article you must be an Insider
June, 3, 2013
Jun 3
9:00
AM ET
Target:
Safety
Trey Marshall
(Lake City, Fla./Columbia), 6-foot, 193 pounds
Status:
Undeclared
Offers:
Arkansas, Florida International, Georgia, Kentucky, Louisville, Miami, Mississippi State, Ole Miss, South Florida, Tennessee, Vanderbilt and West Virginia
To continue reading this article you must be an Insider
April, 9, 2013
Apr 9
5:00
PM ET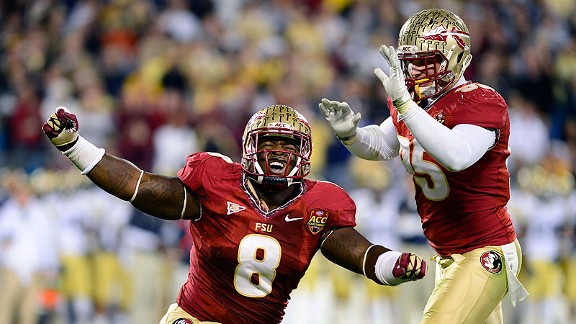 Bob Donnan/US PresswireTimmy Jernigan (8) wants to make his mark as one of the best defenstive tackles to play at FSU.
TALLAHASSEE, Fla. -- Florida State defensive tackle
Timmy Jernigan
grew up 20 minutes from the University of Florida campus in Lake City, rooting for the Gators as a young child.
But that does not mean he only saw through orange and blue glasses. Jernigan kept tabs on all of the college football greats around the state, including those making a name for themselves at Florida State.
So when it came time to begin the recruiting process, Jernigan already knew about the Seminoles' past history at his preferred position -- including all the success current assistant Odell Haggins had while playing in Tallahassee. His relationship with Haggins led him to sign with Florida State. Now, Jernigan is prepared to take the next step in his career as he will see more playing time.
He wants to be the best defensive tackle to ever play at the school. It's bold talk for a former role player, but talk Jernigan fully intends on backing up in the fall.
"There's so much more I want to do at Florida State that hasn't been done here," Jernigan said in a recent interview.
How will he get it done?
"Work," Jernigan said. "There's no trick to it. I really feel like when I push myself and I work hard, and I really buy into something it's hard to stop it."
The list of standout tackles to play for the Noles is a long one. Most recently, Andre Fluellen (2008), Letroy Guion (2008), Brodrick Bunkley (2006), Travis Johnson (2005), Darnell Dockett (2004) and Corey Simon (2000) became NFL picks -- Bunkley, Johnson and Simon all went in the first round.
Jernigan easily starts listing the players who came before him when asked, and says he has had a chance to ask guys like Johnson and Simon for a little bit of advice whenever they come around Tallahassee.
"Just the little things, from stepping to hands, anything I can learn from them I'm willing to learn," he said.
Of course, he also is more than willing to learn from Haggins, who went on to coach many of the standouts Jernigan has come to admire.
"Luckily, I am blessed enough to have the same coach all those guys had," Jernigan said. "I'm getting the same teaching they all got. I'm getting the best. That played a big part in me coming -- because of the history of the D-tackles, the history of the defense itself, and definitely coach Haggins."
One more blessing. During the recruiting process, Haggins had three finalists -- Florida State, LSU and Alabama. The big pull to the Tide? Then assistant Jeremy Pruitt. Now, Pruitt is leading the Florida State defense, so Haggins is playing for two of the three coaches that appealed to him most during recruiting.
"It's amazing how everything pans out," Jernigan said.
March, 6, 2013
Mar 6
9:37
AM ET
As it turns out,
Blake McClain
(Jacksonville, Fla./Sandalwood) was a little late on his deadline for a commitment.
The 6-foot-3, 250-pound defensive end heavily favored Florida State following his junior day visit in mid-February and nearly committed to Jimbo Fisher then.
"This close," McClain said back on Feb. 16. "This close. But I am going to wait until next week."
Fisher had to wait longer than expected, but got McClain's commitment all the same, ESPN has confirmed.
While in Tallahassee, McClain got comfortable with the Seminoles after feeling something different, something he hadn't felt anywhere else while on visits.
"I visited over the summer and the experience there, I mean, it was nothing like this," he said of a visit to in-state rival Florida. "All I did was go to a game and they showed me around some of the campus, but here (FSU) they just treated us like we were part of the family. That was a big factor."
North Carolina was perceived to be one of the Seminoles biggest threats in the McClain sweepstakes. But LSU, too, entered late as his most recent offer.
Alabama, Auburn and West Virginia had also extended offers.
McClain's commitment to the Seminoles gives them their sixth for their rapidly-changing commitment list.
McClain would join young defensive ends Davarez Bryant, Chris Casher and Mario Edwards once on campus at a major position of need.
His pledge could have added significance given that ESPN Watch List inside linebacker
Kain Daub
(Jacksonville, Fla./Sandalwood) is McClain's high school teammate. Daub has Florida State in his top two schools along with Alabama.
Assistant coaches Jeremy Pruitt and Odell Haggins have contributed in the recruitment of both prospects.
March, 4, 2013
Mar 4
4:11
PM ET
Montel McBride
(Plant City, Fla./Plant City) and his coach thought something like this might happen.
After going to a couple camps, the 6-foot-4, 305-pound lineman was starting to get noticed. He was winning his battles and looking impressive in drills.
To continue reading this article you must be an Insider
February, 14, 2013
Feb 14
7:00
AM ET
With national signing day now beyond us, NoleNation takes a closer look at the next crop of Seminoles.
Vitals:
Defensive tackle
Keith Bryant
(Delray Beach, Fla./Atlantic), 6-foot-2, 292 pounds
To continue reading this article you must be an Insider
February, 6, 2013
Feb 6
2:01
PM ET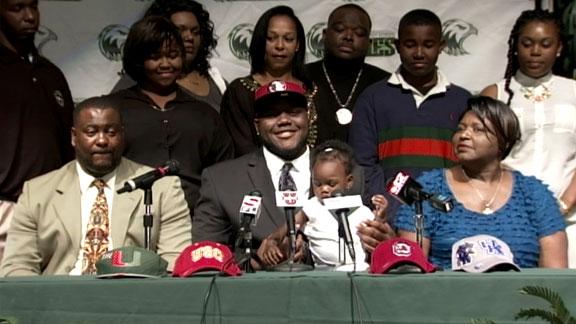 Keith Bryant
's (Delray Beach, Fla./Atlantic Community) recruitment is finally over. After being committed to Miami for some time during this cycle, it turns out he's staying in the same state, but not with the Hurricanes.
Florida State and defensive tackles coach Odell Haggins won out in the end as Bryant chose the Seminoles over Miami, South Carolina and Southern Cal. The four-star prospect is ranked by ESPN as the No. 135 player in the country for the Class of 2013.
What is the impact of Bryant's decision?
To continue reading this article you must be an Insider
December, 18, 2012
12/18/12
7:00
AM ET
ESPN 300 linebacker
Freddie Stevenson
(Bartow, Fla./Bartow) is nearing the end of a chapter.
In a matter of just a few weeks, the four-star prospect will forego his final semester in high school to enroll early at Florida State and begin his collegiate career. Last week, head coach Jimbo Fisher paid Stevenson an in-home visit to clear up any logistical hypotheticals.
"It was exciting," Stevenson said. "They were making sure I had everything ready for January, since I am going to be enrolling in January. They were also talking about how important it was for me to enroll early."
To continue reading this article you must be an Insider
November, 28, 2012
11/28/12
7:00
AM ET
NoleNation takes a look at candidates for the cornerback position out of the class of 2014.
Nigel Patten (Miami/Booker T. Washington) --
Emerged on the scene at Florida State's camp over the summer impressing with his pure speed. Also went on to win an award at Florida's camp for the fastest man among his group. Patten was offered early by Florida State and assistant coach James Coley who will be hoping to open a pipeline at Booker T. Washington High School. He's also teammates with other targets such as Matthew Thomas, Denver Kirkland and Treon Harris.
D'Andre Payne (Washington D.C./Howard D. Woodson) --
Payne was offered by Florida State over the summer to go along with a multitude of others. Most recently, Payne was on campus for the Florida-Florida State game on an unofficial visit. Coming all the way down from Washington D.C. could be indicative of his interest in the Seminoles. Defensive line coach Odell Haggins has had success in the area landing targets such as Ronald Darby and Eddie Goldman as recently as last year.
To continue reading this article you must be an Insider
November, 26, 2012
11/26/12
7:00
AM ET
Junior defensive back
D'Andre Payne
(Washington, D.C./Howard D. Woodson) made the trip south this weekend to see the Sunshine State Showdown between Florida and Florida State in Tallahassee.
Watching from the stands, he saw the game change over and over again, but pointed to a specific sequence of events that determined the outcome.
"I think it was a good game up until around the fourth quarter," he said. "Florida State had a lot of turnovers, and I think when
EJ Manuel
got hurt, and when he fumbled, I think that is when it turned everything around. But I think it was a good game."
To continue reading this article you must be an Insider
November, 20, 2012
11/20/12
8:33
AM ET
Florida State
Timmy Jernigan:
Growing up, there was never a question where Jernigan would play his college football. And there wasn't a question if he would make it to the next level. He was elite, even from a young age. And Jernigan loved the
Florida Gators
.
Defensive tackles coach Odell Haggins didn't waver, though. He continued working hard to get Jerngian on campus, coached him up on camps and eventually made headway. Finally, FSU got a stranglehold on Jernigan. And by the time national signing day rolled around, Florida didn't even send a letter of intent and Tallahassee was his destination.
James Wilder Jr.:
A legend in the prep ranks from early on in his career, this powerful running back was considered to be a UF lean for a while. Florida State and Georgia entered the picture, too. All three programs battled it out intensely.
To continue reading this article you must be an Insider
October, 17, 2012
10/17/12
7:00
AM ET
Junior linebacker
Dillon Bates
(Ponte Vedra Beach, Fla./Ponte Vedra) was one of the headliners from the Class of 2014 in attendance for Florida State's 51-7 win over Boston College on Saturday.
The 6-foot-3, 195-pound prospect was already familiar with the Seminoles, of course, but he still came away with a fresh and positive influence afterward.
"When we got there, we just went on a little tour," said Bates, the son of former Dallas Cowboys safety Bill Bates. "I was really impressed with all the facilities that they have. It was really impressive to see where they all work out and everything like that. I was just real excited to see all that.
To continue reading this article you must be an Insider
September, 18, 2012
9/18/12
10:37
AM ET
Junior safety
Trey Marshall
(Lake City, Fla./Columbia) was one of several visitors in Tallahassee last weekend for the Wake Forest game. Taking in the 52-0 lopsided victory for the home team, the prospect enjoyed himself.
From the stands, Marshall keyed on the Seminoles defensive backs and liked the energy vibrating from defensive coordinator Mark Stoops' group.
"It was a good experience," said the 6-foot-1, 185-pound prospect. "I was just looking at the defensive backs, mainly.
To continue reading this article you must be an Insider
Independent Investigation Highly Unlikely