Florida State Seminoles:

Noles-Jackets-120112
December, 2, 2012
12/02/12
9:00
AM ET
Here are your top three performers from the Dr Pepper ACC championship game:

Florida State DT Timmy Jernigan:
He had a career-best nine tackles, including 1.5 for loss and a sack, and was probably the biggest reason Florida State was able to hold Georgia Tech to just 183 rushing yards. His previous career best was six stops, which he had done twice. He earned his first full sack of the 2012 season when he stopped
Vad Lee
in the first quarter. He now has 4.0 career sacks.
Florida State LB Karlos Williams:
His interception with about a minute remaining was the difference in the game, and he also led the team with 11 tackles in what was the first time he's played extensively at linebacker. Williams, who had played at safety most of the season, had a breakout game.
Florida State RB James Wilder Jr.:
He was named the MVP of the game after he led FSU with 69 yards rushing on 10 carries and scored two touchdowns in the second quarter. Wilder's two rushing scores give him 11 on the season and mark his fourth two-touchdown game of the year. He becomes just the eighth Seminole ever to rush for 10 or more touchdowns in a single season and just the second since Warrick Dunn in 1996 (Antone Smith, 15, 2008).
December, 2, 2012
12/02/12
2:09
AM ET
CHARLOTTE, N.C. -- In a span of four days last week, Florida State lost three times.
On Saturday, the Seminoles lost a heartbreaker to rival Florida in the final game of the season on their home turf. On Sunday, they lost their leading tackler and star defensive end,
Tank Carradine
, to a torn anterior cruciate ligament. And on Tuesday, they lost their beloved defensive coordinator, Mark Stoops, to Kentucky. Never mind the constant swirl of rumors about head coach Jimbo Fisher following Stoops into the SEC for another head-coaching gig.
"There were a lot of distractions this week," FSU athletic director Randy Spetman said.
[+] Enlarge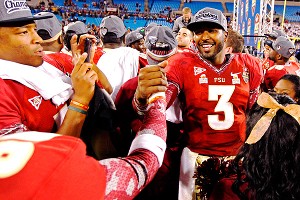 AP Photo/Chuck BurtonFlorida State QB EJ Manuel (3) celebrates the team's first ACC title since 2005 with teammates.
Despite it all, one thing Florida State didn't lose was sight of its goals.
With a
21-15 victory
over Georgia Tech on Saturday in the Dr Pepper ACC championship game, the Seminoles knocked any perceived distractions over like bowling pins. There was no sign of a hangover from the Florida game as FSU jumped out to a convincing 21-6 lead at the half. The news about Carradine and Stoops inspired the defense to a game-changing finish in the fourth quarter, as an interception by
Karlos Williams
sealed the ACC title with about a minute remaining. For a fleeting moment late Saturday night, as confetti scattered in the air and the Seminoles celebrated their first ACC title since 2005, the rest of the college football world was forced to pause and finally let the Noles enjoy themselves.
They earned it.
"We are still ACC champions, and that is one goal," FSU safety
Lamarcus Joyner
said. "We had a lot of goals and we met one of them. We have another one in front of us. That makes greatness, grasping opportunities in front of you."
In order to do that, they had to forget the missed opportunities behind them -- the loss to NC State, the loss to Florida.
There's no question there was a sense of relief from within the program Saturday night. This is a team that began the season ranked No. 3 in the country. The loss to NC State knocked the Noles out of the national title conversation and will continue to haunt them long after this season ends. Five turnovers in a loss to Florida was another statement opportunity squandered. And with Georgia Tech in position to put together a game-winning drive late in Saturday's game, NC State 2.0 looked like a very real possibility.
It was almost as if you could hear the entire city of Tallahassee exhale all the way in Charlotte when Williams snagged that pick.
"Oh man," defensive tackle
Timmy Jernigan
said. "Oh, man. We've been trying to get here for a long time. That's why I thank God for letting us win this game and I thank the seniors for helping this program get back to the top and get back into the national title conversations and winning these ACC championships and Orange Bowls and those types of games. We're Florida State. That's what's supposed to happen. It wasn't nothing miraculous. That's what we're supposed to do."
It wasn't easy, and it wasn't pretty, but it didn't matter.
Give 'em a break. In the end, Florida State is right where almost everyone predicted this summer it would be: heading to the Discover Orange Bowl. While many will continue to lament what could have been, Florida State is staring down what is: the possibility at a 12-2 season with an ACC title and a BCS win.
Not exactly a five-loss Rose Bowl team, now is it?
"I'm extremely happy for our players because I know how hard it is and how much flak they've taken: 'When are you going to be back, when are you going to win a championship, when are you going to do this,'" Fisher said. "... There's a point in time you point back and you look at it and you say, 'That was it.' That's the time that you got over the hump and you got there and you didn't let the circumstances blur your vision, and they did that."
It doesn't always have to be about playing in the shadow of the SEC or comparing what's happening in Charlotte to what's happening in Atlanta. It wasn't time to ask whether Fisher was the right man to replace Bobby Bowden. For once -- just once -- it can be simply about putting a trophy in the case and letting a group of players -- kids -- who have been through a lot enjoy it.
"I'll be extremely proud of it 10, 15 years from now," quarterback
EJ Manuel
said. "I'll be able to say I helped our team get back to where we needed to be as far as the BCS conversation, the national championship conversation and things like that. I want to see greatness from here on out. We have a lot of great players, a lot of great young players, and guys understand what it takes to get to this point, so I don't see us going back to where we used to be. I think Florida State is back in the conversation."
Thanks in large part to the defense, which held Georgia Tech and the nation's No. 3 rushing offense to just 183 rushing yards.
"You didn't want to work this hard for three years and not be able to finish this," Stoops said, "because our program, Coach Fisher and the players deserved this win."
And they deserve to celebrate it -- without any distractions.
December, 2, 2012
12/02/12
12:45
AM ET
CHARLOTTE, N.C. -- Florida State defensive coordinator Mark Stoops might have coached his last game with the Seminoles in Saturday's
21-15 victory
over Georgia Tech in the Dr Pepper ACC championship game, but he hasn't entirely ruled out coaching in the Discover Orange Bowl. Stoops will be introduced as Kentucky's next head coach at a press conference Sunday.
"Coach [Jimbo Fisher] and I really have not discussed it," Stoops said. "Coach and I need to sit down and have a discussion on that. It will be hard. It will be hard to do. I don't want to be a distraction. We'll see. I'm never going to turn my back on these kids. It will be a mutual decision we'll all sit down and figure out."
December, 1, 2012
12/01/12
11:19
PM ET
No. 13 Florida State held off a late push from Georgia Tech to win the ACC championship game
21-15
on Saturday night in Charlotte, N.C. Here is a quick look at how it happened:


It was over when:
You did not step into an NC State time warp, Florida State fans. The Seminoles found themselves in a dogfight with the Yellow Jackets after cruising to a 21-6 halftime lead. The Noles did not score again on a defense that ranks No. 10 in the ACC in scoring D. You remember the last time FSU was scoreless in a half: the loss to the Wolfpack. Georgia Tech threatened to pull the major upset, after
Jemea Thomas
intercepted
EJ Manuel
with 2:17 to go. But the Jackets do not have a prolific quarterback like
Mike Glennon
, and
Tevin Washington
could not deliver.
Karlos Williams
sealed the game with an interception to give Florida State its first ACC championship since 2005.
Game ball goes to:
Safety Karlos Williams. What a momentous time for Williams to intercept the first pass of his career. His incredible play allowed the Seminoles to hold on for the victory.
Stat of the game:
194-183. This is not a typo -- the Seminoles outrushed one of the most prolific rushing offenses in the country. Running back
James Wilder Jr.
ended up being selected game MVP after rushing for 69 yards and two touchdowns. Florida State won this game in large measure because of the way it was able to shut down the triple-option.
Second guessing:
Interestingly, Georgia Tech coach Paul Johnson had Washington in the game for the final drive -- even though
Vad Lee
has the much stronger arm. In fact, Washington played a large portion of the game. And in the end, it was Washington who threw the game-ending interception.
What it means:
Florida State is headed to the Orange Bowl, and its most likely opponent is Louisville -- a future Atlantic Division rival. Georgia Tech got its bowl waiver and could end up in the Hyundai Sun Bowl.
December, 1, 2012
12/01/12
7:22
PM ET
CHARLOTTE, N.C. -- It's a beautiful evening here in the Queen City, and the dedicated ACC fans who are here are enjoying themselves.


Let's get to the news first.
B.J. Bostic
will start in place of A-back
Orwin Smith
, the Jackets' leading rusher who injured his ankle in the Duke game and was also sidelined for last week's game against Georgia. Defensively,
Euclid Cummings
will start in place of defensive end
Emmanuel Dieke
. Florida State has not reported any lineup changes.
As for attendance, which is sure to be a hot button topic this year ...
More than 50,000 tickets were sold in advance, according to an ACC official. There are two giant, black, ACC-branded tarps blocking off four upper-deck sections in each end zone, and if the seats are empty, you'll be able to see them on TV, as the majority are Carolina Panthers blue. This year should be an anomaly, though, not a trend for the league championship game (at least ACC officials hope). Last year was great attendance for the Clemson-Virginia Tech rematch, but let's face it: this game has taken the backseat even to other news within the conference this week. Not to mention the Coastal Division was an absolute disaster, with both Miami and North Carolina ineligible to play in this game. Georgia Tech is here by default, and if it loses this game, it will drop to 6-7 and play in a bowl game thanks to a waiver granted by the NCAA.
And yet Georgia Tech is just one win away from playing in the Discover Orange Bowl.
It's the goal for both teams, regardless of how many fans come out to watch tonight.
Goodell Has Sit-Down With Jameis Winston
ACC SCOREBOARD
Thursday, 9/3
Saturday, 9/5
Monday, 9/7