Florida State Seminoles:

Mike Gillislee
January, 11, 2013
1/11/13
9:00
AM ET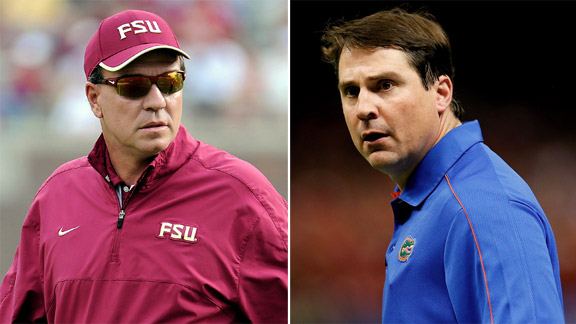 USA TODAY Sports, Getty ImagesCoaches Jimbo Fisher and Will Muschamp led their respective teams to double-digit wins in 2012.
The good ol' days returned to the Sunshine State in 2012, as both Florida and Florida State were nationally relevant again. Both teams finished ranked in the AP Top 10 for the first time since the 2000 season as Florida State won 12 games, and Florida won 11.
But who had the better season? Orlando Sentinel columnist Mike Bianchi
asked that question
earlier this week. Now, SEC blogger Edward Aschoff and I are here to settle the debate once and for all.
Adelson says: Chop over Chomp
The answer to this question is as easy as 1+1. There is no way Florida had a better year than Florida State. Not with that big fat L tattooed all over Florida. Make that a double LL tattoo: LOUISVILLE LOSS.
Here is what Florida State did in 2012 that the mighty Gators did not do:
Florida State won its BCS game, avoiding the shame and embarrassment that still stings in Gainesville.
Florida State tied the school record for wins in a season with 12.
Florida State won its conference.

That is a winning trifecta right there, and should deem any argument from the SEC moot.
What? Florida beat Florida State head-to-head? Noles fans cannot hear you because they have championship rings plugging up their ears. Still one of my favorite comeback lines of all time.
I watched that game in Tally. Florida was the better team that day, and deserved to win. Florida had the more surprising season, too, considering nobody expected the Gators in a BCS game. Will Muschamp did a terrific job turning around a seven-win team into an 11-win team. I give them credit for all that.
But a head-to-head win against Florida State does not automatically mean the Gators had a better season. A season where expectations were exceeded is not better than a year in which every single expectation was met. Did folks think Florida State could compete for a national championship this year? Yes. Was it disappointing when Florida State fell short of that? Yes.
That disappointment does not define a season, however. At the start of every single season, coaches will tell you the goal is to win a conference championship. Bigger goals follow. Florida may have beaten Florida State on the scoreboard, but the Seminoles won in the much bigger category.
They are champions, two times over.
Aschoff says: Chomp, chomp!
If you turned on your computer for the first time since August and saw just the final records of Florida and Florida State, I guess you could say the Seminoles had a better season in 2012. If you look at the final games for both schools, you'd probably go with the Noles again, considering they blew out Northern Illinois in the Discover Orange Bowl, while Florida was beaten down by Louisville in the Allstate Sugar Bowl.
Seems easy enough, but when you look at the total body of work, Florida clearly had the better year in 2012. For starters, this team wasn't even supposed to win nine games. It was an eight-win team at best but won 11, was a win away from going to the SEC title game in Atlanta, went to a BCS bowl game and handily beat Florida State IN Tallahassee in the process. Despite having the worst passing game in the SEC, the Gators went 7-1 in the country's toughest football conference, with that lone loss coming to a Georgia team that was 5 yards away from taking Alabama's spot in the BCS title game. Oh, and Florida was a missed Pittsburgh field goal away from playing in the national championship.
Florida State was supposed to be in a BCS bowl. The Noles were supposed to be national title contenders and they fell flat against NC State (the same NC State that was pummeled by Vanderbilt in the Franklin American Mortgage Music City Bowl) and were roughed up 37-26 by Florida at home. If anything, 2012 was a major disappointment for the Noles.
Florida took down Johnny Football IN College Station and beat up LSU at home before blowing out South Carolina by 33. Florida beat four top-10 teams with basically an elite defense and a running game led by a first-year starter in
Mike Gillislee
.
Florida had some ugly wins, but this team found ways to win and ended the regular season No. 3 in the BCS standings.
Did I mention that Florida did all of this in the SEC, while Florida State underachieved in the ACC?
December, 13, 2012
12/13/12
8:00
AM ET
With 2012 winding to a close, we're counting down the five biggest moments of the past season for Florida State. Today, we look at No. 2: EJ Manuel's fumble against Florida.
In the aftermath, EJ Manuel looked dazed, his voice barely above a whisper. The hit by Florida freshman
Antonio Morrison
left his head ringing and sidelined him for a drive, but that was only the beginning of Manuel's woes.
Manuel's final home game in his five-year career at Florida State also might have been his worst. It was a dismal performance that included four turnovers by the senior quarterback, including three interceptions that doomed his offense and a fumble caused by that punishing blow by Morrison that set up yet another score by the Gators that effectively ended Florida State's hopes at a comeback.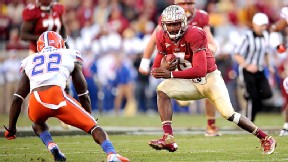 Kevin Liles/US PresswireFlorida's pass rush put constant pressure on EJ Manuel in FSU's home finale.
The prelude to Manuel's fumble was ugly, but the blame was shared. Florida State's offense could muster nothing, and the myriad turnovers kept the defense on the field beyond the point of exhaustion. Only a late field goal put FSU on the scoreboard before the half, and Florida went to the locker room with a 13-3 lead.
In the third quarter, however, everything changed. The lights flipped on, the Gators shot themselves in the foot repeatedly, and Florida State's defense dominated. A touchdown throw to
Nick O'Leary
closed the gap, a 1-yard run by Manuel gave FSU the lead and a
Dustin Hopkins
' field goal added some insurance. The tide had turned, but not for long.
Florida State's first drive of the fourth quarter was a crucial one. Florida had just booted a field goal to pull within four and regain a measure of momentum, but the Seminoles were ready to answer.
On first down near midfield, Manuel was quickly pressured. He took off toward the line of scrimmage, hoping to make a play with his feet. Instead, he met a duo of Florida defenders and refused to go down quietly. That left Manuel prone as Morrison delivered the hit -- with the quarterback tumbling to the ground and the football bouncing away.
Florida recovered, and as Manuel underwent a battery of tests on the sideline to determine if he'd suffered a concussion, it took just one play for the Gators to cash in.
Mike Gillislee
rushed for a 37-yard touchdown to regain the lead 23-20, and Manuel still was woozy when Florida State got the ball back.
Clint Trickett
entered, but he was cold and so was the offense. A handoff went nowhere, and Trickett was pressured heavily on the next two plays. FSU went three-and-out, and Florida scored again on the ensuing drive. A 4-point lead turned into a 10-point deficit in the matter of just five minutes, and it all started with Manuel's ill-advised scramble and a game-changing fumble.
"It was not one of his better performances," Jimbo Fisher said afterward in an obvious understatement.
Manuel offered little other than some vague descriptions of a hit to the head -- no flag was thrown on the play -- and regret over the outcome.
He did return from the injury on the next drive, but by that time it was too late. The defense was gassed, and Florida added another TD. Manuel's final touchdown run as time expired did nothing to alter the outcome, erase the pain or make up for the fact that FSU had lost a winnable game to the best opponent it faced all season.
Still, no players wanted to blame Manuel when it was over.
"He's a warrior,"
Kenny Shaw
said. "Nobody would even think about coming back after the shot he took. He gave it his all. I can do nothing but respect him for that."
November, 25, 2012
11/25/12
11:00
AM ET
When it was over, Jimbo Fisher couldn't help but recount all the opportunities Florida State had let slip by. From the turnovers to the run defense to the special teams blunders, every unit contributed to the 37-26 Florida win, he said.
The numbers tell the story of an FSU team that hardly resembled the dominant group that had won 10 of its first 11 games. Here are five that made the biggest impact in Saturday's defeat at the hands of the Gators.
244.
That's the number of rushing yards Florida State allowed Saturday, the most for an FSU defense since a loss to Florida in 2009 when the Gators tallied 311 yards on the ground. Florida's
Mike Gillislee
finished with 140 yards and two touchdowns on 24 carries, the most yards by an individual back against FSU since Clemson's Jamie Harper ran for 143 in 2010. Florida's three rushing touchdowns were the most against FSU since NC State had three in 2010, and the Gators racked up four different runs of at least 20 yards in game, matching the total number FSU had allowed all season.
23.
That's the number of turnovers Florida State has this season -- four more than the Seminoles finished with a year ago. In seven games this season, FSU had turned the ball over at least twice, but it managed to win all of them. On Saturday, however, the luck ran out. The Seminoles coughed up the football five times -- the most in any game since last season's loss to Wake Forest.
EJ Manuel
threw three ugly interceptions and gave up a fumble, while
Karlos Williams
fumbled away a kick return. Two of the turnovers occurred deep in Florida territory -- taking likely points off the board for FSU -- while the Gators turned two turnovers into 14 points in a game that ended up decided by just 11.
36:20.
That's Florida's time of possession in Saturday's win, but it may not even tell the whole story. Thanks to FSU's early offensive miscues, the Gators dominated the time of possession in the first half, slowly wearing down the Seminoles' D. By the time Manuel coughed up a fumble with 11:09 remaining in the fourth quarter, Florida had a nearly 18-minute edge in time of possession and had run 62 offensive plays to FSU's 34. Not surprisingly, FSU's D had nothing left, and Gillislee ran for a 37-yard score one play later.
3.
That's the number of times Florida State punted Saturday, and freshman
Cason Beatty
averaged just 42 yards on those kicks. That still marked his fourth-best average on the season, but despite the seemingly big advantage Florida had in that area, it wasn't Beatty's leg that proved to be the difference on special teams. His longest punt of the day was a 54-yarder, but FSU couldn't cover it and
Marcus Roberson
returned it 50 yards to the Seminoles' 32-yard line, setting up a touchdown that effectively sealed the game.
6.
That's the number of tackles for
Bjoern Werner
in the game, including 3.5 sacks. Werner was dominant through three quarters, consistently pressuring Florida QB
Jeff Driskel
and almost singlehandedly changing the momentum in the third quarter, culminating with a huge fumble recovery that set up a touchdown run. But after Manuel coughed up the fumble in the fourth quarter, there were no more heroics left for Werner, who had simply run out of gas. He finished without a tackle in the final quarter, and Florida responded with 24 unanswered points.
November, 25, 2012
11/25/12
9:00
AM ET
Slumped over a table, surrounded by reporters,
EJ Manuel
took the blame for Saturday's 37-26 loss to Florida. Given his four turnovers, he was right to do so.
But it wasn't all about Manuel, of course. As Jimbo Fisher said, it was a game of momentum, and the Seminoles had their share of big plays and disastrous ones, and Manuel was only at the forefront of a few.
THREE UP
November, 24, 2012
11/24/12
7:23
PM ET
TALLAHASSEE, Fla. -- Here's a quick look back at No. 4 Florida's
37-26 victory
over No. 10 Florida State on Saturday in Doak S. Campbell Stadium:


It was over when:
With seven minutes left in the game, Florida quarterback
Jeff Driskel
threw a 14-yard touchdown pass to
Quinton Dunbar
to put the Gators ahead 30-20. In five plays, the Gators went 32 yards to score -- a short field that was set up by
Marcus Roberson
's 50-yard punt return. It was a huge special-teams play that put Florida in position to separate itself and gave the Gators the momentum.
Game ball goes to:
Florida's defense. It lived up to the billing, as the Gators forced five turnovers, and held Florida State to just 112 rushing yards and well under its season average of 42.91 points per game.
Stat of the game:
Florida State turned the ball over five times -- two lost fumbles and three interceptions. Overall, Florida scored 10 points off FSU's turnovers.
EJ Manuel
's fumble in the fourth quarter led to an immediate score for running back
Mike Gillislee
, a 37-yard run that put the Gators up 23-20.
What it means:
Florida still has an outside shot at playing for the national championship and further stated its case for a BCS bowl. It also snapped a two-game losing streak to coach Jimbo Fisher. For Florida State, it was a squandered opportunity to prove it deserves to be higher in the BCS standings and make an argument against the computers. It also was another letdown for the ACC on a national stage.
November, 23, 2012
11/23/12
9:00
AM ET
TALLAHASSEE, Fla. -- For
EJ Manuel
and the rest of Florida State's seniors, the moment is emotional by design. They'll take the field Saturday knowing its the last time they'll do so at Doak Campbell Stadium, a mix of nostalgia and finality.
The same could be true for junior
Bjoern Werner
, too, should he decide to enter the NFL draft at year's end, but he's choosing not to look at it that way.
[+] Enlarge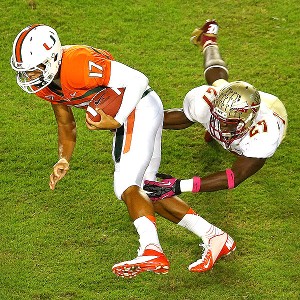 Mike Ehrmann/Getty ImagesAn injury at the end of last season kept CB Xavier Rhodes at FSU another year, but now the emotional player faces a huge decision.
"I'm just going to finish the season and think about it after the season," Werner said. "If I start thinking about it too early, I'm just going to mess up my game. We have big games -- Florida, an ACC championship, and hopefully an Orange Bowl. I can't think about that stuff."
Werner is one of a handful of Florida State underclassmen who could forgo a final season with the Seminoles in favor of an NFL career, which could make Saturday's game all the more significant if they let the weight of the decision sink in.
So far, however, they all appear to be following Werner's lead.
"I never put that pressure on me," said safety
Lamarcus Joyner
, whose draft future is perhaps the most uncertain of any of FSU's potential early departures. "That's something that has to be evaluated definitely at the end of the season."
Werner figures to be a sure first-round pick if he departs early, and cornerback
Xavier Rhodes
could be as well.
A year ago, as a redshirt sophomore, Rhodes weighed the decision, too, but an injury during FSU's bowl game made the choice easy. This time around, he's acutely aware that the finality of a season and a career can sneak up on a player -- whether or not he's thinking of heading to the NFL.
"Every game to me is emotional," Rhodes said. "You've got to cherish every second of it. That's how I go into every game."
Rhodes, Werner, Joyner and linebacker
Christian Jones
could all choose to leave at year's end, but that's still a decision that doesn't need to be made for a few weeks.
In the interim, there's a game with Florida -- a team none of the four juniors have lost to as active players. Keeping that streak alive means a lot more at this point than a career that may soon be ending.
November, 19, 2012
11/19/12
10:42
AM ET
GatorNation's Michael DiRocco and NoleNation's David Hale break down Saturday's Florida-Florida State game in Tallahassee, Fla.:
UF offense vs. FSU defense
Florida:
The Gators have really struggled to move the ball during the second half of the season, especially through the air. Teams are stacking the box and concentrating on stopping RB
Mike Gillislee
(964 yards, 8 TDs). The pass protection has been inconsistent and the receivers, other than TE
Jordan Reed
, have trouble separating. UF isn't able to mount more than one or two sustained drives against good defenses.
Florida State:
The numbers speak volumes for Florida State's defense, which ranks among the nation's best for the second straight season. It starts with defensive ends
Bjoern Werner
and
Cornellius Carradine
, the most prolific pass-rush duo in the country. But from the powerful interior line to a strong secondary, there are few weaknesses. The Seminoles rank first nationally in total defense, fifth in scoring defense, first against the run and fifth against the pass.
To continue reading this article you must be an Insider
August, 4, 2012
8/04/12
7:18
AM ET
Looking forward to real, live football, NoleNation takes a run through Florida State's 2012 schedule, going game-by-game to find the best storylines and matchups of the upcoming season.
Saturday, Nov. 24:
Doak Campbell Stadium, Tallahassee
2011 record:
7-6 (3-5 SEC). It was a tough debut season for Will Muschamp, as the Gators suffered their first six-loss season since 1987 and their first losing season in SEC play since 1979. Making matters worse, they dropped their second straight to in-state rival FSU, 21-7. Florida was 0-6 against FBS teams that finished the 2011 season with a winning record.
Coach:
Muschamp (7-6, second season)
Series record:
57th meeting, Florida leads 33-21-2.
Goodell Has Sit-Down With Jameis Winston
ACC SCOREBOARD
Thursday, 9/3
Saturday, 9/5
Monday, 9/7