Florida State Seminoles:

Mackensie Alexander
September, 13, 2013
9/13/13
4:00
PM ET
Don't let Friday the 13th voodoo get to you! It's almost game time.
Richard in Chino Valley, Ariz., writes:
Georgia Tech is leading the nation in both scoring offense (70 ppg) and scoring defense (0 ppg). However, they only received 10 votes in the AP poll. What is the reason for this slight? Shouldn't this be a story? I mean when was the last time a team AVERAGED 70 points per game.
Andrea Adelson:
One word: Elon. Beating an overmatched FCS opponent, no matter the score, is not going to all of a sudden earn you national praise and acclaim. Now if the Jackets had beaten Clemson 70-0,
THAT
would be a story!
---
Tim in Blacksburg writes:
You have a GT team that beat Elon at
No. 4 in the league
?? How is that win ... greater than VT's win over WCU and loss to Alabama?
Adelson:
Well, both teams beat FCS competition for their only win. Georgia Tech looked more impressive doing it, hence the slightly higher ranking. Georgia Tech and Virginia Tech will get their chance to prove who is better on the field soon enough.
---
West in Columbus, Ga., writes:
Has
Mackensie Alexander
redshirted, or what's up with that? I can't find a roster that says it.
Adelson:
Alexander has been dealing with a nagging groin injury since preseason camp. Defensive coordinator Brent Venables called Alexander "
an enigma
" earlier this week and was unsure when he'd see him back on the practice field. Time is ticking on a redshirt, that's for sure.
---
John in Atlanta writes:
Even if Miami is back, doesn't it seem a little too late? Clemson and Florida State have spent years building their image as THE two ACC elites. Meanwhile, Miami hasn't been good for what has felt like a lifetime. It seems like even if Miami were "back" this year, it wouldn't change college football's perception that the ACC is ruled by Clemson and Florida State. Thoughts?
Adelson:
Great question, John. I don't think it will ever be too late for Miami to be "back." The ACC has been waiting on its return since 2004 to strengthen the league. It will only help the ACC moving forward if it has three (or more!) national brand name teams as opposed to just two. Look over at the SEC. That league is not hurt by having five to six elite teams every single year. And the current run of SEC national championships? Four teams have combined to win them. While I do agree that one good year from Miami is not going to change perceptions overnight, it would be a start. And it would put the ACC in much better position than it has been over the last several years. Florida State, Miami and Clemson are three of the top four brand names in the league. Consistent 10-win seasons out of them year in and year out has got to be the goal moving forward.
---
Kevin in Louisville writes:
Hi AA. I'm sure you have noticed that if you include Louisville into the ACC mix, the ACC has three teams in the top 10. The SEC has four, Pac-12 has two and Big Ten has one. Also, the ACC currently has the top two Heisman candidates with a potential of three (FSU). I'm VERY excited to become a full member in July 2014.
Adelson:
I totally get your excitement, though we can't really call
Teddy Bridgewater
an ACC Heisman candidate because he is not playing in the league. Chances are, he probably never will. But still, I am sure the ACC is thrilled with the way Louisville has started the season and also is very excited to bring the Cardinals on board next year. The schedule will be 10 times tougher, but Charlie Strong has built a good foundation in Louisville. I don't expect Louisville to slink to the basement once it arrives.
December, 31, 2012
12/31/12
8:51
PM ET
SAN ANTONIO -- ESPN 150 outside linebacker
Mike Mitchell
(Plano, Texas/Prestonwood Christian) isn't big on speaking publicly. He'd rather let his game do the talking -- and it speaks volumes.
On Monday, the 6-foot-5, 222-pound linebacker officially confirmed that he will announce his college plans during Saturday's U.S. Army All-American Bowl. Oregon, Texas A&M and Ohio State are his three finalists.
To continue reading this article you must be an Insider
December, 6, 2012
12/06/12
7:00
AM ET
NoleNation addresses questions from the fan base about Florida State recruiting as we head toward national signing day.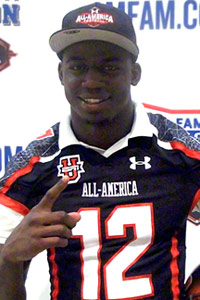 Jeff Peoples/IntersportIf Matthew Thomas isn't the top player left on FSU's board, he's pretty close.
ktruba asks, "What committed recruits out there are the most critical to FSU at snagging for the 2013 class?"
Dowlar:
For me, the top remaining guy is
Matthew Thomas
. He is an instant impact guy at the linebacker position and Florida State has been all over him for a long time now. The Seminoles are probably the leader in the clubhouse, and from that position, they can't afford to lose him.
To continue reading this article you must be an Insider
November, 7, 2012
11/07/12
11:53
AM ET
At first glance, this year's Florida State recruiting class lacks the star power of the two before it. That isn't to say it is void of quality, though. But Seminoles do have some offensive firepower on the list, notably four-star prospects
Ryan Green
,
Isaiah Jones
, and
Levonte Whitfield
. In the trenches, which has been an area of focus for the Seminoles coaching state in recent cycles, offensive linemen
Austin Golson
and
Ira Denson
and defensive end
Davin Bellamy
have them off to a good start.
To continue reading this article you must be an Insider
October, 5, 2012
10/05/12
1:10
PM ET
By
NoleNation staff
| ESPN.com
RecruitingNation has summoned its writers from around the country to compile a list of the top 10 battles for elite football recruits leading up to February's signing day.
The Seminoles, of course, are in several battles to complete their class. Florida State is a darkhorse for the top-ranked recruit in the country,
Robert Nkemdiche
(Loganville, Ga./Grayson) and firmly in the race for several others, including
Laremy Tunsil
(Lake City, Fla./Columbia),
Mackensie Alexander
(Immokalee, Fla./Immokalee),
Priest Willis
(Tempe, Ariz./Marcos De Niza),
Matthew Thomas
(Miami, Fla./Booker T. Washington) and
Kendell Beckwith
(Jackson, La./East Feliciana).
Read more about the #BlueChipBattles

for the 2013 signing classes.
September, 22, 2012
9/22/12
8:38
AM ET
LAKE WALES, Fla. -- Five-star cornerback
Mackensie Alexander
of Immokalee (Fla.) High School revealed some of his future plans after a Friday night loss to Lake Wales (Fla.) High School.
However, the 5-foot-10, 185-pound senior isn't going to tell everything.
"I'm planning on going to the FSU-Clemson game Saturday, we'll see what happens," Alexander said. "I want to see how FSU plays, how they cover [Sammy] Watkins. I talked to Sammy and he says he's going to do his thing.
To continue reading this article you must be an Insider
September, 21, 2012
9/21/12
11:00
AM ET
Florida State's 2012 schedule is conducive to a BCS bowl run with the absence of a lot of tough challenges. And for that reason, several national analysts have the Seminoles as their pick to attend the national title game in Miami.
What the schedule isn't, though, is full of marquee home games.
Saturday's matchup with Clemson, a top-10 contest that will likely decide the ACC Atlantic Division, qualifies as one -- if not the biggest. Keeping that in mind, it is also a perfect opportunity for the Seminoles to have some of their biggest targets on campus.
To continue reading this article you must be an Insider
September, 12, 2012
9/12/12
5:59
PM ET
It would be difficult to say that arguably the most prestigious program in college football history could possibly expand its recruiting footprint.
Notre Dame, a nationally recognized program, regularly brings in student-athletes from Florida, Texas and California. With its new membership in the ACC and football scheduling, that national reach won't shrink.
But it all comes down to this -- schools such as Florida State or Miami will still go head-to-head with Notre Dame for prospects.
This year, the competition is for cornerback
Mackensie Alexander
(Immokalee, Fla./Immokalee), a five-star cornerback who is considering Alabama, Clemson, Florida, Florida State, Notre Dame and Tennessee, among others.
Last year it was
Ronald Darby
, a defensive back who is now getting immediate playing time with the Noles as a true freshman. He was rated the third-best cornerback in the country by ESPN and decommitted from Notre Dame before eventually signing with Florida State.
Before that, it was
Aaron Lynch
and Jordan Prestwood -- both of whom are no longer at Notre Dame, where they signed. Both were committed to Florida State at one point.
The Irish appeal to recruits is clear. Whether it is the history and tradition, the academics or other factors, recruits enjoy their time in South Bend when they visit.
What the Seminoles have going for them, like the Hurricanes before them, is location. Winning helps, too, of course.
So while Notre Dame's product will be featured more prominently in the state of Florida by rotating teams on the schedule every three years or so, the net effect doesn't drastically change much on the recruiting front.
July, 3, 2012
7/03/12
1:42
PM ET
[UPDATE: Baker says he is
officially committed
to Florida State.]
ESPN 300 defensive back
Adrian Baker
(Hollywood, Fla./Chaminade-Madonna) has had an interesting 24 hours. The 6-foot-1, 165-pound senior announced Monday via Twitter that he had made a long-expected commitment to Florida State. But Baker clarified his situation Tuesday, saying that FSU was not ready to accept his commitment.
Now the four-star prospect says he will reset his recruitment.
To continue reading this article you must be an Insider
Scene and Heard: Top 10 Predictions
ACC SCOREBOARD
Thursday, 8/28
Friday, 8/29
Saturday, 8/30
Monday, 9/1