Florida State Seminoles:

Justin Shanks
May, 2, 2013
May 2
8:30
AM ET
TALLAHASSEE, Fla. -- The 2012 signing class brought 16 new faces to Florida State, but after a full year on campus, fans have seen only a glimpse of what the group, ranked as the No. 2 class in the nation, can do.
Nine members of the 2012 class saw action last season, and only defensive end Mario Edwards Jr. earned a start. But even Edwards' progress comes with an asterisk. He was slated to redshirt when the season began, and he only worked his way onto the field -- and later, into the starting lineup -- thanks to a series of injuries.
[+] Enlarge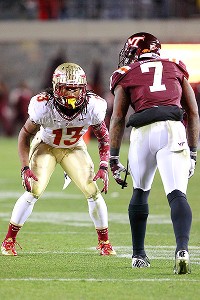 Geoff Burke/Getty ImagesCornerback Ronald Darby got considerable playing time as a freshman and will compete for a starting position next season.
After a year largely spent on the sidelines, the Class of 2012 is poised to make an impact this season. Here's how we see things shaping up.
The wild card
Marvin Bracy, WR
Bracy skipped spring practice to focus on track, and now it seems entirely possible that decision could be permanent. Bracy has world-class speed, and if he chooses to go pro as a sprinter, he'd wave goodbye to his FSU football career. A decision could come any day.
Waiting their turn
Justin Shanks, DT
Despite FSU losing its two starting tackles, the position is still chock full of talent, which has managed to overshadow Shanks -- something that's awfully hard to do to a player pushing 320 pounds.
Colin Blake, CB
Blake battled injuries early in 2012 and ended up redshirting. He might have had a chance to earn a regular role this season, but
Lamarcus Joyner
's move to corner likely makes the field a bit too crowded. Blake will see work on special teams, but he'll need a few starters to go down with injuries before regular playing time is available in a crowded secondary.
Sean Maguire, QB
To Maguire's credit, he conceded nothing during FSU's quarterback competition this spring. Still, the writing was on the wall. Maguire has a good arm and solid long-term potential, but the job isn't likely to be his for at least a few more years.
To continue reading this article you must be an Insider
March, 14, 2013
Mar 14
8:00
AM ET
TALLAHASSEE, Fla. -- With spring practice less than a week away, the fervor surrounding some of the most-hyped storylines of 2013 has already been raging for months. The three-way battle at quarterback, the return of
Bobby Hart
to the limelight,
Lamarcus Joyner
's move to cornerback -- Jimbo Fisher already has plenty to keep his eye on.
But while those stories will continue to headline Florida State's preparations for the 2013 season, there are a handful of other intriguing players to watch this spring. They might not be in the running for a starting job, but they should offer plenty of reasons to watch as they look to impress a new group of coaches and find their own niche for the upcoming season.
Mario Pender (RB/RFr.)
When it comes to sheer intrigue, the entirety of Florida State's returning redshirts could probably make the list -- with
Jameis Winston
probably atop it. But while there will be genuine interest in
Justin Shanks
' weight or
Marvin Bracy
's speed, it's Pender who likely leads the pack in non-QB buzz from fans. The highly touted tailback missed all of 2012 with a groin injury and is just now getting back into full swing. His workouts during fourth-quarter drills earned raves from Fisher, who compared his burst and home-run ability to
Chris Thompson
-- only Pender is a bit bigger and stronger. Does that mean a job awaits this fall? Not exactly, but he'll definitely have his coaches' attention.
February, 14, 2013
Feb 14
11:00
AM ET
By
David M. Hale & Corey Dowlar
| ESPN.com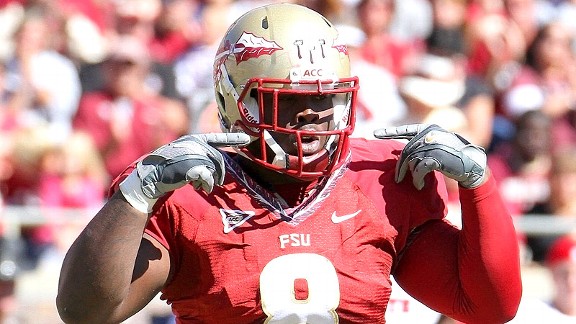 AP Photo/Don Juan MooreTimmy Jernigan should be one of the ACC's elite defenders in 2013.
When it comes to recruiting, coaches need to be thinking long-term. It's not just about which holes must be filled immediately, but rather where the needs might be in two or three more years.

With that in mind, NoleNation writers David Hale and Corey Dowlar are going position by position, looking at what FSU has on its roster now, and who might provide reinforcements down the line, projecting starters and evaluating the depth through 2015.
Up next, a position that will see plenty of turnover in 2013: Defensive tackle.
To continue reading this article you must be an Insider
February, 14, 2013
Feb 14
7:00
AM ET
With national signing day now beyond us, NoleNation takes a closer look at the next crop of Seminoles.
Vitals:
Defensive tackle
Keith Bryant
(Delray Beach, Fla./Atlantic), 6-foot-2, 292 pounds
To continue reading this article you must be an Insider
January, 29, 2013
Jan 29
9:00
AM ET
From the impending quarterback competition to finding replacements for departing juniors, Jimbo Fisher will have his work cut out for him during the next few months as he lays the groundwork for 2013.
With that in mind, we're going to go position-by-position looking at Florida State's strengths and weaknesses as the Seminoles prepare for the start of spring practice.
Previously:
Cornerback
,
Wide Receivers and Tight Ends
Next up:
Defensive Tackles
[+] Enlarge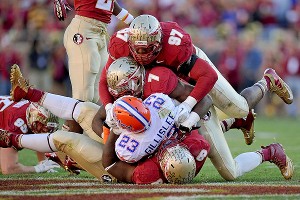 Kevin Liles/US PresswireDemonte McAllister (97) took a step forward in his junior season.
2012 recap:
Florida State's defensive line was as hyped as any unit in the country entering the season, and the veteran group did little to disappoint, despite a heavy dose of injuries. While the ends took top billing, it was once again the run stuffers up the middle that set the tone. Seniors
Everett Dawkins
and
Anthony McCloud
turned in their usual quiet-but-productive seasons, while
Timmy Jernigan
proved his freshman campaign was no fluke, blossoming into one of the most dominant interior linemen in the country as a sophomore.
Demonte McAllister
took a step forward as a junior and
Eddie Goldman
, the highly touted freshman, played sparingly but effectively. Overall, the tackles helped Florida State finish third in rush defense nationally, the second straight year it finished in the top 3.
Departures:
Stalwarts Dawkins and McCloud were never the most hyped guys on FSU's defense, but for the past two seasons, they were often the foundation of a unit that dominated opposing run games. Both departed at year's end as seniors, part of a massive overhaul on the D line that will see the Seminoles replace all four of their starters. Still, there's a wealth of talent -- as many as six potential impact players -- at the tackle position that should make for a relatively smooth transition.
Arrivals:
Four-star commitment
DeMarcus Walker
(Sandalwood/Jacksonville, Fla.) is among FSU's most prized recruits from the class of 2013, while the Seminoles will also add a top recruit from the 2009 class when senior
Jacobbi McDaniel
finally returns from an ankle injury that kept him out for much of the past two seasons. Redshirt freshman
Justin Shanks
(6-2, 340) should be an intriguing addition to the lineup as well.
January, 10, 2013
Jan 10
9:00
AM ET
In the months before spring football begins, there will no doubt be plenty of talk about all the talent Florida State lost -- from senior leaders like
Lonnie Pryor
and
Everett Dawkins
to talented juniors like
Xavier Rhodes
and
Bjoern Werner
.
[+] Enlarge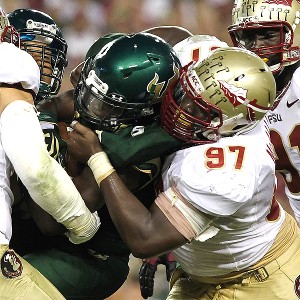 Kim Klement/US PresswireFSU's Demonte McAllister is emerging into a force.
Those discussions will inevitably be countered by enthusiasm about the future, too. Freshman
Ronald Darby
had an exceptional year in 2012 and is poised to blossom into a star. Defensive end
Mario Edwards Jr.
got a crack at the starting role in the final two games of the season and delivered strong performances.
Karlos Williams
' star has been on the rise for two full seasons now, and he appears ready for a breakthrough. And, of course, the questions of who will take over at quarterback will be ubiquitous.
But as the sun sets on 2012 and the preparations for 2013 begin, here are five more players who didn't exactly earn raves last season but could prove to be significant contributors for Florida State in the season to come.
Kelvin Benjamin (So./WR)
Background:
It's somewhat odd that, after more than a year of continuous hype, Benjamin appears to be flying a bit below the radar now. Chalk it up to a rather disappointing finish to 2012. After racking up 25 touches for 476 yards and four TDs in his first nine games, Benjamin mustered just seven catches for 52 yards and no scores over the final five.
December, 5, 2012
12/05/12
7:00
AM ET
NoleNation takes a look back at the class of 2012 and how it made an impact in its first season in Tallahassee.
[+] Enlarge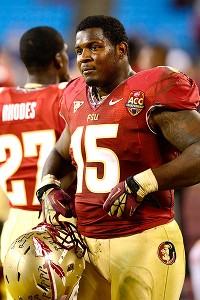 Bob Donnan/US PresswireMario Edwards Jr. is still raw, but he has proven to be one of the best defensive ends in the nation.
Mario Edwards Jr.
2012 season recap:
Initially began the season with plans to redshirt, but an early season-ending injury to
Brandon Jenkins
changed everything. With depth an issue, the redshirt came off and Edwards was pressed into duty. He progressed as the season went on and eventually started in the ACC Championship Game after an injury to
Cornellius Carradine
.
Future forecast:
Formerly the nation's No. 1 prospect, Edwards showed glimpses of his talent for Florida State this season. There is every reason to expect him to make a major impact next season on the defensive line.
To continue reading this article you must be an Insider
September, 3, 2012
9/03/12
2:16
PM ET
Mario Edwards Jr.
might have been the No. 1 recruit in the nation a year ago, but Jimbo Fisher said the freshman is No. 5 on Florida State's defensive end depth chart, which means he won't get any playing time in 2012.
Fisher said the lack of available reps behind incumbents
Bjoern Werner
,
Brandon Jenkins
and
Cornellius Carradine
led the coaching staff to decide to redshirt Edwards despite a strong performance during fall camp.
[+] Enlarge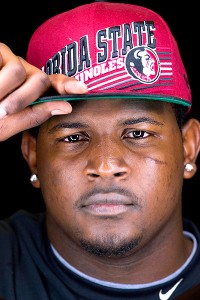 Kevin Jairaj/US PresswireMario Edwards Jr., a top recruit in the 2012 class, will redshirt as a freshman at Florida State.
"You've got three guys that are possible first- or second-round draft pick guys," Fisher said of his depth chart at the position. "To waste a year on a guy for five, six, seven plays a game makes no sense. We can play him five, six or seven plays, but how much do you gain? There's a lot more to lose in our opinion."
Edwards is one of 10 FSU freshmen expected to redshirt this season, but he was the only one not dressed for Florida State's opener against Murray State on Saturday.
Fisher said it was Edwards' decision not to dress, and that each redshirt player is given the choice before each game. Fisher said players might opt not to dress based on family members attending the game or other issues, but he did not offer any indication as to why Edwards, who along with all FSU freshmen is not made available to the media, chose against dressing for the first game of his college career.
"You don't have to dress. We'll have guys that will and guys that won't," Fisher said. "There was a situation last week, and [Edwards] will probably dress this week. But I give every guy their choice on that."
Edwards is the son of former FSU cornerback Mario Edwards Sr., who currently works for the university as a player development coordinator -- an administrative position that works closely with the coaching staff.
While the redshirt for Edwards comes as somewhat of a surprise given the defensive end's hype on the recruiting circuit, Fisher said the decision isn't indicative of any shortcomings Edwards displayed on the field.
"I'm not one bit disappointed," Fisher said. "What we saw on film and what we thought he was, we think he's exactly that right now. He could be even more. He's actually stronger and more powerful than I even realized."
Still, Edwards checked in at nearly 300 pounds upon arrival this summer, and Fisher said he hopes the redshirt season will provide the freshman with an opportunity to shed a few pounds while getting a better grasp on the playbook.
Fisher said Edwards was not upset by the decision, saying the two "had a good conversation" about the redshirt.
In addition to Edwards, Fisher said fellow defensive end
Chris Casher
, defensive tackle
Justin Shanks
, defensive back
Colin Blake
, linebacker
Markuss Eligwe
and receiver
Marvin Bracy
are all expected to redshirt as well.
Bracy has been limited since the spring with a nagging hamstring injury, and Fisher said there's still a chance he could work his way into a smaller role on offense this year, assuming the injury is fully healed now.
"If his hamstring will hold up, we may try to give him four or five things -- the return game and teach him four or five things on offense to get real good at and judge that as we go," Fisher said. "But we've got to do that hopefully this week. I'm anxious to see where he's at -- full, full speed."
Quarterbacks
Jameis Winston
and
Sean Maguire
and kicker
Roberto Aguayo
will also redshirt, along with freshman running back
Mario Pender
, who will miss the season with a groin injury, and senior defensive tackle
Jacobbi McDaniel
, who is still recovering from an ankle injury suffered last season.
September, 2, 2012
9/02/12
8:30
AM ET
Florida State began the 2012 season Saturday with a monster 69-3 win over Murray State, with
Lonnie Pryor
racking up three touchdowns,
Rashad Greene
returning the first post-
Greg Reid
punt for a score, and
Bjoern Werner
and the defense absolutely dominating the overmatched Racers.
But whenever 69 points is scored, there are bound to be a few storylines that get overlooked. So with that in mind, here are five newsworthy items and behind-the-scenes tidbits from Saturday that you might have missed.
1. Wilder's big night
After the game, James Wilder Jr. was still carrying around the game ball, promising he'd sleep with it Saturday night.
"I'm not letting it go tonight," Wilder said after the game. "This is going to be my girlfriend tonight."
Wilder said he already had purchased a glass trophy case before the season, waiting to get his first 100-yard game so he'd have a ball to put in it.
Turns out, it didn't take long.
Wilder racked up 106 yards and two touchdowns on 12 carries -- and six more on one catch -- to pace the Seminoles' running game.
What's more, Wilder did it while checking in at a hefty 231 pounds.
Wilder said he usually weighs in at 225 before a game, and his goal had been 222. But Wilder had trouble shedding pounds in recent weeks because he was held out of a number of workouts during practice.
Jimbo Fisher had said they were being cautious with Wilder because of some shoulder soreness suffered during FSU's first full scrimmage. Turns out, Wilder said, it was actually a hip injury that had slowed him down.
Of course, he didn't look too slow Saturday.
But while Wilder's performance certainly was a good one, it's also worth noting he didn't get his first carry until the third quarter, when Murray State's defense was already gasping for breath. In fact, 182 of Wilder's 266 career rushing yards have come in the second half of games against FCS teams.
That certainly doesn't mean Wilder won't be impressive this year. After all, he said, he's molded his game after some great runners -- who just so happen to have been hefty for running backs, too.
"You don't see a lot of backs that big anymore," Wilder said. "But I always watched backs that big -- (Walter) Payton, my father, Earl Campbell. I just feel like, size doesn't really matter. I have the drive to get to the end zone, and that's what's going to get it done."
Granted, all three of those runners had retired before Wilder was born, but after averaging nearly 9 yards a carry, who's going to argue?
August, 25, 2012
8/25/12
11:15
AM ET
Florida State is a week away from its first game, and while the veterans are counting down the minutes until there is real football to be played, it's getting a bit anxious for the freshmen.

"There are a lot of these young guys that still have a lot of work to do," Jimbo Fisher said. "They need to come on, because we're going to need them. A lot of them are doing good, but we've got to get them game ready."

Unlike last season, when FSU had freshmen in a number of prominent roles -- including four starters on the offensive line -- that need isn't quite so great this season. The advantage of Florida State's depth is that it isn't reliant on inexperienced players at most key positions.

That means Fisher can be somewhat cautious with which freshmen he puts on the field, and that's a decision he'll need to make soon.

"I think quite a few of them will get in there," Fisher said. "Some might be ready, but have a good quality number of guys in front of them, and you want to be careful not to waste a year on 50 plays. We've got to evaluate that, and in the next day or two, we'll make some decisions."

A year ago, 13 of Florida State's 22 true freshmen saw action, including eight as occasional starters. This year, only one freshman, Ronald Darby, appears to be in competition for a starting job, and the overall need for contributors is less. But a look at each player underscores the idea that there aren't many who can't contribute.

Here's our breakdown of which freshman are likely to see action, and which ones could be saddled with a redshirt.


August, 7, 2012
8/07/12
2:13
PM ET
The rain washed out Florida State's first practice of the fall, but
EJ Manuel
didn't need to see the Seminoles' freshmen defensive linemen in action to be impressed.
"They're huge," Manuel said.
Five-star recruits
Eddie Goldman
and
Mario Edwards Jr.
, along with 340-pound tackle
Justin Shanks
and 6-foot-4 end
Chris Casher
, hardly look the part of freshmen.
Manuel said Casher looks like a senior already, while Goldman stunned his teammates with his skill set during seven-on-seven drills this summer.
"I've heard Goldman probably has the quickest step out of all the D-linemen we have," Manuel said.
August, 3, 2012
8/03/12
7:22
AM ET
During the final 10 weeks before the season kicks off, NoleNation will march through the depth chart to analyze Florida State's top 50 contributors for the 2012 season. From Austin Barron to Vince Williams, we'll review each player's career, evaluate his role in 2012 and project what might be in store down the road.
To continue reading this article you must be an Insider
July, 27, 2012
7/27/12
7:18
AM ET
During the final 10 weeks before the season kicks off, NoleNation will march through the depth chart to analyze Florida State's top 50 contributors for the 2012 season. From Austin Barron to Vince Williams, we'll review each player's career, evaluate his role in 2012 and project what might be in store down the road.
To continue reading this article you must be an Insider
High-Powered Offenses In BCS Title Game