Florida State Seminoles:

John Franklin
August, 28, 2013
8/28/13
10:30
AM ET
TALLAHASSEE, Fla. -- Florida State lost 11 starters to the NFL draft this spring, but that didn't necessarily turn the depth chart into a gold mine for the Seminoles' incoming freshmen. Of Jimbo Fisher's biggest accomplishments during his first four years on the job, none loom larger that the immense influx of talent on the roster -- meaning depth isn't a concern in most areas.
Of the 14 non-specialists Florida State added in 2012, only six saw action last year.
Mario Edwards Jr.
was the only freshman to start a game, and
Ronald Darby
and
Eddie Goldman
were the only others to see regular playing time.
The situation may not be dramatically different this year. Twenty-one freshmen were added to the roster, but aside from a small minority, there doesn't appear to be regular reps awaiting the bulk of the group. FSU's initial depth chart lists nine freshmen on the two-deep, though the playing time for each may be limited, and the roles for a few others may yet develop. As it stands though, here's our projections for early playing time for the Class of 2013.
The likely redshirts (4):
QB
John Franklin
, OT
Ira Denson
, C
Ryan Hoefeld
, TE
Jeremy Kerr
Fisher is never shy with praise for his players -- even those with virtually no shot at seeing a moment of playing time. That's been the case for Franklin, whom Fisher said has looked very good in practice throughout fall camp. Chalk it up to Fisher's desire to talk about any quarterback other than
Jameis Winston
, but it's nevertheless encouraging given that so many college coaches wanted Franklin as a receiver, not a QB.
Denson arrived overweight, and Hoefeld is still a touch lighter than line coach Rick Trickett would like, which means both are likely to spend the year prepping for the future. Kerr might have been a lock for early playing time given FSU's utter lack of depth at tight end, but a knee injury has kept him off the practice field for weeks.
The victims of numbers (4):
DT
Keith Bryant
, OG
Wilson Bell
, DB
Marquez White
, S
Nate Andrews
The reports on these four have been generally positive -- particularly Bell, who was well ahead of the other young linemen, according to Trickett -- but barring injuries, there's probably not much playing time to be had. It's possible one or two will find a role -- Andrews and White could make a special-teams impact -- but none are guaranteed to see action at all.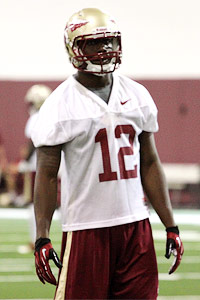 Courtesy of Florida StateAfter considering transferring to USC before ever playing a snap for FSU, LB Matthew Thomas has settled into the Seminoles' defense.
The linebackers (5):
Ro'Derrick Hoskins
,
Tyrell Lyons
,
E.J. Levenberry
,
Matthew Thomas
,
Freddie Stevenson
Levenberry and Thomas headline the current depth chart, where both are listed as the primary backups at the Mike and Will linebacker spots, respectively. Both offer immense promise. Thomas is the star of the group, and after an on-again, off-again spring in which he considered transferring to USC, the five-star recruit seems to be happy and comfortable in FSU's defense. Levenberry has also been a big hit with his coaches, and his size -- 6-3, 240 pounds -- has had Fisher drooling.
Both Thomas and Levenberry figure to play, but they may not be alone. Freddie Stevenson was an early enrollee and has drawn praise from teammates. Lyons and Hoskins could figure in the special-teams mix, too.
Florida State has just two established veteran linebackers, and both will be gone at year's end. The Seminoles need to start developing some depth there, which is good news for the entire group.
The special-teams stalwarts (4):
DE
Davarez Bryant
, DE
Desmond Hollin
, RB
Ryan Green
, WR
Levonte Whitfield
Fisher's history suggests skill-position players who can contribute on special teams will get a chance as freshmen, even if there isn't much of a role beyond that. FSU allowed
P.J. Williams
,
Reggie Northrup
and Christo Kourtzidis to do it last year, which means Green, Bryant and others could do the same in 2013, even if a wealth of scrimmage snaps aren't there. Hollin, a juco transfer, probably stands the best shot at a bigger role, and Bryant has actually worked in some at tight end, too. Whitfield figures to be in the mix as a kick returner early, but he is a potential weapon as a slot receiver on offense, too.
The best bets to play (4):
CB
Jalen Ramsey
, DE
DeMarcus Walker
, WR
Jesus Wilson
, WR
Isaiah Jones
Fisher was impressed with his freshman wideouts from the outset, but now it's a necessity that at least one or two contributes heavily. FSU lost three senior receivers for the season, which means there should be ample playing time to go around. Wilson has wowed teammates since the summer, and he figures to be first up, Jones also turns up on FSU's two-deep, backing up
Rashad Greene
at the X position.
Walker's progression was hindered a bit during the spring when NCAA compliance issues kept him off the practice field. Still, he spent long hours in the film room and coach's office, and his teammates have raved about his football IQ. Given the relative depth issues at defensive end combined with a depth chart with little or no game experience, Walker has as good a shot as anyone at getting playing time early.
Unlike the rest of this group, the numbers don't exactly favor Ramsey. The FSU secondary is stacked with talent, but that's only more of a testament to how good Ramsey has looked during fall camp. He spent the first few weeks working with the No. 1 defense while Darby nursed an injury, and he appears to have established himself as a legitimate threat to contribute. He opens the season No. 2 on the depth chart behind
Lamarcus Joyner
, and that's a role that could expand as the season progresses.
August, 26, 2013
8/26/13
11:00
AM ET
TALLAHASSEE, Fla. -- Jimbo Fisher finally put the biggest question of fall camp to rest Friday, officially
naming Jameis Winston his starting quarterback
. But if Winston's position on the depth chart finalized one lingering issue, a handful of other questions remain as the Seminoles begin their final week of preparation for the season opener at Pittsburgh.
Here's a quick rundown of what's left on Florida State's preseason to-do list:
Developing receivers:
A knee injury will keep
Jarred Haggins
on the sideline all season, meaning Florida State is now down three senior wide receivers. Add in a finger injury that has limited junior
Rashad Greene
for the past week, and a position that figured to be among the deepest on the Seminoles' roster is now a major concern. Greene should be fine for the start of the season, but it's apparent that Florida State will still need to rely on a trio of freshmen to step up. Fisher has raved about
Jesus Wilson
throughout camp, and
Levonte Whitfield
and
Isaiah Jones
have talent to spare, but the transition to the college game is rarely a seamless one.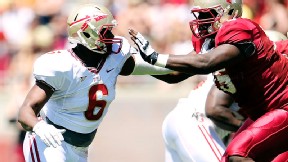 Stacy Revere/Getty ImagesDefensive end Dan Hicks, who missed all of 2012 with a knee injury, is still wearing No. 6. So is cornerback Nick Waisome. One of them will have to change numbers before next Monday.
Grasping the defense:
The response from players has been universally upbeat, but even the most optimistic of Florida State's defenders admit there's still work to be done in learning Jeremy Pruitt's new defensive scheme. Florida State ranked in the top three nationally in total defense in each of the past two seasons, and there's enough buzz among the returning players to think this year's unit could be even better, but Pruitt's scheme is a challenge. The team has worked extensively on mastering the nuance throughout fall camp, but when the season begins next week, Pruitt said fans might see a more watered-down version. "When it comes to game week, we're only going to call what they know," Pruitt said. "You throw a lot of stuff at them, hope part holds, and as the season progresses, you pull out what you need each week."
Depth at tight end:
Fisher tried to put a happy face on the situation when camp opened, but the lack of depth at tight end remains a major concern.
Giorgio Newberry
made the switch from defensive end just a week before camp began, and while he's got the size to do the job, he's definitely a work in progress. Freshman
Jeremy Kerr
remains sidelined with a knee injury, and Fisher continues to tinker with options, using freshman defensive end
Davarez Bryant
at tight end during practice last week. While Fisher is eagerly toying with his options, the fact remains that starter
Nick O'Leary
is going to need to shoulder the burden for a thin group behind him.
Two for six:
It's perhaps the silliest debate of camp, but the implications could be significant. When defensive end
Dan Hicks
switched from tight end this spring, he kept his old uniform number. The problem, however, is that cornerback
Nick Waisome
was already wearing the No. 6 jersey. Since then, neither player has been willing to give it up, meaning FSU can't use Hicks and Waisome -- both projected starters -- on the field at the same time. Fisher said he's leaving it up to the players to decide, likely in hopes one would be mature enough to choose playing time over a jersey number, but thus far neither player has caved.
Playing time for rookies:
The freshman receivers figure to be necessities on offense this season, but beyond that, it's tough to tell where the rest of the newcomers fit in. Running back
Ryan Green
, cornerback
Jalen Ramsey
and defensive end
DeMarcus Walker
are among the most impressive freshmen of the fall, but Fisher said he wouldn't be surprised if the great majority of this year's class avoids a redshirt. Aside from Kerr, quarterback
John Franklin
and a couple of the offensive linemen, virtually every member of the Class of 2013 remains in the mix for playing time.
Secondary shake-up:
It's a good problem to have, but Florida State's logjam of talent in the defensive backfield still leaves some question marks as the season approaches. When
Lamarcus Joyner
shifted from safety to corner, the questions about playing time began, and Pruitt has been quiet about potential answers. Joyner, Waisome, Ramsey,
Ronald Darby
and a slew of others are in the mix for regular reps, and Fisher has hinted that the Seminoles' defensive backs will be rotating early and often.
March, 1, 2013
3/01/13
8:00
AM ET
With national signing day now behind us, NoleNation takes a closer look at the next crop of Seminoles.
Vitals:
Dual-threat quarterback
John Franklin
(Plantation, Fla./South Plantation), 6-foot-1, 170 pounds.
Committed:
Nov. 1, 2012.
ESPN.com grade:
75, three-star prospect.
ESPN.com rankings:
No. 27 quarterback prospect, No. 425 player in the Southeast region and the No. 156 prospect in the state of Florida.
Chose Florida State over:
Tennessee.
February, 11, 2013
2/11/13
11:00
AM ET
By
NoleNation Staff
| ESPN Insider
When it comes to recruiting, coaches need to be thinking long-term. It's not just about which holes must be filled immediately, but rather where the needs might be in two or three more years.
With that in mind, NoleNation writers David Hale and Corey Dowlar are going position by position looking at what FSU has on its roster now and who might provide reinforcements down the line, projecting starters and evaluating the depth through 2015.
First up is perhaps the most loaded and discussed position on the roster: Quarterback.
To continue reading this article you must be an Insider
February, 6, 2013
2/06/13
6:12
PM ET
TALLAHASSEE, Fla. -- Jimbo Fisher has spent the past two months selling his program to a class he couldn't have known would come together so well in the end. Amid chaos in the coaching staff and a bevy of last-minute shifts, Fisher was the man in the middle of the action, assuring his 2013 commitments that the program was in good hands, and their futures remained bright at Florida State.
When the dust settled, Fisher beamed.
[+] Enlarge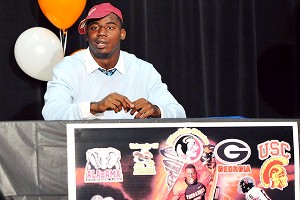 Steve Mitchell/USA TODAY SportsThe Noles highlight of signing day might have been when the nation's No. 1-ranked linebacker, Matthew Thomas, announced he'd join the class.
"It think it was a great day," he said after Wednesday's final letter of intent came across the fax machine. "I'm very proud of our class. We hit a little bit of every position throughout the whole class."
This wasn't another sales pitch. This was as honest an evaluation of Florida State's take on national signing day as Fisher could muster.
No, FSU didn't hold together the entirety of the class it had assembled before six assistant coaches left for greener pastures. Yes, Fisher lost out on some key battles for recruits. Some needs were met, others fell a bit short.
But after a whirlwind six weeks in which Fisher was both assembling a staff and a recruiting class, sometimes nearly singlehandedly, the end result was about as good as he could have hoped for.
Florida State landed 22 players -- though offensive lineman
Richy Klepal
isn't expected to play for the team for medical reasons -- and ended the afternoon with ESPN's No. 9 overall signing class.
January, 20, 2013
1/20/13
1:35
PM ET
Three-star quarterback
John Franklin
(Plantation, Fla./South Plantation) had some doubts about his college choice after last weekend.
Following an official visit to Tennessee, Franklin liked what the Volunteers had to offer. On his way to Florida State on Friday, he wasn't sure what to expect.
To continue reading this article you must be an Insider
January, 18, 2013
1/18/13
7:00
AM ET
Florida State will host their second crop of January official visitors beginning on Friday. While it isn't as large or as important of a weekend as the previous one, some of these visitors could likely end up in the haul on national signing day.
Here's a look at those who are scheduled to be in Tallahassee.
To continue reading this article you must be an Insider
December, 19, 2012
12/19/12
7:00
AM ET
Last week,
Jesus Wilson
(Miami/Columbus) had wide receivers coach Lawrence Dawsey drop by the school to see how things were going.
It is all part of a budding relationship between a position coach and a four-star player.
"We have a great relationship," Wilson said. "He helped recruit me and me and all of the coaches have a great relationship. I talk to him and we continue to bond and he tells me just to get ready to come in and work hard."
To continue reading this article you must be an Insider
November, 20, 2012
11/20/12
7:00
AM ET
If all the logistics work out, Florida State commitment
John Franklin
(Plantation, Fla./South Plantation) will be on an official visit this weekend.
But those plans aren't exactly firmly in place yet. If they do fall through, his trip will be delayed by a month or so.
"We are waiting to see if there is an open hotel room," Franklin said. "If there isn't one, I will probably just wait until January or December.
To continue reading this article you must be an Insider
November, 1, 2012
11/01/12
10:37
AM ET
John Franklin
(Plantation, Fla./South Plantation) said he was going to make a decision soon. Well, he wasn't kidding.
Just 24 hours after learning of an offer from Florida State, Franklin decided to accept the invitation to join the class of 2013.
"When we started the recruiting process, he was pretty adamant that he wanted to be a quarterback," South Plantation head coach Doug Gatewood said. "Because of Alex [Collins], he doesn't have prolific numbers. Alex has 2,000 yards, John isn't going to throw for 2,000 yards. He doesn't have prolific numbers, but what John is, he's a no-brainer. He is 6-2, 170 pounds, he has a 4.0 GPA, 20 ACT, they aren't going to miss with him anywhere. He's not going to hurt the program. He will fit in athletically some place on your team."
To continue reading this article you must be an Insider
Haskins, McElwain Shine At IMG Regional
ACC SCOREBOARD
Thursday, 9/3
Saturday, 9/5
Monday, 9/7